There are numerous sports brands and manufacturers which are offering the best badminton shoes to match the level of the game as well as the players. These shoes are highly equipped with new technology and have an attractive design to grab attention. A great performer and high durable shoe will provide extra aid to the player to enhance their level and match the quickness of the game with their feet. The better grip, air circulation, sole quality, cushioning for better performance and shock absorbance power are the crux of highly technological based badminton shoes.

Importance of badminton shoes under a thousand rupees.

As we have discussed earlier that if you want to be the best, then you must go for the best. But it is very important to understand the level of your game. There is no doubt about that sports brands are producing very high-quality badminton shoes, but most of the shoes are very costly and not affordable for the beginners.

That is why you need to start with the root and have to understand the need. This is because at the initial level, there is no need for you to buy high-level shoes. So, it would be best for you if you purchase lesser price shoes that have the needed quality for the game.

Here are the list of best Badminton shoes under Rs 1000

1) Thrax Aura 101 Badminton Shoes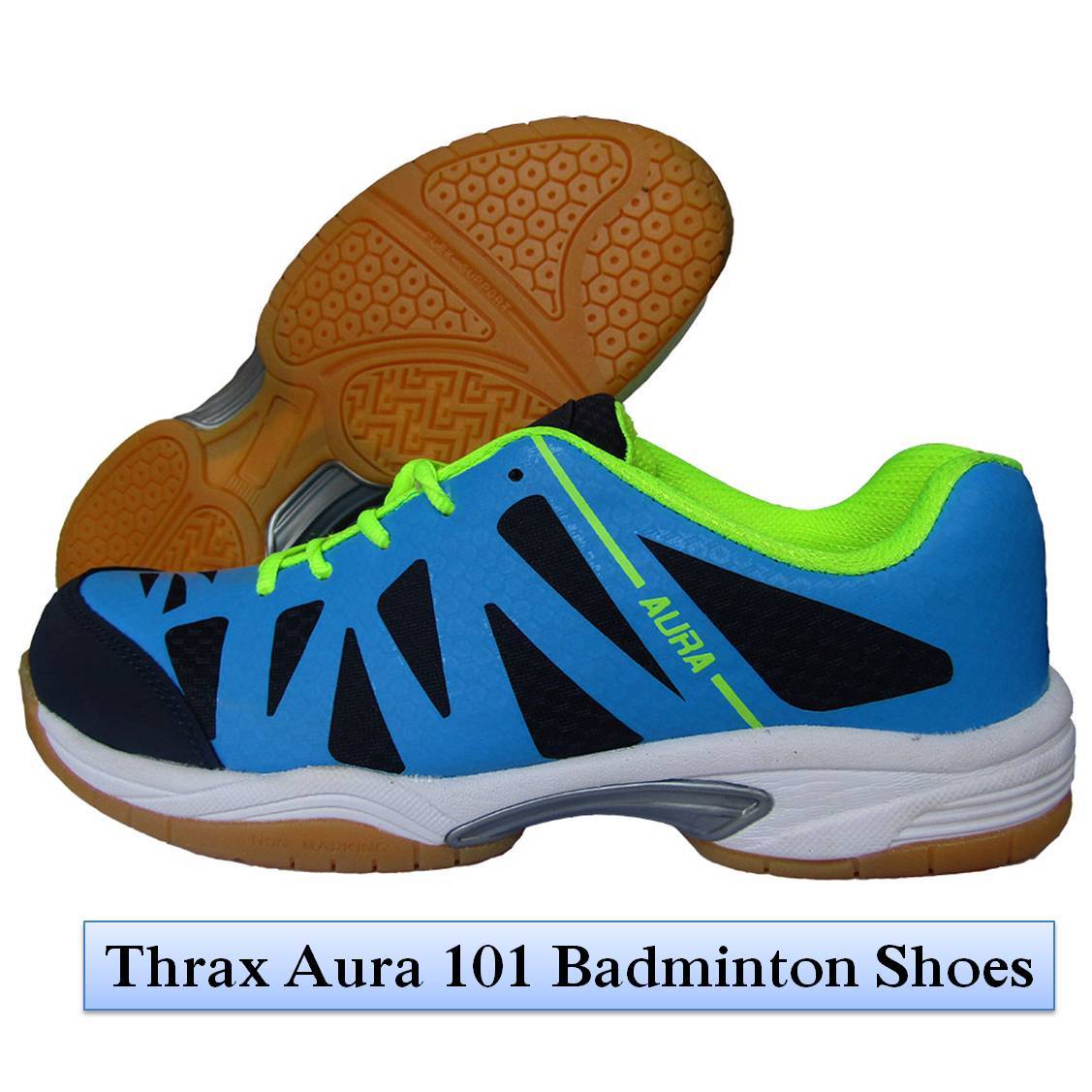 These shoes are made for professional players with the help of all new and high-tech technology. The brand of Thrax is known for its pure quality and the aura 101 is the perfect paradigm of great quality and unique design.

This product is made from fine technology like double cushion technology which will give you immense comfort while playing. And on the other hand, these are one of the most-lightest shoes from the Thrax brand. They have also used heat transfer along with the lamination technology, in this durable mesh gets the layer of PU material with heat transfer technology.

The Thrax Aura 101 is considered as the next level or generation shoe which is capable enough to provide you with better comfort, fitting and maximum strength along with the performance.

2) NIVIA Appeal Court Badminton Shoes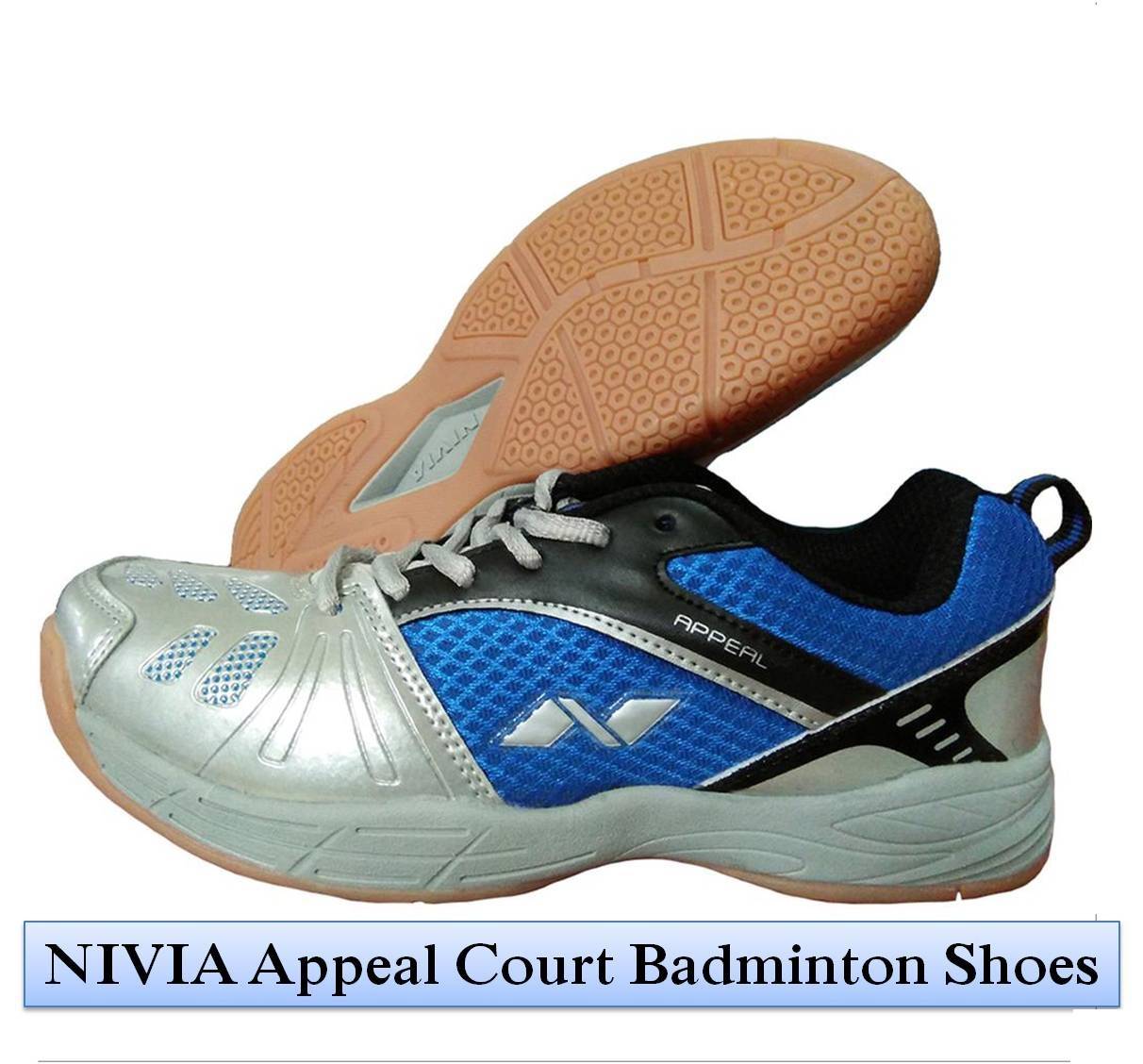 It is yet another fine and quality product in the range of thousand rupees. This shoe from NIVIA brand has its own essentiality to describe. The shoe is made of with synthetic leather and comes in a variety of colors and unique designs. The attractive combination of black and red and blue and grey shows the creative part of the shoe.

The brand of NIVIA has used the phylon sole to build the shoe which gives greater ability of shock absorbing and also the quality of cushioning to mitigate the sudden impact. Moreover, these shoes are the desirable products for the badminton players who want to choose the best for their great future.

3) Thrax Gel Extreme Badminton Shoes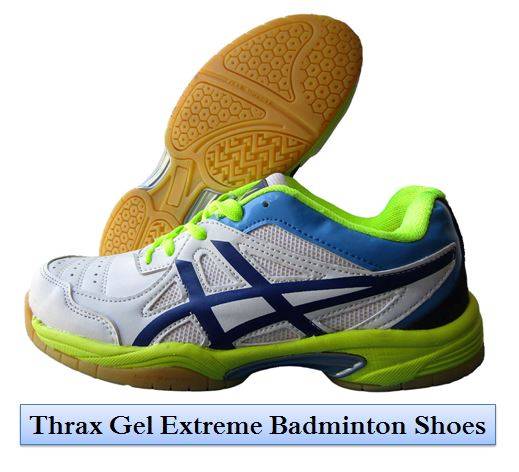 This shoe is the greatest deal in a thousand rupees for you. Because it has all the necessary elements for which you are looking. First of all, the trust of a brand like- Thrax. On the other hand, this shoe is manufactured with a wide concept, which ensures the perfect suitability and shape. This shoe is made for intensive badminton game practice because the company has developed it with non-marking technique.

This shoe is made of with PU material technology which will give you the lightweight quality and durability aspect. They have also used true cushion technology, air circulation technology and rubber sole to give better flexibility and comfort. And in terms of the design, these shoes come in a different range of attractive colors.

4) Nivia Hy Court Badminton Shoes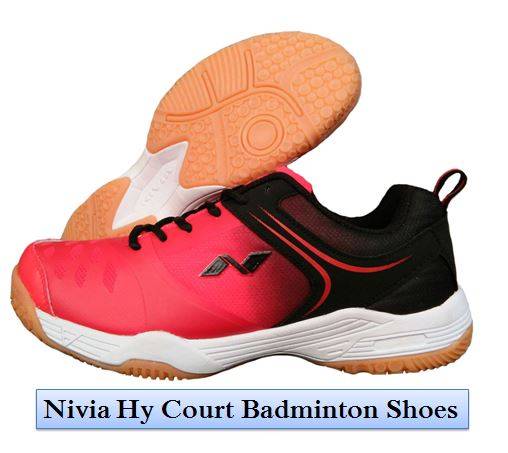 This is also one of the greatest deals you can have under a thousand rupees. The brand of NIVIA, made this shoe with a fine material called non-leather and EVA technology for better comfort, finishing and for great fitting. These shoes are known for their lightweight quality because players always avoid buying heavyweight shoes. Lightweight quality allows the players to move their feet and take make quick adjustment of feet easily.

The sole of the shoes is developed with embossed lining technology which will give you aid in better grip from the surface and greater traction force. The NiviaHy court comes with a different set of colors for a greater outer design.

5) Feroc xega RED Black Badminton Shoes




The Xega red and black colored shoe from the Feroc brand is a must-have shoe under the range of thousand INR. These shoes are made from asymmetrical fit technology that will provide the needed support to the feet and also give better stability. These shoes have lightweight quality for the better feet movement and adjustability. The company has used the rubber sole material and PU synthetic leather material for greater durability and performance. The soft padded sole gives better comfort and shock absorbing power.

6) Thrax Furious Black & Orange Badminton Shoes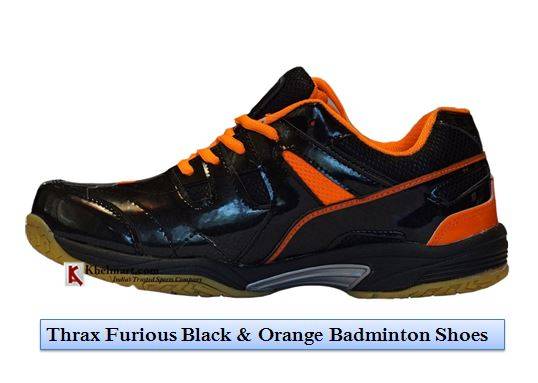 This shoe is a combination of all new technology and would be the best deal for you in just a thousand rupees. There are new elements like the latest technology of microfiber, better cushioning and ultra-lightweight quality which have made this shoe a must-have product for the professional players.

The brand of Thrax is popular for unique and technology-based shoes. That is why the company has used PU based microfiber for providing a unique design and look and also lightweight quality to the players. These lightweight microfibers are drastically known for their great performance and attractive design.

On the other hand, they have used the opti shape design for better shape, nylon air mesh and skin fit technique for great performance and lightweight quality. The installation of true cushion technology and phylon midsole, the non-marking sole and air vents for refreshing air are the other impeccable features of the shoe.

7) Vector X Warrior Badminton Shoes




The brand of Vector is immensely known for its stylish and unique products in the sports world. They have produced numerous quality products and professional players love to have Vector shoes in their sports bag.

The Vector X Warrior is the latest addition of Vector brand which will give you the desired benefits and performance for which you are looking. This shoe is made up of PU material, which will ensure the comfortability and durability of the product. The unique textured sole and 100 per cent non-marking sole quality makes it a must-have product of the Vector brand. These shoes are well cushioned for greater comfort and are attractively designed for a creative look.

8) Nivia Smash Badminton Shoes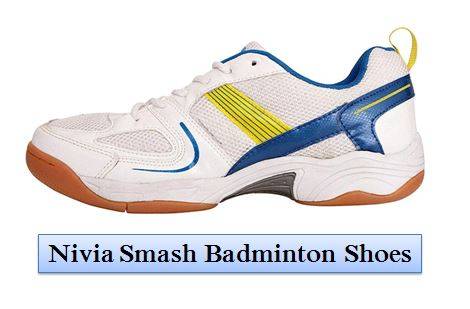 These shoes are ideal for beginners because these shoes have all the qualities which are necessary and required for the newcomers. These shoes come with the perfection of Nivia brand; means you will get the assurance of durability and performance. And in terms of the specifications, these shoes are made up of Eva technology and Crape outsole, it means these shoes are non-slippery.

The company has used the strowel in the insole for attaining greater comfort and softness inside the shoes. These are also lightweight and have medium cushioning in tongue and ankle for better comfort. The use of rubber sole and upper mesh makes them durable.

9) Thrax N Power Neo Badminton Shoes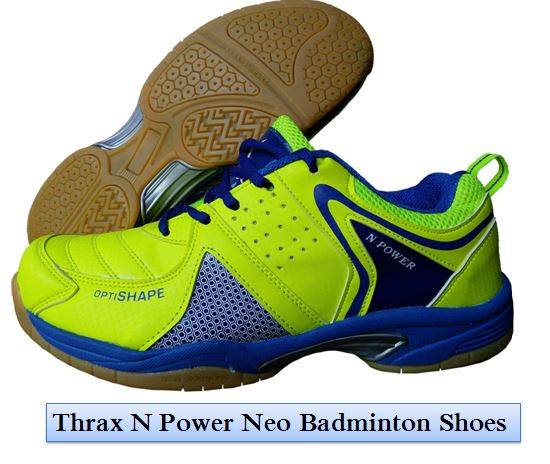 These shoes from Thrax are the latest version and up-gradation of N power series. This shoe has the most advanced features and material technology which is drastically enhancing the quality of the product and its performance. And in the context of color and design, these shoes come with various varieties and attractive graphics.

In these shoes, the brand has used the wide last technique to give a perfect shape and better fitting. The technology of breathable mesh ensures greater air circulation and comfort. The use of rubber & polymer outsole is to get highly effective traction force. And the Eva material is used for midsole for absorbing the shock and better comfort.

The use of opti cushion delivers greater comfort and durability to the badminton players. Opti cushion technology means the combination of 2 cushion layers, along with the inclusion of resilience material.

10) Nivia Glister Badminton Shoes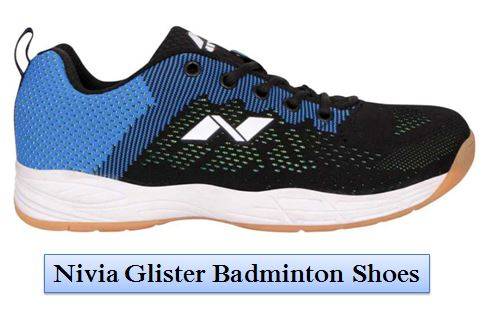 Yet another highly effective and durable shoe from Nivia brand! The Nivia Glister badminton shoe is popularly known for its lightweight quality and performance in the court. These shoes have mesh and polyester material in the outer part, which ensures high performance and durability of the shoes. These shoes are well cushioned and are made up of non-marking rubber technology.

The different range of colors and attractive set of designs make them a must-have product. All we can say is that these shoes are perfect for the beginners.

Conclusion

So, these are top 10 badminton shoes which come under the range of thousand rupees. The game like badminton needs extra support to compete with the fast motion of the game and that is why you need to go with the best which will enhance your ability to meet the needed level.