Best Badminton Rackets under Rs 5000
Do you anticipate entering the world of badminton soon? With a racket, you can enjoy a friendly game of badminton with your mates. However, you should be mindful that finding a proper badminton racket that suits your playing style and budget can be tough.Badminton rackets under 5000 are quite famous in this category.
With this article's help, you can choose the best badminton racket without breaking your budget. This article debates some of the best options that offer superior quality and performance. Almost everything on this list falls within the affordable range of 5000 rupees.
Best Badminton Rackets for All Types of Players
Yonex Astrox 100 Game
Designed for medium players looking for a balance of power and control, the Yonex Astrox 100 Game is a badminton racket created by Yonex. There's a head-heavy balance so you can hit harder and a medium stiff shaft to control and handle it well. In addition, the racket uses Yonex's unique technologies, such as its nanomesh frame and isometric head shape. As a result, these technologies improve the performance of the racket.
The racket has a weight of 83 g with head-heavy balance and a string tension of 20-28 lbs.
If you're looking for a racket to help you improve your game, the Yonex Astrox 100 Game is a great choice. Both singles and doubles players will benefit from its powerful control and good speed.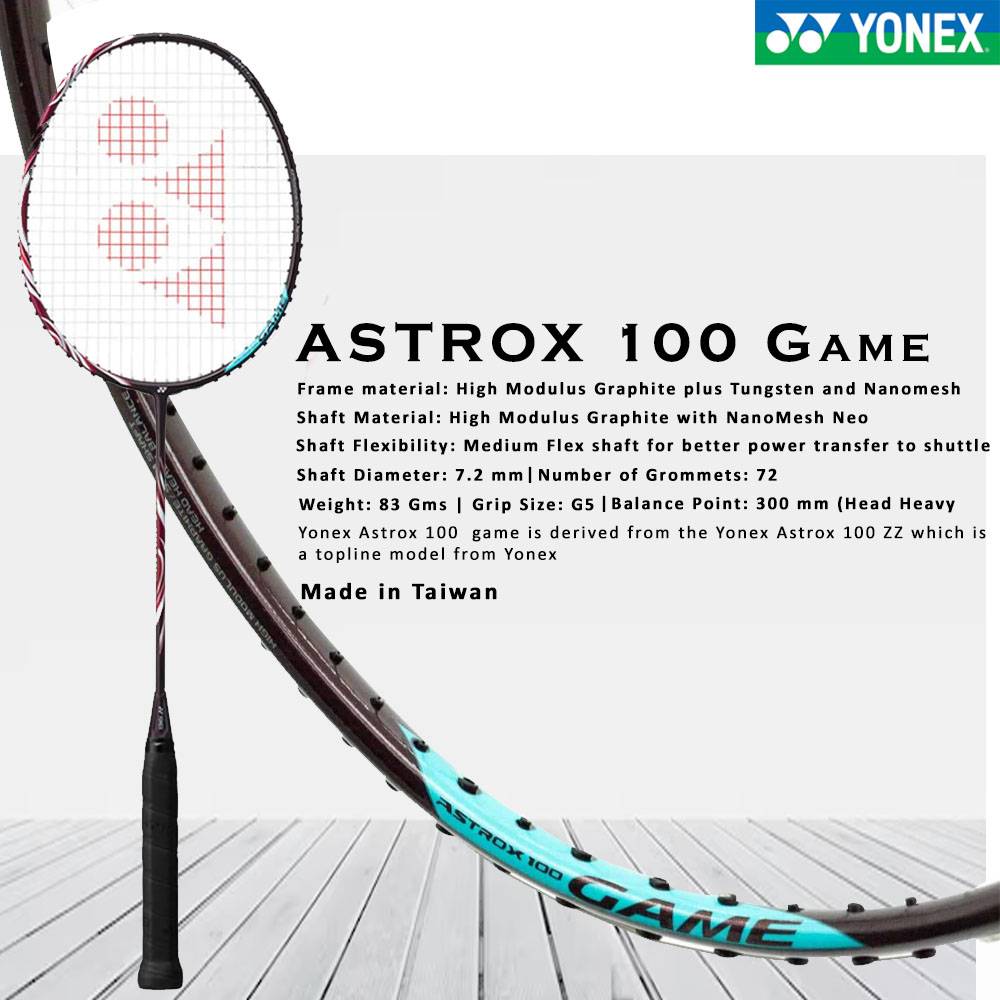 Li Ning windlite 900
Designed for defensive players, the Li-Ning WindLite 900 badminton racket weighs only 80 grams. It has a balance point of 292 millimetres. In addition to its skill and power generation, it features some technologies, such as:
Aerotec Beam System
Using this technology, the racket cuts via the air more easily.
High Tension
Rackets strung using this technology has a higher tension, resulting in improved power and feel.
Medium-Flex Shaft
Power can be easily developed while maintaining control with this shaft because it offers a good balance of flex and stiffness.
Those looking to play aggressively and develop power with a lightweight racket may find the Li-Ning Wind Lite 900 attractive. In addition, it can enhance the game of intermediate players.
This Li-Ning WindLite 900 also comes with the specifications like carbon fiber material, S2 grip size and 30 lbs maximum tension.
The racket is well-suited to attacking players of all levels, regardless of their skill level. Featuring lightweight, agility, and power, it is an ideal choice for players seeking to improve their skills.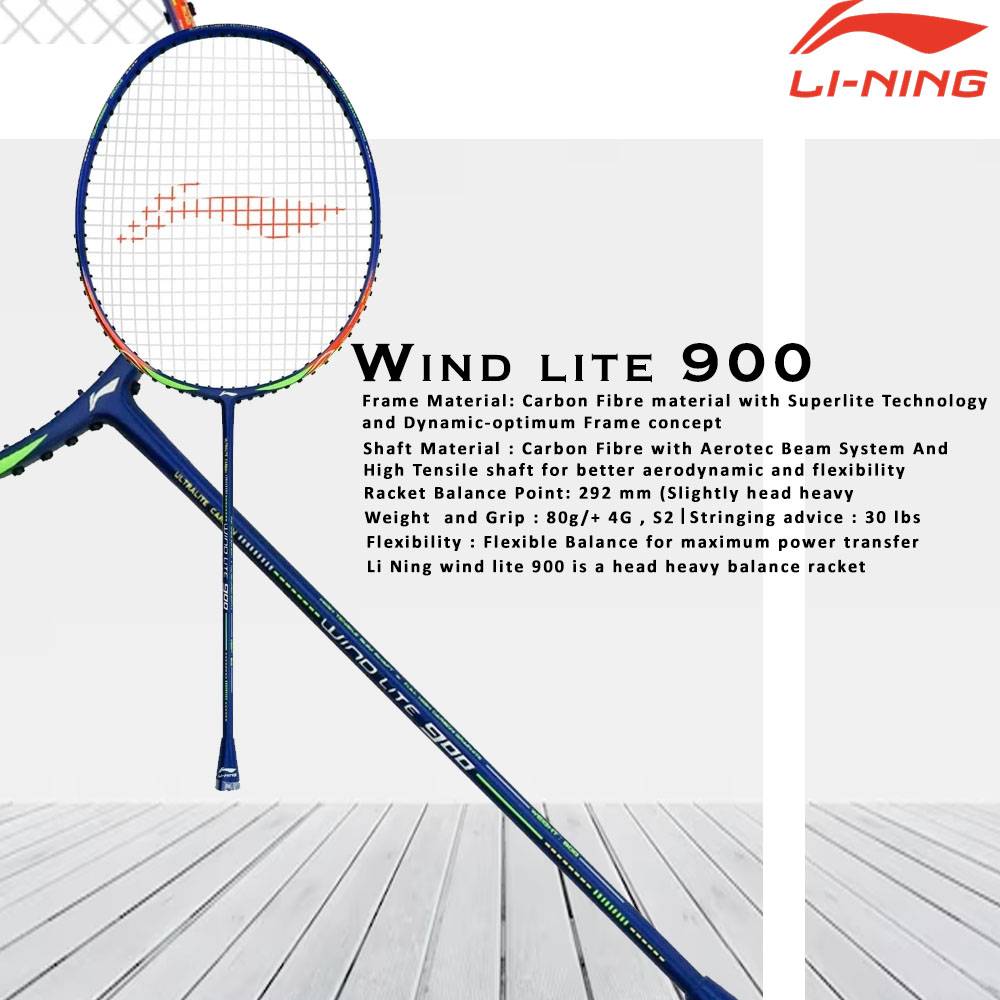 Apacs Assailant Pro
This high-performance badminton racket is designed to provide power and control for advanced players. In addition to its large head size, it has a stiff flex for maximum power when smashing and clearing. Furthermore, the racket is easy to handle due to its medium-weight balance.
Players looking to advance their game should pick this racket. Additionally, it is a good choice for those seeking a racket with a lot of energy for smashes and clears.
It is a great racket for advanced players seeking a powerful, controlled racket. Furthermore, it's an excellent choice for players who want a racket to stand up to competitive play.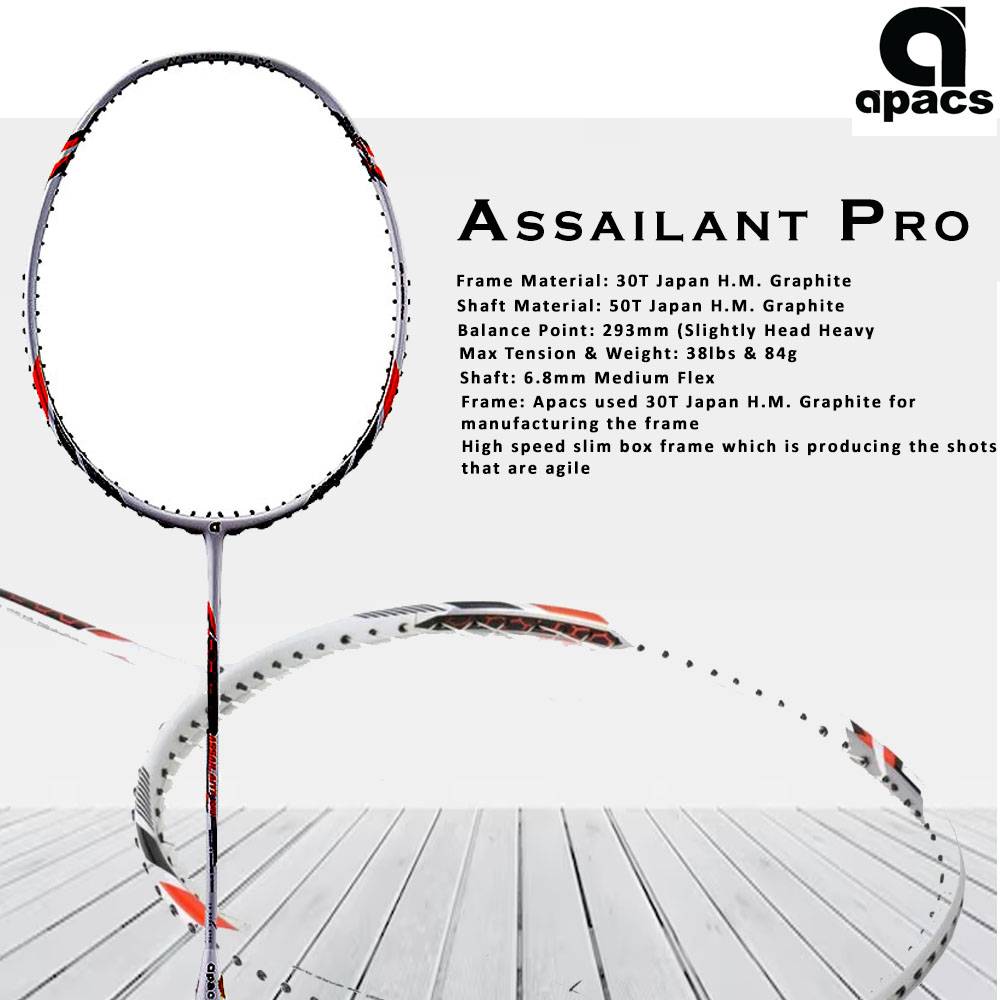 Thrax G Force Strike
An aggressive badminton player looking for speed and power will enjoy the Thrax G Force Strike racket. You get more power on smashes and clears because of its head-heavy balance. It also has a large sweet spot that makes it forgiving when a shot is hit off-center.
It consists of a carbon fiber frame and a graphite shaft made of high-quality materials. In addition to being lightweight with a weight of 84 grams and easy to handle, this ensures that the racket is stable and strong. Furthermore, high-quality strings string the racket, providing a good balance between power and control.
For players looking for a powerful and versatile badminton racket, the Thrax G Force Strike is a great choice. Furthermore, it means a good value for the money.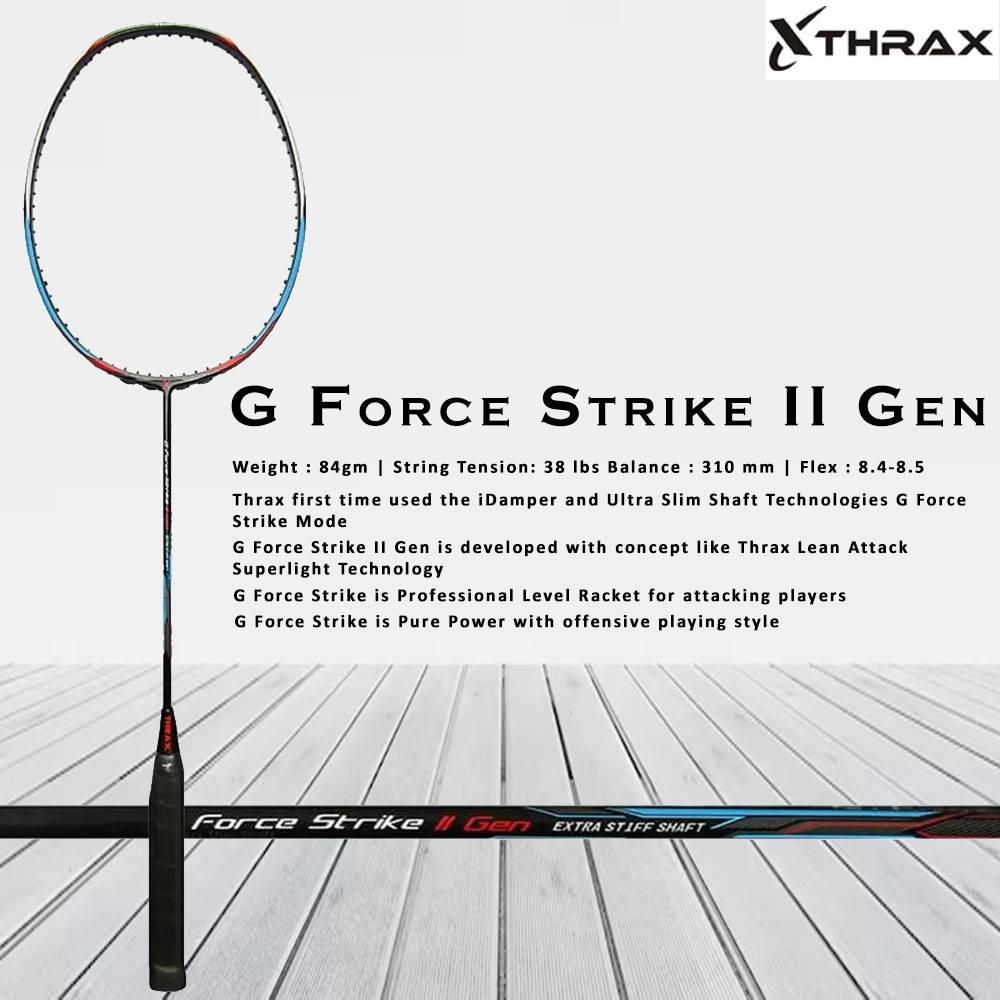 Yonex Astrox 7 DG
Yonex Astrox 7 DG serves aggressive players looking for power and speed with its powerful, medium-flex design. Featuring a Rotational Generator System, this racket is faster and more agile. Nanomesh Neo shafts allow for a faster shaft take-back, thus increasing power.
The Yonex Astrox 7 DG has weight of 83 grams with a head-heavy balance and medium flex.
Players seeking a racket that will help them generate power and speed should consider the Yonex Astrox 7 DG. A durable racket with a lot of strength is also a good option for players.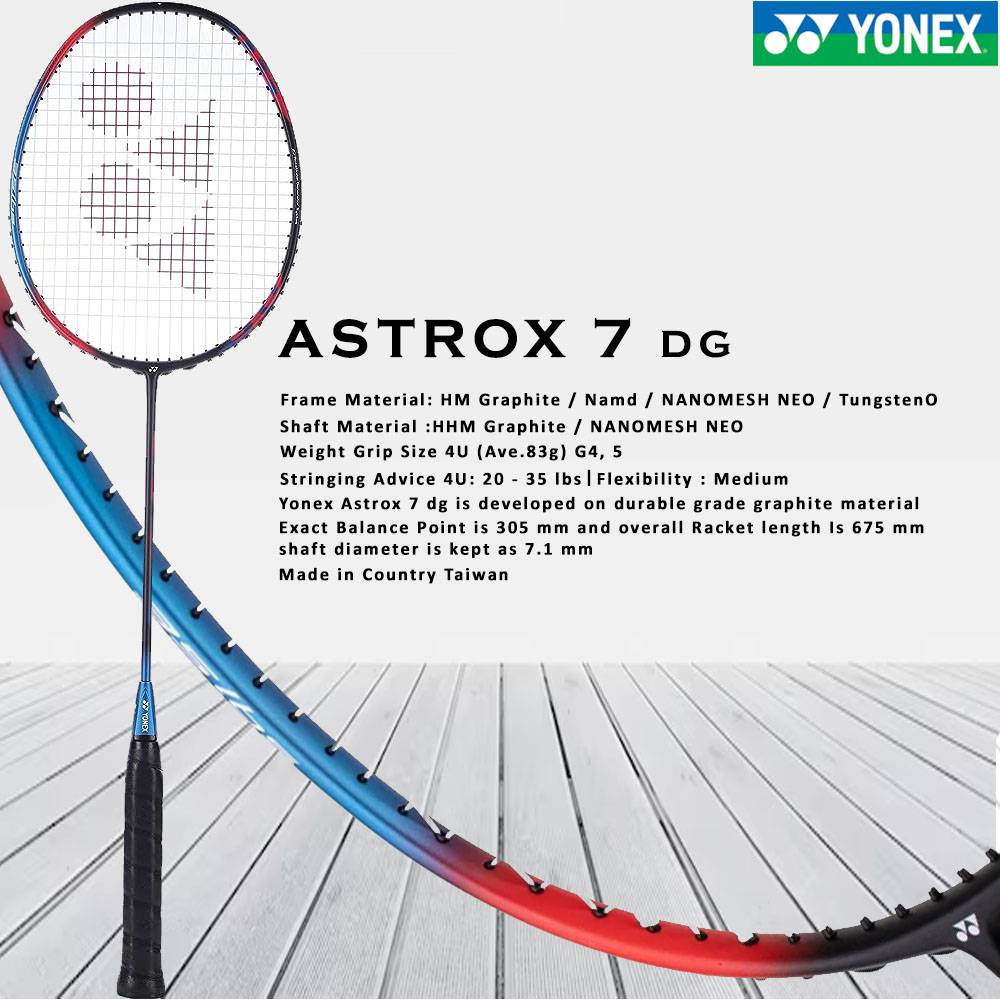 Li-Ning Bladex 200
Li-Ning Bladex 200 badminton rackets are lightweight, stiff-shafted, and engineered for aggressive players who want rapid speed. The racket is equipped with Li-Ning's Sonic Boom Frame Technology, which improves the stability of the racket and increases power output. It also features enhanced strength and elasticity due to the High Carbon Strength material.
This racket has carbon fiber as the material in both frame and shaft. Furthermore, it weighs 83 grams and has a stiff shaft flex.
The Li-Ning Bladex 200 racket is suitable for intermediate and advanced players looking for the ability to generate speed and power. A durable racket that withstands the rigors of competitive play is also a good choice for players.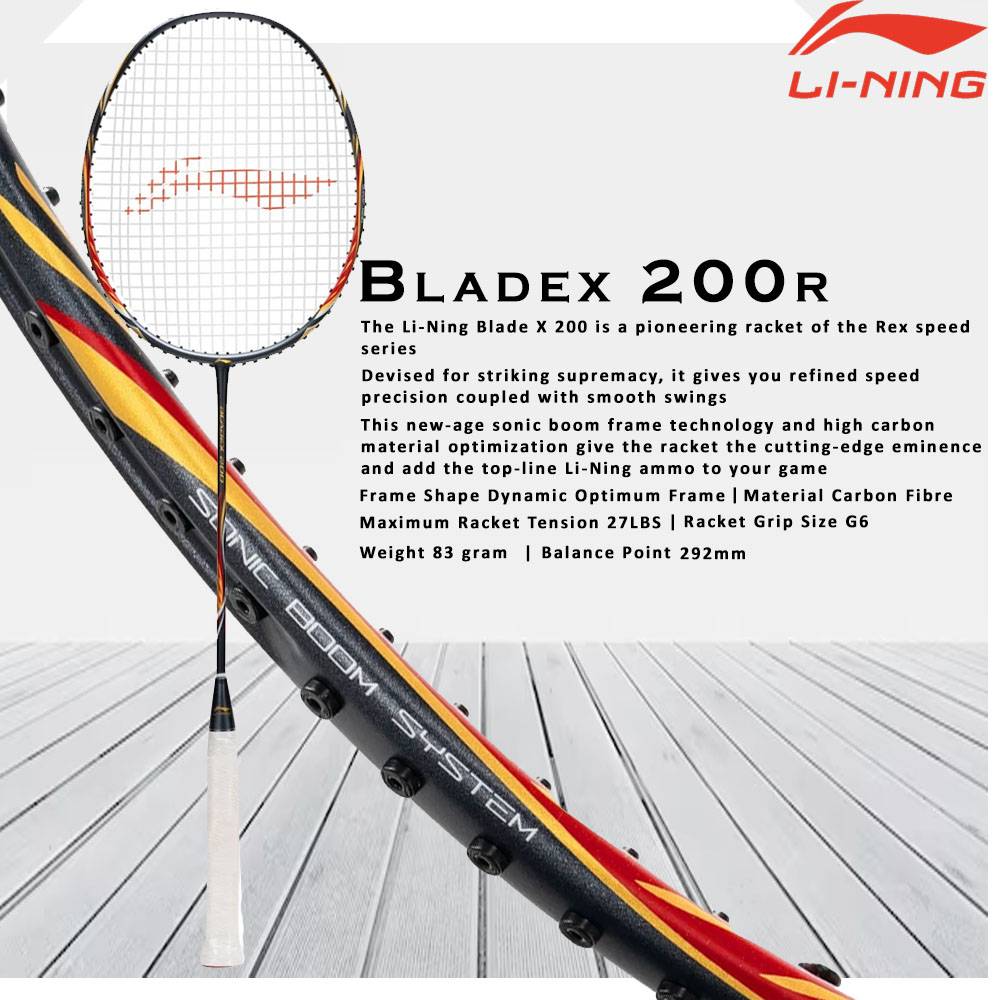 Thrax C Hawk 99
Thrax C Hawk 99 is the racket for aggressive players wanting power and speed. Its lightweight design (84 grams) and extra stiff flex make it easy to perform smashes and drives. With a head-heavy balance, the racket offers more stability when you hit powerful shots.
The iDamper eases vibrations and fatigue with shock absorption. With REVTROX technology, the racket has better aerodynamics and generates more power. This racket uses SBF technology, which supports the carbon fiber.
If you're looking for a racket that can give you speed and power, the Thrax C Hawk 99 is a great choice. This racket is both lightweight and durable, making it a good choice.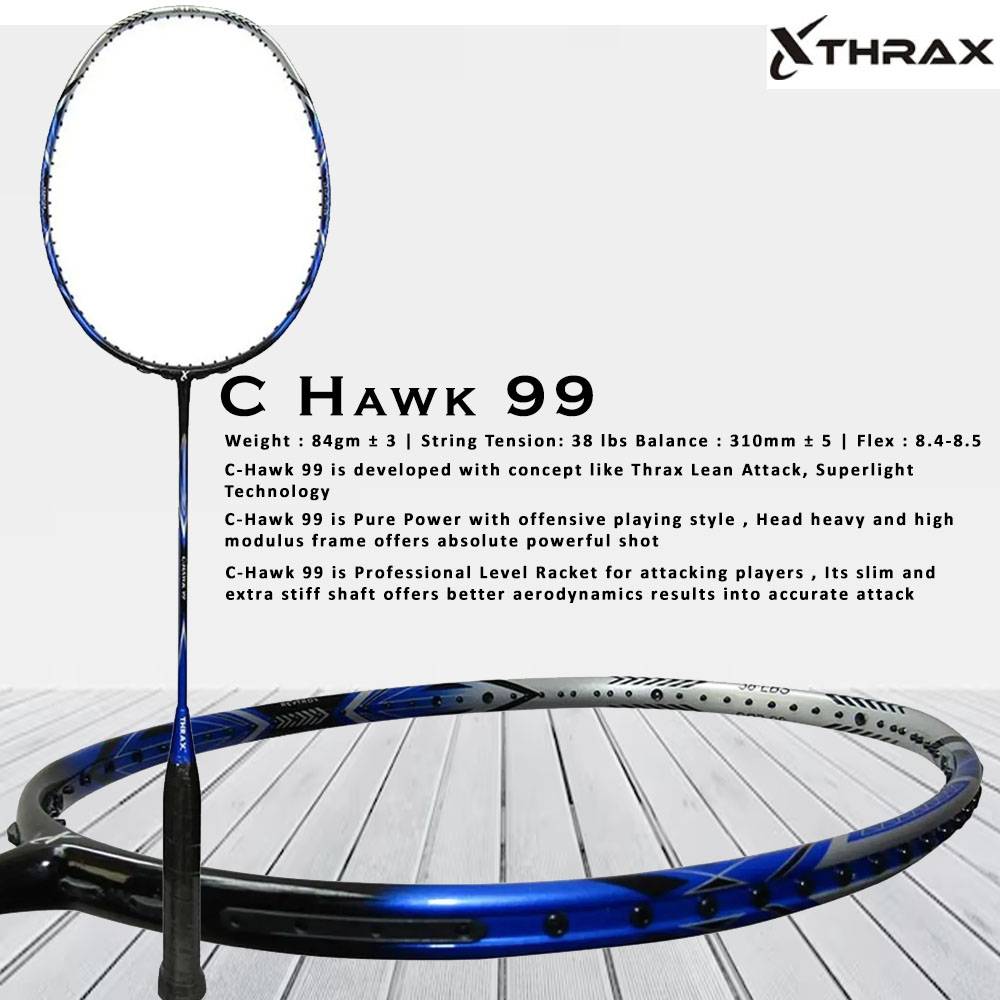 APACS Slayer 95 II
Players who want speed and power will enjoy using the APACS Slayer 95 II badminton racket. Due to its large head size (675 sq. in.) and stiff flex, it generates power on smashes thanks to its large sweet spot. The aerodynamic design and slim frame also contribute to the racket's speed and drag drop.
High modulus graphite and carbon nanotubes form the frame and shaft material of the racket. It has an even balance and medium flex.
It's a good racket for players seeking a powerful, fast racket. Also, it is a good option if you are searching for a comfortable racket.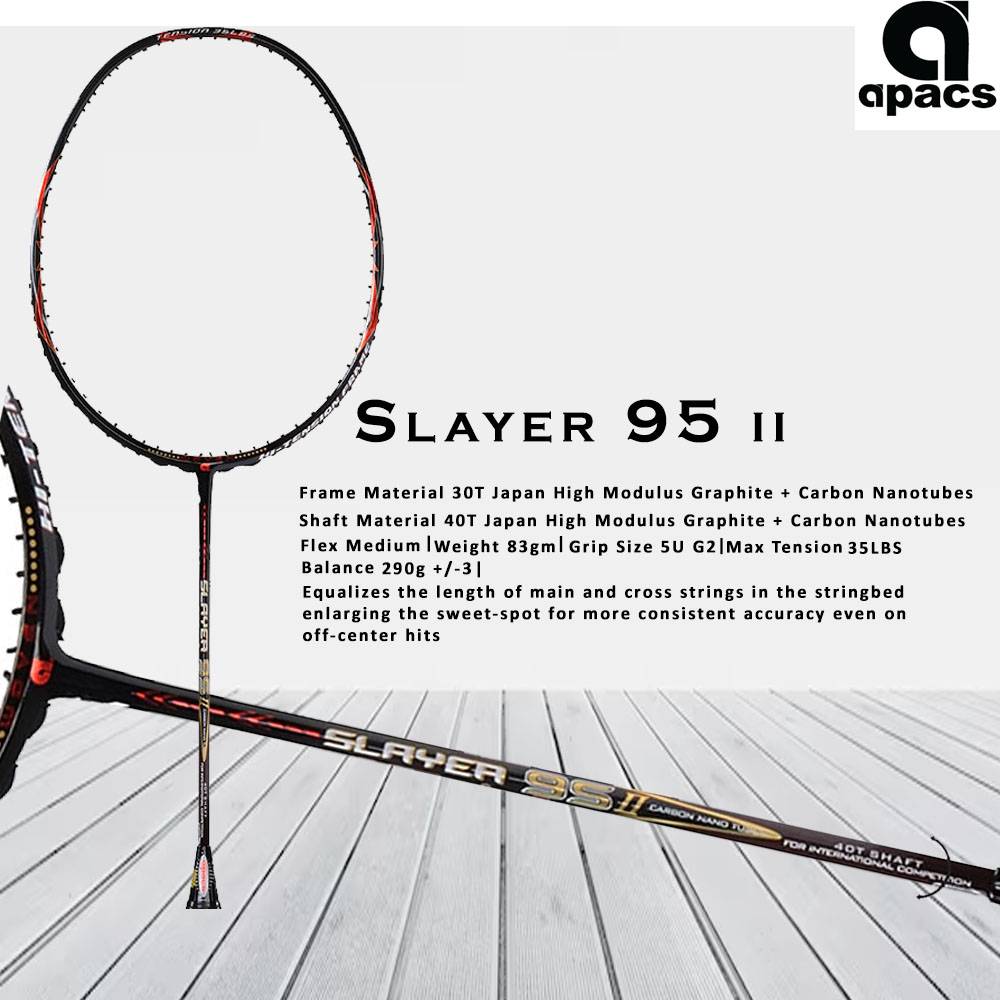 Ashaway Striker Force 80
It's designed for aggressive badminton players who want power and speed. Smashes and clears have more power thanks to its head-heavy balance. It also has a stiff shaft, so it's easier to control and more precise.
A high-modulus graphite core and viper weave technology make up the Ashaway Striker Force 80. As a result, the racket is strong, durable, and comfy.
With its isometric head shape, the racket has a bigger sweet spot, so it's more forgiving on off-center hits. You can adjust the string tension to 30 lbs to make the racket feel how you want it.
It's a great racket for players who want power and speed. In addition to being durable and comfortable, it's also a good choice for players.
Online Badminton Racket Buying Tips
Here are a few tips to keep in mind when purchasing a badminton racket online:
Take a close look at the reviews. As a result, you will better understand how other people view the racket.
Ensure that the racket can be returned. It will allow you to test the racket before buying it and return it if it is unsuitable for your needs.
Make sure you are aware of the shipping costs. Consider shipping fees when choosing an online retailer, as some charge high shipping fees.
Final words
There are a wide variety of badminton rackets under 5000 we read that offer superior performance at an affordable price. The selection of rackets is vast and suits all types of players. As a result, you will be able to improve your skills.