Cricket is one of the most popular games in the entire world. Players spend their half of the life to play for their respective countries. Great fan following, charm, popularity and many more- this game has a lot to offer and take. But on the other hand, the players and also the game need some quality accessories and equipment to enhance the level and secure their players.

Cricket Helmets

We have seen that when the game of gentlemen started, the players used to play without any gloves, helmet, proper pads and even proper bat and ball. But with the time, things have changed. The evolution of cricket helmet has now reached its peak. Earlier, players used to play with only a dummy kind of head guard which was only responsible for the upper part of the head. But now, look where we are.

There are numerous sports manufacturing companies who are producing the exquisite quality of cricket helmets. Great attractive designs, better protection, ear and eyes protection, lower head extended helmets, comfortable cushioning and greater grill system- These all are the greatest qualities which are being offered by every helmet manufacturing companies.

So, now let's check out some exquisite cricket helmets and their quality features in details-

1) Masuri VS Elite Titanium Grill Cricket Helmet

Masuri is one of the leading and premium helmets manufacturing brand in the world. They make their sports equipment with high quality and for the professional players. All the cricket helmets from Masuri brand are made of exquisite technology like HALO, EYE LINE, AIRFLOW and TWIN SHEEL.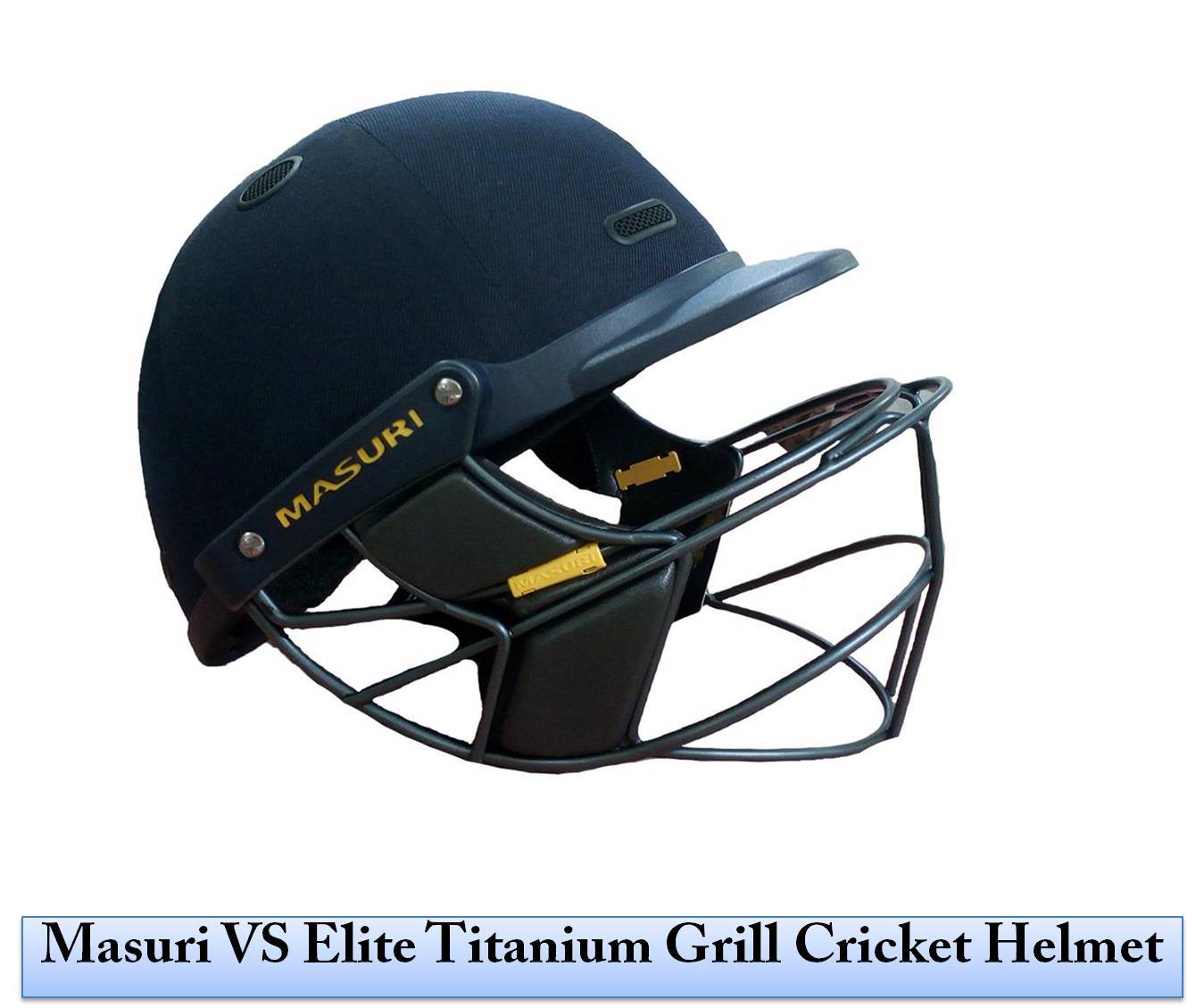 The Masuri VS elite titanium grill helmet is made with the latest technology and on the pattern of British design. This is the product of Flagship series which is solely developed for the advanced level players.

This helmet will give lightweight quality, great protection and powerful resistance strength. These helmets are suitable enough and will give you great air circulation because they are made with advance air vents. The great design of the airflow system is meant for better air ventilation.

Check the Details:

2) Ayrtek PremAyr Cricket Helmet Blue Size Medium

The brand of Ayrtek is considered among the top brands of the sports world. They produced high-quality products for the advanced level players and equipment which suits their game. This premayr helmet is made with the advanced ABS shell technology and with their patented ACIS (Air cushion impact system) technology.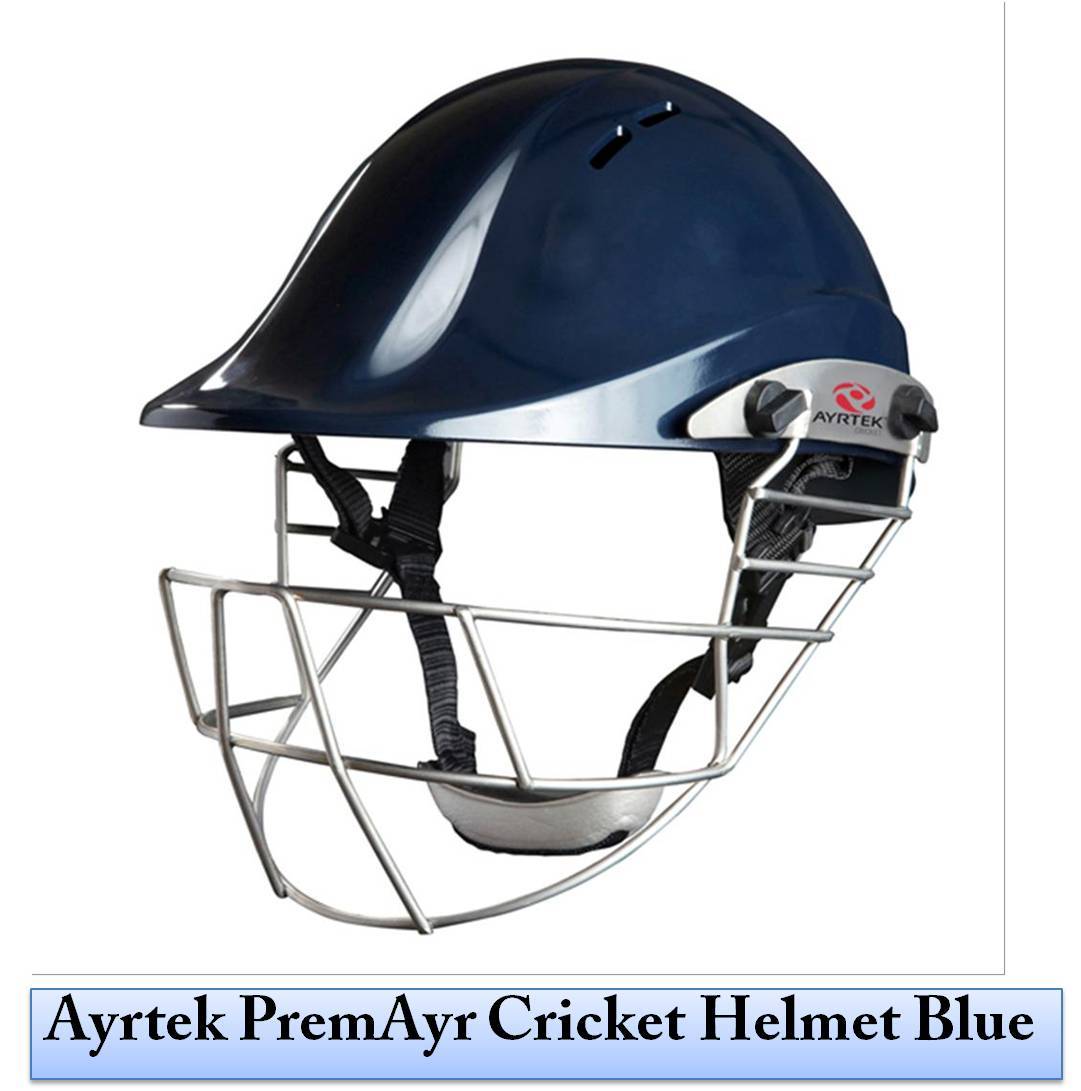 These two technologies make this helmet a step head from the other brands. This will give you better comfort and assurance of safety and also the quality of customized fitness. And last but not the least, this cricket helmet is lightweight, through which you can easily maintain your head balance.

Check the Details:

3) Moonwalkr Helmet Mind Size Large

We bet you must have seen this cricket helmet if you are a fan of IPL. International players like Dinesh Kartik are associated with this brand. The Moonwalkr Mind is the first ever cricket helmet in the entire sports world which provided the lower head protection. And the best part is that this sort of configuration does not demand the stem guard, because it mitigates the overall weight and along with enhances the protection.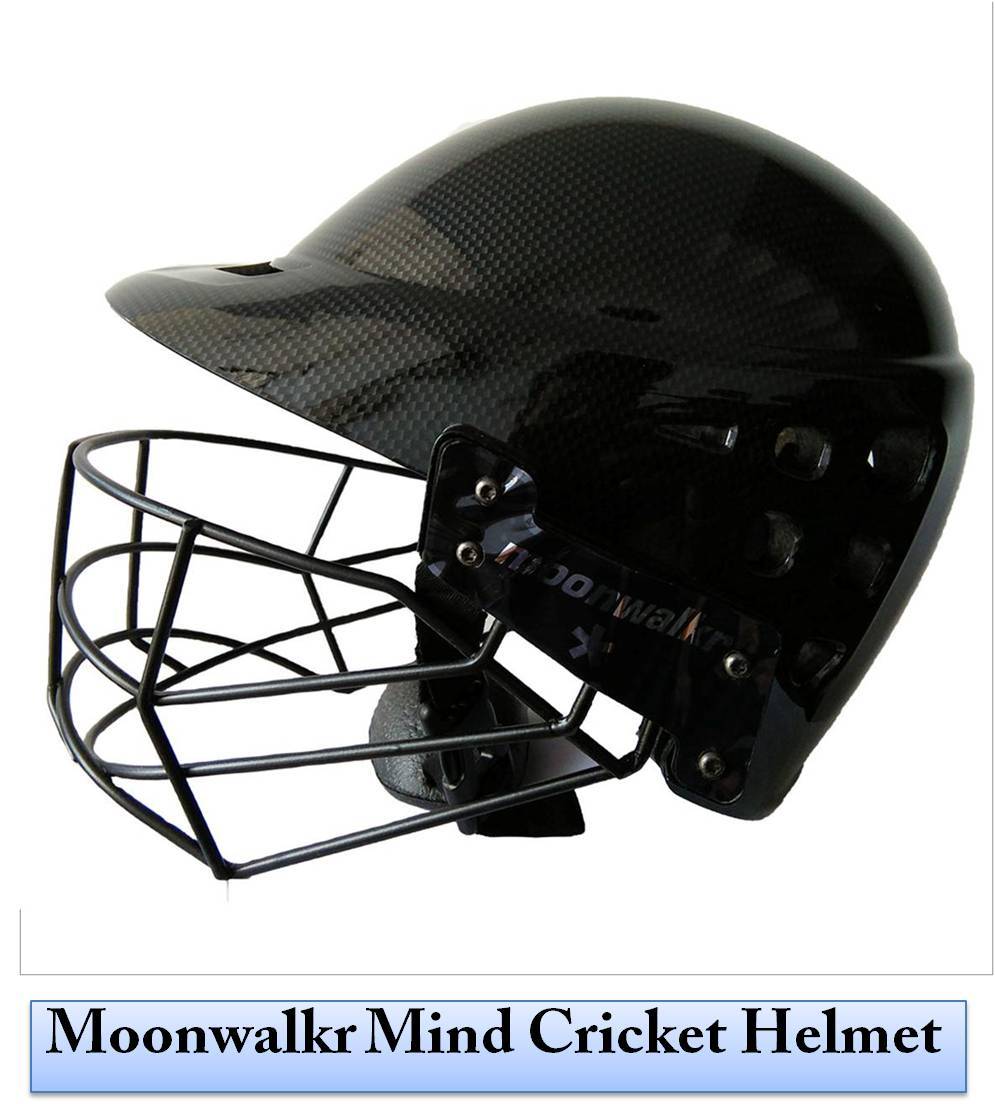 The Moonwalkr mind size cricket helmet is made with 30 air vents technology through which a player can get great air ventilation during the game and without facing the sweat.

Check the Details:

4) Shrey master class air cricket helmet with stainless steel grill

Shrey is a brand for professional players. Numerous international players are using the Shrey cricket helmet. These helmets are made with great architecture and with great technology through which a player can enhance his or her cricketing experience. These helmets are made with the lightest material through you can manage your head and body balance comfortably.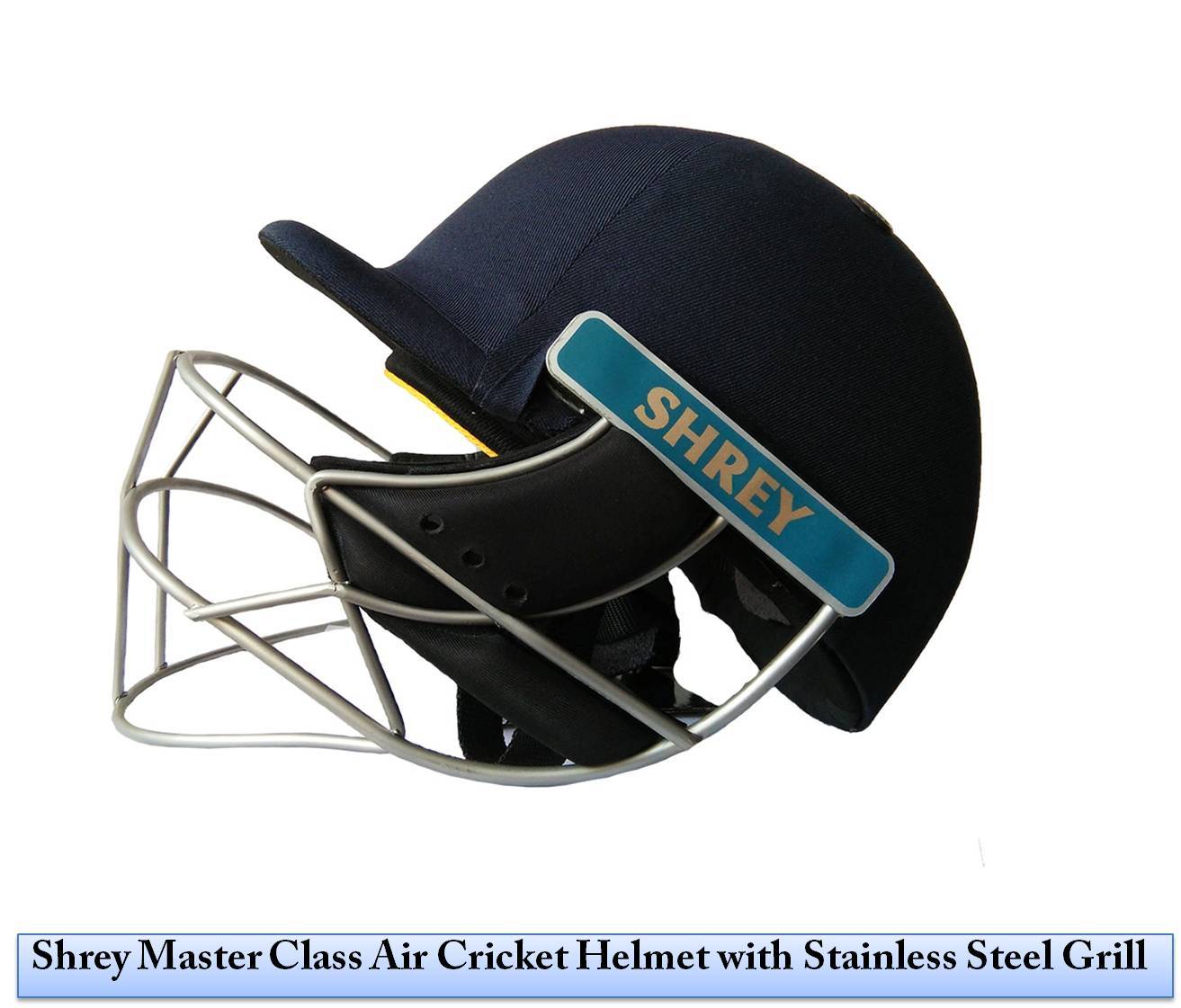 This helmet weighs around 920 gms and will provide all quality features for which you are looking. This helmet comes with fixed grill technology for better safety and also with an advanced airflow system. In this model, you also get an increased side and facial protection.

Check the Details:

5) SG Carbo Fab Cricket Helmet

SG is a brand of trust and quality because they produce one of the best sports products in all sports world. Many international and national players are associated with SG. Players like Hardik Pandya who is known for his hitting ability and on the other hand Pujara, a typical conventional player of test cricket utilize this helmet. We are saying this because the products of the SG brand are suitable for all kinds of players.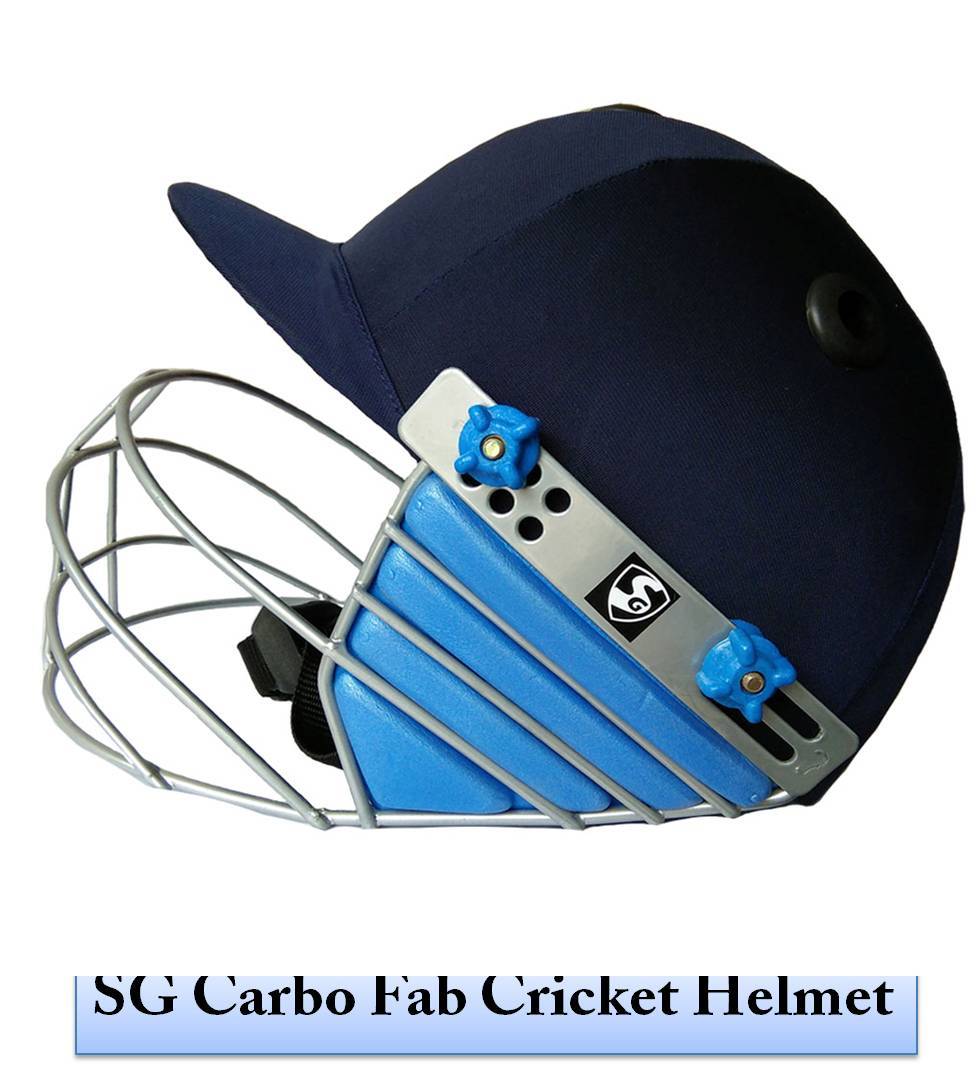 The SG carbo fab is composed of carbon technology which means ultimate protection. They have used powder-coated steel wire grill which is customizable and adjustable too. Inside padding is for better comfort and shock absorption. And the best part is that they have used the fabric which is sweat absorbing.

Check the Details:

6) Shrey Pro Guard Cricket Helmet with Titanium Steel Grill

The Shrey pro guard cricket helmet with titanium steel grill is one of the most useable cricket helmets among the professional players. This helmet is well capable enough to face any kind of bowling and deals with any obstacle. It is very lightweight and equipped with advanced level technology like advance level air circulation system and greater ventilation.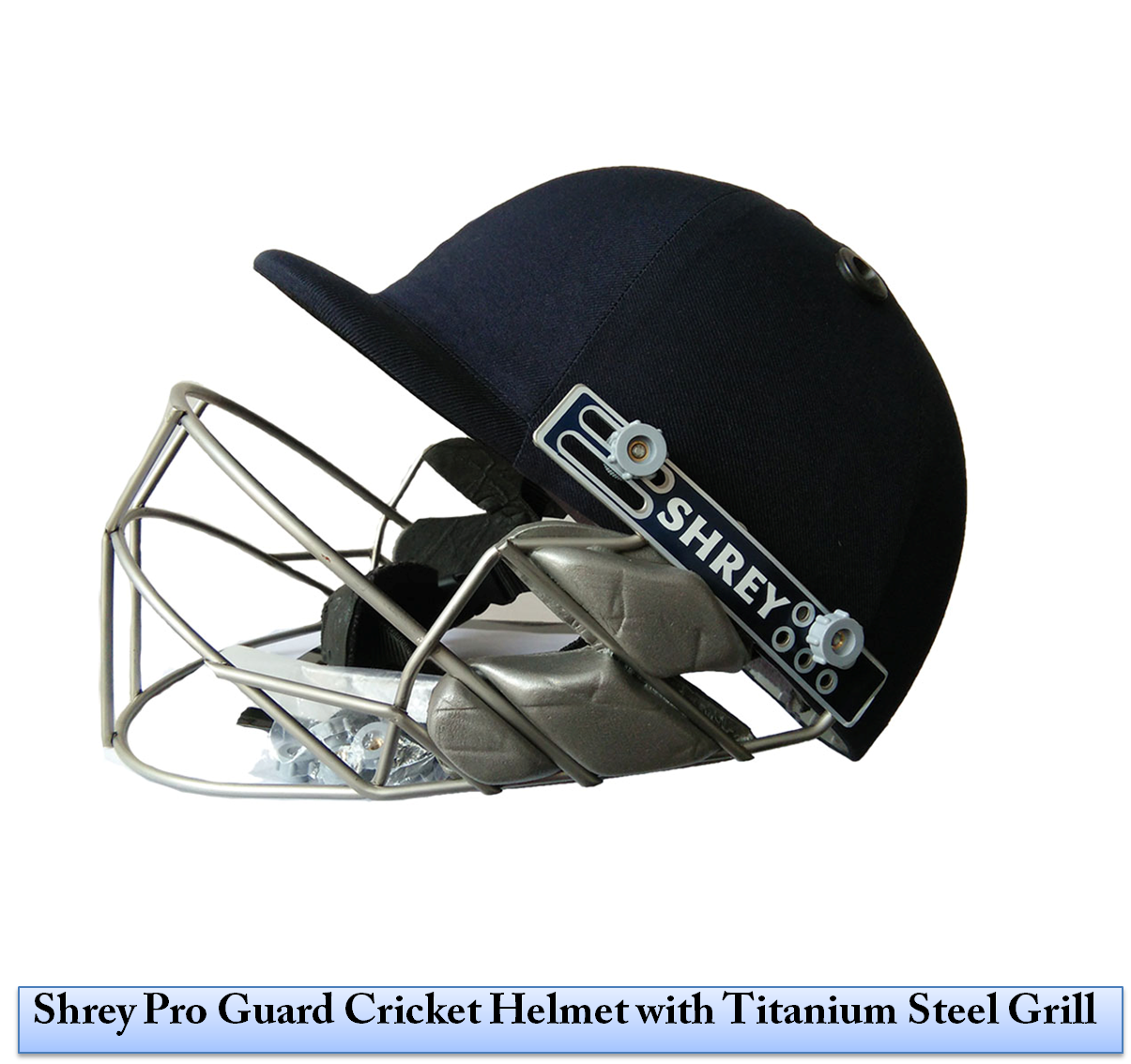 This helmet is affordable in price and popular among the players for its unique features and design. In terms of comfortability, it has quality cushioning pads for greater comfort.

Check the Details:

7) SG AeroTech 2.0 Cricket Helmet

Another exquisite cricket helmet from the quality sports brand of SG. As the name suggests, this helmet comes with all advanced level technologies and qualities. This helmet offers carbon fibre material for better durability, great strength and high performance. The upper shell is made with moulding technology and along with the fabric which absorbs sweat.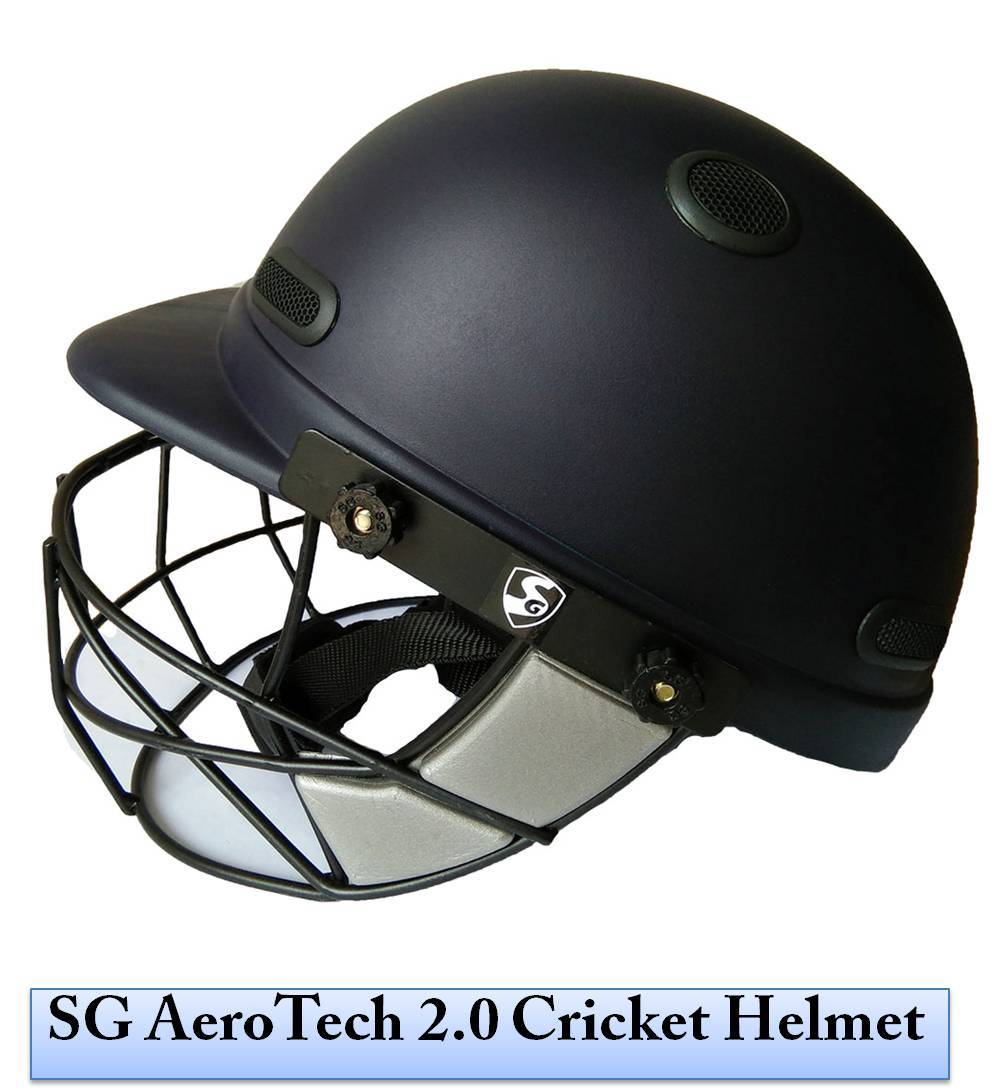 On the other hand, the grills of this model are made with high-quality steel and greater coating. This helmet offers you customizable steel grills and system of inner padding. SG used polystyrene cum mesh inner shells. Last but not the least, the inclusion of six (netted) vents delivers better air circulation.

Check the Details:

8) Forma Pro Axis Titanium Cricket Helmet

Forma brand is one of the most popular brands in the sports manufacturing world. They produce high-quality products for all age groups of players. The brand of Forma is highly focused on the safety of the players; that is why they make their cricket helmets or equipment with advanced technology.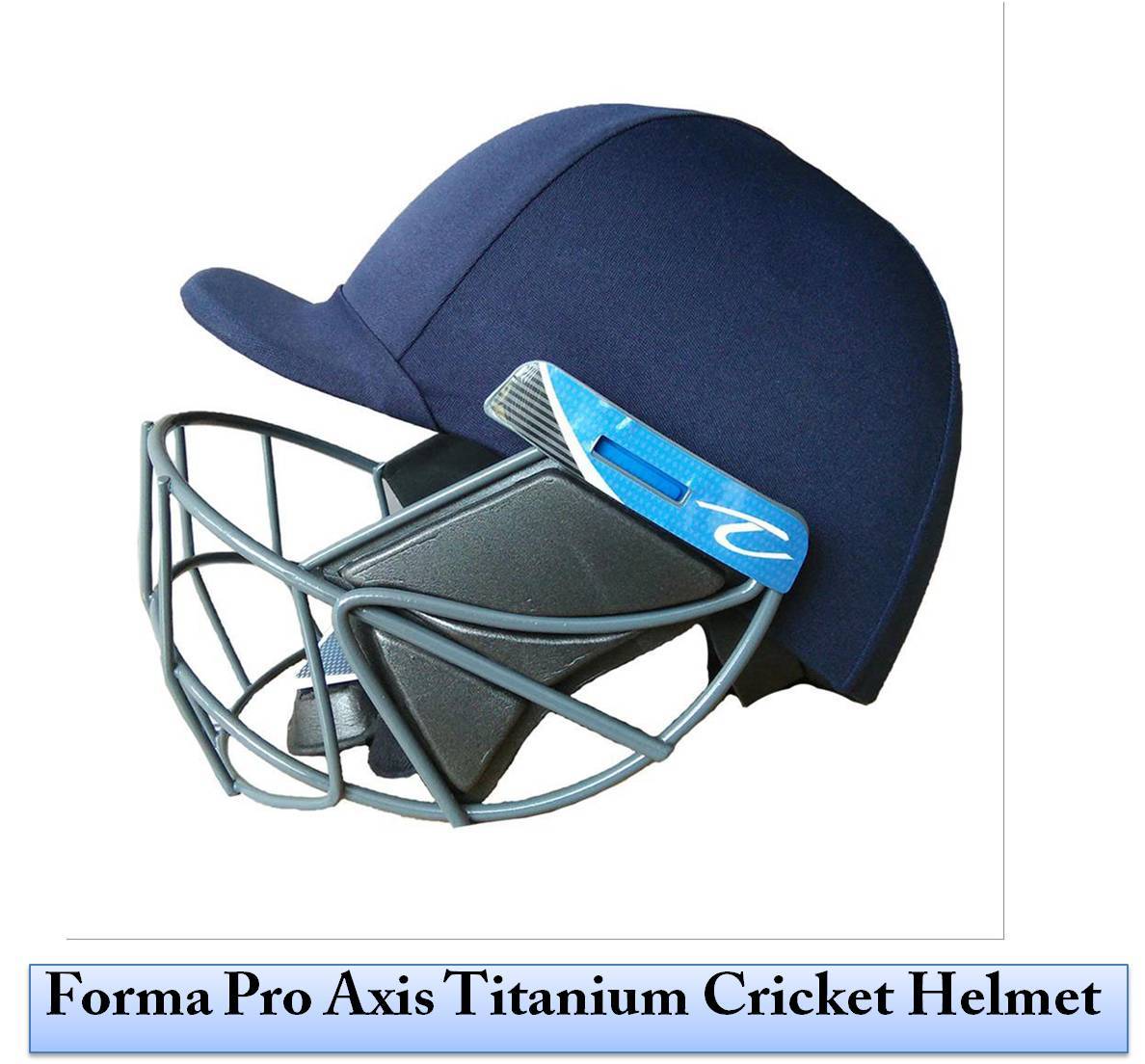 The Forma Pro axis titanium cricket helmet is developed with plastic material at the outer side of the helmet which is built with unique design and shape for greater fitting and comfortability, and foremost the protection of the head. This helmet consists of EPS as inner shell, for greater comfort. The technology of visor is utilized for high protection, and titanium grill gives greater shape and visibility to the player. The use of non-toxic straps for helmet promotes adjustability.

Check the Details:

9) Albion Cricket Helmet

Yet another important name in the list of great sports manufactures. The Albion is known for its quality products in the sports world, and this helmet is the greatest paradigm of their quality. The Albion cricket helmet is made of polypropylene material which provides greater durable and flexible inner shell for needed strength. They have also used quick fit technology which supports greater comfortability.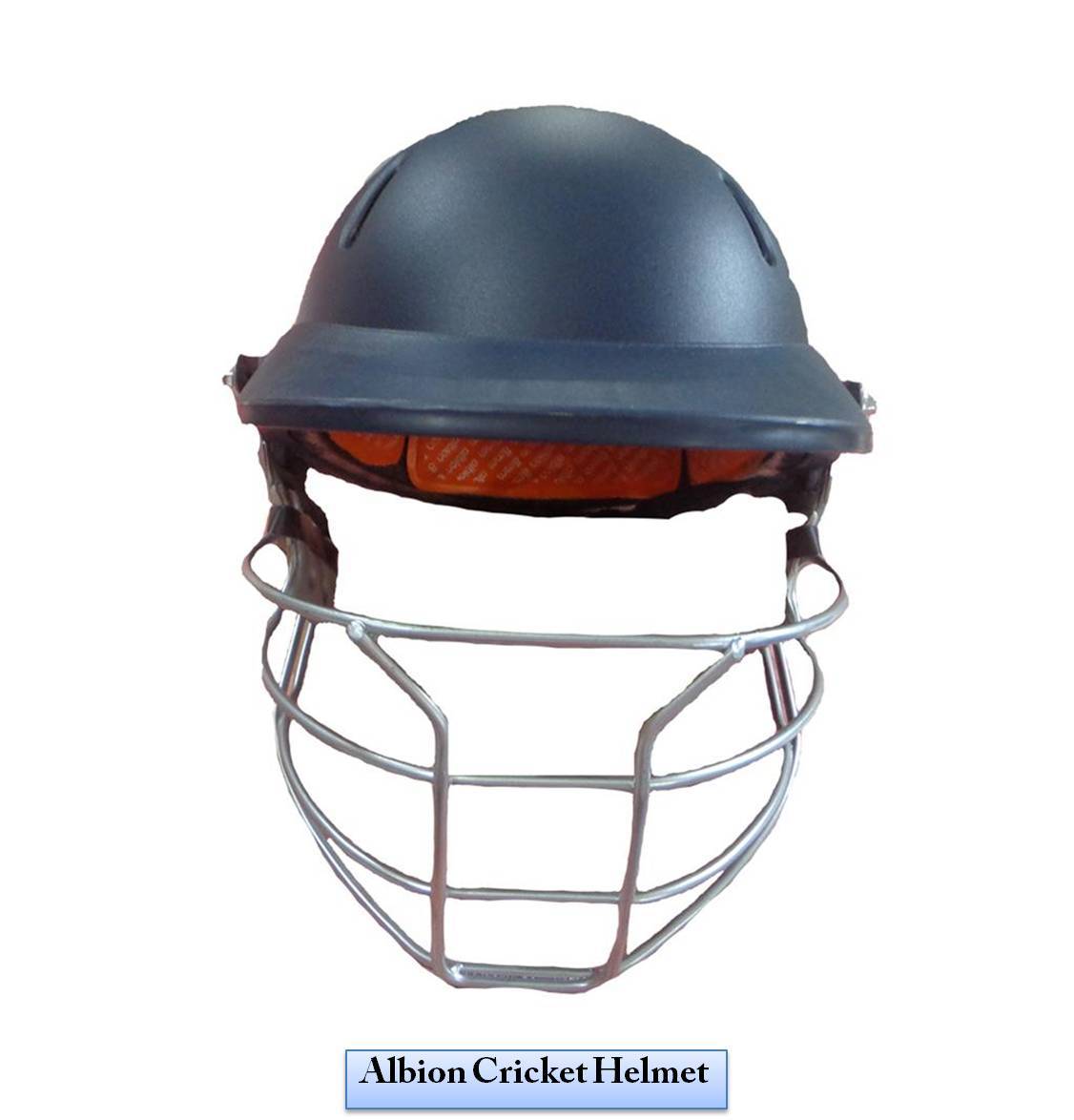 They thoroughly focused on the lock system of the helmet; that is why they used the quick release system for easy and better lock system. They have also used foam insert technology for greater absorbing power. And the best is that these helmets are very attractive in design and affordable in price too.

Check the Details:

10) Forma Test Plus Titanium Cricket Helmet

The Forma test plus titanium cricket helmet is one of the most popular ones among the players because of its unique design and features. The company used a titanium grill in this helmet for better ear protection and visibility of the eyes during the game. This helmet incorporates straps technology for better customizability.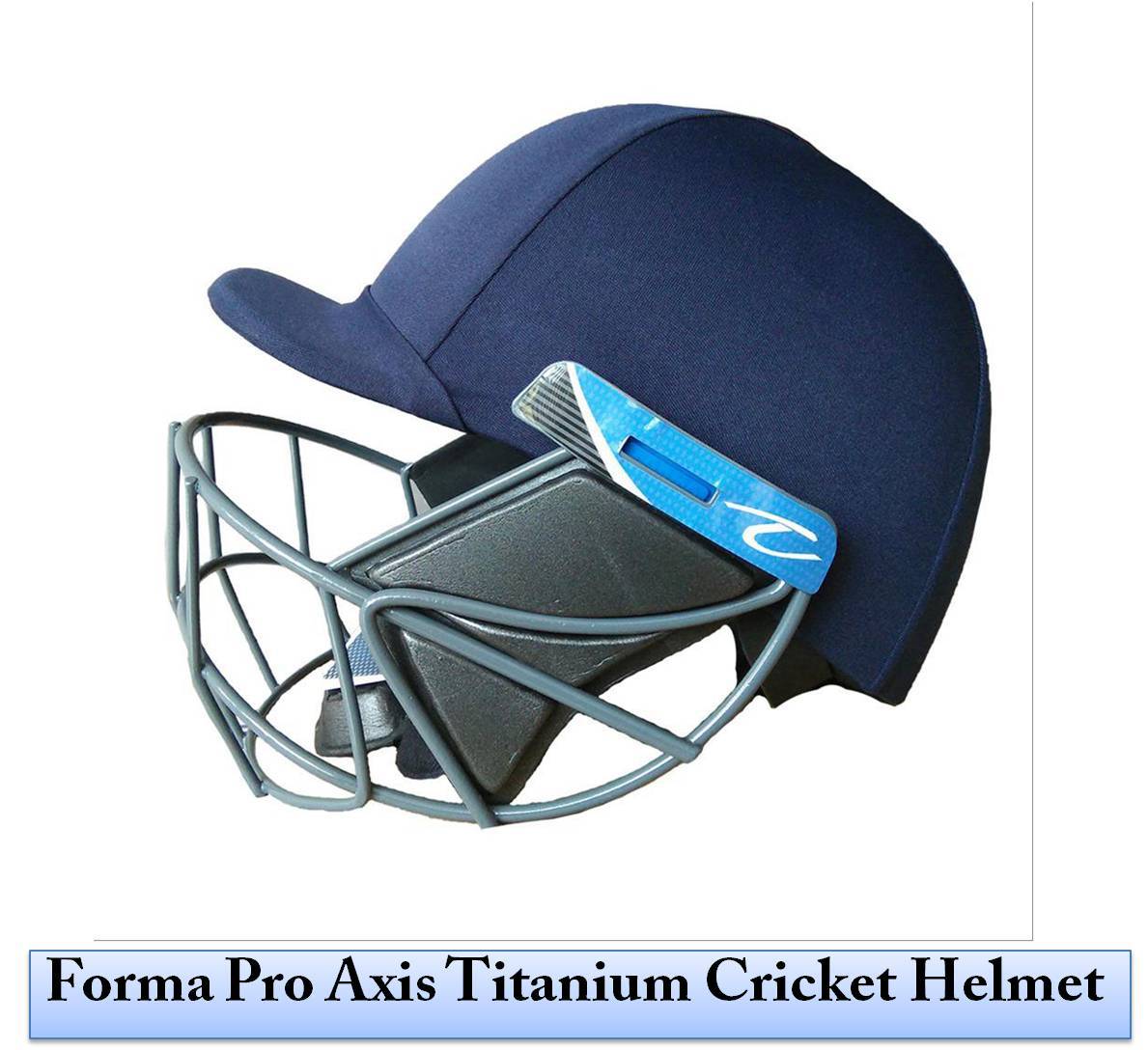 They also used shock absorbing technique for greater comfortability and protection. This cricket helmet has all the necessary features and qualities which are needed for better game practice. And the best is that you can buy this helmet without putting extra pressure on your pocket.

Check the Details:

Conclusion

So, these are the best 10 cricket helmets of 2019 which are attracting the attention of the players with their unique and quality features. All these cricket helmets have their own unique features, but it totally depends on your choice that what sort of quality you are looking for in the helmets.

Despite all the unique features and qualities of all products, you can choose Masuri VS Elite Titanium Grill Cricket Helmet, since it is highly equipped and affordable too.