All New Black Micro Core:
Yonex first times used black micro core into upper part of badminton racket frame. Black micro core is dense material which serve as a damping device. This dense material is also stiff in nature which provide a vibration absorbing device. This device or material absorb the unwanted vibration caused by shuttle impact and gives stable racket frame which helps in accurate shuttle placement. It is an innovative material technology which reduces the frame vibration up to a great extent.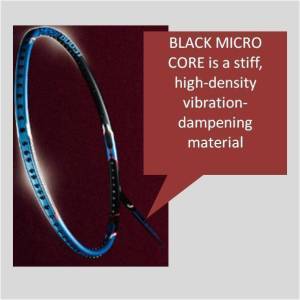 Nanometric Shaft:
Yonex used Nanometric material in shaft which gives excellent shaft characteristics. It improves the bonding strength of carbon fiber and lesser carbon content in shaft helps in producing slim and thinner shaft. By testing Nanometric shaft on following results are observed:
Nenometric shaft gives 8% more Bending strength as compare to traditional graphite material.
9 % better stiffness.
16% better impact strength.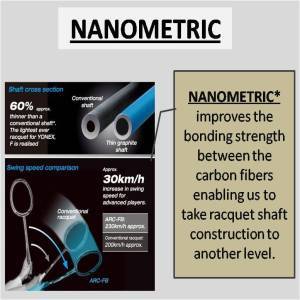 Super Slim Frame:
Yonex modified the shape and size of the badminton racket head which gives ultra slim racket head.
Ultra slim racket head provides following key benefits to players.
Better racket head swing speed.
Better racket maneuverability.
Best suited for those who wants to try fast drive and smashes.
All New Yonex Tri Voltage System:
Tri Voltage System Gives Powerful racket smashes:
Voltric series is head heavy series as per Yonex design. Head heavy series badminton rackets generate tremendous power on smashes as it leads to give more momentum. Further, to improve the head heavy racket characteristics, Yonex used stiff material at racket head which result into optimized shuttle hold time at string bed. By using stiff material at racket head, now player will get better power and control on shots. Yonex further improve the racket characteristics by making thin racket frame side. This improves the racket flex and help in transferring the more energy into shuttle. With more energy transfer, badminton player will get maximum power on shots.
Overall, the combination of head heavy, stiff racket head top and flexible side offer incredible power, speed and control to badminton players.
Tri Voltage System Gives Speedy Racket handling:
In order to balance the head heavy effect of racket, Yonex first time used the very thin and aerodynamically shape side at frame head. This type of aerodynamically designed racket head side offers fast racket swing speed by which player gets quick racket response which helps in placing fast drive shots, quick corner smashes and quick response to opponent drives.
Overall, with the help of Tri Voltage System, Badminton player will get maximum power while player dont need to compromise on badminton racket speed.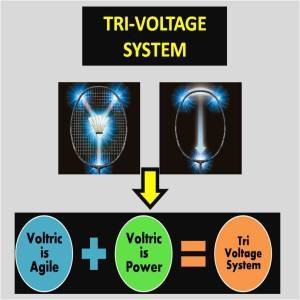 Built in T Joint (More joint rigidity):
Joint of any device is a weaker part and its affect the overall dynamic of the device. In Racket T joint is a weaker part and its affect the racket stability when shuttle hits the string bed. During shuttle impact on string bed, forces are transferred to T joint and if joint is weak in nature then it could cause direction instability of shuttle. Yonex identified this problem and developed built in T Joint. Yonex used Molded deep into the layers of graphite which gives joint free section and provide more rigid racket.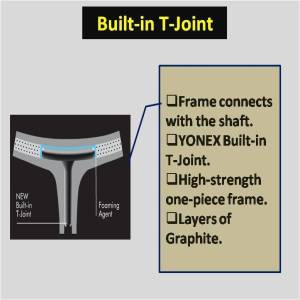 Control Cap for Better Gripping:
Control cap is a concept which is developed by Yonex to improve gripping of racket. Cap is a part which connect shaft with handle. Badminton player hold the racket from handle and finally grip its with Cap. Yonex used more flat surface on cap (88 PERCENT flat surface) which gives opportunity to grip more accurately.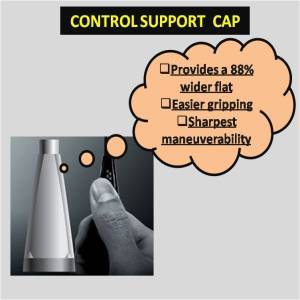 New Grommets Patterns - More Grommets -More Hole:
In order to improve the string pattern, Yonex used single passed grommets hole construction system. This type of system gives more grommets hole in same racket frame length which delivers the best in class rackets holes optimization.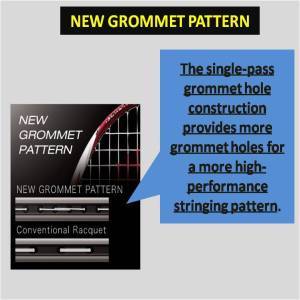 Combination of Aero Box Type Frame:
Yonex Used combination of Aero and Box type frame for making the cross section of the frame. Box type frame construction gives better strength while aero type cross section offer better aerodynamics of racket frame. The combination of two certainly helps in improving the overall characteristic of the racket.