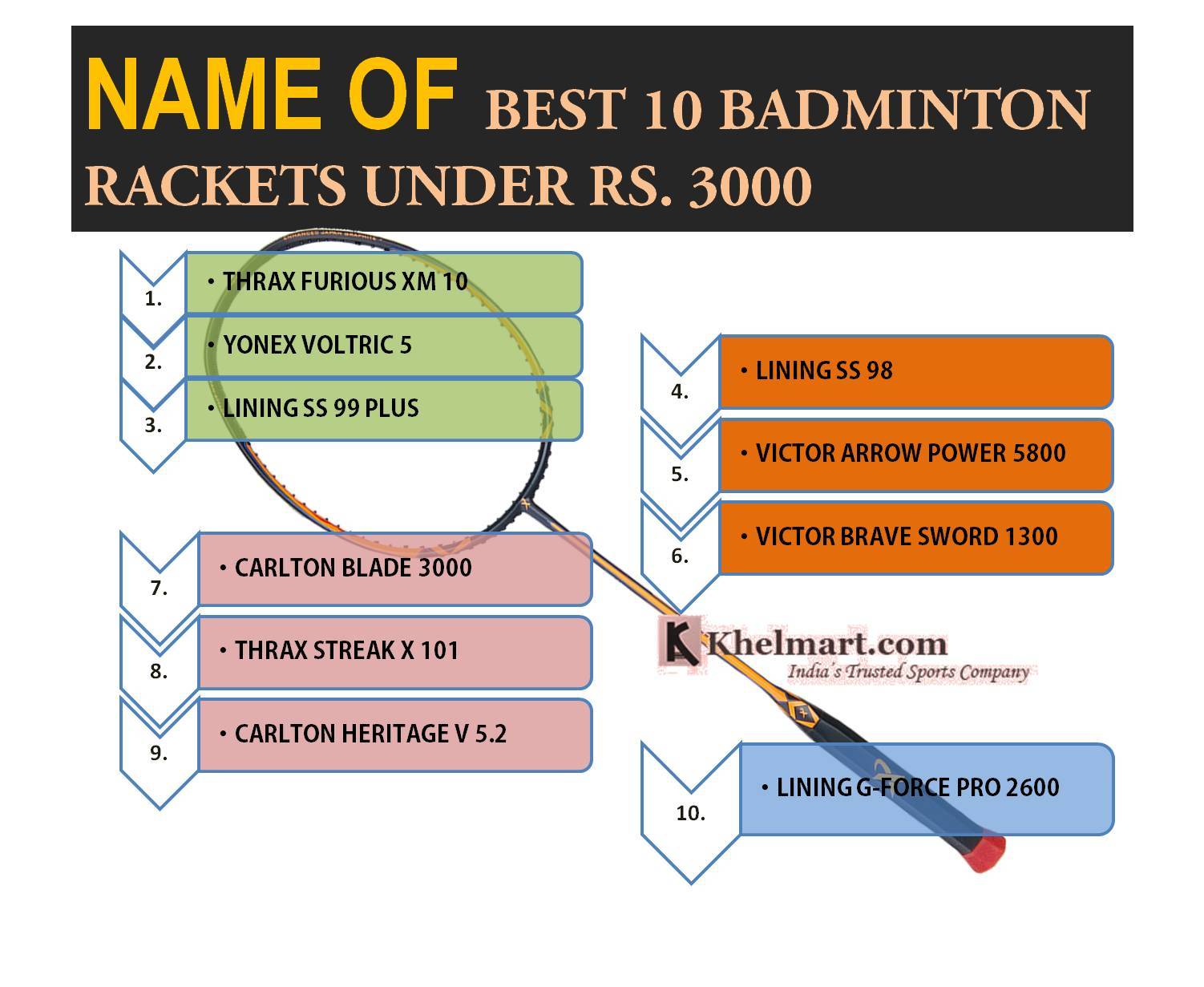 To choose the badminton rackets it is important to check badminton parameters so that player will get complete information about equipments:



Checkout the Blog how to select the Badminton Rackets



Check out the best badminton racket



Check out the best Yonex Badminton racket

Nowadays with recent innovation in graphite material, racket produced by manufactured are coming with better durability, impact & bending strength.

Most of the amateur player want best racket under economical price range. To get best racket player need to check the specs carefully. Selecting branded racket is good option but at the same time check the specification of racket.

For Example , Yonex Voltric 5 is a head heavy racket with 89 gms weight and 24 lbs string tension and its selling price at khelmart is Rs2590.Similer configuration racket in Thrax (Rapid Z 104) will cost you around 1490 Rs (85 Gms weight 26 string tension).

So by the example it is clear that, before selecting any racket, always try to compare it with other brand rackets.

In this Blog we are listing the

Best Badminton Racket under 3000 Rs

#1 Thrax Furious XM10: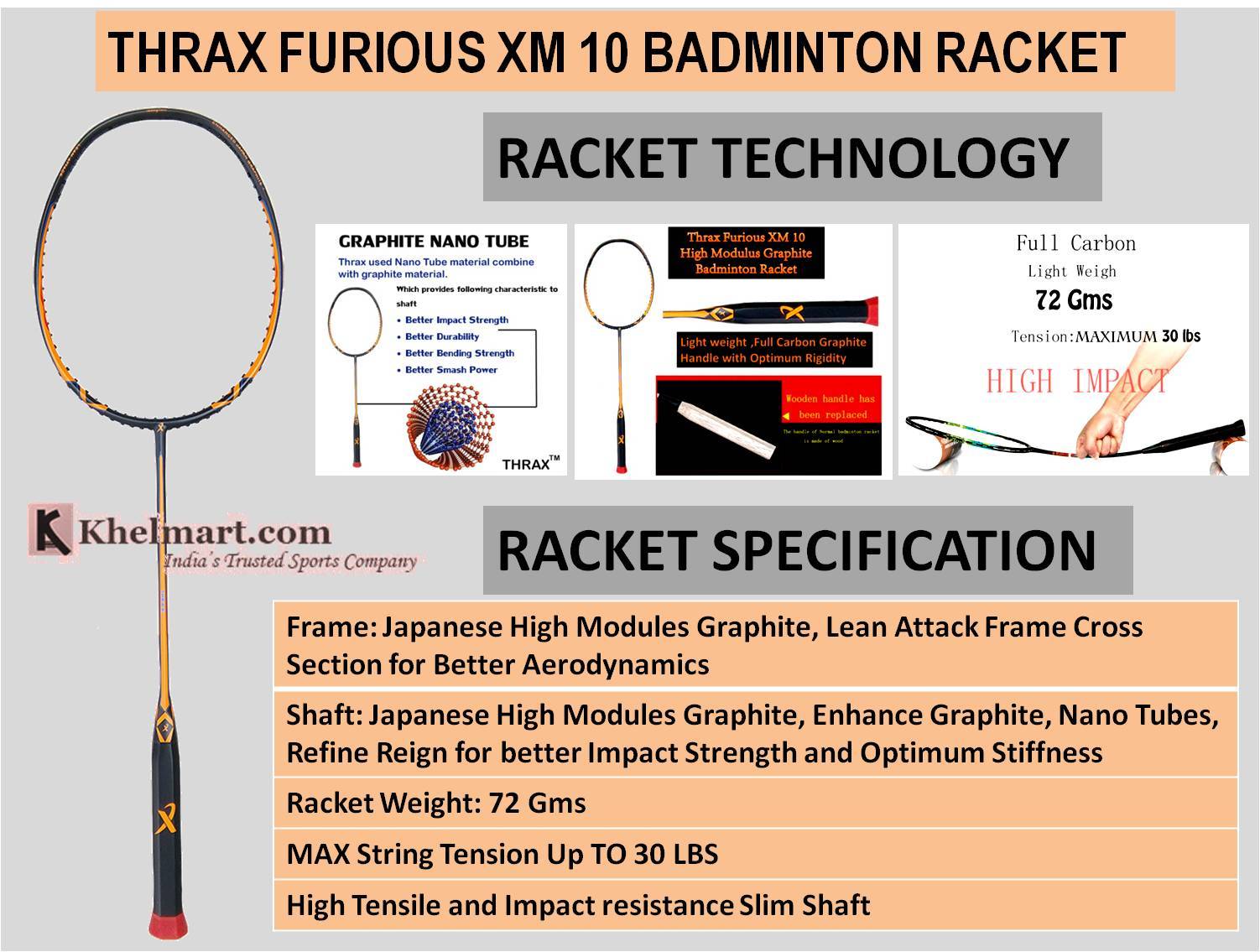 Do you believe that 72 gms with 30 lbs racket under 3000 Rs. Yes, It's Thrax Brand which launched the Furious ultra light series. Furious XM 10 is made of HM Japan 40 T graphite material.

Its handle is made of carbon graphite material which join free configuration. Which means there will no joint in the racket, not even in handle to shaft. It is single piece racket configuration.

Thrax used octane shape shaft in furious racket which in unique in its type.

It is a head heavy racket with stiff shaft. The combination of stiff shaft and head heavy configuration provide better power on shots.

#2 Yonex Voltric 5: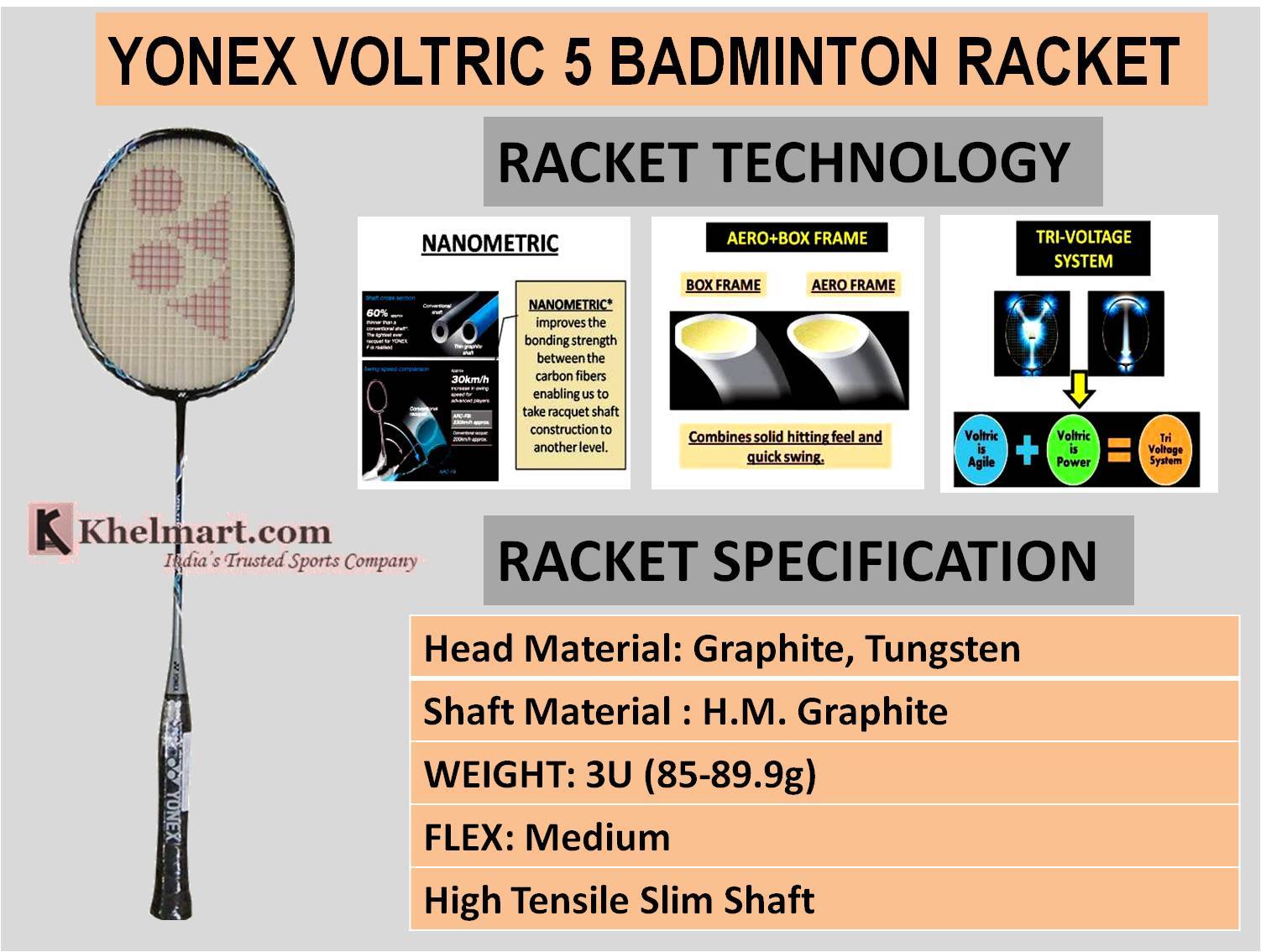 Yonex Voltric 5 is very popular model in Yonex Voltric series. It is head heavy racket with 89 gms weight.

Its shaft and frame is made from HM graphite material which offers better stiffness and frame durability.

Voltric 5 is equipped with Tri Voltage system which is designed to deliver better speed to player helps in fast drive shots while its head heavy nature offers better power helps in powerful smashes and shots.

Racket Frame cross section is designed with latest Aerodynamic concepts which offers less air resistance and results into fast racket swing speed. With fast racket swing speed player can effectively place the drive shots, half smashes and cross corner shots. It also helps in better drop shots and quick return in critical badminton rallies.

#3 Li Ning SS 99 Plus: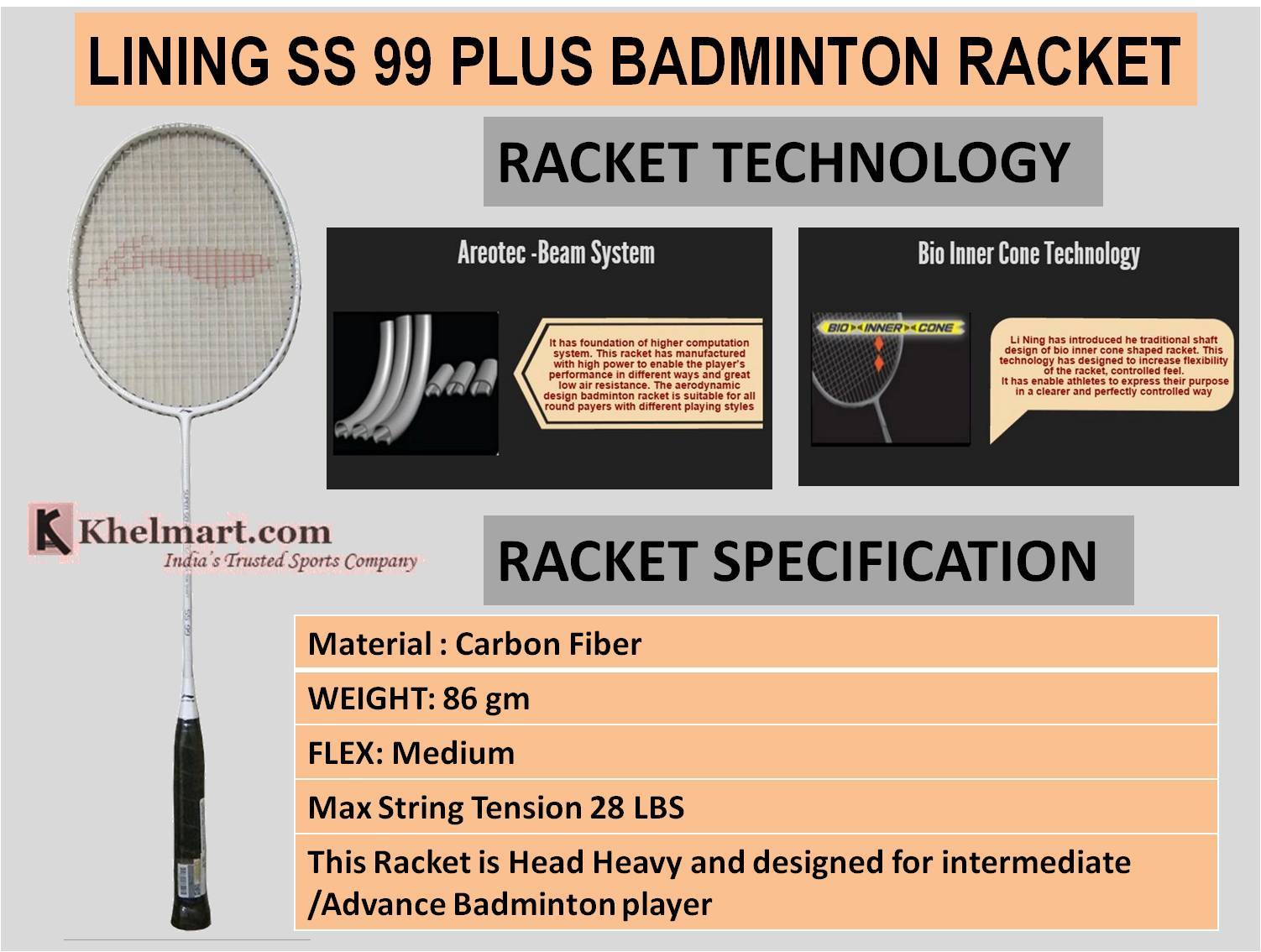 Li Ning SS 99 is latest Li Ning racket with head light configuration. It is developed with graphite material with better dynamic optimum frame concept.

Dynamic Optimum frame concept offers better frame power and impact strength to players. Weight of this racket is around 85 gms while it is available in S2 grip sizre.

#4 Li Ning SS 98: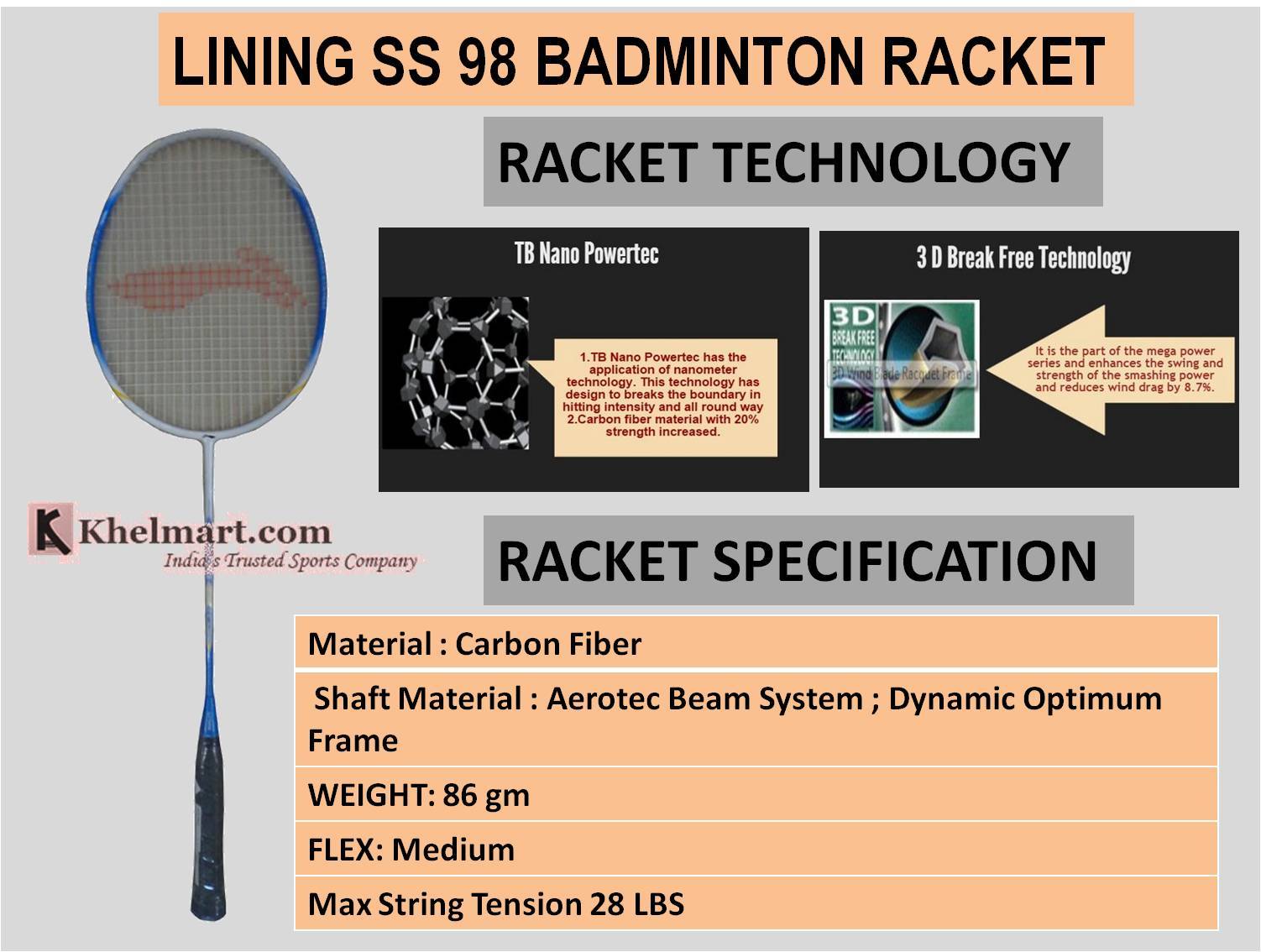 Li Ling SS98 Strung Super Series Badminton Racket is designed for intermediate /Advance Badminton player who really want to dominate in the game with More Power and fast racket swing. Li Ling SS98 Badminton racket is developed with Aerotec beam system which designed to generate less Air resistance.

Due to minimum air resistance in racket frame, SS98 will provide you super fast racket swing and you can perforce better badminton drive shots. With Dynamic Optimum Frame, uniform distribution of forces across the racket frame occurred which generate more power on shots.LI Ning is world's renowned firm in the field of sports equipment design and development.

#5 Victor Arrow Power 5800: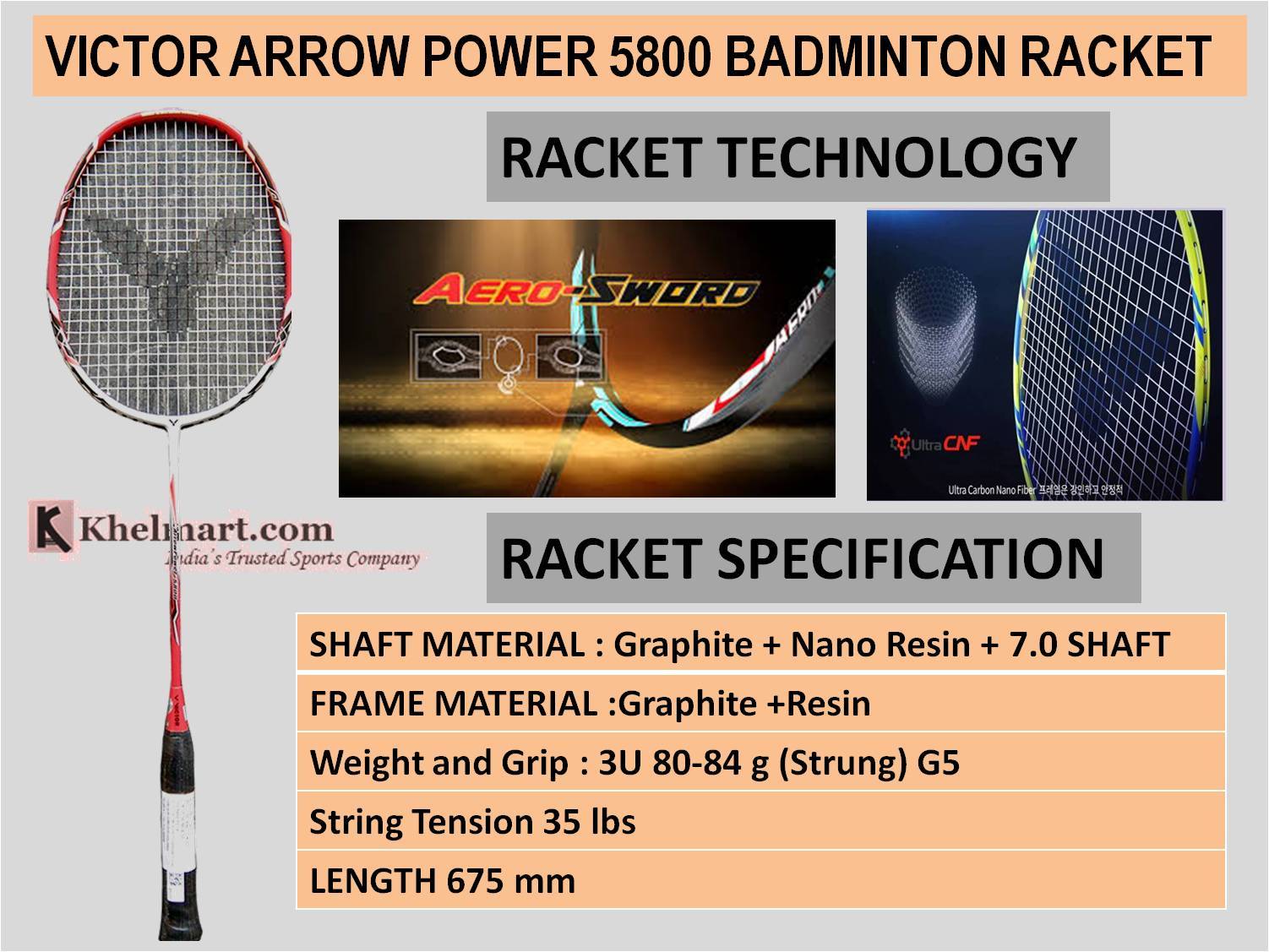 The frame of this badminton racquet is made of Graphite+Resin. The length of the racquet is 675 mm. The isometric head shape provides a large surface area for the shots and distributes equal amount of force across the frame. Victor Arrow Power 5800 badminton racket is suitable for Intermediate and experienced players.

Victor Arrow power 5800 Badminton Racquets has medium stiffness which helps when serving backhand or when you are serving a power shot. The shaft of this badminton racket is made of Graphite+Resin+7.0 SHAFT.

#6 Victor Brave Sword 1300: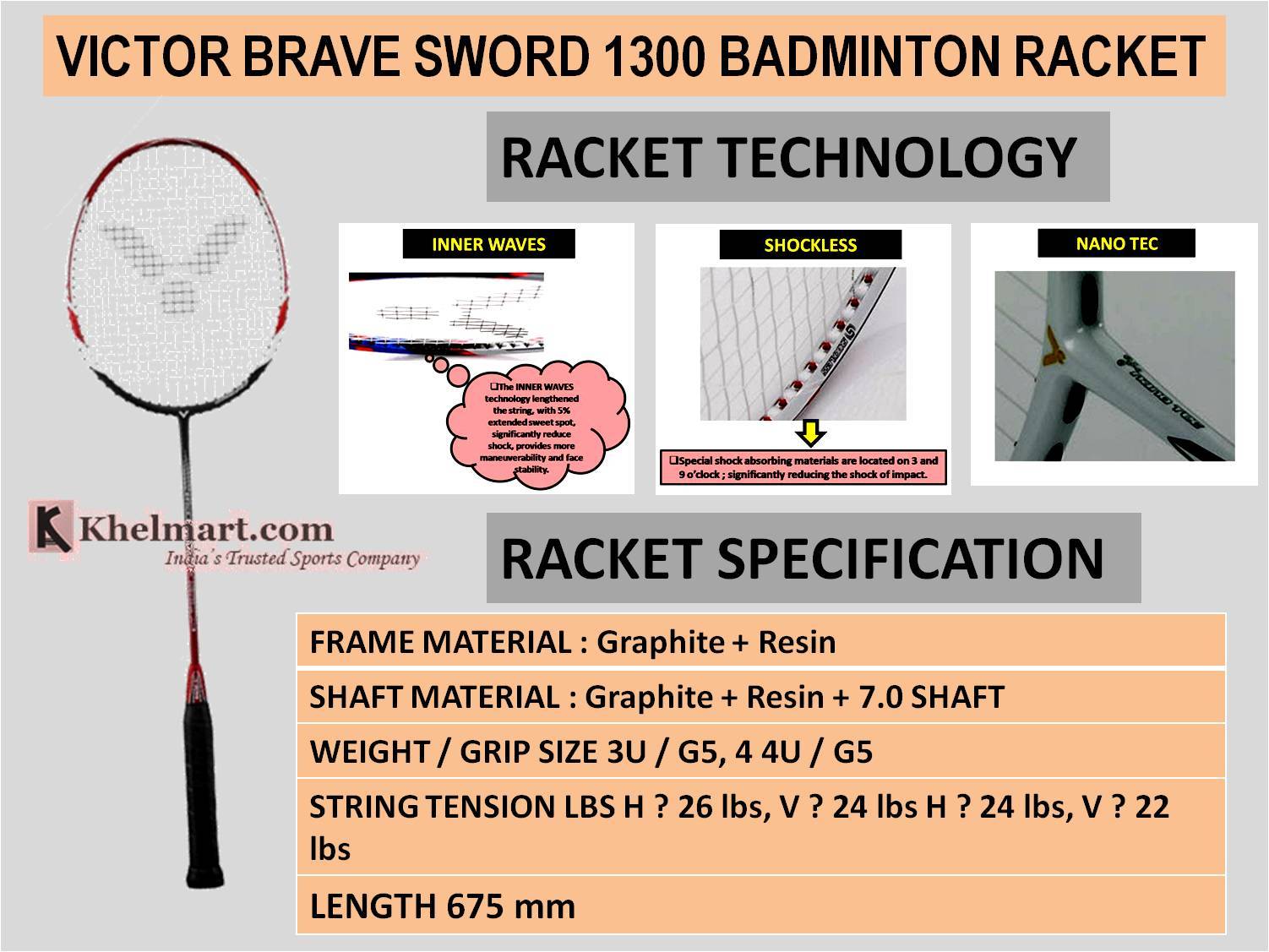 Victor Brave Sword 1300 is a durable badminton racquet. The shaft of this badminton racket is made of Graphite + Resin and 7.0 Shaft .The isometric head shape provides a large surface area for the shots and distributes equal amount of force across the frame.

These racquets use a new technology to reduce air resistance for stability. These racquets have a moderate string tension of 22-24 lbs and a standard length of 675mm. Victor Brave Sword 1300 badminton racket is suitable for Intermediate and experienced players.

# 7 Carlton Blade 3000: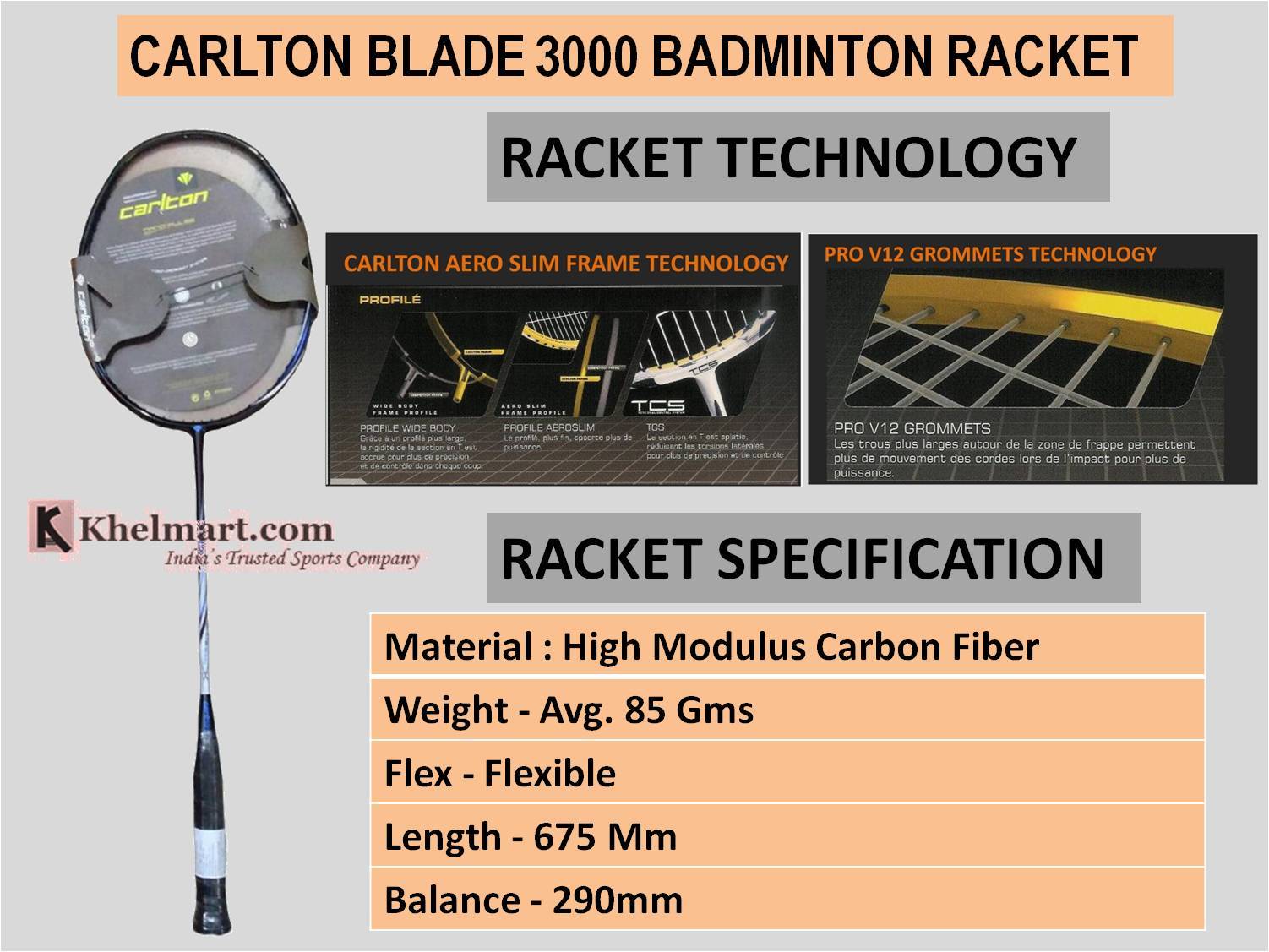 Carlton Blade 3000 is developed with high modulus carbon fiber material which gives better impact strength to racket frame. With higher impact strength, player will get additional power on shots for easy 3rd line clear and extra power on smash.

Racket is designed with Ari Blade technology in which racket frame cross section is developed with better aerodynamic cross section so that air resistance will be minimum. With minimum air resistance, player will get speedy racket handling and get better chance to play fast drive and accurate cross corner shots.

#8 Thrax Streak x 101: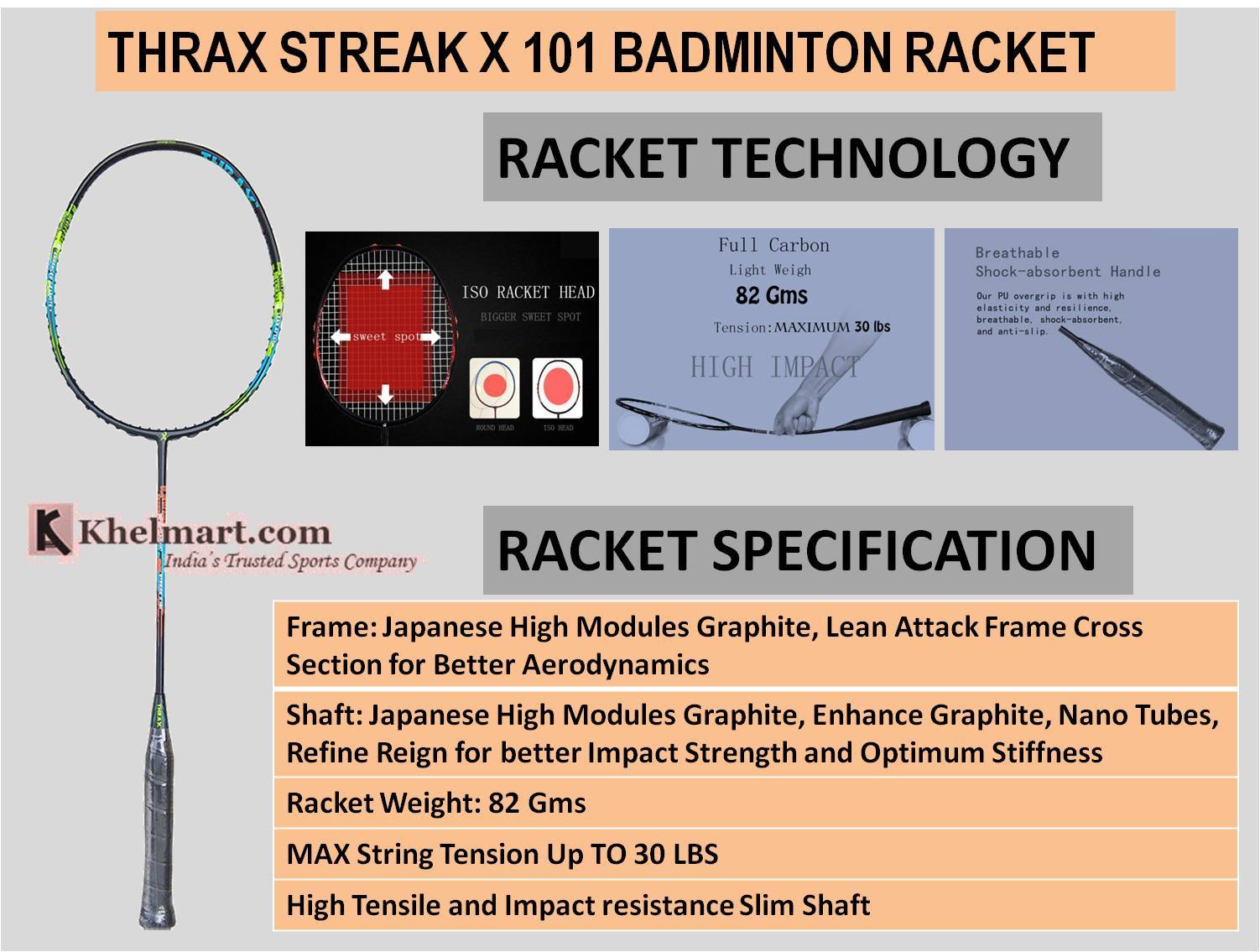 Thrax Streak X 101 is latest 2018 launch by Thrax sports .This racket is made from 40T Japan graphite which is very durable and sustain high impact load on racket frame.

Streak X 101 is a lightweight racket (82 gm ) with head heavy configuration. Its frame is mad of 40T graphite with nano tube material which will provide better strength and ability to sustain high string tension up to 30 lbs.

This racket is developed with concept like lean attack which provide superb aero dynamics to frame so that it can swing very fast to provide edge on opponent.

#9 Carlton Heritage V 5.2: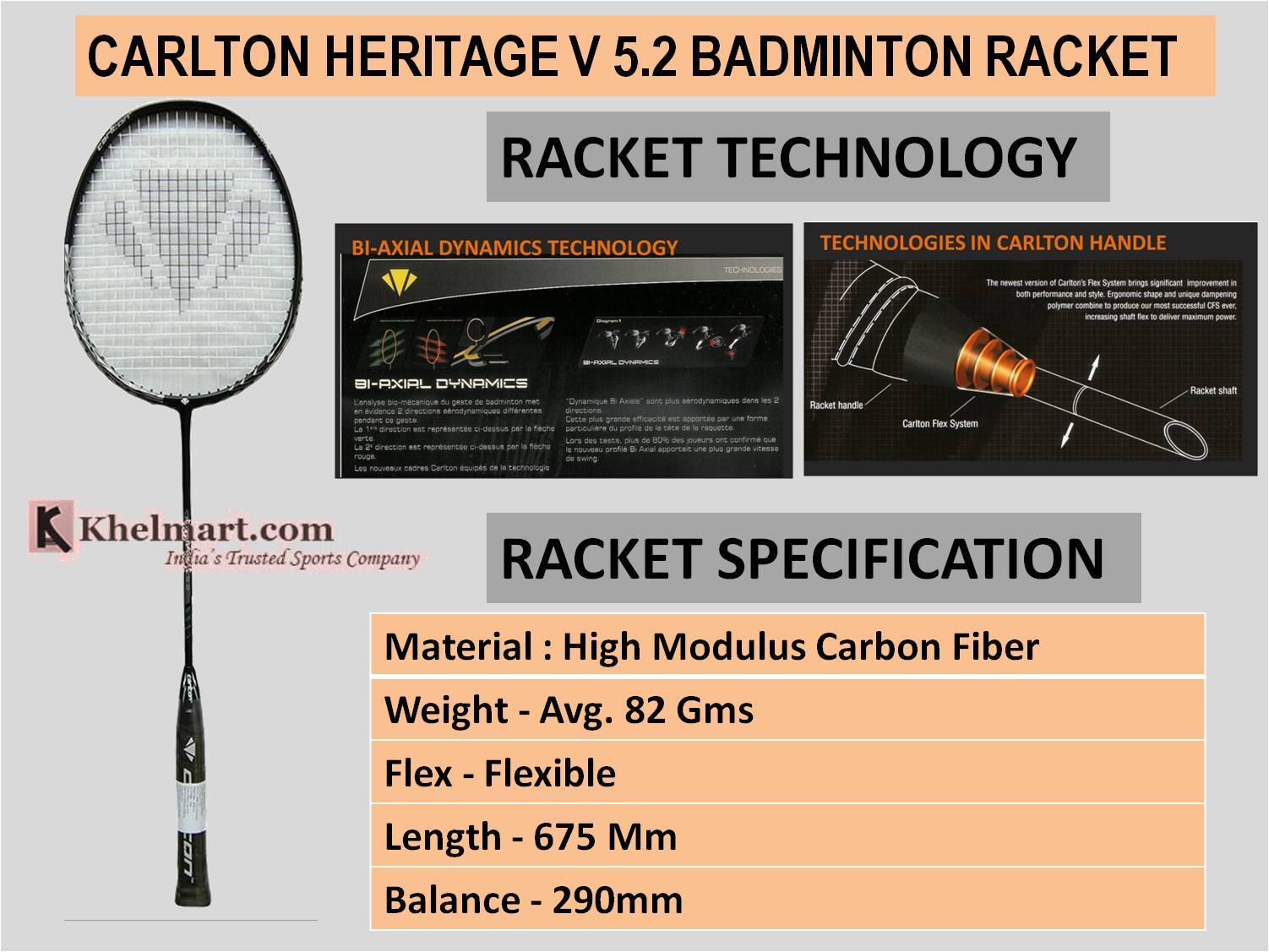 With innovative frame aerodynamic, Carlton Heritage series is unique in its category. With Even Balance configuration and aerodynamic frame, this racket will offer you killer racket speed by which you can surprise your opponent.

Heritage V5.2 is lightweight badminton racket (Around 80 Gms) ,further with improved aero dynamics player will get fast racket swing.

Carlton badminton used Japan High modules graphite material. This type of carbon graphite material is considered at best graphite material which can withstand the higher string tension up to 30 lbs. With higher string tension, player will get better power and repulsion from string bed.

Li Ning G Force PRO 2600: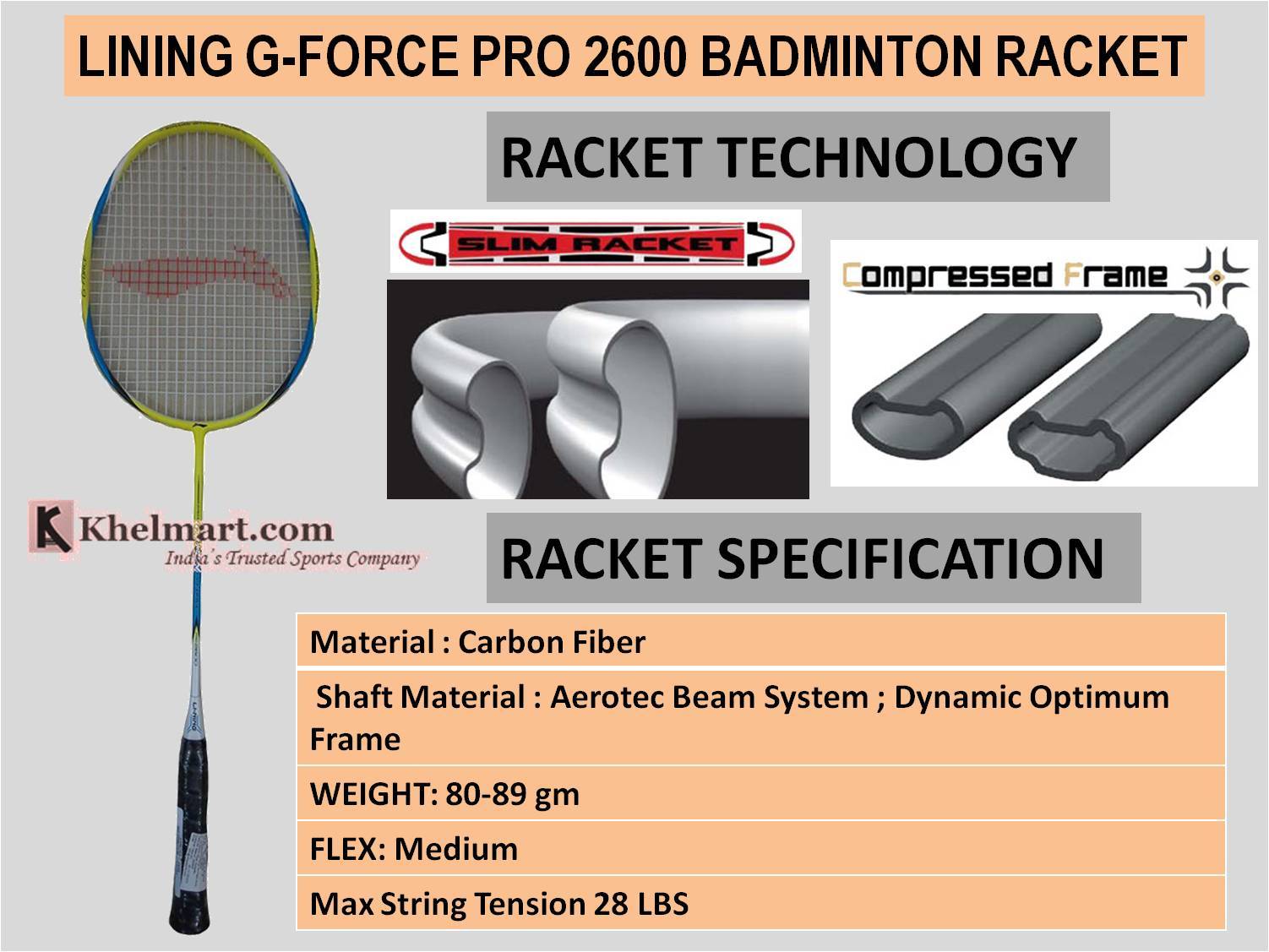 Li Ning G Force pro 2600 Badminton Racket is equipped with all new features which make this racket extremely powerful and destructive for opponent. With innovative technology, G Force 1500 will provide you 2.8% shuttle speed while it will give you 7.8 % less drag force which eventually results into powerful hitting with optimum control over shots.

G force pro 2600 comes in Yellow & Blue color scheme and it is made of very light weight carbon fiber material. Its weight is W2 (80 to 86 gms) while it is available in S2 grip configuration.