Badminton Racket plays key role in badminton player performance. Perfectly select racket will help players in performing better on court while on other hand, if a player select racket wrongly than it will put adverse impact of performance.

So, badminton Racket should be selected carefully by considering following key points:

Weight of the racket

Balance Point of the Racket

Stiffness of frame and material

Material of the racket

Frame shape and cross section of the racket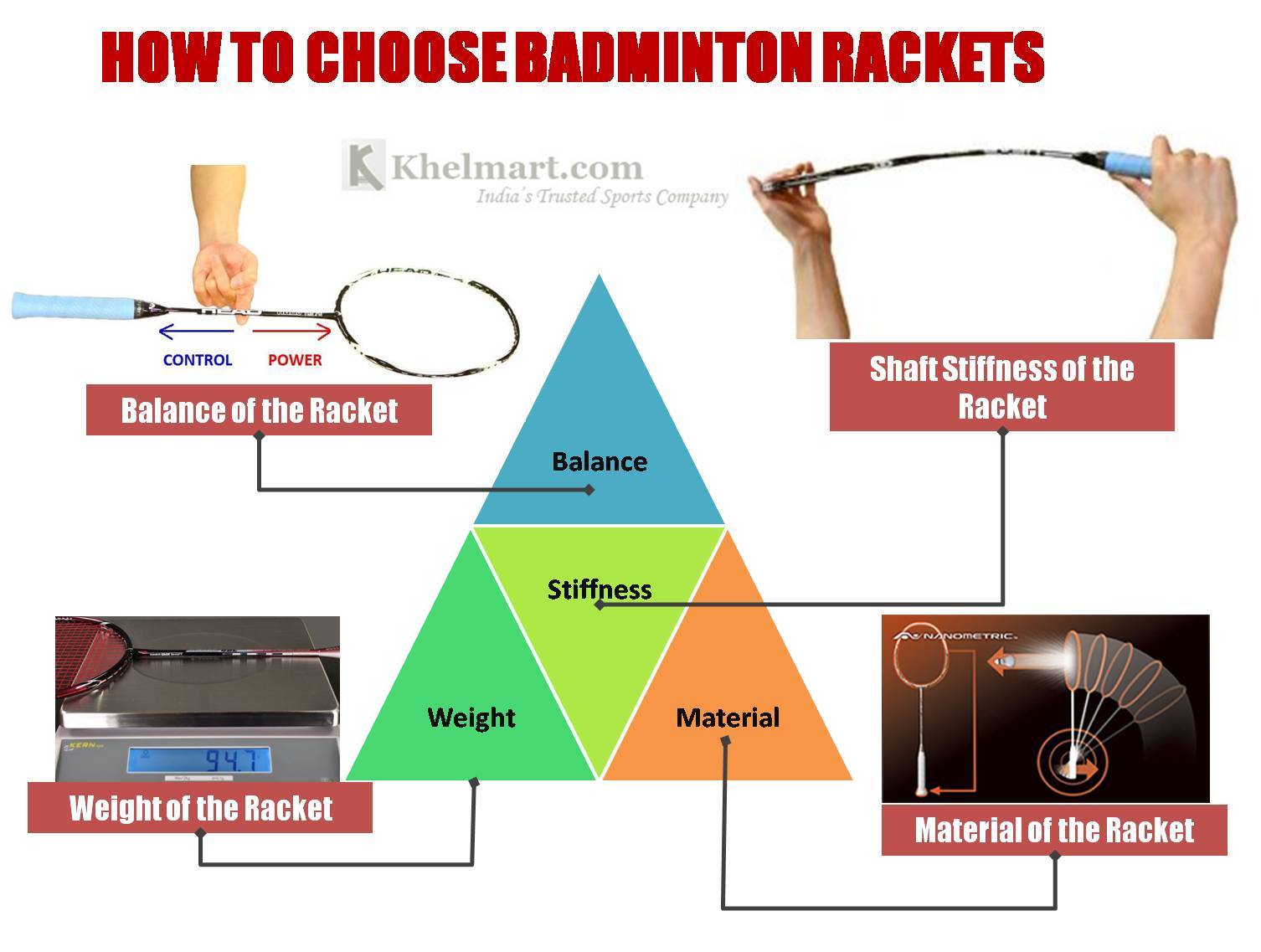 Check out the Best Badminton racket for Year 2018



Check out the Best Yonex Badminton Rackets:



Checkout the Video on How to select the Li Ning Badminton Racket

Badminton Player should check following:
Badminton racket should give flexibility to play as per player's game need. I.e. if you are all round type of player then racket should be easy to move and offer better flexibility. If you are an attacking player then racket should provide extra power on shots. If you like to player fast game then racket should provide speedy racket handling.

Badminton racket should be equipped with latest material technology so that it provides better performance.

Weight of badminton racket should be less so that it is easy to maneuver.

Racket technology should suit the player playing style.

Weight of the Badminton Racket:
It is important to check the weight of racket as impact the shots speed, accuracy and control.

Lightweight badminton racket helps in providing better swing speed and easy to swing for getting fast drive and smashes. While on other hand, racket with mid weight with head heavy configuration will offer better power on shots.

So based on players game sytle , player needs to select the badminton racket.

Some popular Lightweight Rackets:
Thrax Furious XM 10:
It is a latest launched by Thrax in lightweight category. Its weight is around 72 gms only which is ultra light weight in nature. This racket is made from Japan high modulus graphite material with nano tube.

The combination of graphite and nano tube offers better strength and lightweight nature to racket. This racket can sustain string tension up to 30 lbs.

Its balance point is around 310mm and shaft is mid flex.

The specialty of this racket is in its handle which is made from carbon fiber material so provide better strength, durability and lightweight nature.

Li Ning Windstorm 72:
It is made from HM graphite material with weight of 72 gms only. Li Ning Windstorm 72 is developed with advance superlight technology in which overall racket design change to reduce the racket weight Windstorm 72 weight is (72Gms 6U) which means it is lightest racket in Li Ning Badminton racket series.

Along with other parameter, this racket is designed for those players who wants very fast racket handling and wants to dominate in the game with fast racket handing. It is a soft Flex Badminton racket which is designed to give you best flex with perfect control over shots

Yonex Voltric FB:
Weight of Yonex Voltric FB is around 73 gms which is light in complete Voltric series. It is made of durable grade graphite material which can sustain the higher string tension above 30 lbs.

Yonex used innovative frame design concept which includes reengineered frame section at lower and mid area. Due to reengineered frame design, Air resistance reduced significantly which eventually helped in fast racket swing. With the help of fast racket swing, player now can place fast drop smashes, fast drive shots, accurate cross corner drop shots.

Balance point of Racket: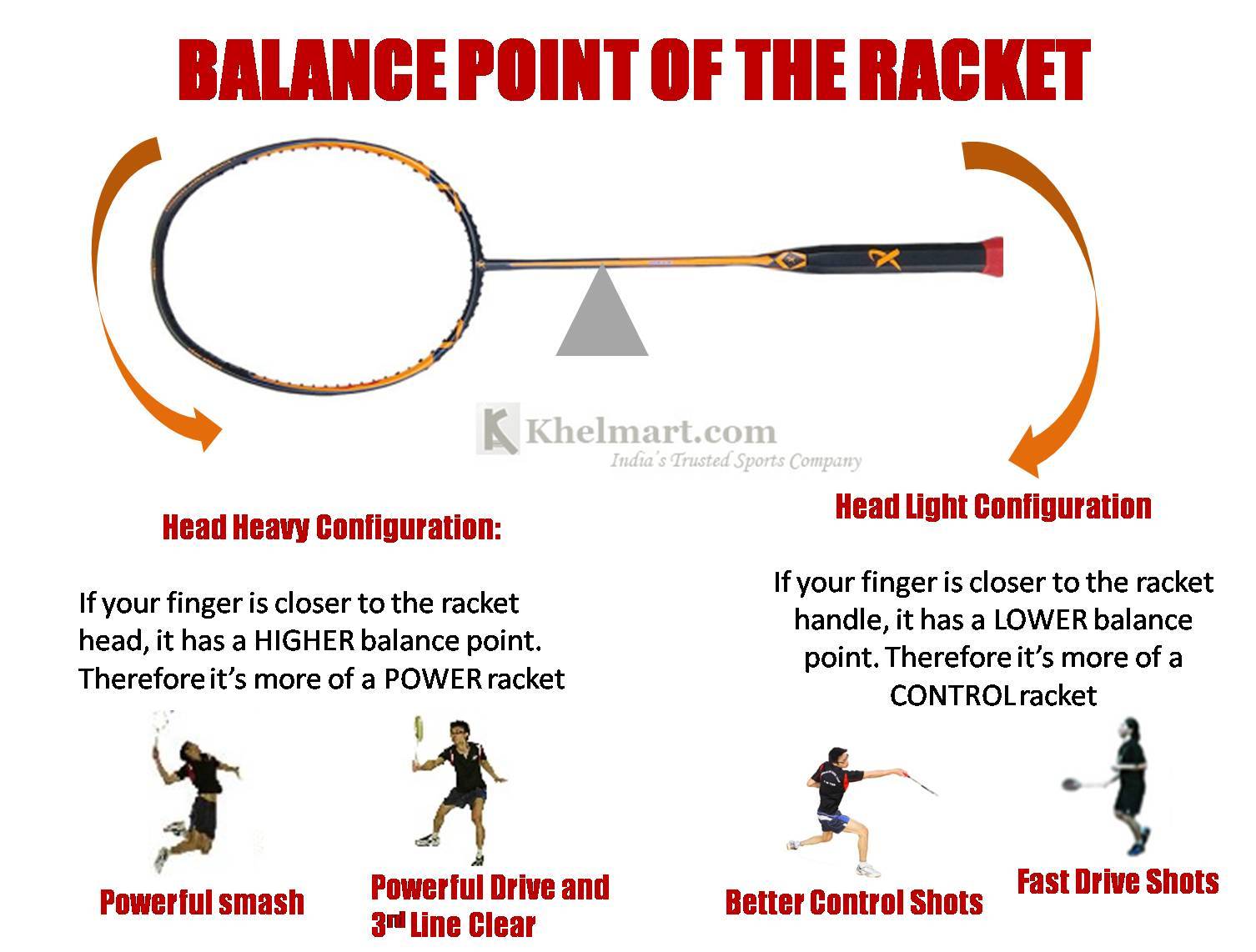 Balance point of the racket is a point where we can balance it. Balance point defines the overall dynamics of the racket. Based on balance point a racket can be classified into 3 types:

Head Heavy Configuration:
If you try to balance the racket on finger and find out that its balance point is closer to head side (it means weight of the racket is more toward head side) than racket will said as head heavy configuration.

Head heavy racket are suitable for those player who love to play powerful shots. Due to moment of inertia, Head heavy configuration offer better power on shots so player can perform better smashes, better punch shots along with drive and cross corner shots.

Yonex Voltric series is most popular in head heavy series, Thrax Furious series is head series in Thrax Racket.

Yonex Voltric 5 is most popular model in Yonex Voltric series which offers better power on shots along with fast racket swing speed. Yonex Voltric series is equipped with Tri Voltage system which offers better power and better swing speed.

Thrax Furious XM 20 Gen 2 is another good model in head heavy series. This racket is developed with Lean Attack concept. Lean attack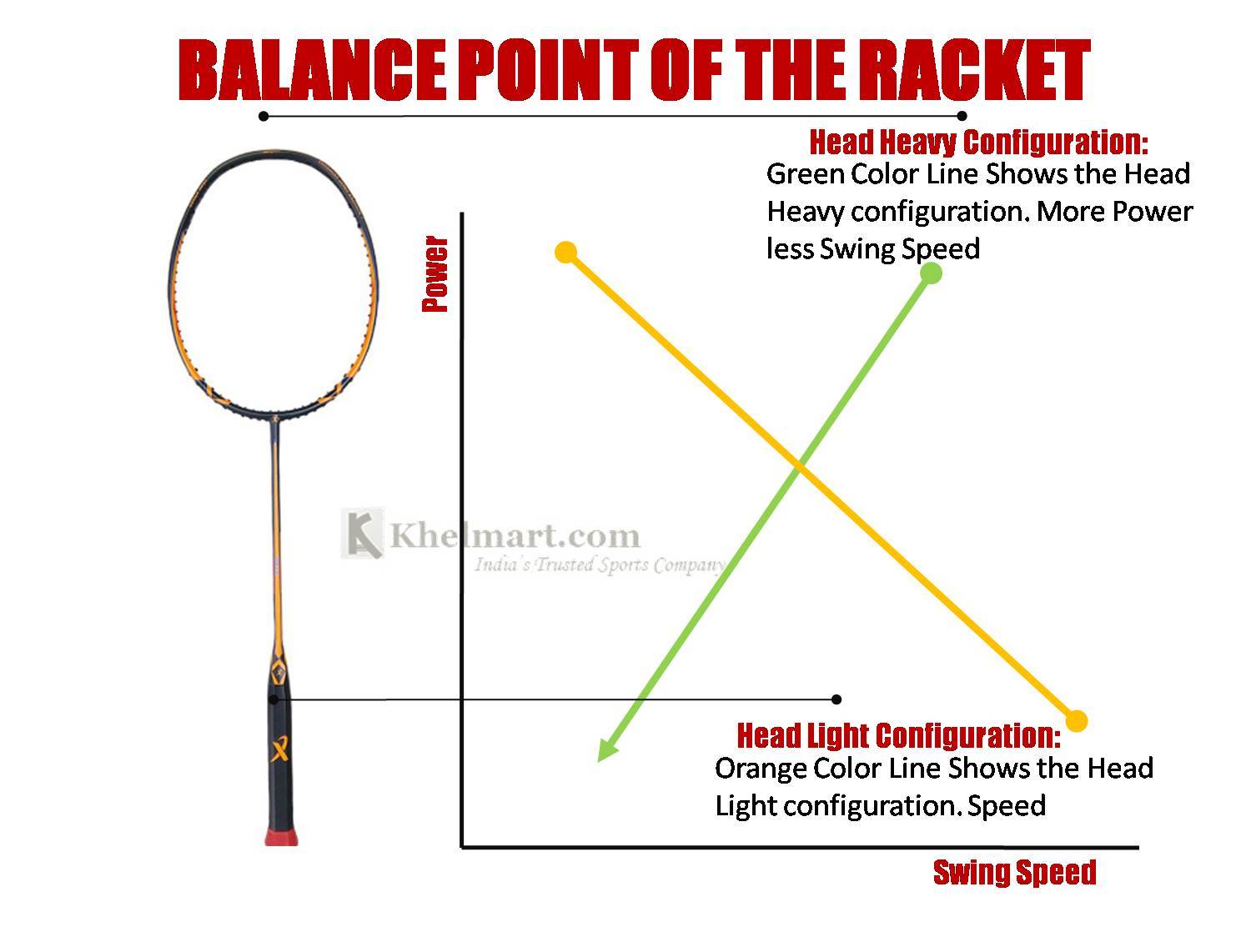 Head Light Configuration:
If you try to balance the racket on finger and find out that its balance point is closer to handle side (it means weight of the racket is more toward handle side) than racket will said as head light configuration.

Head light badminton rackets are consider as fast and quick as because of lesser weight on head side. This type of racket helps in fast swing speed which results into quick drive shots, quick drop shots and you can surprise your opponent by lightening fast swing speed.

Yonex Nanoray series represent the head light series which suitable for all round type of players. Nanoray series is good for those who love to player fast and quick shots.

Yonex Nanoray z Speed is very popular racket in Nanoray series and already recorded the fastest badminton smash.

Li Ning SS Series is head light series in Li Ning rackets. SS Series is very popular in player who loves to play with head light rackets.

Stiffness of the Shaft: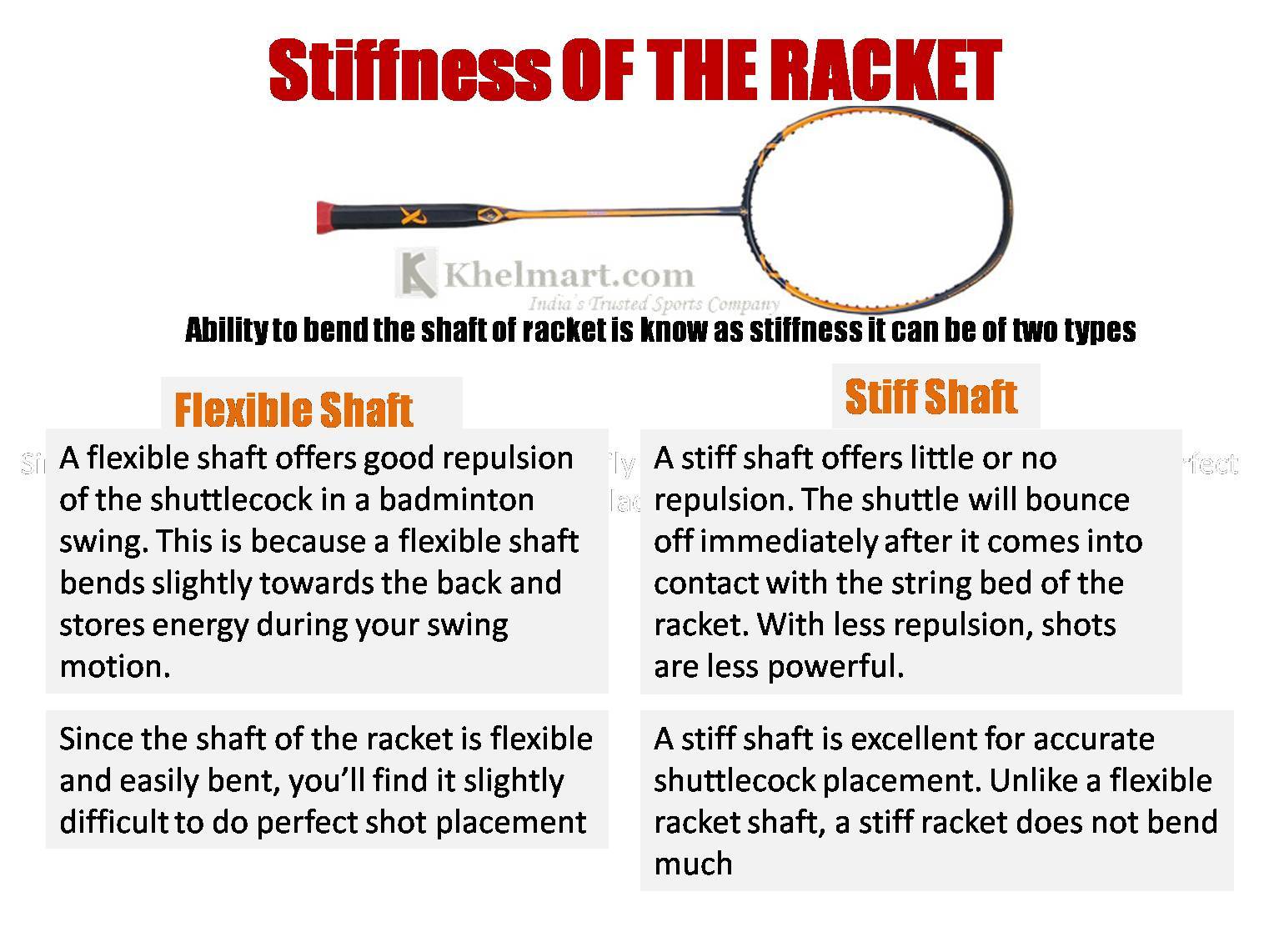 Shiftiness of the shaft is very important characteristics of a racket. Stiffness represents the amount of bending of a shaft. If shaft of racket is stiffer than it will be difficult to bend it. Stiff shaft transfer the maximum power to shuttle and suitable for those who love to play with more power on smash and shots.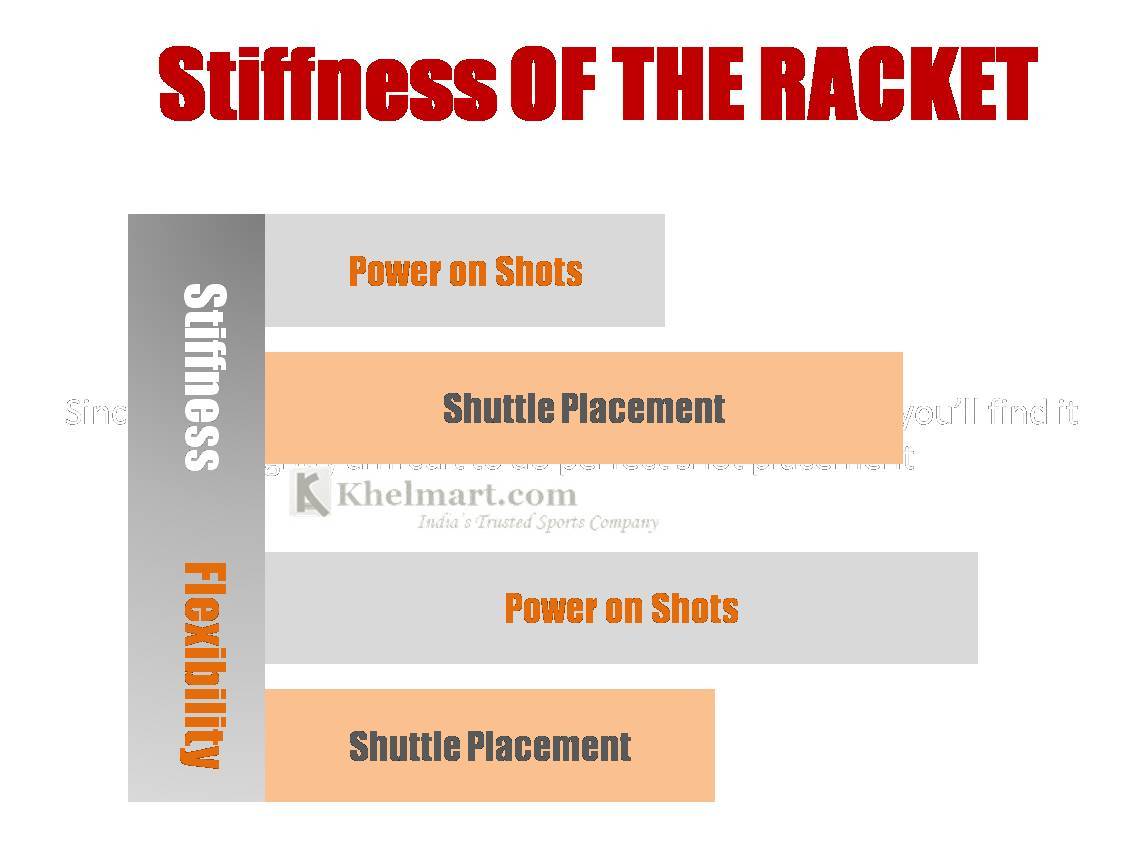 Stiffer Shaft Rackets:
We know that if a shuttle hold on string bed for some time than there will be power on shots while on other hand if a shuttle repelled immediately after contact to string bed then there will some power loss.

Power on shuttle is transfer from string bed and it is depend on flexibility.

Stiffer Shaft offers lesser repulsion thus results into less power on shots. Rackets developed with stiffer shaft provide better control on shots.

As stiff shaft provide better control on shots so it will be suitable for players who love to play fast game with control shots on net area.

To handle the stiffer shaft rackets, advance level of badminton skills are required by player.

Yonex Voltric Z Force II is stiff shaft racket which offers extra ordinary speed and control to shuttle.

Flexible Shaft Rackets:
Flexible shaft are tends to flex during shuttle impact. With this action, shuttle holds on string bed for bit longer time and thus results into good repulsion. This action allow shaft to work as spring which Store energy during shuttle impact and releases it with more power.

So we can say that, Flexible shaft offers better power on shots as compare to stiff shaft.

As shuttle holds on string bed, so flexile shaft racket provide lesser control on shuttle and it is bit difficult to manage the shot control with flexible shaft.

Flexible shaft rackets are suitable for beginner to intermediate players.

Material of Rackets: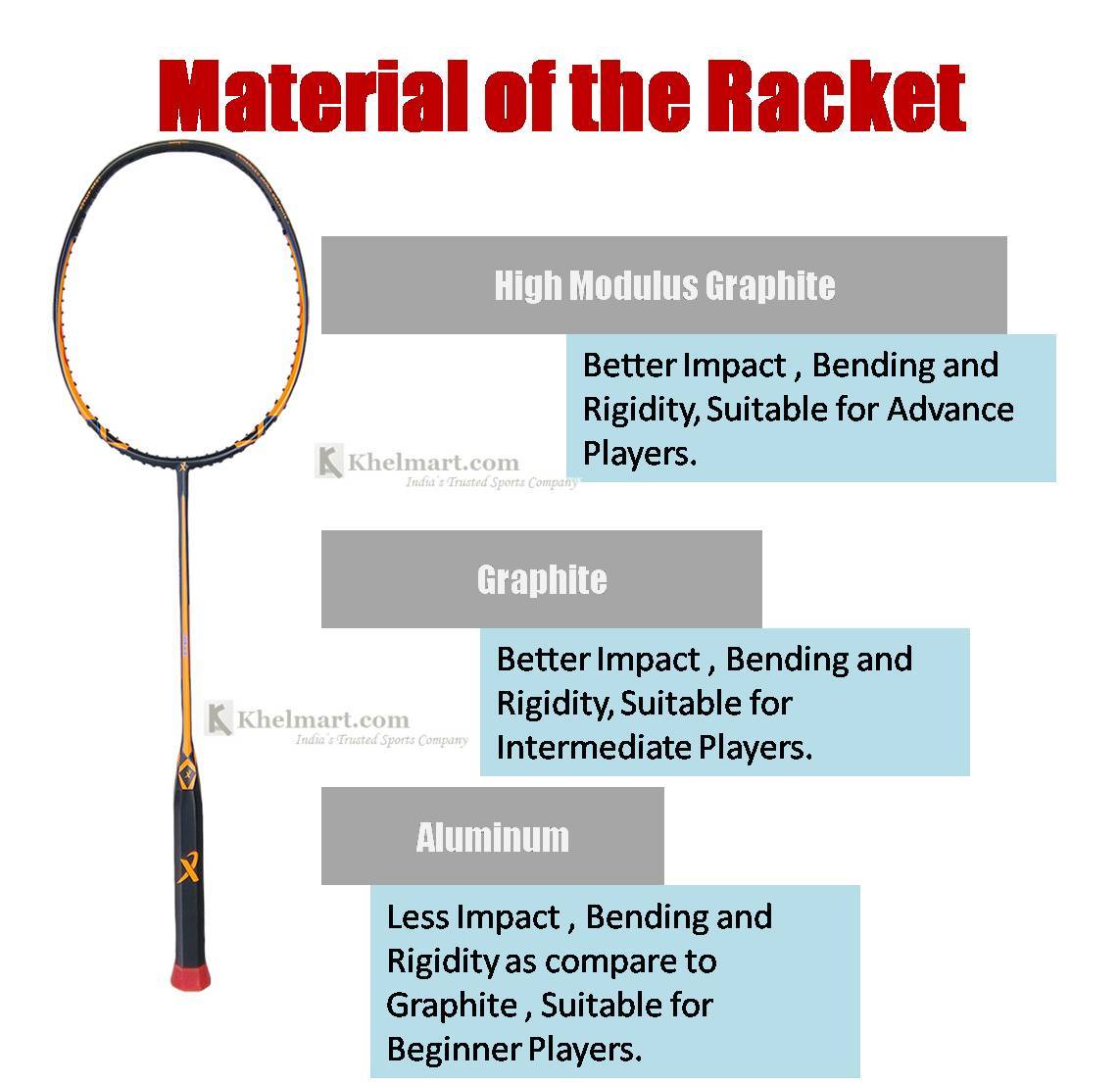 Following are some of the popular rackets used in Rackets

Aluminum Allow for beginner rackets

Carbon graphite material

High Modulus Graphite material

Durable Grade Graphite Material

Different player required different type of racket and behavior of racket is also depends on material used in shaft and frame.

Rackets made with aluminum material will be heavy in nature (around 100 gms) and offer less flexibility to player.

Rackets made with carbon graphite material will be lightweight in nature and can sustain better impact and bending strength

Nowadays, manufactures are using higher grade graphite material for making the known as high Modulus. HM graphite provides better strength to racket along with better flexibility and durability.

Frame shape and cross section of the racket: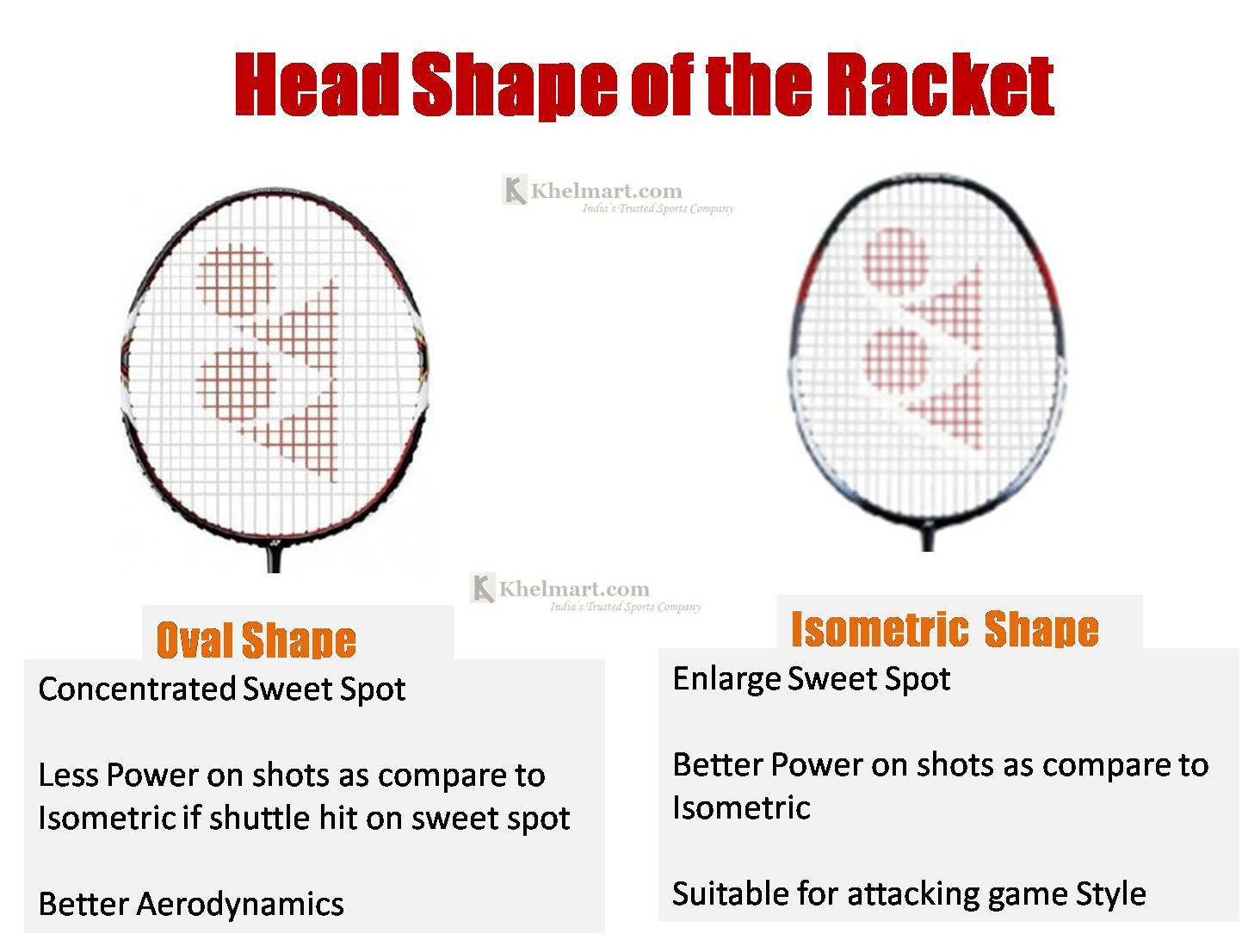 There are two type of frame shape is very popular among the players.

Isometric

Oval Shape

Isometric head shape is very popular among the player due to its large sweet spot area. With Isometric head shape, player gets better and enlarges sweet spot.

Isomeric head shape racket provide better power.

Oval shape frame shape is suitable for those who want all round type of performance. Oval shape frame are aerodynamically well balanced and offer best Aerodynamics characteristics.

Yonex Carbonex Series is Oval head shape racket series