The game of badminton is the second most popular game in the world. This game has an exciting element of the enormous fan base and popularity. Despite all of that, it is one of the intense games in the sports genre. Here, you will need the perfect combination of hand-eye coordination, speed, and flexibility of the players and, last but not least, the never-ending passion for the game.

Though, like any other sport, it doesnt require a large number of playing equipment. Some playing armor like racket and shuttle are enough to start the game. However, the right selection of badminton shoes is quite crucial because it provides the right balance and feet flexibility to the players. So, in this article, we are going to figure out the best Badminton shoes under 1000 for year 2020 , the essentiality of the badminton shoes, and what sort of qualities are needed in beginners shoes.

The requirement of Badminton Shoe for Beginners

As we have discussed earlier in the upper part that how crucial it is for you to select the best badminton shoe. You must opt for the shoe that will give you a perfect body balance, flexibility in feet, prevent your feet from injury and many more things. But if you are a beginner and want to purchase good badminton shoes, then this section is entirely for you-

It a proven fact that most of us are crazy for cool and attractive shoes; the upper design and color are the most vital factors for us while purchasing any shoes. But if you really want to buy a good shoe, then you need to check out some more things-

1) Weight of the shoes

We all love the player who is quick in his/her feet; those who can mitigate the distance through their speed and hit the shuttle like a rocket. But have you imagined what do you need most to attain that speed or balance? Perhaps not, the weight of the shoes is one of the vital factors that need to be considered. Because with the lesser weight shoes, the faster speed you get.

2) Ankle support

Any sudden movement of your feet, whether you are jumping or going back or forward while playing, the angle shifts and changes originate from your ankle. That means you need to buy a shoe that will give free and comprehensive range of options to your ankle. Most of the branded badminton shoes are manufactured with better ankle support to make your ankle free and flexible.

3) Price Range

This will be the last but not in our list of requirements for the beginner shoes. You must consider the shoe price factor before purchasing badminton shoes. As a beginner, you need not buy an expensive one as professional players do. So, make sure that the shoes you are purchasing are affordable and quite related to your game.

The quality of beginners badminton shoes

So, after discussing the requirement in the upper section, now, lets discuss some various qualities of beginner badminton shoes.

1) Grip of sole

The hard grip of the foot is one of the most prominent qualities of badminton shoes. Though the game of badminton is an indoor sport, but it would be best if you had an excellent grip from your shoes to get a perfect feet movement and balance. The badminton is an intense game and requires very high motion. So, your shoes need to be good enough to provide the necessary grip from the sole and ground because any slippery incident can give an injury for a long time.

2) Lightweight

For the great movement of the feet, quick motion, and perfect body balance, you need a lightweight badminton shoe. A lightweight quality of the shoes can give much-needed relaxation to your feet and can make your game secure from the opponent.

3) Cushions

As we have discussed that the game of badminton requires a lot of hard work and perseverance from the players. It would be best if you had a quick pair of hand, exceptional hand-eye coordination, fast movement of the feet, and last but not least, the much-needed body balance.

The cushion technology is one of the greatest elements of your shoes that will help you to attain high shock absorption power and all of the things that we have mentioned in the upper text. So, while buying any shoes, one must have a look at the cushioning technology because it makes your feet stronger.

4) Durability

It is yet another vital quality of beginners shoes. We all know how expensive badminton shoes are and what sort of conditions the sport of badminton demands. So, before making any purchase, do have a look at the products review and check out the various specifications of the badminton shoes. The durability of the shoes will give you extra boost and power of bearing the situation of intense matches.

Looks vs. Durability of shoe

In contemporary time, everyone wants to look cool and use the most fashionable and trendy outfits, gadgets, shoes etc. Perhaps, that is why most of the beginners always prefer to buy cool and stylish design shoes rather than the durable ones. There is no doubt that the elegant design and attractiveness of the shoes are one of the significant elements that make the shoes more attractive and popular among the players.

But despite all of that, we cannot ignore the vital factor of durability. The durable shoes will give you stronger sole, high cushion absorption power, lightweight quality and most importantly, it will make your shoe life longer. However, the combination of looks and durability is quite a significant thing for the buyers.

Best Badminton shoes under 1000 Rs.

So, now, lets discuss some great badminton shoes with quite affordable price and have the combination of looks with durability. Though some myths are roaming about the shoes under 1000, like less expensive shoes are not quite significant for the players. So, today we are going to check out these shoes and their specifications to exterminate the roaming myths.

1) NIVIA Flash badminton shoe

The NIVIA is one of the premium and popular brands in badminton shoes. Many professional players use Nivia shoes for better game performance. These shoes offer lightweight, durable mesh and PU leather quality. They have also EVA cushioning for the better absorbing power and have Non-marking rubber 100 percent outsole. In short, they are the best badminton shoes for 1000 Rs.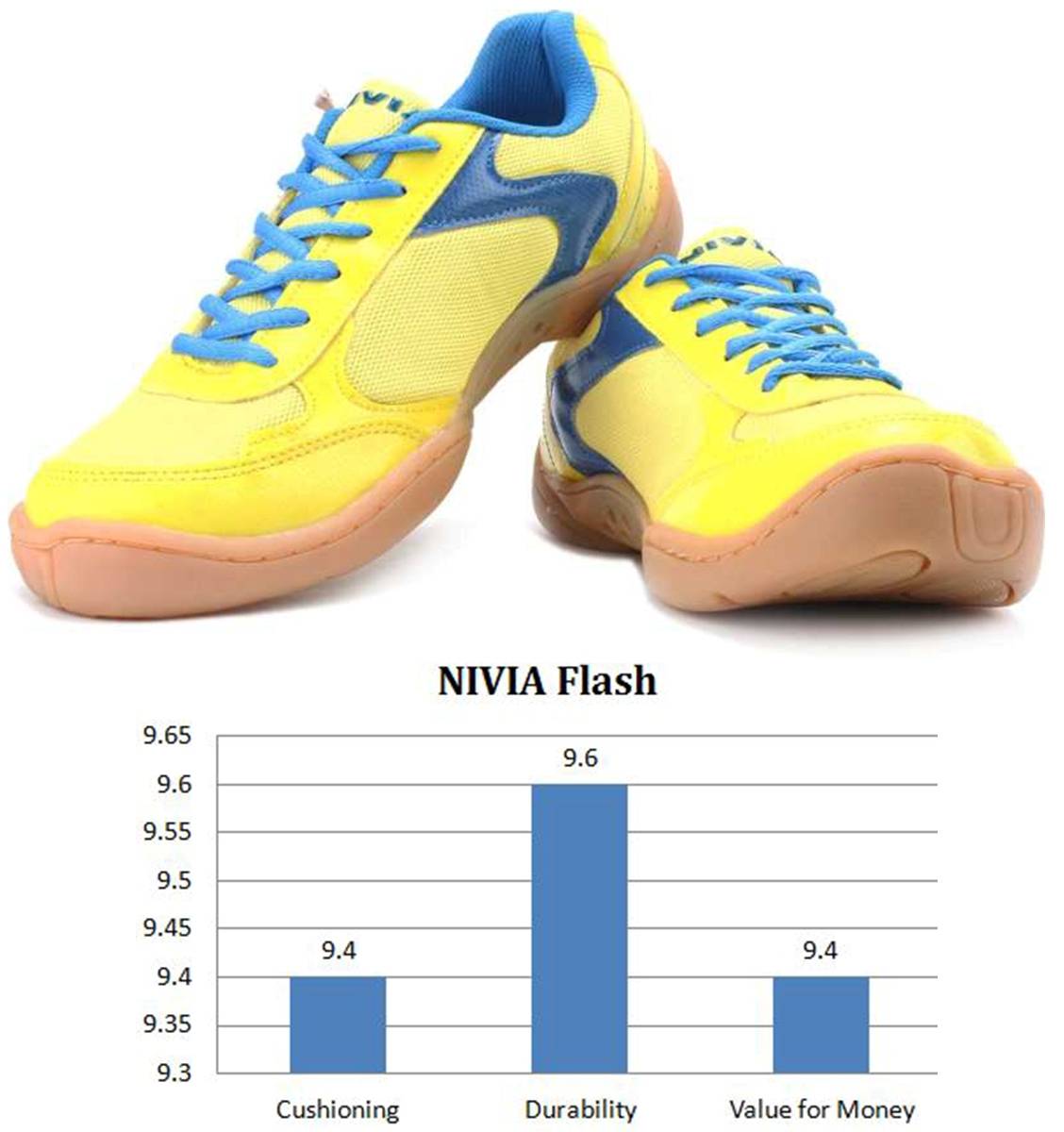 2) Thrax aura 900 badminton shoes

Thrax aura 900 badminton shoes are one of the best badminton shoes under 1000. For extra durable feel, they have used advanced mesh design for the outer sole with PU leather. It comes with Eva cushion technology and optishape for more magnificent fitting. Overall, its a great deal under 1000.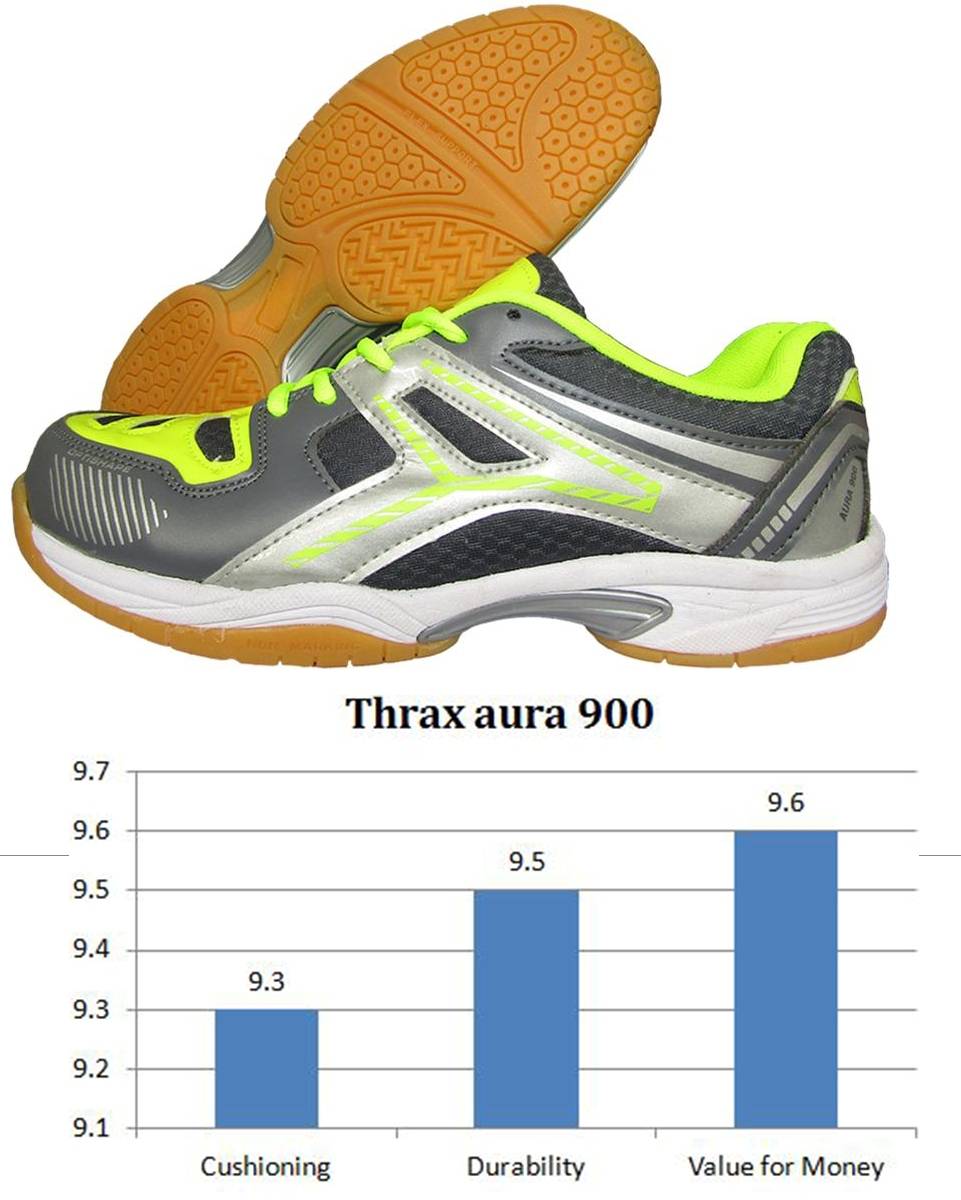 3) Nivia Appeal Court Badminton Shoe

They are made of synthetic leather for the long life and extra durability. The Nivia brand sued Phylon midsole for the greater shocking and absorbing power. The Nivia appeal court shoes come with soft lining at the outer sole for greater traction force. Here, you can also select your favorite color variants like red, grey, and black.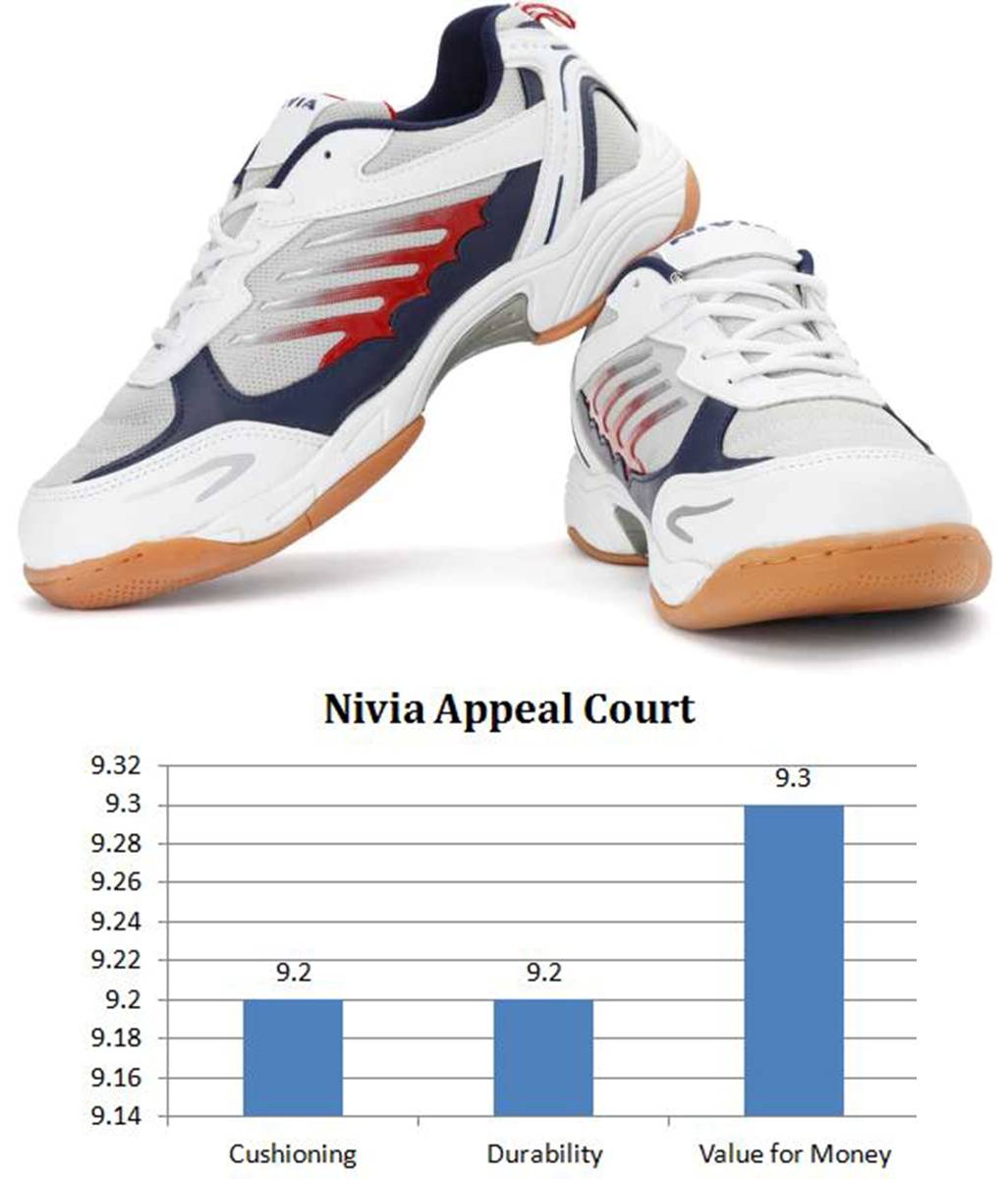 4) Feroc xega White Black Badminton Shoes

Feroc xega badminton shoes are made of rubber sole for better grip and asymmetrical fit for extra support to the feet and fast footwork. PU synthetic leather is used for the outer material and heel collar for greater comfort. So, overall, they are one of the best shoes with some great features.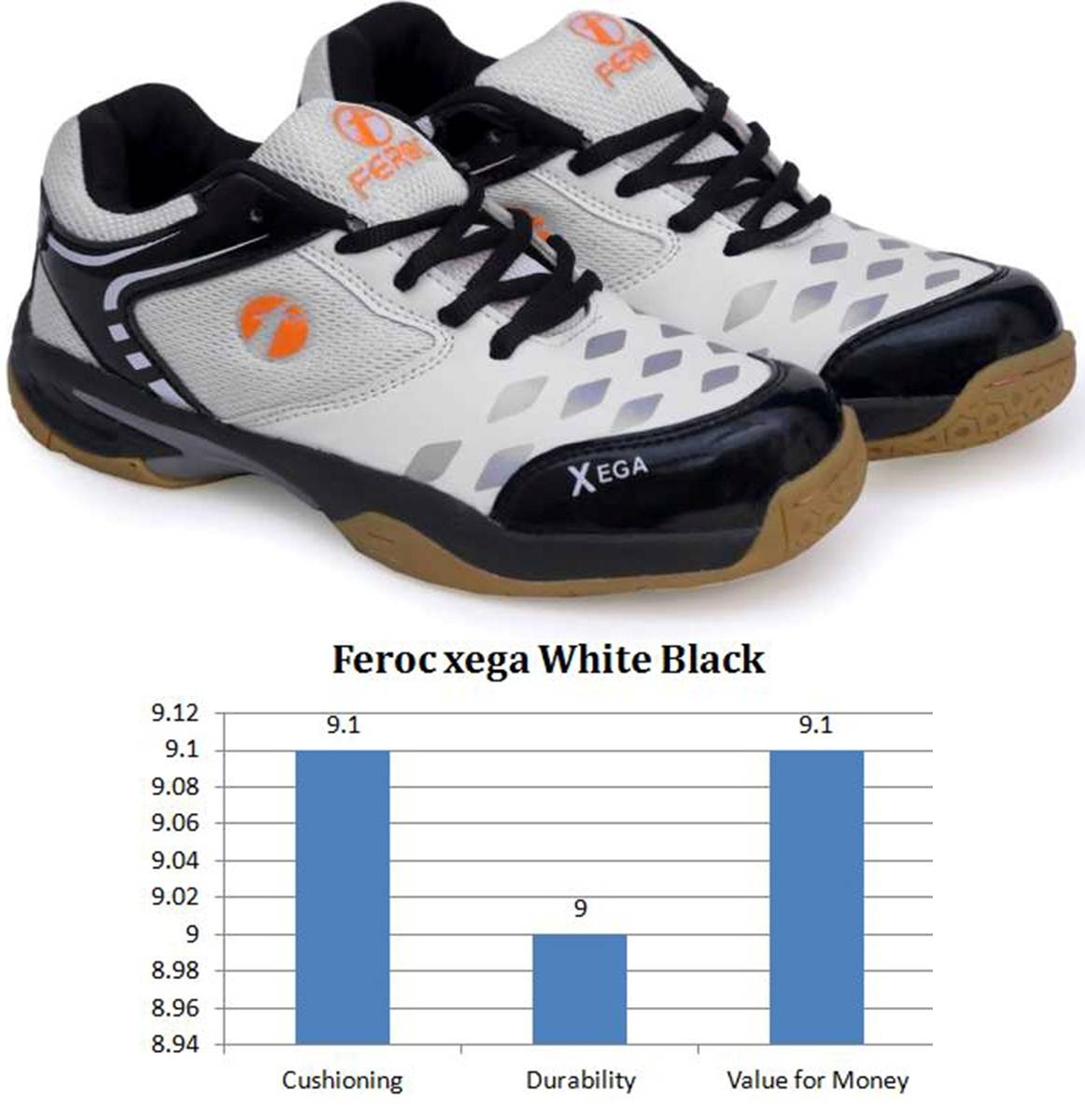 5) Thrax Up Court Badminton Shoes

Upcourt is yet another great deal from the brand Thrax. In these shoes, Thrax has used advanced mesh design and PU leather for the upper material. It has non-marking rubber for the outer sole and super cushion technology for high absorbing power. Eva and Phylon material are used for the midsole and optic shape technology for having great comfort.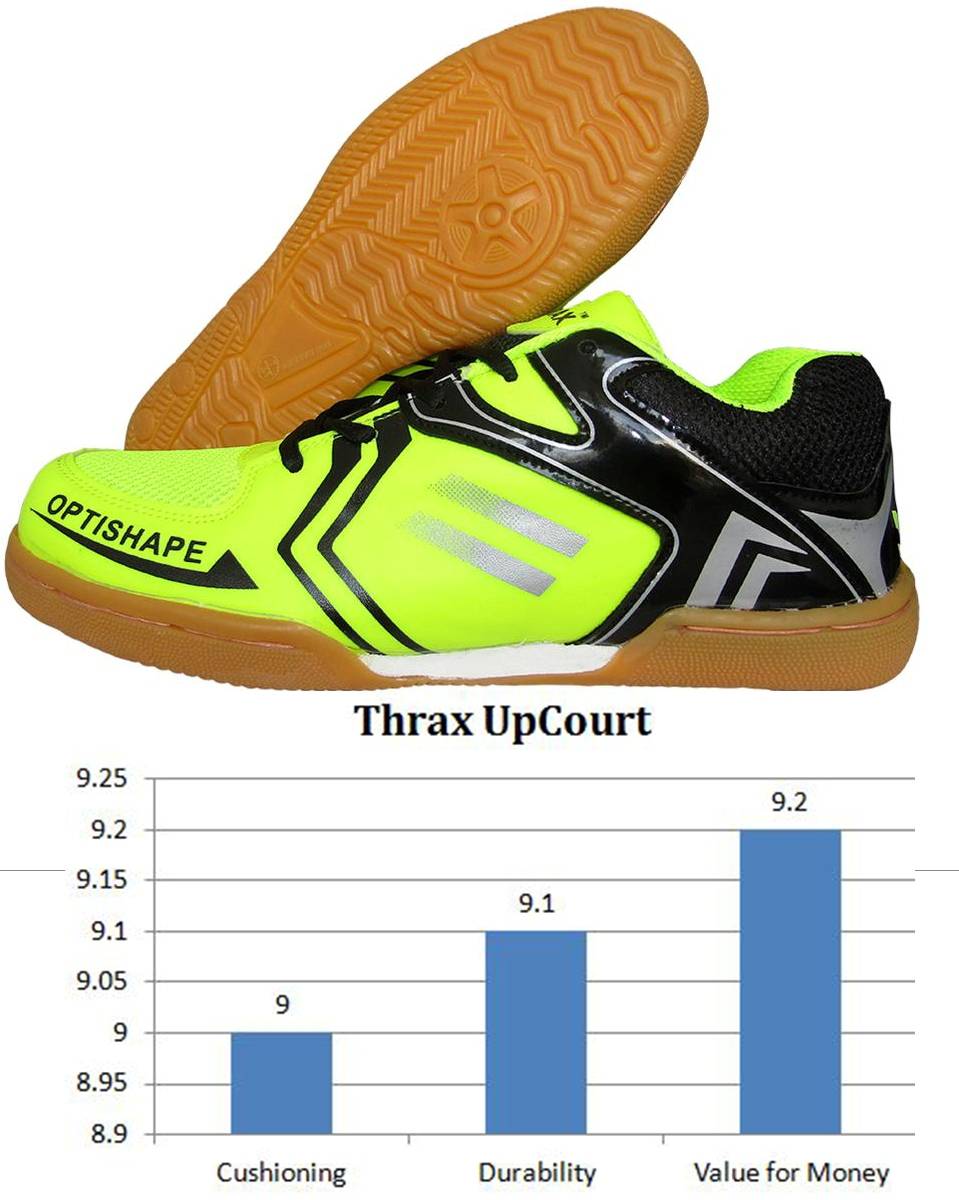 6) Nivia Glister Badminton Shoes

The Glister badminton shoes from Nivia brand are the must-have shoes under one thousand rupees. They have developed these shoes with Polyester and Mesh material for the outer sole and non-marking rubber sole. These are lightweight shoes with lightweight quality that makes them super attractive. They come with two variants of back and blue.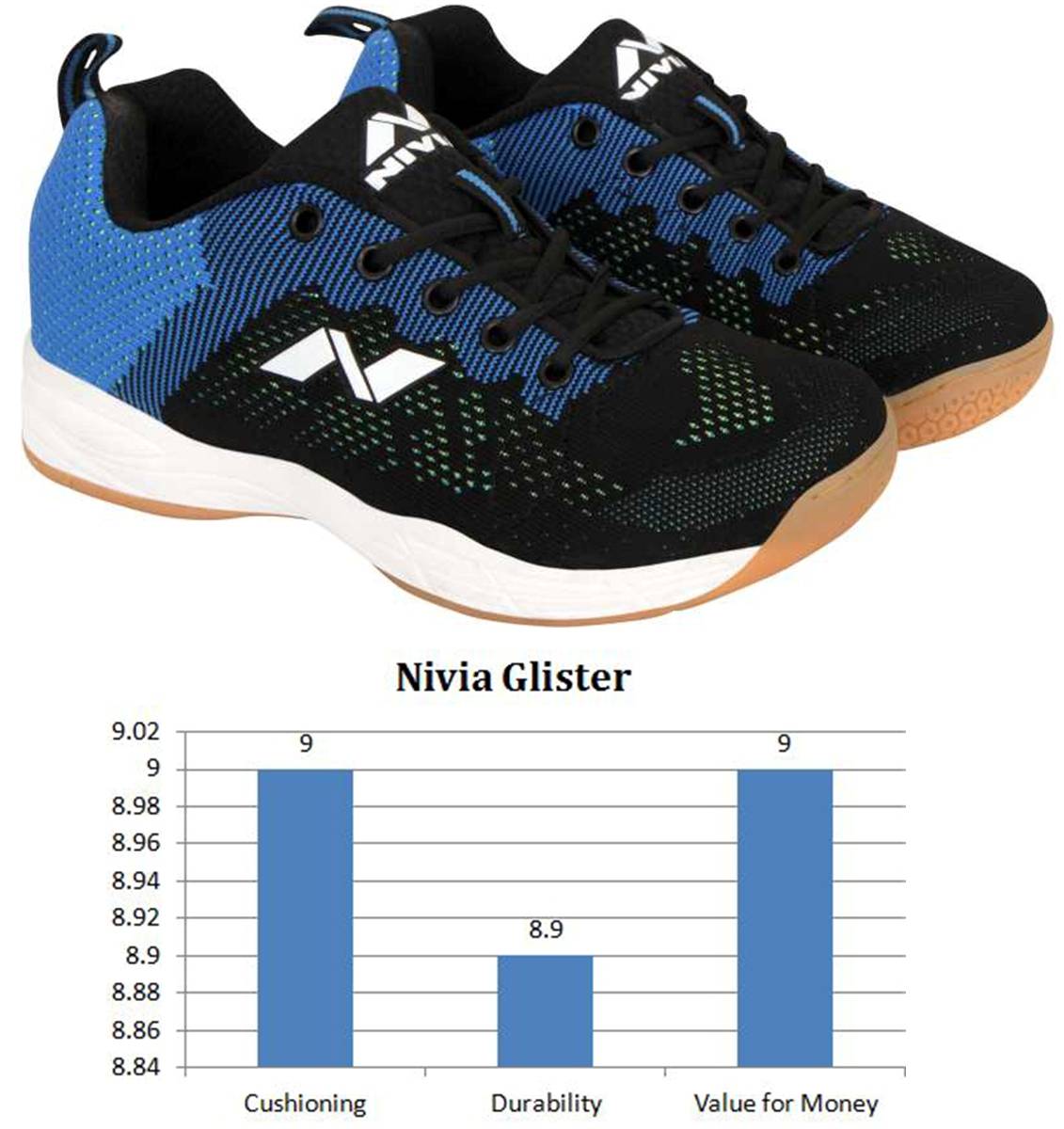 7) Zestro Badminton Shoes

The Zestro brand is one of the famous brands in badminton shoes that offer very affordable shoes with some excellent specifications. The shoes are lightweight and super durable. And it provides excellent color variety among the badminton shoes. Overall, Zestro shoes are one of the best in the range of thousand.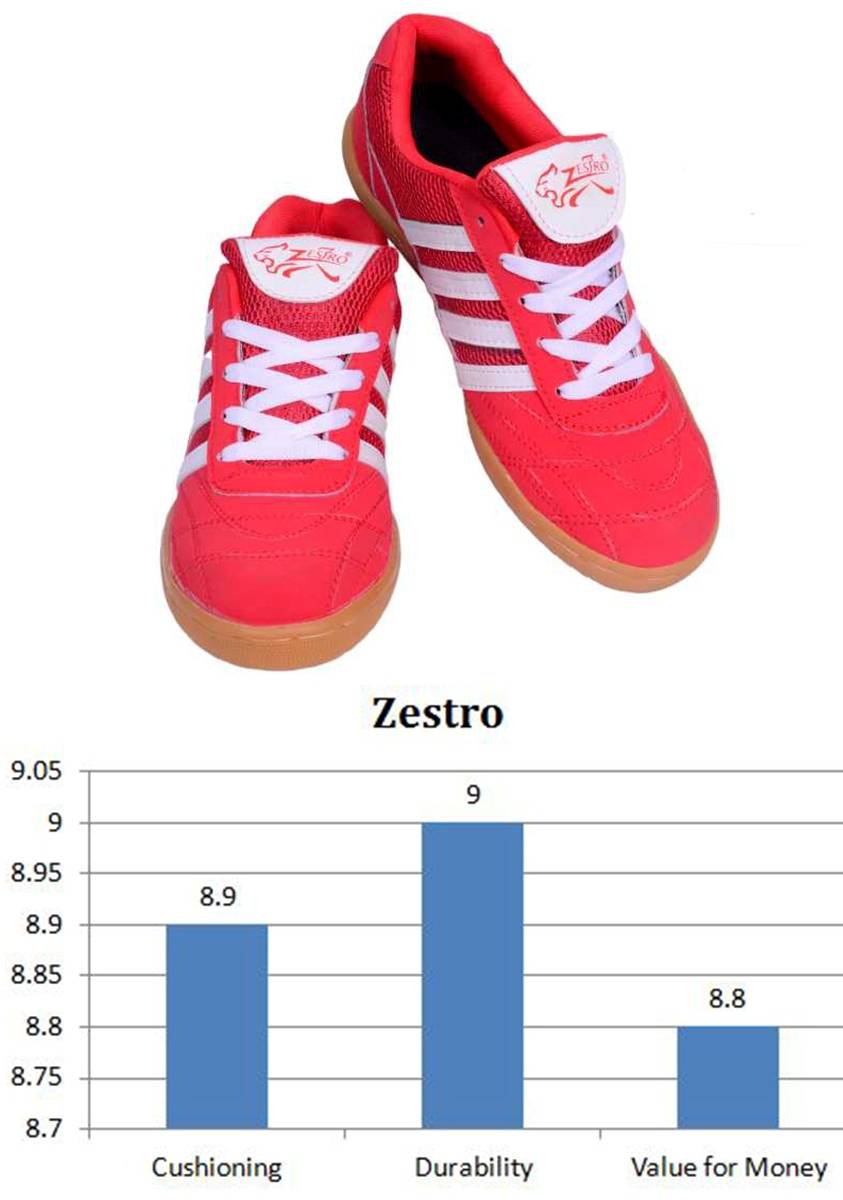 8) Thrax Gel Extreme Badminton Shoes

These shoes are manufactured with a wide last concept that covers the different sizes and shapes of the feet. Gel extreme is a non-marking shoe, lightweight and durable, optic shaped for more magnificent fitting and wire meshes for high and better circulation of air. Overall, it is a must-have shoe under a thousand rupees.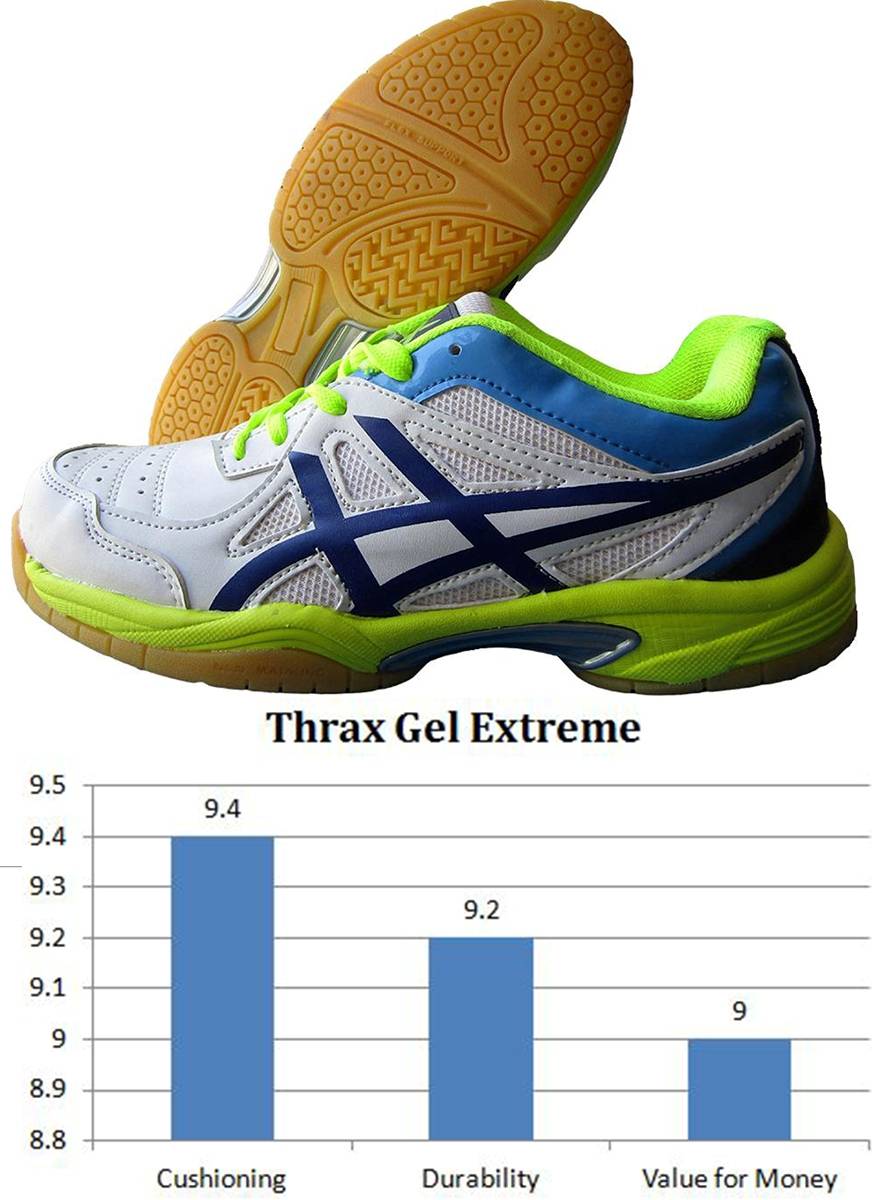 9) Vector X-CS-2020 Court Shoes

The Vector X-CS-2020 court shoes are the perfect combination of PU mesh material and synthetic leather. It has rubble sole for better grip and Eva phylon for more exceptional midsole quality. And the best is that for better cushion, they have used meshed cushion heel cap and also has high traction sole.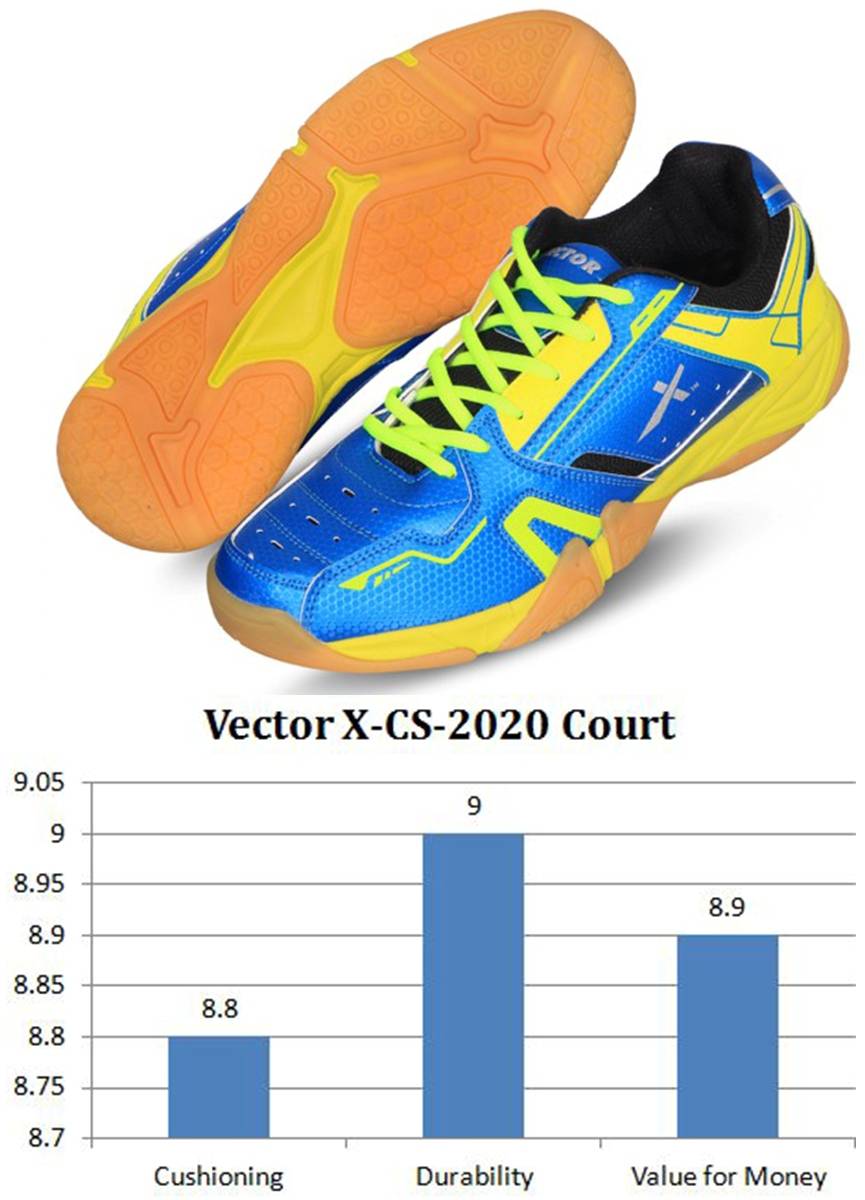 10) Feroc NOVA Green Badminton Shoes

These shoes are developed by Feroc brand for the lovers of intense badminton games. They have sued dynamic fit technology to make stability better. These shoes have excellent grip, traction and exquisite durability. In short, these shoes deserve to be the part of the list.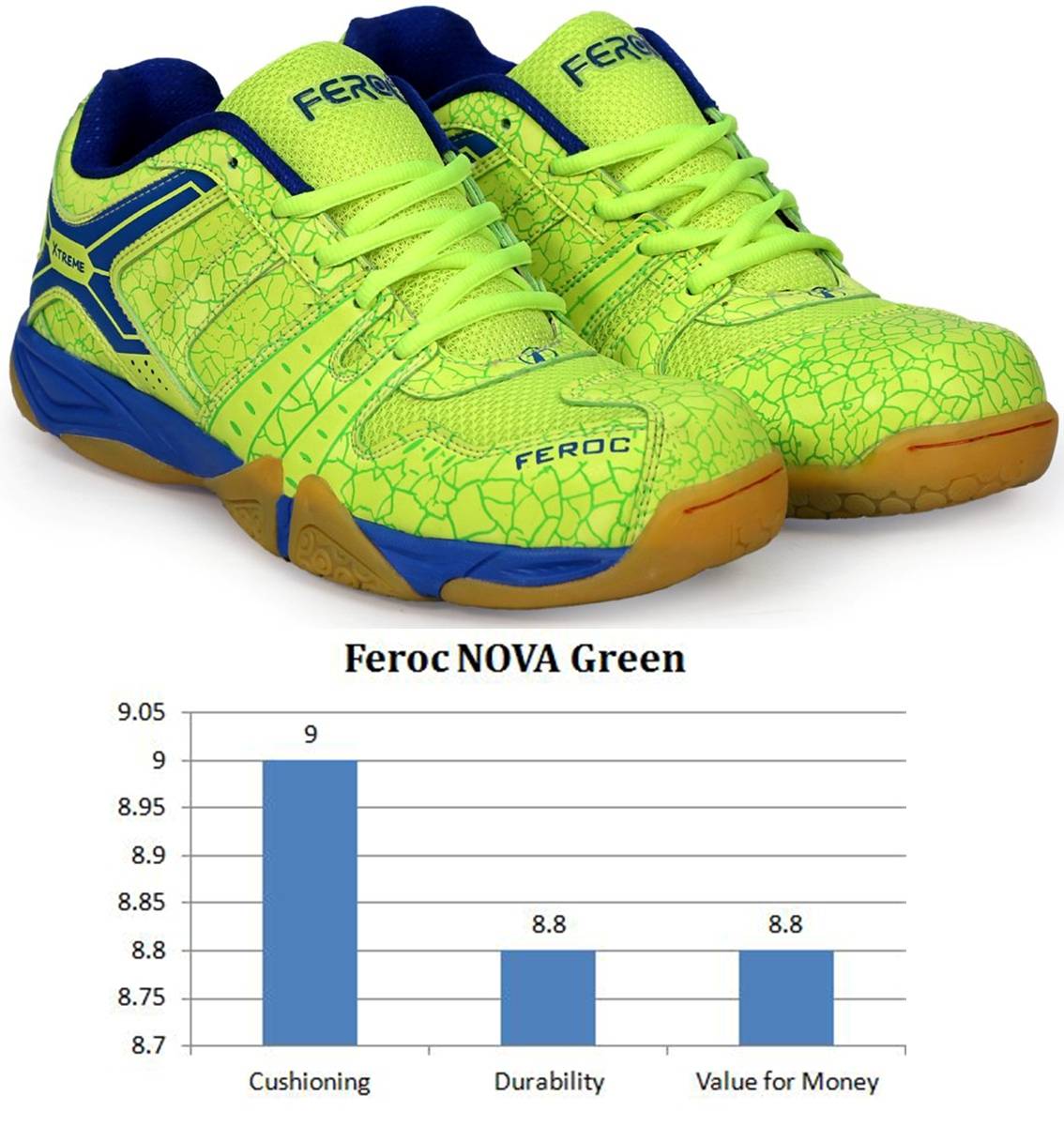 Summary:

While these are some of the best badminton shoe models for 2020. To explain it in better way we have developed some chart so player will have better idea.

Chart comparison shows the Cushioning of shoes:





Chart comparison shows the Durability of shoes:





Chart comparison shows the Value for Money:



Conclusion

A game like badminton requires excellent balance and quickness from players rather than the power of hitting. So, these were the top 10 best shoes under thousand rupees that will help you to have excellent performance and better comfort. So, if you are also planning to purchase good beginner shoes, then you can try these.