Cricket is one of the most popular and most robust sports in the world. It requires both mental and physical strength to survive as a player. For the fan, its just a game of bat and ball or game between two teams. But, for a player, its a game of perseverance, fitness, flexibility, and a game of unpredictable situations.

As a batsman, you need to play smart, take calculated risks, and run fast between the wickets quickly. For the bowler, it is like maintaining the pace, line, and length, and for a fielder, they need to run fast, save the runs and take some splendid catches. But all of the things that you have discussed are incomplete without proper equipment and balance.

If you talk about Equipment, a good pair of cricket shoes will help you to maintain your body balance and speed during the game. However, in the market, you will find an abundance of cricket shoes; with the help of this post, you will get an idea of The Best Cricket Shoes Under Rs 2000 For Year 2020

.

The requirement of Cricket Shoes for a Beginner

We understand that buying a good quality pair of cricket shoes for a beginner is not an easy task. For this, you need to check or consider several things before making your decision. That is why we are going to check out some requirements for cricket shoe for a beginner.

1) Size of shoe

The size is one of the factors that need to be considered while purchasing the cricket shoe. You cannot buy a bit tight or large size shoe because it will create the uneasiness and feeling of discomfort while playing on the ground.

2) Playing surface

The playing surface is also the vital factor that needs to be considered while purchasing the shoes. The playing pitch also plays a very prominent role. If you are going to play on a synthetic pitch, then standard studs or rubber sole shoes would be the best choice for you. On the other hand, choose spikes shoes if you are going to play on turf pitch.

3) Shoes based on your role

Indeed, the selection of cricket shoes also depends on your position on which you are playing. As a batsman, you need to have half-spiked cricket shoes to get excellent grip from the pitch and also for smooth feet movement. The half-spiked cricket shoes will allow you to play with good footwork.

While for the bowlers, you need to have an excellent grip from the pitch, that is why you need to go with full-spike cricket shoes. Though, it depends on which surface you are playing. For synthetic pitch, you can choose stud or rubber sole shoes, and the same thing goes with batsmen too.

For a fielder, you have to buy half-spiked shoes to have some grip from the ground while running and chasing the ball in a wet condition.

4) Your Budget

Last but not least, your overall budget is one of the most significant factors that need to be considered while purchasing a pair of Cricket shoes. Its a straightforward thing to understand that, as a beginner, there is no need for you to buy high budget shoes as professional cricketers wear on the field. It would help if you made your choice very wisely. So, try to buy a shoe that is according to your requirements and affordable too.

Quality of a Cricket Shoe for beginner

Here, we are going to discuss some must-have qualities of beginner cricket shoes. So, if you are also planning to buy a new one for you, then you have to check out this at-least for once to have a better insight.

a) Construction and material

The quality of Cricket shoes can be identified or measured through the quality of material used in the shoe and its overall construction work. As a beginner, you need to check out every single detail of the shoe before buying. You need to check some aspects like quality of sole, its flexibility, and try to check it by bending the shoe. If you are feeling uneasy while wearing shoes, then you must try the other shop or brand.

b) Breathability of shoe

As we have already mentioned, Cricket is a game of toughness, roughness, and more like a cruel sport. Here, players need to be perseverant, mentally, and physically active on the field to beat the opponent as well as the contending situations.

So, in this sort of toughness and roughness, your body will gradually sweat a lot. And that is why you need to pick or buy a shoe that has the technology of breathability. A feature of breathability will allow the air to come and pass through the shoes. And, most importantly, to keep the bad odor away from the feet.

c) Spikes

Spikes play a very crucial role in the game of Cricket. For a bowler, it will assist you to have an excellent grip from the ground to maintain a better body balance and manage the speed. For a batsman, it will help them to have greater footwork with a better grip from the ground. And for the fielder, spikes allow them to maintain their body balance and pace in the wet conditions.

d) Midsole

The midsole and cushion technology need to be more significant for better comfort and shock absorbing power while high jumping or running. If you are a fast bowler, you need to check the cushion technology first because bowlers suffer more with feet injury due to great shock in feet while delivering the ball.

Looks vs. Durability of shoe

As a beginner, you must go for Durability. Indeed, the looks are also essential, but when it comes to cricket, you need to be specific while buying because it requires a rough and sturdy pair of shoes to survive the game level.

Though you will have better options of looks and design in high budgeted shoes, if you are trying to get the boots under affordable prices, then you must go with the durable quality.

Best Cricket shoes under 2000 Rs.

So, after discussing the traits and qualities of the beginner Cricket shoes, now lets check out some best cricket shoes under 2000 Rs.

1) SS Camo 9000 Stud Cricket Shoes; Price- Rs.1845

SS is one of the premium cricket shoes and equipment brands in the cricket world. They make stylish and durable cricket shoes for professionals as well as for beginners too. These cricket shoe are most significant best cricket shoes for 2000 Rs. It is lightweight, has the breathability technology, Phylon midsole, and firm heel counter, and for higher stability, they have used thermos plastic cages.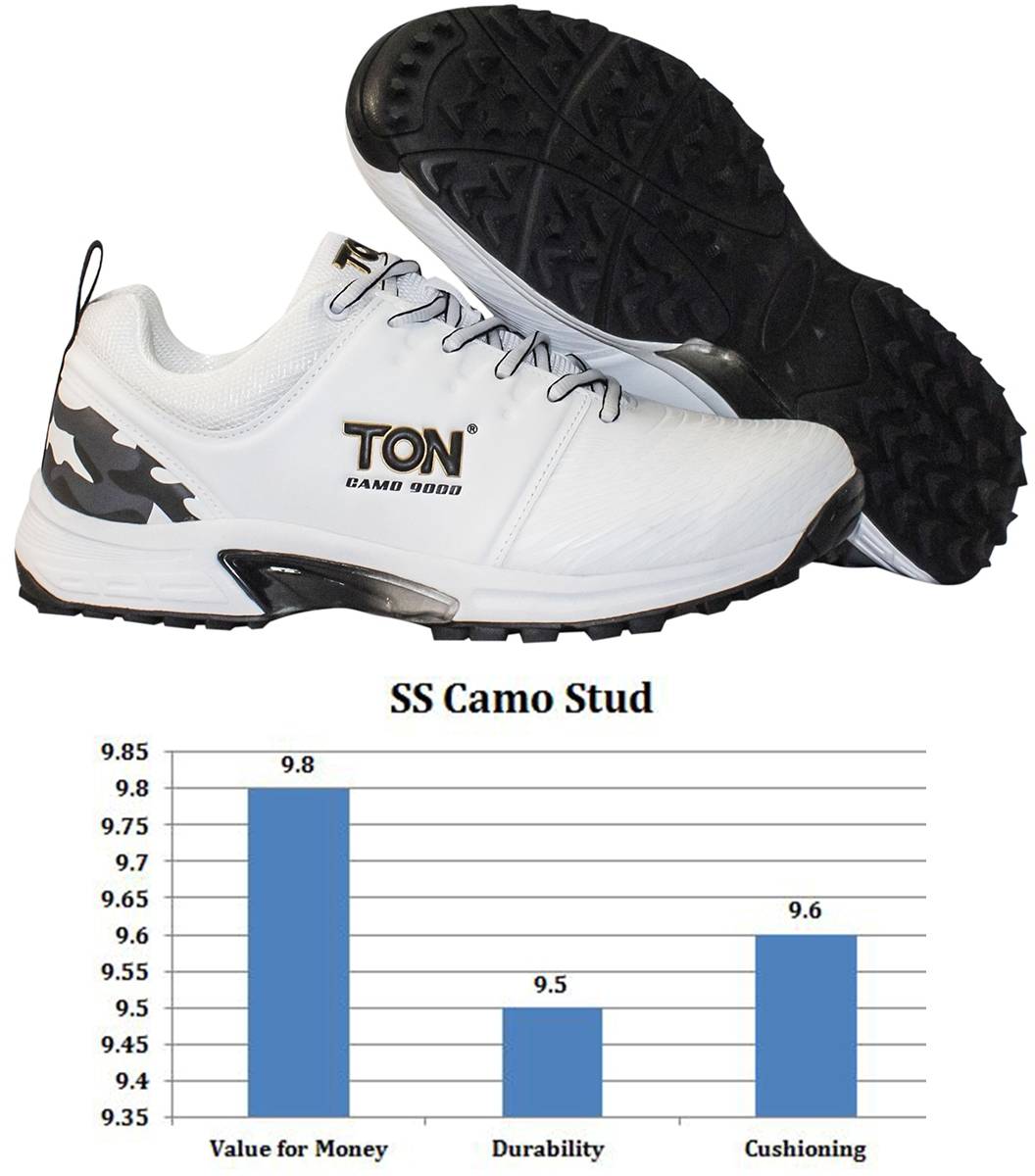 2) SG HILITE STUD Cricket shoes; Price- Rs. 1999

The brand of SG is also a trendy brand among the Cricket players. The SG Hilite stud is one of the best options under 2000 Rs. They have used PU mesh for the upper material and adding a feature of breathability. For more excellent foot stability, they have used Velcro strap, PU insole, and dual-tone rubber for higher traction.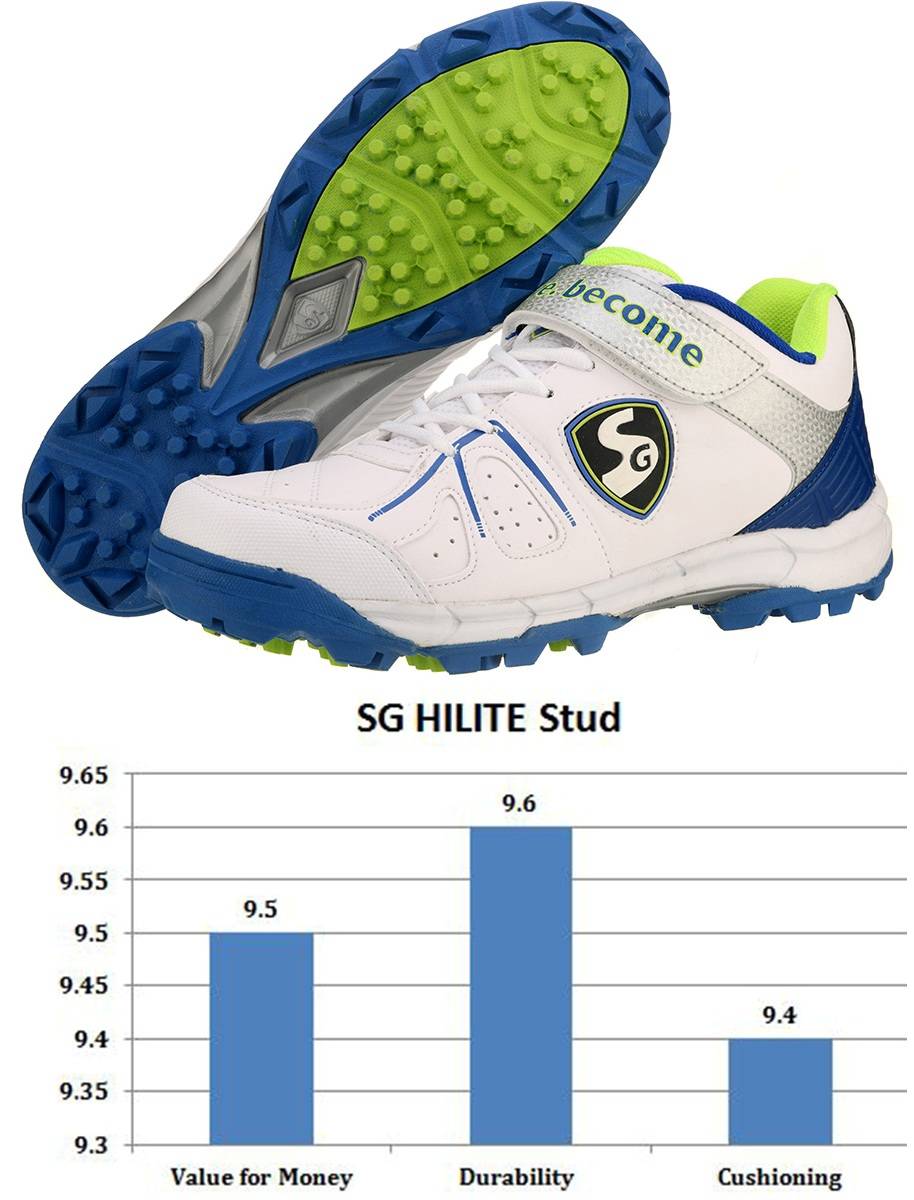 3) Thrax Aura 1000; Price- Rs. 1090

The research and development team of the brand has come up with advanced cushion technology to bring the best cricket shoe in such a cost-efficient range. The upper material used is PU and it comes with an innovative mesh design for providing durability and higher comfort to the players. You also get a snug fit while wearing them because of the use of OptiShape technology.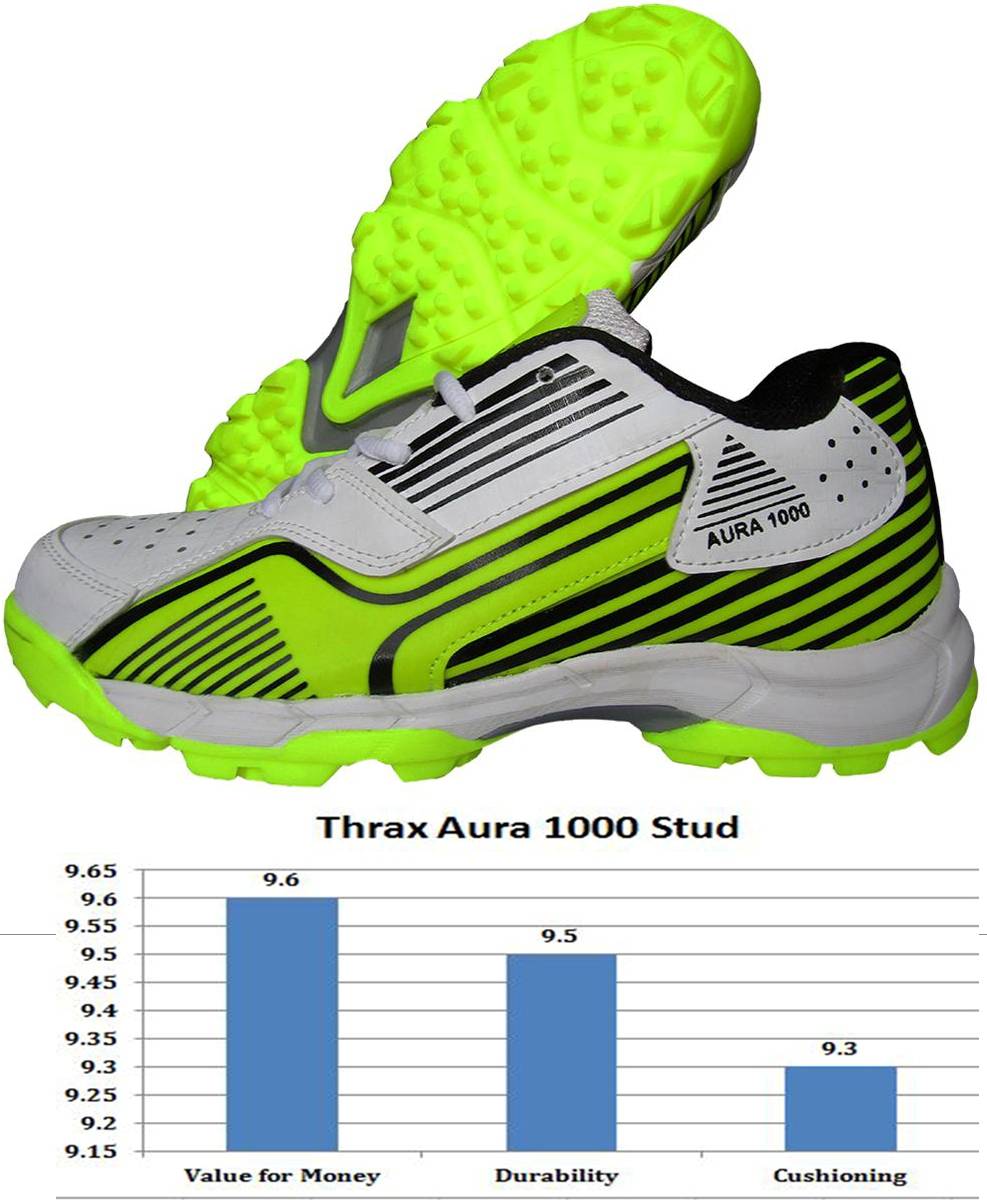 4) Spartan Extreme PRO Spikes; Price- Rs. 1800

Spartan is the brand of big players like Englands Eoin Morgan, Cris Gayle, and former Indian captain. The Spartan Extreme pro spikes are one of the significant options if you are searching for the spikes shoes under 2000 Rs. The rubberized material is used for more excellent protection, microfiber skin for better support, and stability, and they are very light in weight too.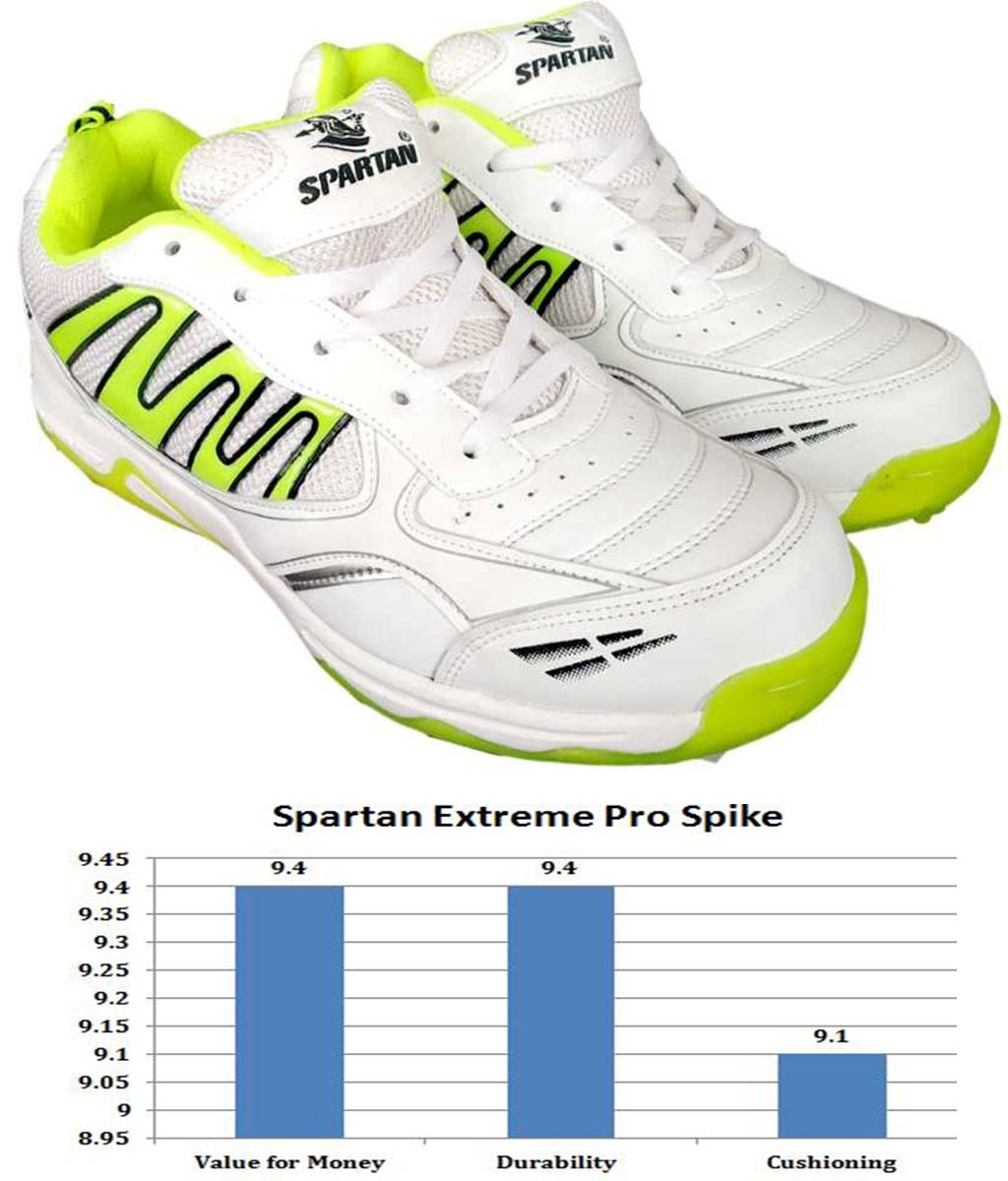 5) Thrax OptiPro Spike Cricket Shoes; Price- Rs. 1490

Thrax OptiPro spike Cricket shoes come with eleven metal spikes, and these are specifically designed for high-level players. The Optipro spike shoe has some great features like PU material for lightweight and extra durability. However, additional cushion technology is used for great absorbing shock. In short, its a great deal for the lovers of spikes Cricket shoes.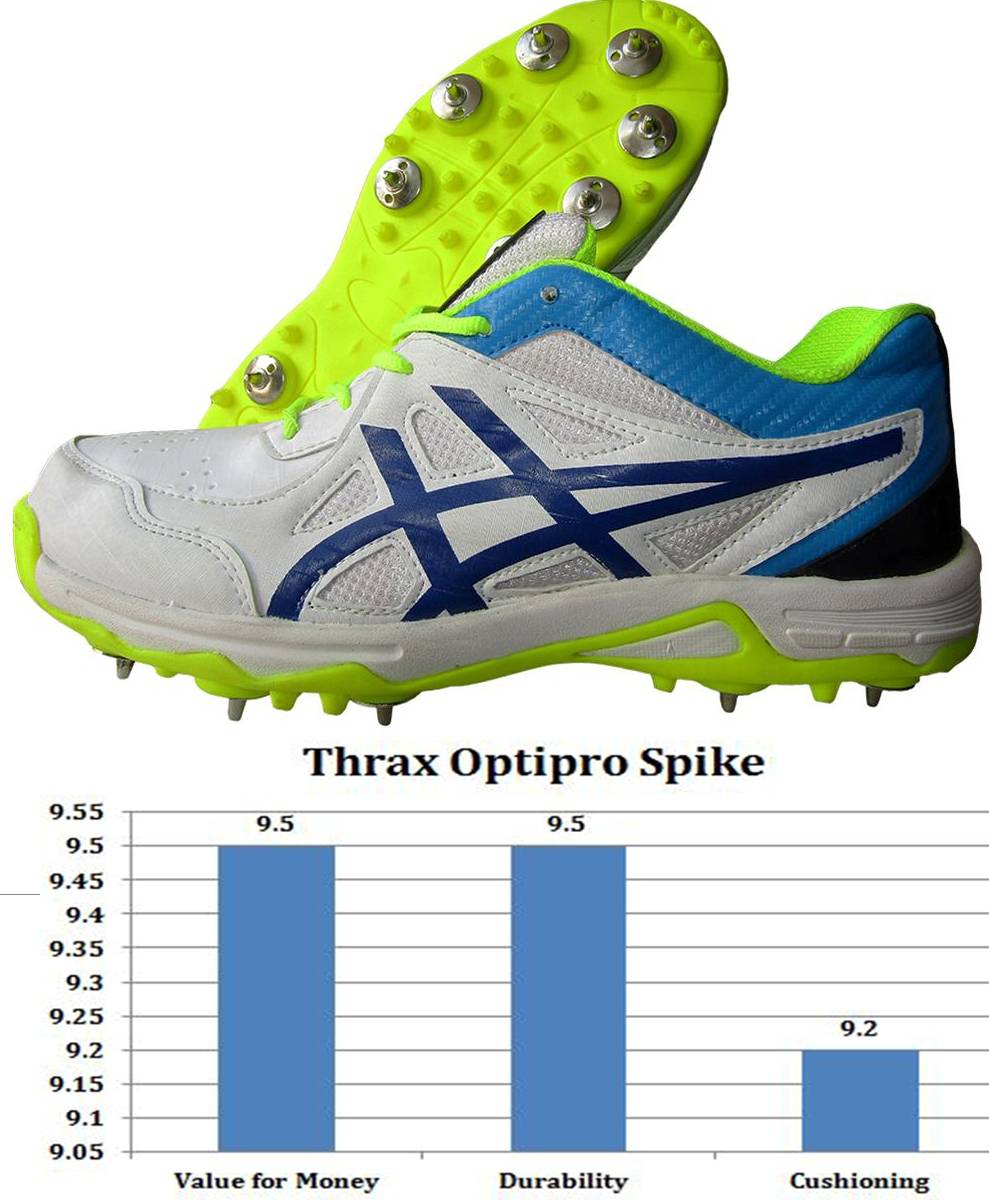 6) PRO ASE Full Spike Cricket Shoes White and Gray; Price- Rs. 1980

Yet another very affordable and wise choice for you in the form of PRO ASE full spike Cricket shoes! They come with full spikes (ample padding), designed with high material for greater comfort and lightweight feature. And they are very impressive in terms of grip and sole material.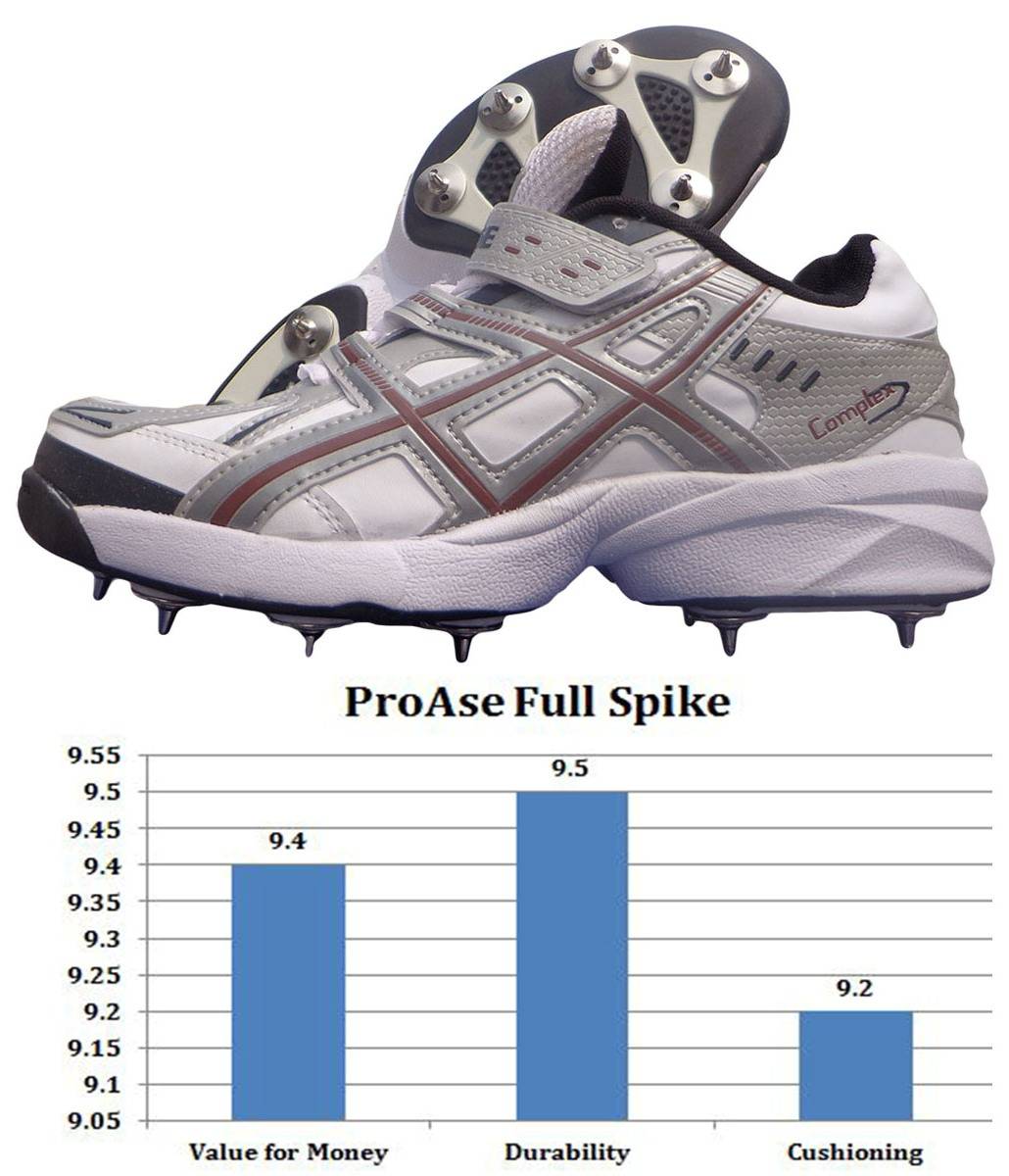 7) Feroc Blaster cricket shoes; Price- Rs. 1100

These shoes come in rubber soles for better grip and durability. They have used PU material for the upper part, lightweight quality and better foot support is one of the perquisites of these shoes.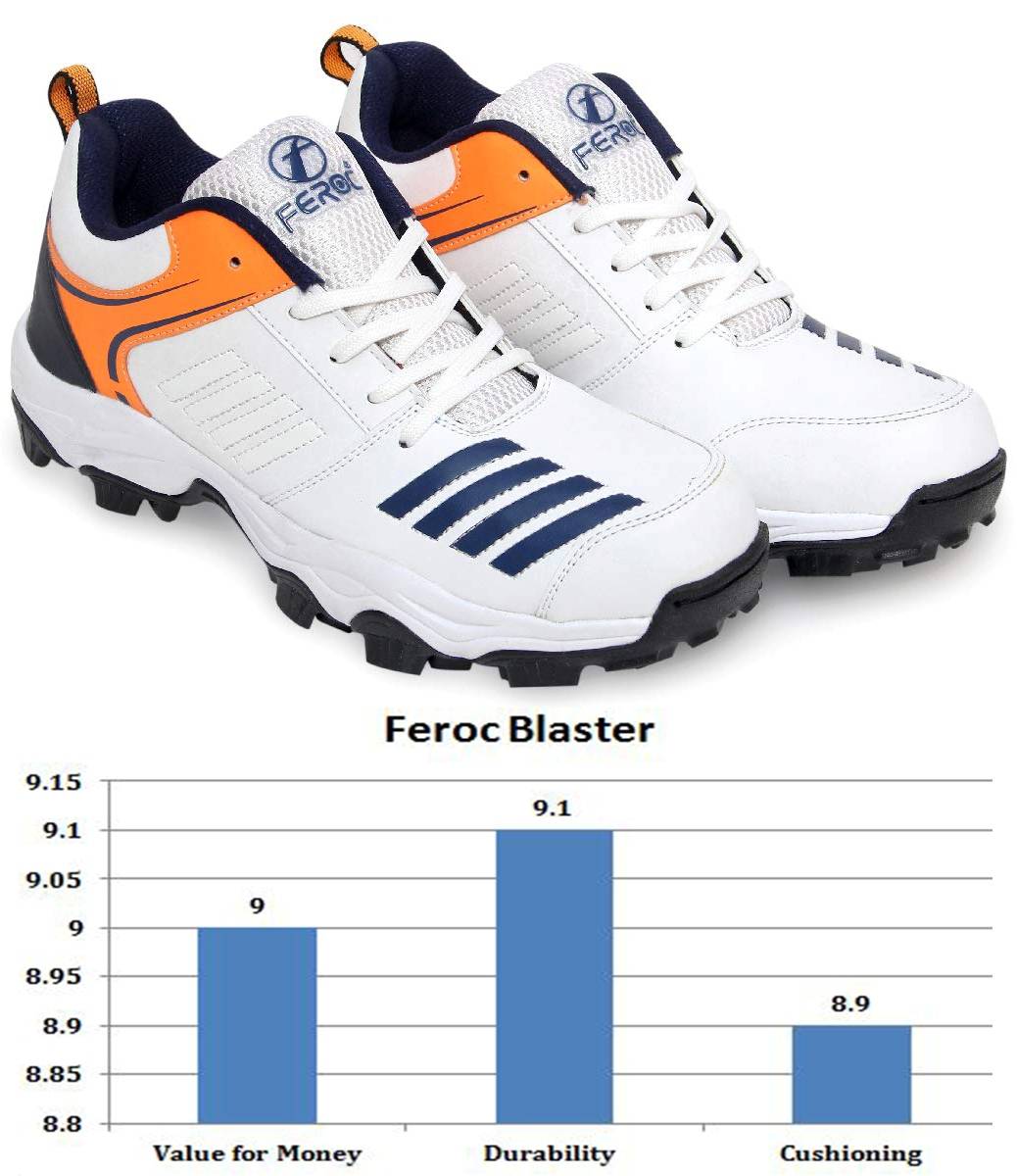 8) SS Golden Gutsy Cricket Shoes; Price- Rs. 1240

The Golden Gutsy is yet another highly affordable shoe from the premium brand like SS. They have used rubber for the outsole, non-woven, and foam in the inner section. Phylon is used for the midsole to get the high comfortability. PU coated PVC and mesh is used for the upper part in the shoes.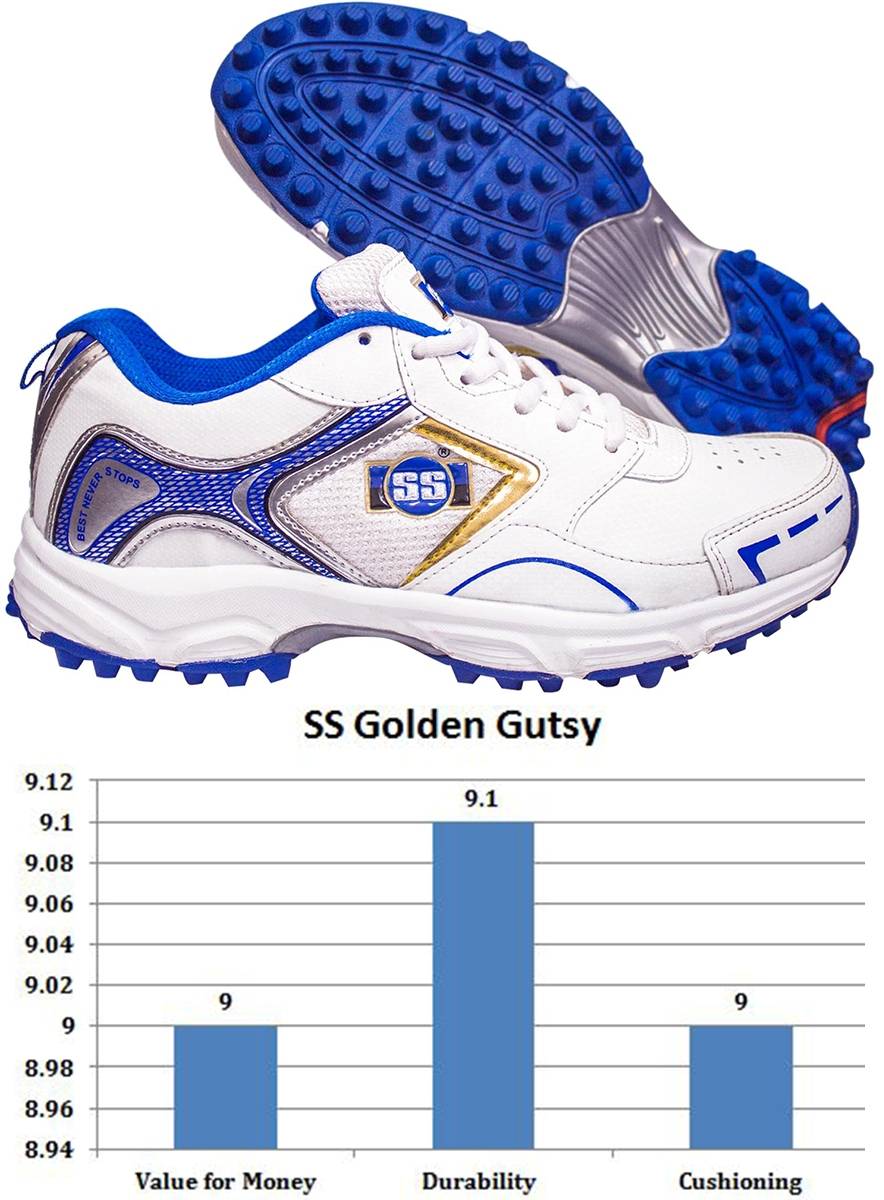 9) SG ICON 2.0; Price- Rs. 1799

The high quality of sole, lightweight feature, PU material upper part, traction rubber sole, EVA material, and molded counter for feet stability are one of the most significant benefits of the SS Icon 2.0.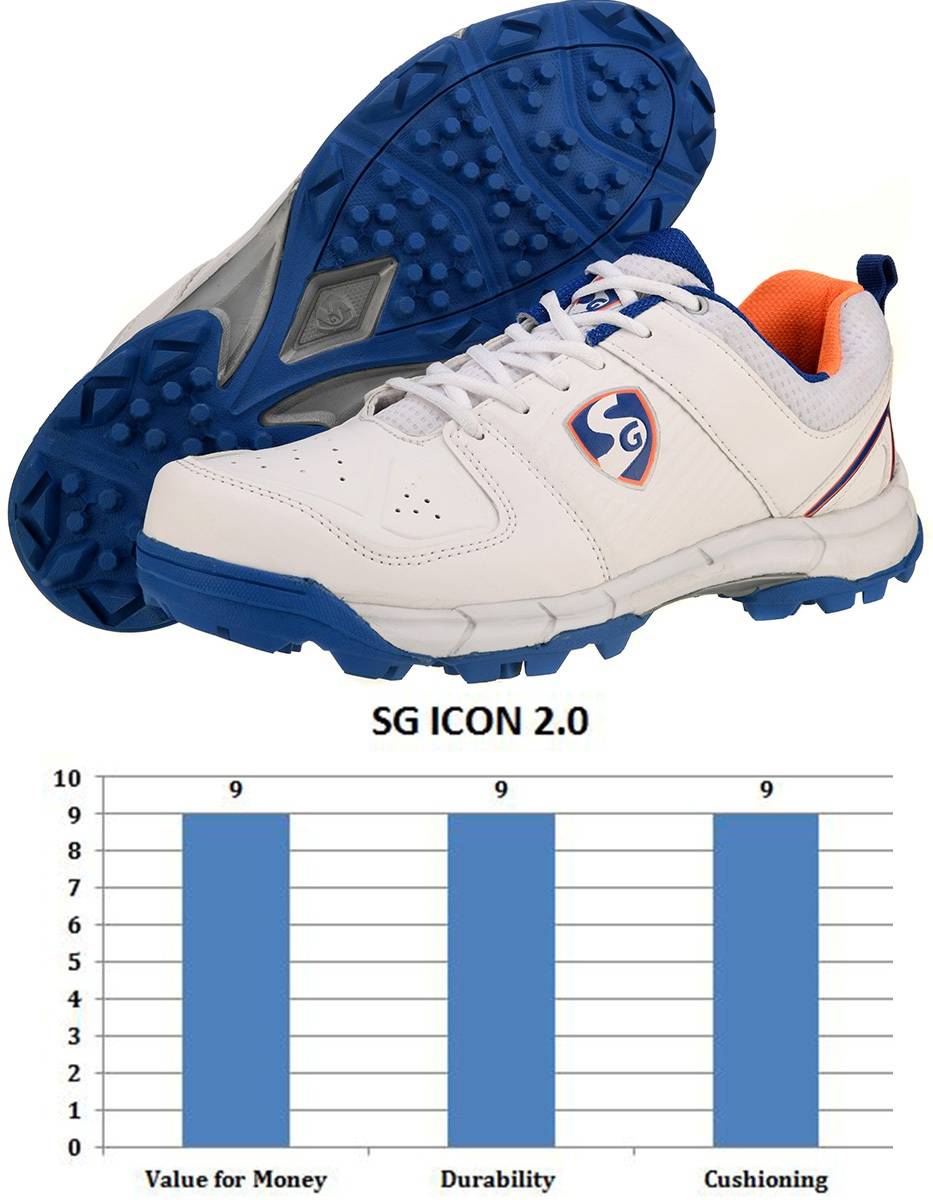 10) Nivia Field-1 Cricket Shoes; Price- Rs. 1400

Nivia is another famous brand of Cricket shoes among players. These shoes come with some exciting features like PVC mesh outer part, extra cushion, lightweight quality, and attractive design for more magnificent looks.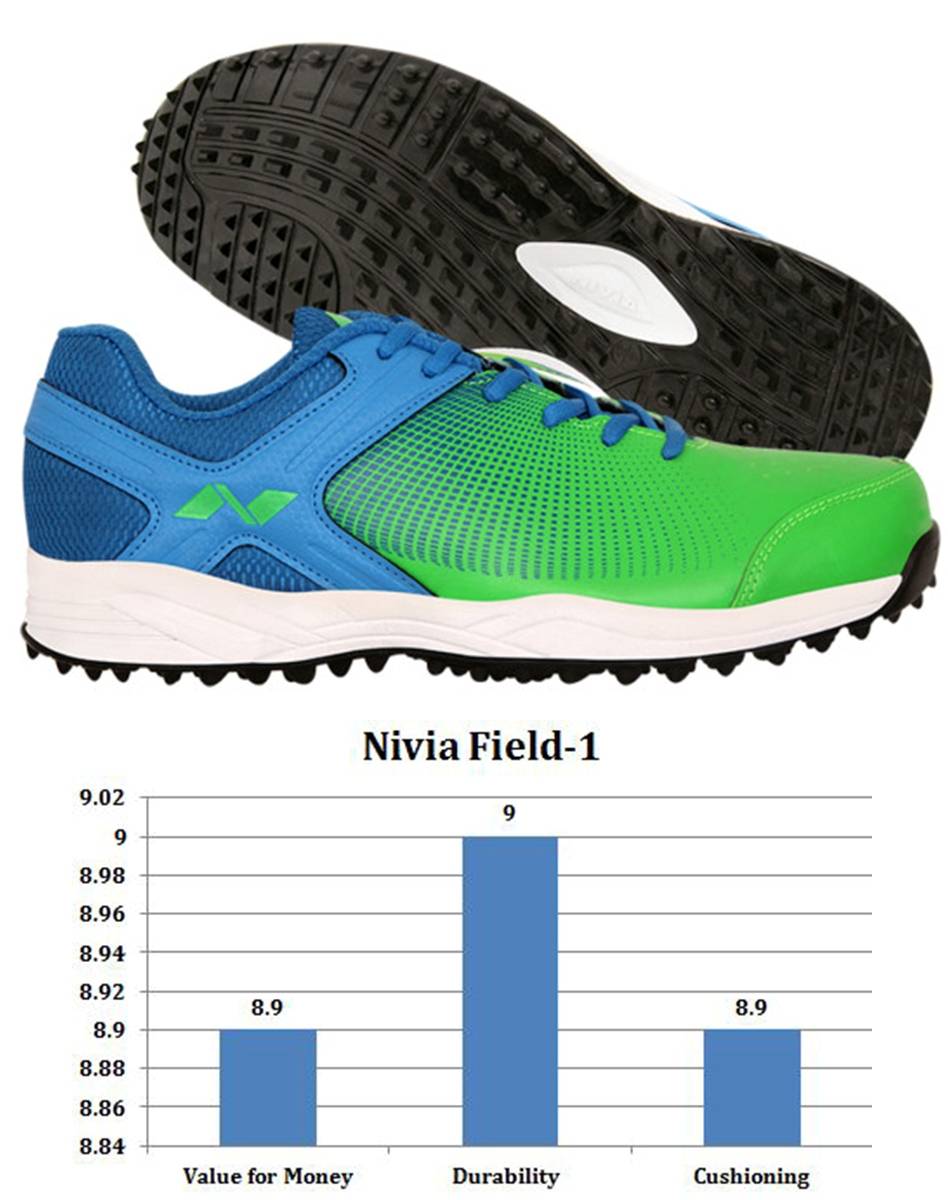 Summary:

While these are some of the best badminton shoe models for 2020. To explain it in better way we have developed some chart so player will have better idea.

Chart comparison shows the Cushioning of shoes: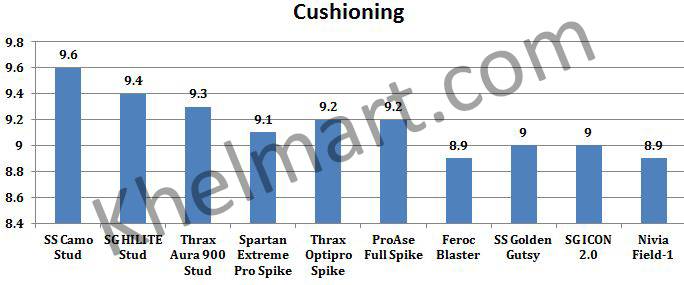 Chart comparison shows the Durability of shoes: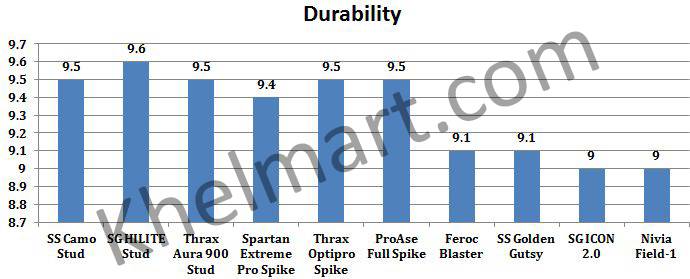 Chart comparison shows the Value for Money: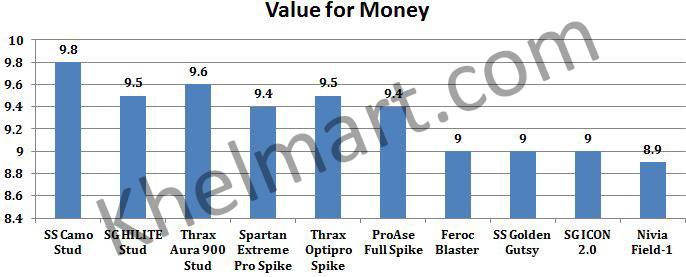 Conclusion

Cricket is an arduous game of perfection. Thats why you need to buy the right pair of shoes to match the toughness of the game. So, these best shoes for beginners under 2000 Rs will help the player to show their best.