Cricket is one of the most popular sports in the world. Fans come to the stadium to cheer their team, and it doesnt matter what the condition is.

But if we look at the history of this sport, then it would be very astonishing to know that the game of cricket was started as a game for fun by the Britishers. And later on, it has gained its popularity all around the globe. With time, we have seen some most excellent ambassadors of this game like Don Bradman, Sachin Tendulkar from India, and West Indies legend- the great Brain Lara.

Like any other sport, cricketers need some high equipment to make the best out of them. Cricket helmets were launched in mid 80s to protect the head, pads for leg protection, and gloves for better control over the shot. And the same goes for Cricket bats . The bat is one of the leading cricket equipment of playing among the people. Players play with some great brands like SS, SG, and Spartan.

The history and evolution of the cricket bat is fascinating. Because when the game of cricket started, players used to play with straight handled hardwood. With time, the quality and technology of cricket have changed and now look where we are.

Today, the prices of the bats are very high in terms of the professional level. But there are some quality bats available through which you can play your best game. As a beginner, there is no need for you to buy an expensive bat to play; you must purchase a cricket that suits your game level and requirement.

Cricket bats for Beginners

The technology and quality of the cricket bat have been changing immensely from the last 10 to 15 years. Earlier, players used to carry few bats along with them to play on a cricket tour, but today the technology in bat manufacturing has made it very feasible for the players.

If we discuss the initial level players or beginners, then it would be pretty hard for them to make the perfect choice of buying a good cricket bat. Most of the beginners make their purchase in the influence of their favorite players. They want to buy a bat which is used by international players. Perhaps, that is why they end up purchasing costly bats.

A beginner should buy a cricket bat that suits their game, and most importantly, you shouldnt go for an expensive bat because there is no need to pay extra price as you are the beginner.

Quality of Cricket bats for Beginners

Though a good cricket bat can give an ideal shot-making balance and can improve your game, that it doesnt mean it will make a good or great player of the game. A good cricket bat is just an extra aid for the players, but the rest depends on you. It means how you are using that aid and making your game forward.

Some great batsmen like Sachin Tendulkar or todays great players Virat Kohli are named as great batsmen because of their excellent skills of playing style and technique. You need some extraordinary skills and talent to be great at the game. A good cricket bat or ball are just excellent equipment that enhances the game level, not the skills. So, it would help if you kept these things in your mind while purchasing a cricket bat at the shop.

On the other hand, the shorter format of the game or we can say T-20 format also is the reason that is influencing the perceptions of players. Now, everyone wants cricket bats that can hit the ball for miles and have the tremendous hard-hitting ability in the wood.

So, despite all of this, lets try to find out some real qualities of cricket bat for beginners-

1) Ideal for playing conditions– As a beginner, you must buy a cricket bat that suits your playing style and playing conditions. At the initial level, most players prefer to play with hard leather balls or tennis cricket balls. So, it would help if you bought a cricket bat that is quite thicker to bear the power of a hard leather ball, or you can buy a normal bat to play with a tennis ball.

2) Right size – We have seen some players who play or used to play with longer and shorter sizes of the cricket bat. Though, there is no specific or scientific theory of bat size behind it that can make your game into another level because it depends on your overall height. Players who are shorter in height prefer to play with a quick size bat, and players like Cris Gyle play with longer bats.

3) Willow grade – The higher prices and cheaper rate of the cricket bat all depend on the willow grade of the bat. Every single cricket bat made from willow is made up of purely a fibrous wood. That is why prices of the bat depend on what quality or grade of willow is used on the cricket bat.

On a broader spectrum, we can say a bat with a narrow grain will give you higher performance, but the bat will not be sustainable for a longer time. On the other hand, a bat with a broader grain will provide you more extended life, but it will take time to reach its higher ability. Some willow grades inlcude Grade 1 plus, grade 1, grade 2, grade 3, grade 4, and then Kashmiri willow.

4) The handle – We have seen some great players like Mathew Hyden, who used to play with a longer handle bat to play some hard-hitting shots. A bat handle allows the player to have more grip on the bat and get the perfect balance on the ball.

Quality of Kashmiri Willow Cricket Bats

The Kashmiri willow bat is one of the most popular bats among the beginners. Though these bats will not perform as English willow bat, you can expect a great game with a Kashmiri willow bat-

1) Beginner

A Kashmiri willow bat is the best option for you if you want to improve your game skills and learn some basics of batting. Most of the Indian players have started their game practice through Kashmiri willow, and then they went to the English for professional games.

2) Bat for Domestic tournaments

Kashmiri willow bat will be the best option for you if you want to enjoy the domestic game and sports. These bats will give more exceptional quality and longer life through which you can learn and play the game as a beginner.

3) Budget

The lower prices of the Kashmiri willow bat is also one of the reasons why an initial level player should buy a Kashmiri willow cricket bat. You can buy a good performance cricket bat in a way less prices than an English willow bat.

So, now lets check out some Best Cricket Bats Under Rs. 3000

1) SG RSD Xtreme English Willow Cricket Bat

SG RSD Xtreme is one of the most popular bats of SG. This English willow bat is made of English willow grade 2 cleft that offers more excellent and more extended performance. It is developed with a typical SG process that is of lightweight quality and balance. This bat has big edges and a great sweet spot for big-hitting. The bat has around 6 grains and it is also high in moisture.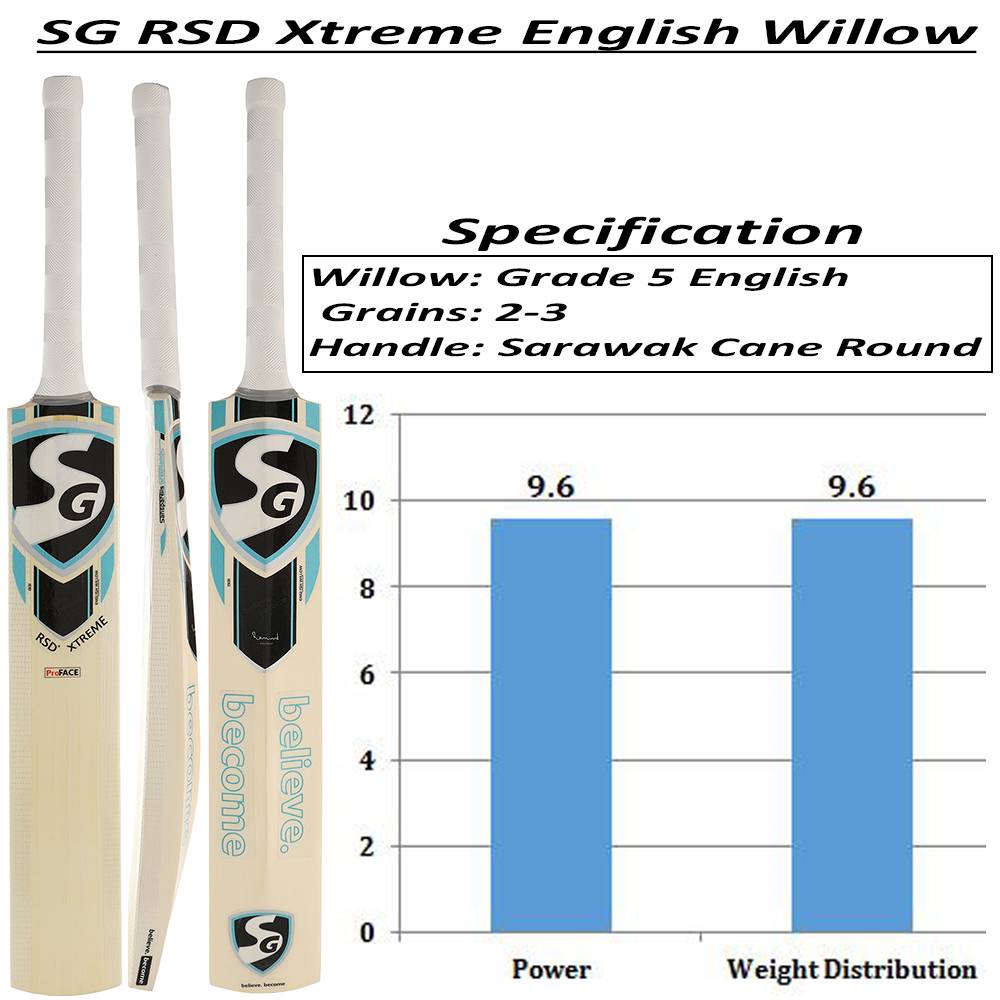 Checkout Here

2) SF Sapphire Autograph English Willow Cricket Bat

SF is a premium brand of a cricket bat, and players like Mahela Jayawardene also used to play with SF bat. SF Sapphire Autograph English willow cricket bat is made for intermediate players who are willing to try English willow bat after playing with Kashmiri willow for a long time. The bat handle is manufactured with swark cane (12 Piece), the bat is highly durable and will give you more excellent performances.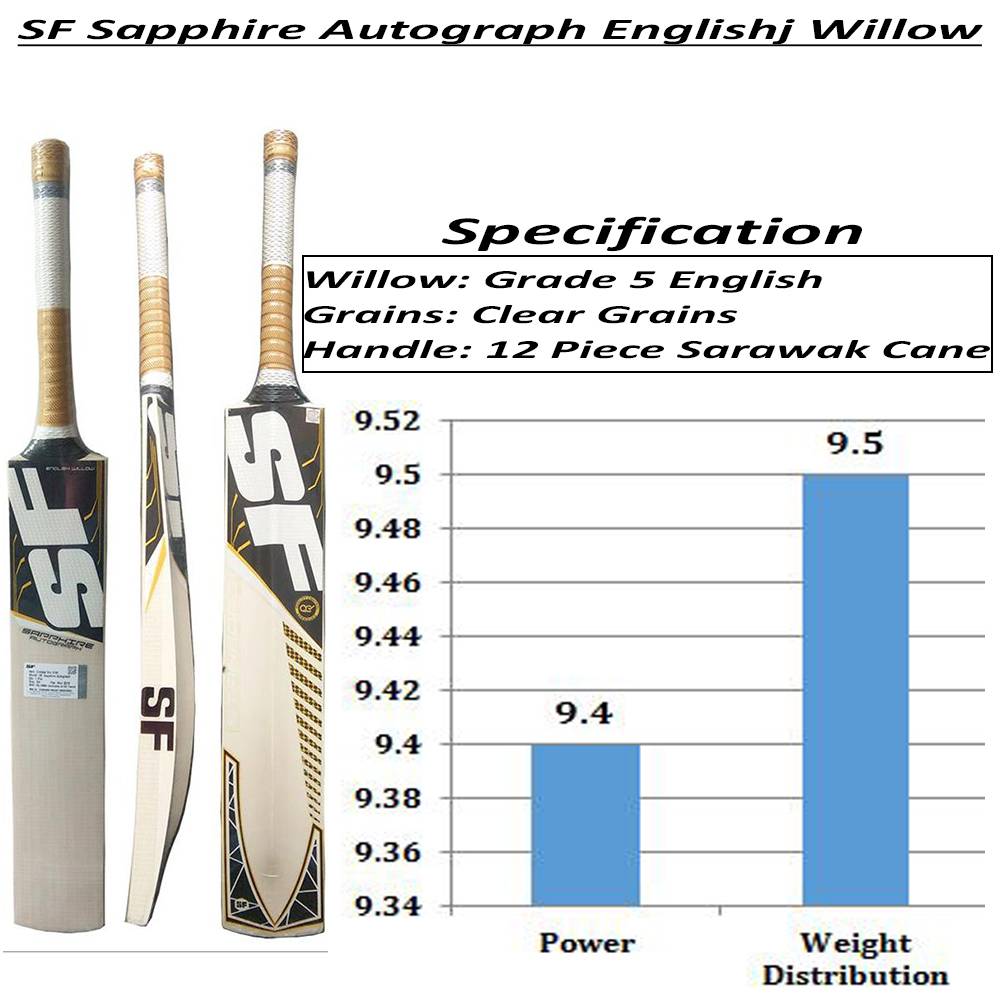 Checkout Here

3) Thrax PowerBow English Willow Cricket Bat

Thrax power bow bat is made of grade 2 quality English willow. It was launched in 2016 for the higher level players who play domestic level cricket. The bat has a mid-low spine, and you will get a protected toe area with the support of new wood. The bat is made of 12 piece handle design, and it will give all the much-needed quality to have a great match experience.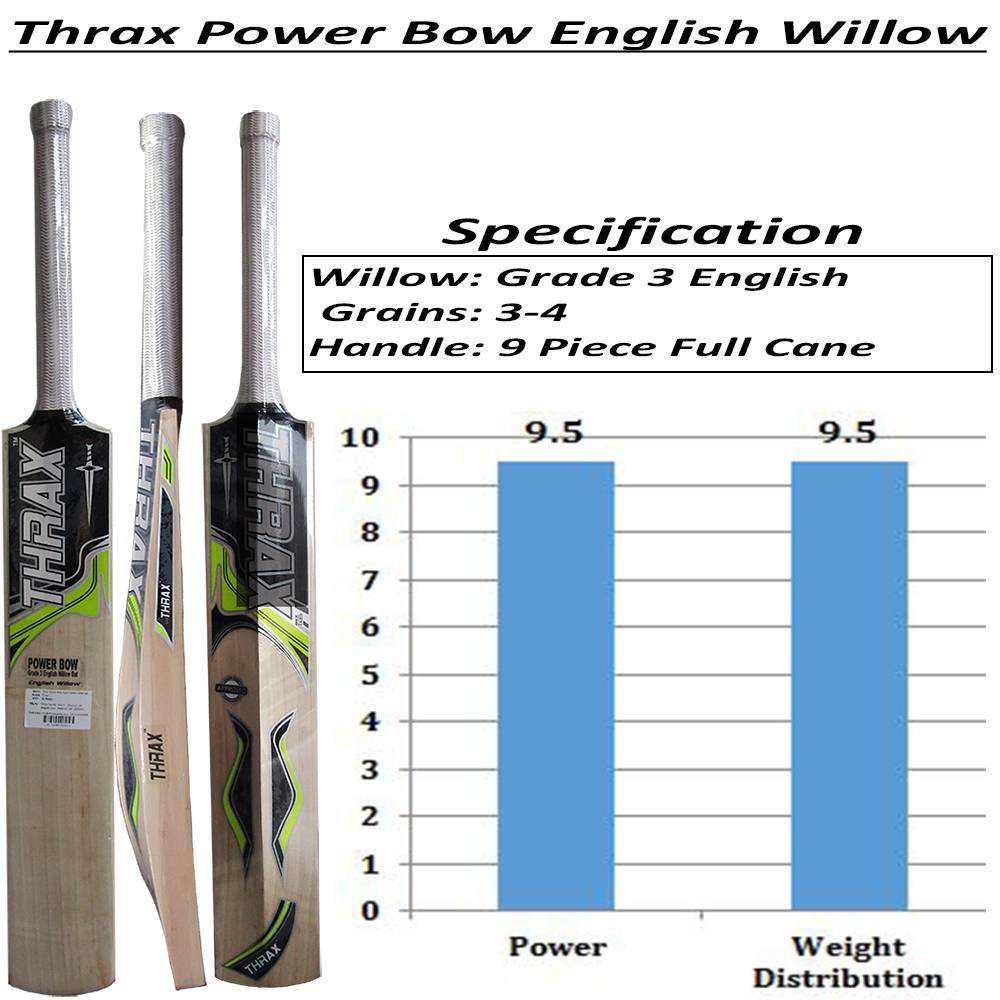 Checkout Here

4) BDM Booster English Willow Cricket Bat

The BDM Booster English Willow cricket bat has the contoured edges with arc blades. It has 5 to 7 straight grains. It is immensely designed to give the overall performance in any playing condition. The bat has multi-piece cane handle technology to provide an excellent balance. Overall, we can say that it would be one of the significant bats under Rs. 3000 for you.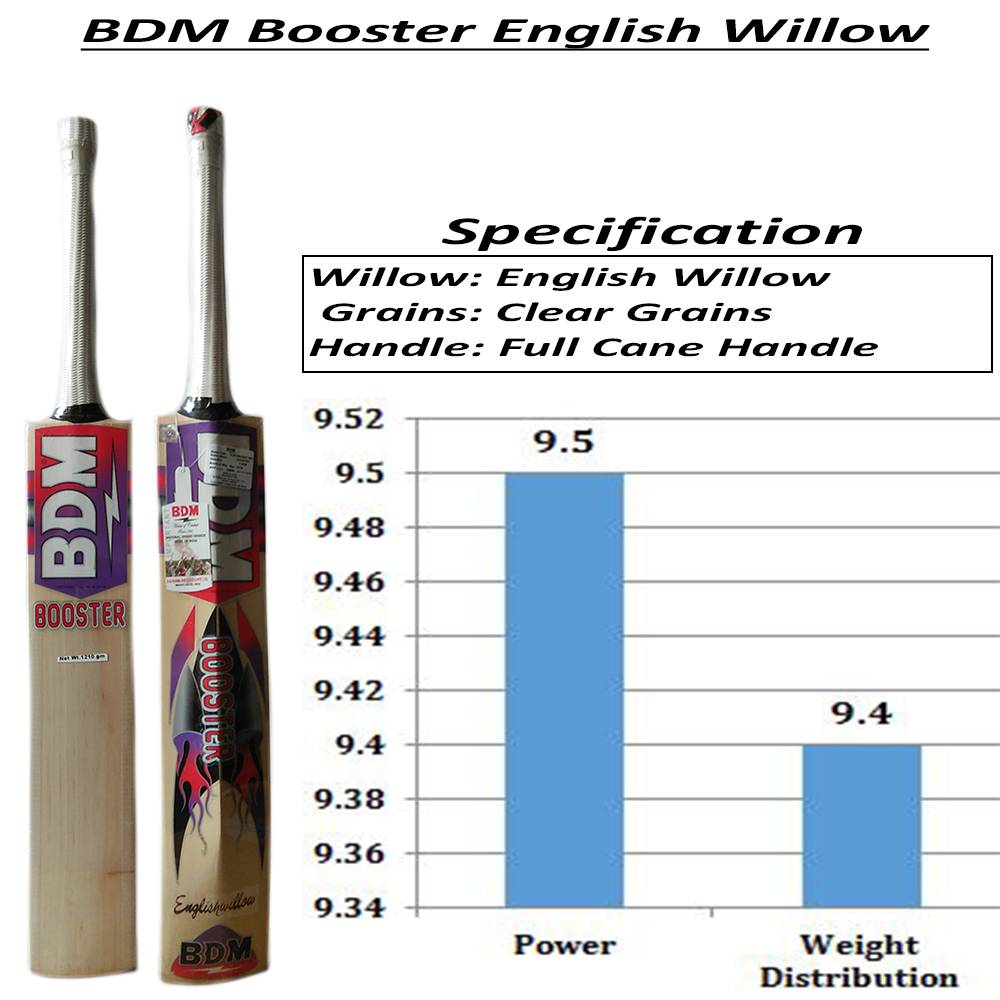 Checkout Here

5) DSC Intense Xhale English Willow Cricket Bat

DSC Intense Xhale cricket bat weight is quite lighter and comes with a short handle. This bat is made of English willow grade 5 for higher performance. It has cushioned grip at the handle, pronounced bow, thick edges, and lower sweet spots to strike the powerful hits. In short, its a must-have deal for the players.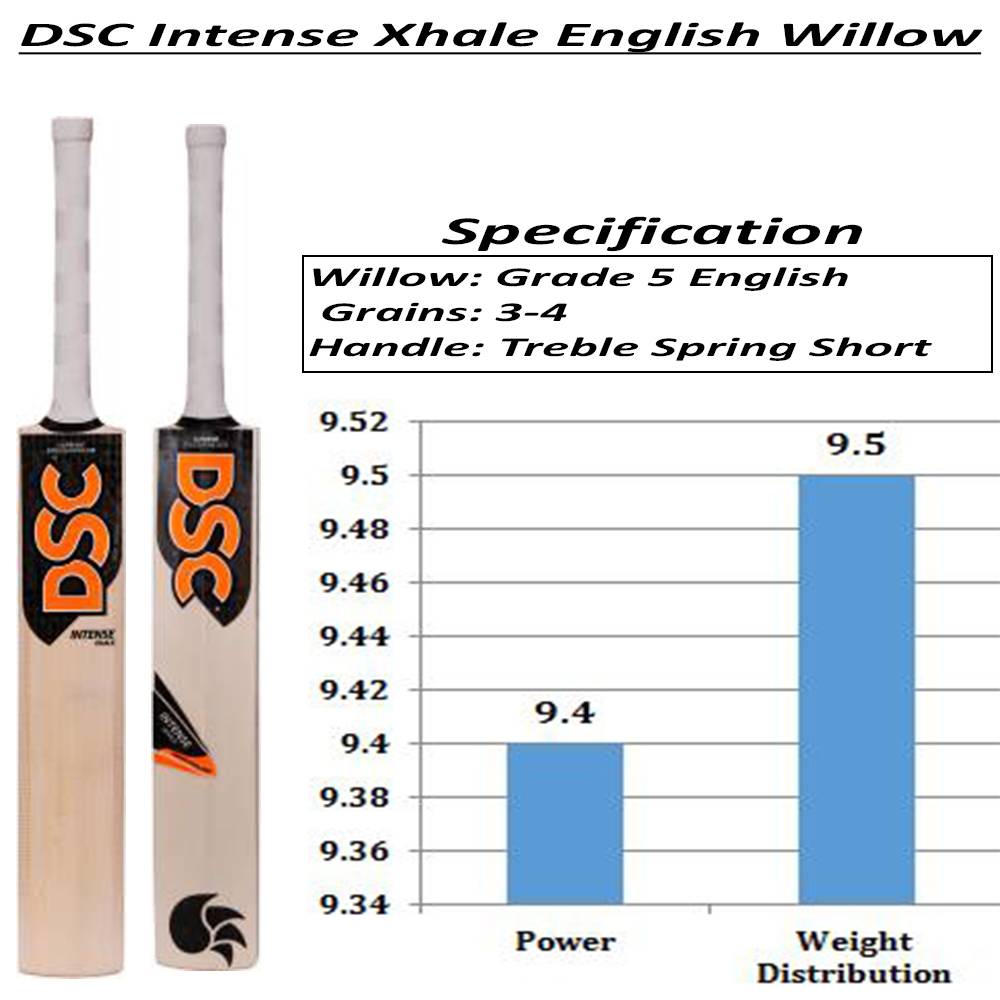 Checkout Here

6) Kookaburra Surge Prodigy 20 Kashmiri Willow

Kookaburra is one of the famous brands in the cricketing world. This kookaburra bat will give a durable Kashmiri willow with 12 Sarawak cane round handles for greater flexibility and strength. It has big sharp edges that will provide exceptional power on strike. This bat has 4 to 7 straight grains with grade 2 willow quality. The bat has better sweet spot quality and supportive bow technology.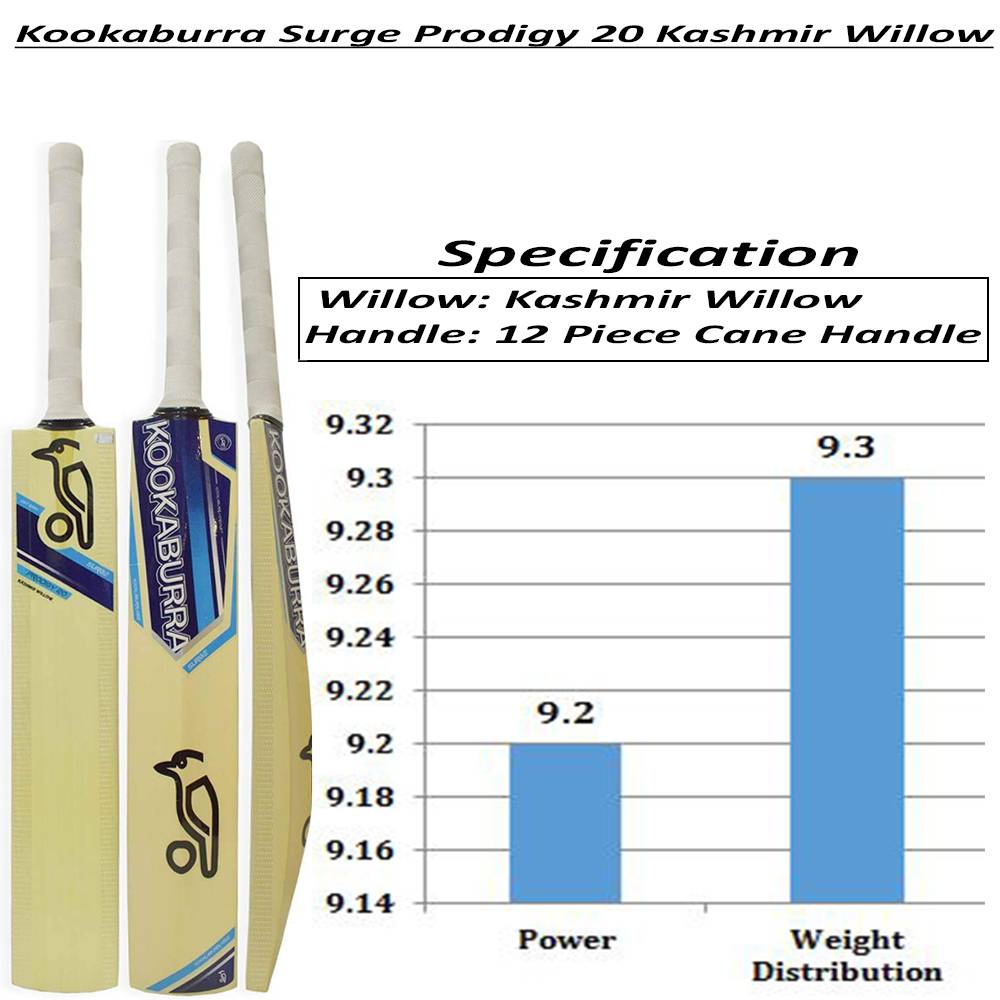 Checkout Here

7) Thrax Blade English Willow

It is made of English willow for greater durability and higher performance in the game. It has wide and sharp edges for the higher hitting power. The bat is equipped with nine-piece handle technology to get the much-needed balance while playing the shot. The sweet spot of the bat is engineered from mid to low for a more fabulous throw.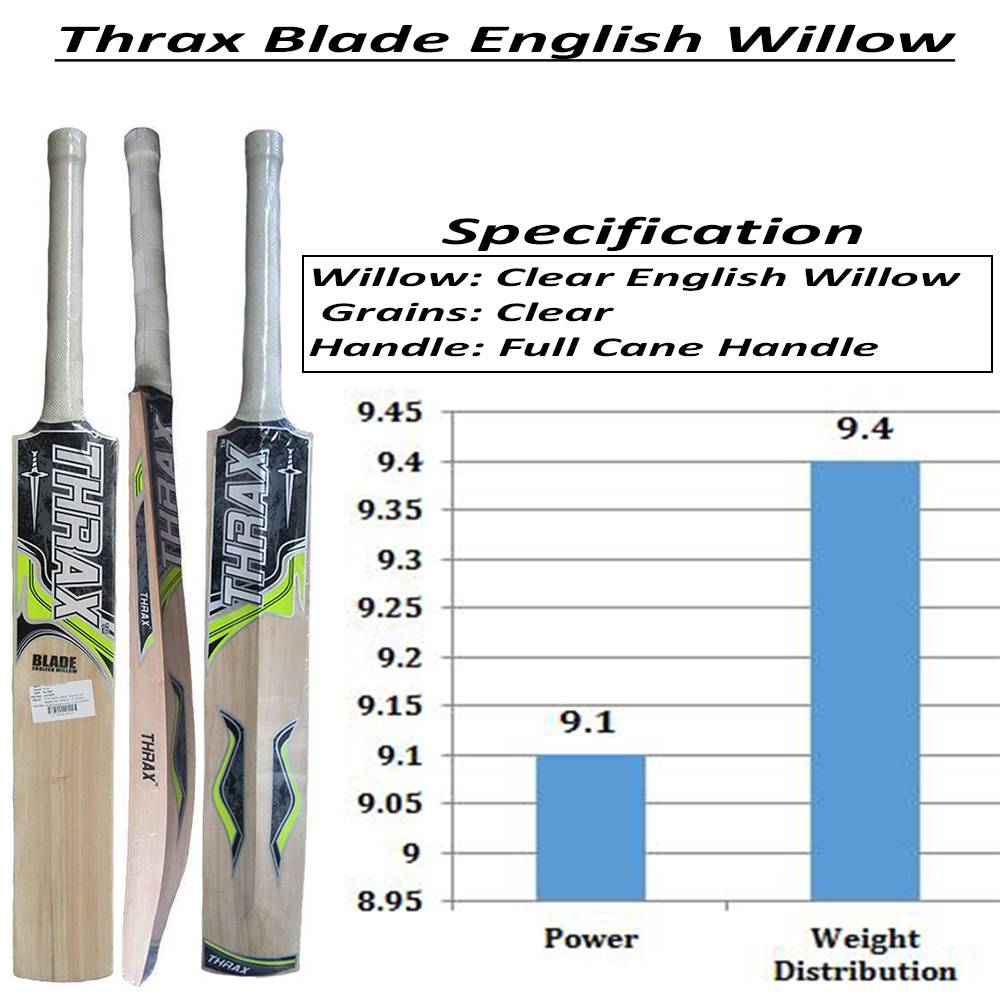 Checkout Here

8) Puma EvoSpeed 4x Edge Kashmiri Willow

We have seen players like Yuvraj Singh, who used to play with Puma bats and used to hit the ball around the park. This puma bat is made of Kashmiri willow grade 3 for higher performance. The weight of the bat is quite less, around 1 to 1.140 kg. This bat is specially made for intermediate players.




Checkout Here

9) SS Ton Reserve Edition Kashmiri Willow

Players like Kumara Sangakkara used to play with SS bats and score a lot of runs. This bat of SS is made of grade 1 Kashmiri willow. It has a ton of edges and lightweight quality. The bat has a mid to low sweet spot position that gives a better cover shot selection options.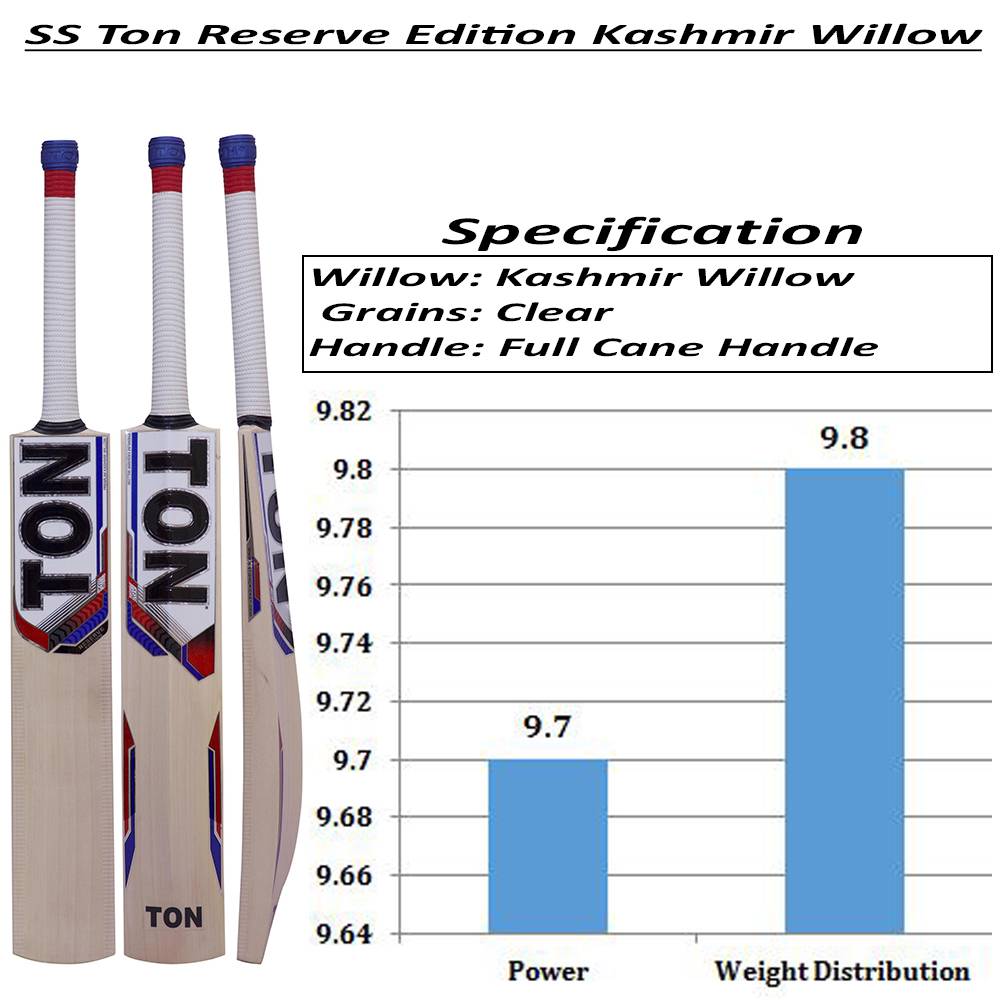 Checkout Here

Conclusion

A player needs to pick the right bat according to their ability, not by seeing someone playing with the bat. So, these were the bats that can be used by initial level players for a better understanding of the game.