Best Football shoes Under 1000 Rs Hello everyone, looking for the best football shoes under Rs 1000 . Well, there are a lot in the market, but it is very difficult to tell which one suits your style of playing.

Yes, it is true because people get confused about which one to buy because they see numerous famous brands, and selecting one of them is not easy. Moreover, always keep one thing in mind before going to buy any football shoes that thoroughly research on what type of shoes work best for you which makes you comfortable and you can give your best.

Now lets put some light on top 10 football shoes which come under Rs 1000. They are: -

1. Thrax Vapor Lite Football Shoe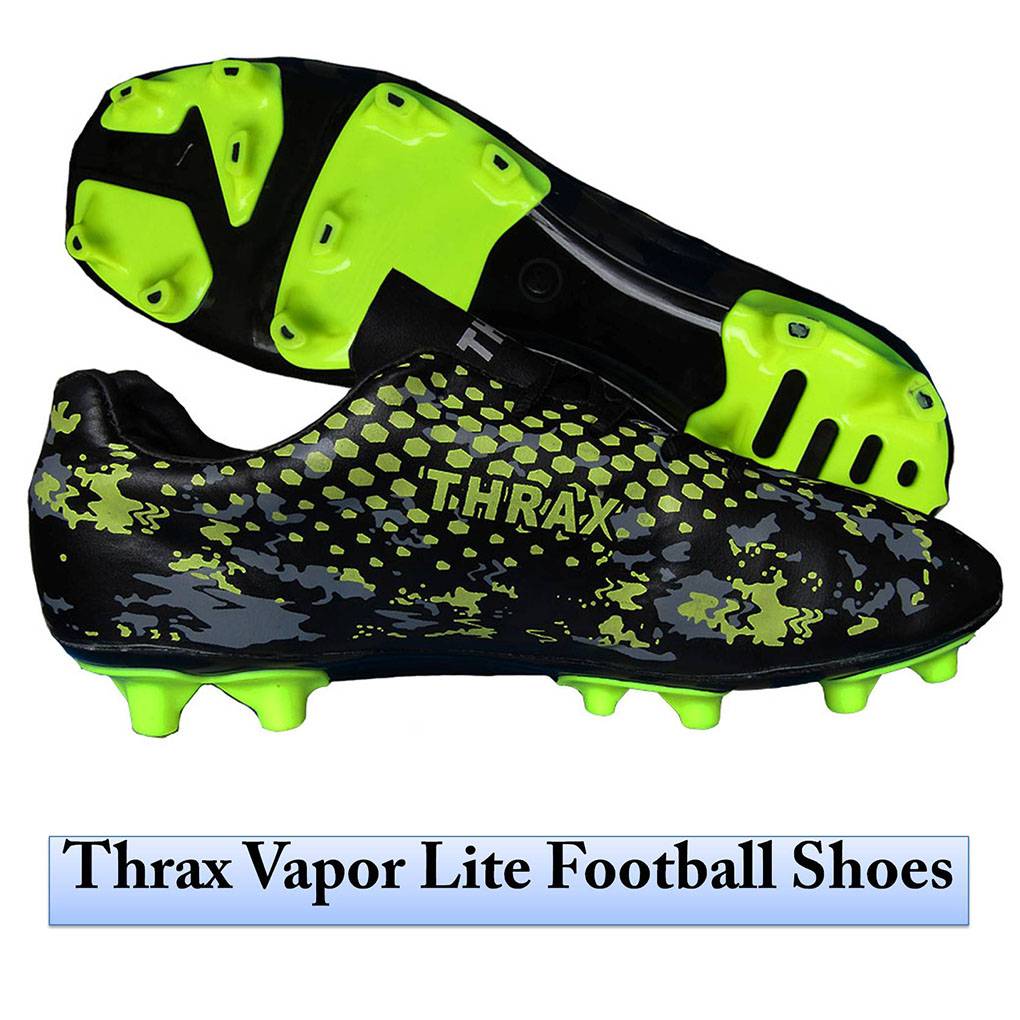 Thrax has a great collection of football shoes which offers superior shoes for all types of players. So, if you are looking for foremost football shoes under Rs 1000 then Thrax Vapor Lite is the best choice for football players. This football stud comes with the combination of two colors that are black and lime.

Best features of Thrax football shoes: -

• The upper material is made up of PU microfiber which an excellent choice for enthusiastic players

• It offers the best grip while players are planning on a hard surface with grass on it

• These football shoes have TPU sole for rapid turf and hard ground playing

• The optical shape of the shoe is developed to last and deliver a better fit and finish

• Two layers of the cushion give better comfort and manage the energy in a better way

• The outsole is full length which provides explosive acceleration and excellent gripping in a multi-direction way

Check More Detail Here:

2. Nivia AVIATOR Football shoe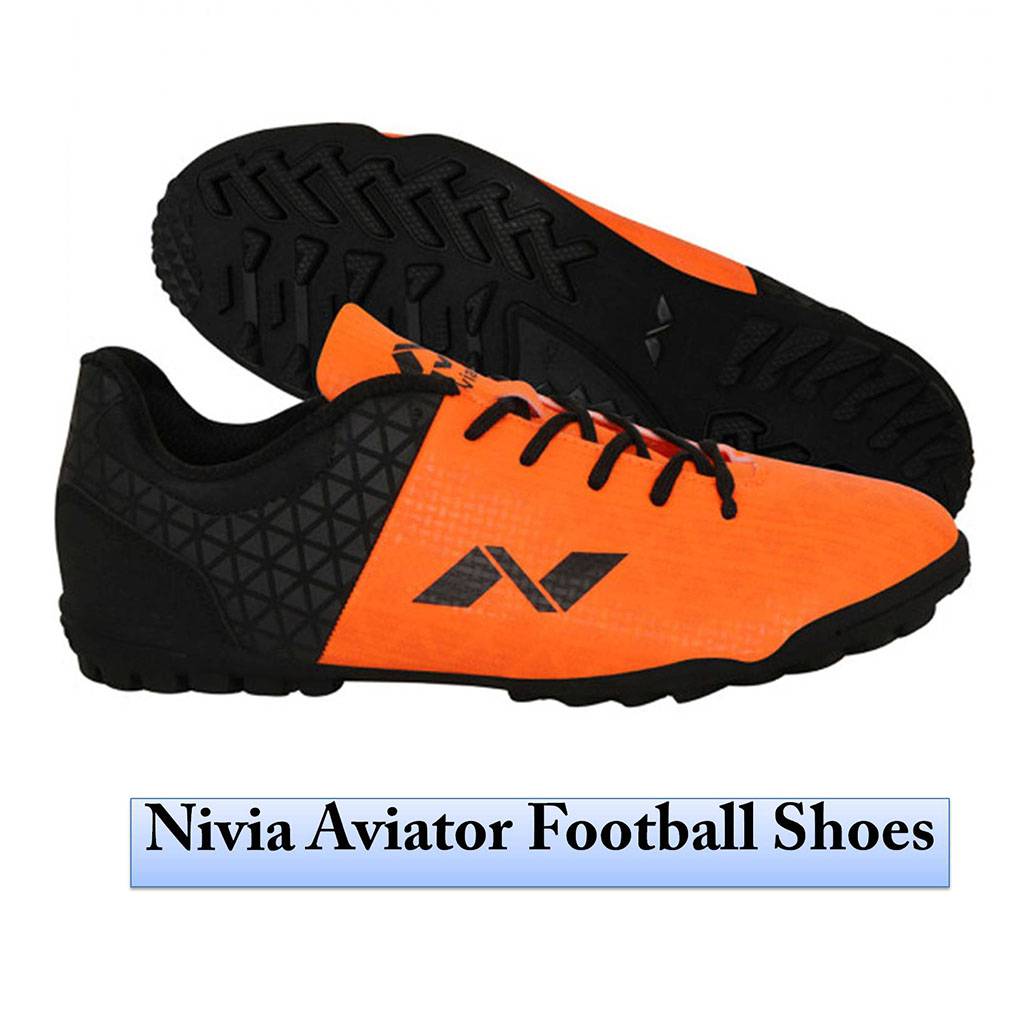 The brand Nivia is an emerging name in the football shoe industry while providing unexcelled features and benefits to the player. The Nivia Aviator football shoe comes in all sizes with attractive color combinations.

Unsurpassed features of Nivia football shoe are: -

• The outer sole of the shoe is made up of PVC synthetic leather

• Available in TPU sole for best gripping

• The outer sole is made up of rubber which is waterproof non-woven

• These football shoes are best for practice level and on the grassy surface

• Light in weight which is 200 grams for quick playing on the field

• Lace up closure

• Ideal only for men players

• The players cannot stop running or moving while wearing these football shoes

Check More Detail Here:

3. Feroc Evo speed Football Shoes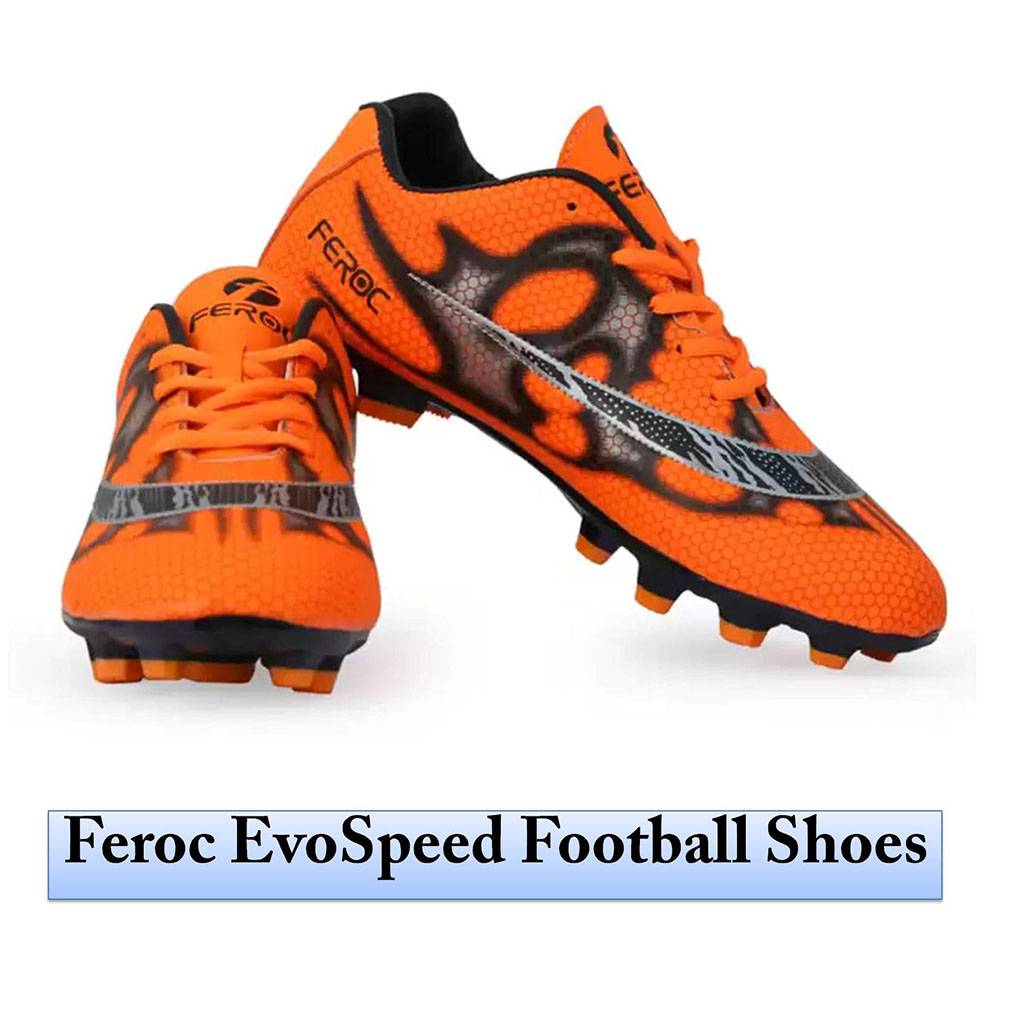 Uniquely stylish and trendy- Evo Speed football shoes for unisex are the best among other brands. In these football shoes, AGION technology is used which combat odor-causing bacteria and resist fungal, mold, and mildew growth on the treated surface. Feroc Evo Speed football shoe is so comfortable that it helps you move with untouchable speed and agility on a flat surface with the Evo Speed indoor outsole.

Other features and benefits: -

• Ideal for both men and women

• The upper portion of the shoe comes in a stylish pattern which controls the ball in a perfect manner

• Stud configuration on the outsole for perfect grip

• The inner material of the shoe is cotton as it absorbs the sweat from the foot while playing and makes the player feel fresh and energetic

Check More Detail Here:

4. Vector X Velocity Football Shoe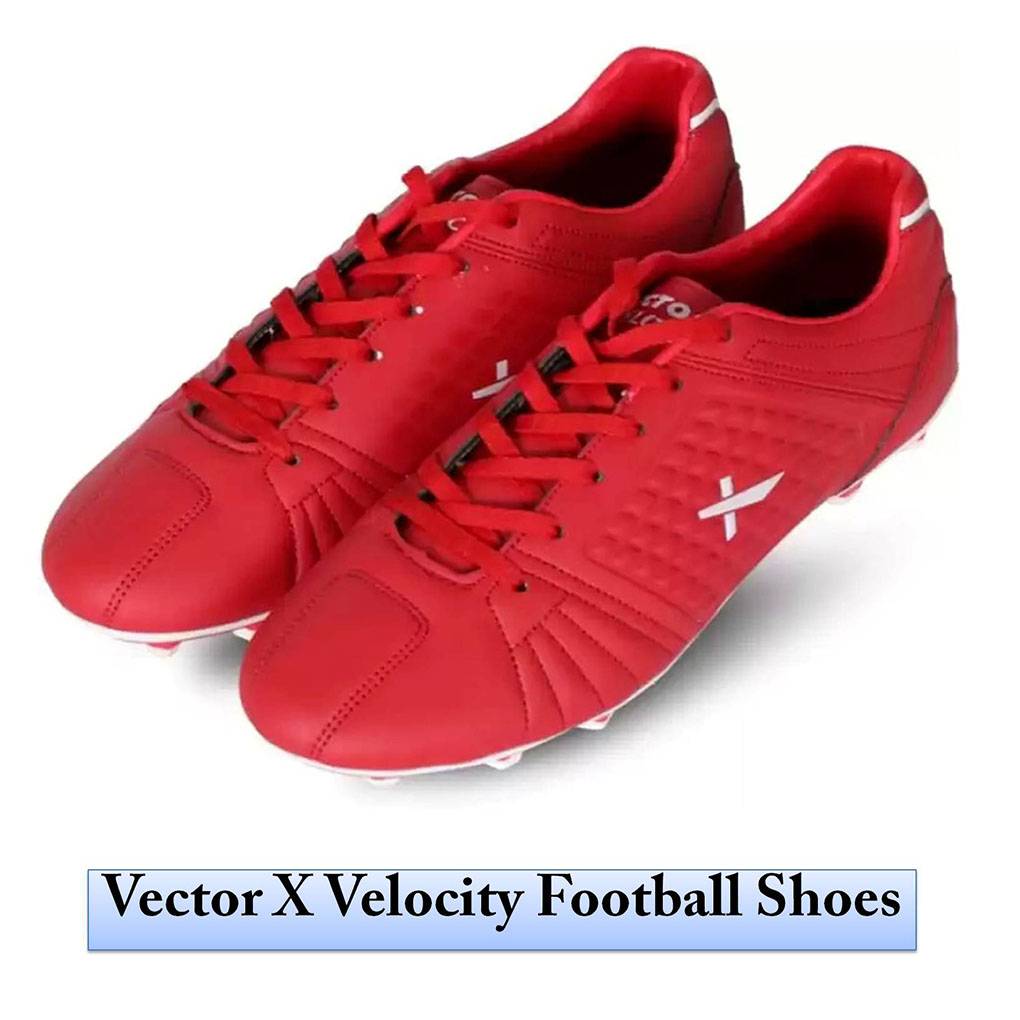 Vector is an amazing brand which manufactures football equipment. They offer stylish and innovative sports gear to most of the aspiring sports player. As the most renowned brand, they have produced spectacular football shoes which are used by famous personalities. It delivers the best grip while you are planning on a hard surface as well as on grass pitch.

Features and benefits of Vector X: -

• Highly flexible shoes because the sole is TPU

• Comes in attractive colors that are red-white, and black-silver

• The footbed is highly cushioned which gives comfort to the player

• The ankle of the foot is covered with cushioned material so that injury will not hurt the ankle

• The toes are designed in such a way that offers a strong kick to the ball towards goal

Check More Detail Here:

5. Thrax Dominator Football Shoe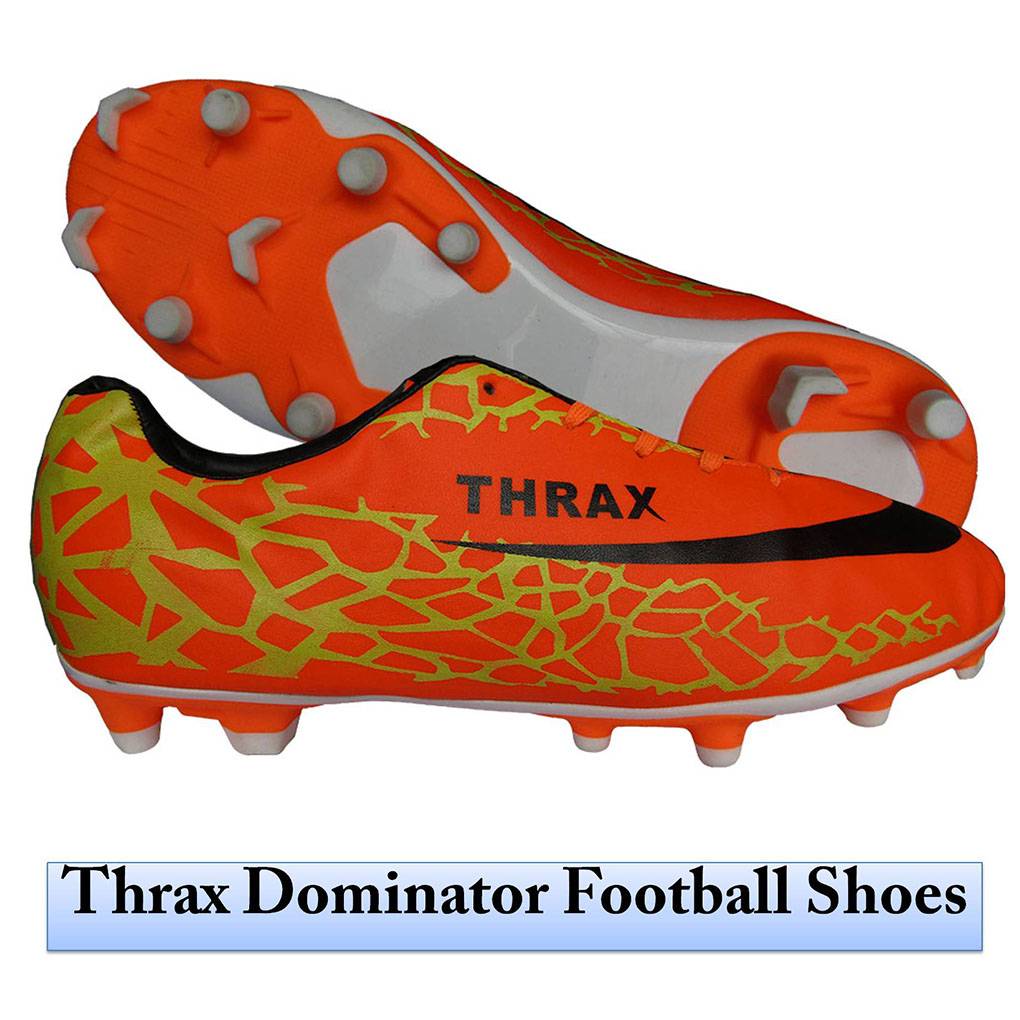 Thrax is one of the leading brands in football shoes offers great comfort and relaxation to the foot while playing. Thrax dominator football shoes come in opti shape from the front. Moreover, the upper portion is made up of PU microfiber with delivers a better fit and finish.

Other features and benefits of Thrax football shoes: -

• The bottom of the shoes is TPU glassy material, it suits turf grounds more than soft mud grounds

• Provides superior grip on the ground and controls the underfoot support very well

• The full-length outer sole gives explosive acceleration and perfect grip in multi-directional movements

• Outer portion has two layers of cushion which manages the energy level and provides excellent comfort after wearing

• Ideal for men who are beginners or even advanced players

• It is built on the passion to make the athlete better, stronger and faster

Check More Detail Here:

6. Nivia CRANE Football shoe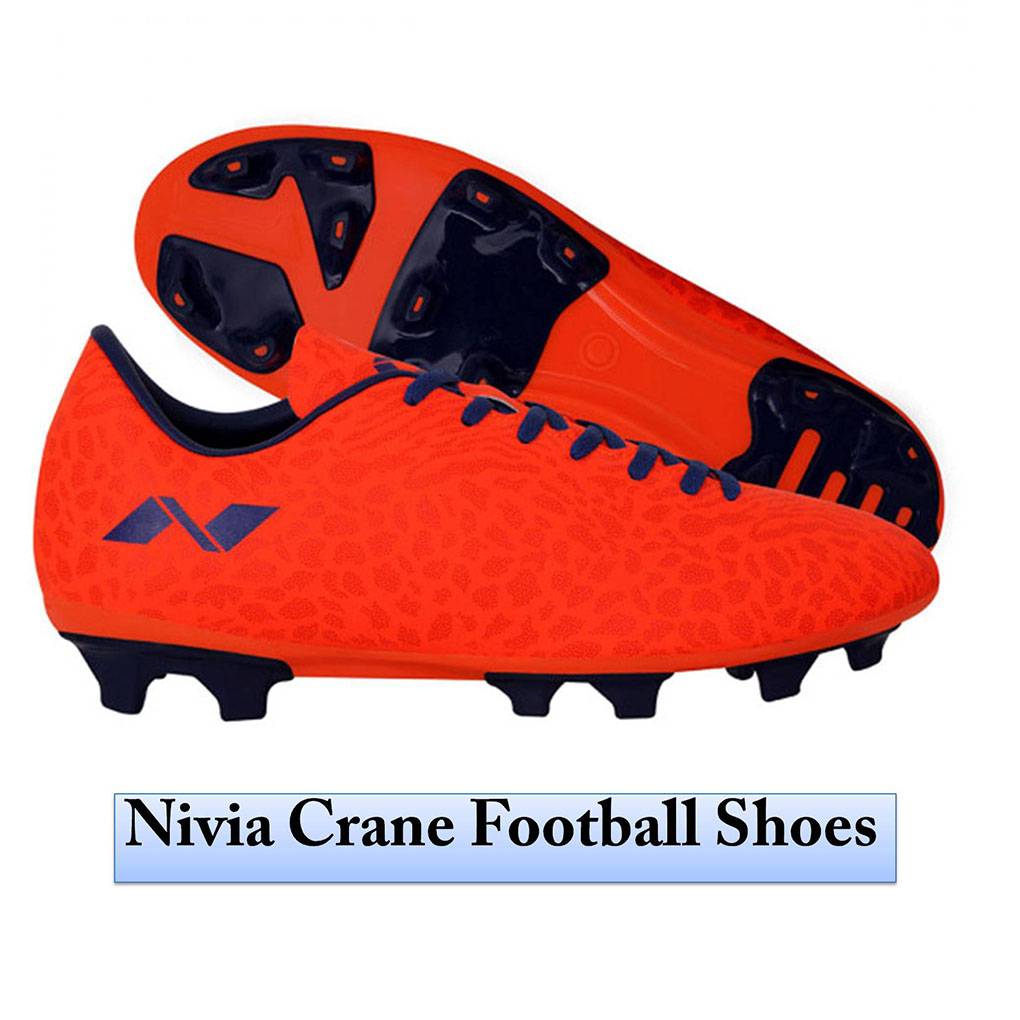 Nivia crane football shoes always boost and energize the performance of the player to the maximum level. This pair of shoes offers optimum response during play which is the best part. Nivia Crane football shoes are the perfect choice for those players who want to easily defend and win.

Features: -

• PU Synthetic lining in the collar of the football shoes is soft and comfortable

• PU microfibre on the upper portion makes this football shoe extremely light in weight and long-lasting

• The TPU sole is of high shear strength which is suitable on all types of hard ground

• The studs in the shoe are triangular in shape which eases the players push off and accelerate with rapid efficiency

• The upper portion is made up of PU microfibre that takes the shape of the feet and offers inorganic fit

• Moulded EVA insole provides better cushioning and comfort

• The shape of the toe is round for stability and grip

Check More Detail Here:

7. Feroc Ultra Mens Orange Football Shoe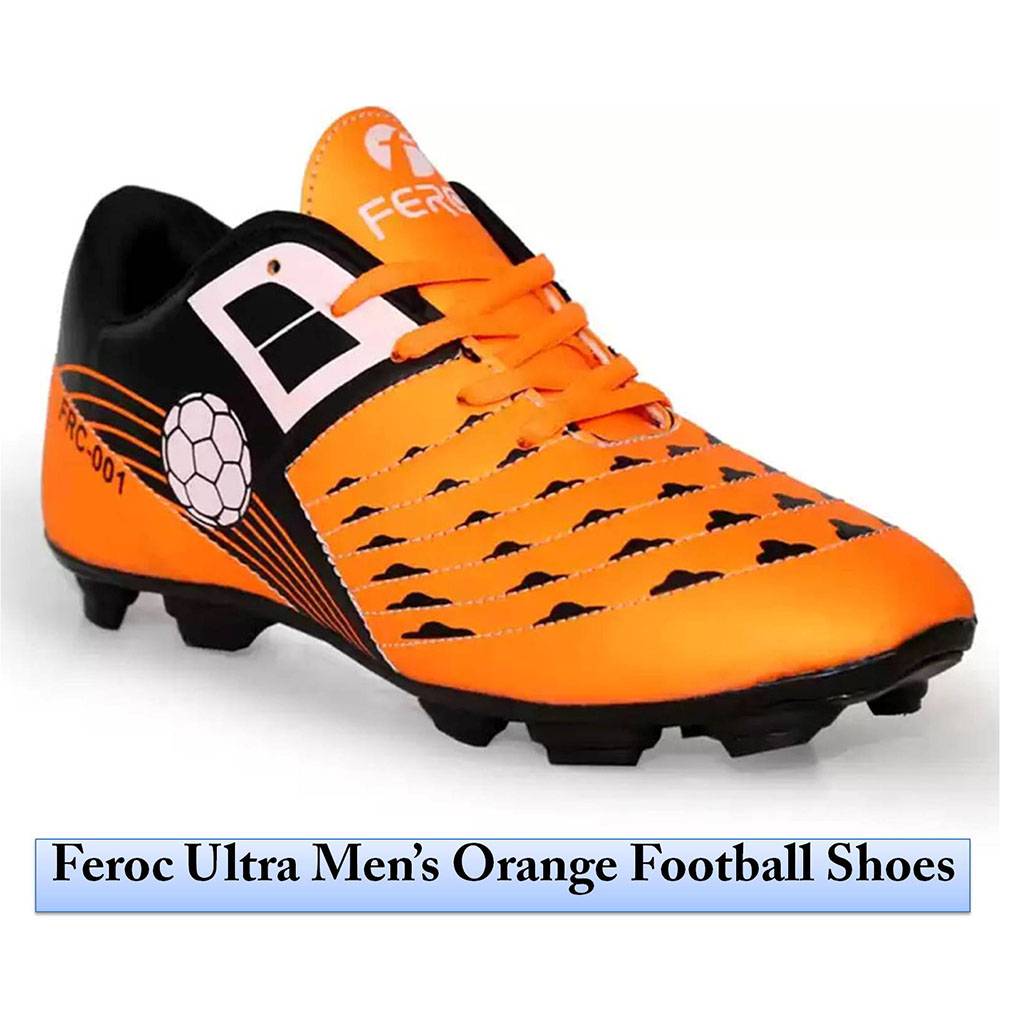 Backed by rich industry experience and market understanding, Feroc Mens football shoes are the best choice for professional as well as beginners. Moreover, they offer ultimate performance on the field while playing with stability and gripping.

Features and benefits: -

• Soft in wearing and light in weight for quick playing

• They are made up of PU synthetic leather for long-lasting durability

• The studs in the sole forms strong gripping and underfoot support

• The full-extend sole of the football shoe is made up of PVC

• Manufactured with the combination of orange and black for an attractive look

• Lace up closure

Check More Detail Here:

8. Nivia Dominator 2.0 Football shoe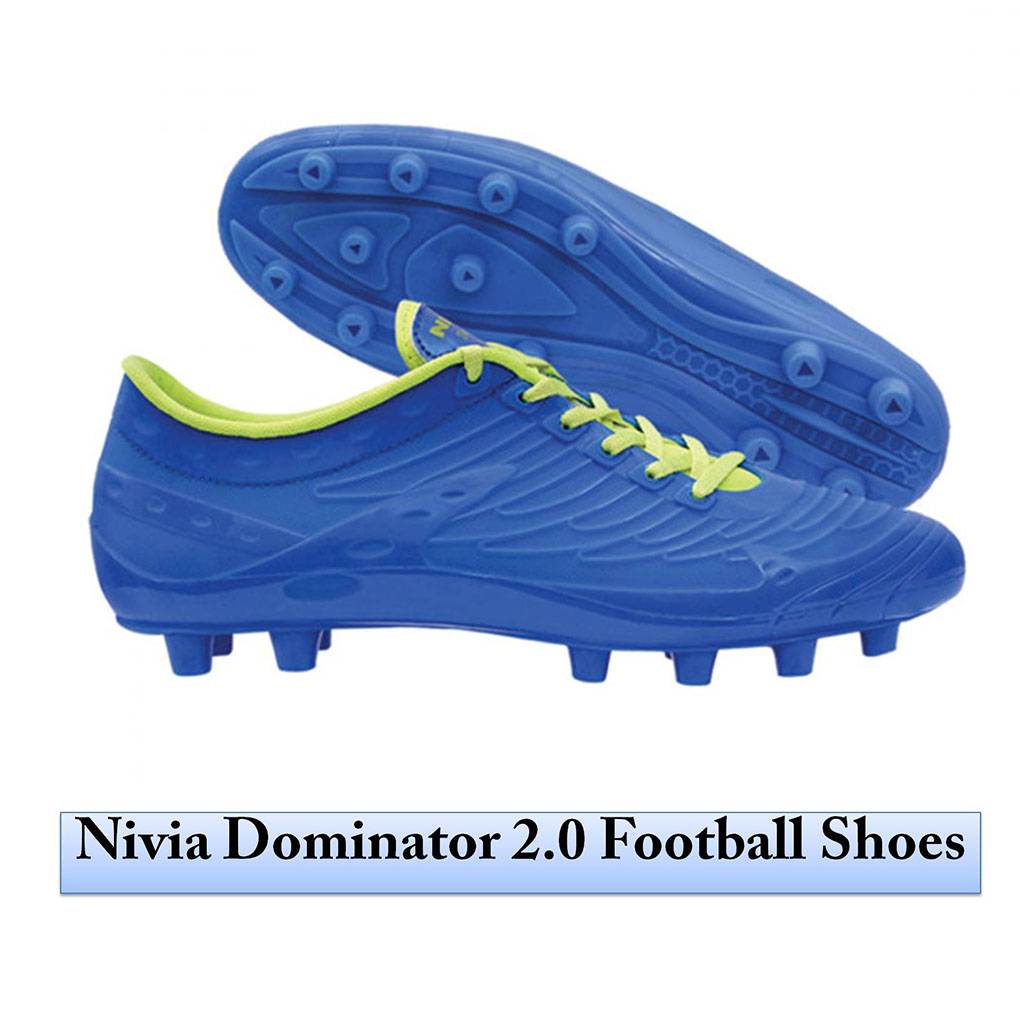 Nivia Dominator football shoe comes in the list of best shoes in under Rs 1000. They are designed to match the stringent standards which are required by professional players to put their best on the field. They have been manufactured after understanding every small and big thing of the game and rigorous review from the top players.

Best features and benefits: -

• They use single mold technology, which as a result prevents the shoe from tearing, stitching, and pasting issues

• These football shoes are completely sealed without having to give any further care

• These are full TPU shoe which provides flexibility to the foot

• They are resistant to water, oil, and grease in any situation

• The grip is very perfect and superior and underfoot support gives comfort to the player

• Light in weight, durable, smart, world-class quality, and stylish

• Toe area is flexible to defend the opponent

• The heel area is hard for proper stability and balance

• The upper sole of this football shoe is made up of AIR MESH TPU

• Offers countered speed and internal chassis gives instant acceleration

Check More Detail Here:

9. SEGA Leather Football shoe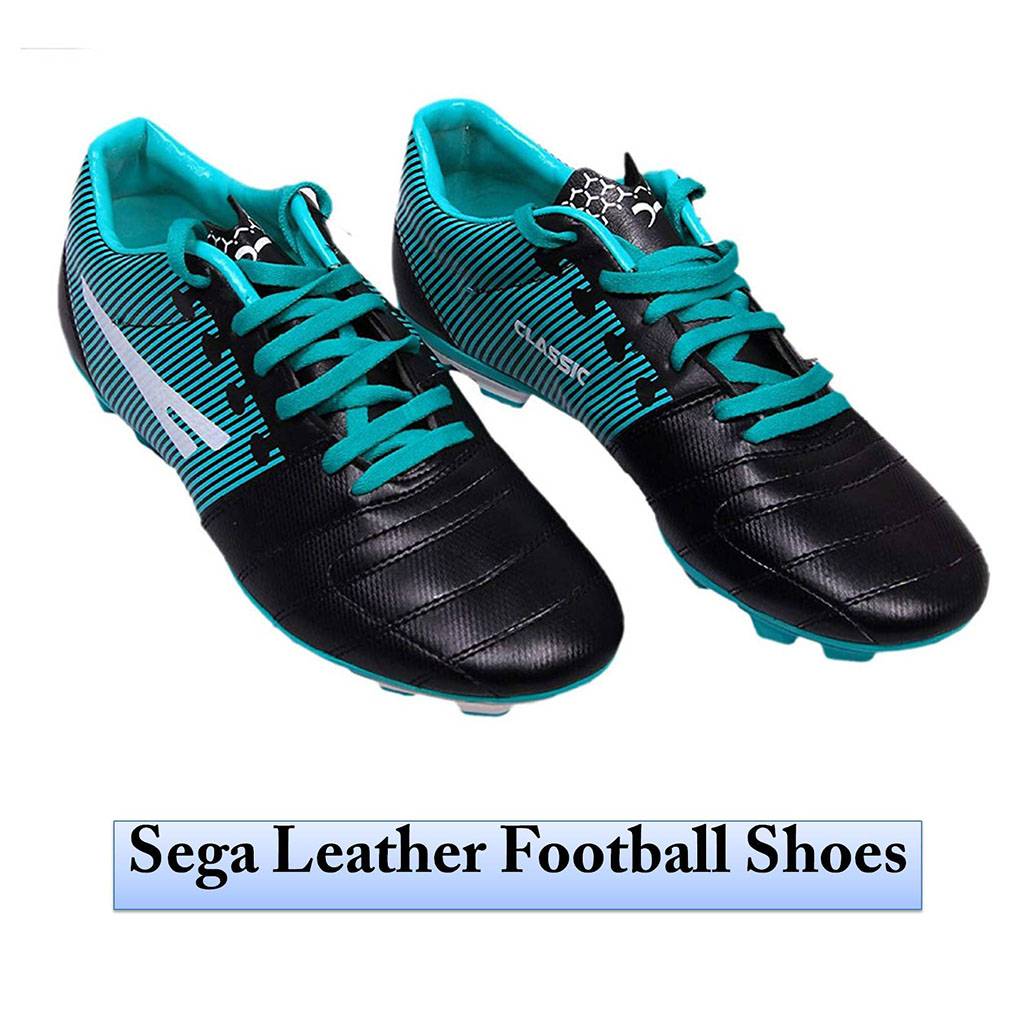 This Sega leather football shoe is also a good choice for professionals and beginners. They are light in weight and stylish, and offer a player a classy look on the field during play. It is ideal for both men and women.

Features: -

• The upper material of this football shoe is leather which is the best part as it is the most suitable material for a football shoe

• The sole is made up of PVC which delivers the best result on a hard and grassy surface

• All the series of Sega shoe comes in awesome look and designs

• Resistant to water in any situation

• Manufactured in varied attractive colors so that it looks stylish while wearing

Check More Detail Here:

10. Vector X Chase Football shoes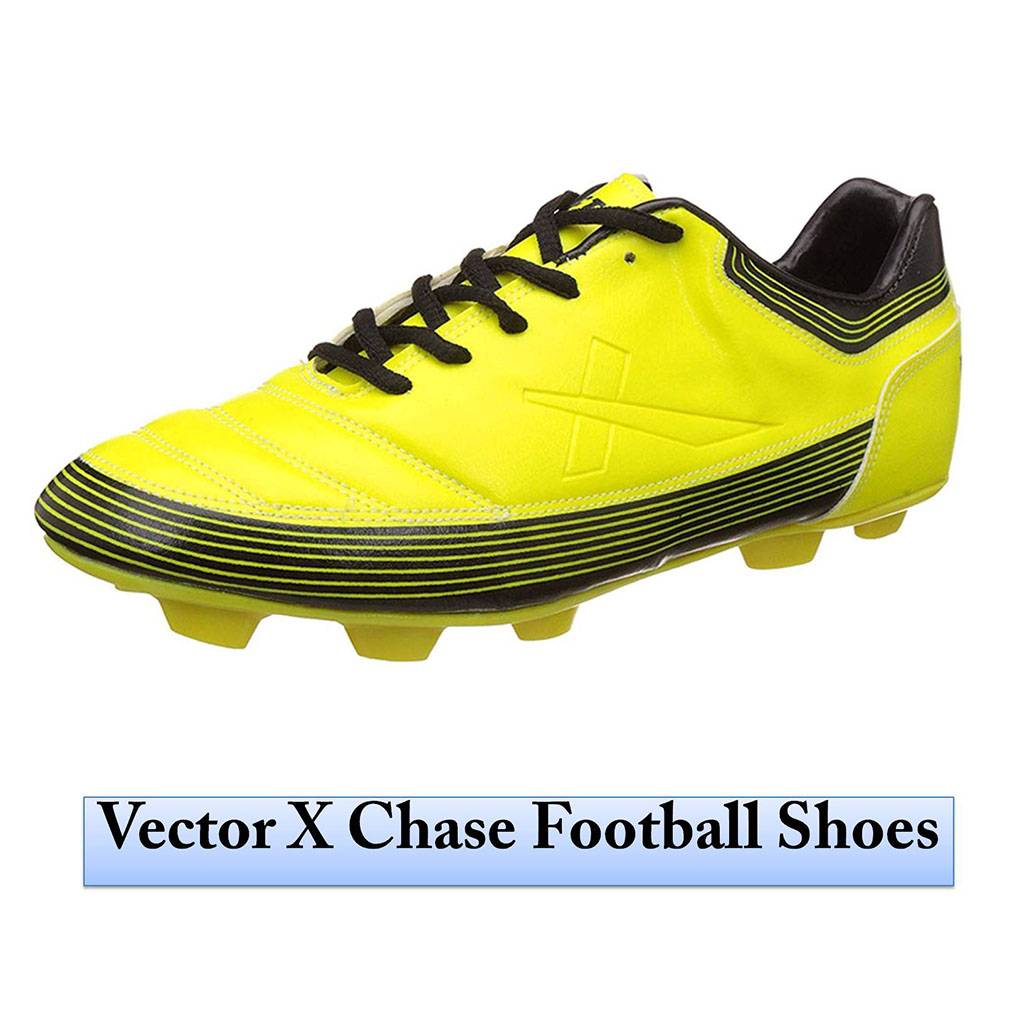 Vector X has designed these shoes for quickest and most elusive players on the field. They look very stylish and innovative to the sports personalities on the field. Moreover, they are light in weight and durable for best performance.

Features: -

• Made up of synthetic leather with perfect cushioning to make the player comfortable

• The material of the sole is rubber which offers stability on the ground

• The studs on the rubber sole are of plastic

• Padded and textured footbed for extra comfort while playing

• Lace-up closure

• Best for men professional players

• Tip of the shoe is round which makes the foot comfortable and relaxed

• Inner material used in this football shoe is synthetic

Check More Detail Here:

These are the top list of best football shoes under Rs1000. So, before buying, consider various aspects of the game and then purchase the best football shoe.