It is relatively easy for professionals to pick the best field hockey stick, but it becomes pretty hard to get the perfect equipment to start their sports journey when it comes to beginners.

A countless number of sports manufacturing brands in the market are selling field hockey sticks, but how to pick a perfect one is quite an intricate task. Because it does not matter whether you are playing your first or last game, you need to be well-equipped and have the best equipment to win the game.

With numerous choices, the right field hockey stick selection can become a hazy task. But do not you worry, we have compiled a great list of specific parameters which will help you immensely to buy your perfect one. So, whether you are a beginner or an intermediate level player, here, you will get the all necessary compilation of information that will help you to choose the right one.

Glossaries

Before discussing the main parameters, it would be best for us to get familiar with some terminology of hockey sticks first-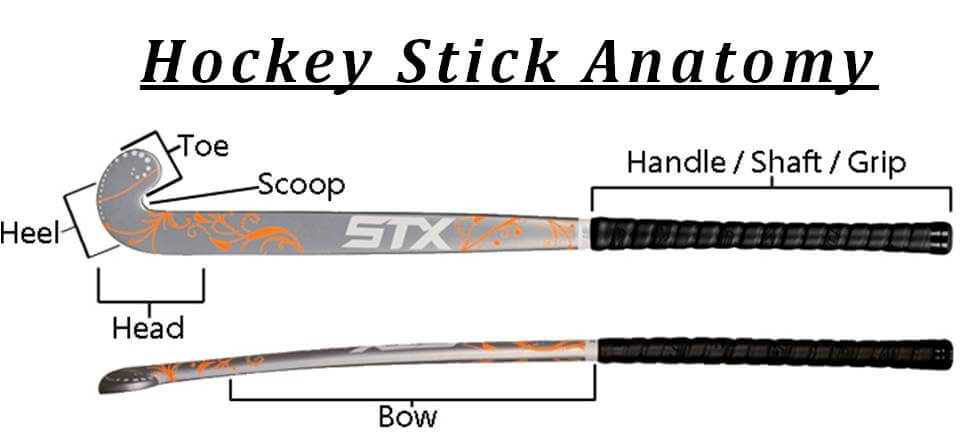 The Shaft

The shaft of a hockey stick is also pronounced as the sticks handle or grip, allowing a player to hold or take a hockey sticks grip.

The Head

The bottom part of the hockey stick is called the head. It is half rounded and half flat in shape.

The Toe

The field hockey sticks toe is the end rounded part as we have in our feet, though not rounded but the last part of feet.

The Heel

It is considered as a bridge of hockey sticks that connects the head and toe part. It is a rounded part.

The Scoop

The small and tiny groove of 2 to 3mm thick part near the hockey sticks head is called scoop of the stick.

The Bow

A slight bend between the head and shaft is known as the bow of the hockey stick.

Some other terminologies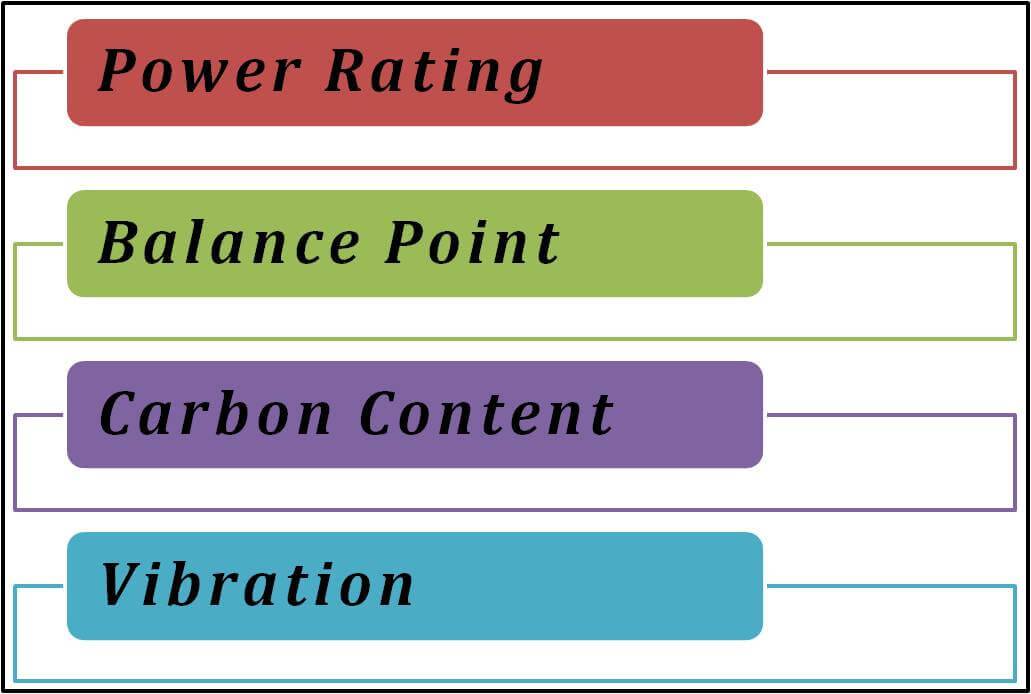 Power rating

Some field hockey sticks have a power rating range that varies from 1 to 10. The range of one to ten showcases the amount of power, which means more power rating range generates more power. These sticks come in the category of stiffer sticks and need precise and exquisite skills of ball-control.

Balance point

The balance point indicates the focus of weight on the stick. It means a hockey stick with evenly distributed weight or a toe-focused hockey stick. However, the lower balance point hockey sticks have heavier toes.

Carbon content

If you want to buy a higher power-rating field hockey stick, it would be best to buy a hockey stick with higher carbon content. The higher carbon content makes hockey stick stiffer and enhances the power rating number.

Vibration

Due to the high carbon content-based manufacturing, a hockey stick will become stiffer, and the player will feel some amount of vibration of the shaft. Though some hockey sticks can absorb the vibration, some are more sensitive to vibration.

And now, lets discuss and figure out some important parameters which you need to keep in mind while buying the best one for you-

Skill Level

Neither a quality hockey stick makes a player wins, nor a good player makes an average stick great. It means the combination of skill and quality makes a formula of winning and championship: the high-quality of a hockey stick and a players true talents. The hockey sticks are designed based on the skills of a player which can be categorized into four levels-





Beginner sticks

These are considered the best field hockey sticks for beginners to build the necessary skills and knowledge. These sticks are either made of fiberglass or 100 percent wood.

Competitive sticks

These hockey sticks are made for next-level players. Mostly, it contains less than 20 percent carbon for less vibration at the head and more control over the ball.

Advanced sticks

These advanced hockey sticks are truly designed for progressive and professional athletes. They are more powerful and flexible enough to enhance their skills. They contain less carbon amount compared to elite sticks and give great control while playing.

Elite sticks

An advanced level of technology and innovation comes together at this level to create an exquisite hockey stick for the high-class player. They are made of almost 80 to 100 percent carbon composition. These sticks are a real example of power maximization.

Length

A right size hockey stick does not only complement your height but also helps you execute the shots more precisely. However, the ideal length of a field hockey stick should be above your hipbone. Though the length of a hockey stick may depend on individual choices and preferences. The length of sticks varies between 24 to 38, and you can make your choices through the below-mentioned length chart-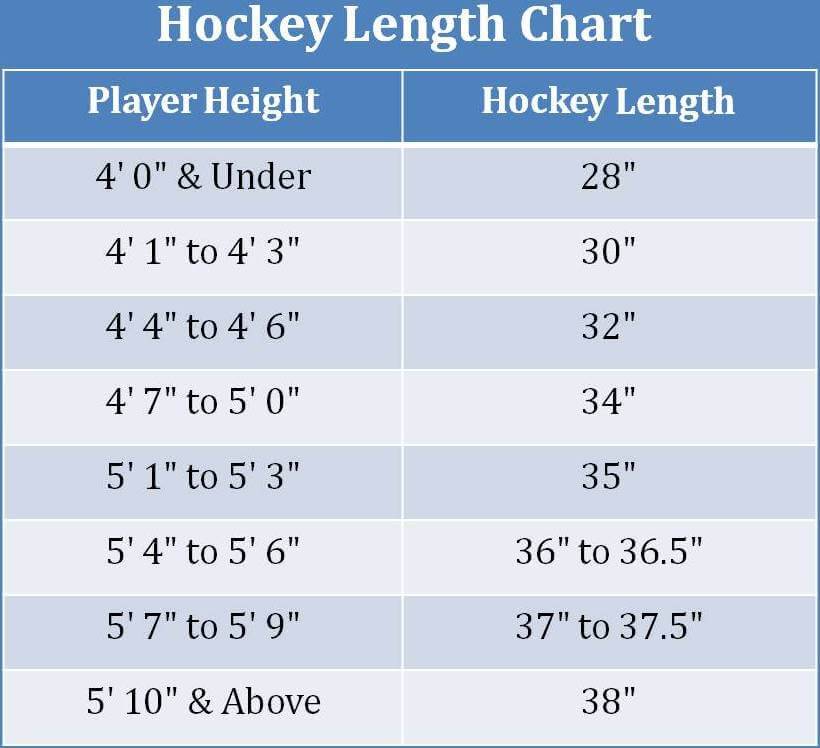 Weight

The weight of the hockey stick may depend on the player to player and personal preferences. It is one of the main parameters that you need to keep in mind. A broad weight range varies from 535 to 600g.

Light-weight hockey sticks

The light-weight hockey sticks are designed especially for the attacking players. The light-weight quality allows a player to move their stick faster and have a quick backswing.

Heavy-weight hockey sticks

The heavy-weight sticks are made for defensive players. It is quite beneficial to generate more power and strength to hit the ball in the opponents court.

Composition

The composition you need to consider while buying a hockey stick is-

Carbon

The high amount of carbon in your hockey stick adds more stiffness. Hockey sticks, which have a higher amount of carbon, generate more power and make your shot stronger. On the opposite, the less amount of carbon gives you more control and easy trapping. A hockey stick with a high carbon percentage is more expensive to buy.

Aramid

The composition of Aramid allows your hockey stick to absorb shock and vibration during the hit, and it adds durability to the hockey stick.

Fiberglass

The fiberglass immensely adds durability and strength to the hockey stick. It is more economical than carbon-based composition.

Wood

The wood-based field hockey sticks are probably the best hockey sticks for the beginner and intermediate level players. It enhances control over receiving and dribbling.

The Bow

While watching your hockey stick from shaft to toe, you will see a slight bend known as a hockey sticks bow. The sole benefit of having a stick with more bend is to make your aerial shot-making easier. Though a less curve gives more control over grounded shots. A bow in the hockey sticks usually varies from 20 to 25mm and divided into three categories-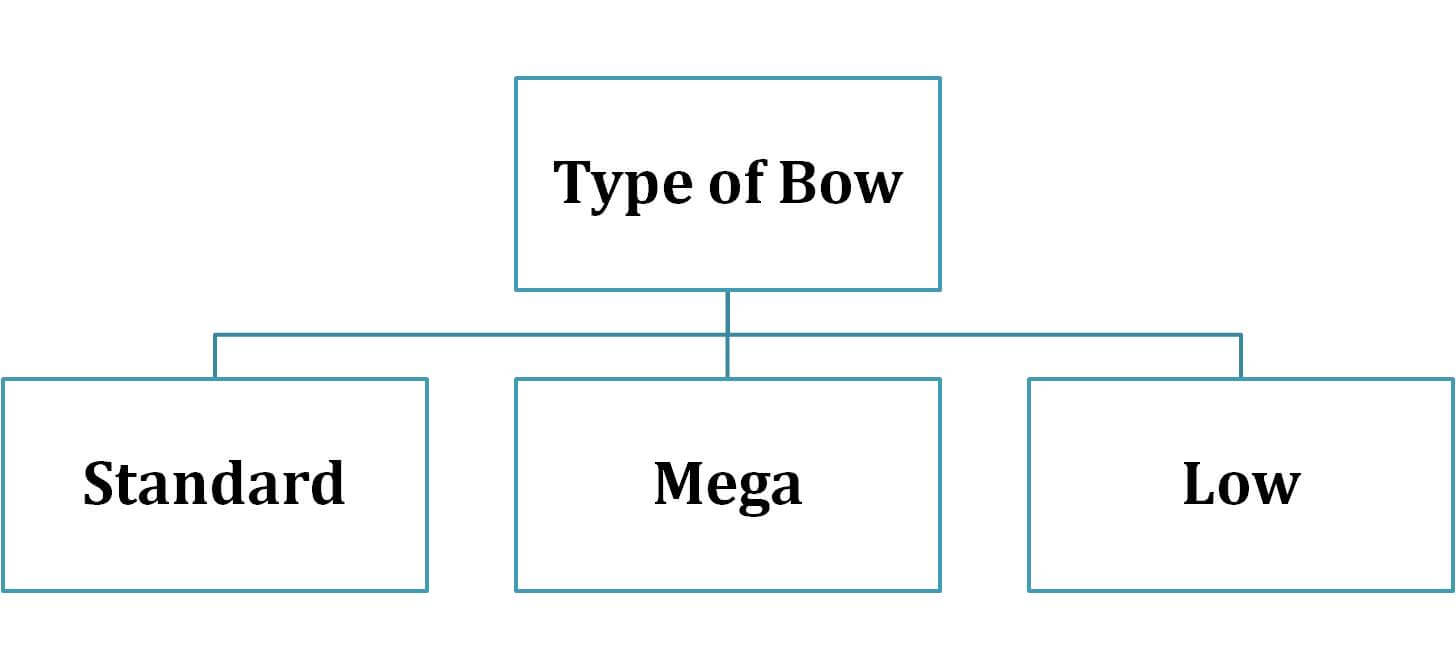 Standard Bow

It ranges to 20mm. The bow falls in the middle of the stick to get better control.

Mega Bow

It ranges around 24.75mm. The bend is more focused on the toe part of the hockey stick to get the power during lofted-shots.

Low Bow

The bow ranges 25mm. A bend is closer to the head of the hockey stick. It is best situated for elite players to have a great aerial shot experience.

Toe Shape

The toe part of the hockey stick indicates the level of curve and affects the ability to strike the ball. The hockey sticks with smaller toes have less power with more agility, while more significant toes have a larger surface to hit the ball cleanly.

Shorty

It is a hockey stick with the least toe surface. However, it is quite beneficial in close control, stick skills, and high speed. It is considered ideal for a striker position.

Midi

The midi toe shape hockey stick is an ideal choice for the beginners. It has a great sweet spot for hitting, enhances techniques, and control.

Maxi

A maxi toe shape has a little more significant surface area that can be used for power-hitting players. It is also quite crucial for defensive players. You can have the best injectors, reverse stick control, and drag-flickers with Maxi toe shape.

Hook

The Hook toe shape stick showcases the J-shape toe. It has the most expansive surface area that gives immense control over the ball and drag-flickers.

Choosing the best field hockey stick does not only prove to the best armor for the win but also complements your skills. However, apart from the mentioned above, more factors like budget and brand make your buying wiser. So, whenever you plan to buy a Field Hockey Stick

, then do consider these factors.