Yonex, the renowned Badminton Rackets manufacturing company of Japan, introduced Yonex Astrox 99 after Astrox 88D and Astrox 88S which were the high end products of them. Endorsed by two leading names of world of badminton, lnd Lee Chong Wei and new World number 1 and recent World Champion, Kento Momota, it is designed for professional badminton players to give more power to their attack .

) Yonex Astrox 99 offers advanced players a racket with newest technology and power to sharpen the attacking instinct to another level. It wouldn't be an exaggeration to say that it is the most powerful racket of ASTROX Series and is claimed to be apt for both singles and doubles.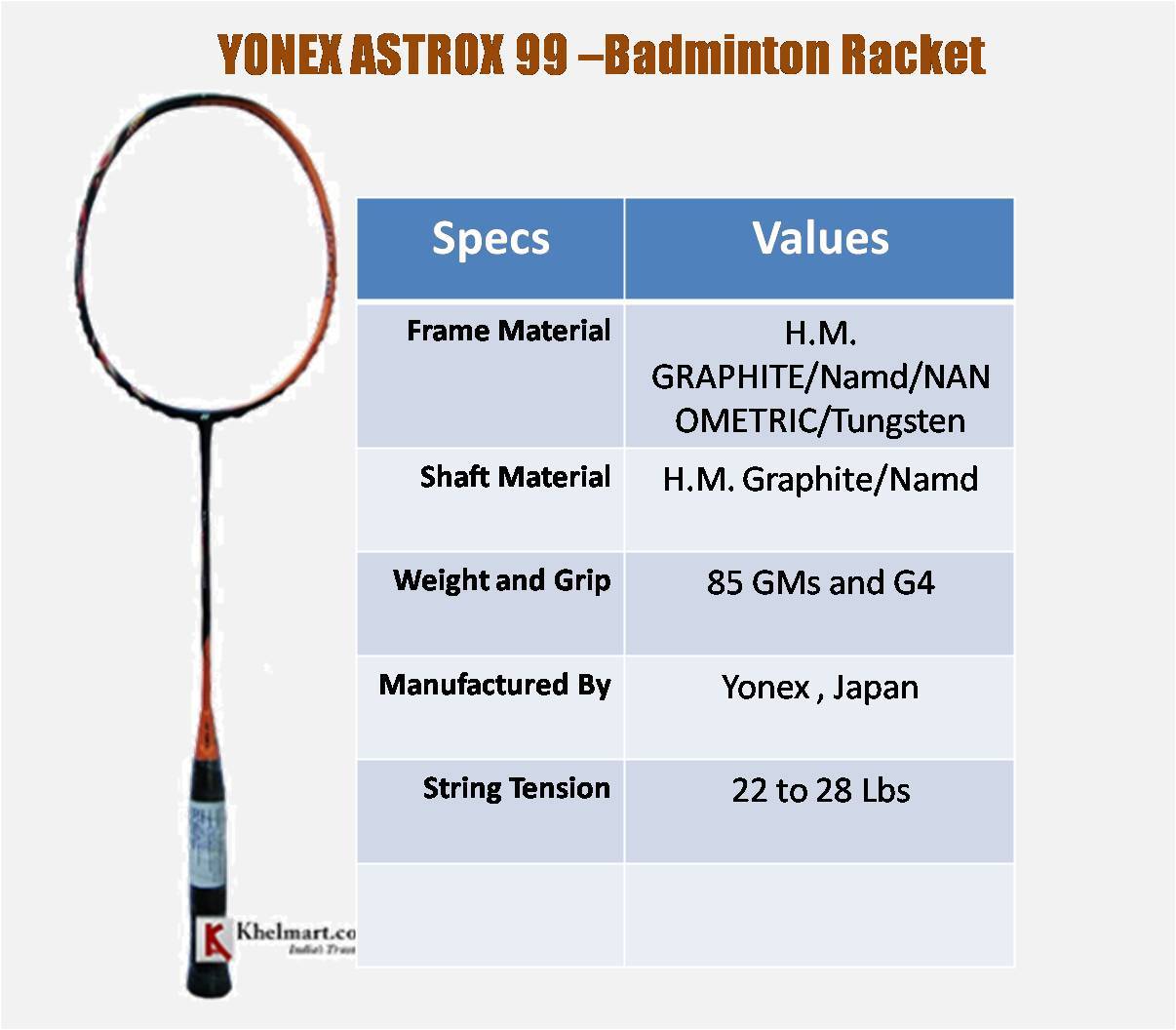 Let's go over the looks:

It is smart badminton with eventual good look, painted in half orange and half black with gold decals. It's shiny finishing and vibrant colour combination makes it a delight to own. Its design and colour combination seems to have been inspired from our solar system. Orange colour in Badminton Racket ASTROX 99 is the power and energy of sun and black colour symbolises the darkness of the space in our solar system. The colour signifies the flares of sun that is emitted by it. Such a powerful racket confirms power packed performance utterly.

It's hitting time:

If you have used previously 88D and 88 S, you wouldn't feel much difference between Astrox 99 and 88D. You will get similar kind of feel too if you go on flex and head heavy features.

. Its composition and their results

It is made up of new-fangled dimension graphite material called Namd that abide graphite fibres and resin finely with the nanomaterial. The use of nanomaterials with resin is quite common in a powerful racket as it attaches graphite fibres easily , but with the addition of Namd, the adhesion between nanomaterials and graphite fibres have made it rock solid. It resulted in major upgradation and produced a flex shaft and stores energy facilitating force full impact on shuttle.

Let's analyse its performance

The Yonex Astrox 99 gives you some different and unique feel altogether. The weight seems to be even all over, despite of it being a stiff flexed and having head heavy racket. You can feel the difference on holding it but it may be little tough to point the difference exactly. You may find little difference in its smoothness and sleek body in comparison to other products of same brand, but while delivering shots you can observe and get amuse with the performance of head in overhead shots.

On a clear hitting, it renders nice brittle shot on comparing with that 88 S delivers. Players need to be technically right and highly practised to deliver the unbeatable shot that cannot be responded by player playing against you. Despite of the heavy head weight, it really makes you think why you are not tired of playing after really long.

. It facilitates good delivery and you will feel the strength of shuttle on the string bed. The solid smash is confirmed but you need right wind. You will also enjoy strong mid- court hitting without getting tired due to fatigue. It is a mind-boggling performer with easy flat drives and swing. Mid-court hitting of it too is strong without a problem- such as fatigue. This is a solid performer, playing easy flat drives; changing direction too is not a big deal. It makes easy to control the push shots around net area and beyond.

Net area

You will enjoy the sense of the net shot on the string bed giving good remark on net. Push shot, flicks can be comfortably and easily delivered by it while the head weight allows solid strike to net kill.

Defence

Few have given their reviews about Astrox 99 that it is little slow-moving or slothful in comparison to 88's I think it's the wrong word, although you would agree it doesn't feel as quick as the 88's.

You may find it thick from the frame that gives the idea of it little slow. Along with giving fruitful results in attacking approach, it is going to perform really well while defending too but the user needs to be rightly trained. But it seems that to have been made for a specific market only i.e. professional or advanced players.

KEY FEATURES

• Endorsed by Lee Chong Wei

• Level : advanced or professionals

• Frame Weight: 4U 83g (3.1oz)

• Flex: stiff

• Balance: Head heavy

• Type- attacking / offensive

• Head Shape: Isometric

• Length: 27" (686mm)

• Flex: Stiff

• Strung with 65 Ti string

• String Tension: 4U 20-28lbs

• Grip: Yonex PU grip

• Grip Size: 4U4

• Cover: Yonex Full Cover

• Grip: G5 ( 3-1/4 inches )

• Shaft constituents- H.M. Graphite/Namd

• Frame concerto- H.M. Graphite /Nanometric/NAMD/ Tungsten

• String: Yonex BG-65 ( Custom Strung) / Upgrade available.

TECHNOLOGY ASTROX 99




• SOLID FEEL CORE

Yonex 99 badminton racket has been designed to eradicate the uncomfortable vibration by adding shock absorbing element into its frame. It aids players to have better controlled shots by making it more comfy. . NEW BUILT-IN T-JOINT

To enable players to improve their performance, T joint too is made better. It is made feeble or light weight by using an epoxy resin substance that boosts the constancy of the shuttle on the string bed and through the air.

AERO+BOX FRAME

In order to add more power and speed to hits, AERO+BOX Frame technology is used. It reduces air resistance and confirms quicker swing to players, eventually increasing the head speed. NANOMETRIC With new technology called NANOALLOYTM, Yonex has manufactured world-shattering light weight racket; also having good control and great head speed. The most recent technology has facilitated outstanding bonding strength between the carbon fibres. It took the racket shaft structure to better rank. In comparison to other series of rackets, the carbon content in the shaft is reduced thereby making it 60 % thinner.

ROTATIONAL GENERATOR SYSTEM

The Rotational Generator system, installed on the teachings of theory of counter balance facilitates players in even and quality shots. The Badminton racket's weight is even all round the grid end, at top of the frame and at the joint giving good control to player.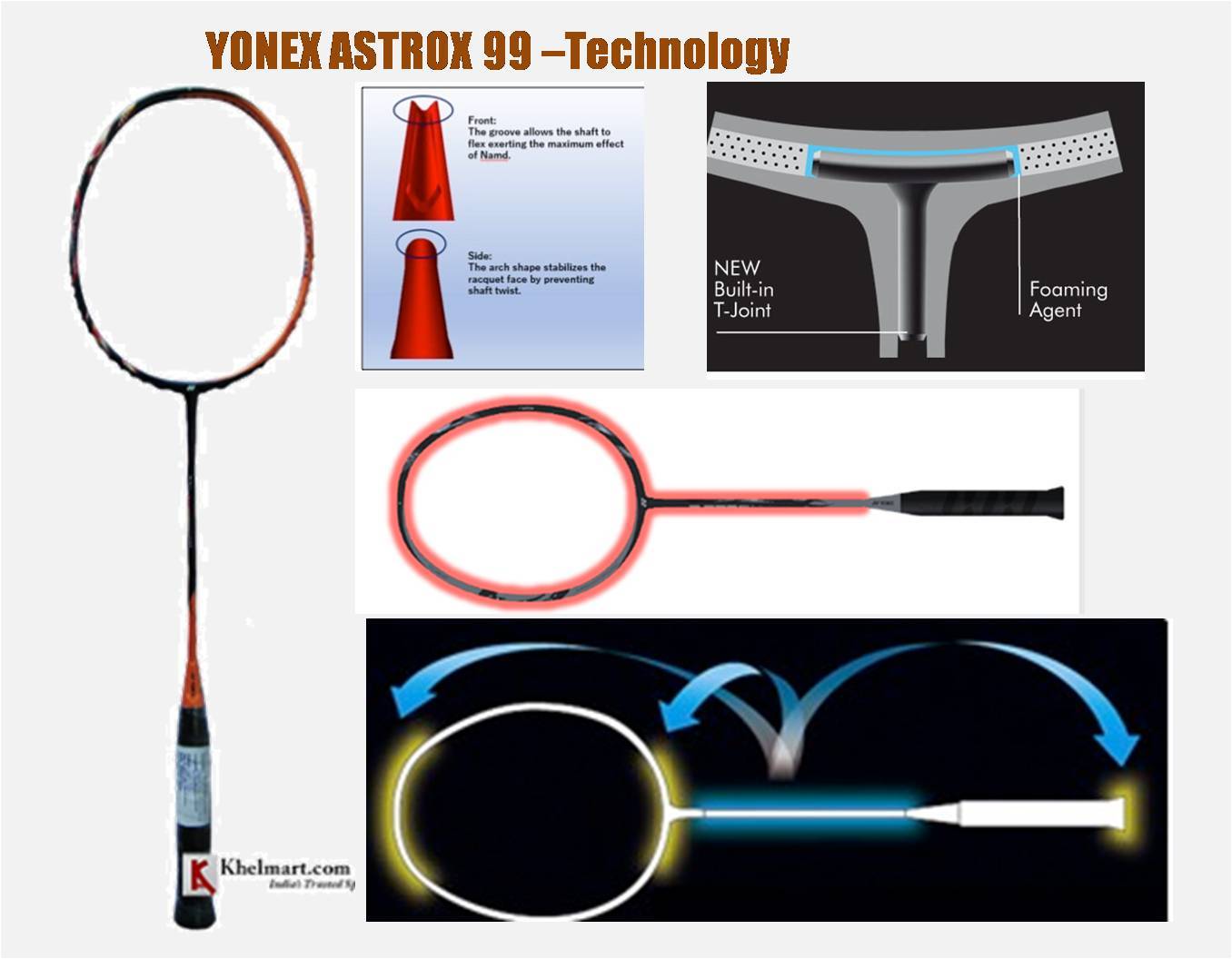 NEW GROMMET PATTERN

The grommet hole construction confirms high- performance via stringing patterns.

SUPER SLIM LONG SHAFT

The slimmest racket ever produced by YONEX vastly reduces air resistance whilst providing maximum feel.

NAMD TECHNOLOGY

Yonex 99 is made with the use of Namd technology that blends brilliant flex and quick frame snapback. It flourishes proper grip to the ball and hit forcefully with attacking twirl. It has increased the degree of spin and power with the combination of soft as well as hard frame traits with tough shaft.

NEW FULL FRAME NAMD

Latest Full Frame Namd is a modern design used in ASTROX series earlier presented only in the shaft. In ASTROX 99, it is used in the complete frame and it multiplies the contact duration between shuttle and string bed. It assures maximum power productivity on returns of racket to its original position during flex.

NEW ENERGY BOOST CAP

To give more flex to shaft, the new energy boost cap is installed and it ensures the greatest effect of "Namd'' and make stable the racket face by restraining the shaft from twisting. It also enhances overall control.

Summary

Astrox 99 is positively one more outstanding product from Yonex, although somewhere it is felt that it would be more handy for players competing in singles than in doubles.

RRP on Astrox 99 is £195 but retailers are offering it on discounted price approximately around £175 which is no lesser money to spend on a racket. The highest suggested tension is 28lbs which is definitely less expected from a world class racket made especially for professionals as high end racket of this type is expected to register 30lbs tension.

Yonex ASTROX 99 is not only a top range racket by Yonex but is giving good run for money to other leading international racket brands. It has turned out to be good seller for Yonex despite of its high price tags. But to be able to enjoy its high productivity that it assures, one should be capable of using it in correct manner as it requires players to be technically right and trained.

Reviews all around on Yonex Astrox 99 have been an inspiration and appreciation for Yonex and so do I appreciate this magical addition to series of Astrox. I would conclude my review by giving 4.75 ratings out of 5, as some marks should be deducted to get better one and encourage the leading manufacturers of Badminton Racket with more advanced technology.