Badminton footwork is an important element which determines the contact point, shot stability and timing. If while playing, players shoes fail to take him/her to the contact point effectively, then the quality and placement of the hit would be at stake, resulting in a bad defence or attack shot.

Badminton Shoes are specifically made for playing badminton, which mostly provide excellent grip, better side support and are very light. Other shoes which you wear normally might be okay, if you play badminton just for fun, but for competitive playing that involves more high-speed shots and direction changes, paucity of side support and grip drag downs the players performance and also it might be very unsafe, and result into injuries. Out of all the other choices, experts say that running shoes are unfavourable to use in general, as they do not offer proper side support, and are very slippery for indoor floors. Also, there are many clubs that would not even grant you to get to the court, till the time your shoes are not appropriate for it.

Badminton shoes are slightly more pricey, but in the long run if you have plans to play badminton at competitive level or want to take proper training then its worth taking badminton shoes only. These shoes would improve your game, and more importantly, guard you from injuries. But you must make sure that while buying badminton shoe you should check all the features that would be required like its sole, its comfort, weight, anti-slippery, provide stability and value for money.

Well, Yonex Badminton shoes have all these features. Lets know about them and see the difference between their best two shoes: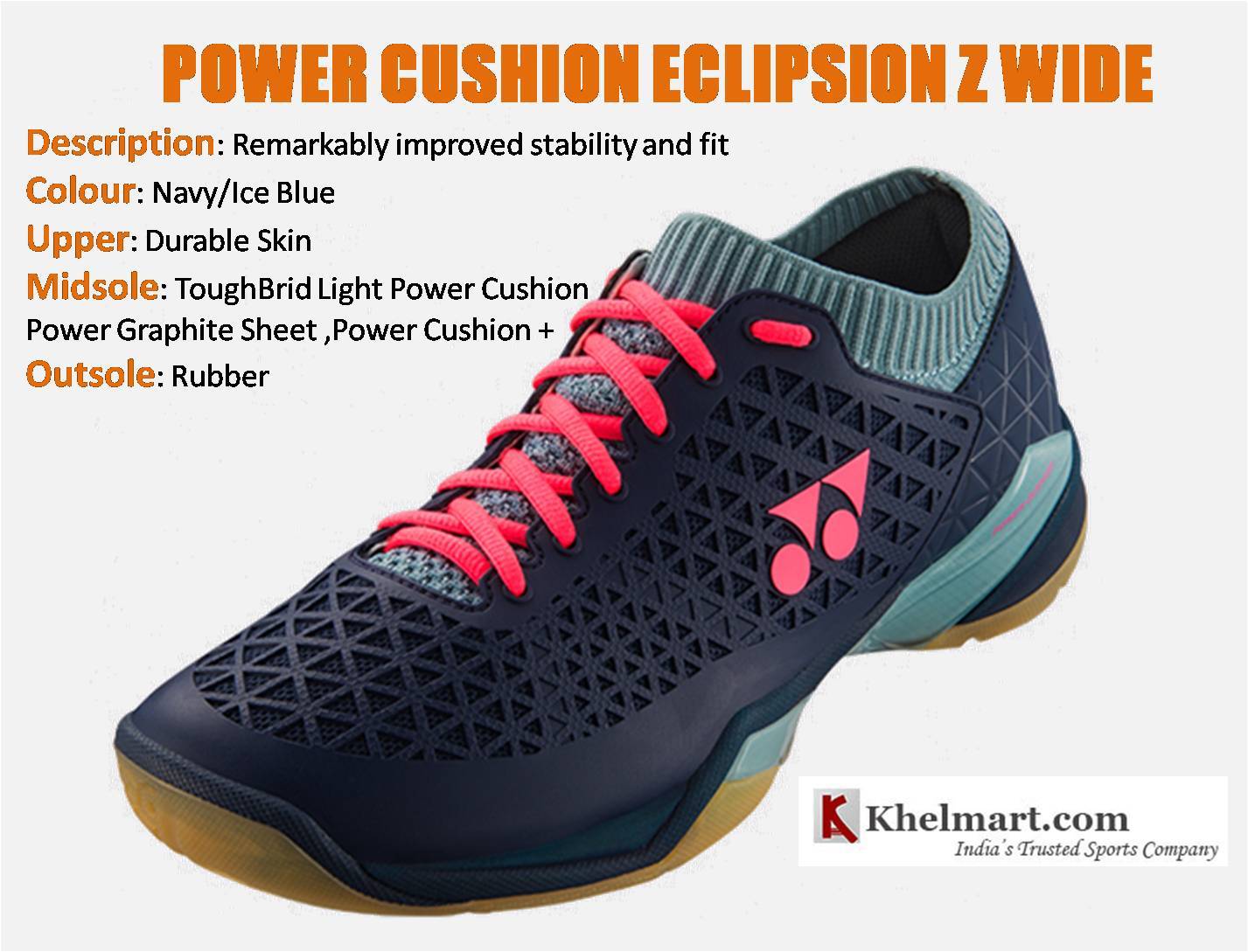 1) Yonex Eclipsion Z- Yonex is one of best brand players opt for as its products are reliable and very comfortable. These shoes provide amazing fit and stability to the players while playing. These shoes provide a sense of confidence because of the weight and the highest stability that it provides. In these shoes, there is an added elastic resin provided especially to provide power cushioning, as well as they maintains the lightweight properties.

The shoe also has high shock absorption feature which protects your foot from any injury. It has been designed in such a way that it provides optimum depth and spacing and is made in a lattice pattern.

The new cushioning and the boasts of these shoes are 28% more shock absorbent and 62% more repulsive. There is one graphite plate inserted beneath the middle portion of it so that it can enhance stability and reduce the weight of the shoe. This shoe also provides complete comfort to your toe as well as it is made in such a way that it cuts down the pressure on your big toe and provides good support to the mid-foot and heel to give it a stable fit. Everything about these shoes is great: the insole construction of them provides a secure contact between the foot and shoe which reduces the energy wastage by giving an improved fit.

The round sole of the shoe is made to offer all-around foothold for smooth and quick footwork. The sole ensures better movements and transfer of all energy possible. The hexa grip of these badminton shoes provide 3% extra grip and is 20% lighter than the standard sole, not only this hexa grip offers agile and stable footwork. So, these shoes provide a snug fit for better control, grip and support. Consequently, these shoes are perfect fit for you and value for money as they provide all the required features. You can buy them if they fit all your requirements.

Check here more details

2) Yonex Eclipsion X- These are another one of the best badminton shoes by Yonex, lets see what features these shoes have. Players just need to get ready to get victory with the Yonex Eclipsion X badminton shoes. These shoes are made on the pillars of repulsion, shock absorption and stability. They provide premium footwork to all the badminton players who take this game seriously and want to play tournaments. As compared to the conventional type of badminton shoes, the middle to heel portion at the insole is made in such a way that it provides a better fit between the foot and the shoe. These shoes are remarkably designed to provide extra comfort to the players. These shoes offer very good spacing and depth to give resilience.

They come in a different variety of bright beautiful colours which allures many players. These shoes have always been in demand because of the endurance and comfortable fit they provide. The good thing about these shoes is that they have high shock absorption feature so if you are playing quick shots, your foot would not hurt. They are so agile and provide utmost stability, all thanks to the hexa grip in them.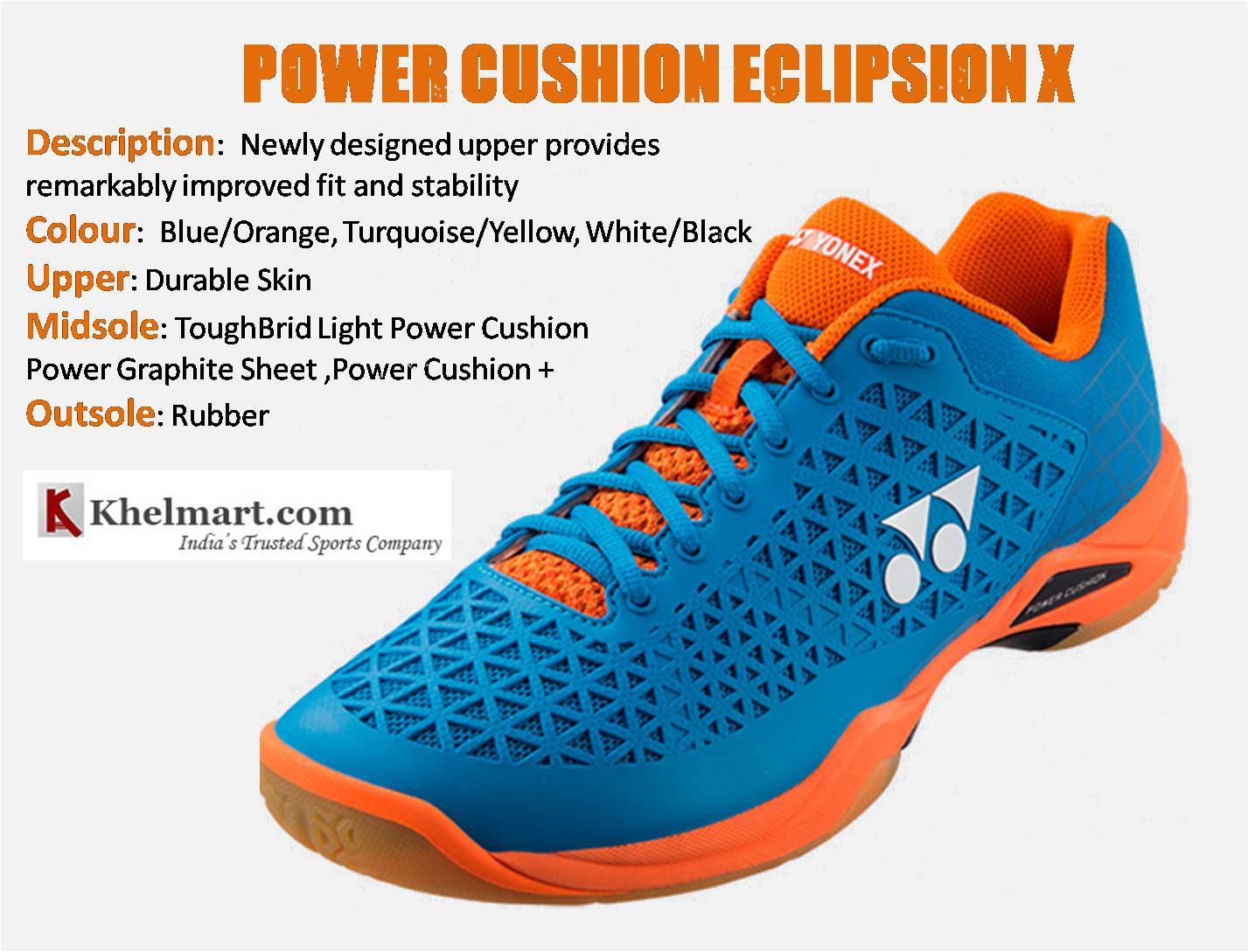 Yonex Eclipsion X provides all-around support so that you can be more quick and prompt, along with offering good cushioning. The new power cushion in these shoes is very light in weight and can bear any sort of weather conditions. The best role of the shoes is its grip which these shoes provide immensely, so that you do not slip away while playing quick shots. They are designed in such a way that there is no pressure on the toe and it gets full support and fit.

Check here more details

So, this was about both the shoes and their excellent features. Now lets discuss the differences between the two, so that it becomes easier for you to decide which one to buy-

INNER BOOTIE

Well the major difference in the shoes is about inner bootie which Yonex Eclipsion X provides for flexibility and comfort. A player should try and opt for shoes which have an inner bootie. As inner booties plays a major role in shoes, those shoes are very easy to manage and because they are of high quality mostly they are very easy to maintain. Inner booties give a very stylish look to the shoes and players get more attracted to them. Inner bootie shoes are always preferred by the players as they know how it feels like wearing them and what is the difference between wearing Yonex Eclipse X and normal shoes. Yes, they are slightly expensive, however they are worth it and are complete value for money. But there is one disadvantage of inner booties that after a period of time they lose their proper fitting which is needed. In short, we can say that they are not very durable.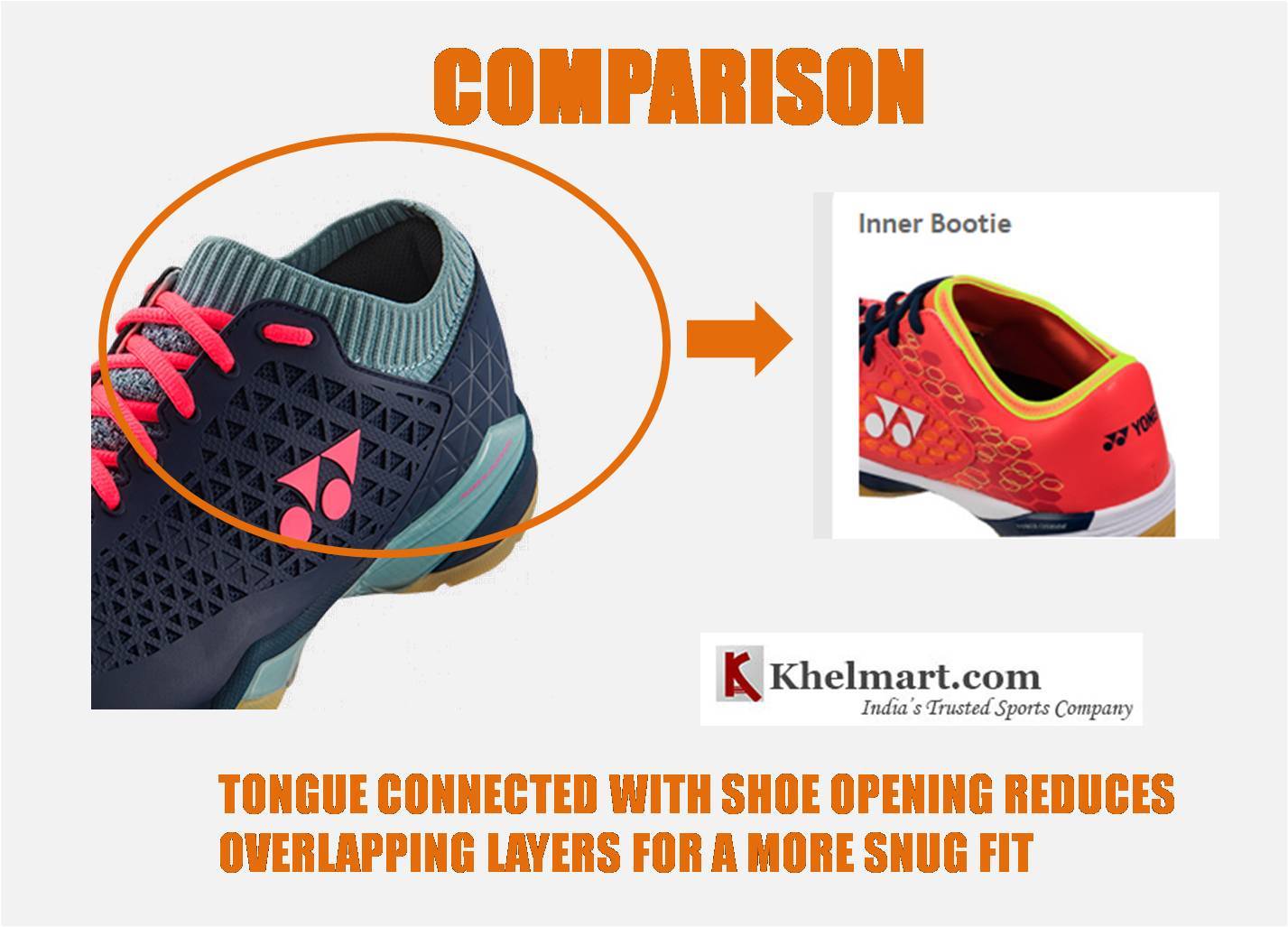 SHOE CLOSING SYSTEM

Shoe closing system is very important for players. So, in Yonex Eclipsion X the shoe closing system is very comfortable as many footwear manufacturers have paid attention on this. As there are many people who do not like to tie laces, so many alternatives were invented like velcro, clutch reel technology, no tie elastic system, etc. to make it more endurable for the players whereas there is no shoe closing system in Yonex Eclipsion Z. Still, there are many people who like the same traditional look and feel of the badminton shoes with laces only.

CUSHIONING

The other difference is of cushioning. In Yonex Eclipsion Z, they have power plus cushioning which is better than the Yonex Eclipsion X, which provide better comfort and grip. Your foot would get a better shape and would feel agile and stable in these types of shoes. But, one should never compromise on cushioning and comfort of the shoe, as they are the primary things one looks for when buying badminton shoes. Well, Yonex is well known for providing cushy and reliable products. Both of them have very good cushioning but Yonex Eclipsion Z has been preferred over X in cushioning because of the new advanced technology used to make it.

So after playing the complete day, the players foot do not hurt and they do not feel tired because of the shoe. As they are also very light in weight and give comfort to the players complete foot including toes, the inner part and ankle too. These shoes were specifically made after taking players reviews and feedback.

While selecting a badminton shoe, you compare usually speed and stability. So, it is completely up to you which one do you prefer according to your requirements. But make sure that you take an informed decision as these shoes are very expensive and one cannot buy them again and again. Thus, choose the best after taking all the points in consideration.