When you are planning to purchase a badminton racket whether it is for fun like playing with your friends or buying it professional badminton racket , electing the best badminton racket available in the market should be the main aim. This will help you not only in enjoying the sport but would also keep you protected from any kind of shoulder or wrist cramp.

Selecting the right or best badminton racket for yourself is mostly daunting initially. As there is a big range of rackets available in the market of various brands to select from, it can be very painful to understand where to begin. There are many things one should check before buying a badminton racket such as durability, comfort, grip, quality, weight, colour preference, etc. Hence, the best badminton racket is the one which suits the purpose wholly and has complete value for money.

The decision of buying a racket can become slightly easy by asking these two key questions to yourself; what sort of balance the racket provides and how much flexible the shaft of the racket is. Well, many brands have rackets which procure to each amalgam of these elements, and you could then refine through them based on the price and other requirements.

In this article, we have highlighted the 10 best badminton rackets according to the brands and under 2000. With the help of it, you would be able to make a better buying decision-

1) Thrax Rapid z 105-



This is one of the trusted brands in badminton rackets. It is suitable for the beginners and for attacking game style. It is a strung racket which is known for its strength. Talking about its shaft material first, it is composed of high impact strength graphite material. The carbon composite allows the weight distribution and frame material of the racket. This racket weighs 90 grams having a flexible shaft along with head heavy balance. Thrax rapid z 105 is also known for its good balance and aerodynamic head shape. The beginners playing style in terms of the strokes to their opponents shots is like a lean attack which makes this racket a perfect racket for beginners. It is of green and orange colour, which makes it look fabulous.

2) Yonex Arcsaber light 15i-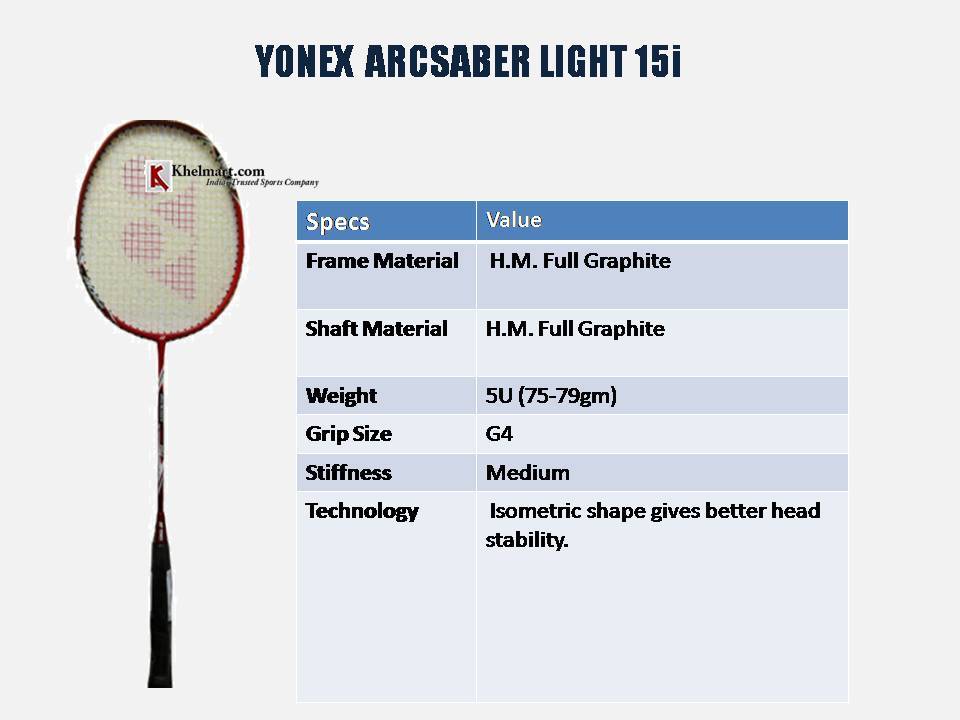 This badminton racket is suitable for aggressive players who believe in attacking. It is launched by Yonex in voltric series, ideal for both seniors and juniors. It has an extra stiff shaft which gives maximum power on smashes. The racket weighs 85 grams having a G5 grip size of 3 inches. The shaft and strings are made up of high modulus Graphite. Its isometric square head shape gives it a superlative look and makes this racket a high power level product. Moreover, this racket withstands higher tension than any other rackets that is up to 35 lbs. The cover of this racket in including in its price.

3) Li Ning G Force 2200i-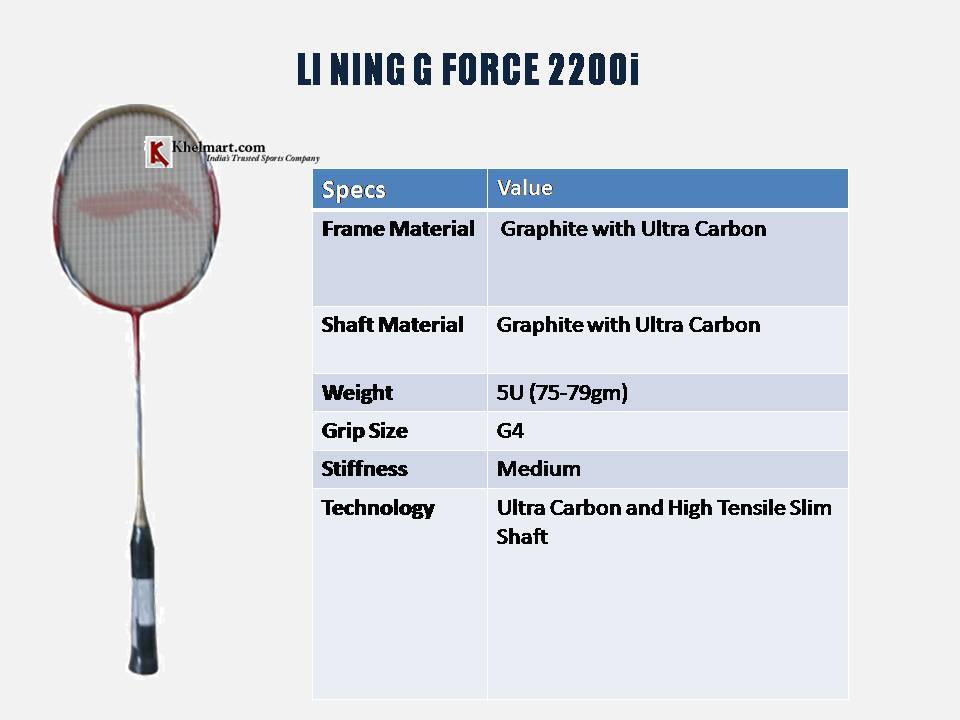 This badminton racket is equipped with the latest Li Ning technologies like High tensile slim shaft and Aerotec beam system. It has soft flexibility and comes along with its cover. It has an average weight of 87 grams and S2 is its grip size. It endures the tension of 26-29 lbs and is manufactured with excessive low air resistance and high intensity to make the performance of the players much better than before.

Due to the aerodynamic design, the racket easily fits into different players hands. It is made up of ultra strong material and has an optimum rigidity. Its ultra-rigid carbon fibres provide it more strength, make it sustainable for more string attention and the risk of frame deformation reduces.

4) Victor Arrow Power 6000-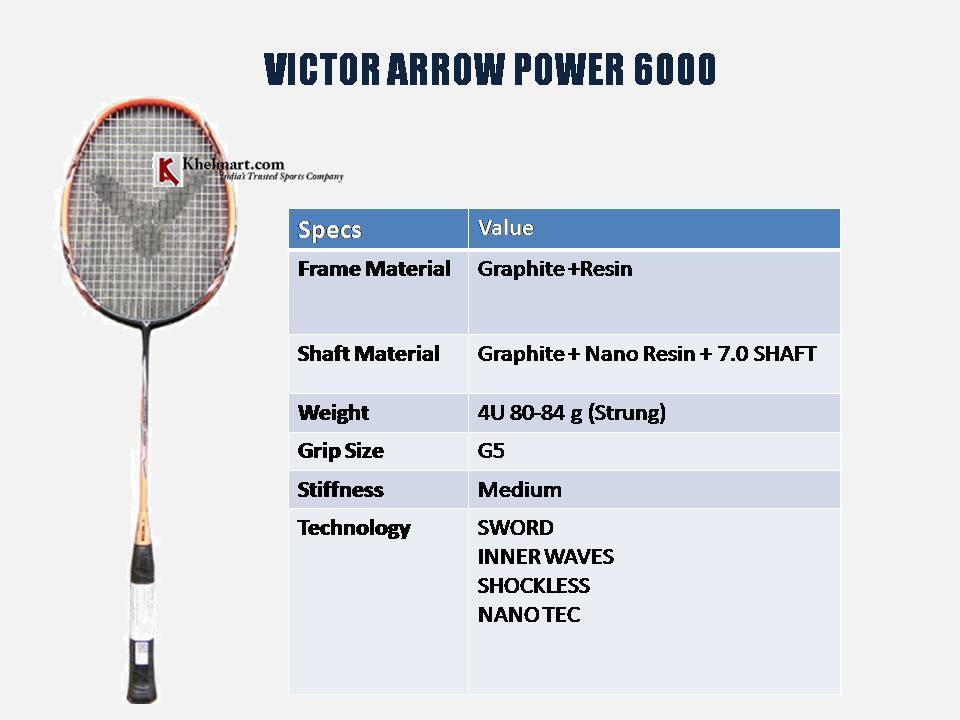 This Badminton Racket is ideal for badminton players with a forte of an all-around style of playing. It is made with the NANO TEC technology which evenly circulates nano-sized particles in the empty space between the carbon fibre bundles. This racket immensely increases the full rigidity of the carbon composite fibres, and lessens the bend of the frame.

It is elliptically-shaped which helps in decreasing the air resistance, maximizes control, provides higher anti-torque, and greatly increases the speed of returning shots. The power frame constructions benefit to reinforce and strengthen the frame and also provide power during smashing. The racket is a must to own because of the stiffness that it provides, the grip that it gives and also it is not that expensive as it gives all the required features to a player.

5) Apacs Finapi 232-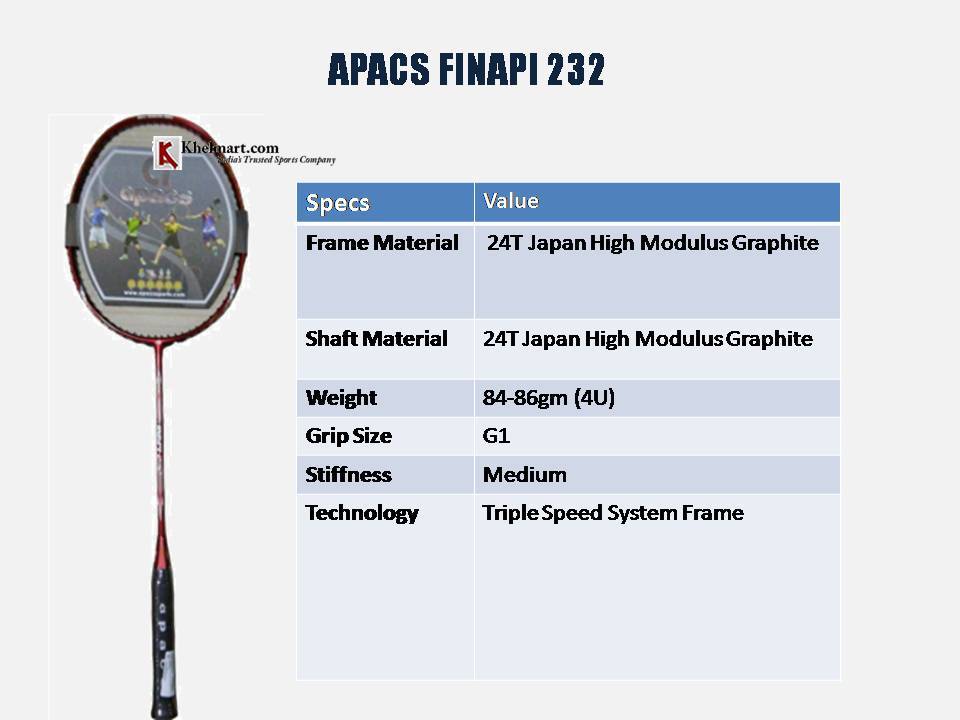 Professional badminton players usually use this racket as it is known for delivering great hits. This racquet is made of isometric head shape along with unstrung elements. The string tension of this badminton racket is about 38 lbs that aids in delivering great and clean shots. The length of this racket is around 675 mm and it weighs somewhere between 84 to 86 gms.

The G1 grip size of this racket helps in excellent control of it while hitting the shots. The racket has a wide aero body type head, the shaft and the frame are constructed using good Hi modulus graphite material. The flex which is used is medium stiff and is greatly suited to play defensive shots aptly.

6) Yonex Nanoray Light 11i-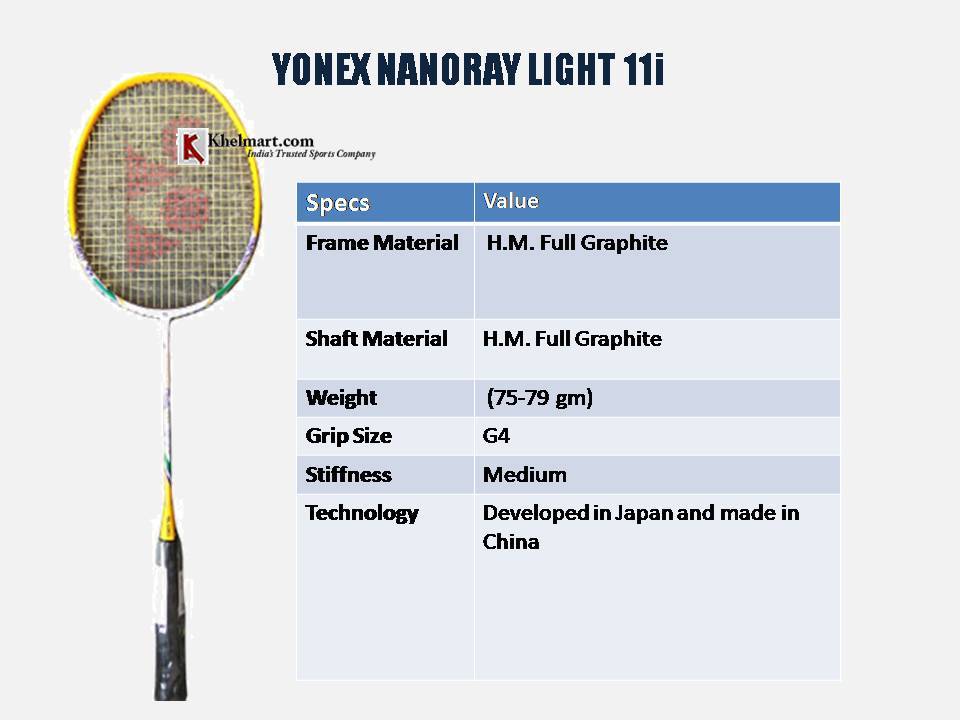 This series of badminton racket was developed in Japan and made in China. This is the recent head-light series launched by Yonex. The Nanoray gives the player a rapid and controlled swing with improved repulsion through the new aero frame. Nanoray is constructed for the players who force their foes into the backside of the court with great speed.

The top of the frame sides is very thin which aids in minimizing air resistance for extreme head speed, on the contrary, the thicker side at the bottom of the rackets head produce maximum revolt through enhanced frame stiffness. This racket comes among the most affordable choices of badminton rackets with added benefits. This is a great combination of agility and grip and it also brings stiffness and increased speed to your new racket.

7) Carlton PowerBlade 8700-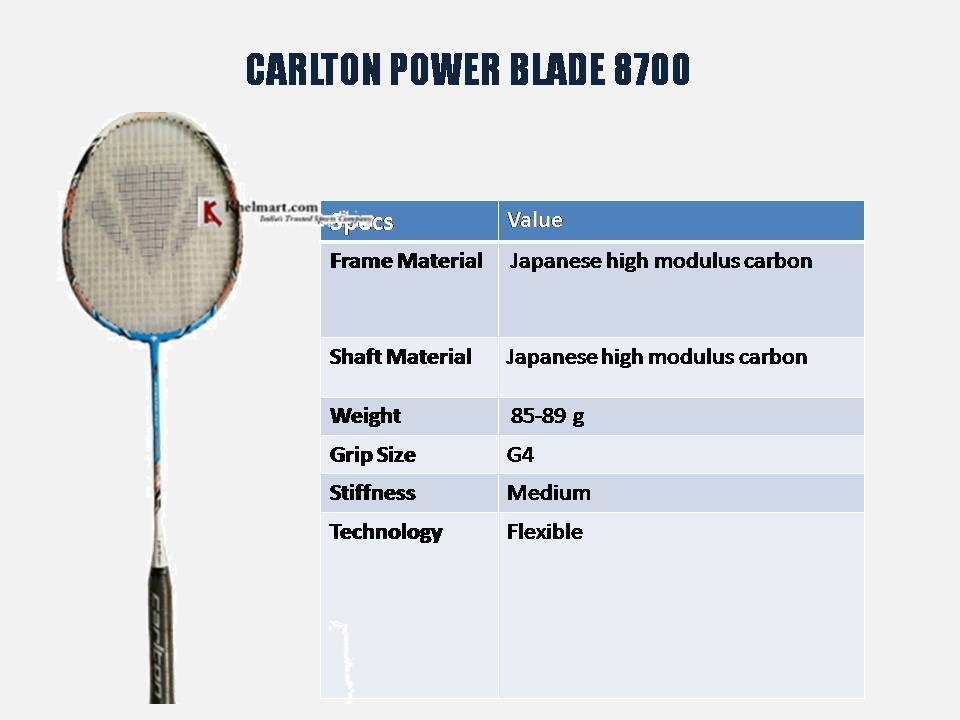 This badminton racket offers an excellently balanced advent to the on-court performance. Carlton Blade Power8700 racket is designed with an Isometric head shape for better power potential. Along with it, there is a maximised sweet-spot for better play. It weighs around 85-89 gms, thus it gives faster strokes, and provides proper flex for great playability. The frame of this racket is acutely balanced and is made from graphite for improved durability.

Not only this, the racquet comes properly fixed with Carltons factory synthetic strings, which can support maximum tension up to 30lbs. Additionally, the unique thing about it is that it comes with a 3/4 head cover to make sure good storage between use. The material from which it is made is more light than the traditional rackets which makes the feel of playing better and shuns the shoulder pains caused about by the heavy rackets.

8) Lining G Force 1000i-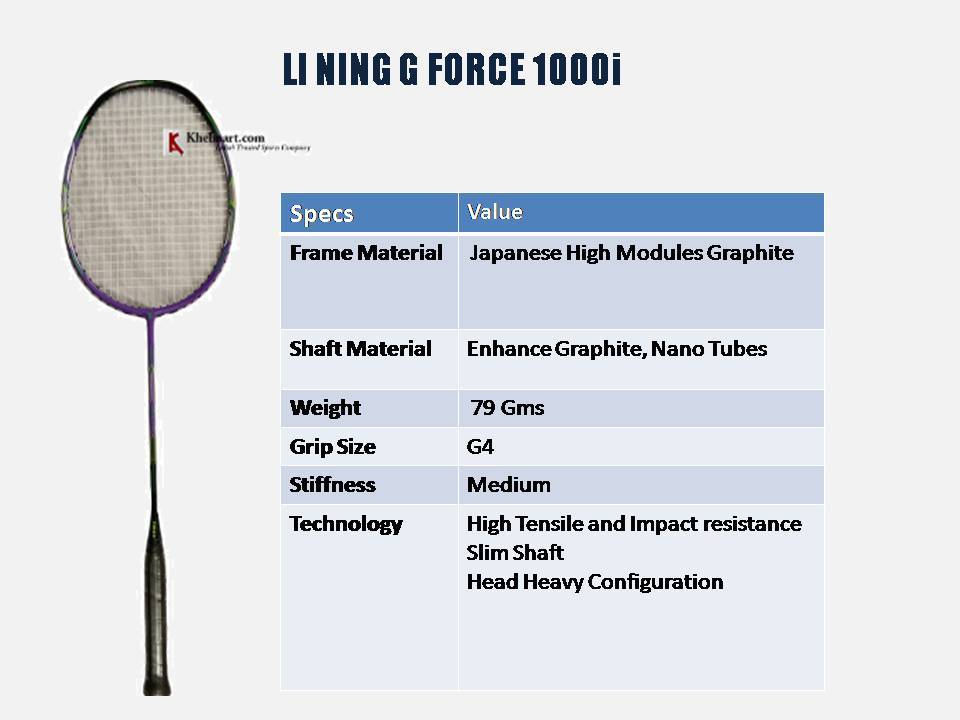 This badminton racket has a rigid shaft and the head shape of it is isometric which helps the players to hit the shots easily. The head of the racket is very light which eases the players to play it with forehand and backhand both, without any struggle. The frame of it is designed from ultra-carbon fibre, and the shaft of it is made from carbon graphite.

The G2 PVC grip of this racket gives a soft yet good hold on the racket. The weight of it is about 88 g and the string tension ranges from 22 to 28 lbs. You will for sure enjoy playing the game because of the comfort provided by the Li Ning G rackets. This racket is made up of embossed grip which wont easily come unravelled. So, do not miss it and buy one without a second thought.

9) Thrax Streak X 102-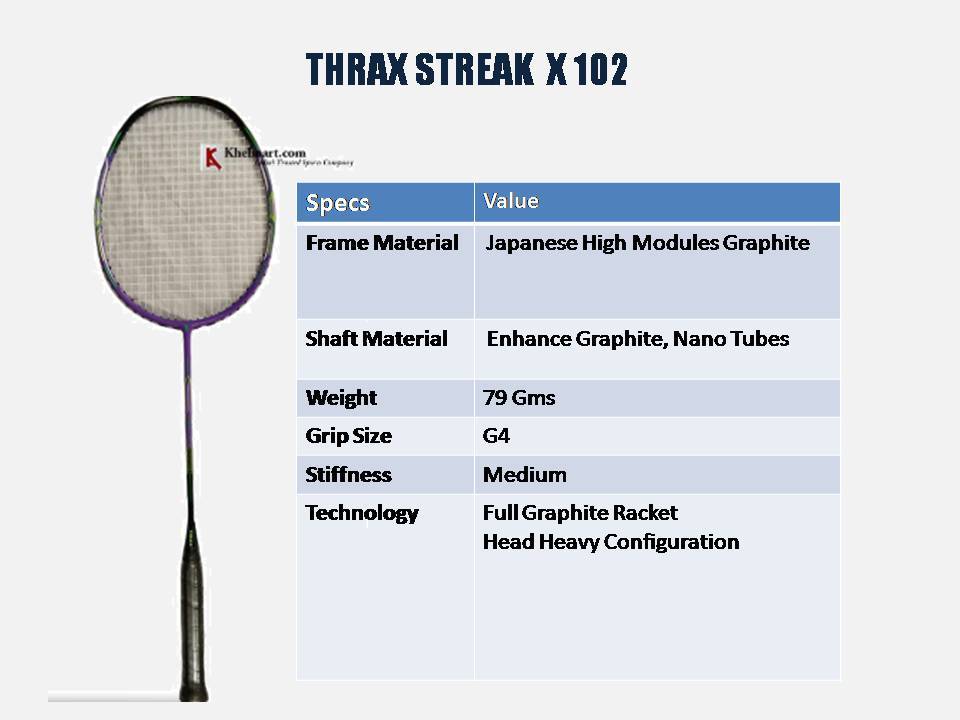 Thrax is a well-known brand which provides the best quality rackets one can own. This model of racket is made up of Japanese high modules graphite which makes it really durable and ensures better performance. The rackets are very light in weight and are tightly strung plus embossed with an excellent grip which would not slide easily. All these elements of this badminton racket would help you in enjoying the game.

It has isometric head shape for an enlarged sweet spot. Also, enhanced graphites have been used to make this racket which provides maximum string tension up to 30. The racket lining of this badminton racket is really stiff which makes it more long-lasting. It grants the players to send perfect and accurate return hit each time the shuttle comes in contact with the shaft. So, Thrax is providing you with all the features of an ideal racket in the best price.

10) Yonex Nanoray 7-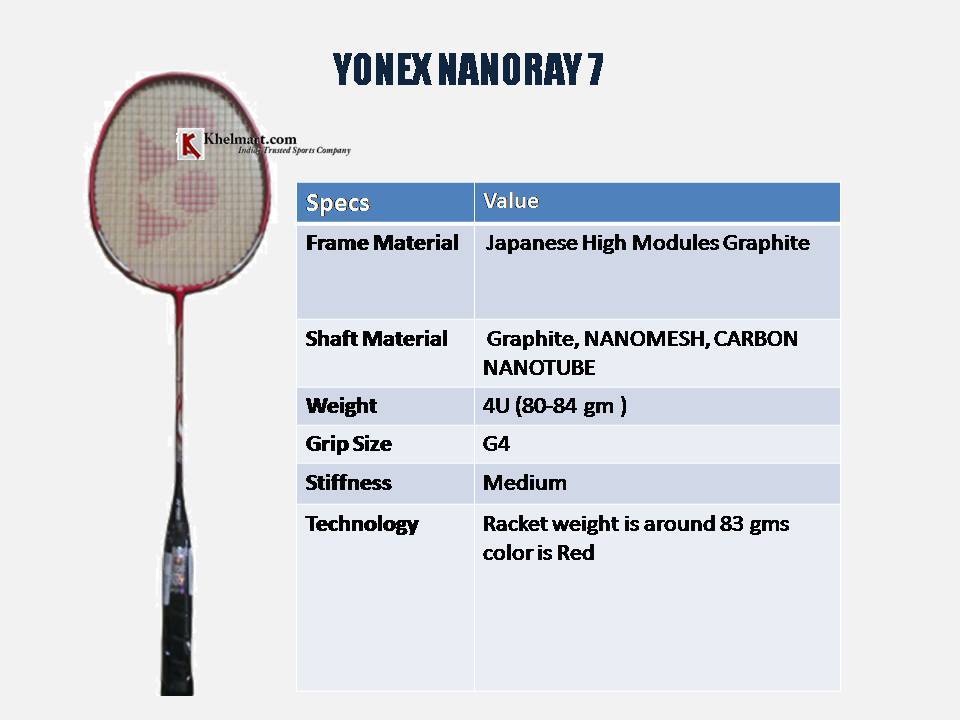 This product is well known for its colour. It comes in vibrant colours which makes it look different from others. This is new launch from Yonex which is made of nanomesh plus carbon nanotube. There is a unique structural material inserted in the frame and shaft of the nano ray range. It significantly enhances repulsion power, stiffness and impacts the strength within the Yonex Nanoray 7 racket.

By infusing carbon nanotube with resin, the molecules make a mesh-like design which gives a head-light racquet, improved strength, sharper drive shots and fasters handling in Nanoray 7.

These were the best 10 rackets under 2000 and they were selected after the reviews from the players and the experts. So consider all the points and requirements before choosing the best badminton racket for yourself. As this is the main thing needed for the game!