Badminton is a sport which can be played in a home and in enjoyment setting as well as it is played as a professional game. This is only viable by using one of the best badminton rackets. Owning a great badminton racket is one of the strong factors you can have to be able to revel in and win if it is a competition. Playing badminton does not only help you to ease off but also benefits you same as doing exercise and keeps you fit.

Regardless of the place you are playing the game- whether at home or in a tournament, no other gear is as crucial to the game more than the racket. Badminton Rackets differ in shape, colour, size, weight, and strength of mesh.

Hence, here in this article we will help you to understand various brands of the rackets in the market nowadays, along with their specification, features, performance and pros and cons. Therefore, enabling you to select the best quality badminton rackets to ensemble your precise requirements!

Some of the best are listed below:

1) Thrax Furious Xm10-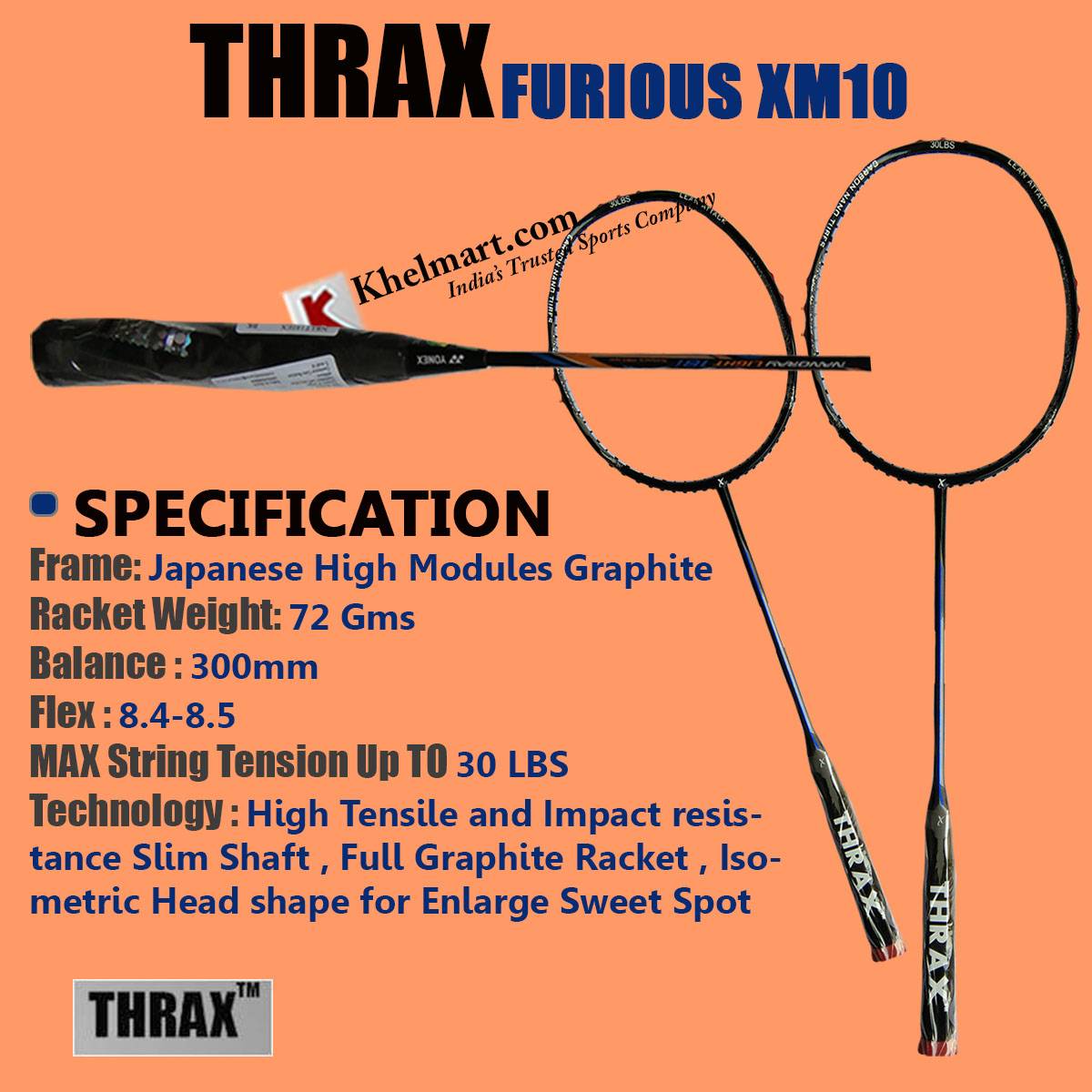 The rackets of this brand are well known for their feather-like weight, since the weight of Thrax Furious Xm10 badminton racket is just 72gms. The frame of these rackets is fabulous. It is made up of Japanese high module graphite. It also has a lean attack frame cross section for improved aerodynamics. The better the frame, the more is the swing speed. Same is the case with this racket. It provides really good swing speed which the expert players need.

To provide better strength and perfect stiffness, it has refined reign. Its enhanced graphite gives maximum string tension which is up to 30 lbs. The great thing about these rackets is that they have high tensile and impact resistant slim shaft. This is a full graphite racket with a head heavy configuration which makes it more durable. Not only this, it has improved grommets pattern for refined string movements.

2) Yonex Voltric 2DG-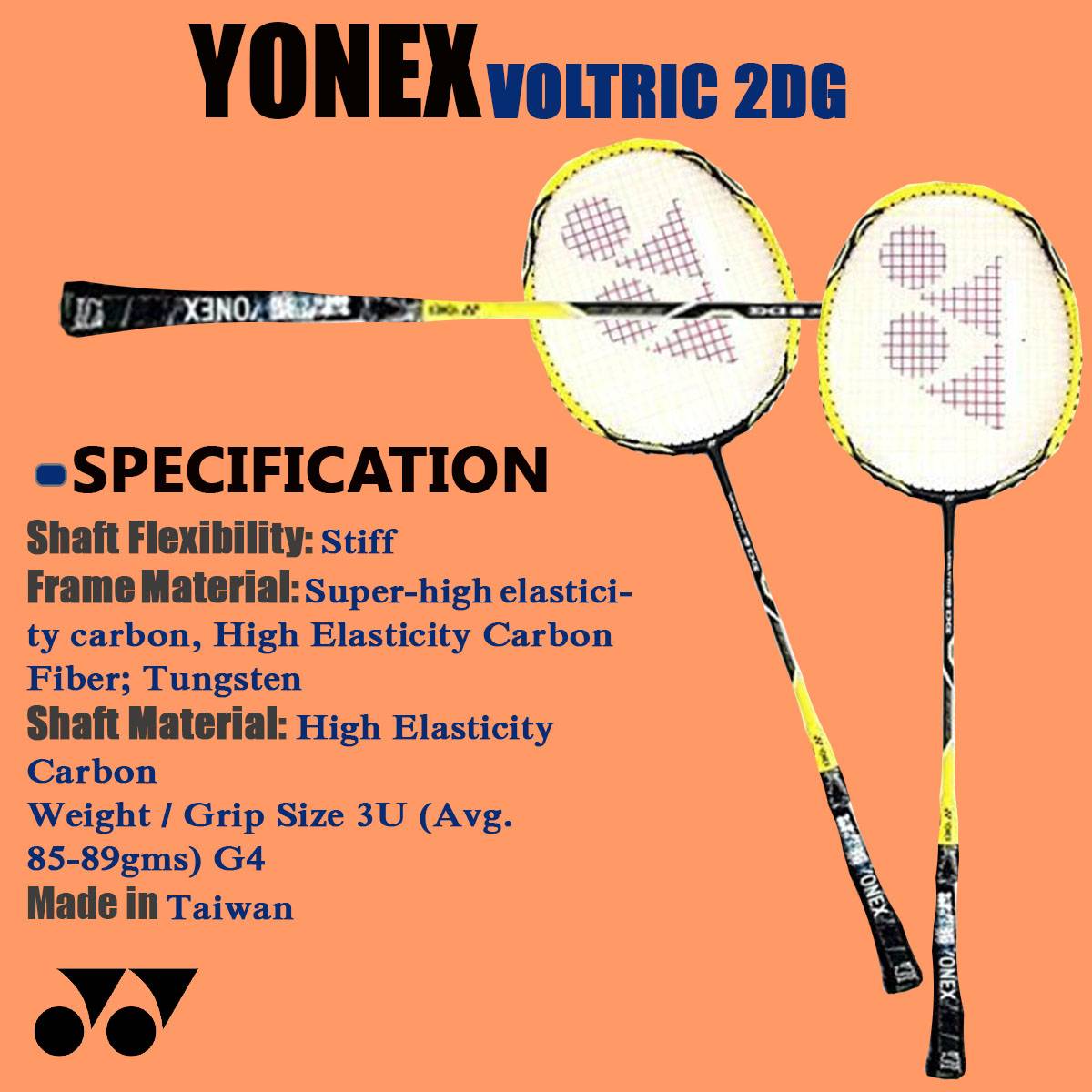 This badminton racket is constructed from super high elasticity modulus graphite, which enables it to withstand more tension than any other rackets. It is for the first time, Yonex has made a racket with increased tension up to 35 lbs. Bringing great power and fast racquet handling, Voltric is the best racket for players looking for exceptional all-round conduct. Voltrics excellent Voltage System benefits to achieve the infusion of heavy smashes and fast racquet handling, both.

The frame is made up of superior material due to which it provides ultra-high strength and stiffness. The control support cap of the racket offers an 88% wider flat surface as compared with the ordinary rackets for better gripping, fast follow-through and the stunning manoeuvrability. The solid racket structure which is at the top of the frame, enables the head of the racket to bend in a controlled manner, and hold the shuttles on the string bed for more duration.

3) Li Ning G Force 1800i-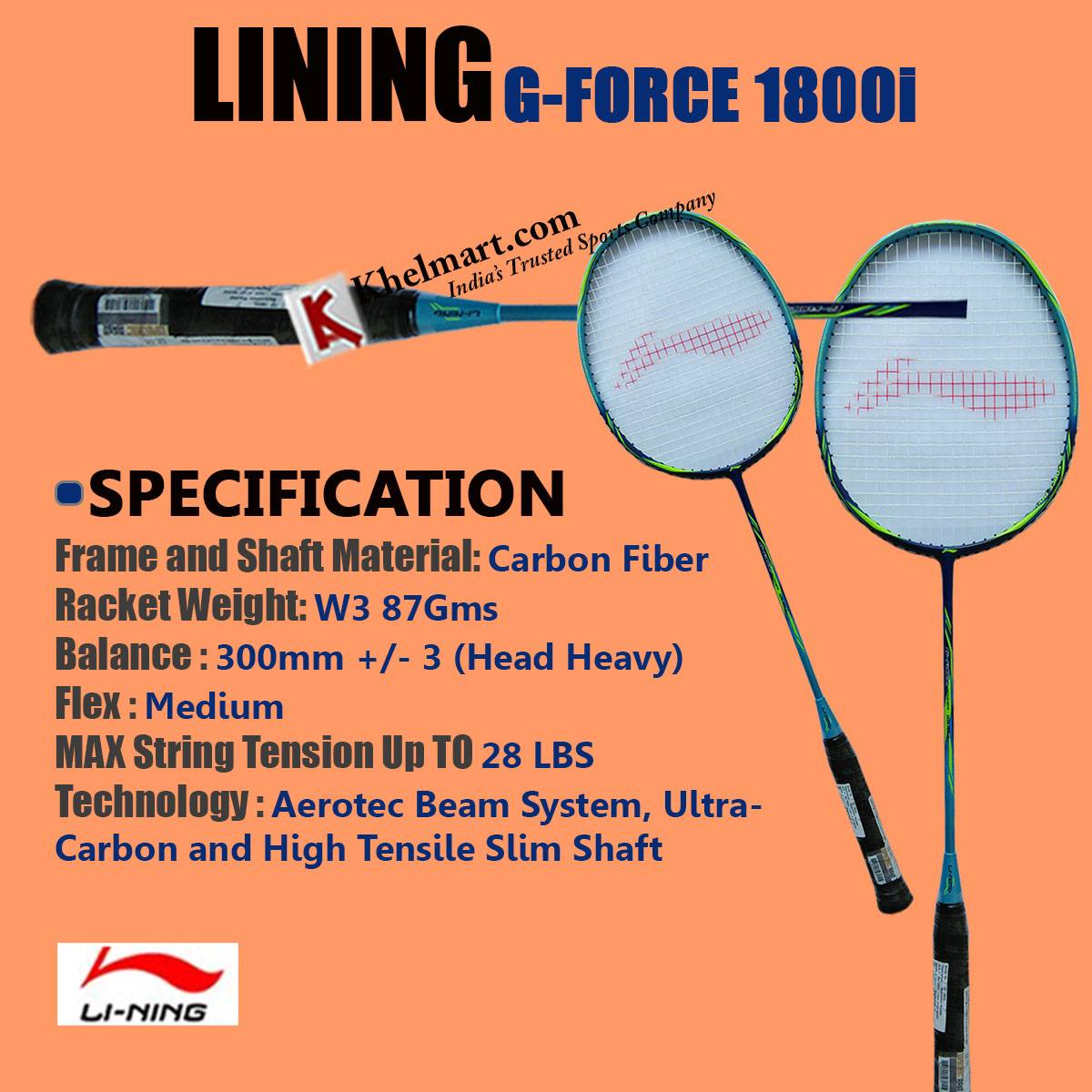 This racket is the best choice for players with great skill sets as well as is excellent for PLAY BALANCED badminton players. It is made up of high carbon graphite which ensures a proper balance between a shaft and the weight. The wing stabilizer of LI Ning G Force 1800i helps players to deliver better net play or the power strokes. It would not matter whether you are playing a fiery attack or a solid defence.

This racket is made for unrivalled swiftness along with carbon fibre. Made for defending and especially for amateur players, this design of this racket has an attractive eye-catching styling, which would make your racket look different from others on the court.

4) Victor brave sword 1300-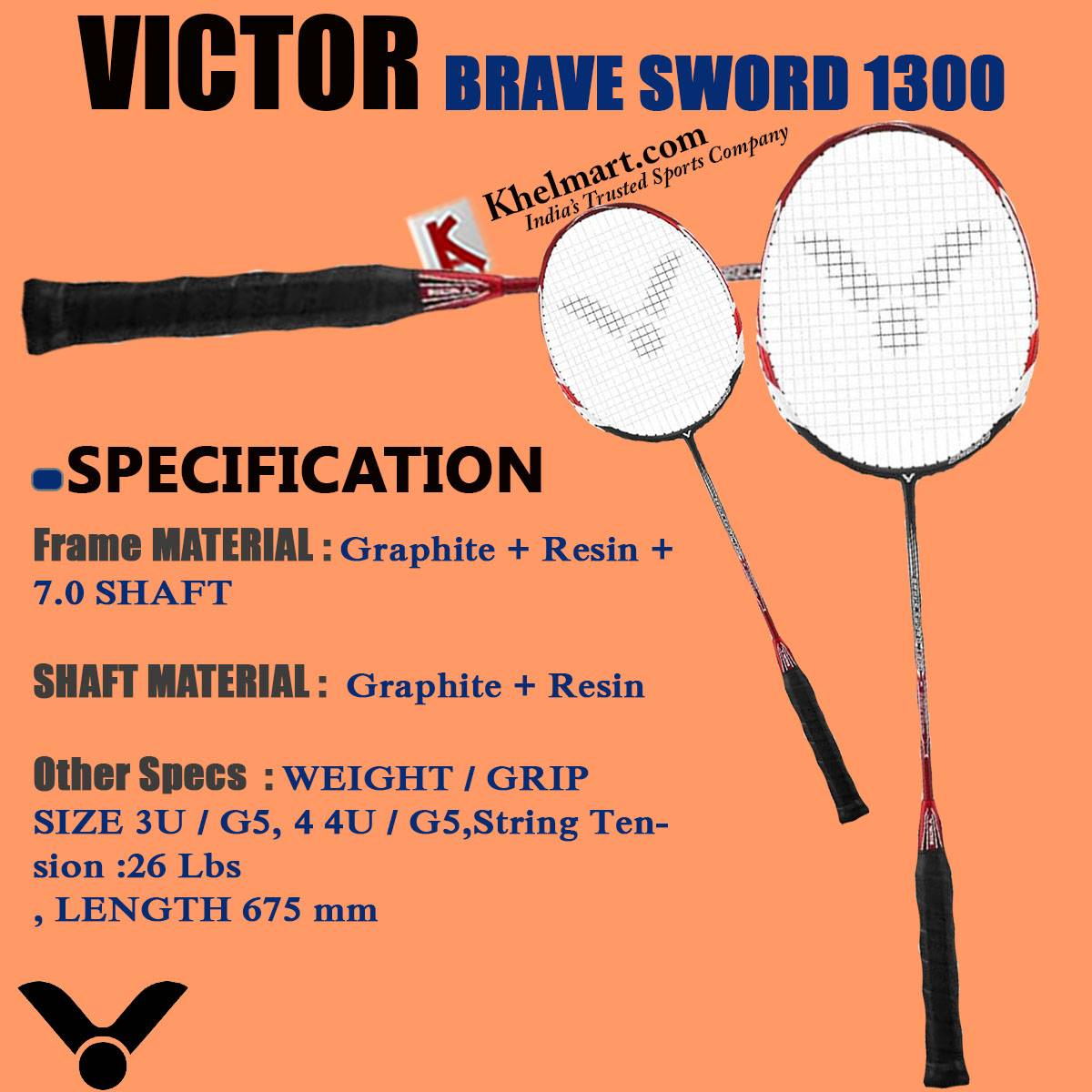 These Badminton Rackets have their head and flexible shaft both designed from superior quality graphite and resin. The shaft of it is 7.0 long. The isometric head of it gives a large surface area for shots and distributes the same amount of force all around the frame. Victor brave racquets use advanced technology to lessen air resistance for good stability.

The design of the cuts is diamond shaped which helps in better resistance from the air. The rackets have a medium string tension of around 22-24lbs and a length of 675mm. They are best suited for intermediate and experienced players both. As the rackets have a G5 grip, there is a large volume of space to hold onto them. This racket has great strength to combat a couple of games. Thus, it is worth every penny spent.

5) Apacs Z Ziggler-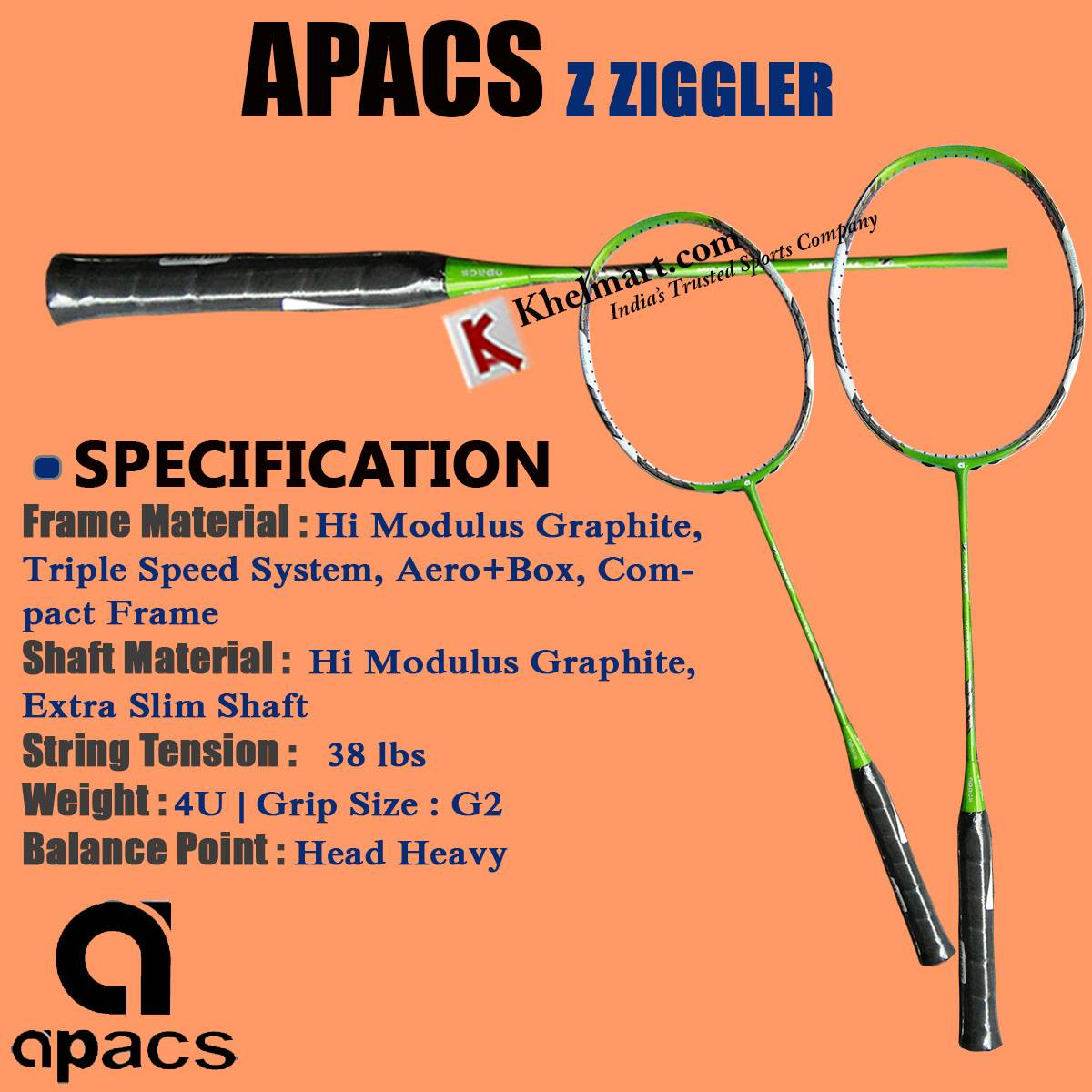 Z Ziggler is made to offer you quick sharper smashes and it lets you relish the apt netting play and drop shot. The racket was designed with the advanced "Triple Speed System Frame" that combines phenomenal power and exceptional handling, and overall better hit with power and improved control. This badminton racket is made with a compact frame that enhances the speed of the swing. The racket has an extra slim shaft for more aerodynamic and lessens air resistance which makes your shot more strong and intense.

It is a moderate flex racket which delivers more power even for the beginners, as it has a sort of slingshot effect. It is a fast racket and is designed to suit power based badminton players who want to have more control or those looking to produce quick power for smashes. It is aptly balanced and a great feeling to play with, and when compared the price with the performance, it provides you with the best value for your money.

6) Yonex Nanoray Light 18i-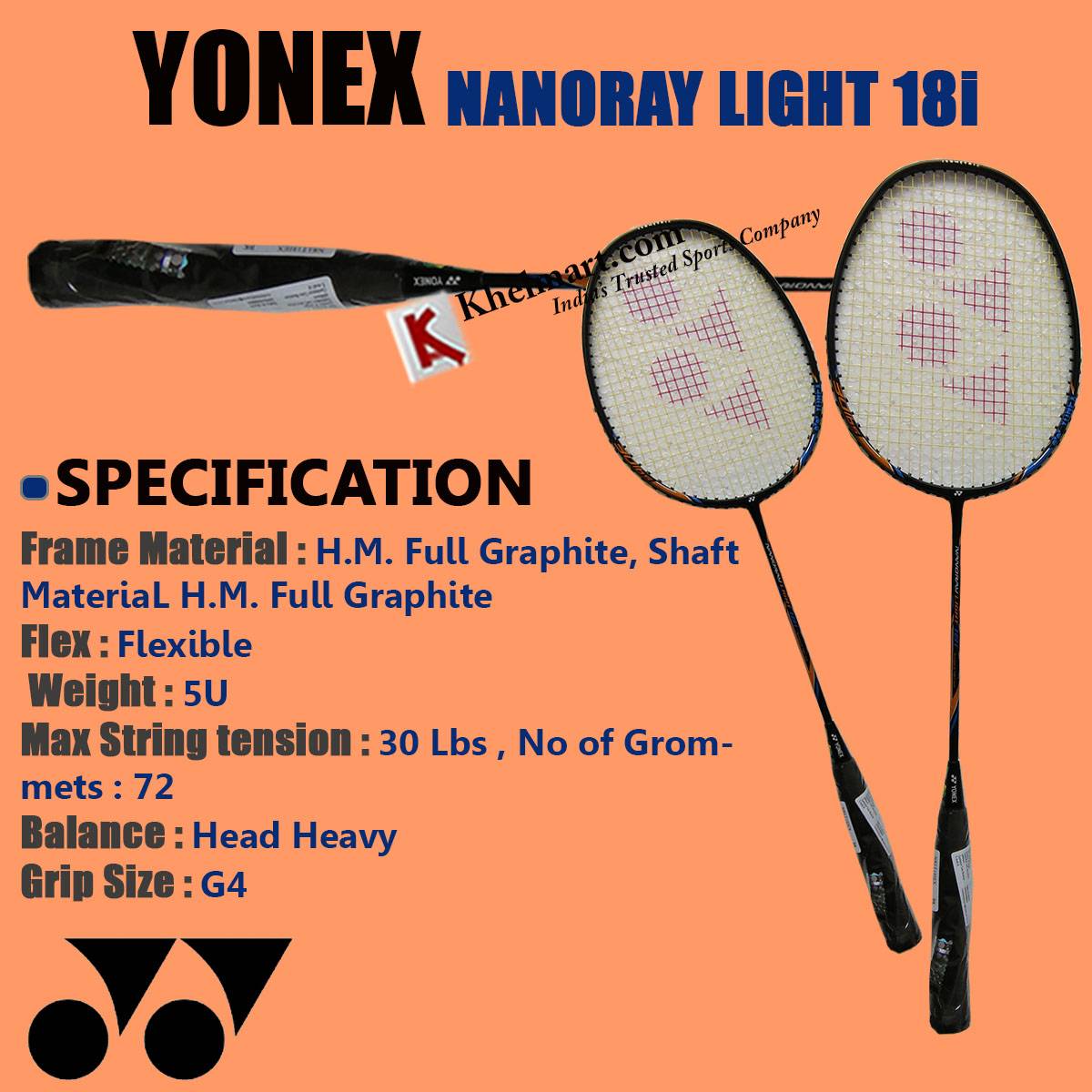 This series of badminton rackets was developed in Japan and is made in China. This is a modern and superior racket that delivers quick handling and great repulsion, responding tremendously well to high-speed rallies with fast movement. Unlike the other rackets, which are constructed of aluminium or steel, it is has a one-piece design with a great connection between shaft and head.

The aero-box frames of it aid in reducing the air resistance so that air flows swiftly around the curved surface while the swing, improving head speed and transferring speed and power into your hits. In this racket, the square-shaped ISOMETRIC sort of frame shape is made to keep the vertical strings at the corresponding length and horizontal strings to generate an enlarged sweet spot in all the directions.

7) Carlton Heritage V3.0-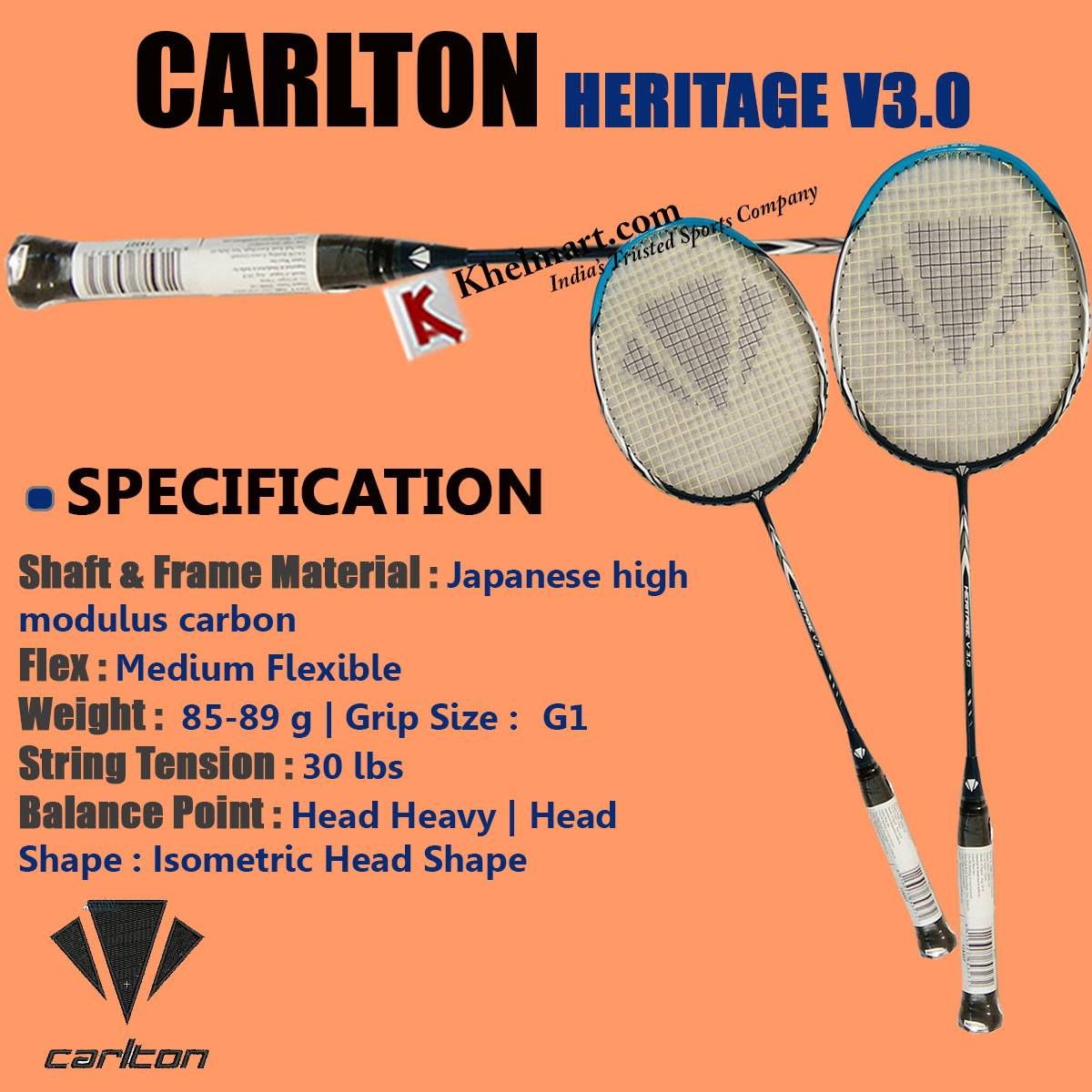 This is a medium flexible flex badminton racket. This racket is envisioned from a Japanese High modulus carbon for providing better quality and grip. The racket has a G1 grip and an excellent head heavy balance. The isometric shape of the head gives the players an adequate hitting area. This racket is best suited for an intermediate level of player who loves the defensive style of play.

The flexible shaft of this racket provides you added support for extra power which makes it much easy to play the game. Carlton Heritage V 3.0 has a very light weight of around 86 grams. The head of the racket is made up of 100% graphite and shaft of it is made of Japanese Carbon. The colours of the Carlton Heritage V 30 are fantastic with blue, white and silver colours. The colour trending is so good that it makes the racket look very attractive and creates more demand for it.

8) Ashaway STRIKER POWER 100-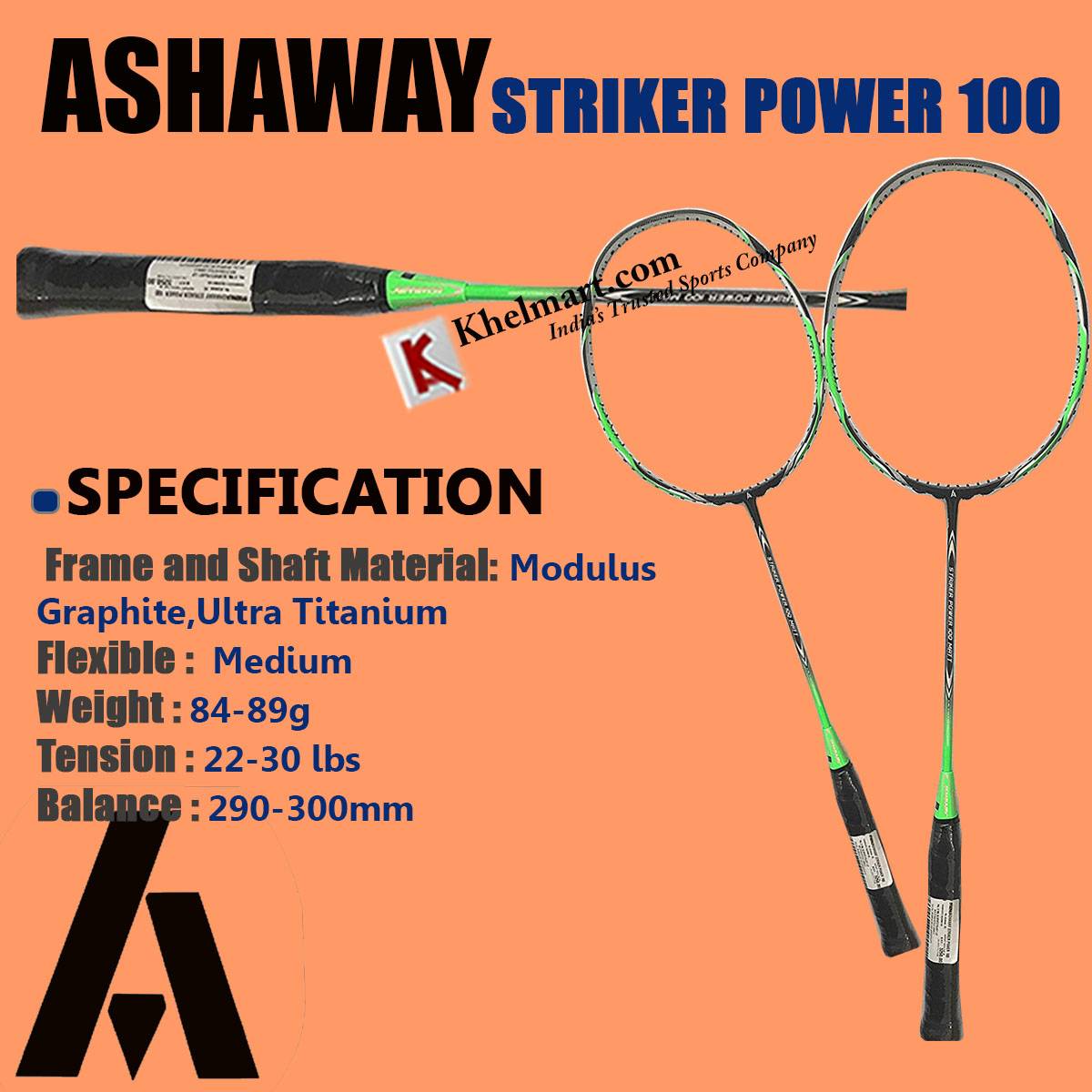 Ashaway striker power 100 has a contemporary, matt finish, and an amazing design. It is constructed by the striker power technology and racquet smashing skills to the top level. Its frame structure is slim which makes it best in playing for both forehand and backhand playing. It is made of very strong material.

This racquet has great rigidity to tolerate high tension for the exact and steady strokes.

Rigid carbon fibre has been used to reduce the weight and enhance strength for effortless control of the high tensile slim shaft. Hitting velocity is renovated considerably with increased stringing area and there is an upgraded bounce strength dynamic frame design which enhances racket mechanical structure for better attack and defence system. The sweet point of it extends upward and the hitting point is shifted higher.

9) Thrax Astra 78-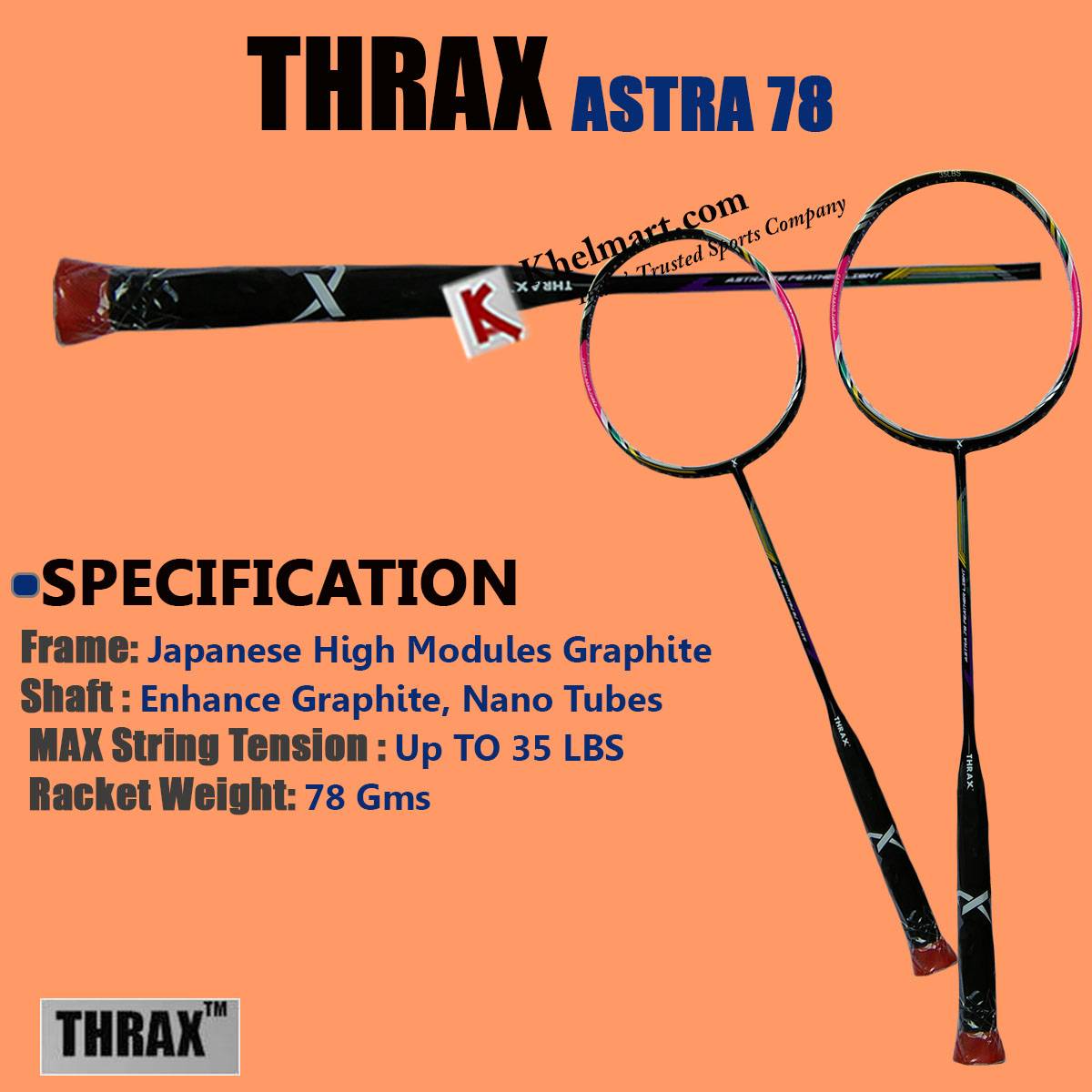 Astra series by Thrax is designed with a concept such as Thrax Lean Attack. It has very lightweight and has an isometric Head Shape. It is made up of 40T Japan Graphite and carbon nanotube. It also comprises of high impact strength tensile shaft along with excellent Octagon shaft with full graphite handle for better grip and control.

The new design in the racket gives one of the best grips. The grip has the best blend of comfort and great performance. It is an excellent balance between grips made for providing durability and endurance. The racket has been made with the best and very light material. This ensures that the player can flicker and play every hit effectively.

10) Yonex Voltric 1DG-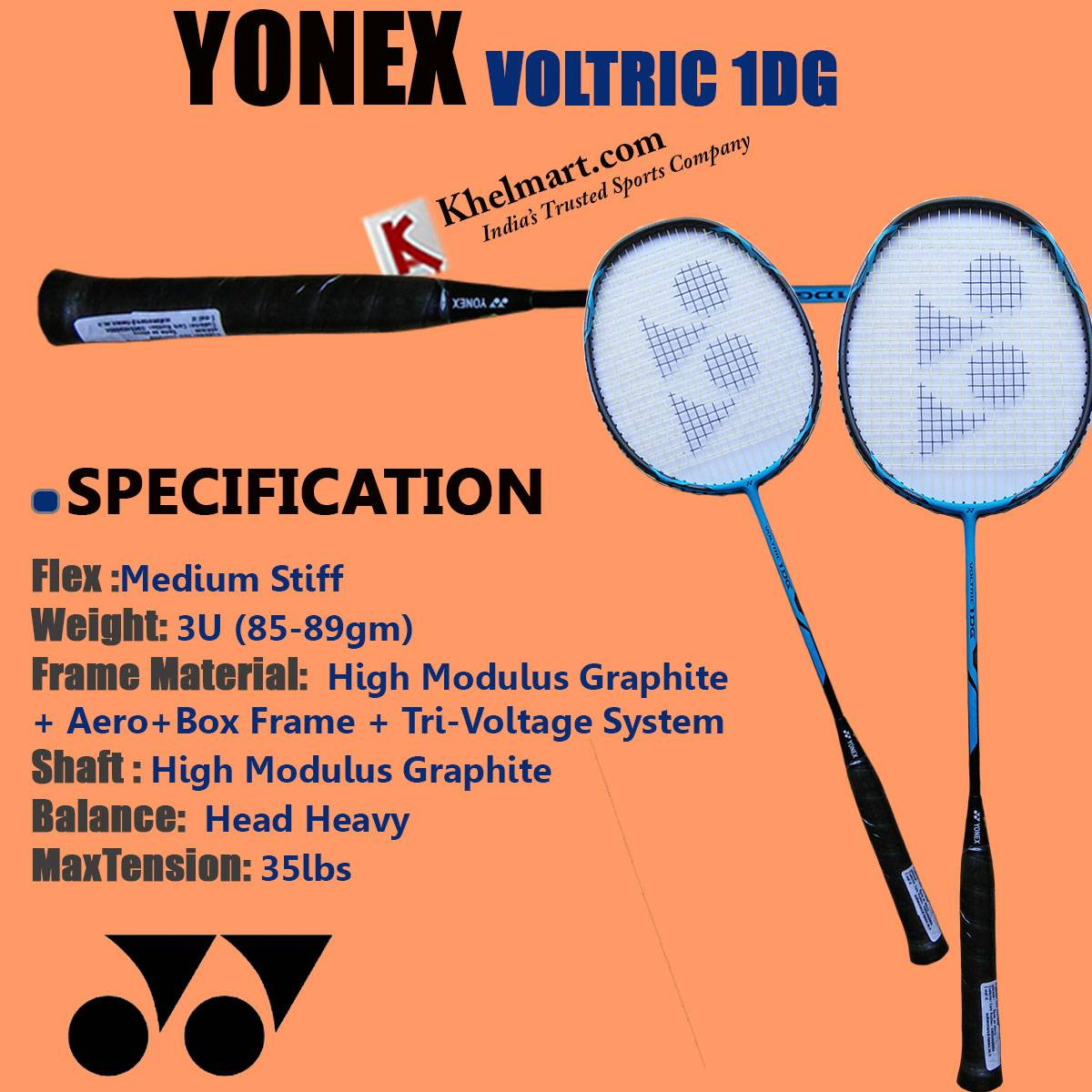 This badminton racket is isometric with an enlarged sweet spot for better distance and power. It is an extra stiff flex racket. It also has the latest TRI-VOLTAGE SYSTEM which helps to boost the smash energy. These rackets are one of the best professional badminton rackets in the market.

The small yet heavy head provides the player with a perfect balance of both power and grip. The racket has a higher sweet spot which enables you to smoothly adjust the racket the way you want. The thin rack of it makes it light in weight and reduces aerodynamic repulsion. Not only this, the tungsten material increases its durability and controllability.

Best badminton racket is the one which serves the purpose aptly and has its value for money. There are many shops that sell the same rackets at various prices but do not forget to check the after sales services as they do go a long way. So, do not comprise on anything while buying the perfect racket for you.