Wicket keeping gloves are a mandate for you if you aspire to become a good wicket keeper. People think that players usually wear them because the gloves are very stylish and they look very cool. But that is not the reason!

Gloves play a very crucial role while playing as they lessen the sting and pressure of the ball when it hits the bat, mainly in cold weather situation.

There are so many aspects one should check on while buying batting wicket keeping gloves as it is important to check the quality of the gloves before buying them since your hands should be protected aptly while playing. An excellent pair of wicket keeping gloves is the only thing which stands between the fast coming ball and a damaged finger. So, checking all the things before purchasing gloves is indispensable.

Listed below are the best brands of cricket batting wicket keeping gloves from which you can choose one according to your requirements:

1) Kookaburra Kahuna Players Wicket Keeping Gloves-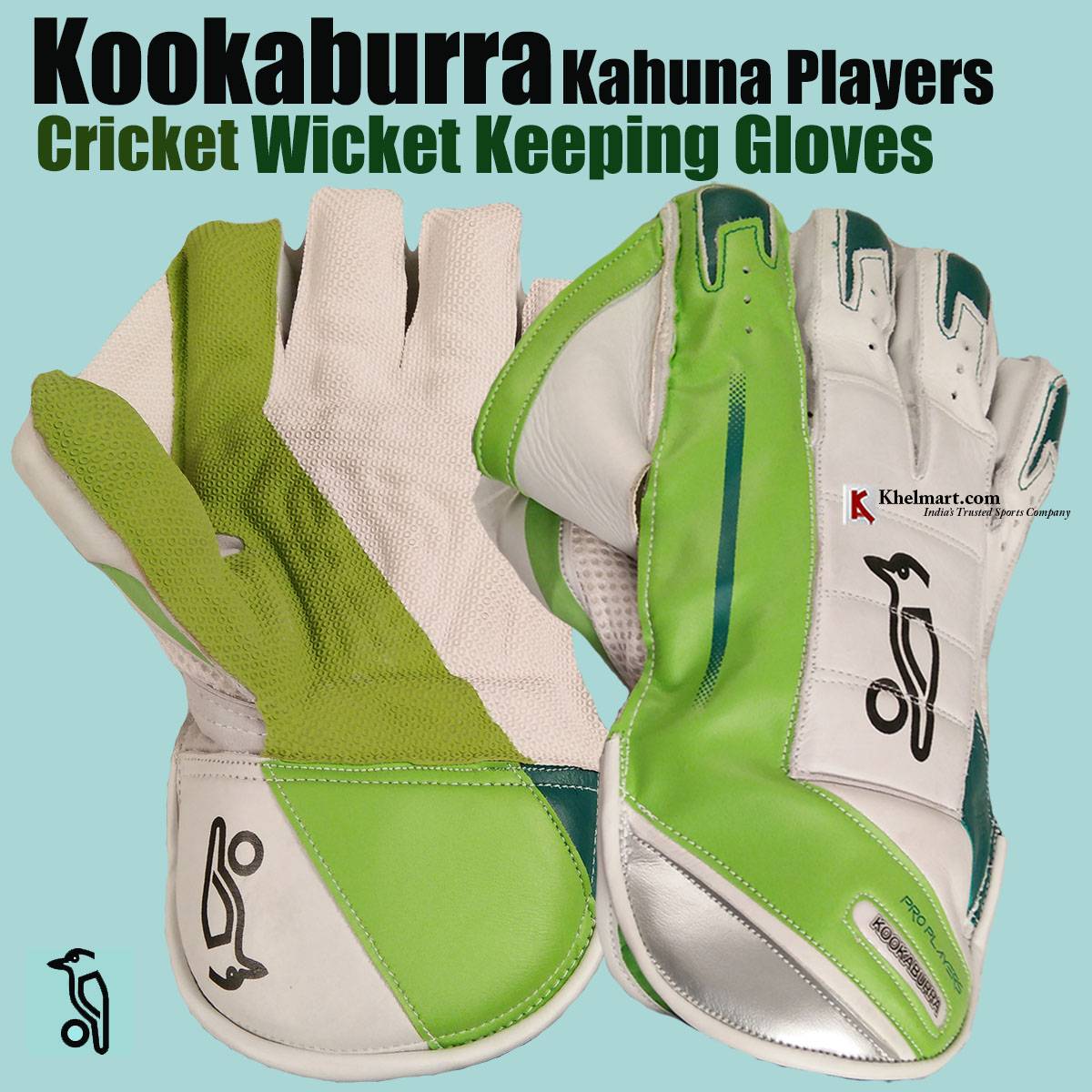 These gloves are one of the best gloves one can own. They are made up of Grade 1 quality material and attribute unique Kookaburra catching up along with K-flex technology. These gloves are being used by international players for more than 40 years now. They are very reliable and can bear any sort of wear and tear.

The palm of the gloves is made up of Non-stretch super flex kangaroo leather which is one of the premium leathers and its lining is done from non-stretch flex sheep leather. The palm is made with unique padding and flexes a point which gives it a perfect enclosure around the ball. The thumb of these gloves has a different setting to augment catching cup, also it has robust fibre wear patches to ends for the fingers.

2) SS Limited Edition Cricket Wicket Keeping Gloves-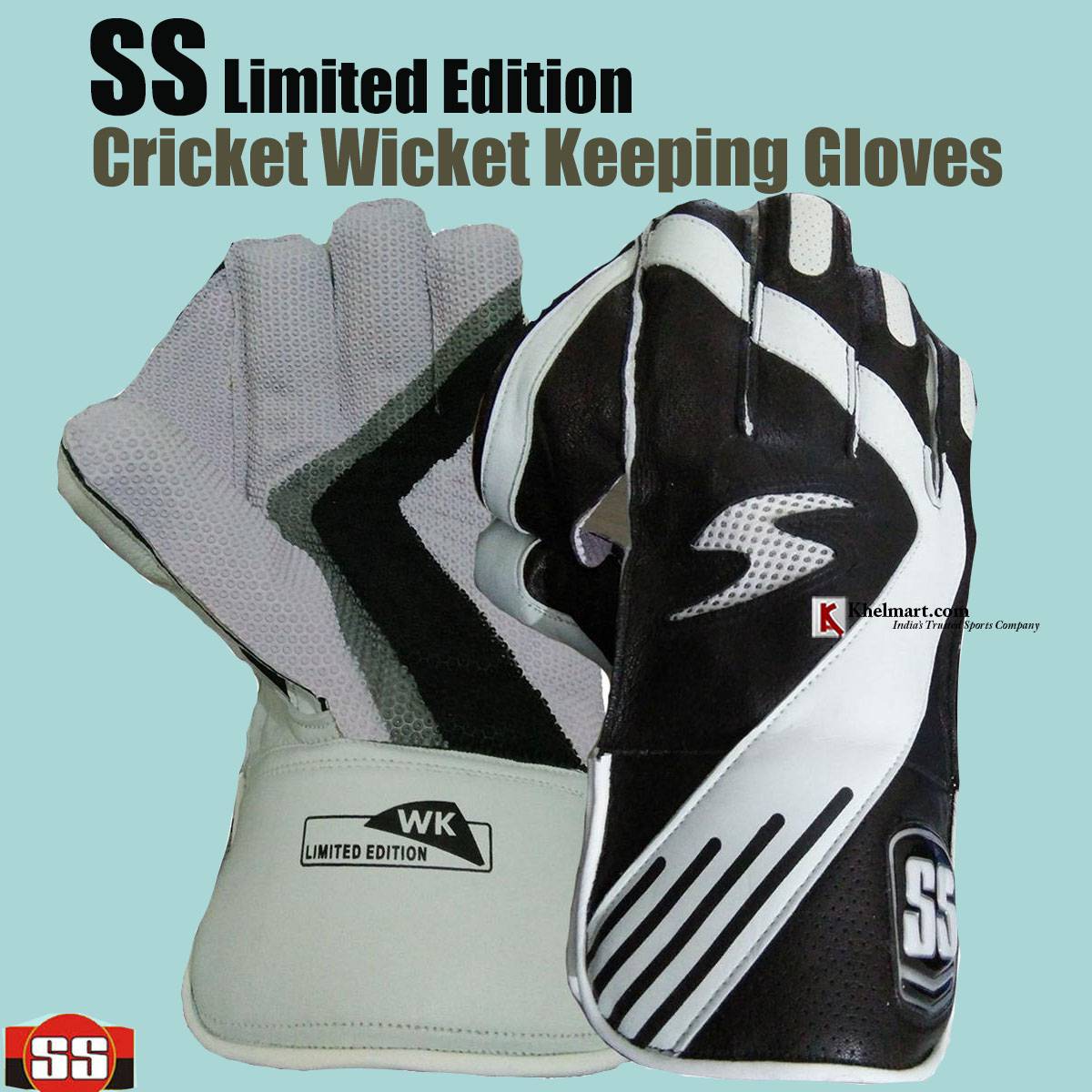 They are constructed from best quality supple leather palm, leather back and leather cuff. They comprise of a generous size catching pocket within. The best part about the SS Limited Edition gloves is that they have two large net inserts at the back for test level ventilation which is good if there is too much moisture in the weather. It has an excellent grade towelled lining in the cuff.

These gloves are suitable for playing at club and country level, both. They are the real leather gloves and the design of the gloves is really fantastic. Moreover, players really get attracted towards these gloves because of the styling and comfort which they provide. These gloves are waterproof and are heavy duty which makes them very durable. They provide both better performance and flexibility. One should not think twice before grabbing them.

3) Thrax Limited Edition Cricket Wicket Keeping Gloves-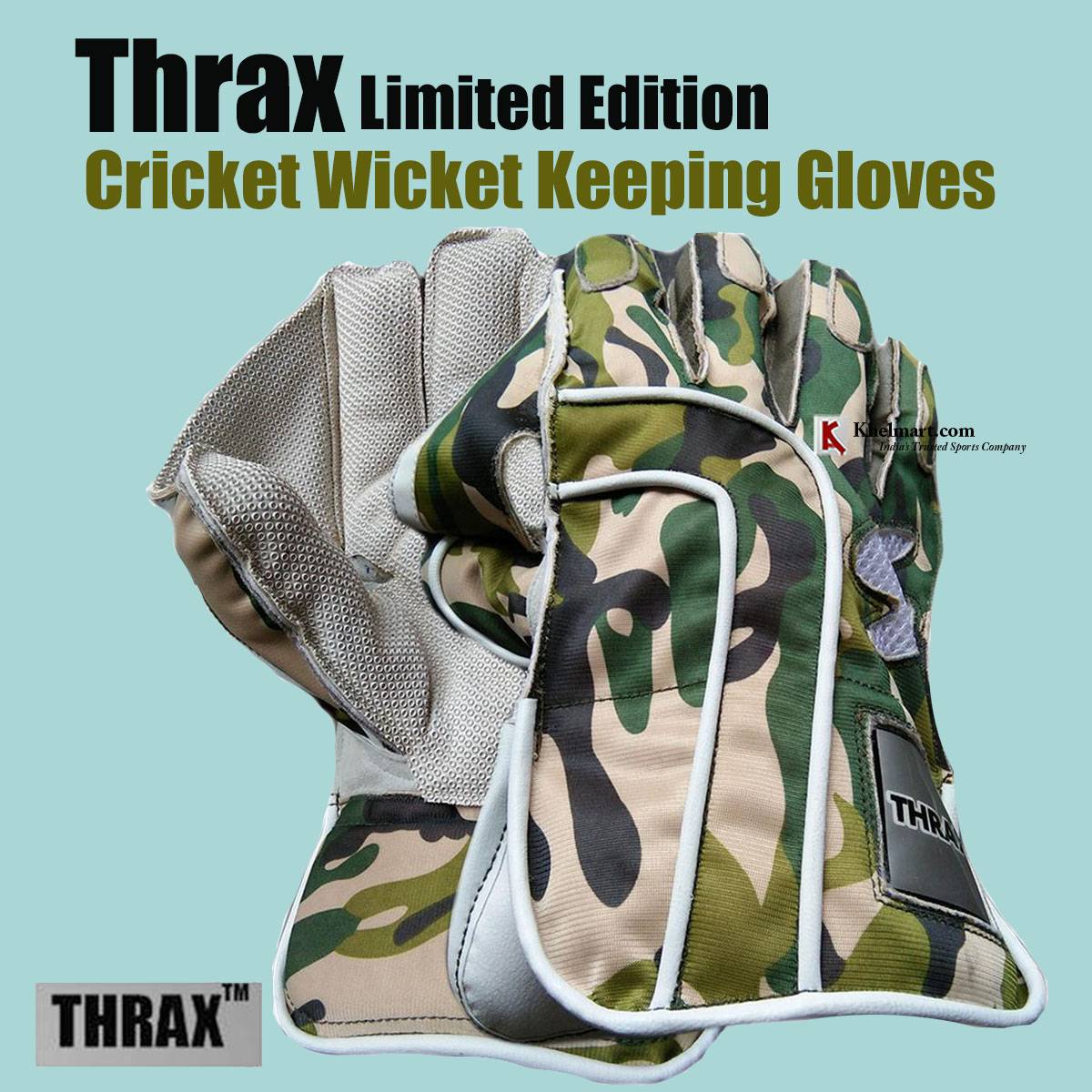 As the name suggests, these gloves are a limited edition made to fulfil the specialised needs of the players. These gloves are made after taking direct feedback from the players so that they can be designed in such a way that all the needs are accomplished. They are made up of premium quality customised leather. There are air mesh and have embossed fingertip reinforcement for added protection.

These gloves are not something one should miss out on. They are ideal for all types of players as they are very durable and have a perfect fit. They are very comfortable to wear and give all-round protection to your hands. The superlative thing about the gloves is that they are very easy to maintain and are very economical. So no need to wait, just order one for yourself now.

4) SG Hilite Wicket Keeping Gloves-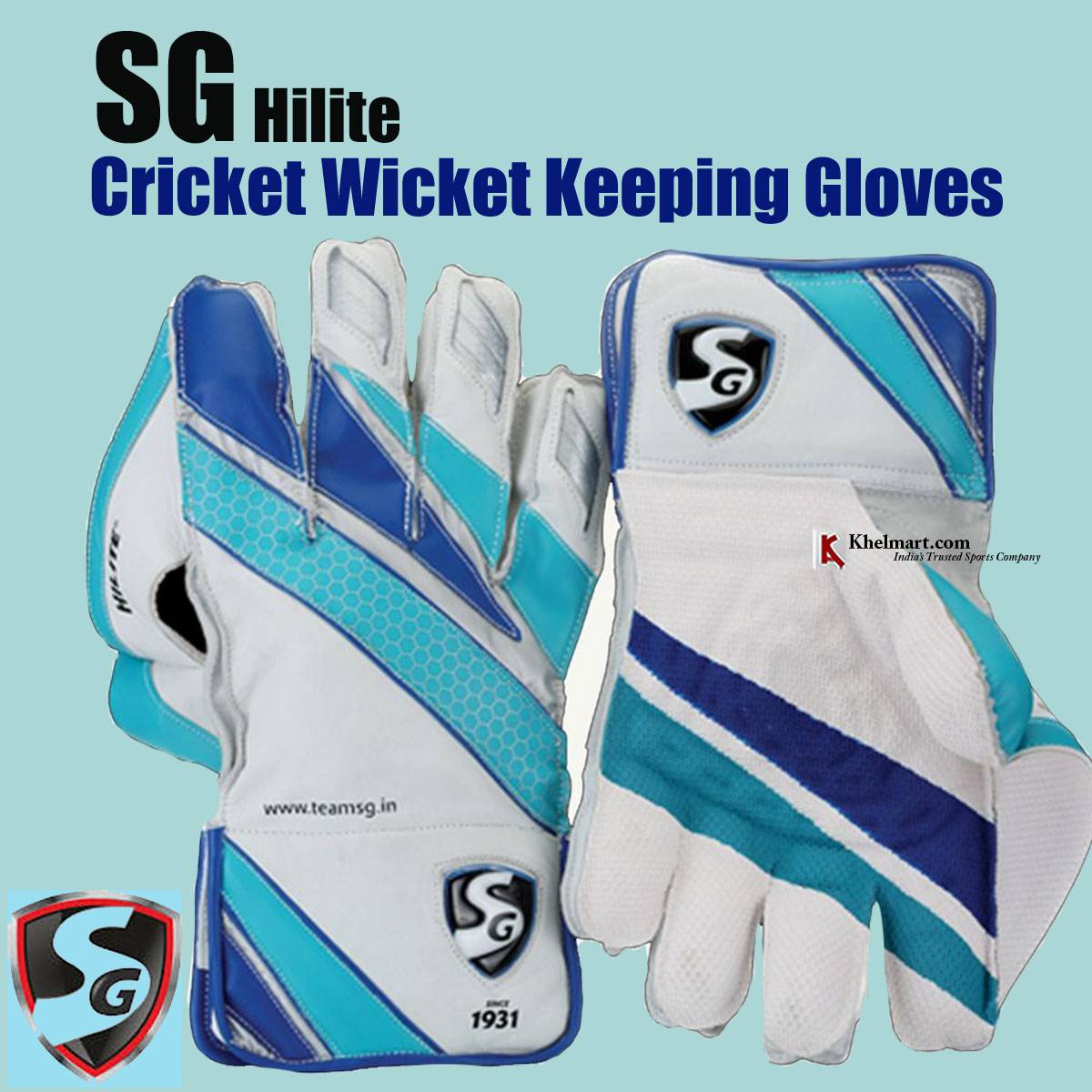 These gloves are really lightweight as they are made up of good quality aniline leather. The palm and the back of the gloves are covered with full leather. Also, there are mesh inserts in the gloves for better ventilation which is very beneficial when you sweat a lot or there is a lot of moisture in the weather. It comprises of a padded towel lining in the cuffs so that it gives you all day comfort.

These cricket batting wicket keeping gloves have good sized catching pockets on the palm. The base of the gloves is white in colour with a patch on it of blue and orange which makes them even more trendy and are in high demand. The gloves have a well-padded palm so that they become cushier and players feel comfortable while wearing them. The high-density foam cuff provides improved safety, better feel and more endurance.

5) Puma Evo 3 Wicket Keeping Gloves-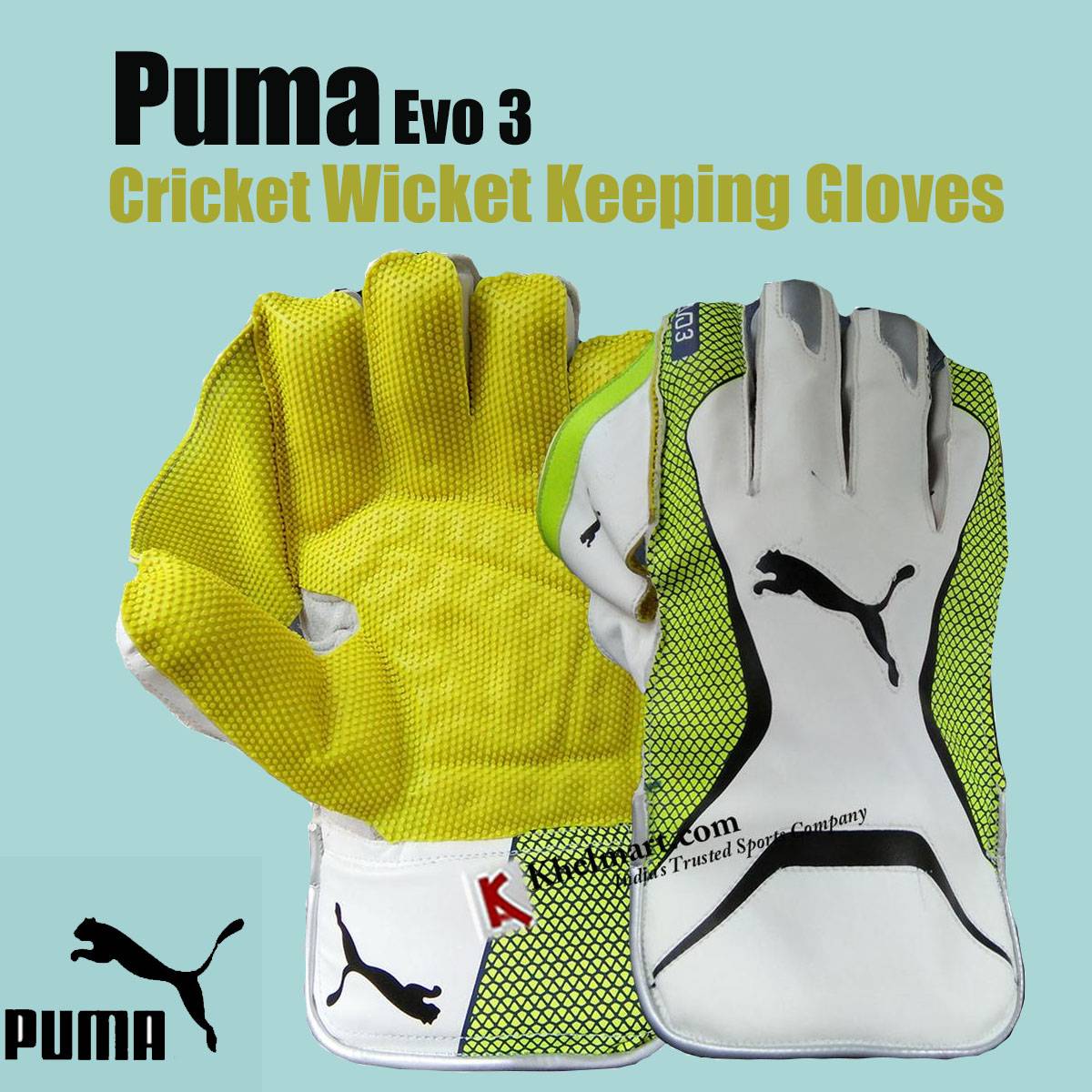 Puma has been always known for its style and durability and the same is with these gloves. They are designed with superior full leather back and lining for more flexibility and improved performance. It has a Hextech premium rubber grip palm for better grip. There is high-density foam in the cuff for enhanced security of the players hands.

The best part about these gloves is that they have a T webbing support between the fingers and thumb. It is PVC free and there are extra finger protection and mesh CAT panel. These gloves are a must-have for the player who is looking for something trendy and gives a better fit along with giving a long-lasting performance.

6) Adidas Libro 1.0 Cricket Wicket keeping Gloves-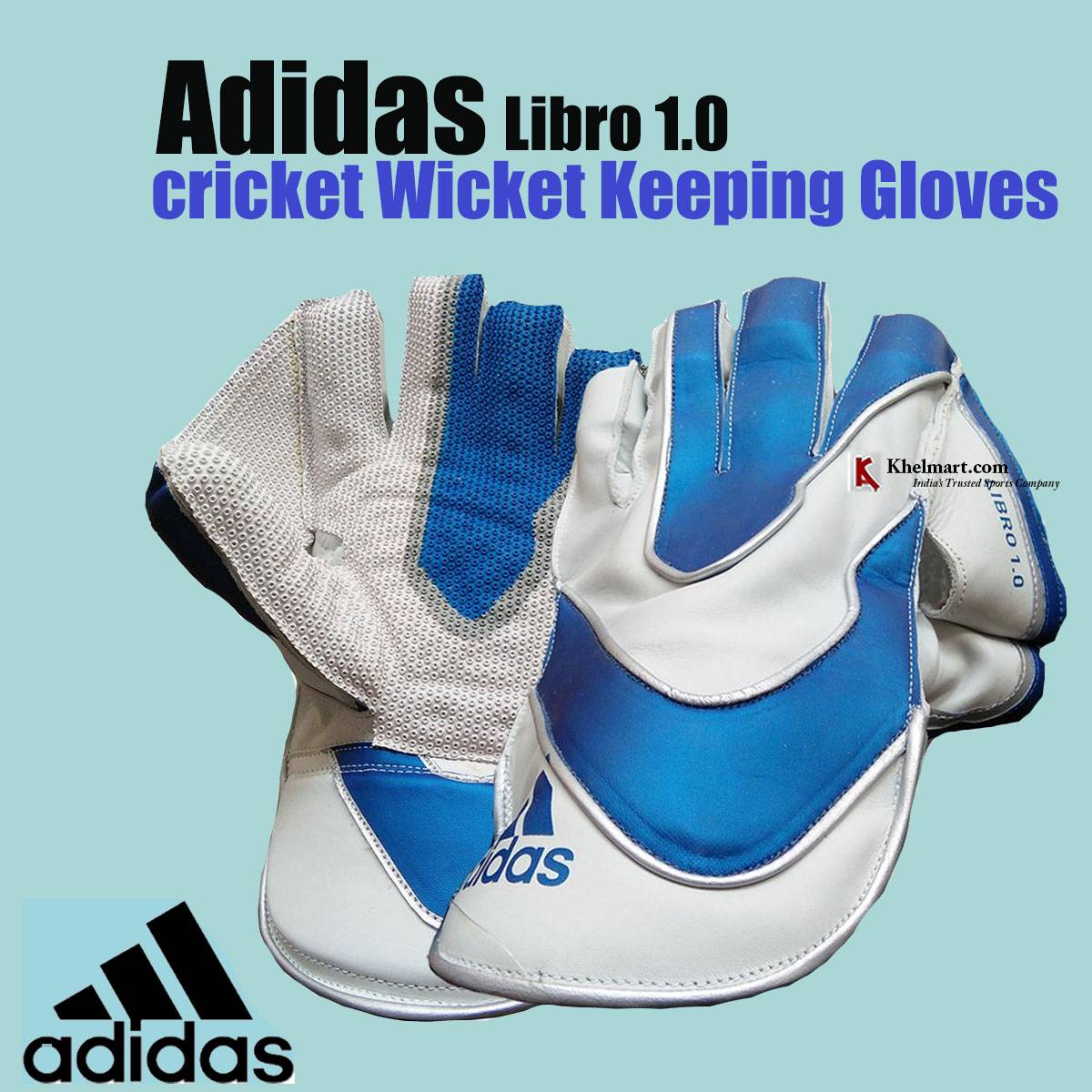 These are high-quality wicket keeping gloves made with high-quality leather. The cuffs of the gloves are padded which gives them a great fit for the players. There is a reinforced finger section so that the fingers do not get injured when the ball comes in speed. It has a rubber octopus grip for great control of the ball which is very important.

The colour of the gloves is white with a blue design on them, and they look really exclusive as the design is very unique for them. They are very easy to maintain and have good sweat absorbing capacity for longer play. These gloves are also very comfortable because of the high-density foam padding.

7) SF Sapphire Cricket Wicket Keeping Gloves-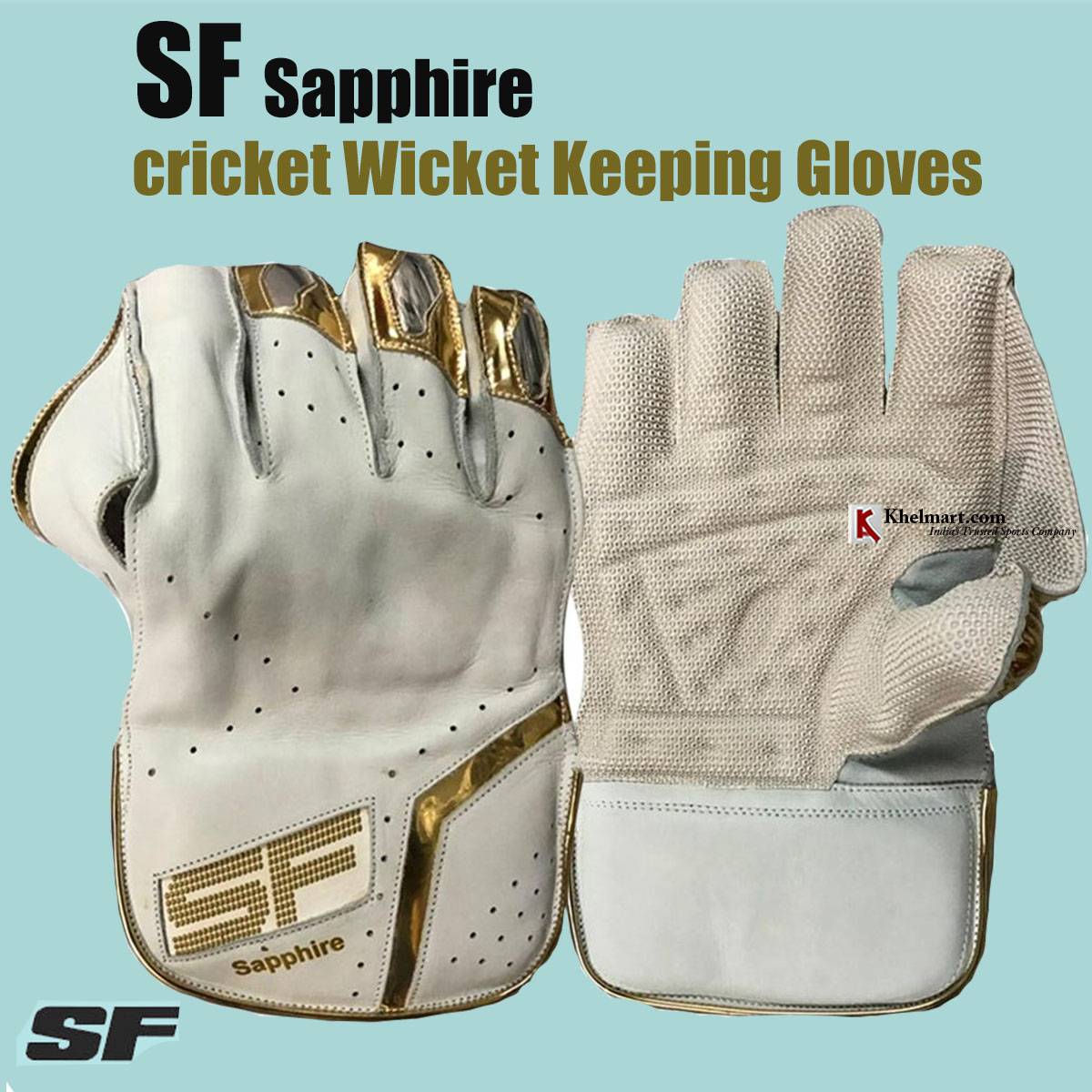 These gloves are constructed from premium quality wipe cleanable PVC facing. They have unique cashmilon reinforced construction and foam filled vertical bolsters. These gloves come in multi colours unlike others which just come with restricted colour options, you can choose one according to your preference. These gloves have better ventilation and are very beneficial on a sunny day when you sweat a lot.

The palm of these gloves is fully cushioned to provide the players more comfort especially when playing a tournament. These gloves have a really good grip which is vital for a wicketkeeper along with being endurable. These gloves are always high in demand because of all these features.

8) SM Play On Series Cricket Wicket keeping Gloves-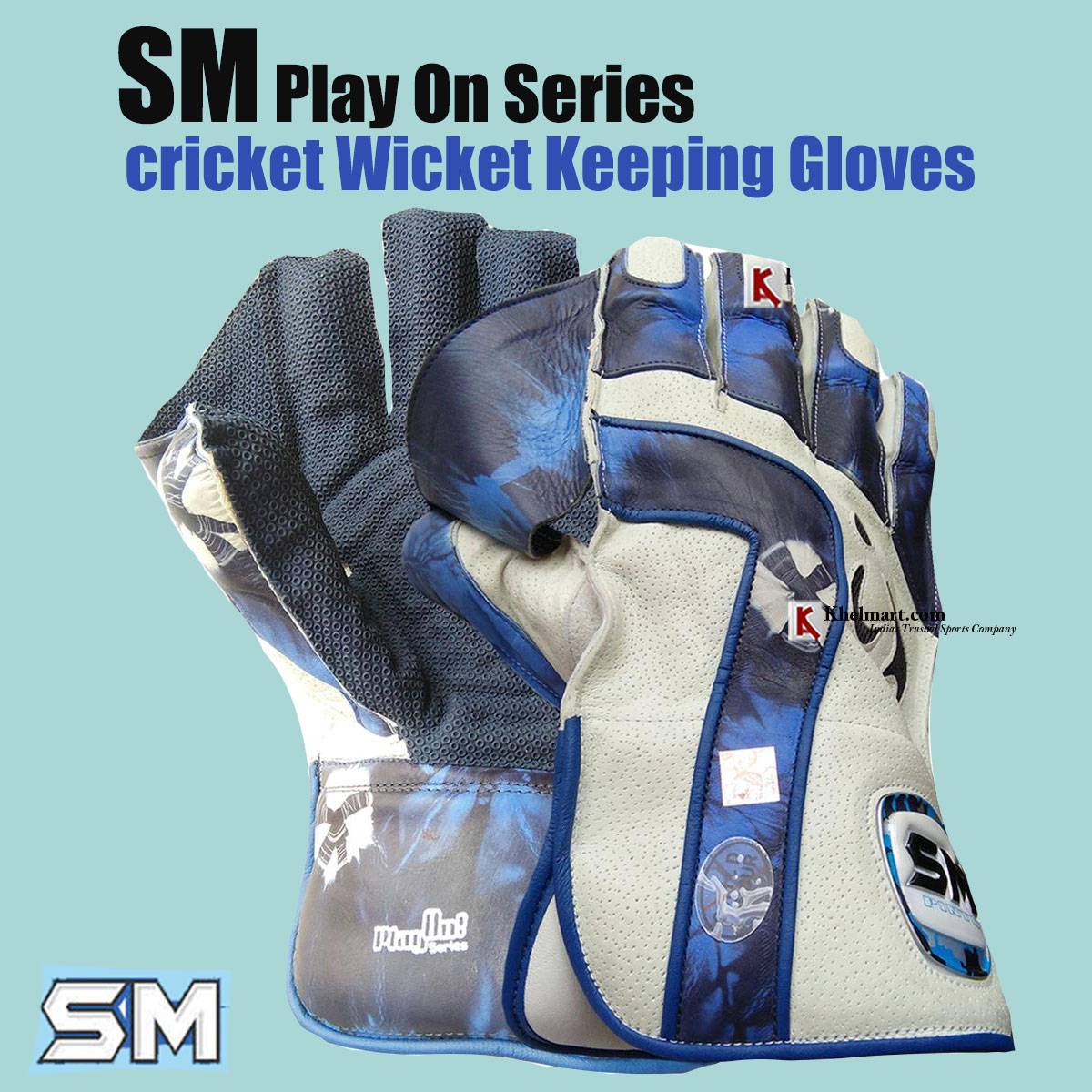 These SM gloves are well known for their protection. They are made up of premium quality leather and the palm is gel protected for sweat protection, which soaks the sweat really fast. In these gloves, air mesh fingertip reinforcement is used for proper ventilation. These cricket batting wicket keeping gloves provide knuckle protection to the back of the hands. They have greater abrasion resistance and longevity.

A very stylish lining is one on the gloves and matching sewing is done which makes their look quite different from others. The black and orange colour of them looks really fantastic and remains in demand because of the attractive colour and design. Also, there are ventilated air mesh for better breathability and more comfort.

9) BDM Aero Dynamic Cricket Wicket Keeping Gloves-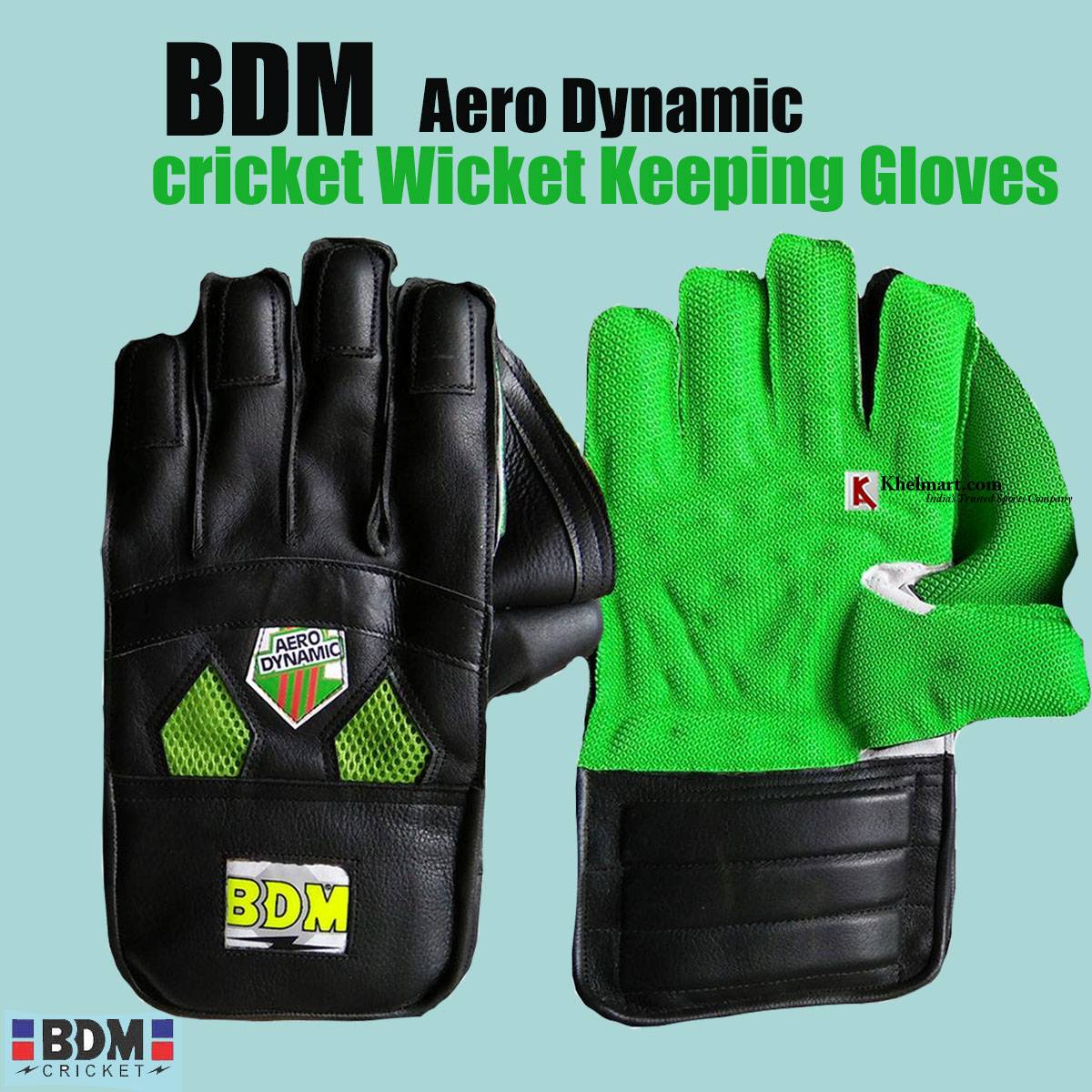 High-grade leather is used to make these gloves and also there is utilization of round web and special high tech pimple rubber in the designing, which makes the BDM Aero Dynamic gloves different from others. There is soft cushy foam which teams up with a higher grade leather palm for better feel, longevity and added endurance.

The palm of the gloves is made of great quality, so if the ball comes at high speed it would not hurt your hands and fingers. It has a great sweat absorbing capacity for longer play, as when you go for a tournament it takes a complete day, so the gloves of BDM are in that way very light in weight, comfortable, well ventilated, have a great grip and are up for all the wear and tear.

10) Spartan MSD Limited Edition Cricket Wicket Keeping Gloves-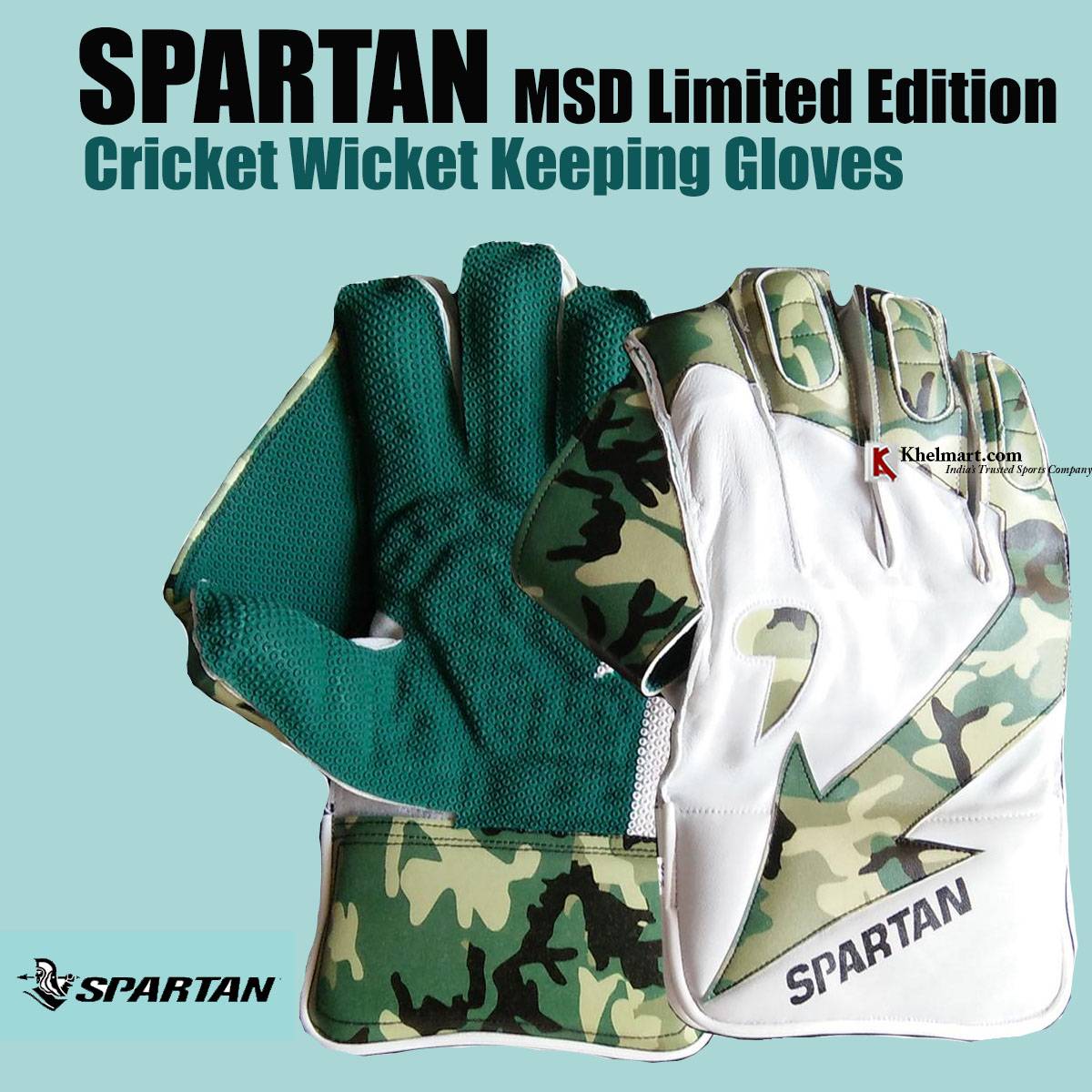 The length of these wicket keeping gloves is around 28 cm. They are appropriately padded to shield your fingers and wrist. It would be really helpful while catching balls when coming at fast speed. There is genuine aniline leather on the back of the gloves. Not only this, the gloves are fully made of leather and there is soft towelling done inside for more flexibility and moisture absorbing.

They have Octopus grip and short round cuff along with leather piping. These gloves are very easy to maintain and give you a better feel when you use them and boost your confidence as they provide you added security. They are very lightweight, which is like cherries on the cake for the players. These are the gloves you should opt for if you are seeking for something economical with all the benefits.

These were the top 10 brands of cricket wicket keeping gloves according to the reviews of the players. So while choosing these gloves make sure you do not compromise on the quality and comfort as these are the key factors which would keep your hands safe and away from injuries. Think well, consider all the options and choose the best!