If you are a regular at playing badminton, then you dont have to be explained the utility of a pair of badminton shoes. A regular badminton player needs to buy a pair of badminton shoes every half a year. That is mostly because badminton is a very high intensity game which requires a lot of foot movement as well as high impact weight on the upper material of the shoe, its stitching and soles. That is why the shoes are undoubtedly the most crucial equipment for a badminton player apart from the racquet.

Choosing the correct pair of shoes

A pair of badminton shoes experiences a number of loads on a daily basis including impact load, shearing stress load, twisting load, bending load etc. That is why it is more crucial for it to be durable enough to sustain these loads. The fast movements of the badminton player on top of these loads cause an imbalance often to these shoes. Hence the shoe must be made with apt modern technology which provides sufficient stability to the player. Choosing the right pair is very essential for a badminton player. One might get lots top quality product when it comes badminton shoes available in the market, but each player possesses different dynamics on the court. Their feet structure may also vary to a great extent. Due to this a player might not find all the top-quality shoes to be perfectly suitable for their feet.

Why Yonex is where you should look for your perfect pair?

Yonex has been a household name for badminton players since its advent into the sports market. They use the latest available technology along with high quality material and manufacturing processes to produce the best quality badminton footwear. Yonex has manufactured top quality badminton shoes this year and for the convenience of the sports readers and enthusiasts we have listed the top products from the house of Yonex Sports Matrix. Yonex footwear technology and trends have released a number of shoe designs laced with the latest technologies to enhance the performance of advanced badminton players. The footwear models are enriched with the latest colours and designs from which players can find their best suit.

Vital technologies in Yonex shoes that attract customers

1. True Cushion

This is Yonexs go-to technology for their mid-range shoes. Almost every intermediate range Yonex shoes fashions the true cushion technology. Its an innovative feature in Yonex which utilizes two kinds of material in the soles. The first one of soft and of high resilience at the inner sole with double sheets. The second one is soft eva mid sole and is durable for an improved shock absorbing capability. True cushion technology provides an enhanced way of implementing extreme cushion for comfort to advanced badminton players. This enhances their on-court characteristics and allows them better court coverage as well as comfort.

2. True Shape

Different badminton players flaunt feet of different shapes and sizes. To accommodate that, Yonex developed a technology called true shape by analysing different sizes and shapes in order to obtain the best possible shape for the upper design of the shoes. True shape provides an ultimate level of comfort and fitting to the feet of the badminton players so that their movement on court is facilitated to a greater extent. A single design can hence accommodate a number of different shapes and sizes enriched with optimum fitting.

3. Hexagon grip patterns

Yonex makes use of rubber outsole having unique hexagonal pattern on the outer sole. The rubber soles allowsa non-marking ability on wooden court while the unique patterns offers an added advantage of better grip and high traction force. This enforces safety to a large extent while also providing the player a better grip on the court.

Top Yonex Shoes to Buy This Summer

) 1. Yonex Super Ace V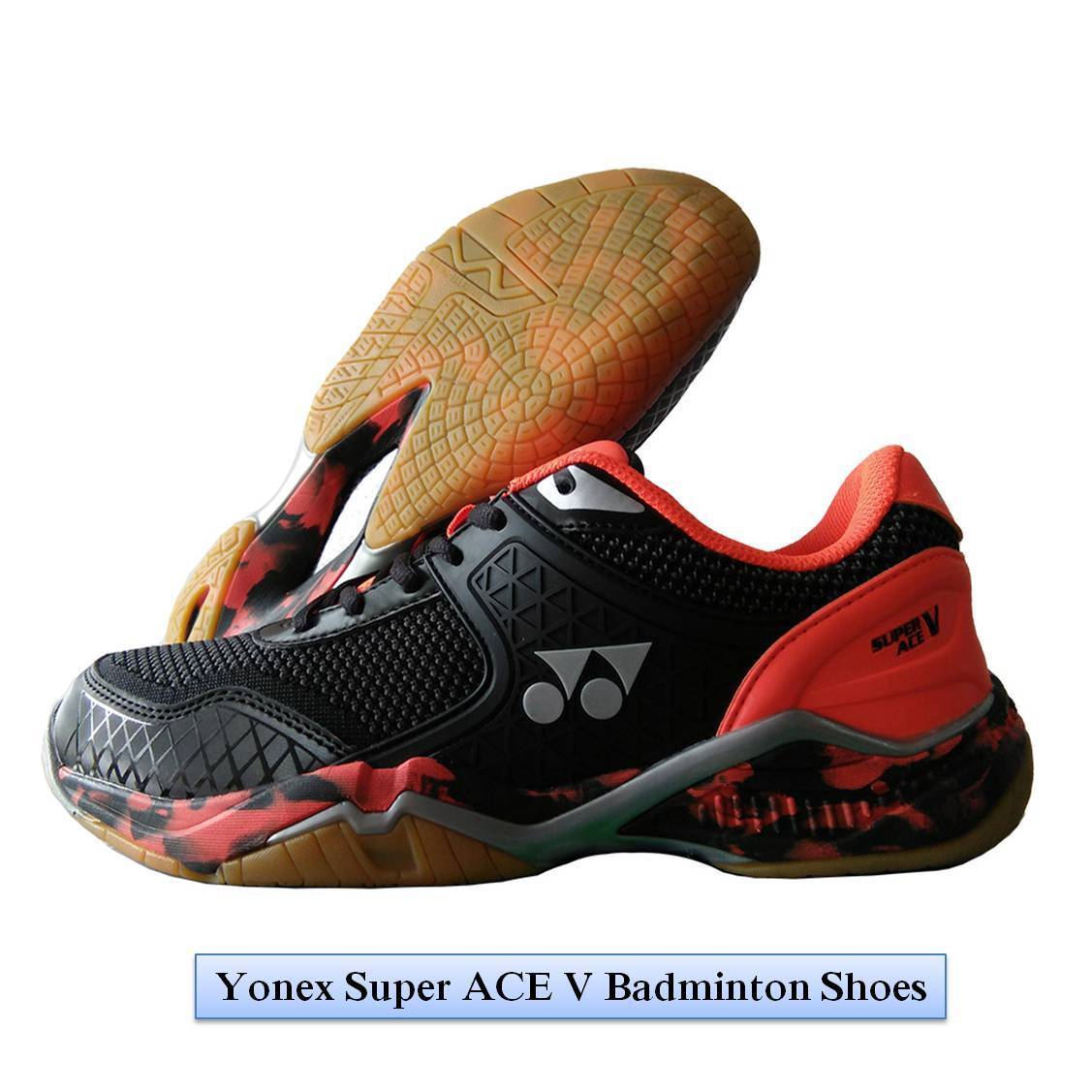 The Super Ace V from Yonex was launched back in 2018 but is still one of the hit choices for professional players among Yonex badminton shoes. This model features an advances mesh on top of a newer design. This is placed on the front side of the upper of the shoe. The Flyknit mesh is also used here which provides improved flexibility and air circulation.

The Super Ace V also comes in 4 varieties of colours, all of them pretty sober looking and suits a decent playing style.

The model is developed using a modern technology known as the die cut sections. Here the upper design is developed using unique die cuts. The upper material of the shoe is high quality PU, durable mesh and Micro Fiber.

2. Yonex Aero comfort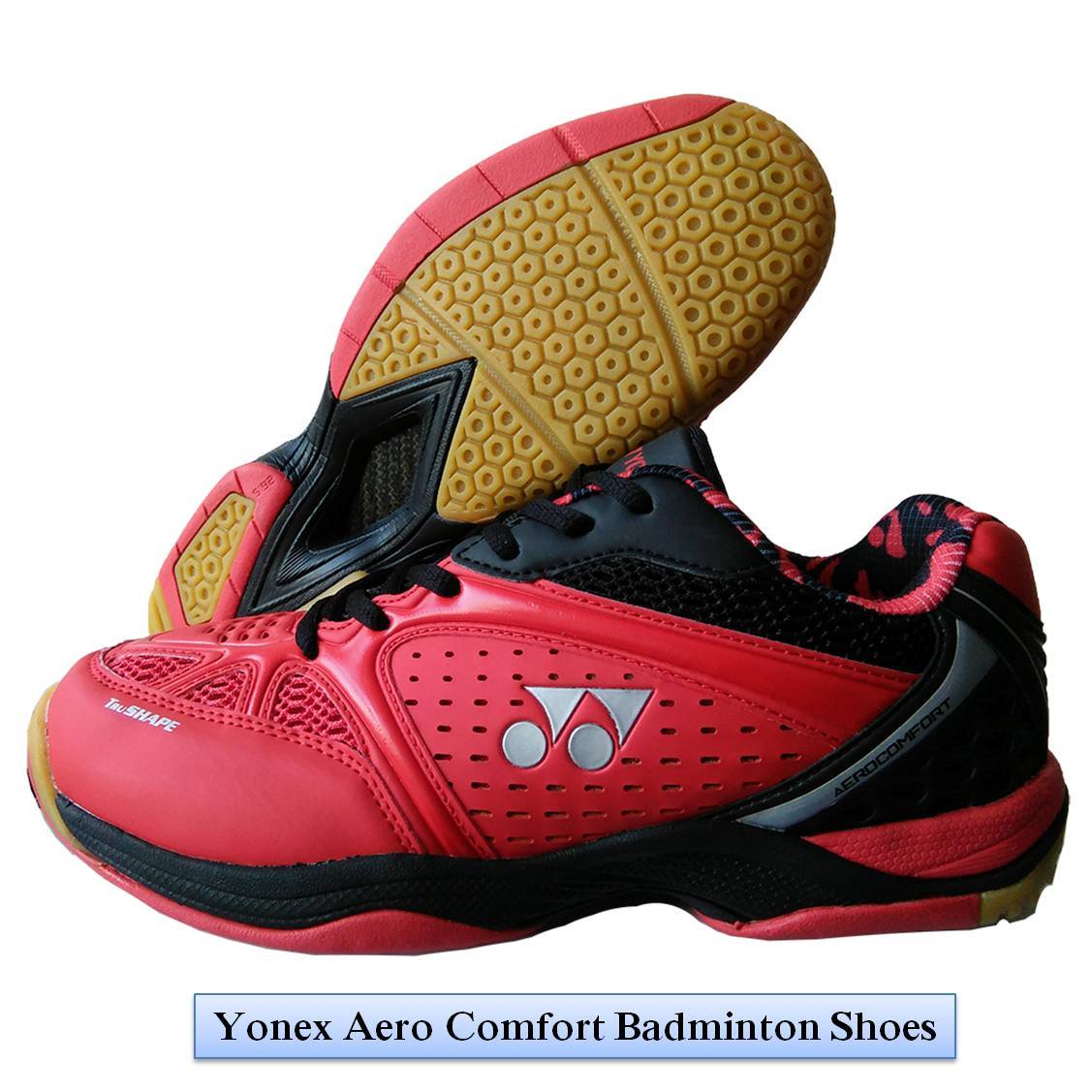 The Aero comfort is one of Yonexs latest launched model in 2019. This model utilizes the true shape as well as true cushion technology very effectively. The shoe is made with the latest improved material such as durable air mesh and micro fiber. The micro fiber is first moulded and then cut with the help of specialized dies which helps to provide a unique shape along with cutting patterns on the upper of the shoe. This new manufacturing technique has allowed Yonex to produce sports shoes of high accuracy devoid of any manufacturing error.

The Aero comfort is available in the market in 6 colour variants suitable for players having an attacking style of play. Out of these 6 colors the white base model looks the most lucrative although the buyers have been preferring the other variants to quite the same extent. On the basis of cushioning and durability the Aero comfort outraces the Super Ace V marginally.

3. Yonex Power cushion 65 Z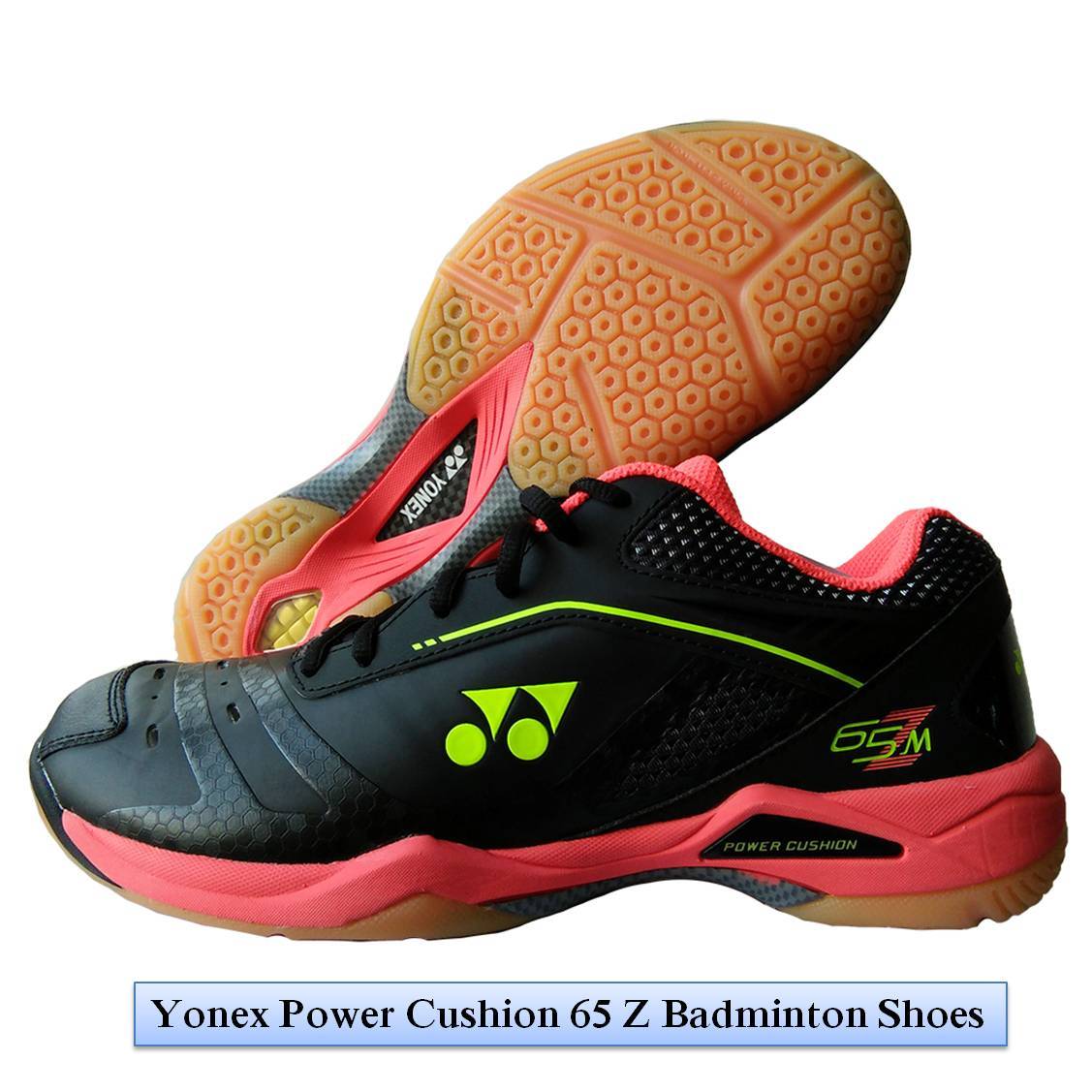 The latest addition to the uber collection of Yonex badminton shoes is the Yonex power cushion 65z which applies the power cushion plus technology into its basics. The upper is made of leather base PU, micro fiber and Nylon mesh whereas the outer sole is made of pure rubber. The power cushion plus replenish the cushioning of the shoe.

The main focus of the 65z shoe is the Power cushion Plus technology which after being placed at important junctures of the shoe provides an improved shock absorbing capability and better comfort. The mid sole of any sports shoe proves to be a vital part of the shoe and demands a good shock absorbance, lightweight and improved responsiveness. In order to provide these features to the mid sole, Yonex manufactured this model using technologies such as Solid E.V.A, TOUGHBIRD, Power Cushion plus and power graphite sheet. The lightweight added by the flexible upper helps the player to move sharply on the court. No wonder professional badminton player Viktor Axelsen endorses this product.

4. Yonex Court Ace Matrix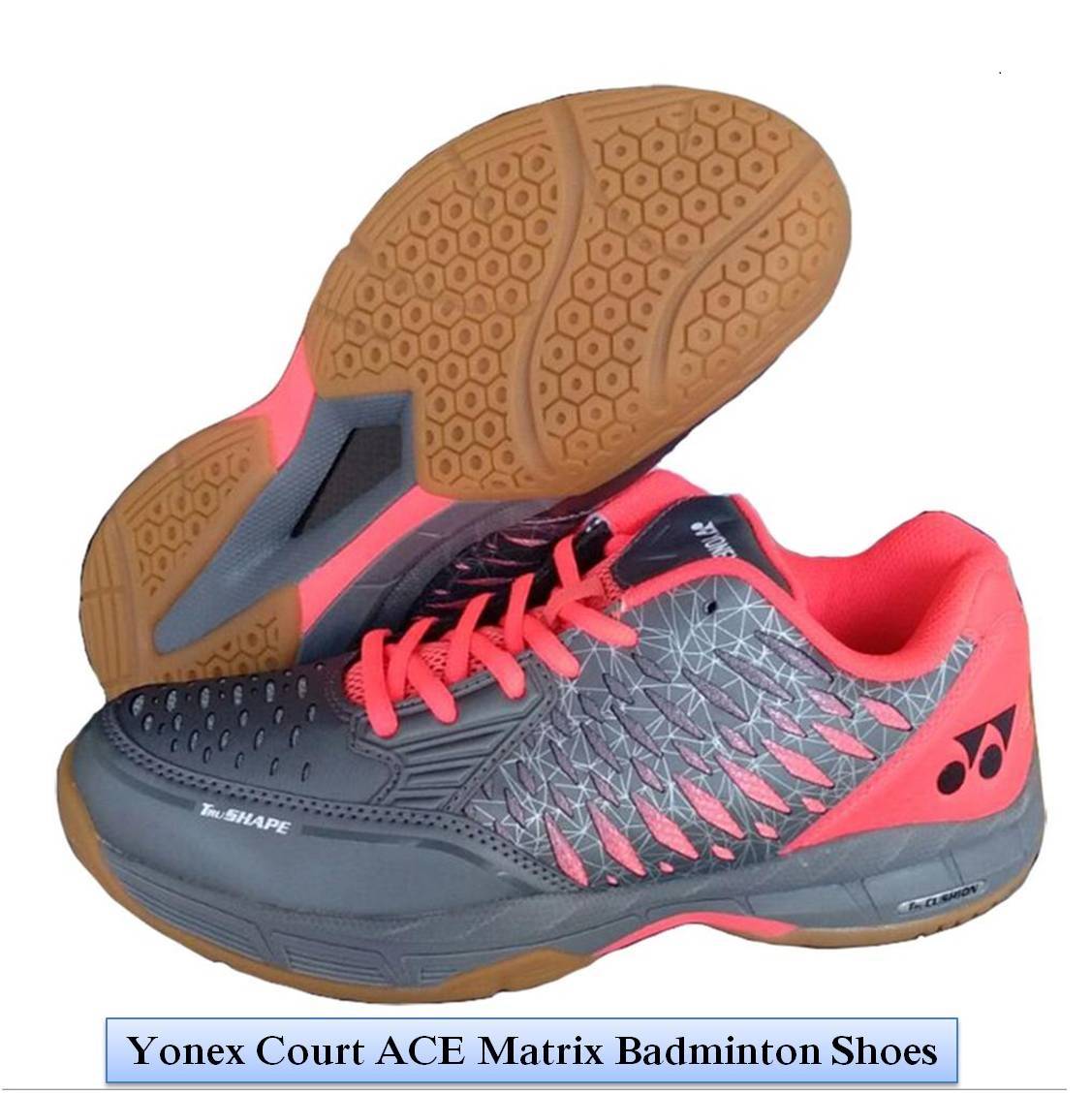 This design concept is quite new and is actually derived from the top model YonexAerus series. This design offers a matrix type shape in the upper of the shoe which makes it appear far more attractive. This shoe also implements the die cut session technology where the upper of the shoe is designed using customized die cuts. The material used in making the upper is quality micro fiber, mesh and PU. The court ace badminton shoe is also enhanced using true shape technology which, as mentioned before, best-in-class fit and comfort levels.

5. Yonex True cushion SRCP 65 R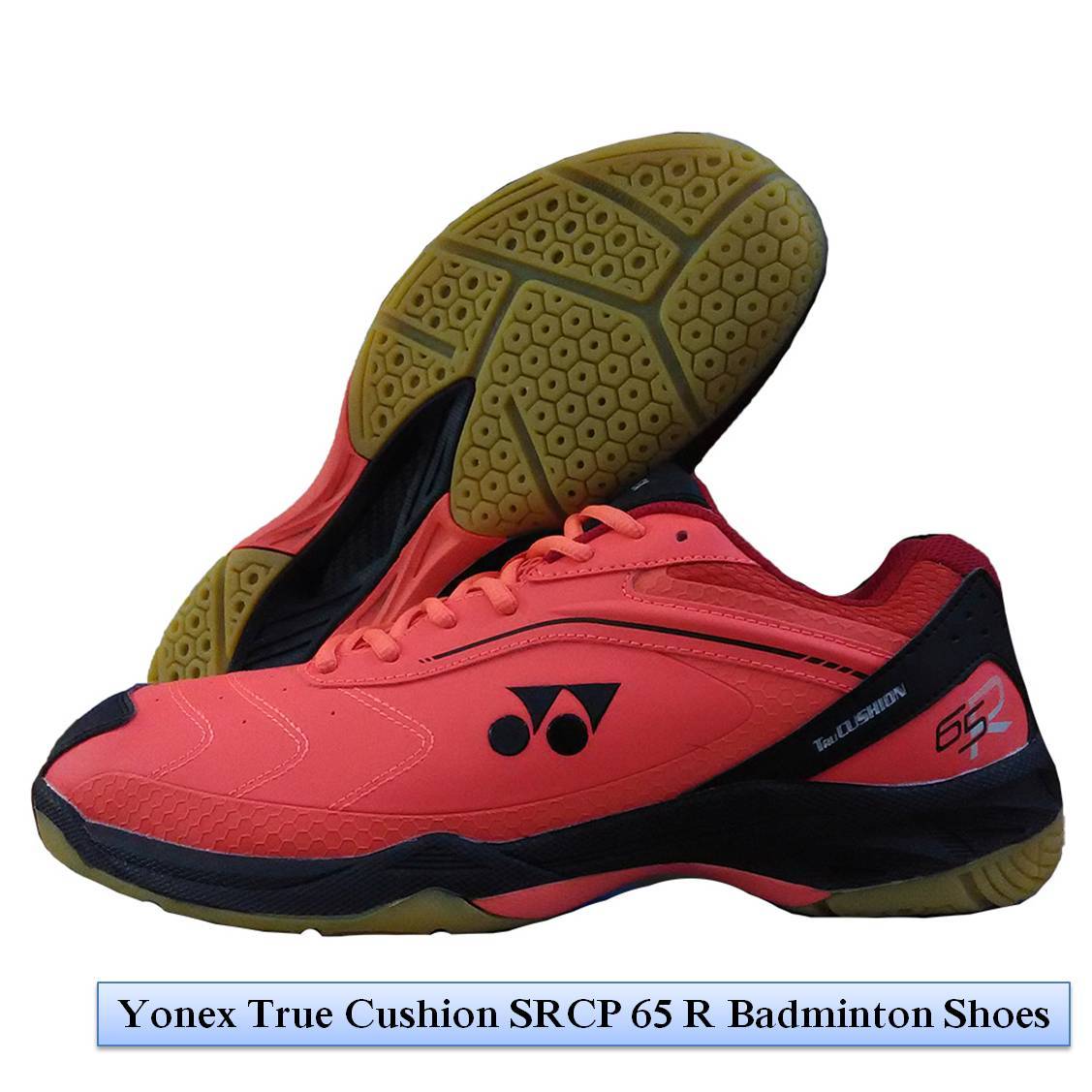 The SRCP 65 R from Yonex is a mid-range favorite for badminton players. This has proven to be a great choice for intermediate badminton players. It flaunts both the true shape and true cushion technologies. This also brings back the traditional Yonex shoe design which involves a large base filled with graphically colored area along with small rear parts and a big Yonex logo on the side of the shoe. The 65 R also engages the die cut sessions technology for enhances quality design manufacturing.

Things to consider while buying the above-mentioned models

• The shoes mentioned above fall under the mid-range category ranging from INR 1800 to 3000. These are mostly suited by intermediate players although lots of professional players so frequent these models for practice sessions.

• All the models mentioned above are developed using the latest tech such as True cushion, Hexagonal grip patterns, die cut sessions and true shape. This allows an extra boost to the performance of these shoes as well as lengthens their lifespan.

• The outer sole of the shoe is a very crucial part and acts as a very key feature for badminton shoes. On wooden courts a badminton player needs to be wearing shoes of high-quality outer sole in order to avoid slips. The models mentioned above all sport such quality outer sole.

• Yonex is known to manufacture outer soles with 100 percent non-marking rubber. This offers better grips and higher traction force to the players.

Conclusion

All designs mentioned above are latest in line and are available in almost every Yonex stores as well as online. Choosing any of the aforementionedshoe models will prove to be a good selection for a badminton player. However, persona; choices do matter and hence we urge to try them out first and select wisely.