Over time, the trend of playing badminton has evolved, and a lot of things have changed. Whether it is style, training, or types of equipment, everything has been upgraded; so a big boost can be given to the performance of players.

Hence in 2020, if you want to progress in your performance, buy some best-quality Badminton Racket

. This article will provide you a detailed review of some of the best badminton rackets by Apacs thatll spark your performance.

Apacs 2020 Rackets

Apacs is a famous U.K. brand widely known for manufacturing top-notch quality sports equipment and badminton rackets; thats day by day defeating other brands (such as Yonex Latest Series

for badminton) with its affordable pricing.

In particular, the trend of Apacs Sports has evolved in more than 12 years in Asia and Malaysia. To increase the strength and precision and to satisfy the mushrooming demands of their quirky rackets across the world, the company has always introduced their racket made with advanced technology.

Apacs understands extremely well that irrespective of usual or ordinary rackets, players now need something extra. Likewise, some lightweight material can offer the ultimate power on smash, lightning-fast racket speed, or high accuracy that could enable players to stay dominant while playing games.

Thats why we have brought some mind-blowing Apacs Badminton Racket

options for you, which you cant resist buying. These badminton rackets are the first-choice for every advanced level player who cant compromise with his performance.

Lets take a glance at top 5 best badminton rackets, all about latest 2020 Apacs Rackets that are on-demand in the market-

Feather Lite 75 badminton racket

Apacs are real experts in designing the best ultra-lightweight rackets. Hence Feather Lite 75 weighs only around 75 g, delivering tremendous strength along with its Head Heavy Balance & Triple Speed System. This badminton racket is paired with an integrated F.R.P. frame and an extremely slim shaft. It witnesses a perfect combination of strength and efficiency that can only be expected in even more costly models.

The addition of Armor High-Speed Frame and the pretty lightweight structure of this racket render it incredibly fast equipment for players. The Apacs racket was built with the revolutionary "Hexagon Throat" concept, which boosts swing speed and additional damping ability and improves overall performance with strength and more power. However, it is also designed with a particular shaft structure.

Special highlights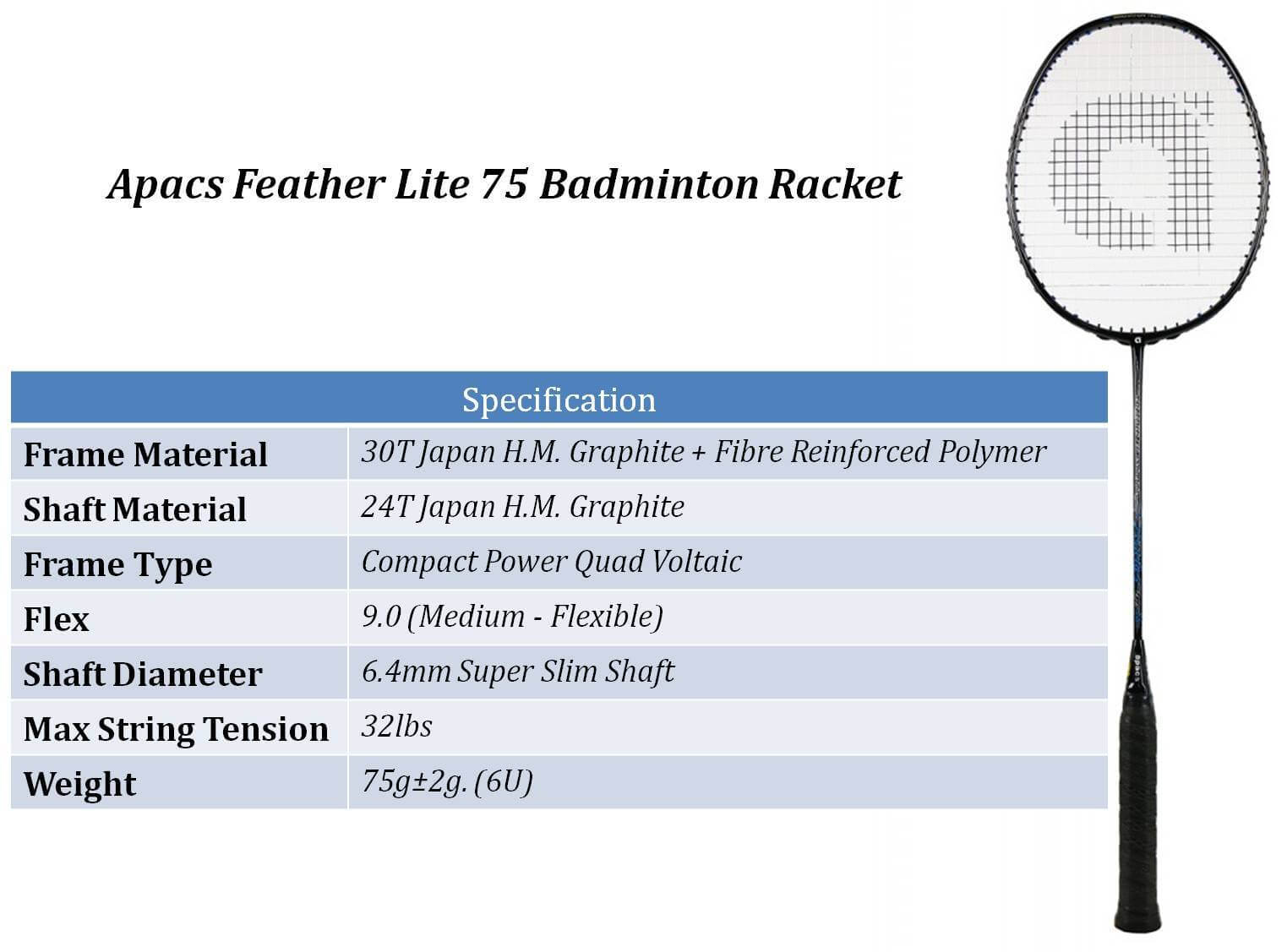 • T-Shaft taperness tends to boost the flex point, which results in excellent shot ability.

• This racket is crafted from Japanese H.M. Graphite, built to hold higher string strength at up to 30 lbs.

• The heavy head provides faster and dominant badminton smashes. The Apacs rackets string movement is even more comfortable than the ordinary grommet hole racket.

• The weight of the Feather 75 model is between 75-77 g, and length is 670 mm, respectively.

Assailant Pro badminton racket

The Apacs Assailant Pro Badminton Racket is another appealing option that every badminton player must-have. This masterpiece had indeed been built mainly for former no.1 mixed doubles player across the world Ko Sung Hyun. The slim box frame with high speed offers additional strength and pace.

The racket head employs fiber-reinforced polymer (F.R.P.) to expand rigidity. No doubt, its one of the fabulous and brilliant rackets. And it is also quite affordable.

Special highlights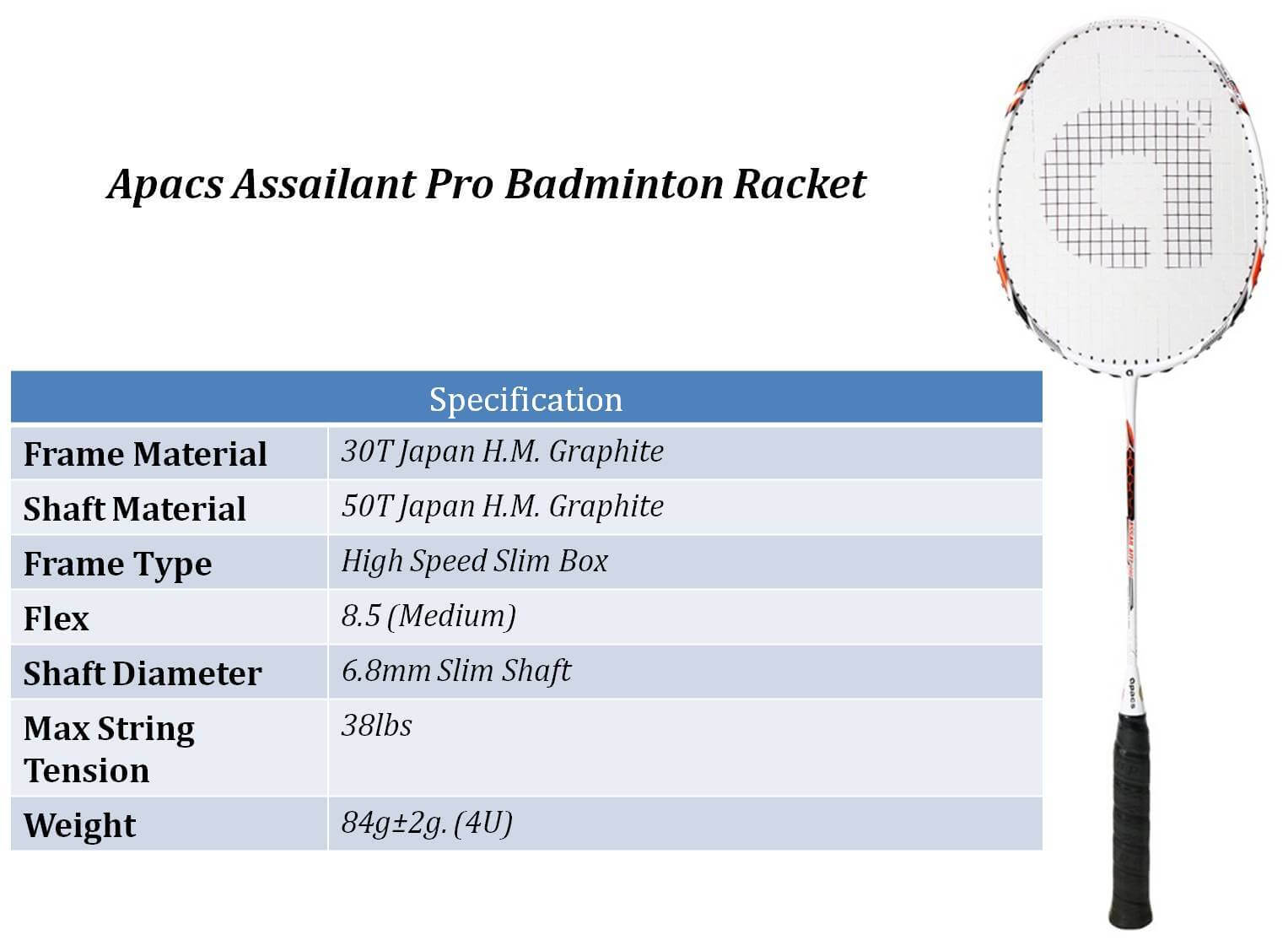 • Graphite used in the production of assailant pro badminton racket delivers flexible, strong, and high-performance shots.

• Better strength with high-speed slime box structure that also provides durability, whereas its streamlined design assists better in aerodynamics

• The model also has a lighter head for extremely strong badminton smashes.

• Assailant Pro includes 76 grommet holes, which ensures that the rackets string motion is even more durable than the low grommet holes racket.

• Assailant Pros Weight is approx. 84 gm and Length is 675 mm.

Ziggler LHI Pro II badminton racket

Are you wondering to have a racket that enables you to play the badminton game comfortably? You want a racket that shouldnt hurt your hands but helps you to practice different kinds of shots. You cant use the same racket if you are aspiring to reach an advanced level.

Thats why you need this Ziggler L.H.I. Pro II badminton racket that suits your ability level. The use of this badminton racket provides improved strength, energy, explosiveness, and accuracy. Also, the badminton racket encourages you to achieve more power during play.

Special highlights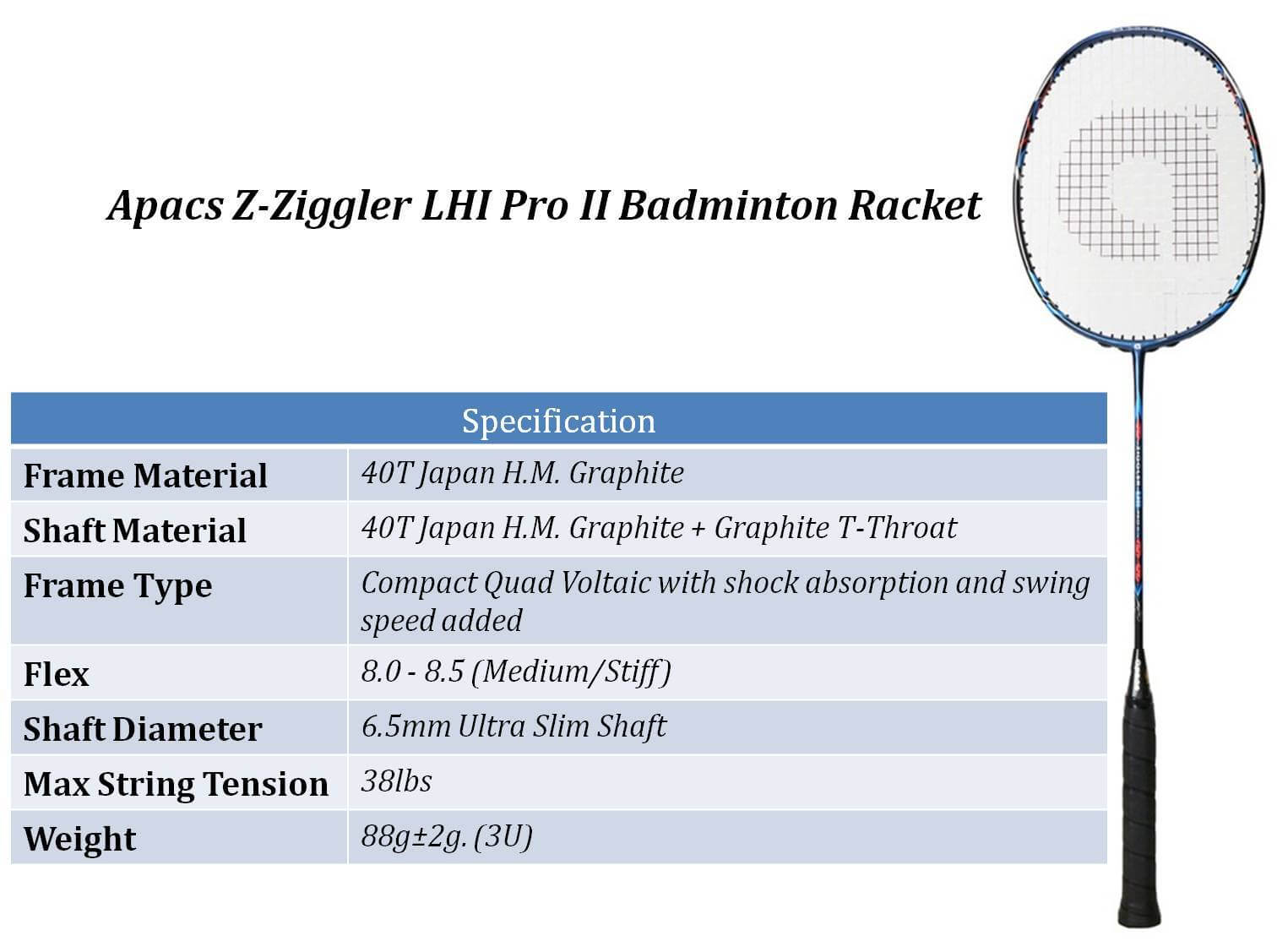 • 30 T Japan H.M. Graphite and Compact Quad Voltaic in APACS Ziggler L.H.I.

• The frame enables you to retain the smooth swing that big players demand.

• Its ultra-slim 6.4 mm shaft specially designed for 50 T Japan H.M. Graphite uses advanced nanocarbon processing to shot faster, stronger, and greater.

• This racket has 76 grommets that offer players a better sweet spot.

• This racket is designed to play like a pro and gives players the highest value for money.

Counter Attack badminton racket

Another one of the great edition Apacs counter-attack badminton racket is a mind-blowing option for badminton players. As the name implies, Counter Attack Badminton Racket by Apacs offers you strength and accuracy that will create trouble for your opponent to face your dominant shuttlecocks.

The 6.8 mm slim shaft is built to deliver a quicker, sharper strike with a shaft weight of 71 grams. Its an incredibly stylish racket that comes with outstanding quality and affordable prices. Its the best option for badminton players of all levels. So, whether you are a novice, middle-level, or advanced player, it will expand the level of your performance.

Special highlights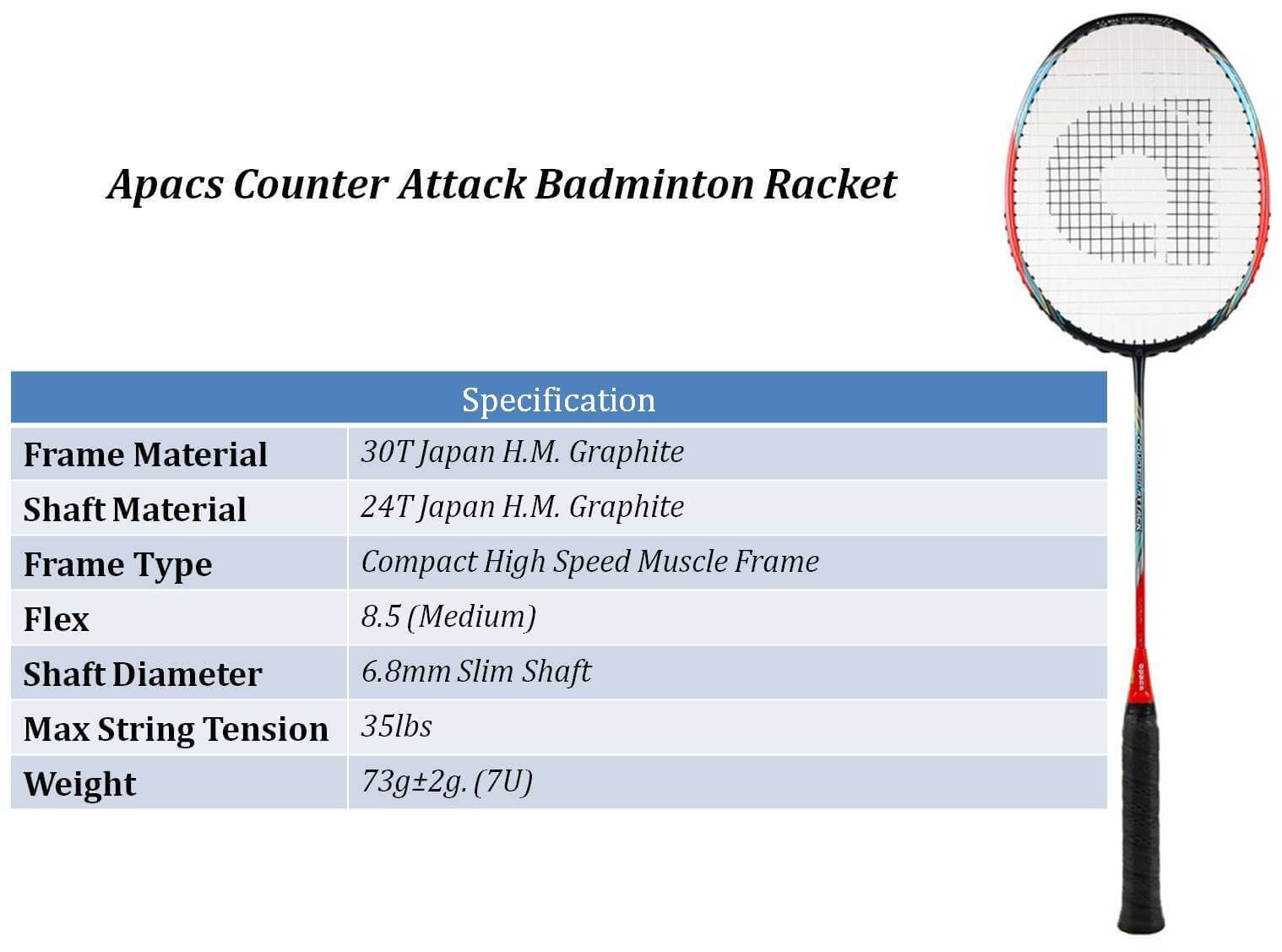 • Shaft material includes 24 Tonne Japan Graphite, and Hexagon Throat and diameter is around 6.8mm

• Counter Attack badminton racket has weight around 73gm and length is around 672mm

• This Apacs rackets string movement is even easier than the ordinary grommet hole racket.

• The frame material includes Fiber Reinforced Polymer that enhances durability.

• Designed and developed in Taiwan

• The heavy head provides faster & dominant badminton smashes.

Fly Weight 73 badminton racket

Made by Apacs, Flyweight 73 is a widely renowned racket that is famous for its slimmest shaft just 6.0 mm- cognized for having worlds Slimmest Racket Shaft in a badminton racket. However, along with ultra-thin, it also includes aerodynamic ultra-tough shaft specially designed for more reliable, quick, and intense shots.

Its highly regarded as the best racket with a lightweight design, and hence its called Flyweight. Beyond doubt, it is specially designed to suit players demanding pace and highly recommended for advanced level players.

To maximize the pace and effectiveness of the shuttlecock, this Apacs racket, therefore, comes with an innovative Hexagon throat design, which raises the performance of built-in T-throat graphite up to two times and decreases air resistance to ensure steady and secure shots.

Special highlights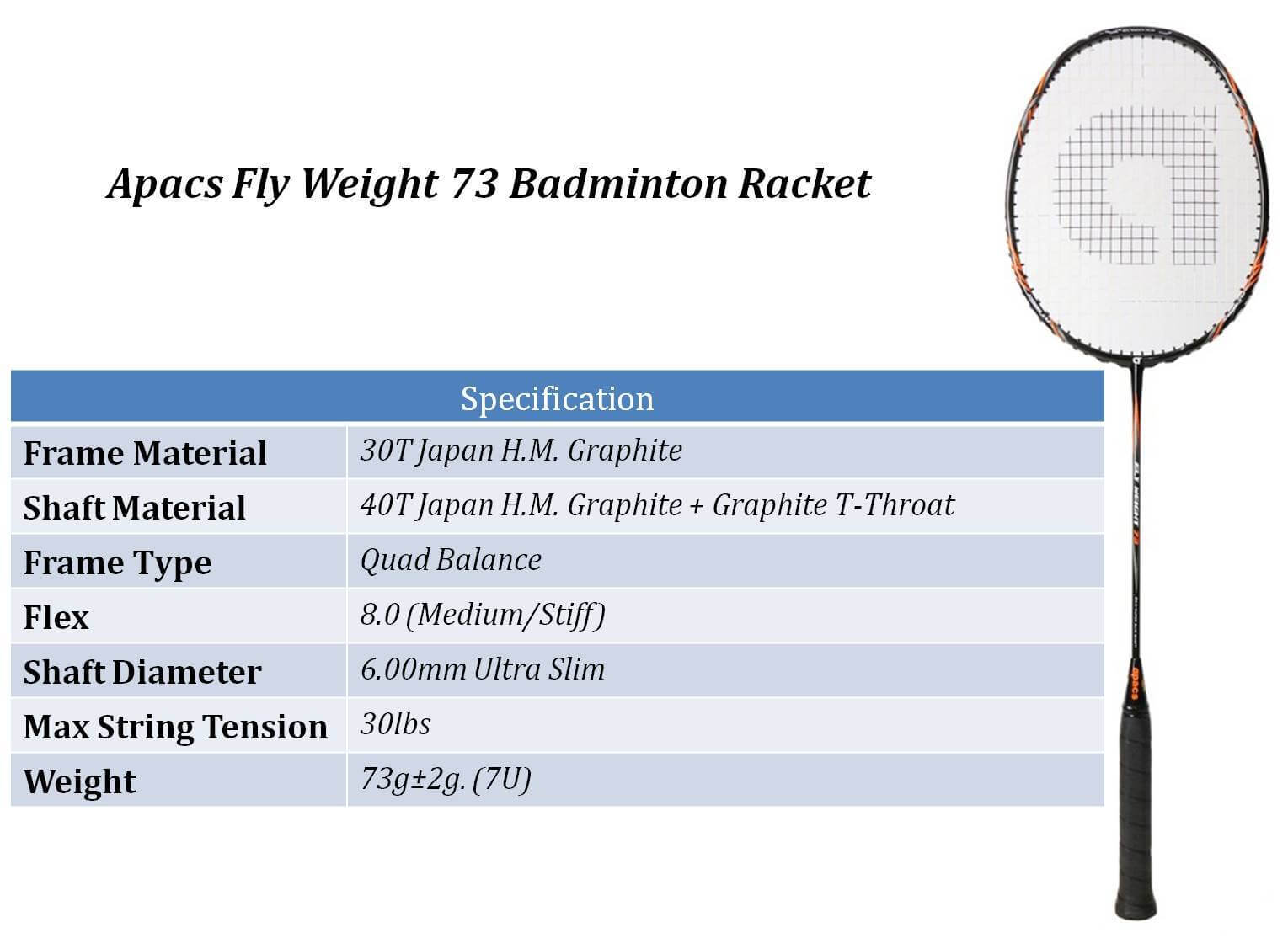 • This mind-blowing racket includes 30 T Japan H.M. graphite, specifically designed to hold higher string pressure of up to 30 lbs.

• Apacs Fly Weight 73 head offers quick and fast badminton smashes.

• Seventy-six grommet holes in Flyweight 73 ensure that the rackets string action could become more potent than an ordinary weak racket.

• Also, the maximum grommet holes ensure the better transfer of power to the shuttle, allowing the player to play with maximum force.

• This edition of Apacs weights only 73gm with a height of 672 mm.

Conclusion

So these were some of the best and highly demanded Apacs racket to play like a pro in badminton play. These alternatives for badminton rackets can easily suit to each players style and performance with perfection. Hence, now its entirely up to you; which one has satisfied you the most, and which one you are wondering about buying.

If you are genuinely aspiring to pick the best racket for you, then you can again take a glance at the options stated above to make a better decision. But remember, your success entirely depends on your practice and skills. The more time youll invest in upgrading yourself, the better youll be evolved as an advanced level badminton player.

Ultimately, this was all about latest 2020 Apacs rackets. The quality and price range of these badminton rackets are unbeatable. Already, the Apacs brand has become the first choice for loads of badminton players, and now its your turn. These are the unrivaled and the best badminton racket options that you must buy as soon as possible, because day by day, Apacs rackets demand is mushrooming.