Have you decided to play badminton professionally or because you love playing it in your spare time? If yes, then shoes are one of the essential things that you should buy if you plan to play badminton.

Badminton shoes do not only give you exceptional comfort but also protect you against injuries and falls.

If you are confused about which shoes are the best in terms of quality and pricing, then dont worry, we have the answer for you. We have done extensive research for you so that you can choose the best badminton shoes for you without whiling away at any time.

The answer to all your doubts is Yonex Shoes , as they are a well-known brand that provides premium quality shoes at the best prices. Lets know more about this brand and its different kinds of badminton shoes that they offer.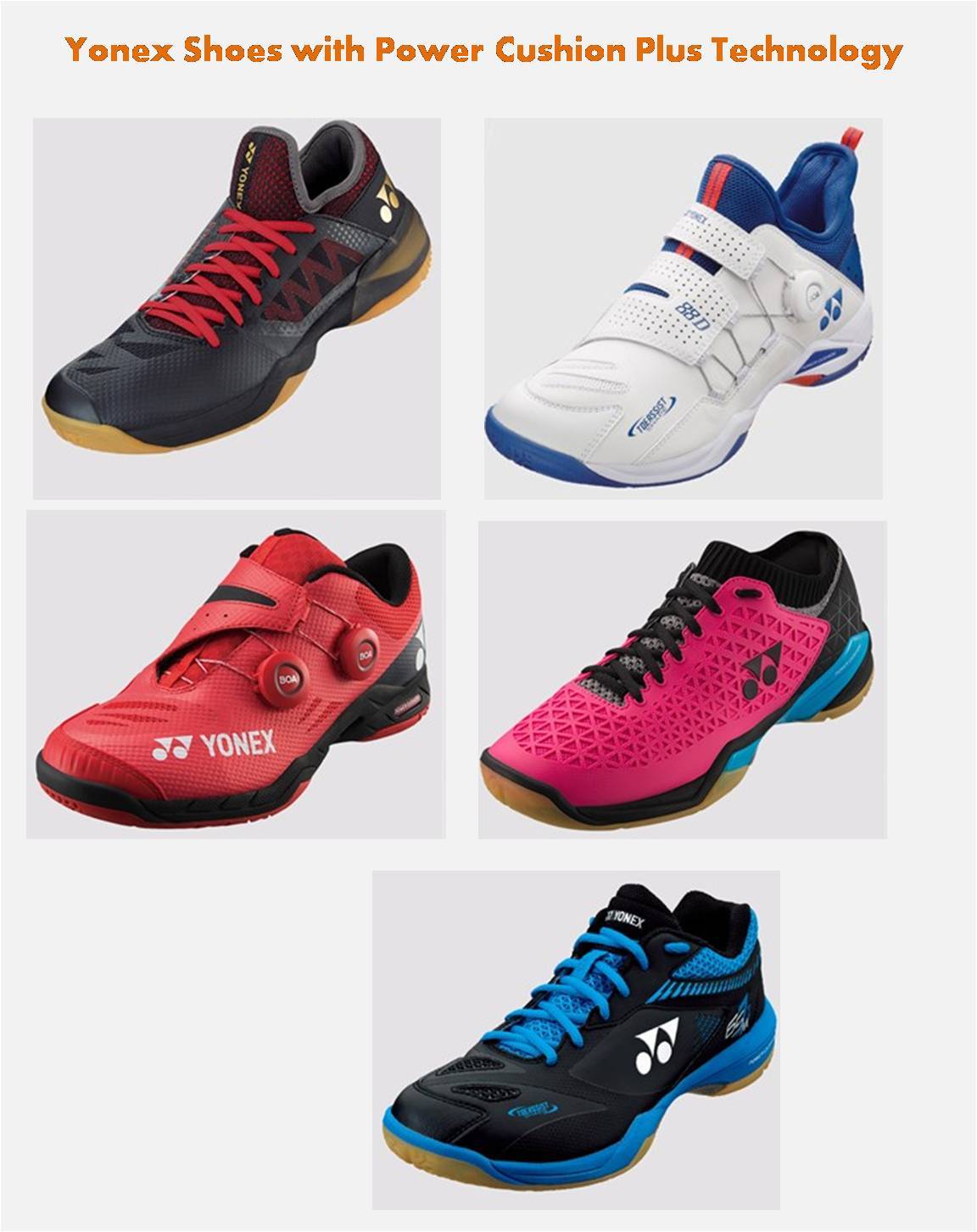 About Yonex Shoes

Their shoes are far beyond ordinary, and this is what they believe in. The shoes that they make help you move faster and more securely playing in the court.

They use amazing technology to create shoes so that your foot does not suffer any stress while playing badminton. The brand aims to strive for perfection in their shoes so that any player who wears the Yonex shoes should neither feel pain in their foot nor should they have stability issues. These shoes are a snug fit so that you feel comfortable throughout the match, and all your power is put down to the court.

Yonex shoes have a lot of features in them that would incline you towards buying them. Some of the fantastic elements are-

• Lightweight

• Flexible

• Leaves your ankle free to move

• A perfect shape that makes your foot very comfortable

• Has a thin sole

• Sole is usually made up of gum rubber that provides excellent traction

• Good cushioning

• Incredible moisture control and breathability

Well, these are just some of the elements of the best Yonex badminton shoes; the list is endless as these shoes are robust and durable too.

Keeping in mind the requirements of the players and as per their feedback, the company has made new shoes with advanced technology. They have created advanced level shoes with power cushion plus technology, which is their recent development, and as per the players, they are one of the most comfortable shoes ever.

Here is a few information for you on it.

Yonex Power Cushion plus Technology

It is the new and current version of its old power cushion technology that was launched recently in the year 2018. These shoes are for both intermediate and advanced level players as they come with three layers and power cushions.

With the help of this technology, the player gets immense comfort and a fantastic feel.

When we talk about the Yonex shoes, the first thing they focus on is the cushion, as that is the primary thing. These shoes are not only known for comfort, but it also protects the players from injuries and offers extra bounce which helps the player to get maximum energy during movement.

Yonex Power Cushion plus Technology shoes are made with superior elastic resin material, which is very lightweight and also possesses high shock-absorbing qualities. Additionally, for making the resilience better at the midsole, a particular grove is used that offers better spacing.

Now let us get some insights on some of the best Yonex power cushion badminton shoes that can help you make the game even better.

Best 5 Advanced Level Badminton shoes with State of the Art Power Cushion plus Technology:

Here are the top 5 Yonex shoes for you, which would help you stand out from others as they are designed in such a way that they have trending shapes and designs, plus they provide the best comfort and quality.

1) POWER CUSHION COMFORT Z 2 MENS-

Yonex launched its updated version in 2020, which provides the players great cushioning along with graphite technology for enhanced performance and protection.

Their shape is beautiful as from the outside only you would be able to see the power cushion+ in the heel, which is created particularly for absorbing shock while movement during the game.

These are one of the best Yonex Badminton shoes because of some remarkable elements which are-

a) Power Cushion + - As mentioned above, the cushion that these shoes have absorbs shock, which prevents injury to the player and offers an excellent grip. They are different because they have placed this power cushion on the midsole under the ball of the foot. This improved shock absorption provides faster footwork.

The new thing about this technology is that it has around 28% increase in shock absorption and a 62% increase in repulsion as compared to its traditional techniques.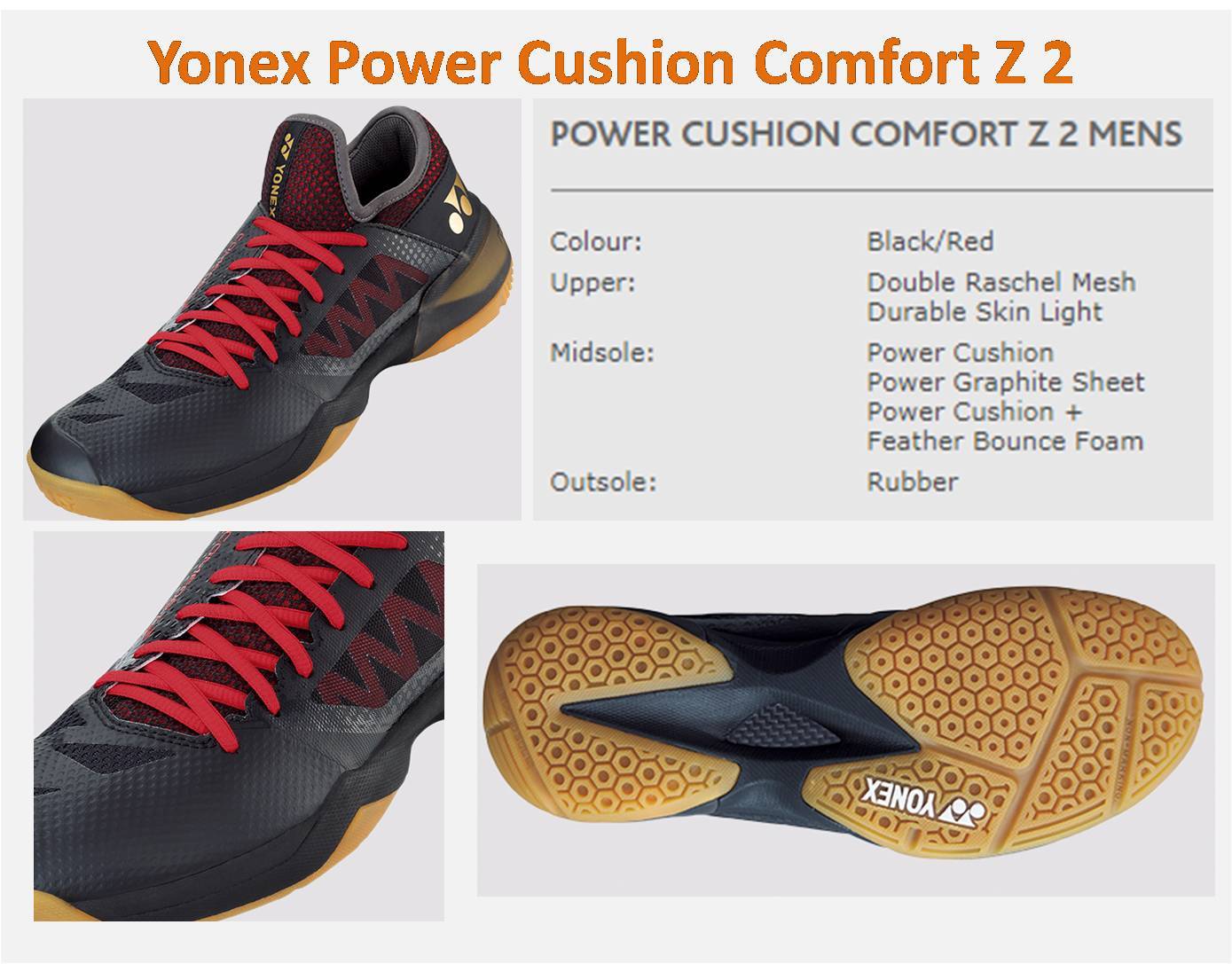 b) Power Graphite Drive- The sole in these Yonex shoes has a power graphite drive that has a carbon sheet that refrains the twisting of the foot and makes the stability better. The unique thing about it is that it helps the sole to restore to its original shape when bent.

c) Flexion Upper- For giving it a comfortable fit, the stress and tension that is produced during playing are absorbed through the toes and instep.

2) POWER CUSHION 88 DIAL-

The design and colour of these shoes are trending, and players love it as it makes them stand out from others. They come in white/blue and bright red colour. Also, the beautiful part is that you can quickly wear and take the shoes off with the help of its BOA fit system.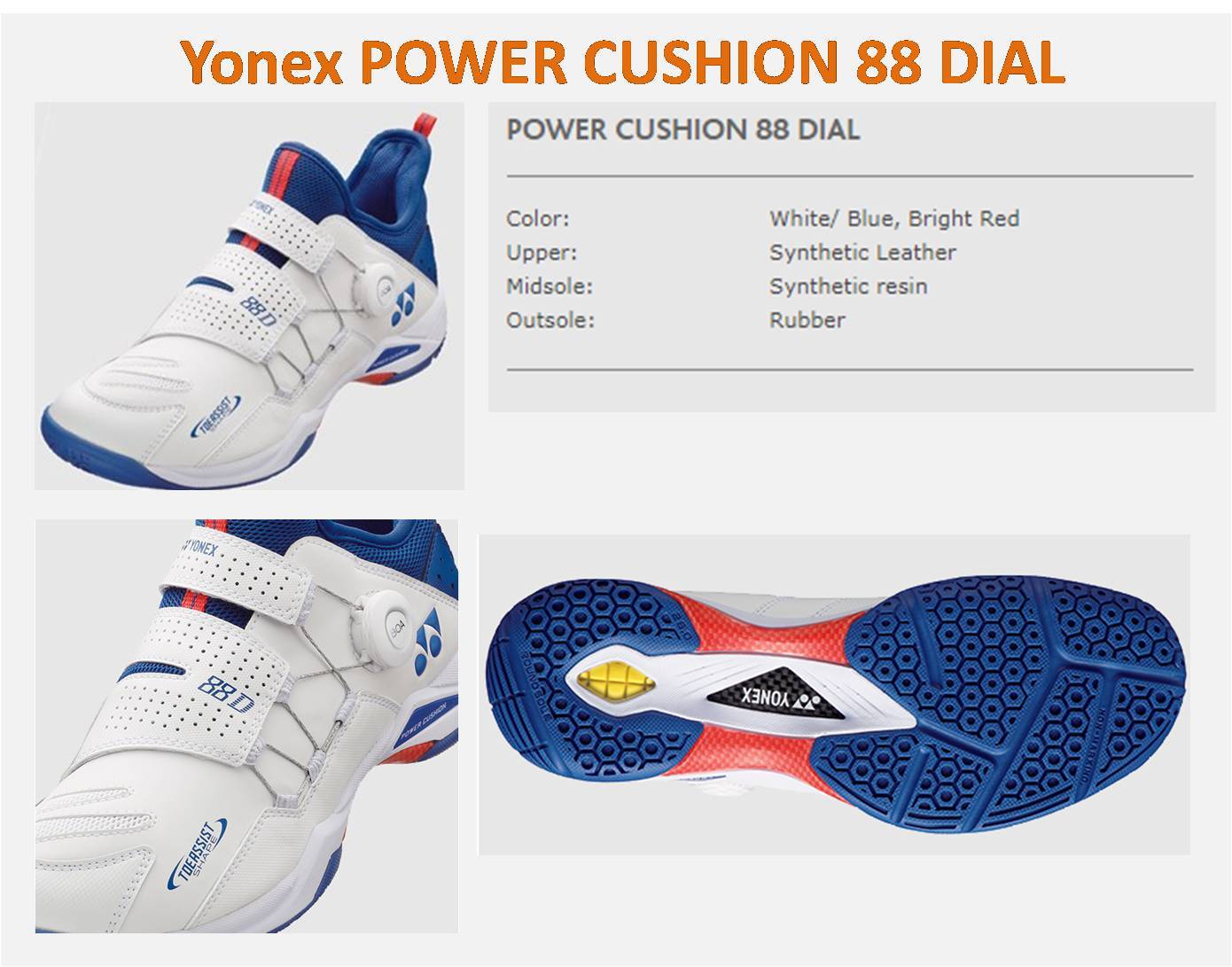 Lets get details on some of its magnificent features-

a) Power Cushion+- These shoes are light in weight because of the unique elastic resin that has been added to its power cushion. Additionally, it has the properties of high-shock absorption along with maximum spacing and depth, which helps in achieving even more resilience.

These Yonex shoes reverse the impact energy for seamless transfer into the next action. These shoes offer three times more shock absorbing power as compared to urethane.

b) Syncro-Fit Insole- This feature makes these shoes one of the best Yonex Power Cushion Badminton shoes as it generates a secure contact between your foot and the shoe, which helps in lessening the energy wastage by making the fit better. Additionally, they provide you with a round sole for quick and smooth footwork.

Some of the other worth remembering features of power cushion 88 dials are that it has a toe assist shape, power graphite lite, ToughBrid Light, Hexa grip, and power graphite sheet used in its making. So, make your mind today and go for these badminton shoes.

3) POWER CUSHION 65 Z 2 MEN-

These shoes are designed in a lattice pattern that provides maximum spacing and depth. These Yonex shoes are the next evolution of the renowned 65 series all-round badminton shoes. They are different from the other shoes as they have a Double Raschel mesh in the toe and a ventilation hole so that the foot gets better breathability and security.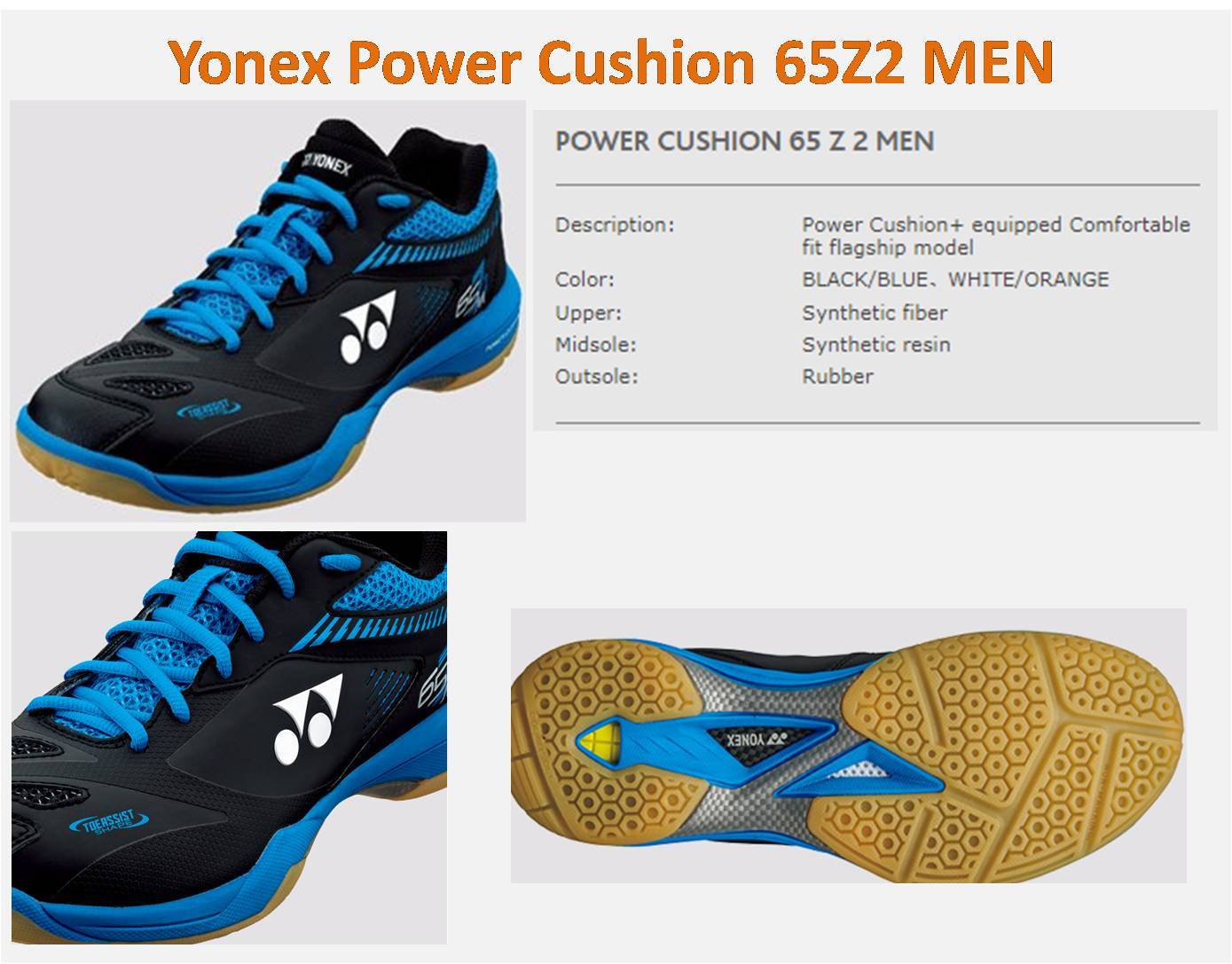 Its must-know elements are-

a) Round Sole- It offers all-around support, which helps the player to get a better fit in the shoe and improves the stability plus makes the footwork smooth.

b) Hexagrip- Its hexagrip pattern offers the players 3% better grip and is said to be 20% lighter than the sole traditional materials.

c) Toe Assist shape- This shape helps in cutting down the pressure on the big toe and provides more support to midfoot and the heel.

The other features of this shoe are it is light, has power graphite, Syncro fit insole, and is made up of power cushion +. These shoes are a total value for money, so keep this as your choice while considering other shoes.

4) POWER CUSHION ECLIPSION Z MENS-

These are one of the best Yonex badminton shoes not only because their design is incredibly useful, but they provide snug fit and stability for best-fitting performance.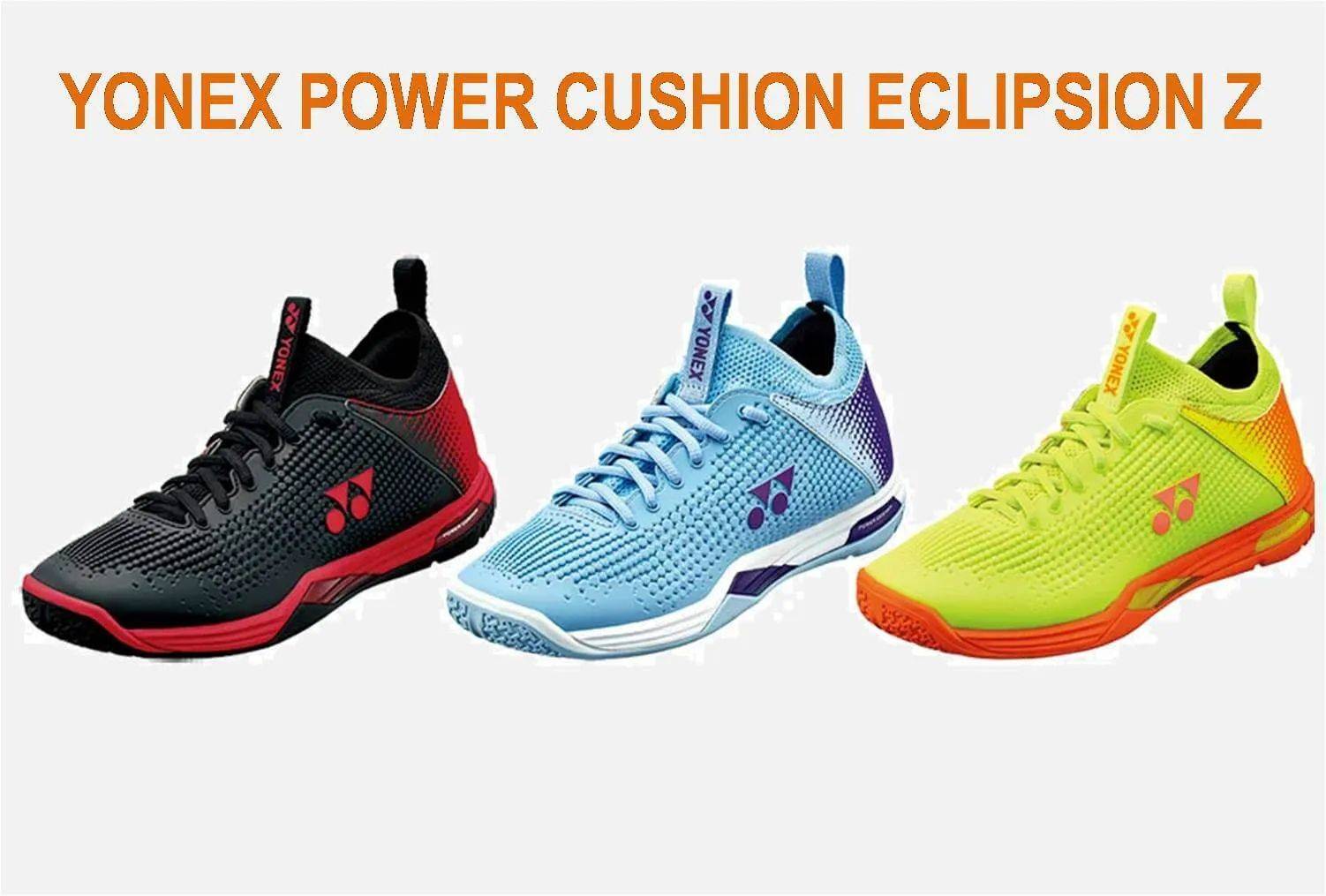 Here are a few of its features-

a) Power Graphite- In these shoes, there is placed a graphite plate under the middle portion of the foot for improved stability and lessening the weight within the shoes.

b) Inner Booties- There is a tongue connected with the shoe opening, which helps in lessening the overlapping layers for a better fit.

c) Toe assist shape- This unusual shape provides the player with reduced pressure on the toe plus ensures a stable fit, which helps in cutting down the injuries.

d) Round Sole- Power Cushion eclipse Z mens come with a round sole that offers seamless footwork and the movement easy on the court. Also, the other benefit of the rounded bottom is that it ensures a smooth transfer of energy and makes a move quicker.

e) Syncro Fit Inside- This latest technology makes them the Best Yonex Power Cushion Badminton shoes as it helps in creating a firm contact between the shoe and the foot, which makes the fit better and reduces the energy wastage.

f) Power Cushion+- As mentioned in the shoes above, this as well is made by adding an elastic resin to its power cushion, which makes its lightweight and adds a high-shock absorption feature to it.

It has 28% more shock absorption and 62% more repulsion as compared to old cushioning material.

5) POWER CUSHION INFINITY-

You would love its shape and the colour that it comes in, which are black and red. Its shape is quite different from the other Yonex shoes, which has increased its demand to a great extent. Not only does it surprise us by its shape but has some outstanding features, such as-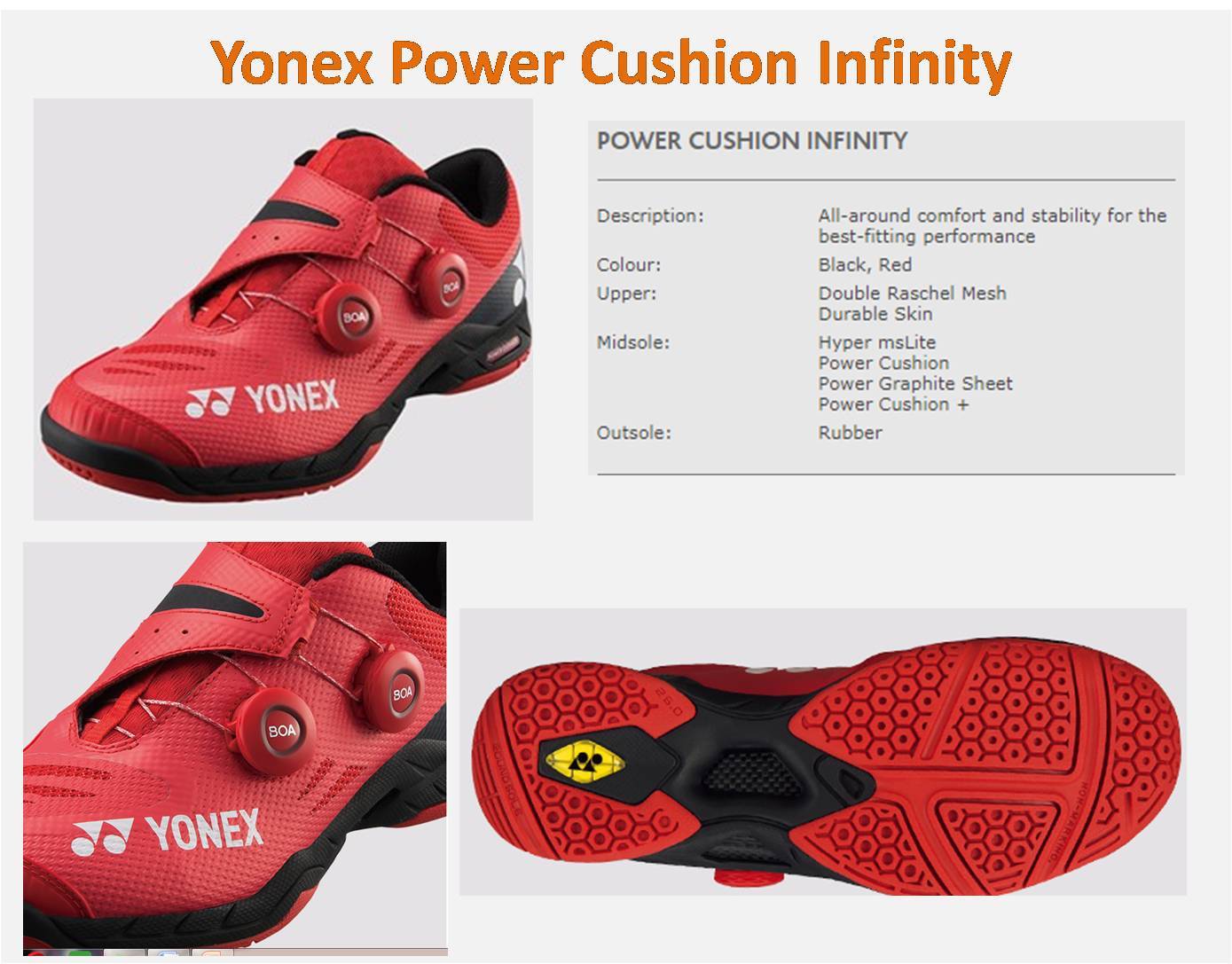 a) Double Dial BOA Fit system- These shoes give a perfect great fit because of the two simple dials. These shows are made to provide the players with secured toes and ankle as the dials are positioned in such a way.

They also provide a lace system for flexible comfort, and the dial that is placed around the ankle covers the instep and secures the foot well.

b) Toe Assist Shape- Power cushion infinity shoes, too, have a toe assist shape, which cuts down the pressure that big toe faces and provides enhanced support at both heel and the midfoot for a better fit.

c) Hexagrip- Talking about the hexagrip, as compared to the traditional sole material, it provides 3% more grip and is 20% lighter, which provides stable footwork.

d) Syncro-Fit insole- This insole is excellent as it helps in making an improved and secure connection between the foot and shoes, which eliminates energy wastage by giving you a better fit.

These were some of the Best Yonex Badminton shoes. Now, the decision is yours, which one do you like the most as per their features and prices. Choose the best as per your requirements and do try them once in your foot before buying them.