Before entering the game and start competing with your opponent, it is totally important to wear perfect badminton shoes. Every second and every step is essential to figure out when it comes to badminton because any unmarked point can lead to massive disappointment for you.

Professional level badminton players pay special concern to these minor things, while most of the beginners ignore them typically. For instance, a quality badminton shoe doesnt only support your ankle and delivers perfect grip, but it also protects you from accidents that can spoil your performance.

Inside badminton court, you have to be proactive and fast in performance. Hence, well-built specialized shoes can make this possible. Thats why you must buy the latest and top-notch quality shoes by Apacs. Of course, after choosing the best badminton racket, another essential thing is choosing the best badminton shoe thats also complimentary to your performance.

But Why APACS Badminton Shoes?

Aggressive, Power, Accurate, Control, and Speed; all these qualities represent APACS- a dominant brand that is famous for its marvelous range of sports equipment. Currently, Apacs has crafted its image among the most recognized brands manufacturing quality sports shoes, racket, apparel, and various other necessary items.

Over time, the brand has evolved with a well-acclaimed identity that provides players reliable and affordable sports equipment. Hence, if youre looking for the best shoes that could spark your badminton court performance, take a glance at 2020 Apacs badminton shoes that every badminton player must-have.

1. APACS PRO 750 Badminton shoes

Its an appealing option of badminton shoes by Apacs specially designed for all level players, whether advanced, middle, or novice. Any level badminton player can boost his performance with this Apacs Lee Hyun Il Pro 750 Badminton Shoe.

Also, to augment transmission as well as weight transfer, the shoes are crafted from the TPR basis. Thanks to EVA foam material that renders these shoes very comfortable and convenient, that delivers perfect shock absorbance.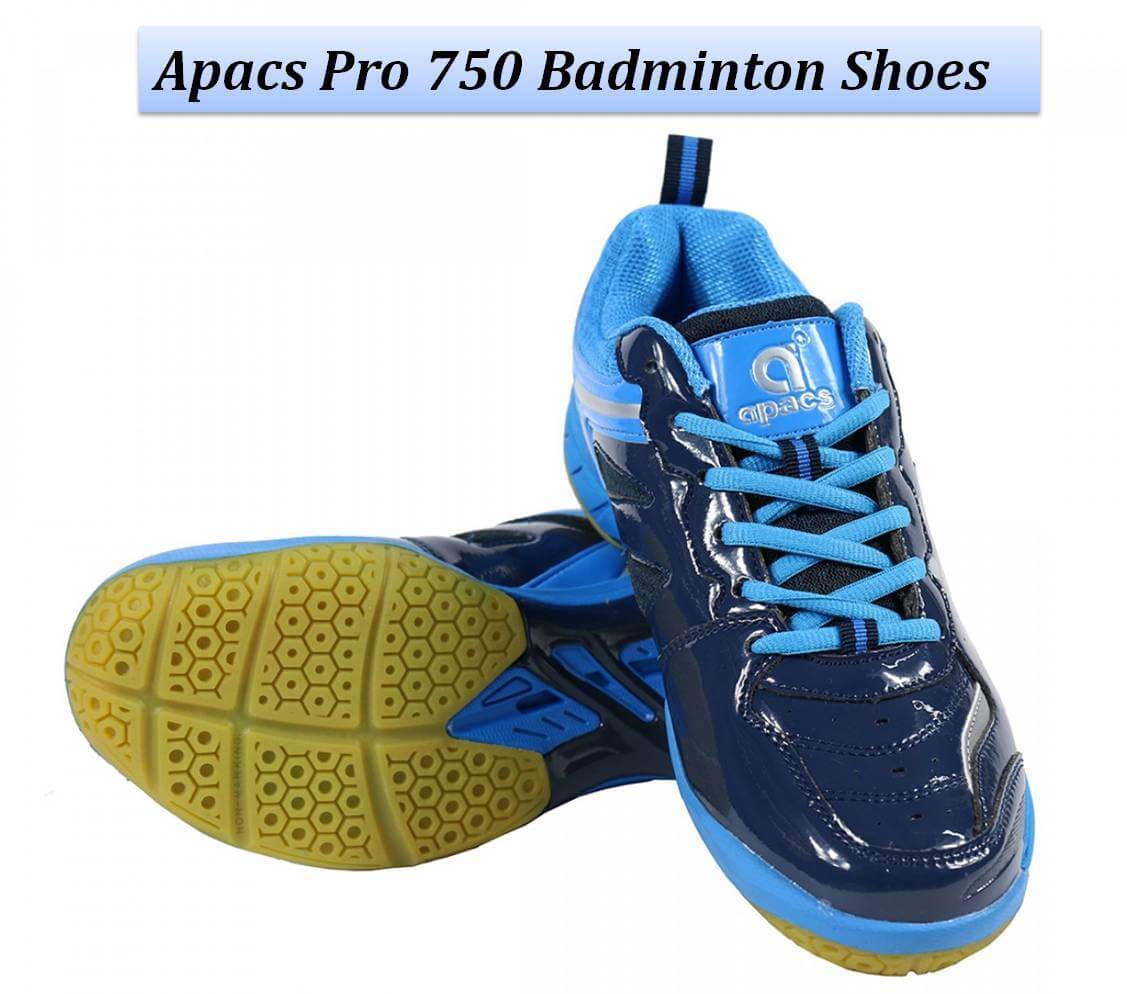 Ultimately the quality of these Apacs shoes allows players to confidently play in badminton court without the fear of any injury.

Special highlights of APACS PRO 750 Badminton shoes-

• Delivers stable foot-grip during swift movements

• Non-Marking outsole is transparent blue, which is quite appealing to the eye.

• Precise repulsion and shock absorption

• Microfibre Top-Cap delivers utmost durability and comfort.

2. APACS PRO 752 Badminton shoes

Apacs Pro 752 is a cool and flexible shoe supported by breathable air mesh that also enhances your look while playing with your opponent inside the badminton court. The top structure is elegant, long-lasting, and outstanding. The mid-sole ensures ultimate comfort and pretty good shock absorption. The anti-slip TPE insole (thermoplastic elastomer) provides better flexibility and support to your feet.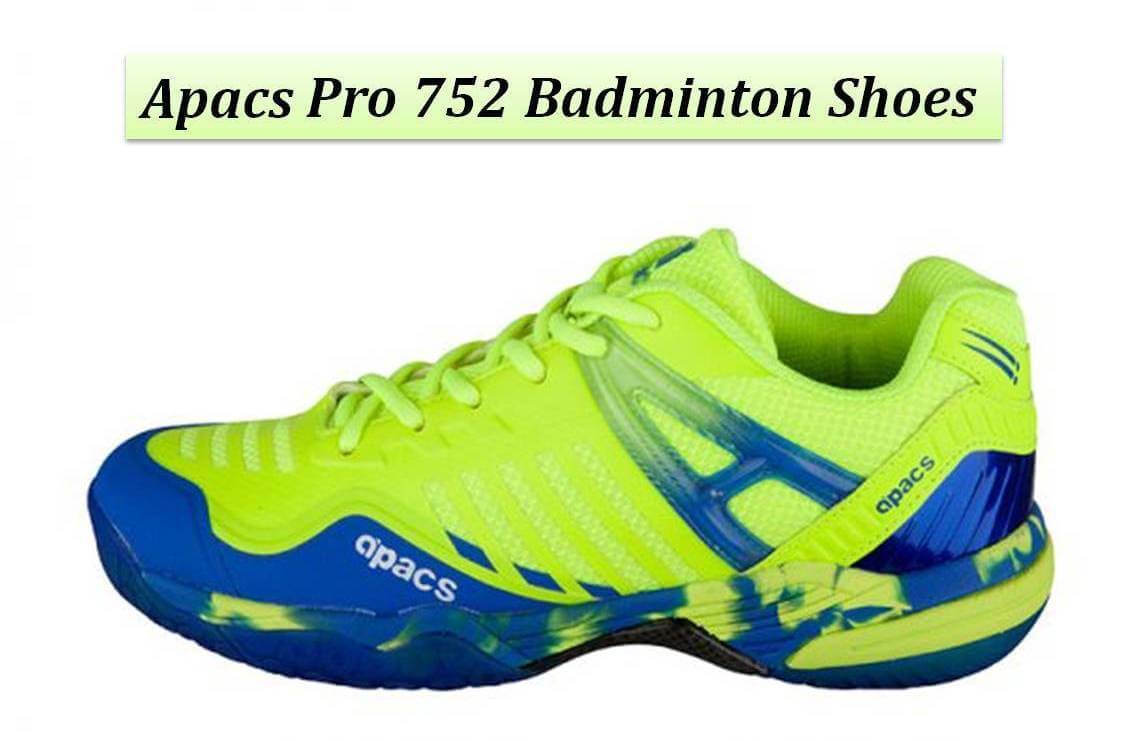 Also, the non marking anti-slip outsole delivers excellent resilience and a perfect grip on the badminton court. Beyond doubt, its one of the best badminton shoes that you must have if you want to elevate your style, flexibility, and comfort level with the top quality shoes.

Special highlights of APACS PRO 752 Badminton shoes-

• Shoes are stylish, durable & fit perfectly.

• As compared to other shoes, PRO 752 offers stable foot grip and also level up movements in badminton court.

• Thanks to the anti-slip insole that delivers perfect comfort with superior cushioning.

• For tremendous durability and traction, anti-slip non-marking rubber outsole works marvelously.

• Delivers better support to your feet as the midsection of outsole is built with thermoplastic that prevents shoes from twists and deforms.

3. APACS PRO 771 Badminton shoes

The latest high-quality Apacs latest badminton shoe 2020, Pro 771 includes fantastic quality shoes that can level up your training and performance. For instance, PRO 771 shoes rubber outsole delivers a perfect grip that is combined with complete knee support to create fantastic all-around footwear.

This charming and stylish shoe comes with a breathable air mesh that delivers comfort to the players feet. The top design of the shoes is quite sleek, durable, and impressive. The high-density foam in the mid sole offers maximum support and excellent shock absorption.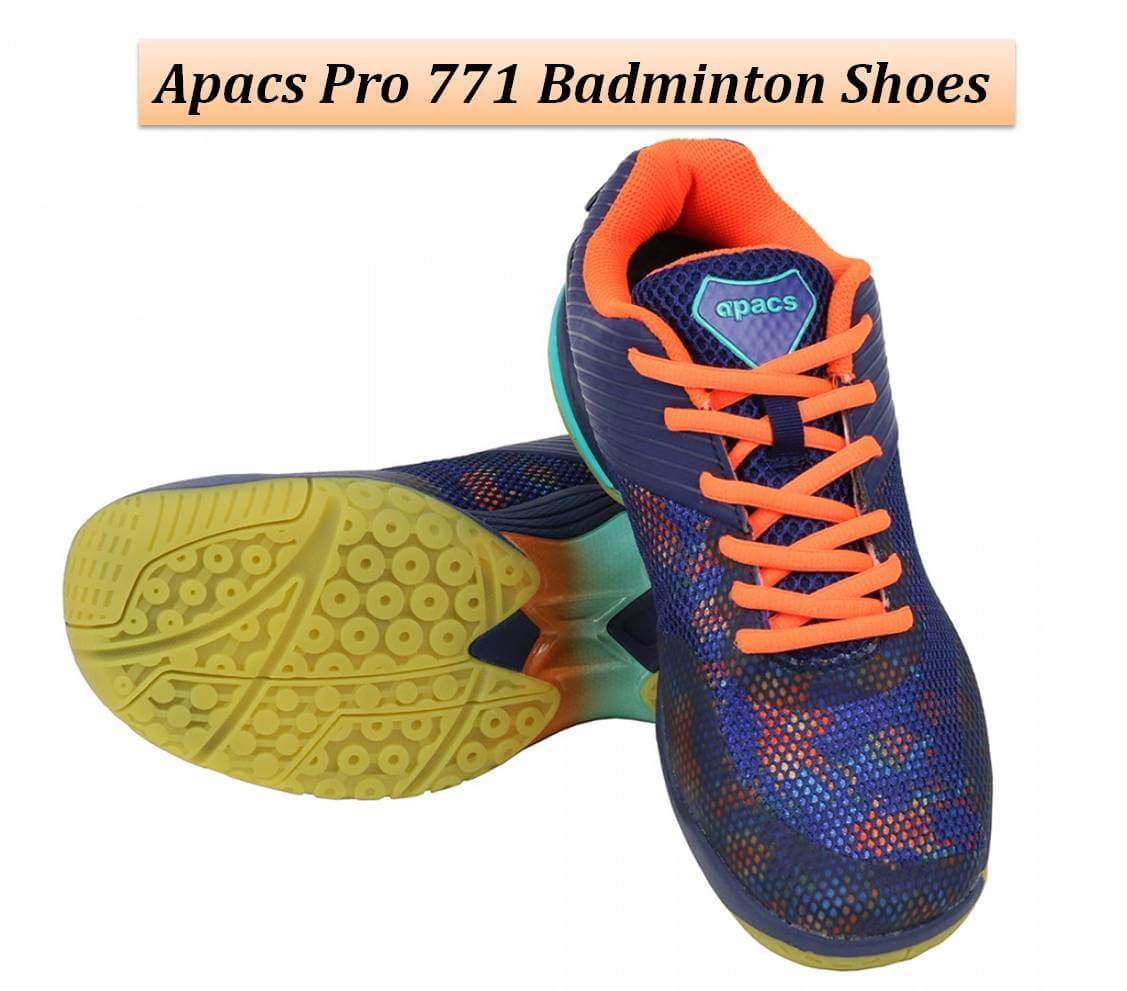 The anti-slip TPE insole and outsole provides better flexibility, comfort and guarantees superb performance on the badminton court.

Special highlights of APACS PRO 771 Badminton shoes-

• Mid sole promises convenience and fantastic shock absorption.

• High-density foam quickly absorbs the shock and gives additional energy returns.

• Anti-slippery insole ensures comfort and efficiency enhancement.

• Non-marking rubber outsole and TPU bottom outsole allow excellent stability on the badminton court

• Breathable mesh

4. APACS PRO 772 Badminton shoes

You need Apacs Pro 772 badminton shoes if you are seeking for shoes that, along with performance, durability, and style, also deliver maximum comfort. Hence, along with long-lasting material, appealing to the eye- top structure, PRO 772 badminton shoes come with comfortable mid-sole with high-density foam that also delivers outstanding shock absorption.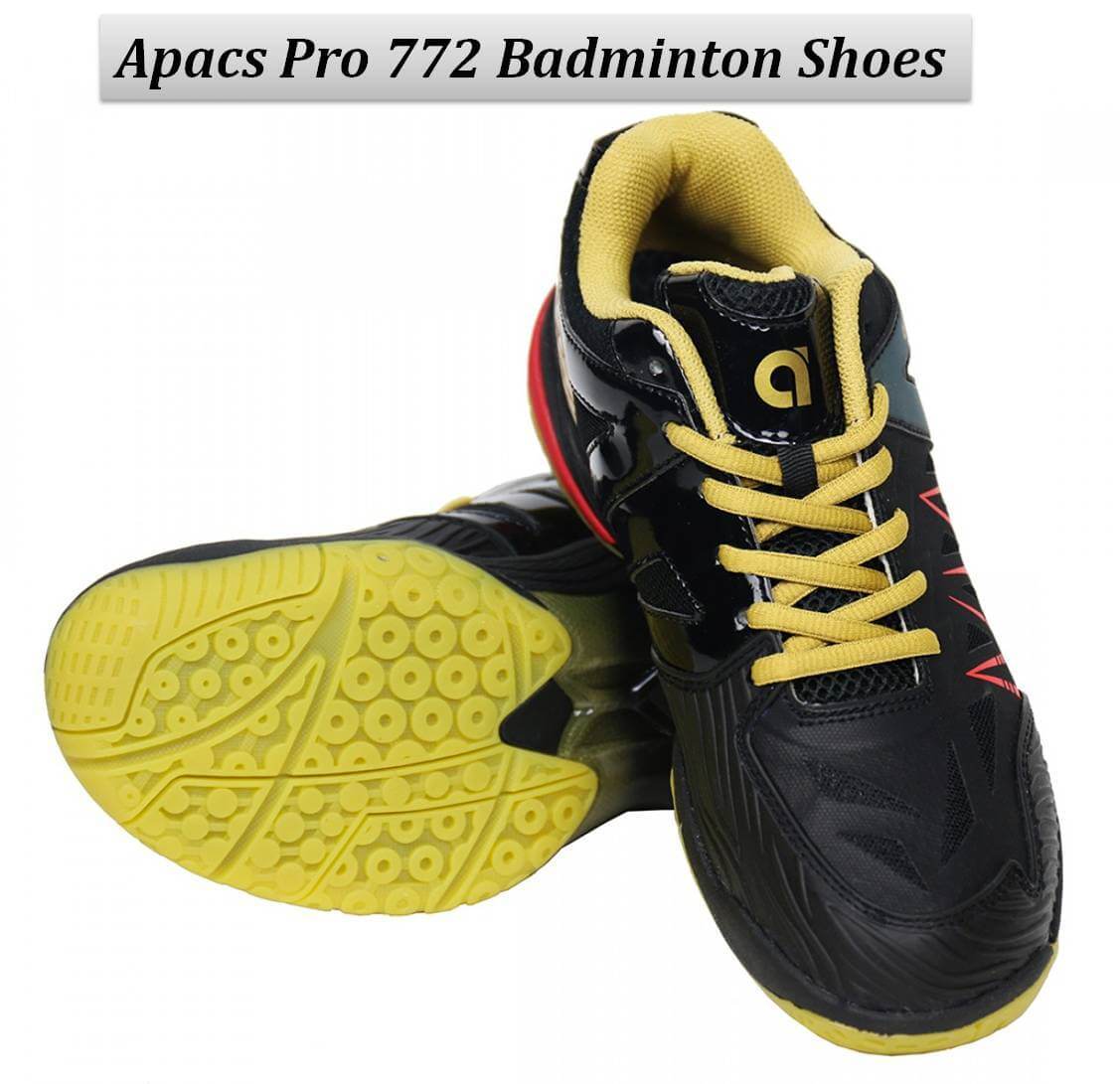 Thats why Pro 772 can satisfy your wish if you wish for something extra from your shoes. Also, the anti-slip TPE insole in the shoe provides enhanced efficiency, and no marking anti-slip outsole improves the players performance. It is one of the Apacs advance badminton shoes that a professional level player must-have because it perks up your performance and also highlights your repo for being an advanced level badminton player.

Special highlights of APACS PRO 772 Badminton shoes-

• Breathable mesh provides proper air ventilation that keeps your feet cool and comfortable

• Comfortable fitting heel cup for stable and fast movement

• The upper structure is completely stylish, durable, and fits well.

• Provides comfort and superb shock absorption

• Shoes are stylish, durable, and fit perfectly.

• Provides torsional rigidity

5. APACS PRO 773 Badminton shoes

You need to add Pro 773 badminton shoes in your best badminton shoes 2020 list because its a great pair of shoes that come at a really low price. However, the quality of these shoes, to some extent, can easily confuse you, because finding the top-notch quality shoes at such an affordable price is nearly impossible.

But its possible if you are choosing Apacs as our primary option of the shoe brand. The 773 badminton shoes are quite stylish, durable, and come with comfortable fitting. The heel cap ensures steady motion.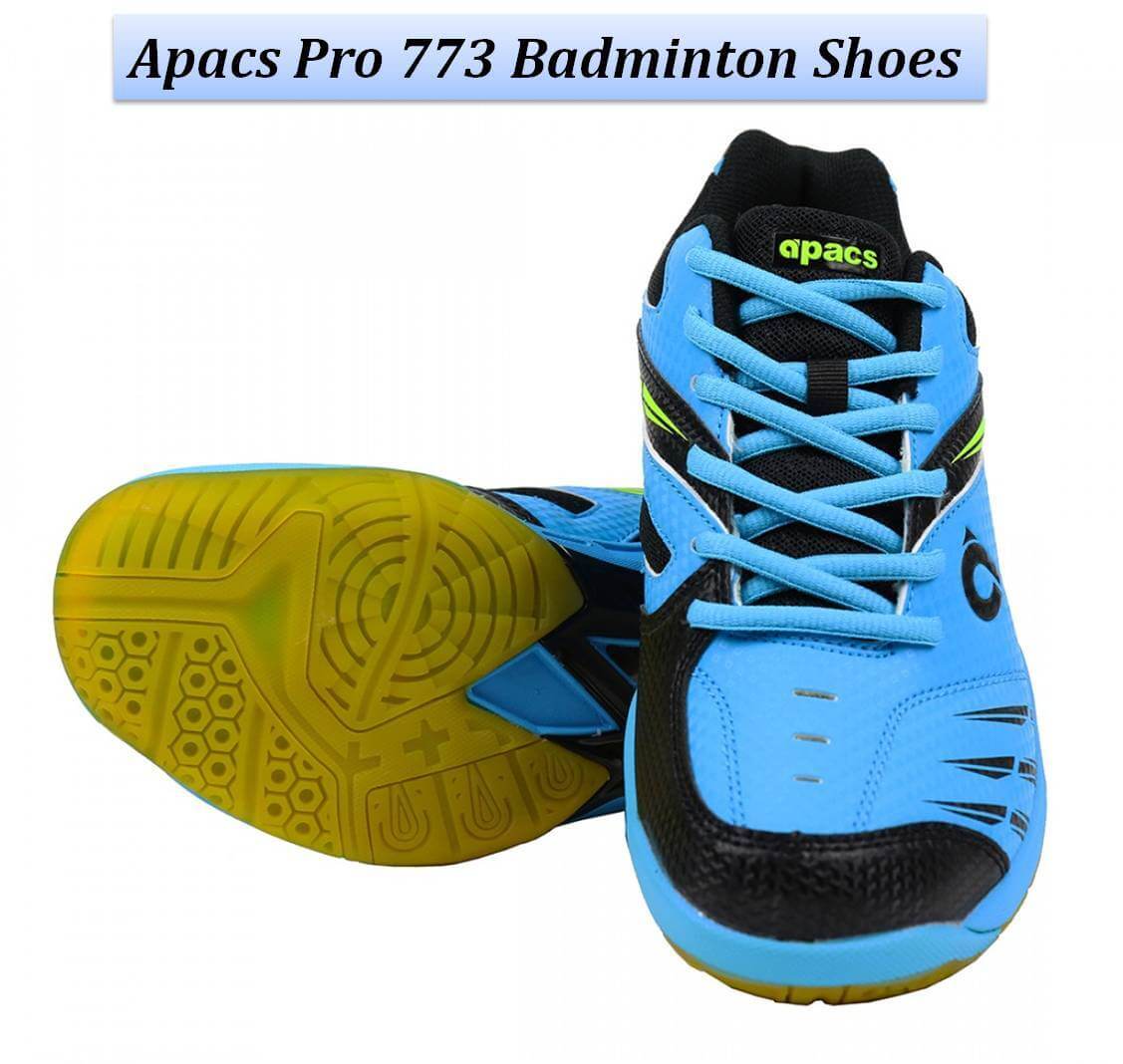 The TPE (thermoplastic elastomer) insole provides utmost comfort that is helpful if, while playing or practicing, you only want to concentrate on your performance. Undoubtedly, its going to be one of the best options for you if you are looking for badminton shoes at an affordable price.

Special highlights of APACS PRO 773 Badminton shoes-

• Superb shock absorption with breathable mesh that keeps your feet cool and helps you only to give an excellent performance

• Anti-slippery insole ensures comfort and efficiency enhancement.

• Top range of shoes the price of which is unbeatable

• Comes with a stylish, durable design and perfect fitting can quickly satisfy your craving for the best shoes.

• Excellent court-grip with an anti-slip non-marking outsole

Final Thoughts

Only Apacs brings advance badminton shoes at an affordable price for its esteemed players, since they care about your performance. They want you to boost your performance without any inconvenience. And whether it is badminton racket or shoes, Apacs ensures that you play without any obstruction.

Its the strong commitment by Apacs to deliver its prestigious players top-quality shoes, as the company works on the core pillar of AGGRESSIVE, POWER, ACCURATE, CONTROL and SPEED. Thats why you get ultimate satisfaction with every sports equipment that Apacs designs and crafts for you.

If you are a true badminton player and the craze for this game runs inside your veins, then you should never be disrespectful towards it if you are still using ordinary shoes while playing the game. After all, its a special game for you then why your shoes arent?

Thats the big reason why Apacs latest badminton shoes 2020 are awaiting for you because the company understands how much this game is valuable for you. So why delay? Choose the best pair of shoes for you from the above top 5 picks and take your performance to another level. Apacs always brings something new, reliable, and more effective sports equipment for its players.

Everything that Apacs provides you comes at a reasonable price. Hence, these were some of the best shoes that are highly on-demand, and you should also rush to purchase them if you are a true badminton player.