In recent years, badminton has become quite popular and that too pretty quickly. But for playing this fantastic game, there is a very high requirement of shoes to attain balance and stability. The reason is the quickness of this game. Badminton players are always required to respond quickly and perform speedily.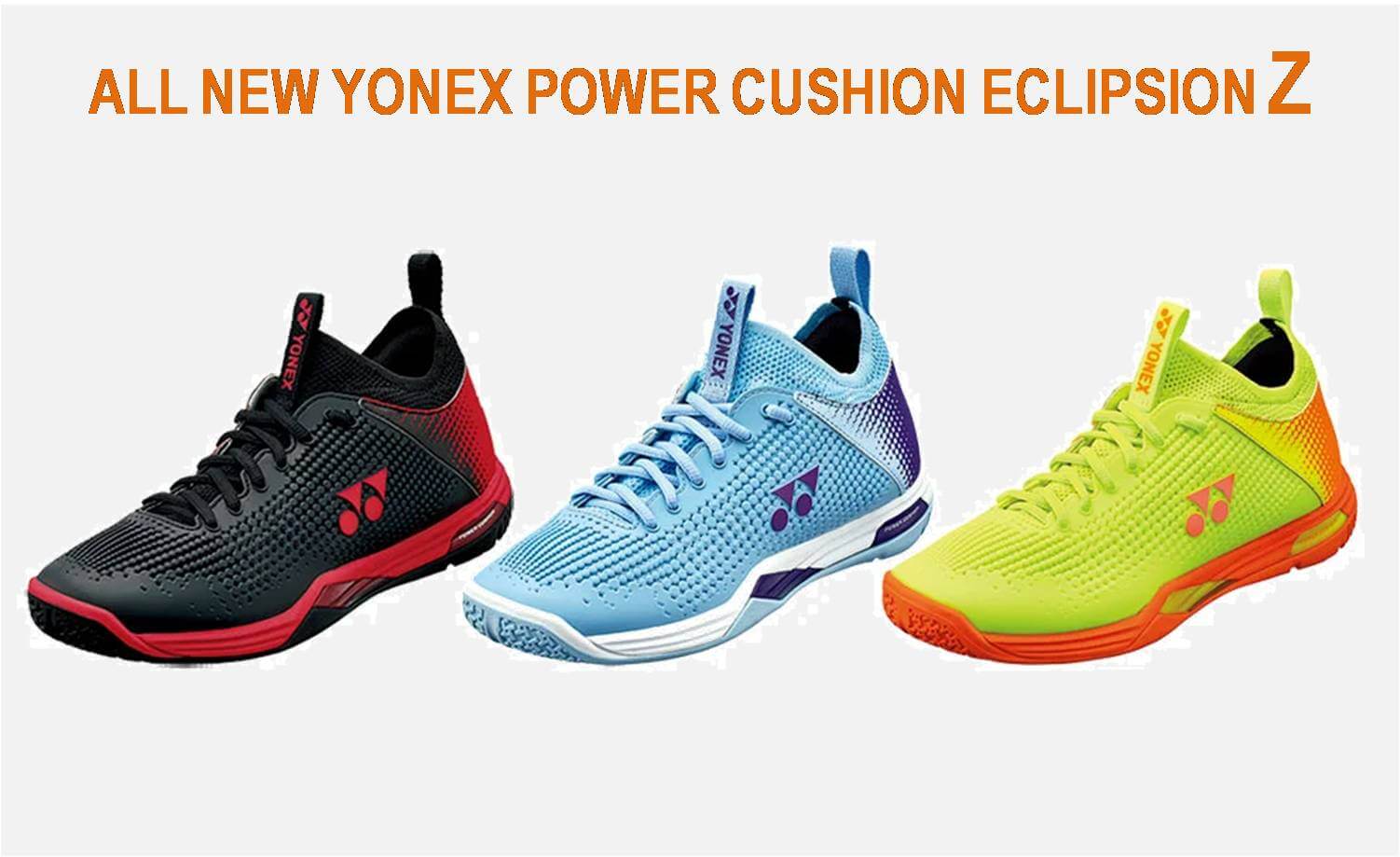 The new Yonex power cushion Eclipsion Z has entered the market to make a change. This Eclipsion series is here to enhance the stability for more comfortable and forward footwork . These power cushions provide the athletes style and comfort in every game.

The fundamental key for stability is its consistent grip. The latest designed power cushion of these amazing Yonex shoes provides exceptional grip. In every horizontal, vertical, and diagonal foot movement, this grip is beneficial. The top side of these soles is of rubber with an excellent ninja star pattern.

A safe upper segment is also there to complement the grip portion. At the upper surface, there is polyurethane-based harsh light skin. This skin lightly merges the toughness of solid plastic with the elasticity of the rubber. These extraordinary grip qualities provide you a cozy and safe fit that will feel very light on your feet.

Checkout The Latest 2021 Range Of Badminton Shoes Here



At the same time, this fantastic series has embraced the newest half one-piece sole . This astonishing sole connects the heel and exterior rubber of the tread and then enlarges the zone of contact. Every movement and every jump reduces the risk of sprain by increasing the balance.

Are Yonex badminton shoes good for playing badminton?

No doubt, the Yonex badminton shoes are the best for playing badminton. These shoes come with several protecting properties, including:

1. Exceptional shock absorption and rebound ability

2. Provides exceptionally comfortable ankle support

3. Anti-roll support

4. Airy and breathable

5. Long-lasting and suitable at an affordable price range

Further in this article, we will point on every positive and negative aspect of Yonex shoes and power cushion with an honest review.

What are the benefits of Yonex shoes while playing badminton?

Many badminton players are very busy in regular training, running, and at times, strive with less comfortable shoes. We have seen that the shoe-tops that your trainer gives you doesnt provide you the necessary support. This inconvenience impacts their training, due to which the players struggle a lot. Therefore, a good pair of shoes is an essential thing to have for a badminton player . Not only for comfort, but a good pair of shoes is also beneficial for other purposes, which are have mentioned further.

As stated earlier, safety and comfort are not the only things your shoes must provide you; a few specifications are also there. Your badminton shoes must be different from your regular shoes. They should stop dirt and filth from outside so that you enter your court with clean shoes. On a special note, never wear your regular shoes on the court. Otherwise, they will get torn up due to extreme movement and footwork while playing.

Qualities of Yonex Power cushion and Yonex shoes

Many shoe brands are providing unique sports and regular shoes. But these cant satisfy your demands at some points. We are not forcing you to pick only Yonex, but numerous other brands are also trading good-quality shoes. As there is a shoe for every person, everyone has their own choices for purchasing shoes. Here, we are explaining the qualities of good badminton shoes with a good power cushion. Keep reading to learn more.



Innovations in the field of Yonex power cushion The qualities of the Yonex power cushion are as follows:

Semi one-piece sole

There is a semi-one-piece sole in these Yonex shoes. This sole combines heels and tread sole that enhance the comfort and balance of the shoe and improves your way of playing.




Yonex with power cushion

This fantastic pair of shoes has the property of a power cushion in the heel section. This power cushion is responsible for improving the power absorption property. While playing badminton, our feet move a lot. Therefore, adequate shock absorption must be there in a good pair of shoes.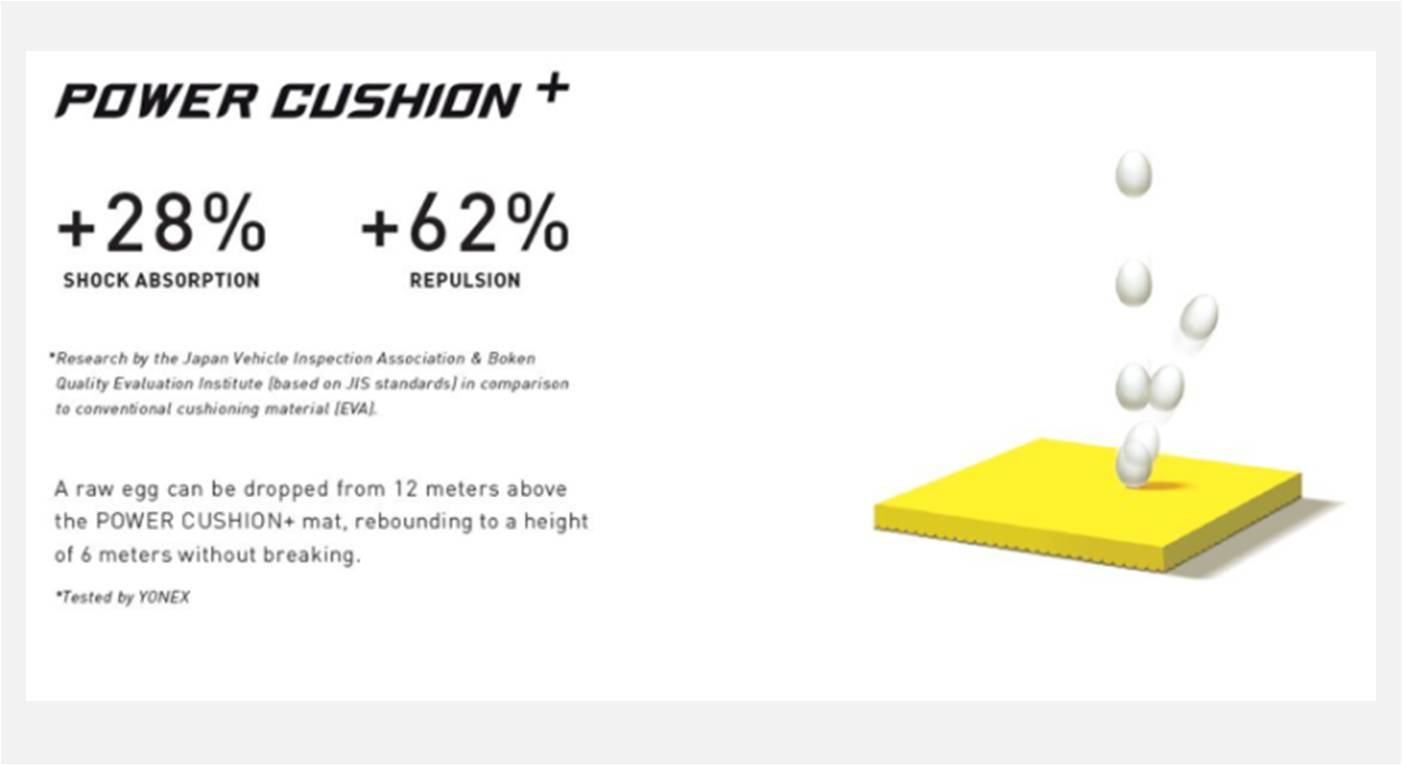 Radial blade sole

The brand has improved the grip area by 3% and has inserted a radial blade sole. The dedicatedly designed windmill shape incorporates that zone with small and large indentations. Also, due to the application of this sole, the weight of the shoe is equally distributed, which makes these shoes comfier.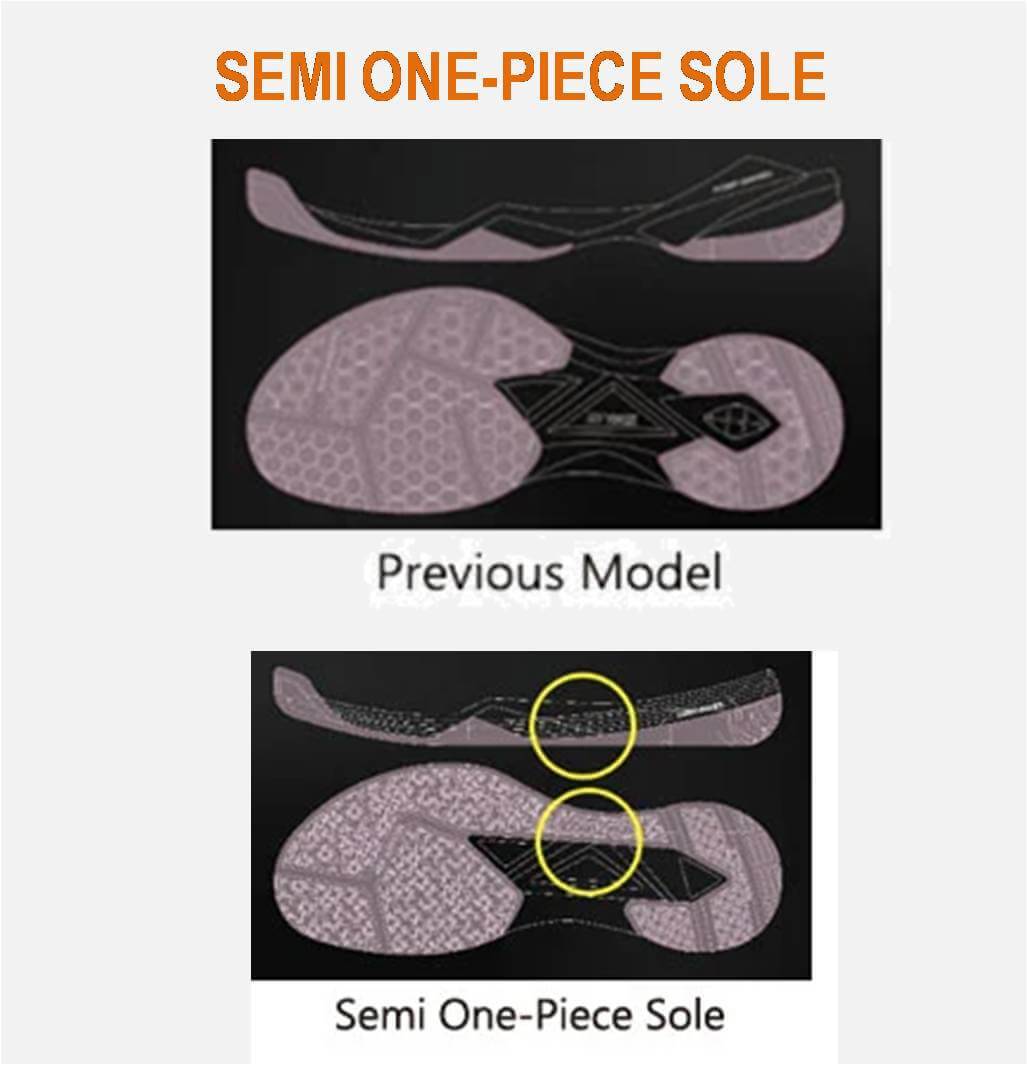 Interior bootie

In this fantastic pair of shoes, the old tongue has been replaced by an internal bootie. This inner bootie makes them superior in fit and more supportive.

Long-lasting skin light

There is a polyurethane-based long-lasting skin light that provides a player airy feel on their feet. It integrates hard plastic with rubber-like elasticity that maintains the shoe in a more secure and relaxed manner.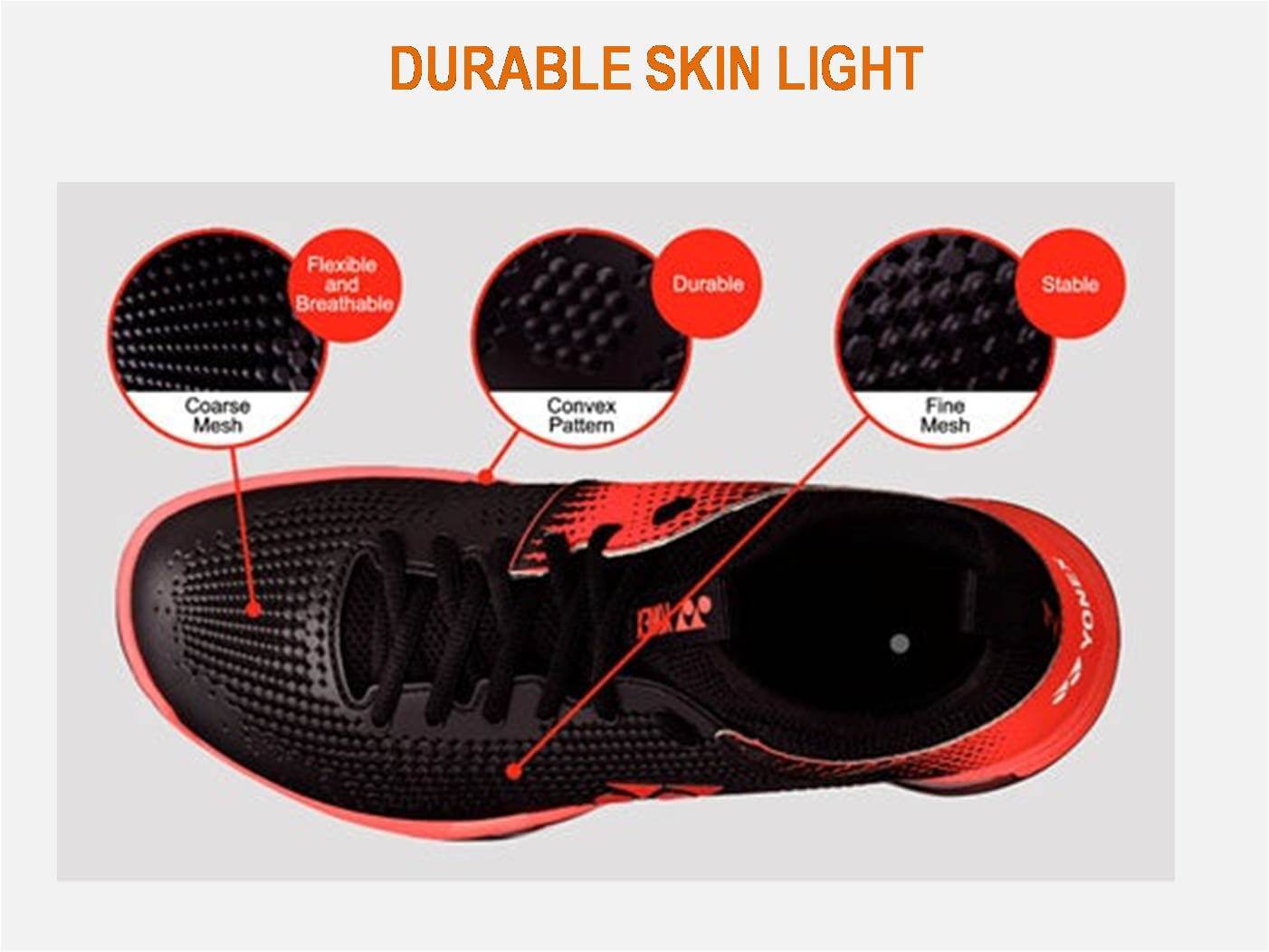 Qualities of Yonex shoes

Broad and straight feet fit

Whenever you purchase a shoe pair, these must be perfectly fit, i.e., if you are feeling your feet a little tight, please choose half a size bigger. But the narrow shape of Yonex will make you more comfortable in your shoes. Never sacrifice your balance; get a shoe that perfectly fits your feet.

The fit of these Yonex shoes is broad , narrow, and straight. These shoes are designed in such a manner that they reduce the side-to-side motion of the foot while playing badminton. The side-to-side movement should be significantly less so that there will be fewer chances of having blisters. Also, less foot motion inside the shoes provides you more control in your foot movement.

But with Yonex shoes, you dont need to worry about the fit. These shoes are exceptionally fit for narrow side movement and create a fantastic fit for professional players and athletes.

Comfort and support for fantastic feel

Comfort and support is the essential thing that every player must consider while purchasing any pair of shoes. The Yonex shoes ultimately withstand this comfort feature as these shoes are manufactured with a power cushion that furnishes more the fantastic property of shock absorption.

The comfort and support of Yonex shoes are way exceptional than the regular shoes. A lot of people wish their regular shoes match the level of Yonex sports shoes. The toe support shape bestows extra space, and this feature is helpful for players with big toes as it gives them a firm grip. The best thing about these shoes is; they are less restrictive and more comfortable. Instead of butting up to the shoe sole and front area, these shoes provide a fantastic grip.

Safety in knees, legs, feet, and ankles

Another crucial property of Yonex shoes is its safety. Yonex has innovated a little in these shoes by protecting the leg, ankle, feet, and knees in the badminton court. By doing this innovation, Yonex has got the top position among the Badminton shoes. Yonex has made the shoes nullify a lot of pressure from your shoes. This less pressure increases the protection as well as enhances the performance of the shoe.

Long-lasting and long-life

The most beautiful thing about Yonex shoes is their long-lasting nature and longevity. Every pair of Yonex brands is full of features and provides the best quality boots. No matter how long you practice, run around, and train with these shoes, these shoes will surely accompany you for at least three to four years. The player who wears these shoes thoroughly knows the value of them. How different they feel while wearing them, only a badminton player can tell you.

No matter how many training sessions you do, how many regional competitions you have won, or how many club matches you have played, these shoes will always be your best partner ever. After so many years, you will surely regret it when you retire these shoes. After watching all these characteristics, we can proudly say that Yonex shoes are the most durable and long lasting shoes ever .

Conclusion

As our title says, Yonex Power Cushion Eclipsion Z is the most comfortable and balanced shoes ever. The brand Yonex has innovated these new Power cushions with unique and endless features. This new Power cushion feature incorporates a semi-piece sole, power cushion, radial blade sole, inner booties, and durable skin light. If you are a professional badminton player, you can surely opt for the Yonex Power cushion Eclipsion Z . These shoes will give you one of the best experiences ever.