A good bag is something that every cricketer needs more than anything. You must have played with your peers who use one carrier bag for their whites and the other one for lager they intent to drink while playing. But those people who take cricket passionately need something more.

A good Cricket Kit bag protects your dearest bat and keeps everything else managed so that when you need it, you find it quickly. For some players, a duffle bag is more than enough with enough space to carry all the stuff an enthusiastic cricketer might need. But the captain might need more, needing additional things for the players who might forget their whites.

Check out Blog the Best Cricket shoes for 2019

Listed are few cricket kit bags which were tested during training by the players and on the way to matches, to check for their functionality, durability, style, value for money and how easy they were to lug around. There is an array of choices available in the market, but if you are looking for something on which you can really rely, experts always recommend persisting to the main, established brands, which we have mentioned below:

1) SG Players Duffle with wheels Cricket Kit Bag-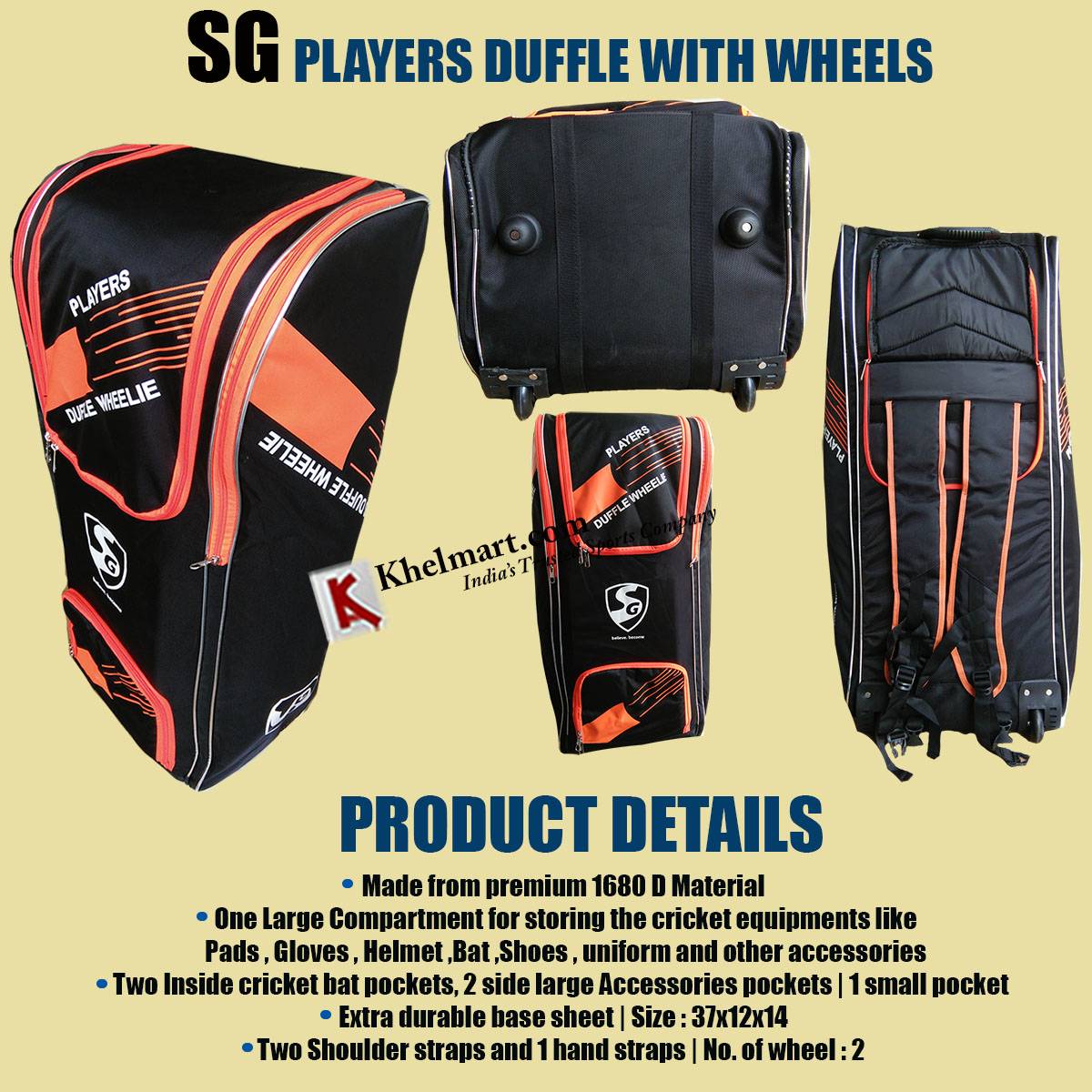 This is one of the best bags if you are looking for something very spacious and easy to carry as it has wheels on it. It is made of the premium 1680D material, which is said to be one of the finest materials for bags. It has two additional pockets attached with shoe compartments so that it becomes easy for you to carry shoes in it without the need of carrying an additional bag for them.

The thing that attracts more about this bag is the two heavy-duty wheels on it which makes carrying of stuff easy and balanced. Plus it has nylon tapes with added reinforcement which makes the bag more durable. It has premium quality zips and foam padded walls for more safety and longevity. The size of the bag is around 37x12x14.

Explore More:

2) Adidas Libro 2.0 Cricket Kit Bag-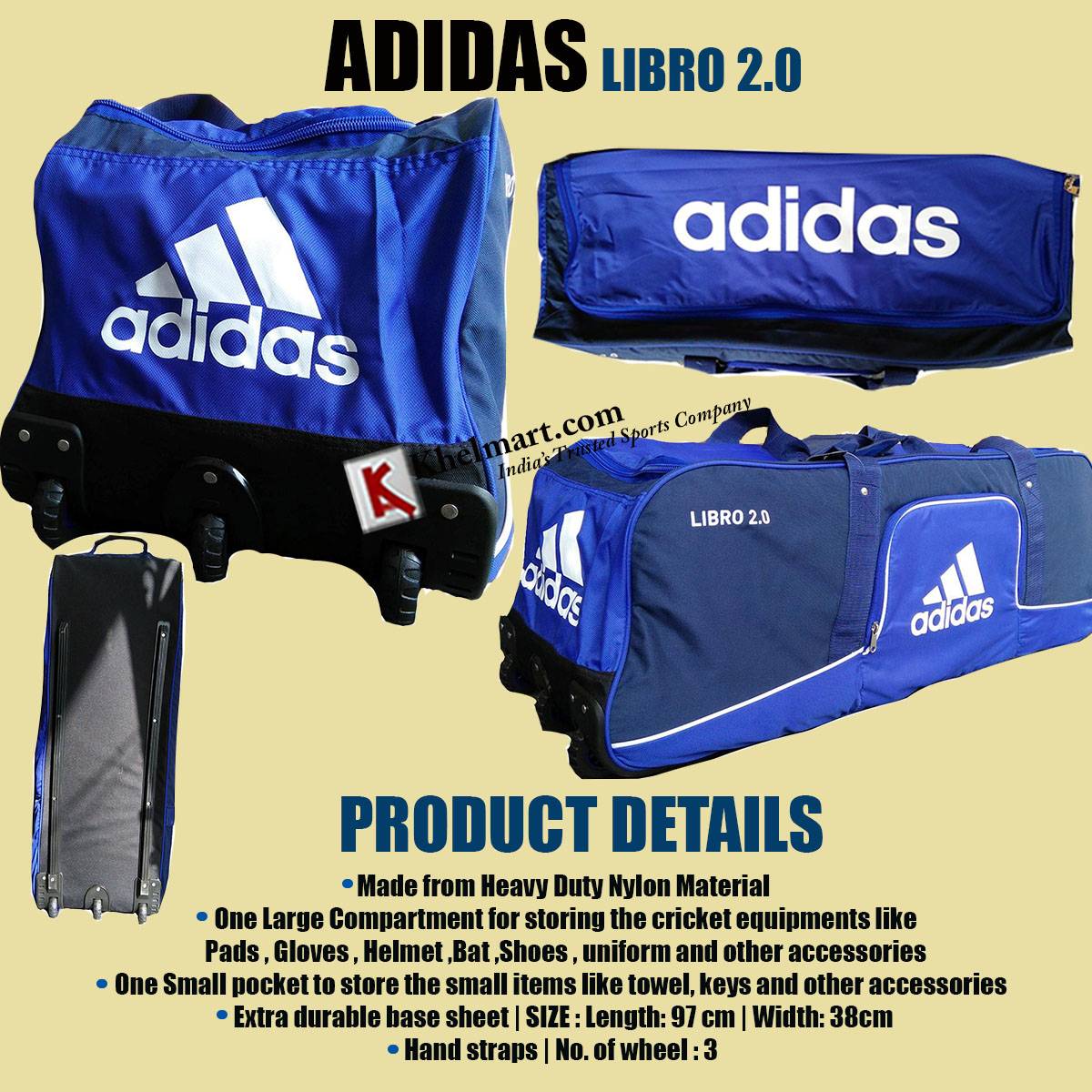 Adidas itself is known for its comfort and style, and the same is with this bag. It has padded back support to provide you with maximum comfort when you are travelling. Not only this, Adidas Libro has an external footwear compartment so that you can carry shoes without a fuss. It also has double shoulder straps which can be adjusted according to your comfort, plus it also has padded shoulder support.

This bag gives you an interior bat section with space for two bats as if you going for an important match where it is always necessary to carry 2 bats. The cool thing about this bag is its Adidas pull cord which makes it even better. The size of the bag is 35.5x15.5x12.

Explore More:

3) SF Triumph Cricket Kit Bag Black and Blue-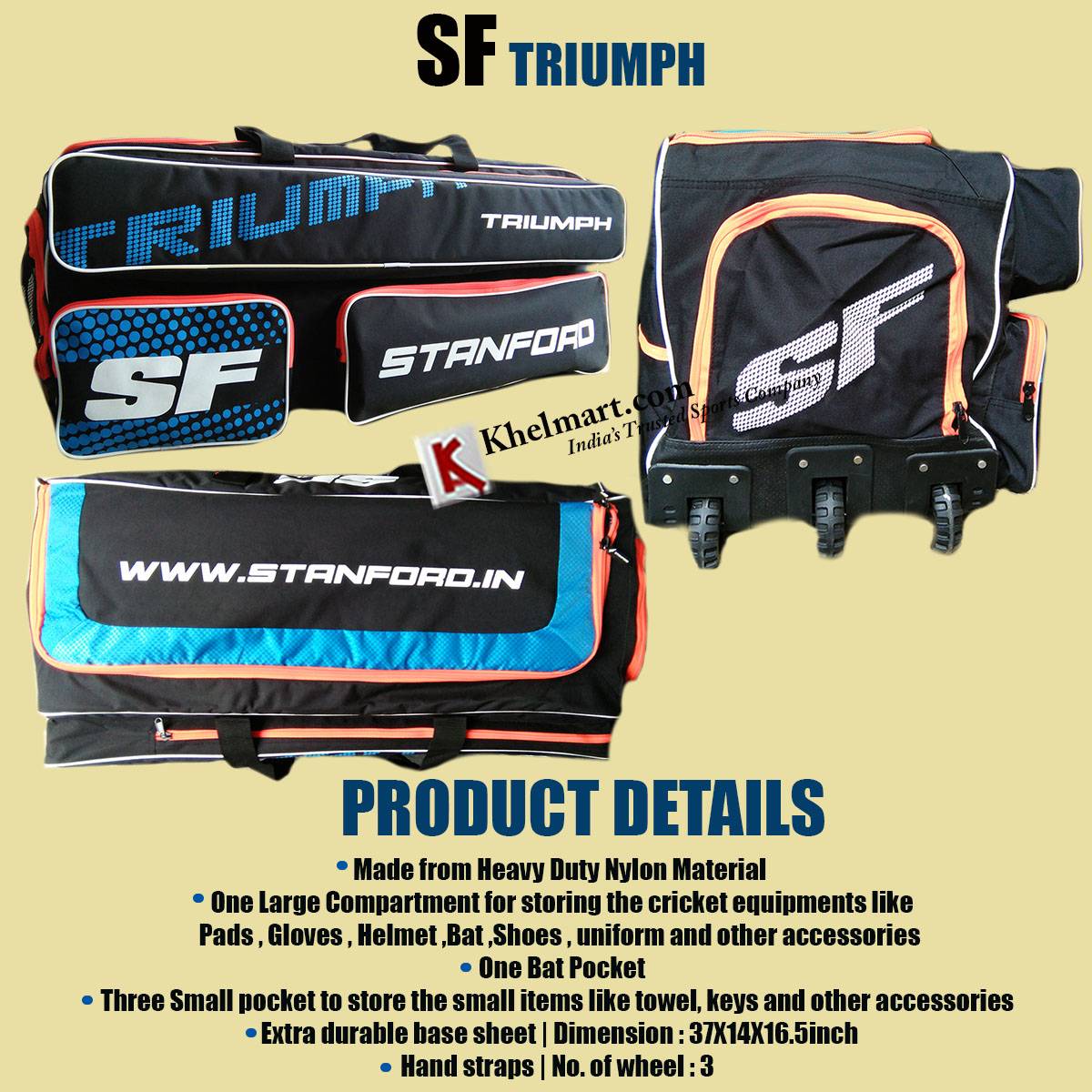 If you have too much love for cricket and if it also extends to your cricket kit bag as well, you would want to buy this bag. This bag has been constructed for hardcore players like you. The bag is very durable and stylish you would feel more confident while carrying your equipment in this bag. Your friends would for sure admire its incredible style. It has been designed in such a way that storage space is maximized as it consists of many compartments in it. This bag makes sure that every corner of the bag is utilized to the fullest.

You dont need to lift it. You can just drag it along as it has two wheels on it, which makes it easy to carry while travelling. This bag is known for its longevity and space so if you are looking for both, go for it. The dimensions of the bag are 39x14x13.5 inch.

Explore More:

4) SS glory cricket bag: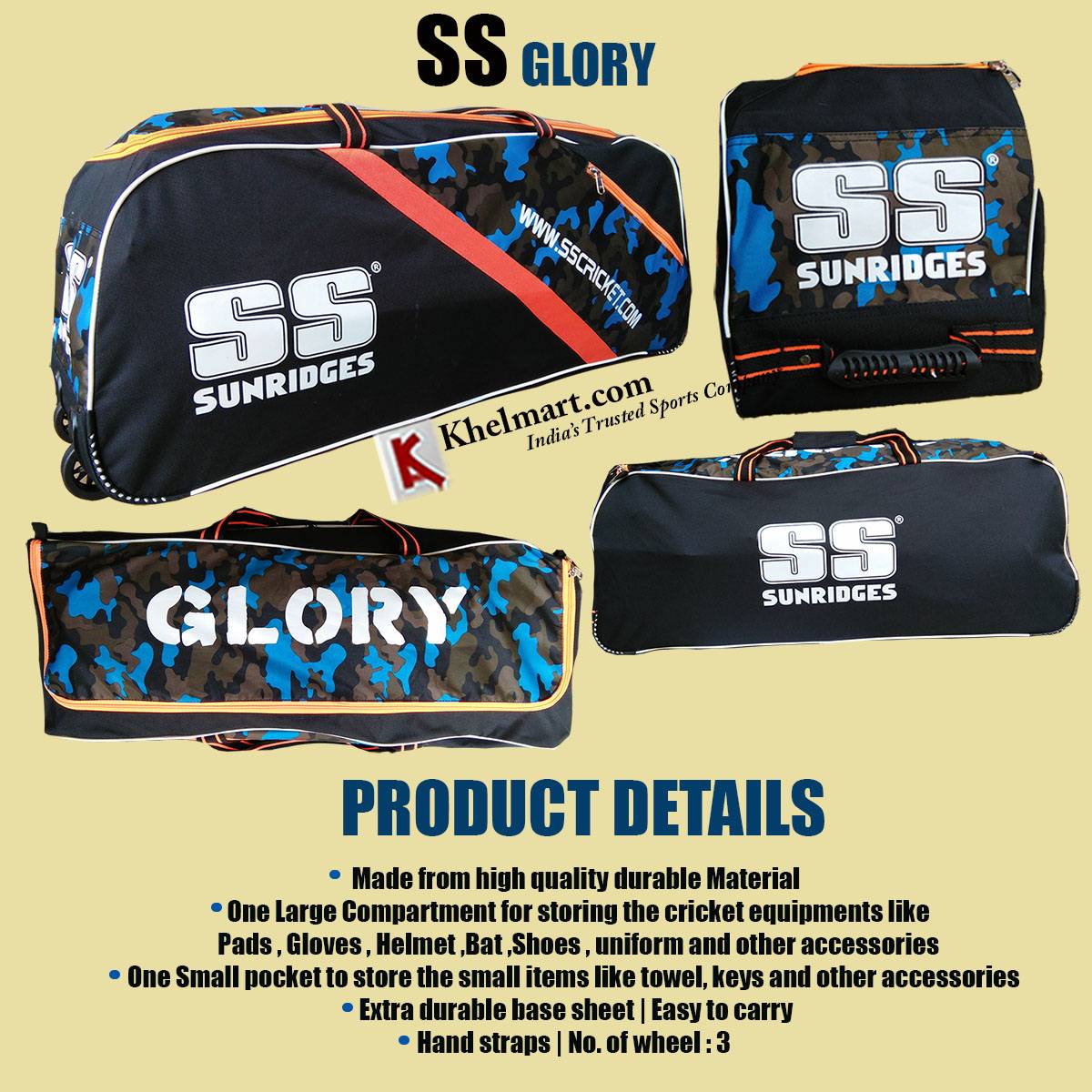 It is a premium quality kit bag which is made by heavy duty nylon material. This cricket kit bag has primarily 2 compartments. One is a large compartment which has more space to keep your stuff like pads, dress, helmet, thigh, bats etc. The other compartment is relatively small and you can use it for keeping additional things like balls, gloves, support, water bottles etc.

It has an inside PVC sheet on the base to make it stronger and durable. This bag also has wheels which allow you to scroll the kit bag without hassle. This bag is affordable for all and has the features that are required with added strength, better durability and easy to carry. The dimensions of the bag are 80- cm of width and carries 650 grams of weight.

Explore More:

5) Thrax Proto 11 3 wheels big cricket kit bag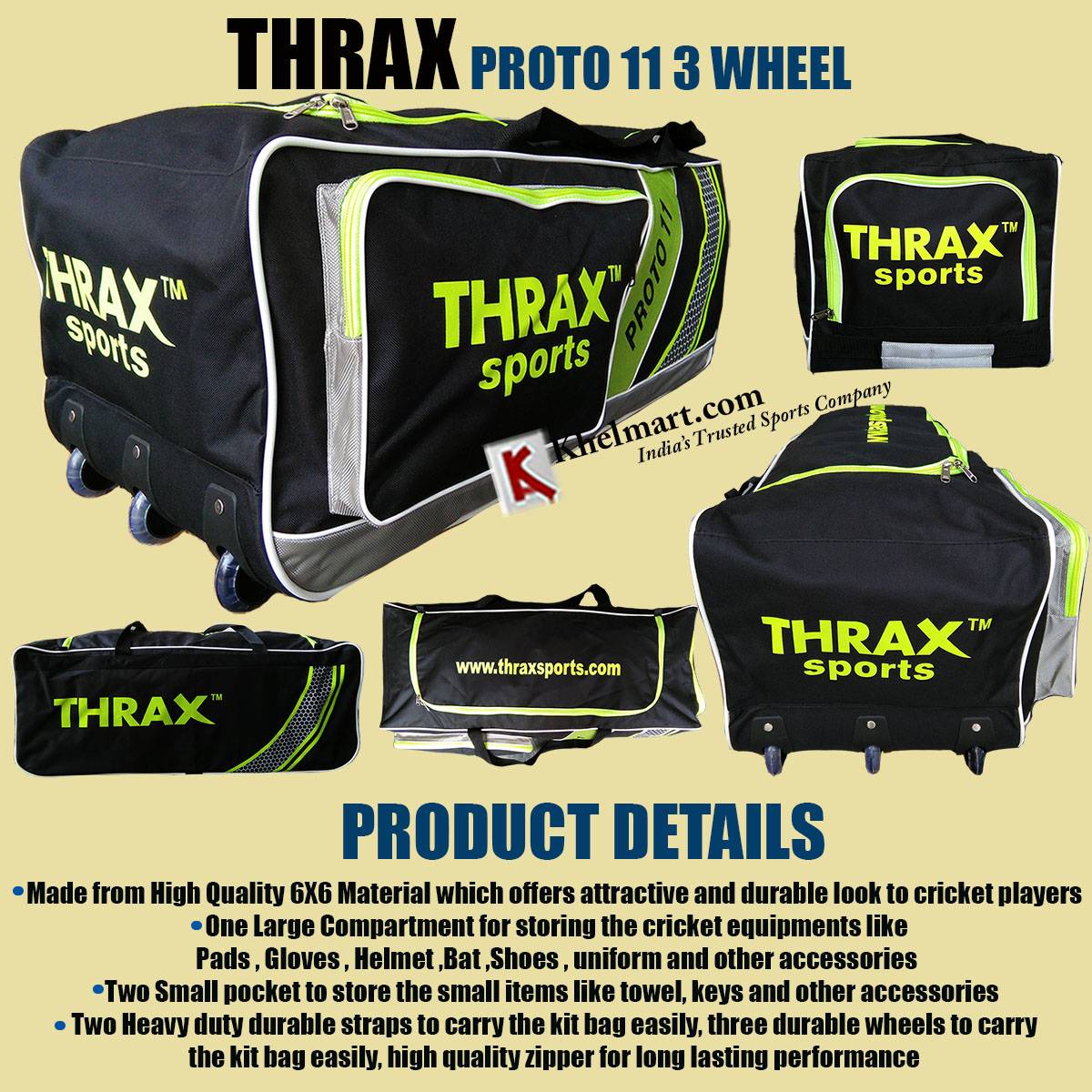 The Thrax cricket kit bag is made of supreme quality and comes with many colour options which make it look attractive to the cricket players. As per the reviews of people, it is very durable and can carry a lot of weight in it. This cricket kit bag has one large compartment for storing the stuff like a bat, helmet, pads, gloves etc. Also, this bag has 2 front pockets for smaller items like keys, towels, bottles, etc.

This bag is very convenient to carry because of its wheels which make travelling easy. As after a tiring day, you wont have to carry a heavy weight on your shoulders. They have designed it in such a way that it gives a long-lasting performance. The zippers of the bag are of superior quality so that it does not break even if it is loaded with a lot of stuff. The dimensions of the bags are 100x43x36 mm.

Explore More:

6) BDM wheeler cricket bag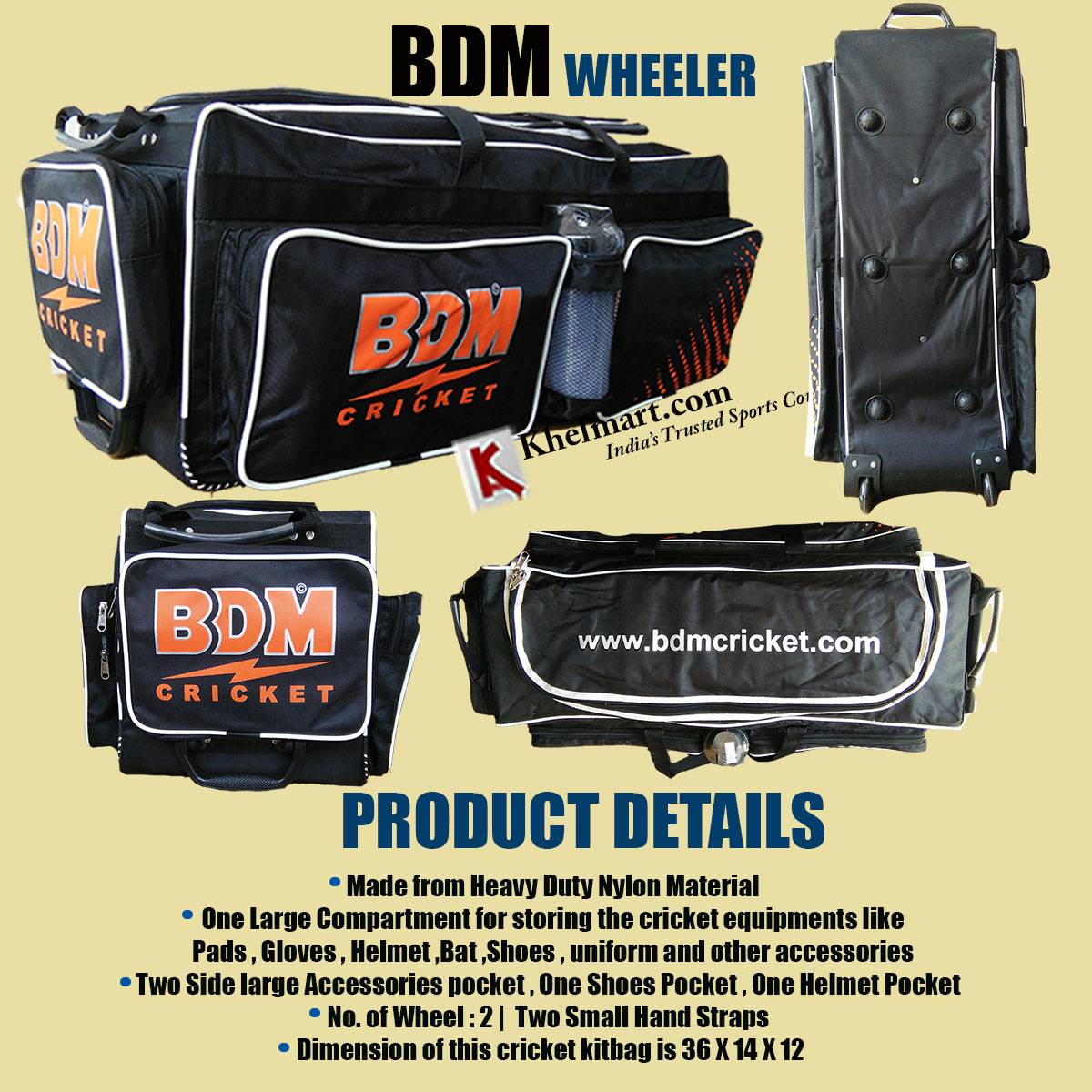 They are one of the most reputed suppliers, manufacturers and exporters of cricket kit bag all over the world which makes it a must buy product for the passionate players. It is made of the finest grades such as tetron. It also has heavy duty and robust wheels for making travelling convenient. The bags are constructed in such a way that can withstand any type of rough usage because of its material and construction. The tough construction of the bag attracts more people to buy it. It also comes with a nominal price with all the basic requirements.

The bag subjected to rigid quality checks and comes in various specifications. The superlative thing about the bag is its space. It gives a big room so that all your required stuff comes easily without any struggle. This bag comes in many different colours so you can pick as per your choice. The dimensions of the bags are 35x14x11 inches.

Explore More:

7) Kookaburra Pro 800 cricket kit bag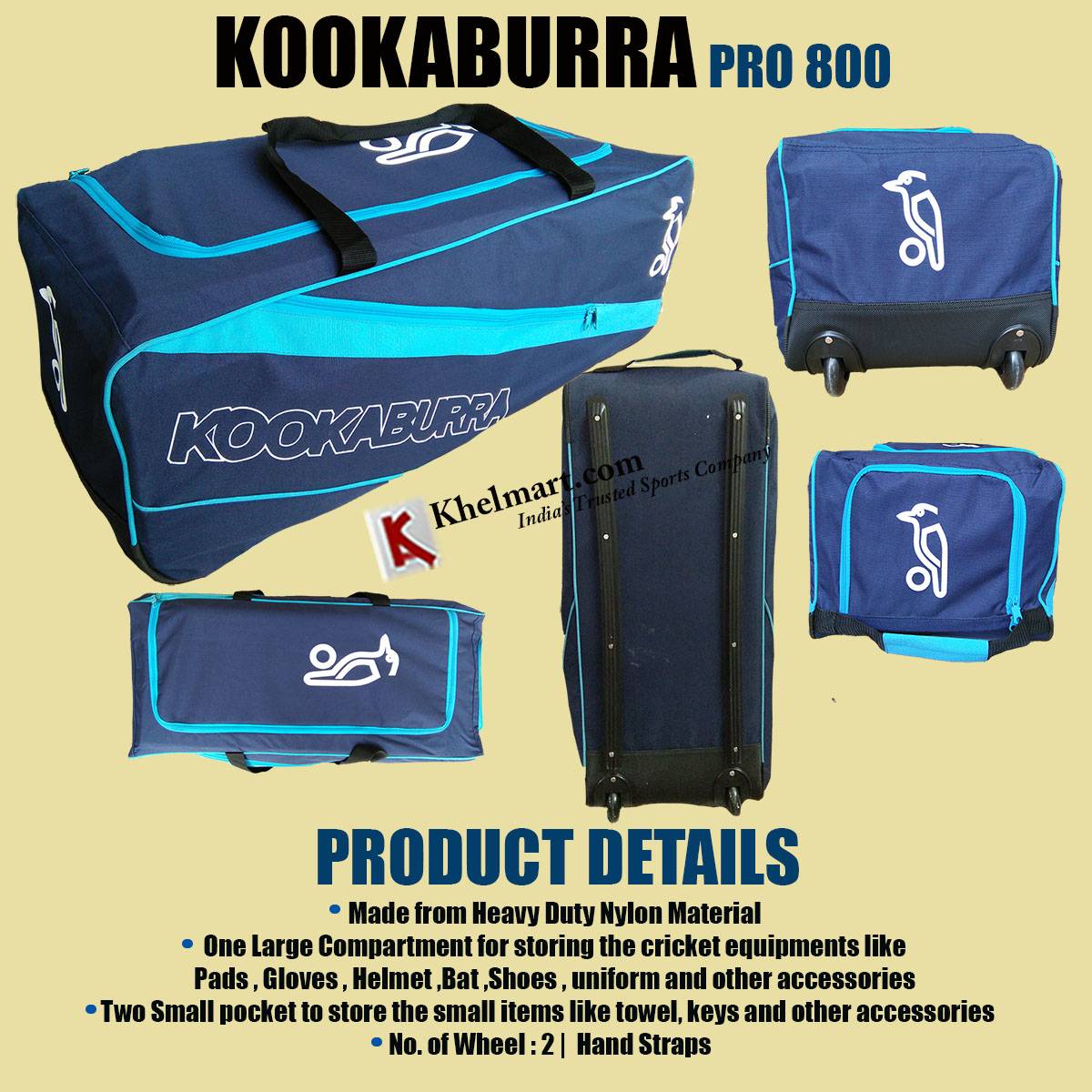 This is one of the finest bags with beautiful colour options which might make difficult for you to choose one, but the green colour of it is always in demand. This bag along with its great design has a massive capacity to keep the stuff easily and safely. It is made up of 600 D braided polyester which makes its life longer. The unique thing about this bag is its internal shoe compartment0.It also has a helmet aperture to maintain the safety of it. It also consists of large external side pockets to keep small stuff or things which are needed every now and then.

It also has heavy-duty wheels to make your journey easy and light as you would not have to carry the heavy stuff, you just need to scroll the wheels. The dimensions of the bags are 1000x400x370 mm.

Explore More:

8) Thrax Reserve Edition cricket kit bag grey sky-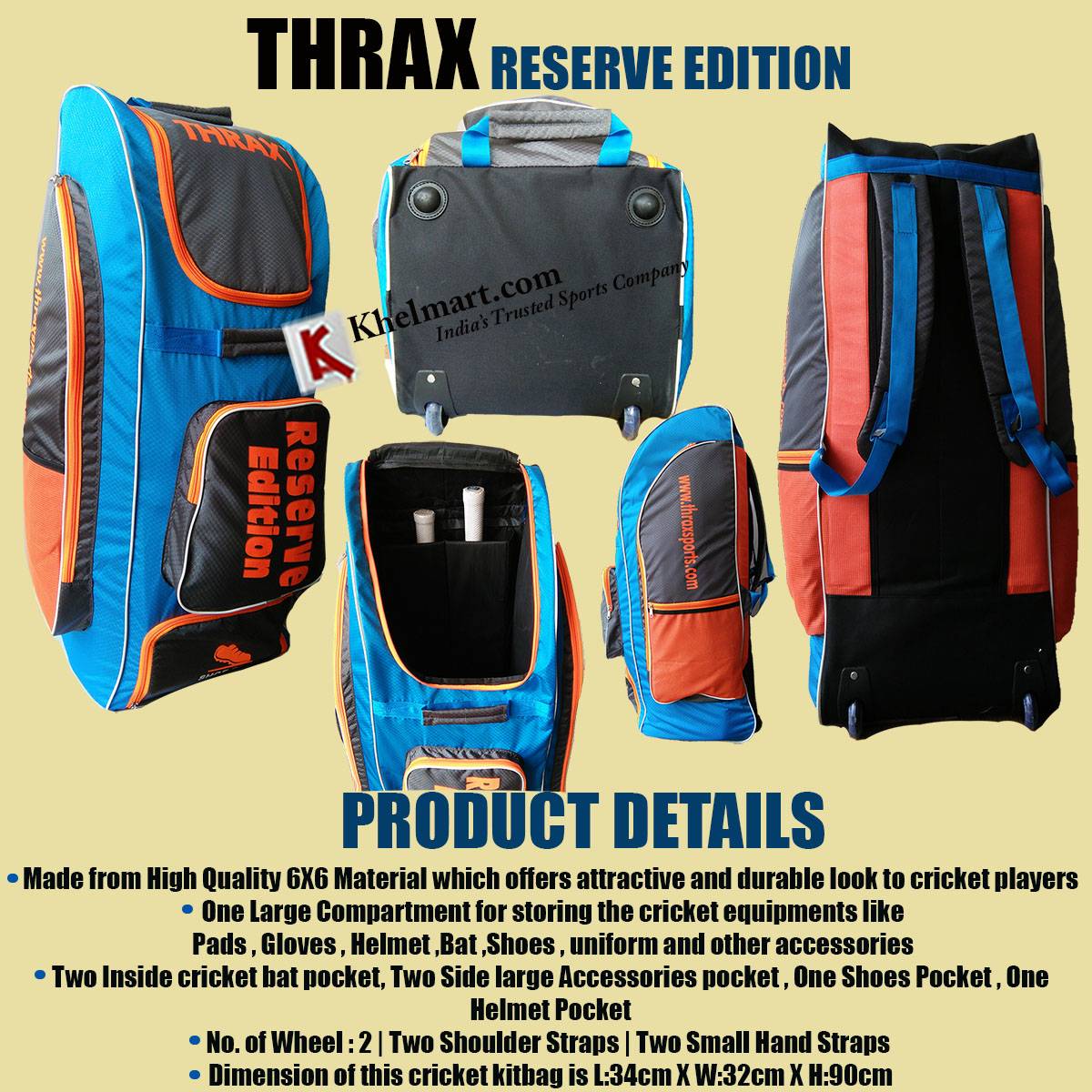 This bag is famous globally now because of its features, price, and longevity. It has one big compartment so that all your stuff can be kept easily in one place instead of searching for it in different pockets. It gives you 2 cricket bat pockets so that you can keep your bats safe and can carry an extra bat in case of emergencies. It also offers big pockets outside for keeping your shoes so that you need not carry an extra bag for them and the other is to keep your helmet safe.

The superb thing about the bag is that it has both wheels and straps to carry. The straps as well are very durable and comfortable so that your shoulders wont hurt while carrying it at your back. The zipper of the bag was also focused on while designing as it is very strong. The dimensions of the bags are 34x32x90mm

Explore More:

9) SM Swagger cricket kit bag




It is also known as a giant shape coffin bag because of the space provided in it. It is a huge bag to keep all your cricket stuff very well. The SM Swagger is made up of premium ripstop. It has PVC corner protection so that the stuff inside is safe and secure and does not get damaged easily.

Its top section is different from other bags. You can keep your wet gears in it, which means you do not need an additional bag for carrying your sweaty and wet clothes.

Explore More:

10) MRF Virat Kohli 18 cricket kit bag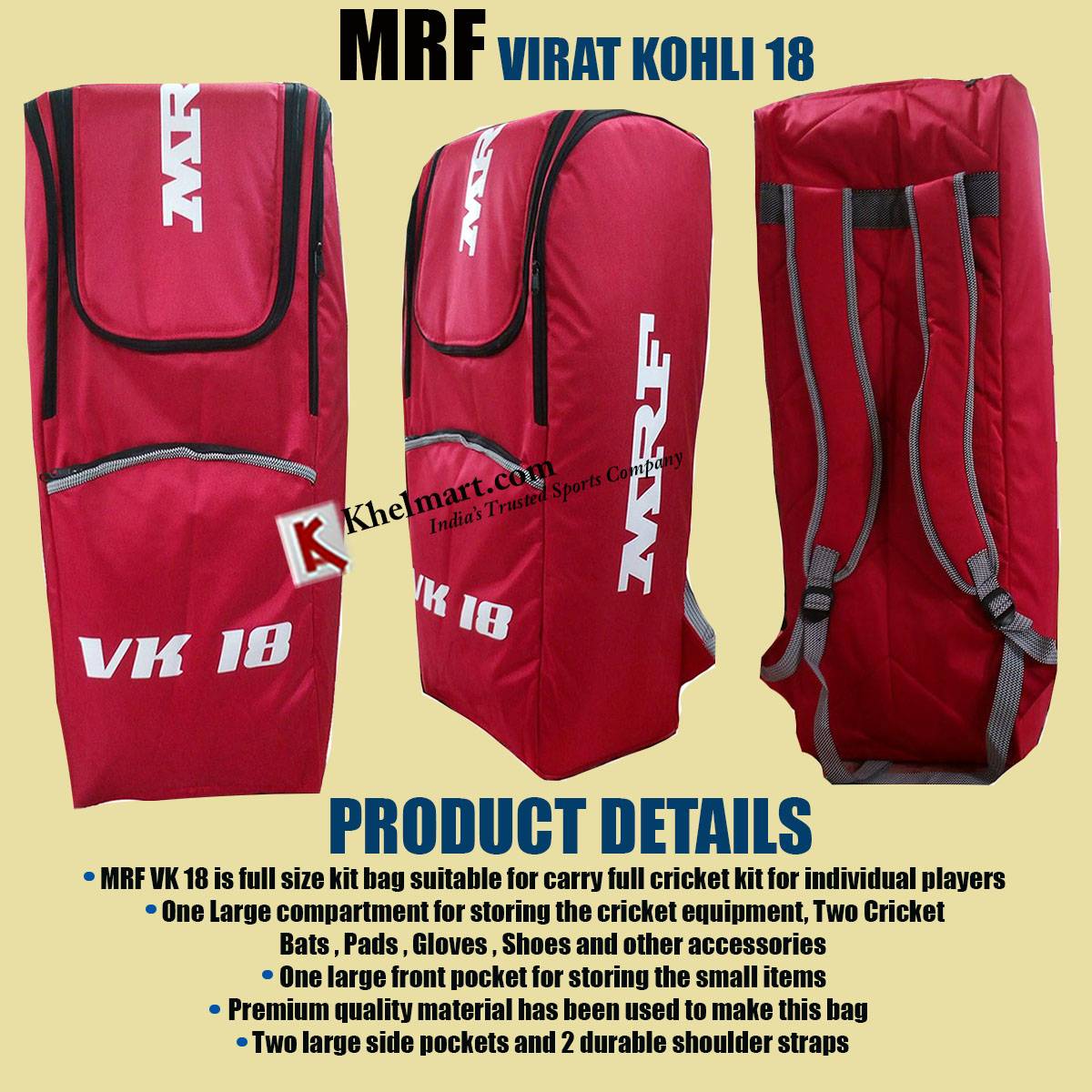 It is a beautifully designed bag and is a Virat Kohli addition. It is an ideal lightweight bag which has enough room to hold entire players kit. The cricket kit bag consists of 2 internal bat paddle sleeves, key ring holder and a wallet. This bag has 2 full height side compartments plus one front pocket to keep the stuff you need regularly. It has strong back straps to increase the durability of the bag and is made up of superior nylon material. Not only this, it has an external bat pocket with one mesh pocket as well.

This bag comprises of foam padded adjustable shoulders straps to keep your shoulders relaxed and stress-free. It also has an additional clip for your helmet. The dimensions of the bags are 90x34x34 cm.

Explore More:

Comparison of Cricket Kit bags as per Space Available in Kit bags: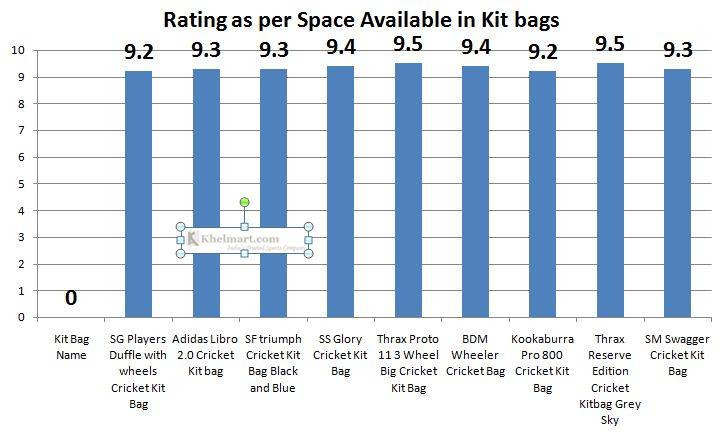 Comparison of Cricket Kit bags as per handling:




Though there might be many other brands and models which you might like to use from other manufacturers and brands, but these top 10 cricket bags are indeed one of the best ones you can own. As cricket kit bag is one of the primary things that one needs when aims to have their career in cricket.