Well, if you are really impressed with explosive entry of emerging badminton player Ginting or if you are convince that Viktor Axelsen is best badminton player in deception shots then you will amaze to know the contribution of racket achieving this landmark by great badminton players.

Contribution of a badminton racket is very important in journey of badminton players.

Checkout how Lin Dan changed the racket during his carrier

Similarly How Srikanth Kidambi racket plays crucial role in his success

There are many examples where player change racket to fine tune the overall playing skills.

Learn how to choice a perfect badminton racket

While we understand the importance of racket in overall players performance now its time to let you know about the Best Badminton Racket for 2019.

To give readers a holistic approach we are listing here the Best 10 Badminton Rackets for Professional Players while making a detail chart for explaining the key comparison.

Before we began we would like to first explain the requirements of a good badminton racket:

• A perfect badminton racket should complement the players style, it means racket should enhance the power on stroke, and multiply the shot power.

• A perfect racket should easy to maneuver so that player can ready quickly for next shot. • Racket should be durable enough to offer long lasting performance

• Perfect racket flexibility should be good enough to generate power and optimum repulsion.

Now, when we understand the requirements of a perfect racket let us explore the Best 10 Badminton Rackets for Year 2019

#1 Yonex Astrox 99: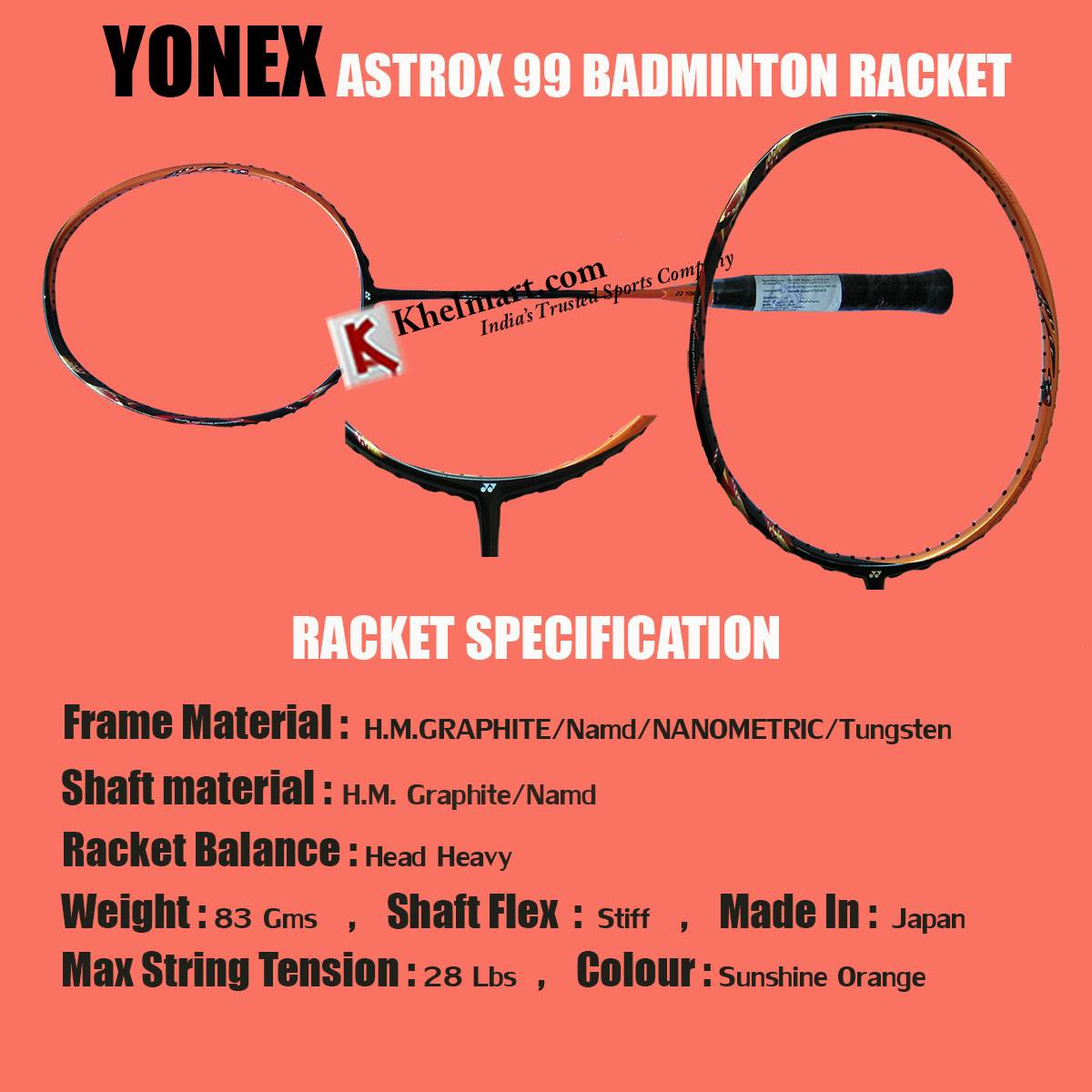 Endorsed by worlds number #1 ranked badminton player kento Memato, Astrox 99 is new and hit model from Yonex for Year 2019.

Astrox 99 is developed with new concept like rotational generation system. RGS is new concept for adjusting or rebalance the weight of the racket to head, shaft and grip. This is known as counter balance theory and helps in steep angle of attack. With RGS system, player can be assured for pin point accuracy and shaper angle of attack.

This racket is head heavy balance racket with 85 to 89 gms weight. Recommended string tension for this racket is around 25 to 26 lbs.

Racket frame is made of HM graphite with NANOMETRIC and Tungsten. The Combination HM graphite and NANOMETRIC will offer best frame strength, bending strength and quick repulsion.

While for making the shaft of the racket, combination of HM graphite and NAMD (New Material) are used.

NAMD is new generation material which is mix with graphite to improve the overall adhesion between graphite materials. In NAMD, Nano material is directly integrated with graphite material in order to offer better reflex and store the energy during shuttle hit.

With NAMD, racket shaft works as spring which stores the energy and releases it with more power and impact strength.

#2 LI Ning N 7 II: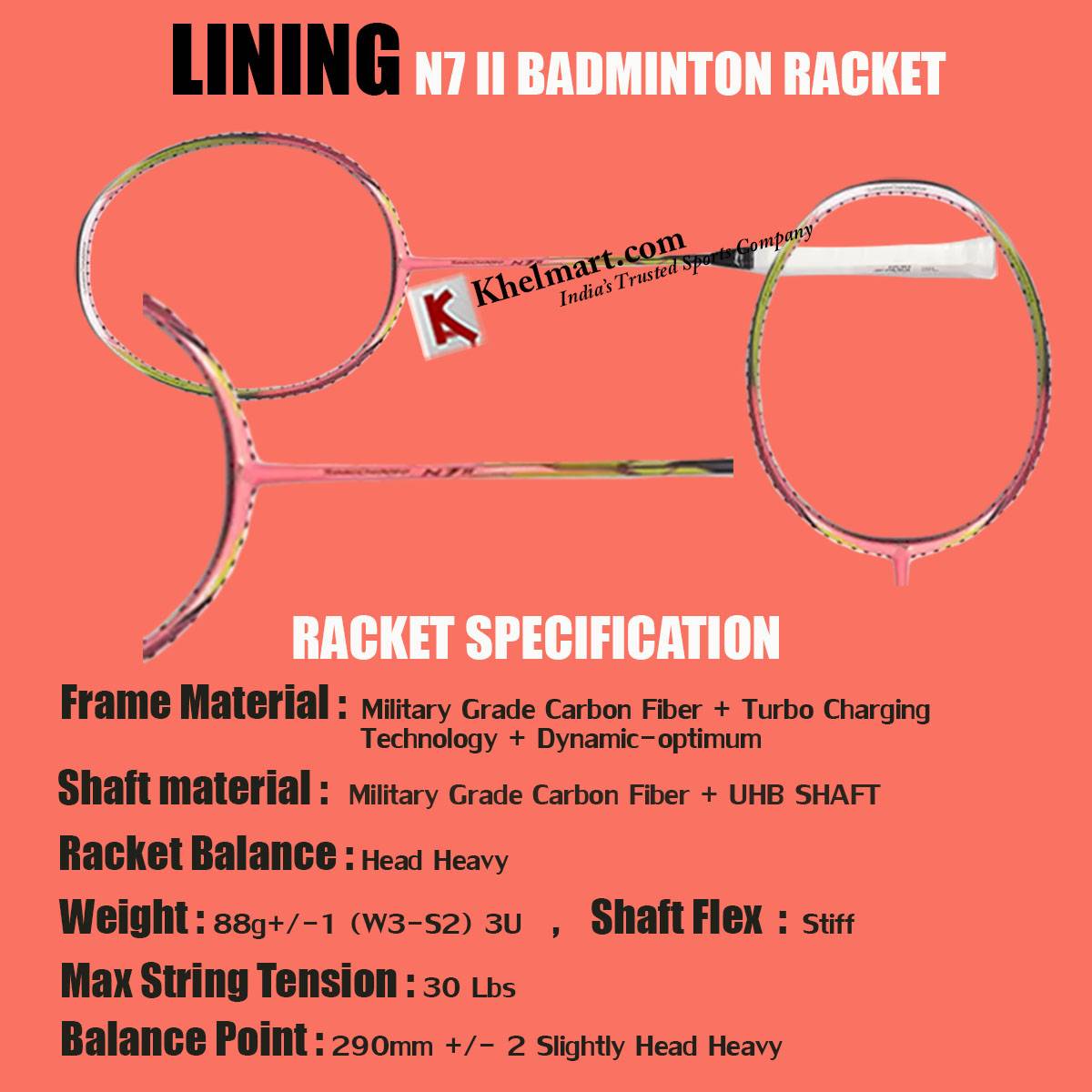 This racket is endorsed by shi yuqi and racket reflects the playing style of this great badminton player. Racket weight is around 87 gms while it is manufactured with military grade graphite material which offers exception power on shots.

N 7 II is a head heavy racket and if you already tried head rackets of Li Ning than you must aware of that fact that Li Ning head heavy rackets are exceptionally good in power.

Selection of proper string and string tension will improve the overall racket performance up to a great extent. From 3rd, we got good response from racket. It helps in easy clear. Racket sound is very clear and offensive. Smash power is superb and as per the expectation of a head heavy racket.

Since it is head heavy racket but balance of the racket is very good so you do not feel pain in hand even for long and intense single games.

Li Ning N7 II is manufactured with Aerotec beam system in which racket frame beam is design with considering all the critical parameters of aero dynamics. By doing so, Li Ning developed a frame in which overall air resistance is very less, helps in lightening fast racket head speed and overall better racket experience.

#3 Thrax Furious XM 10: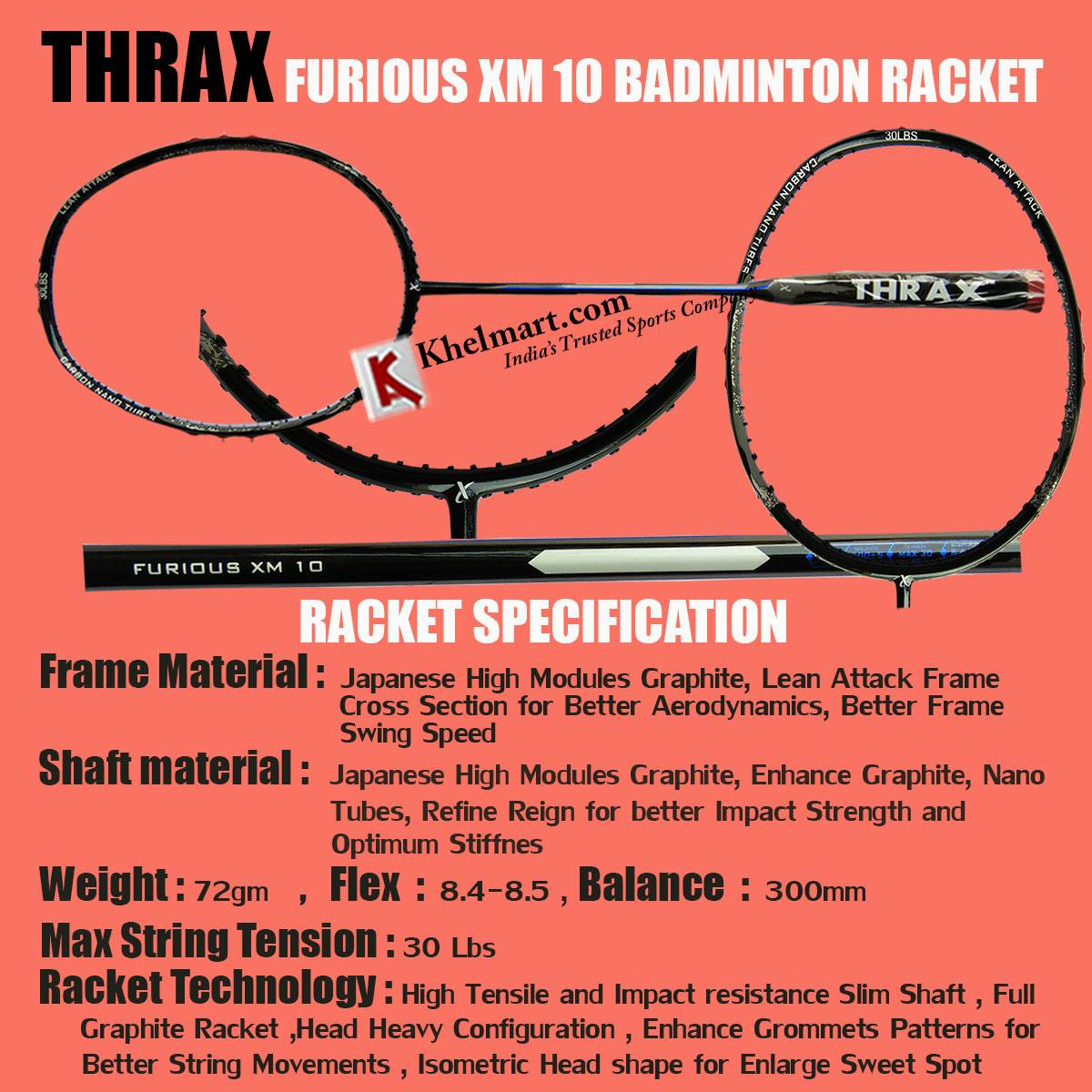 Thrax is India sports equipment manufacturing company producing quality sports equipment for professional to recreational purpose.

Thrax furious XM 10 is head heavy badminton racket with extra stiff shaft. There are many technological enhancement done in XM 10 racket like octagon cross section of shaft, Full Carbon Handle , Lean Attack concept, Carbon nano tunes frame and High Modular graphite technology.

XM 10 is developed with Lean Attack concept. Lean attack in the revolutionary concept in which frame cross section is developed with aero type section which results into better aerodynamic helps in fast swing speed. With better aerodynamics, player can hit the shots with accurate steep angles.

Furious XM 10 is developed with single mold manufacturing technique which offers vibration less feel to players. Single piece construction (without wooden handle)

This Thrax racket is manufactured with octagon shape shaft with thin Diameter. Octagon shaft offers better aerodynamics while extra stiff shaft helps in accurate shot delivery.

Vibration dampers are place at racket frame critical parts so that unwanted string vibration can be eliminated to offers better and stable racket head.

The Main advantage of Thrax furious XM 10 is its weight (Just 72 gms only), it is feather weight racket with head heavy configuration which is developed with Japan High Modules graphite material.

#4 Victor Jet Speed S12: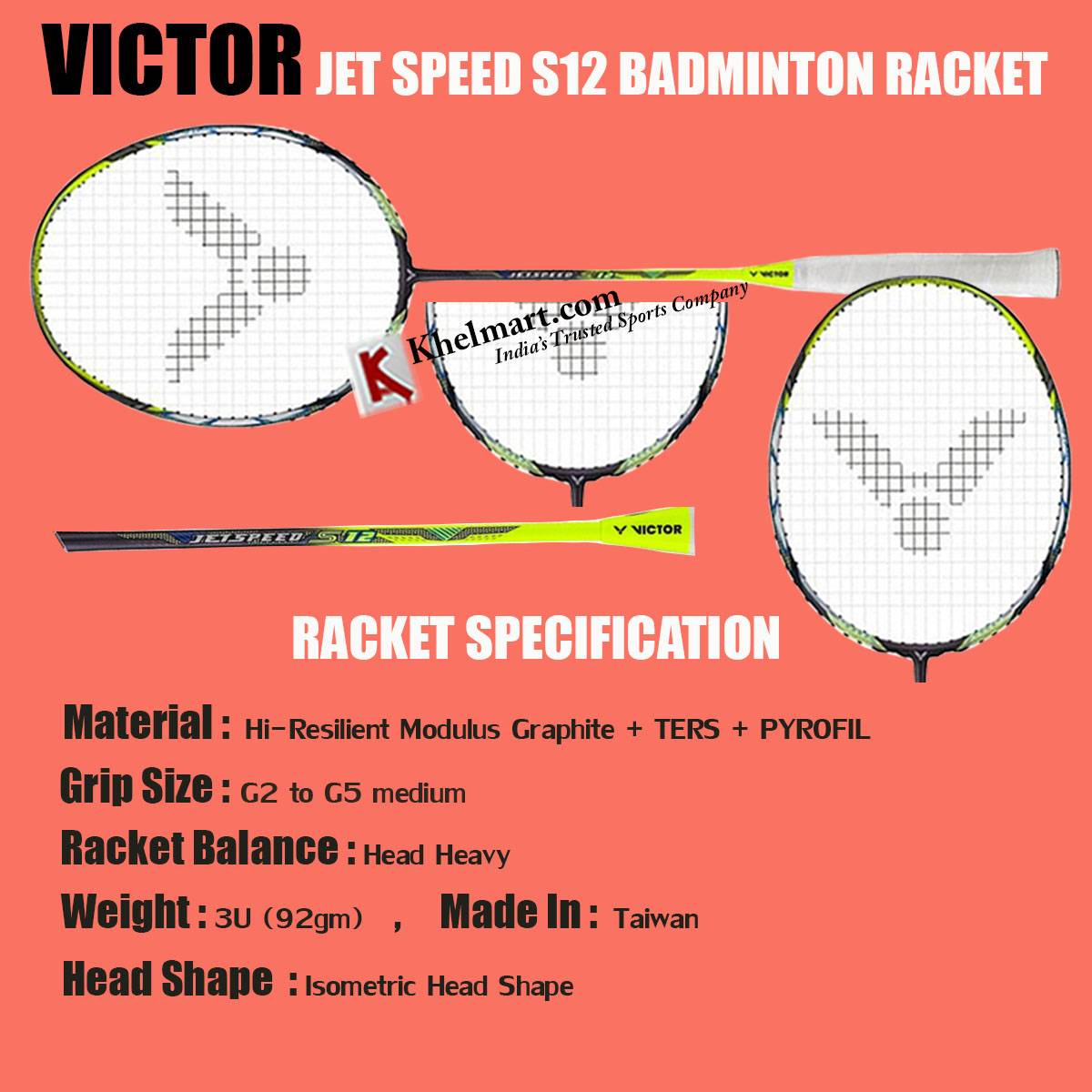 Victor Jet speed is fast handling racket suitable for those who wants quick rallies and dominate on opponent with very fast drives and counter attack shots. Victor jet speed is developed with new material science concept known as TERS (Twin epoxy resin system). TERS is new generation material in which graphite is bounded better with epoxy resin to get better frame stiffness and shaft resilience. The combination of stiff frame and repellence shaft helps in pacing fast shots with more power. Victor Jet Speed S12 is head heavy badminton racket with 92 gms of weight. Its shaft is stiff suitable for placing quick reflex shots. Victor Jet Speed s12 is developed with hard Core technology which is derived from helicopter rotor blade concept. In this technology, multi layer of carbon fiber materials are used on layered concept which offers better strength and power to frame. #5 Ashaway phantom x speed: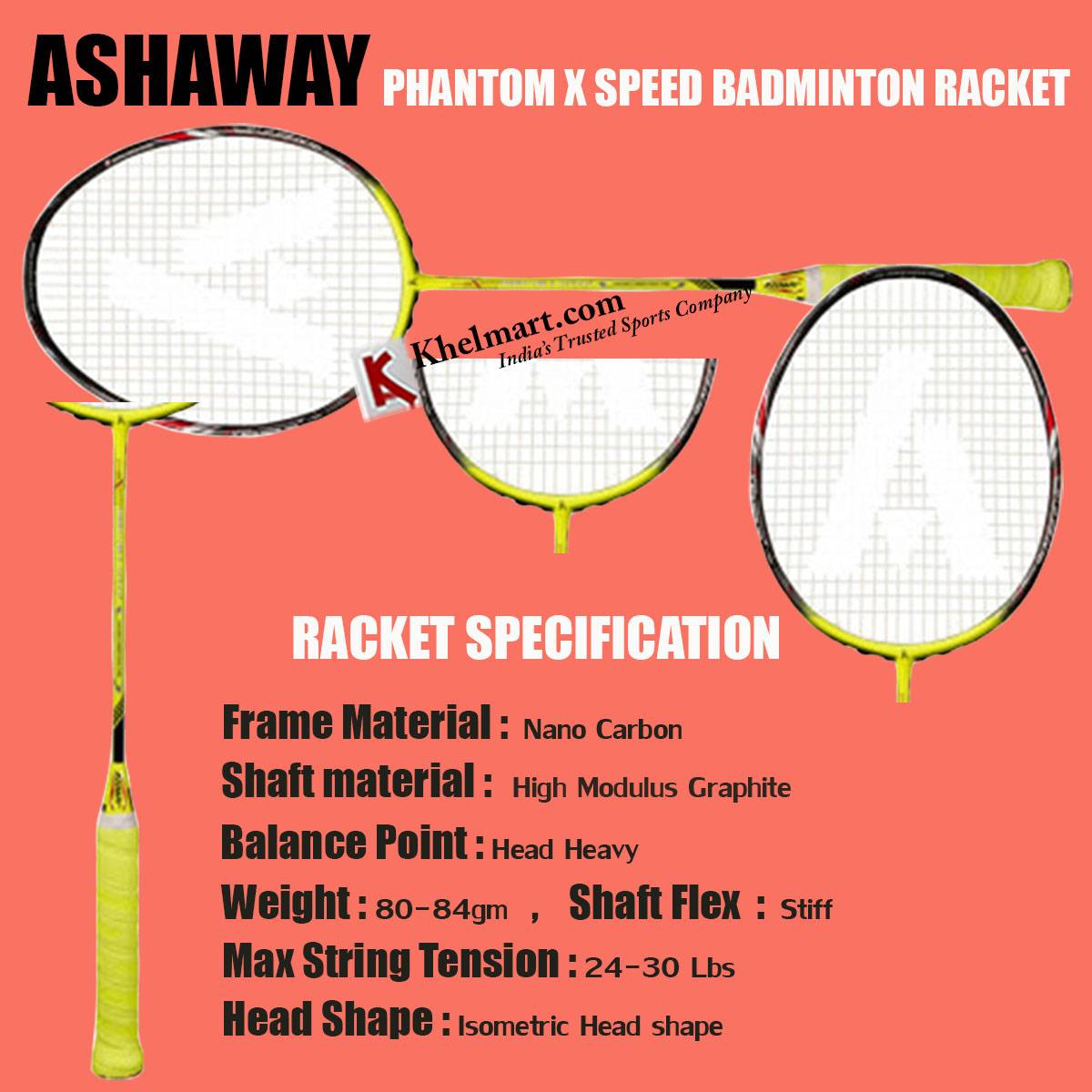 Phantom X speed is developed with 40T HM Graphite Material

which delivers high impact strength racket shaft and high strength frame. High Modules graphite material offers better strength to frame to sustain high string tension.

It is mid weight racket (84 gm) with slightly head heavy configurations. It is slightly stiff in nature so player will get optimize reflection for fast drive shots.

Frame cross section of this Ashaway racket is developed with Hexagon shape which provides better aerodynamics eventually results into better head speed. Ashaway slim frame with better cross section helps in fast head speed required to play quick drive and fast cross corner shots.

To provide better strength to frame and shaft, this racket is developed with graphite layers which give stronger badminton racket frame with carbon nano tubes. Frame of the racket is manufactured with micro engineered carbon nano tubes.

The Graphite layer of racket frame is equipped with the addition of tubules which will provide you more strength in racket frame without increasing the weight. With this technology, racket frame will become stronger (With more strength).

#6 Carlton Super lite 8.9 X: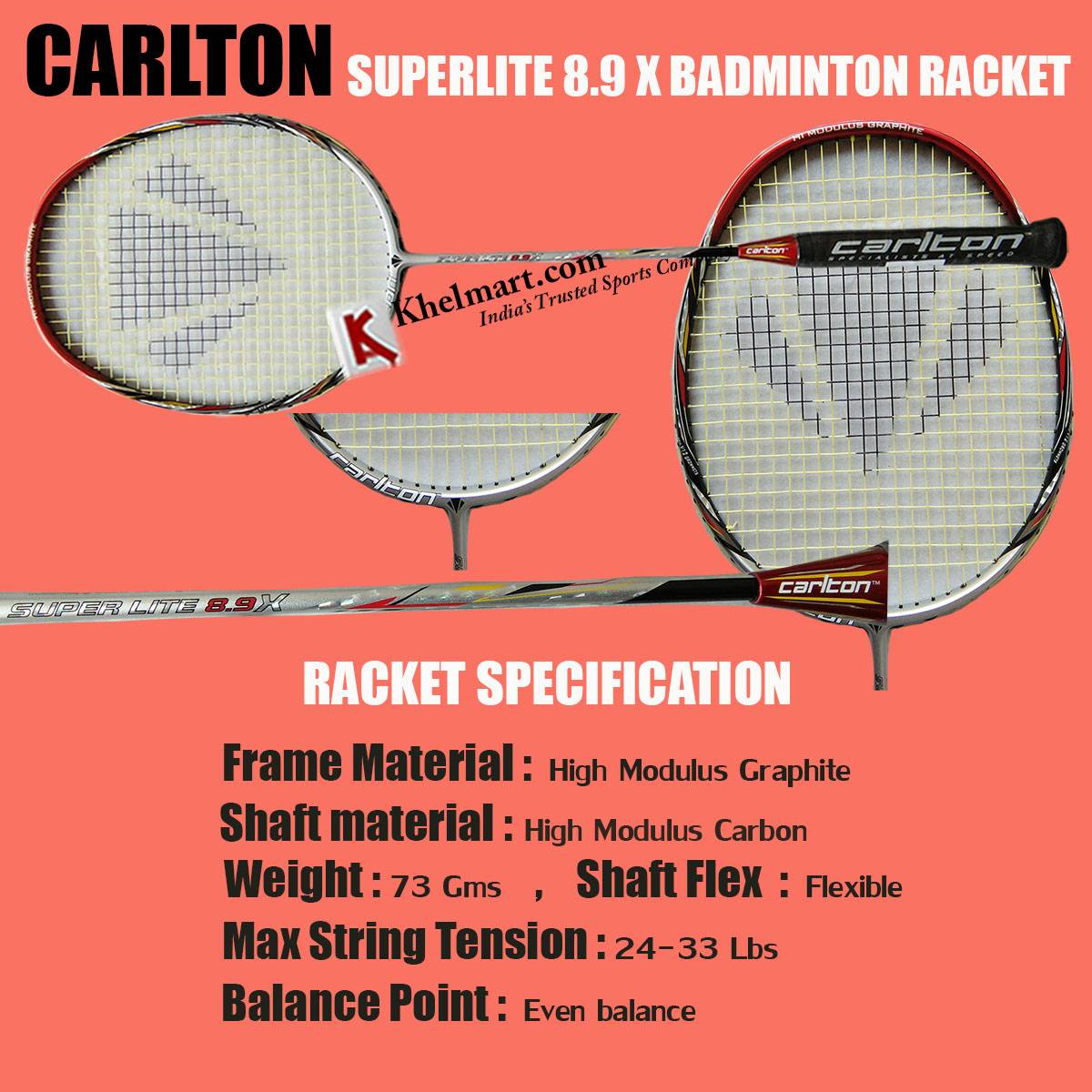 This Carlton racket is developed on superlight racket technology it means racket frame, shaft and handle is manufactured with lightweight but durable material. To improve the swing speed to the racket, Bi Axial dynamics frame technology is adopted. Bi axial frame utilizes the effective frame aero dynamics in order to get fast racket swing speed. With fast racket swing speed, player can place better drive shots, smashes and drop shots.

Weight of superlight 8.9x racket is around 73 Gms, balance is even balance while shaft flexibility is medium flex. With lightweight racket (73gms), even balance and mid flex shaft, player will get exceptional racket speed which is suitable for attacking game style.

In order to reduce the overall racket weight and to improve the performance, Carlton used improved Cap in superlight 8.9X rackets. Improved cap is 28% lighter as compare to traditional racket and better in durability. Carlton invented and used the micro grommets system. This type of grommets system, help in easy string movement from frame archway results into better string movement and increased power.

Carlton use torsional Control System at racket T joint. With this innovative system, racket t joint become stronger and offer better stability during shuttle hit. Due to joint stability, player will get accurate shot delivery.

#7 Yonex Voltric Z Force II: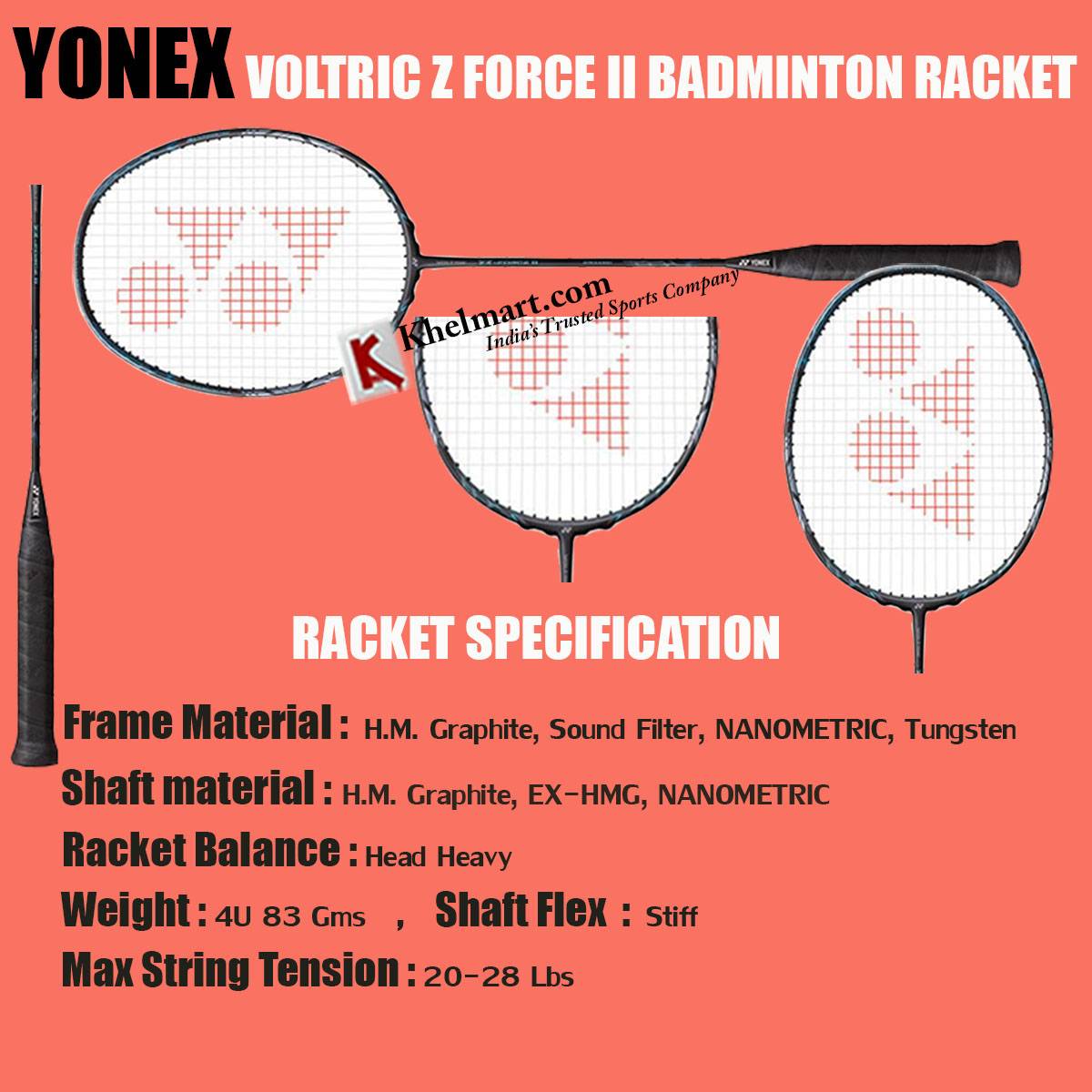 Voltric z force 2 is most popular model among the professional badminton players with Extreme Power and Super Control over Shots. This racket is used by Legendary badminton players Lee chong wei and won many international super series titles with this racket. This racket is known for its innovative shaft and frame design concept which gives excellent reflex and power on shots.

ZF 2 is head heavy racket with extra stiff shaft. The combination of head heavy configuration and extra stiff shaft offers best in class racket experience to player.

Weight of Voltric VZ 2 is around 83 to 89 Gms , while player can use string tension upto 30 lbs. Recommended string for this racket would be Yonex NBG99.

To improve the racket head speed and to improve the overall racket aerodynamics, Yonex used all new racket grommets design. With new design, now grommets are kept inside the frame which results into better racket aerodynamic and helps in extra racket head speed.

Yonex manufactured with VTZ 2 racket with ultra slim shaft which improves the overall racket aerodynamic helps in increases the bending strength by 8% and 40% increase the impact strength.

One of the best technological feature uses in this racket is compact frame. Compact frame gives better racket frame speed as compare to traditional frame concept.

#8 LI Ning N90 III: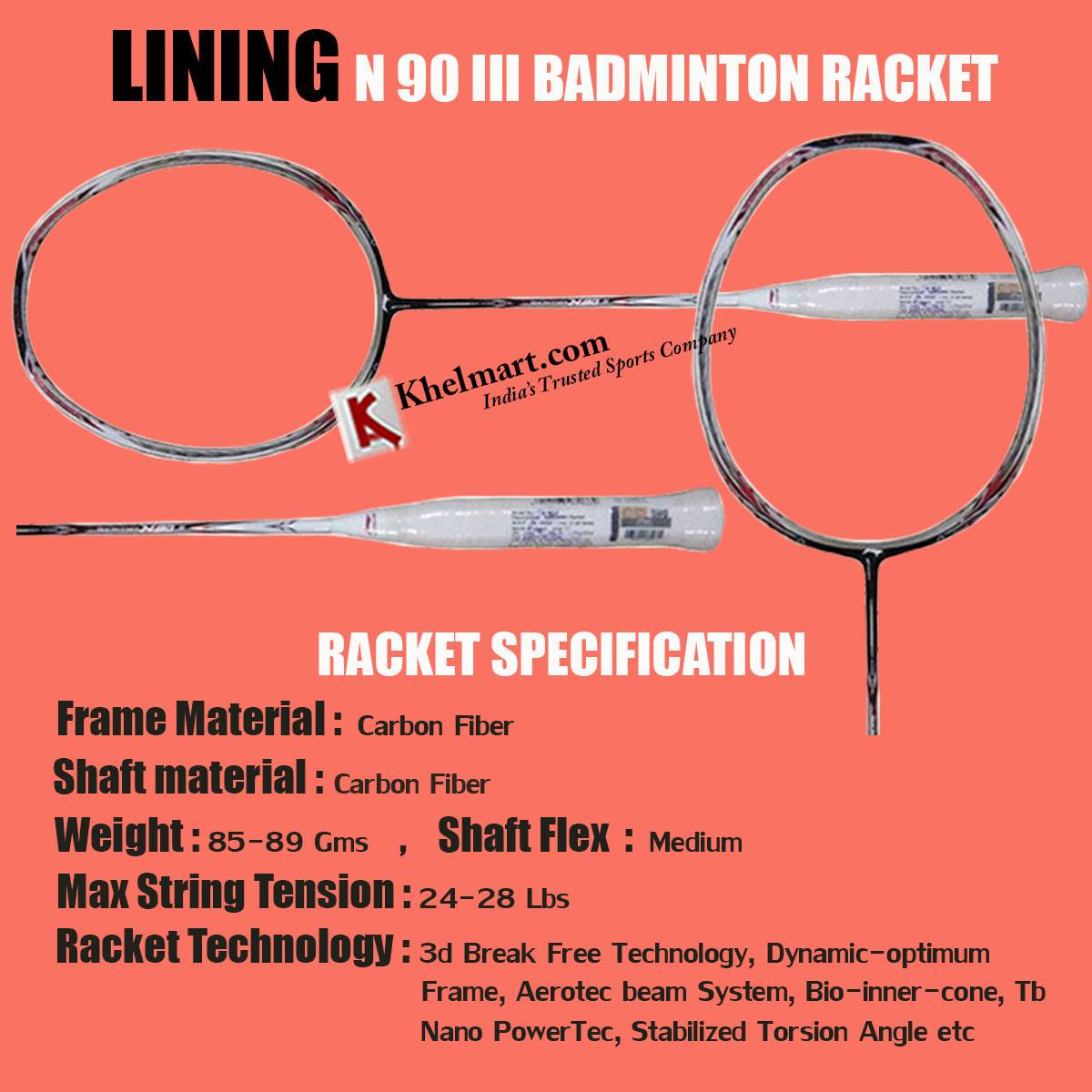 N90 series rackets are always hot sell rackets in Li Ning rackets, while N90 III is still on priority list of any professional player because of its better head shape, design better aerodynamics.

Weight of the N90 III is around 85 to 89 Gms and this racket is suitable for offensive players. N90 III is manufactured with military grade graphite fiber material offers more strength to frame to sustain higher string tension as per game need.

To improve the aerodynamics of the frame, Li Ning use 3D break free technology. 3D break free technology use the better shape frame cross section eventually offer better aerodynamics and better frame strength.

Further to complement to frame structure, aero tech beam system is incorporated in frame design. Aero tech beam system minimizes the unwanted drag force from frame and provides smooth frame structure.

LI Ning N90 III generation racket is used be player like Lin Dan and have all the characteristics which a professional level Racket must needed.

#9 Victor Hyper Nano X800: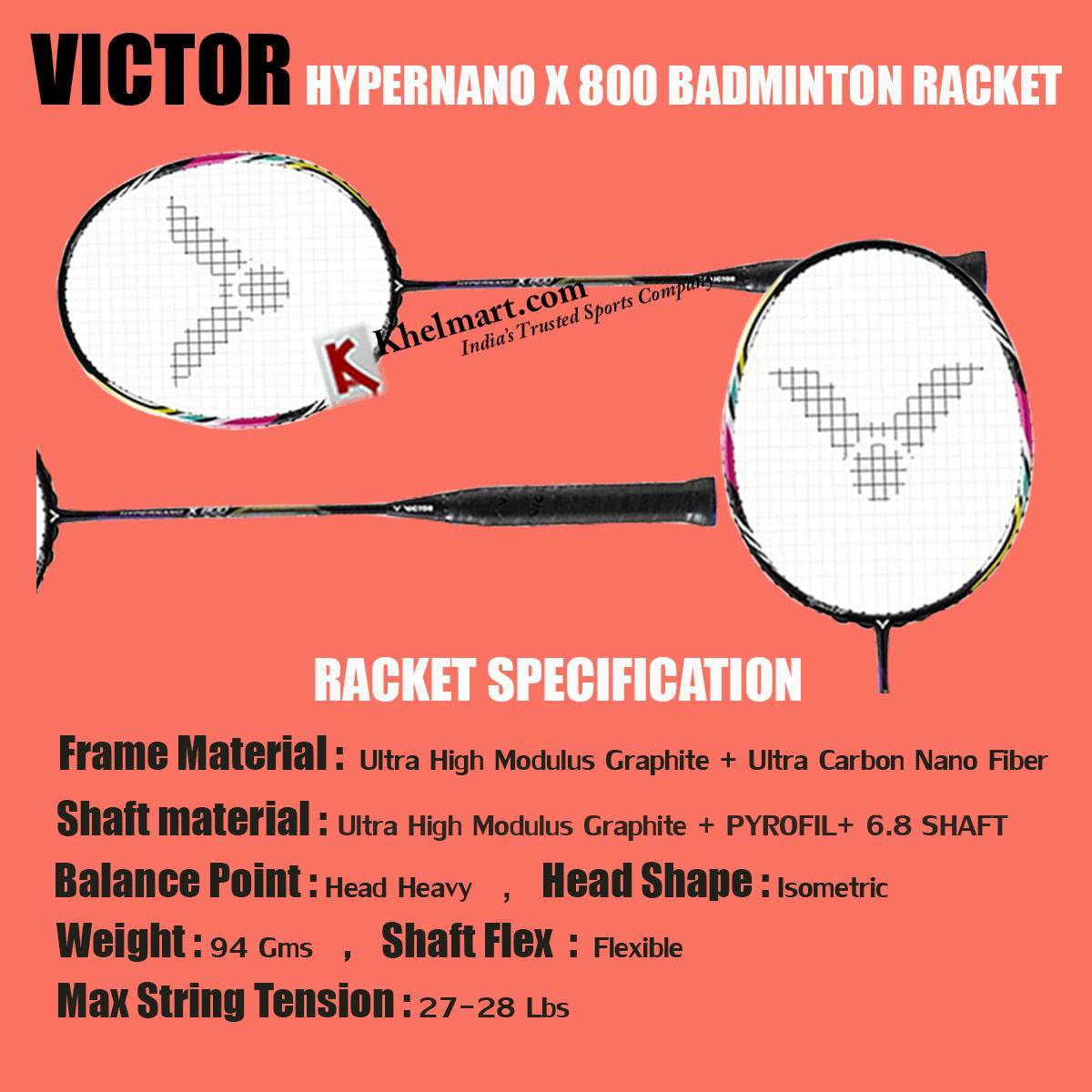 Victor Hypernano X800 is developed with Ultra High Modular graphite material (Improve version of HM graphite). Further to improve the frame strength, Ultra HM graphite is bounded with Nano fiber material. To improve the shaft characteristics, PYROFIL technology is used with ultra HM graphite. Shaft of Hypernano X800 is developed with 6.8 mm diameter with PYROFIL technology which provide incredible power and anti torque ability.

PYROFIL technology provides 17% improve anti toque ability which helps in absolute control on shots, Improved anti torque helps in steady racket frame results into accurate shots.

Further, to improve the frame stability into next level aero diamond frame structure is used. With Aero diamond frame structure, 36% better frame stability is achieved.

Victor hypernano X 800 is used by Tai Tzu Ying and won many international tournaments.

#10 Apacs Lethal 68: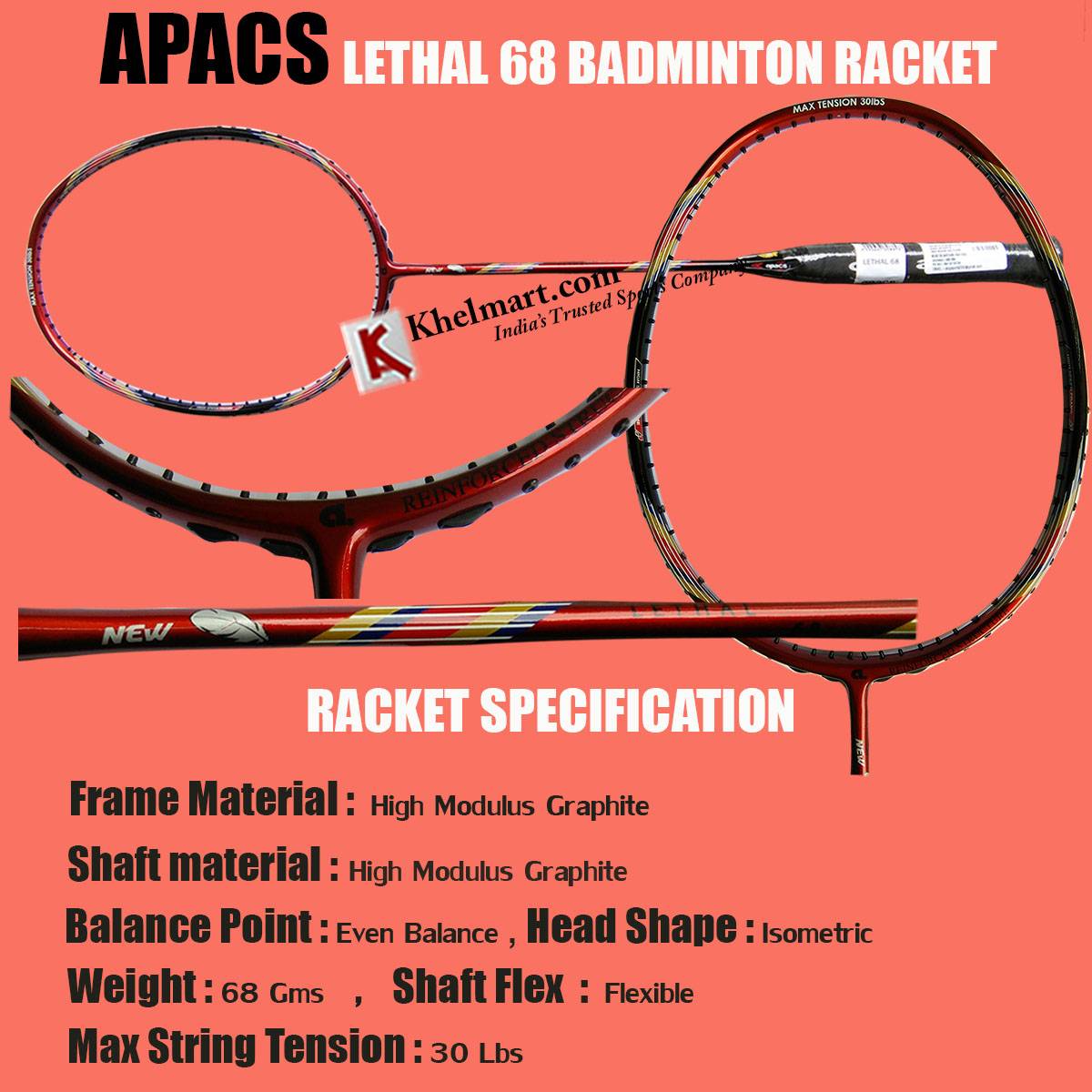 Apacs Lethal 68, as its name suggest it the lethal combination of fast racket speed and super control. Its frame is made of 30T high modules graphite material with reinforce structure concept while its shaft is made of 30T HM graphite material.

Racket weight is around 68 Gms while shaft diameter is around 6.8 mm. It is head heavy racket with medium flex point while player can put 30 lbs string tension on it.

Apacs lethal 68 is best suited for those players who love to play with feather light weight racket with fast racket swing speed and better control on shots.

This racket is easy to maneuver which helps in better counter attack and defense shots.

Comparison of Best 10 Badminton rackets as per Power: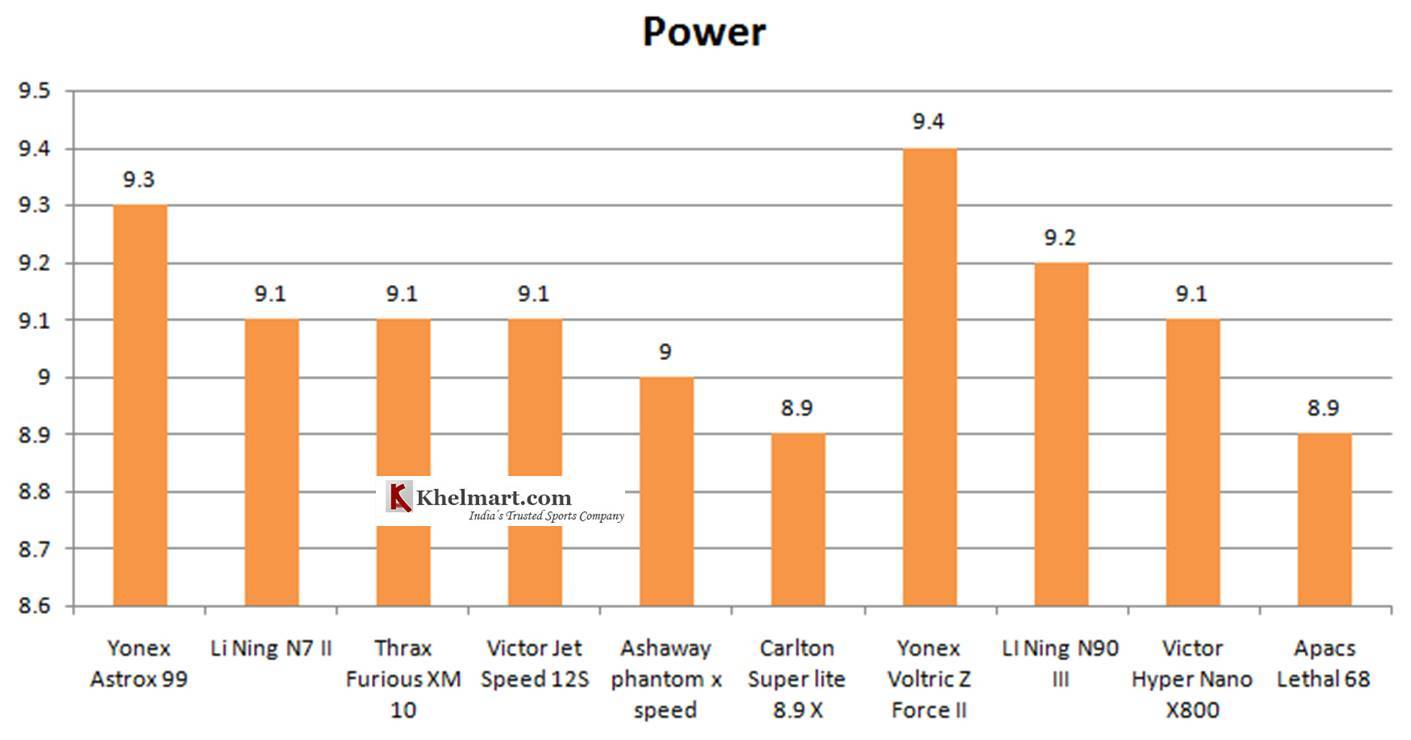 Comparison of Best 10 Badminton rackets as per Frame swing speed:





Comparison of Best 10 Badminton rackets as per Counter Attack ability: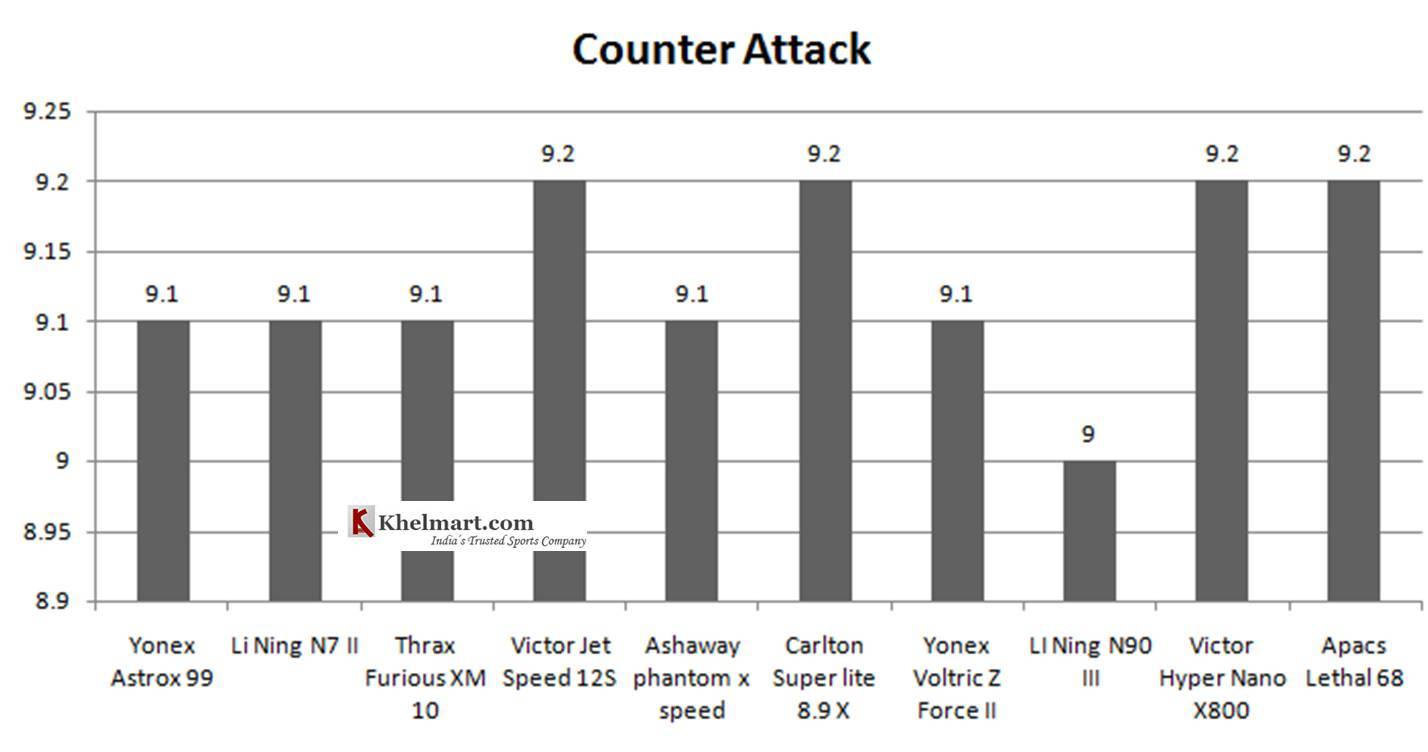 Comparison of Best 10 Badminton rackets as per Racket weight:





Some Key Points to be considered before select the Badminton racket:

1. Racket Balance Point: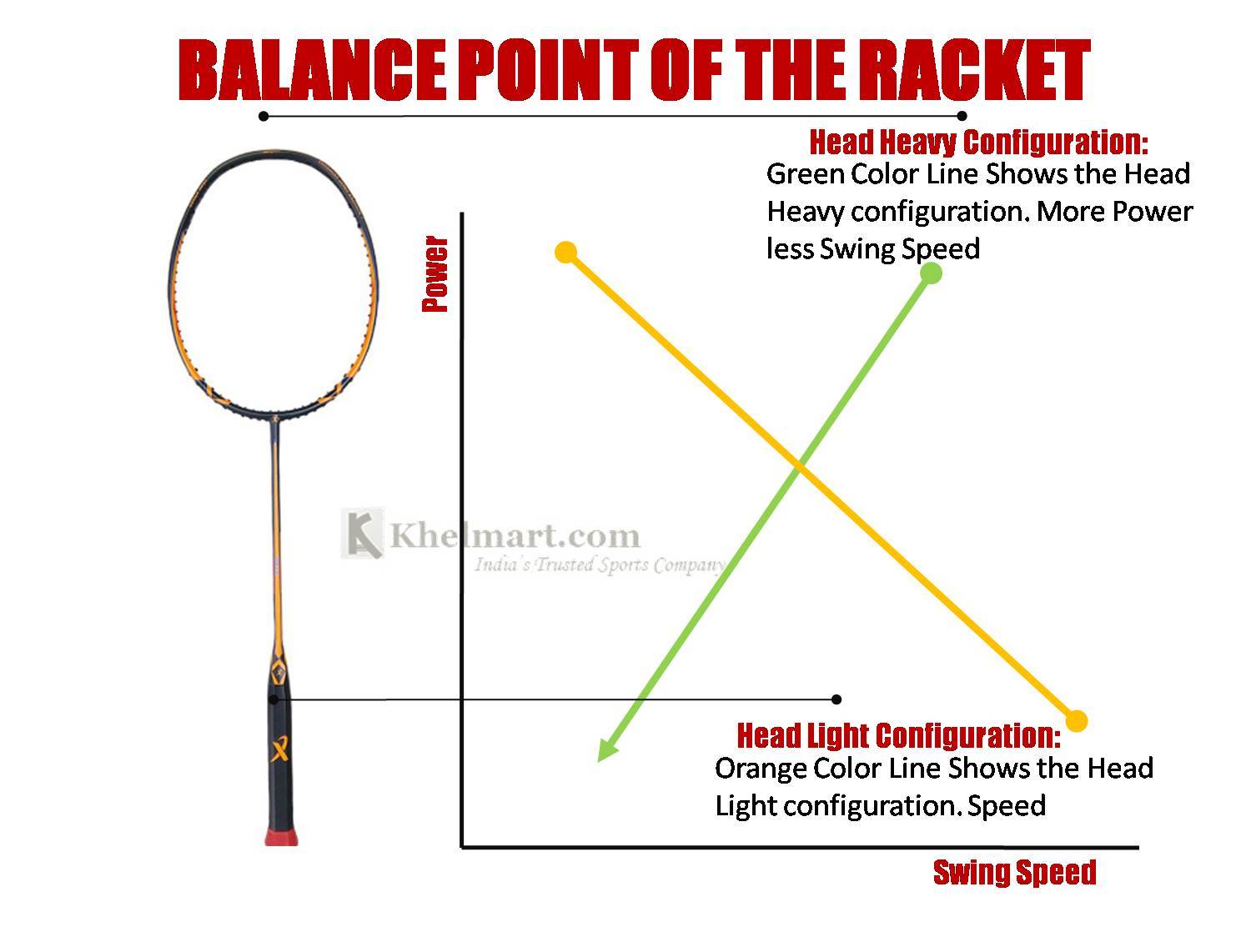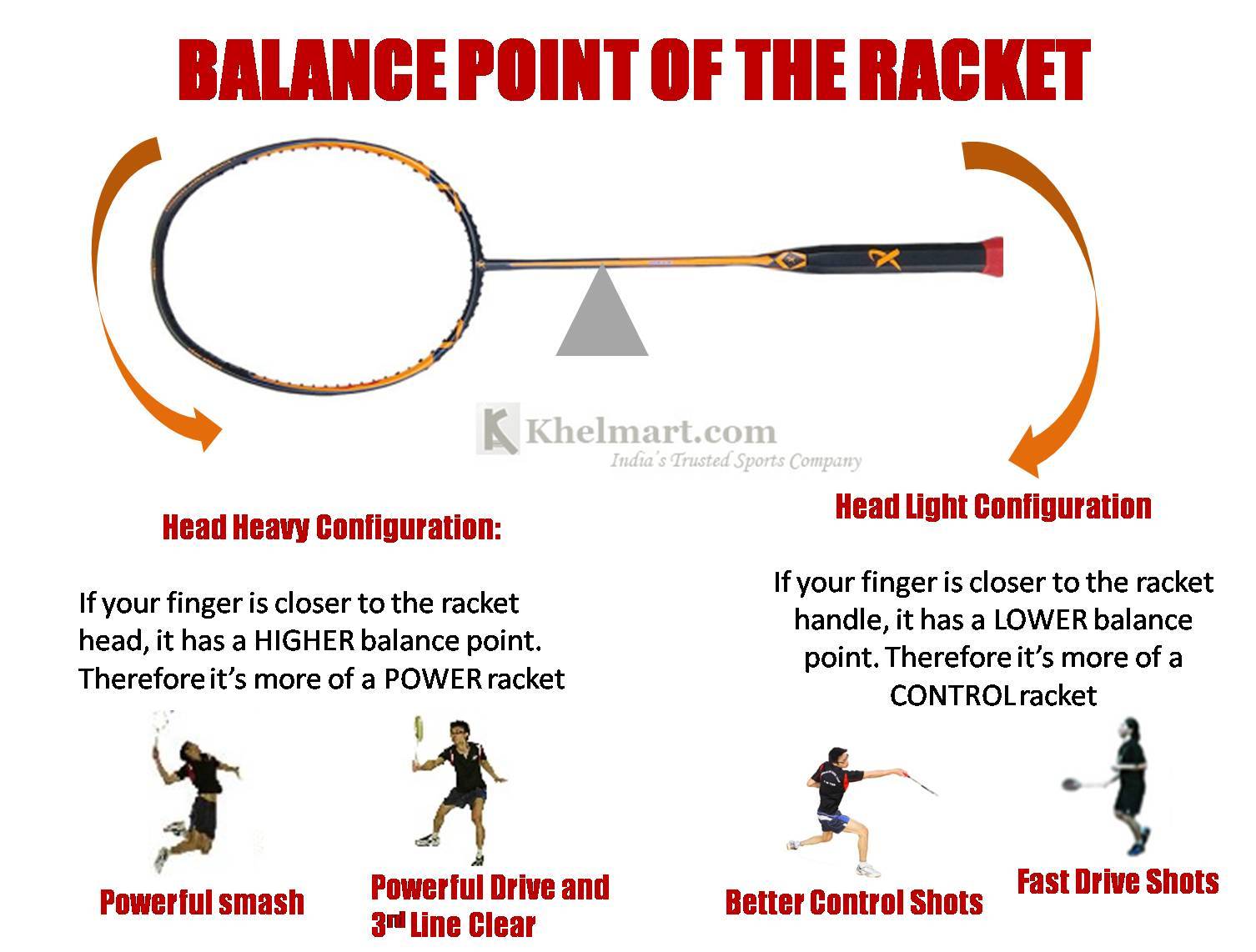 Balance point of the racket is a point where we can balance it. Balance point defines the overall dynamics of the racket. Based on balance point a racket can be classified into 3 types: Head Heavy, Head light, Even Balance 2. Racket Weight:

It is important to check the weight of racket as impact the shots speed, accuracy and control. Lightweight badminton racket helps in providing better swing speed and easy to swing for getting fast drive and smashes. While on other hand, racket with mid weight with head heavy configuration will offer better power on shots. 3. Racket Shaft Flexibility: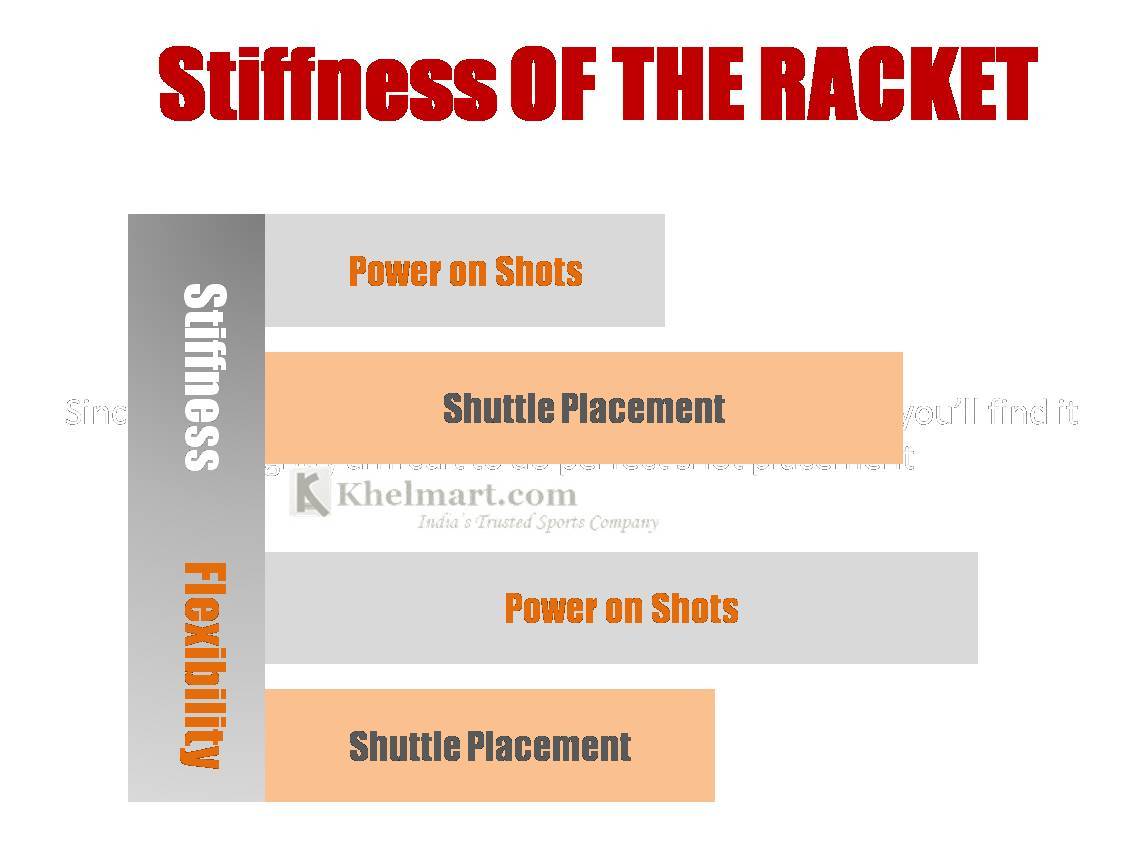 Shiftiness of the shaft is very important characteristics of a racket. Stiffness represents the amount of bending of a shaft. If shaft of racket is stiffer than it will be difficult to bend it. Stiff shaft transfer the maximum power to shuttle and suitable for those who love to play with more power on smash and shots. Stiffer Shaft Rackets:

We know that if a shuttle hold on string bed for some time than there will be power on shots while on other hand if a shuttle repelled immediately after contact to string bed then there will some power loss. Flexible Shaft Rackets:

Flexible shaft are tends to flex during shuttle impact. With this action, shuttle holds on string bed for bit longer time and thus results into good repulsion. This action allow shaft to work as spring which Store energy during shuttle impact and releases it with more power. 4. Racket Head shape: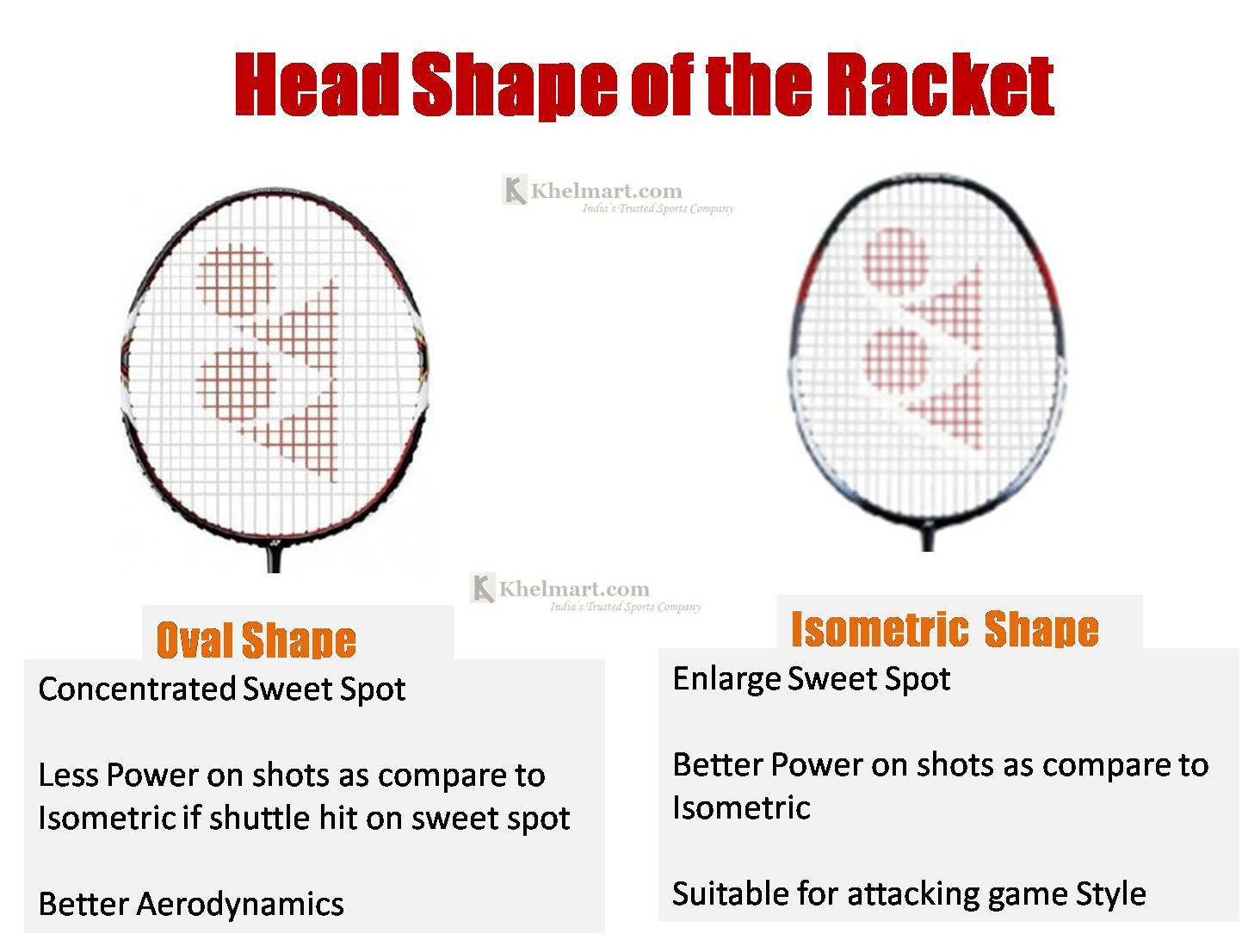 There are two type of frame shape is very popular among the players. Isometric

Oval Shape

Isometric head shape is very popular among the player due to its large sweet spot area. With Isometric head shape, player gets better and enlarges sweet spot.

Isomeric head shape racket provide better power.

Oval shape frame shape is suitable for those who want all round type of performance. Oval shape frame are aerodynamically well balanced and offer best Aerodynamics characteristics.