Badminton shoes play important role for badminton players as it provides safety and allow player to move on court with confidence. (We all know that badminton is the game of lots of foot movement within the court).

So as a badminton player you must check the best badminton shoes, its technologies and innovation in market Checkout the Blog on Best badminton shoes for Year 2018which can help in improving your game.

As a badminton player you must check following innovation or technologies for a good pair of shoes:

• Innovation or improvements on shoes upper material

• Brand commitments towards shoe weight reduction

• Innovation in cushion technology

• Innovation in outer sole technology and its grips patters

• Innovation for providing better stability to players

Good quality badminton footwear always provides better fitting, easy comfort, lightweight shoe and perfect grip to players at minimum cost. (Well ,ultimately cost is also an important critaria)

Brands like YONEX, LI NING, THRAX, VICTOR, NIVIA provides better options to player with all these qualities and it is up to player plying skills and aspiration level which will decide the best one for his or her need.

Check out the Best Yonex Badminton shoes for advance badminton players

Check out the best Yonex Badminton shoes with Power cushion technology

Bets Li Ning Badminton shoes

How to select Badminton shoes

sContinuing the last year trend, we prepared the list of best badminton shoes for 2019. This time we incorporated new graphs and comparison philosophy so that buyer will get detail approach.

#1 Yonex Power Cushion 65 Z: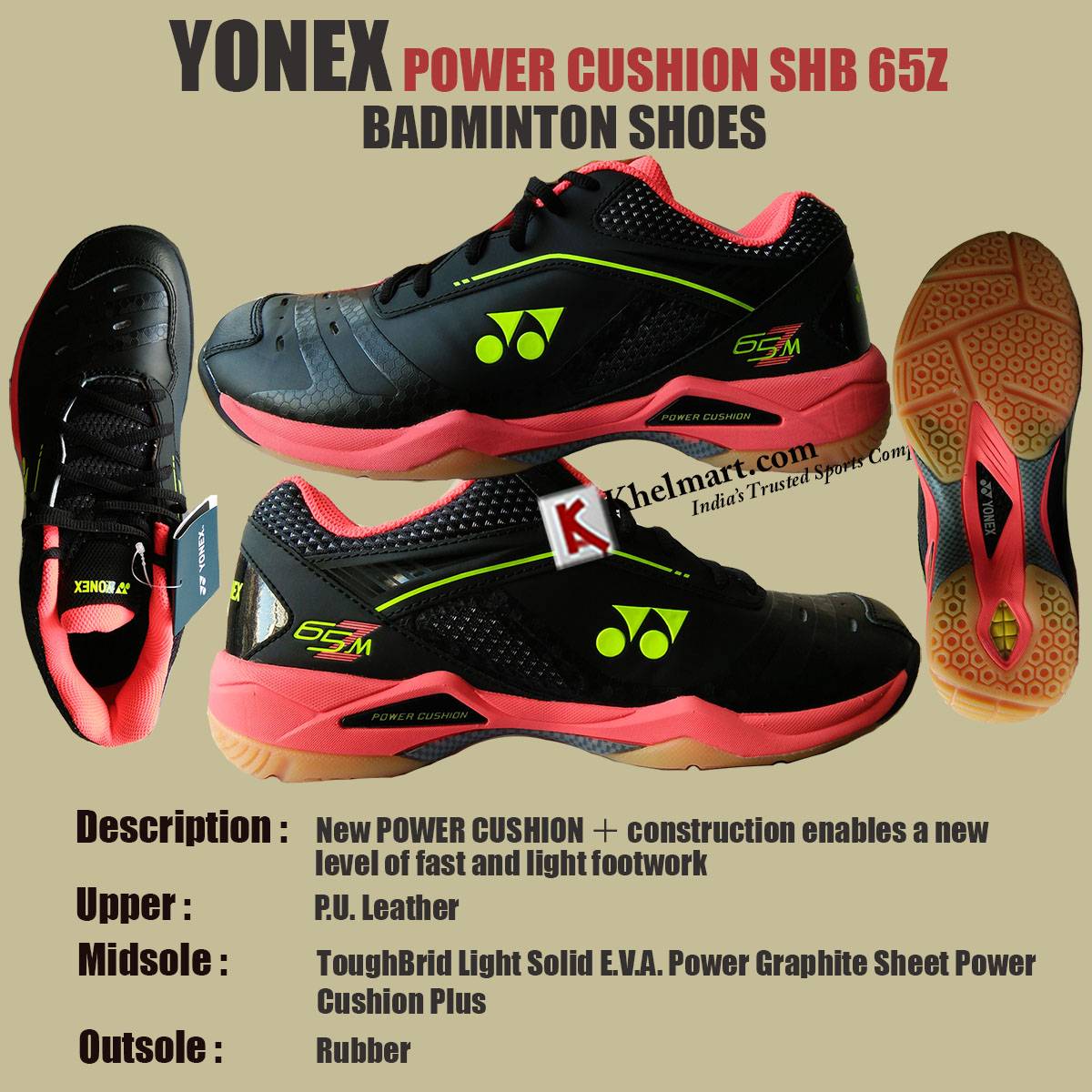 Yonex power cushion 65z is latest 2019 shoes with power cushion plus technology. Its upper is made of leather base PU, Nylon mesh and microfiber material while outsole in made of rubber. To optimize the cushion, power cushion plus is added into shoe.

The main and attractive feature of 65Z shoe is Power cushion Plus technology which is placed at important part of shoes for proving better comfort and shock absorbing ability.

Power cushion plus is further improvement in conventional power cushion to provide better comfort.

Mid sole of any sport shoe is very important part and it requires characteristics like better shock absorbing ability, better responsiveness and lightweight nature. In order of provide these characteristics to mid sole, Yonex manufactured shoes with technologies like TOUGHBRID Light, Solid E.V.A, Power Graphite Sheet, Power Cushion +.

This Badminton shoe is endorsed by international badminton player VIKTOR AXELSEN.

Yonex power cushion 65z shoes offer lightweight feel to player while is flexible upper helps in Sharpe movement on court. Power cushion Plus technology helps in unmatched cushioning and comfort.

Checkout Now

#2 LI Ning Shadow of Blade: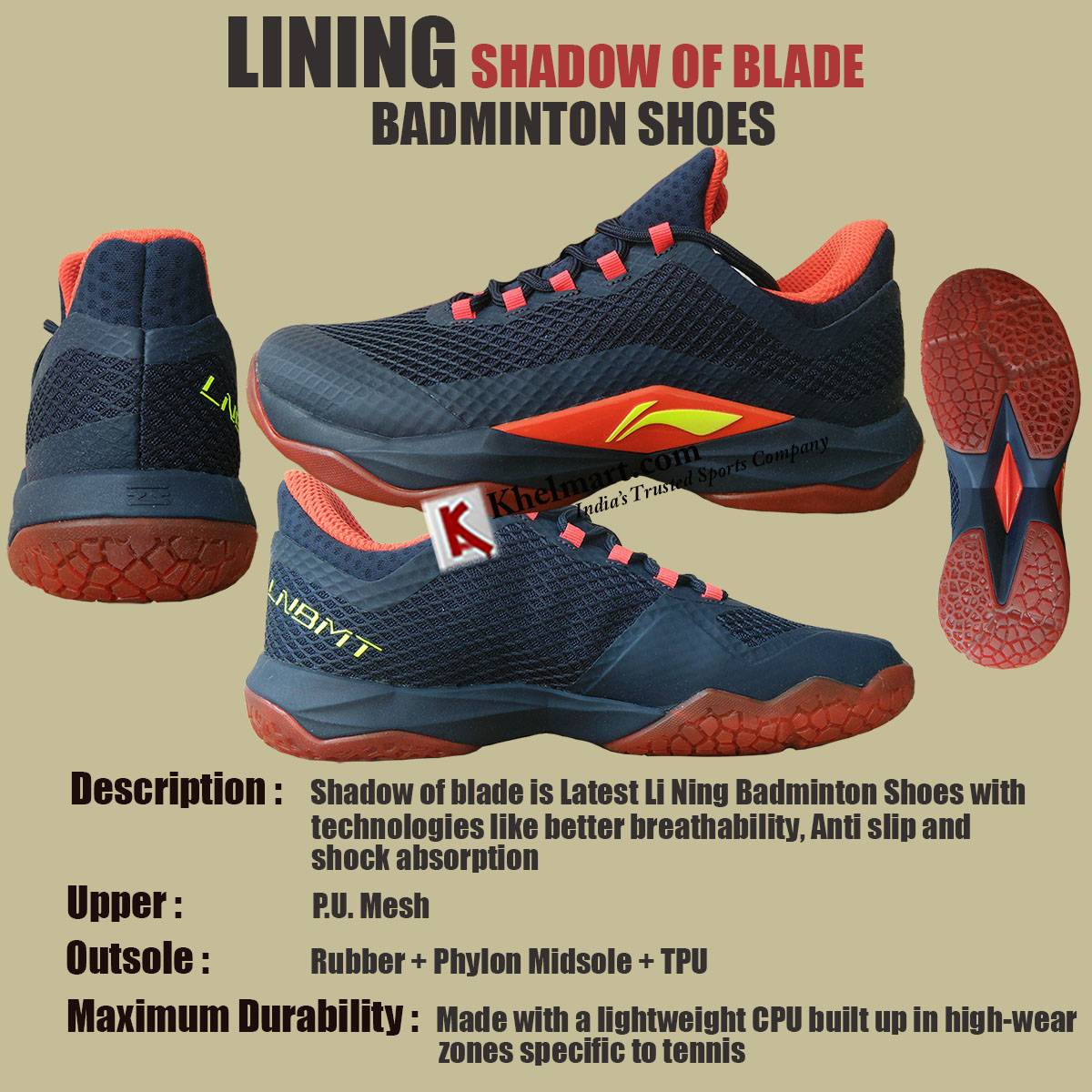 Li Ning shadow of blade shoe is latest 2019 launched by LI Ning in India. This shoe is equipped with transparent sole made of highly responsive polymer material. Its upper and sole shape is unique in its category.

LI Ning Shadow of blade badminton shoe is developed with revolutionary shoe manufacturing technology which requires minimum stitching. Shoe upper is made of durable mesh and Flyknit material. With the help of durable mesh and Flyknit, Li Ning produces the shoe with less weight and better durability.

To improve the stability and direction control, LI Ning used diamond shape edge at mid part of outsole. With stability control system on outsole, This Li Ning Badminton shoe provides better stability on badminton court. To improve the cushioning of the shoe, Li Ning used high resilience and better shock absorbing material at mid of the shoe.

This Li Ning badminton shoe is developed for professional badminton player who love to play with lightweight shoe with flexible sole and comfortable upper.

Checkout Now

#3 Yonex Power Cushion Comfort Z:




As its name suggest, this Yonex shoes is developed for providing ultimate cushion to players. To manufacture this shoe, Yonex use power cushion technology in complete mid sole (Earlier, Power cushion technology was only used at rear part).

By adding Power Cushion Technology to entire mid sole helps in better comfort to players. Further, to improve the cushion of the shoe, Yonex used power cushion plus in this shoe. In Power cushion plus technology, a new elastic resin is added to conventional power cushion material by which shock absorption property of shoe improved significantly without losing it lightweight nature. Power cushion offers 25% better shock absorption property as compare to traditional power cushion.

One unique feature on this shoe is its spiral design back side. Spiral design back side is latest technology incorporated in this shoe for better fitting and ultimate comfort to player.

This shoe comes in two color scheme, One is total while and second is in back color. Both the color looks very attractive and impassive.

Checkout Now

#4 Victor Cushion Plus GM: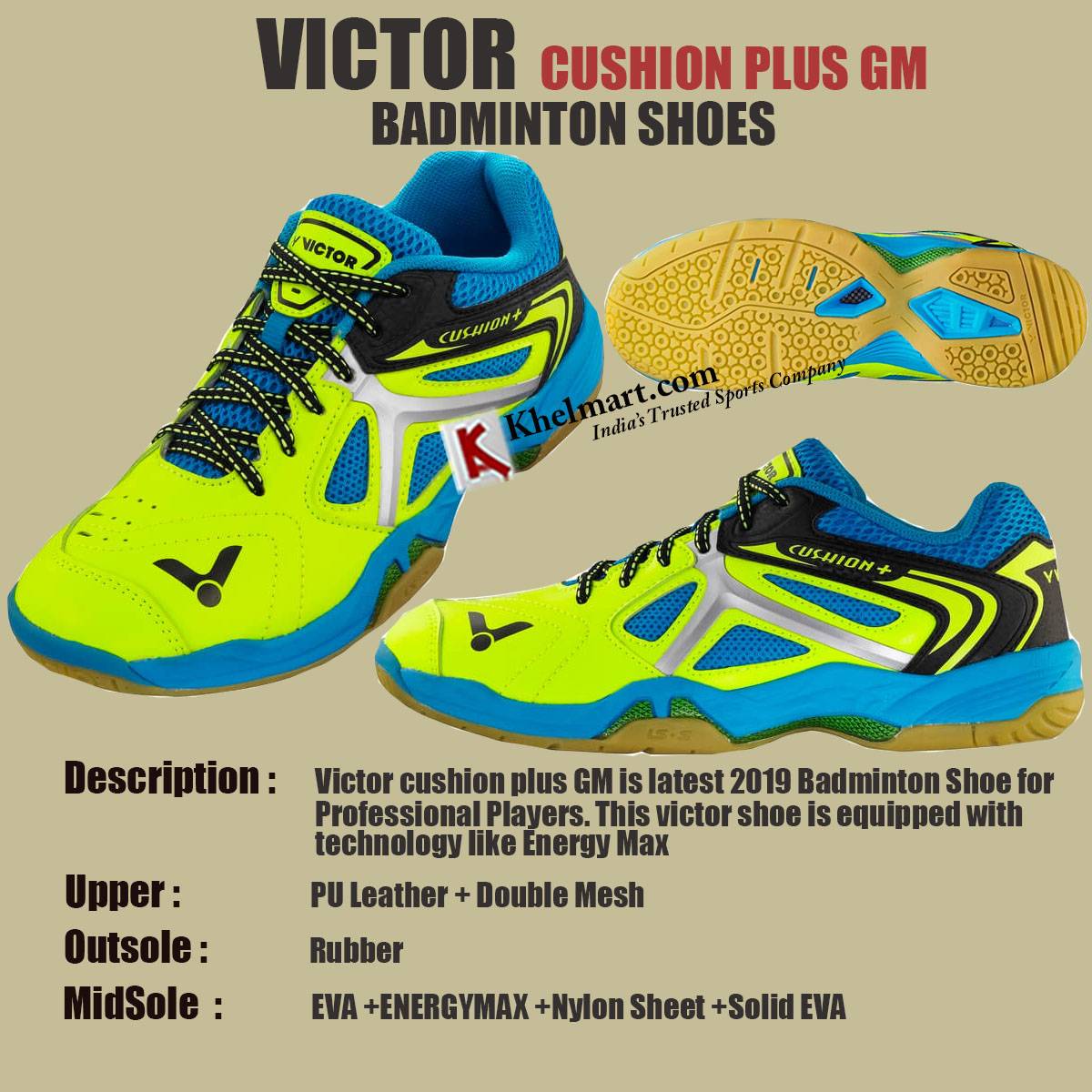 Victor cushion plus GM is latest 2019 Badminton Shoe for Professional Players. This victor shoe is equipped with technology like Energy Max. Energy Max is cushion technology developed with Victor for providing better comfort. Energy Max provides minimum momentum loss and store energy for next movement.

Victor Energy Max offers superb durability, better strength and responsiveness. Basically, Energy max technology is manufactured with highly elasticity, responsive and shock absorbing material.

To improve the grip and traction force, Victor use two unique types of grip patterns at outer sole. Center of this grip is round shape surrounded by triangular shape patterns. The combination of round and triangular shape pattern provides better grip and proper load distribution.

#5 Yonex Aerus 03:




Yonex Aerus 03 is lightest badminton footwear in complete Yonex catalogue with weight of just 270 Gms. This Yonex shoe is developed with all new manufacturing process know as lamination or heat transfer technique. In this type of manufacturing process, a thin PU sheet is laminated on durable Russell mesh.

New manufacturing process offers shoe with minimum stitching, lightweight in nature and with ultimate flexibility. As shoe is developed with minimum stitching, so it will be very durable.

Yonex Aerus 03 is all new badminton shoes for professional player with power cushion plus technology. Power cushion plus technology is developed by Yonex as an improved version on traditional power cushion. In Power cushion plus additional elastic resin is added power cushion so that lightweight, responsive and better shock absorbing characteristics can be achieved.

New power cushion absorbs 28% more shocks and offer 62% more repulsion. (Tested by Yonex)

Lightweight, Flexible and optimize stiff hard plastic for making the inner upper of Badminton shoes. It is known as durable skin lite material used by Yonex in Aerus family of shoes.

Checkout Now

#6 LI Ning Elite:




LI NING ELITE is new addition in 2019 for professional players. This shoe is developed with same technique like Aerus 3 in which thin PU sheet is laminated on top on durable mesh to offer better playing characteristics.

Lamination and head transfer technique offers better strength, better flexibility, lightweight shoe feel and stitching less upper with ultimate comfort to players.

Mid sole of this Li Ning shoe is made of highly responsive polymer material. Polymer mid sole with responsiveness is designed to offer best comfort as it absorbs most of the impact load and release it with steady pace.

To improve the cushioning of the shoe, Li Ning use cushion technology in this shoe. Cushion technology absorbs the shock and provide smooth feel to badminton players.

Comfort is the key in this Li Ning shoe and Li Ning Elite shoe is developed with wide last concept with high grade PU and durable mesh. The combination of latest footwear technology and material offers comfort like never before.

Li Ning Elite shoe comes in two different color schemes like Lime color, Black color. Its design is simple but looks very attractive in these colors.

Checkout Now

#7 Nivia Gel Verdict: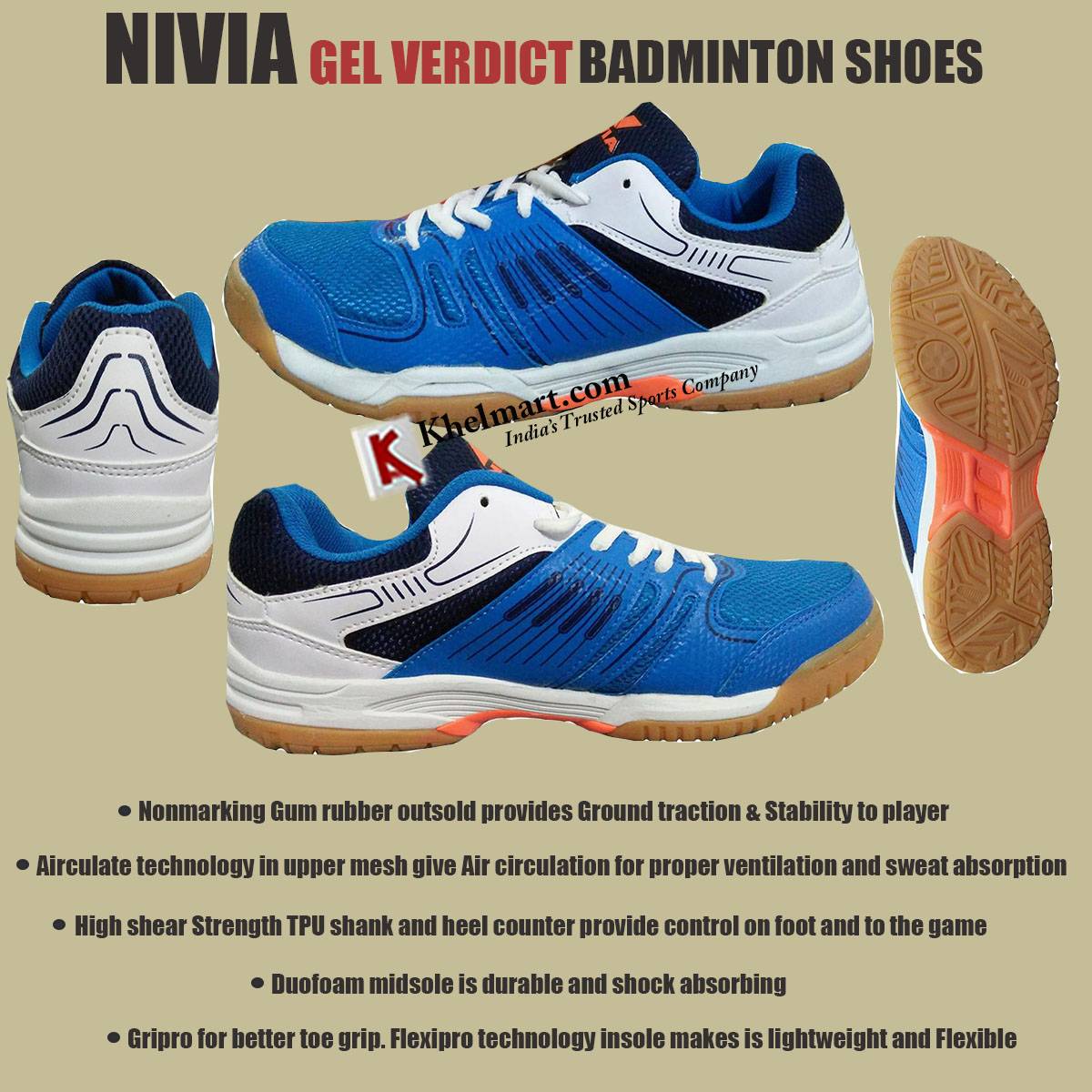 Nivia is India base sports equipments and footwear manufacturing company mainly produces football and basketball shoes and studs. Nivia Gel verdict is very popular models among the badminton players searching for low cost badminton shoes.

This Nivia shoe is manufactured with PU material with good quality mesh and skin fit. To offer better air ventilation, Mesh is used at important part of shoe upper.

Mid sole of this shoe is made of Eva material which offers better cushioning while to improve the shock absorbing ability double cushion inner sole is used.

100% non Marking outer sole is used for effective traction force and better gripping.

Overall, Nivia Gel verdict is a perfect pair of shoes for intermediate to advance badminton players.

Checkout Now

#8 Asics Gel Rockets 8: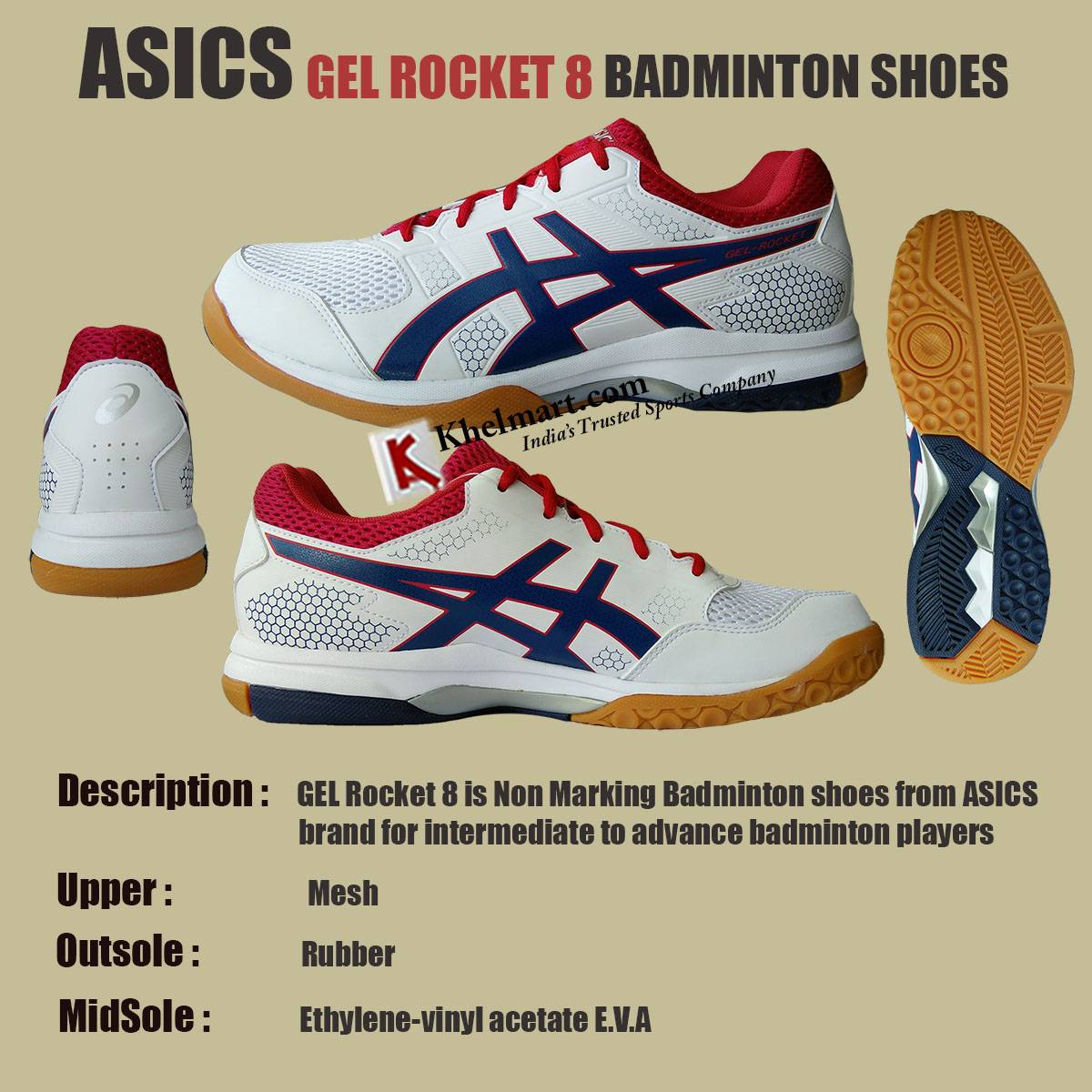 Asics Gel Rocket 8 shoe is developed with Gel technology which is developed for offering extreme cushion and shock absorbing ability to players. In Gel technology, ASICS use a soft but resilience material at critical part of shoe (Like at front and rear side of the shoe. At front side, extremely gel material is used, this gel technology at the front side helps in sudden impact load.)

ASICS shoes are equipped with integrated guidance system, which is a series of small components join together to smooth transfer to energy.IGS system developed by ASICS company is the series of inter linked component mechanism which basically developed to provide superb stability.

Lightweight badminton shoes are always a first choice of player and to reduce the weight of the shoe, ASCIS used Trusstic technology. This technology helps in reducing the overall shoe weight.

To maximize the grip and traction force, Gum Rubber Non Marking out sole is used so that player will get better traction force. Traction force is important for badminton player to do effective court covering. Gum rubber sole offers better flexibility so, player will fell better comfort on court .

Checkout Now

#9 Victor AS 36W: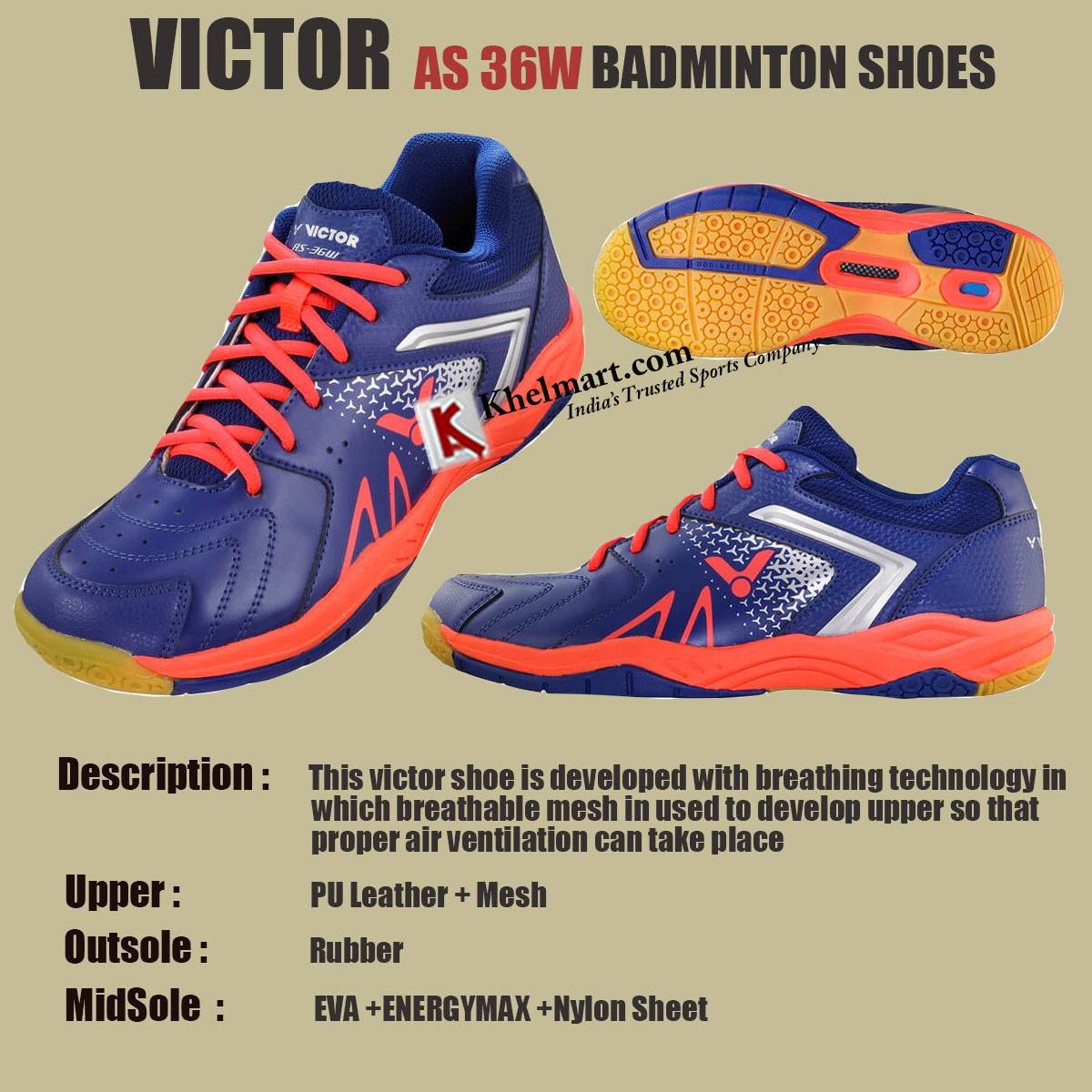 Victor AS 36W is new launch for 2019. This victor shoe is developed with breathing technology in which breathable mesh in used to develop upper so that proper air ventilation can take place.

Its upper is made of leather based PU, durable mesh and high quality skin fit. With PU material, this shoe will provide lightweight shoe feel to players.

To improve the cushioning of the shoe, high quality EVA mid sole is used in the shoe. EVA mid sole is highly responsive in nature while it absorbs the impact load.

Victor use energy Max concept in this shoe. Energy Max concept is use to provide better shock absorbing ability.

This victor shoes is available in 5 different colors in India. Out of 5 colors, Sky blue color combination looks very attractive.

#10 Thrax Furious Series: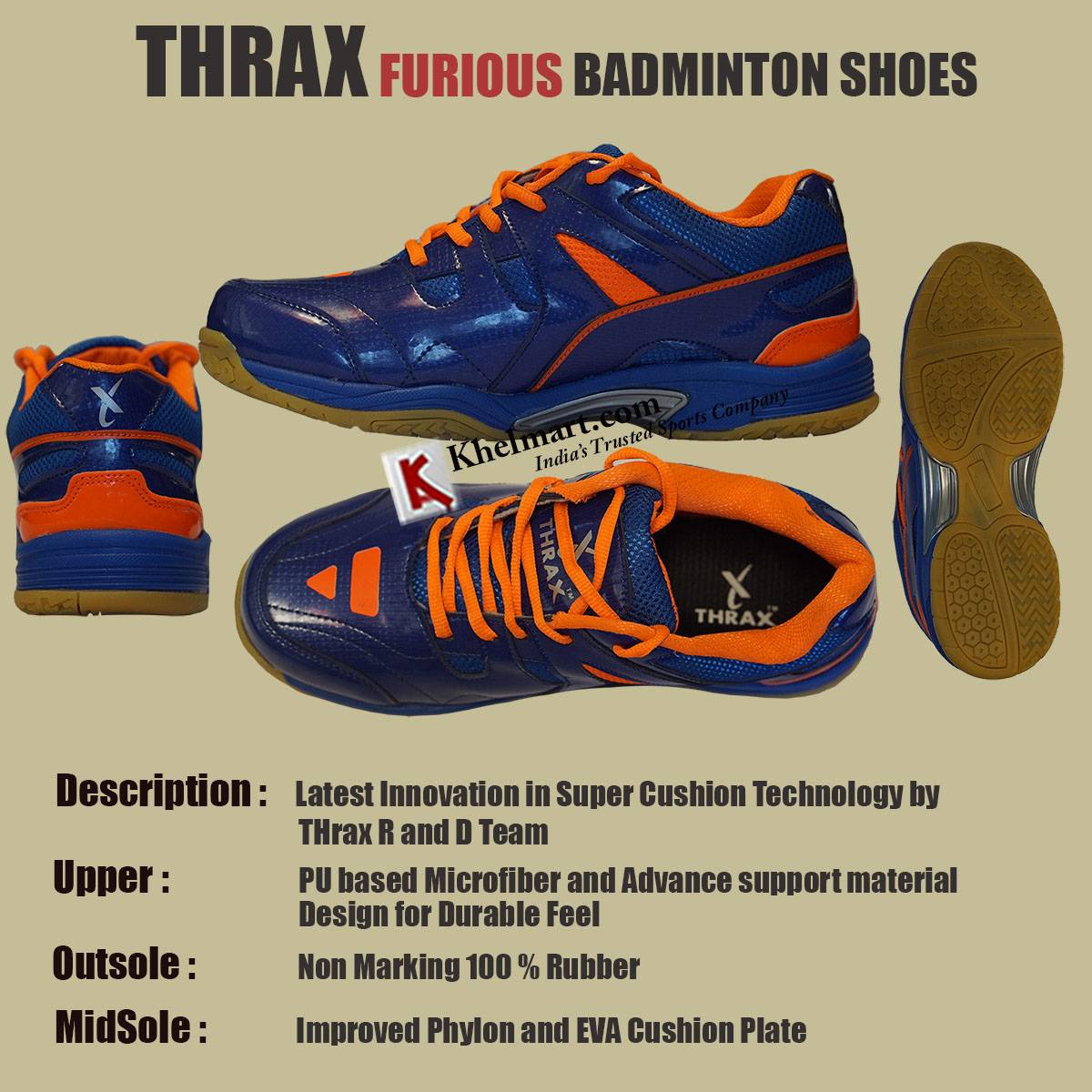 Thrax furious series shoes is latest 2018 -19 shoes for advance badminton player developed on wide last concept. Wide last offers better fitting and perfect comfort to players.

Thrax use very high quality micro fiber based PU (Taiwan imported), durable mesh and skin fit for making its upper. The combination these material offer light weight shoe feel, durability and attractive look.

Mid sole of this shoe is made of improved EVA (special resigns are bounded in Eva) which is ultra lightweight in nature and offers ultimate cushioning to players. To add more comfort to players, Thrax use double cushion technology. In double cushion technology soft and resilience materials are used for proving better strength and comfort.

Unique hexagon patterns are used at outer sole which offers optimize traction force which is necessary for perfect court covering. Overall, Thrax Furious Series shoe is good option for advance badminton players

Checkout Now

Comparison of Best 10 Badminton shoes for Year 2019 as per Cushioning: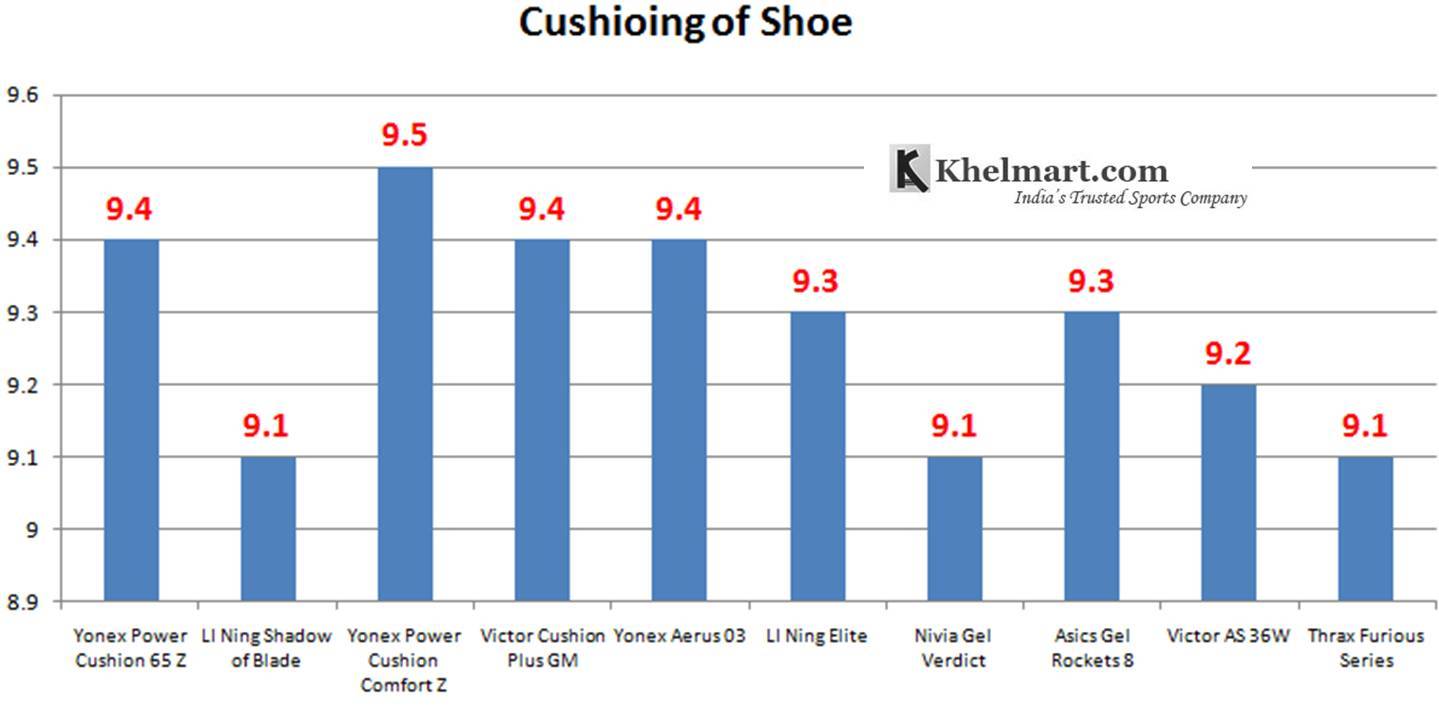 Comparison of Best 10 Badminton shoes for Year 2019 as per Fitting: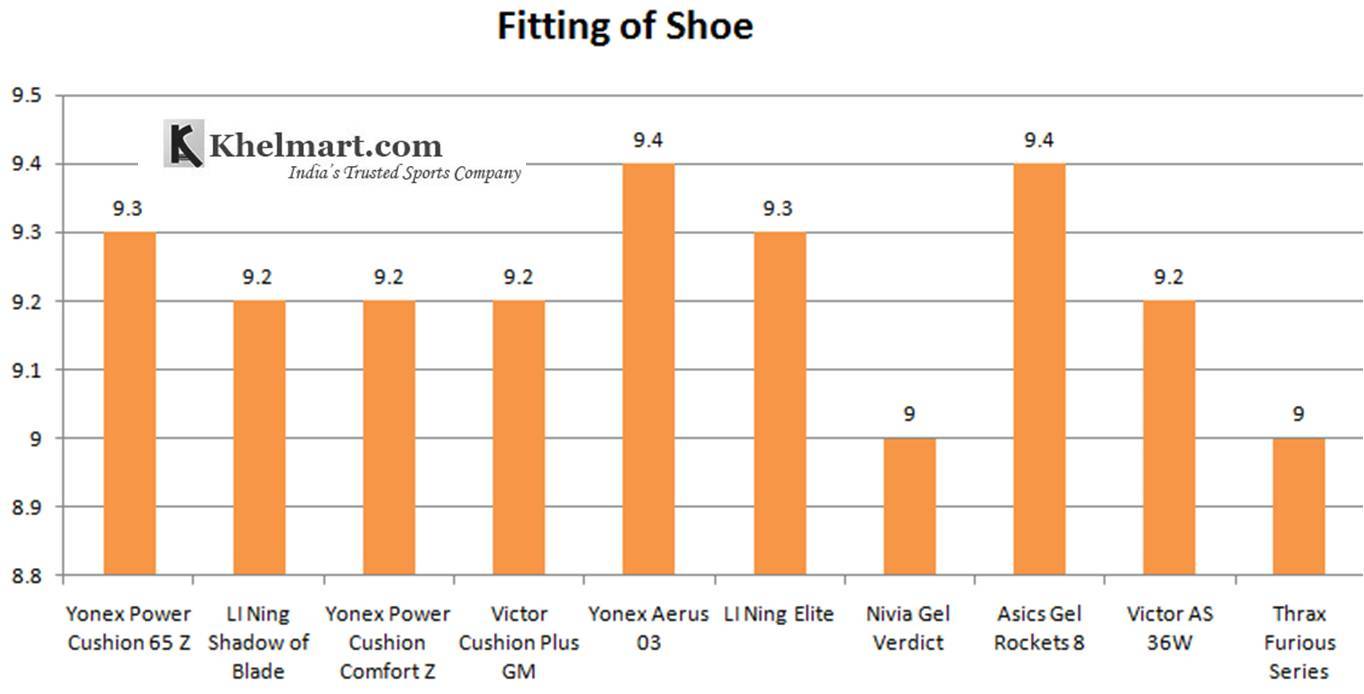 Comparison of Best 10 Badminton shoes for Year 2019 as per Value for money: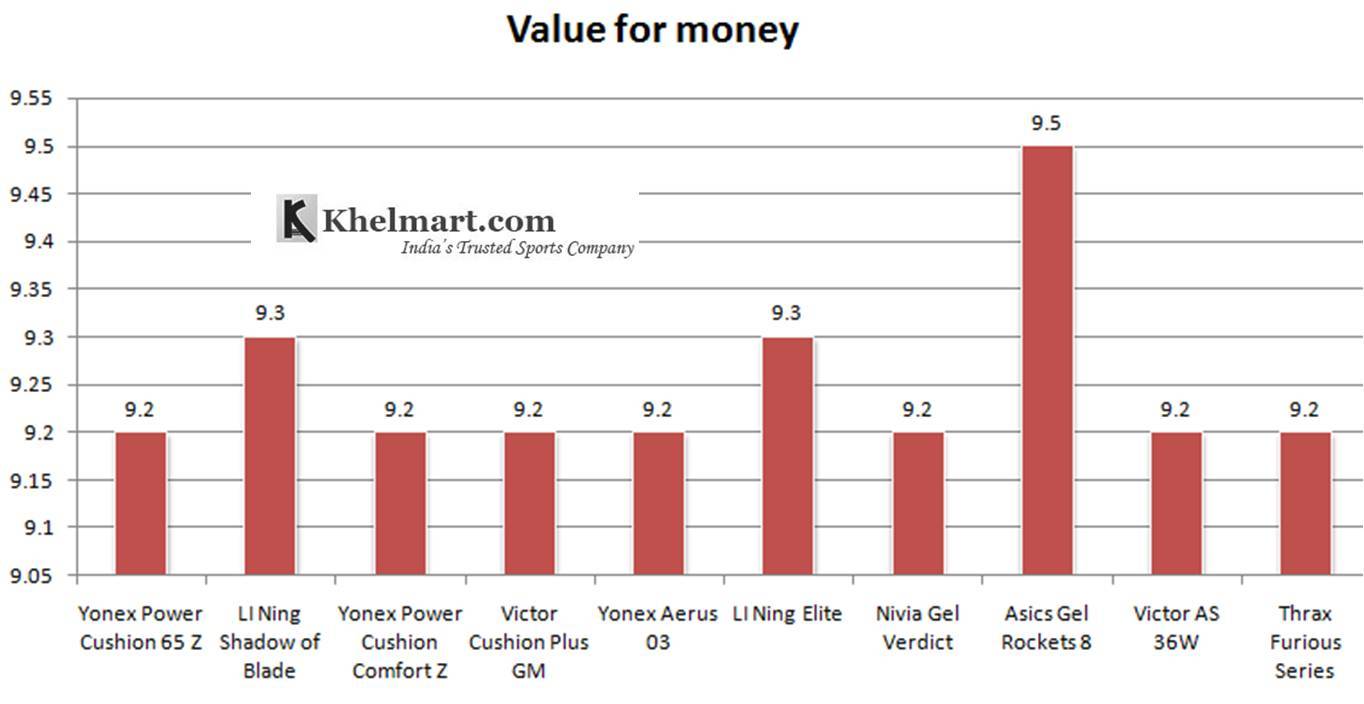 Final Conclusion:

We listed the best badminton shoes for 2019 based on detail research on shoes specification, sells data, overall performance and durability. We all know that Yonex is the leading badminton equipment manufacture in the world and produce quality equipments but now in India other competitor Like Nivia and Thrax are also making good quality badminton equipments at lower cost. So, players who are looking for mid range badminton shoes can try Thrax or Nivia brand.

LI Ning on the other hand is known for its unique footwear design (Like shadow of the blade in unquiet design concept for badminton footwear's).

Yonex Aerus 03 is most popular and awaited model for 2019 which is developed with lamination\heat transfer technique.