Best Badminton Racket In 2020

For 2020, badminton game, playing style and need to new equipments changed a lot. Now players need ultra strong but light weight material which can offer great accuracy, lightening fast racket speed and ultimate power on smash so player can dominate in the game.

While badminton game is changing day by day and required lots of new feature and equipment at the same time, on the other hand, Badminton equipment manufacturer are doing lots of research to meet the pace of badminton game need.

For ex. Recently Yonex introduced all new Astrox series which helps player in achieve the outstanding power while at the same time player will get better control on shots. Its rotation generation theory helps in better weight distribution so player will get best combination of power and control.

Similarly, Li Ning launched aeronaut, 3D Caliber and Turbo charging series in 2019- 2020. Aeronaut series is latest 2020 series developed on innovative aerospace technology which offers better racket aerodynamic which helps in better frame swing speed.

Checkout the detail Blog on Li Ning Aeronaut technology

Similarly 3D caliber series is developed by considering the head heavy series and developed with latest material science and frame cross section which offers ultimate power transfer to shuttle with maximum control on shots.

For players who love to play with head light series, Li Ning in 2020 launched the Turbo changing series. With new frame cross sections, player will get ultimate racket swing speed which results into speedy racket handling.

Victor badminton on other hand developed all new Aurospeed series in 2020. Aurospeed is developed with head light configuration with added technologies like RTC and WES.

With these technologies player will get high rebound effect and better angle of attack which helps the players performance at mid court. RTC technologies focus on data analysis and developed new point of reflection ultimately helps in better rebound quality and better shuttle power transfer.

India Sports equipment manufacturer Thrax sports are also doing research work badminton on racket behavior and data analysis. Thrax Lean attack is all new concept which is developed to optimize the angle of attack. Thrax lean attack technology optimize the frame cross section which offer better aerodynamics property helps player to attack on steep angles.

Like 2019, Blog on Best Badminton Rackets 2019, this year also we have prepared the list of best selling badminton rackets which will helps player to identify the latest innovation and latest racket which can be considered in 2020.

Best Badminton Rackets in 2020 will be a comprehensive list which includes the rackets from all top brands. We adopted new and innovative approach (we included new graphs and charts) in which data and list are presented with the help of graphs and chart. This will helps players to check the list in one shot.

So, here is the list for Best Badminton Rackets for 2020.

1. Yonex Nanoflare 800

Yonex Nanoflare 800 is on number 1 because of its incredible speed to support aggressive play and rapid fire rallies.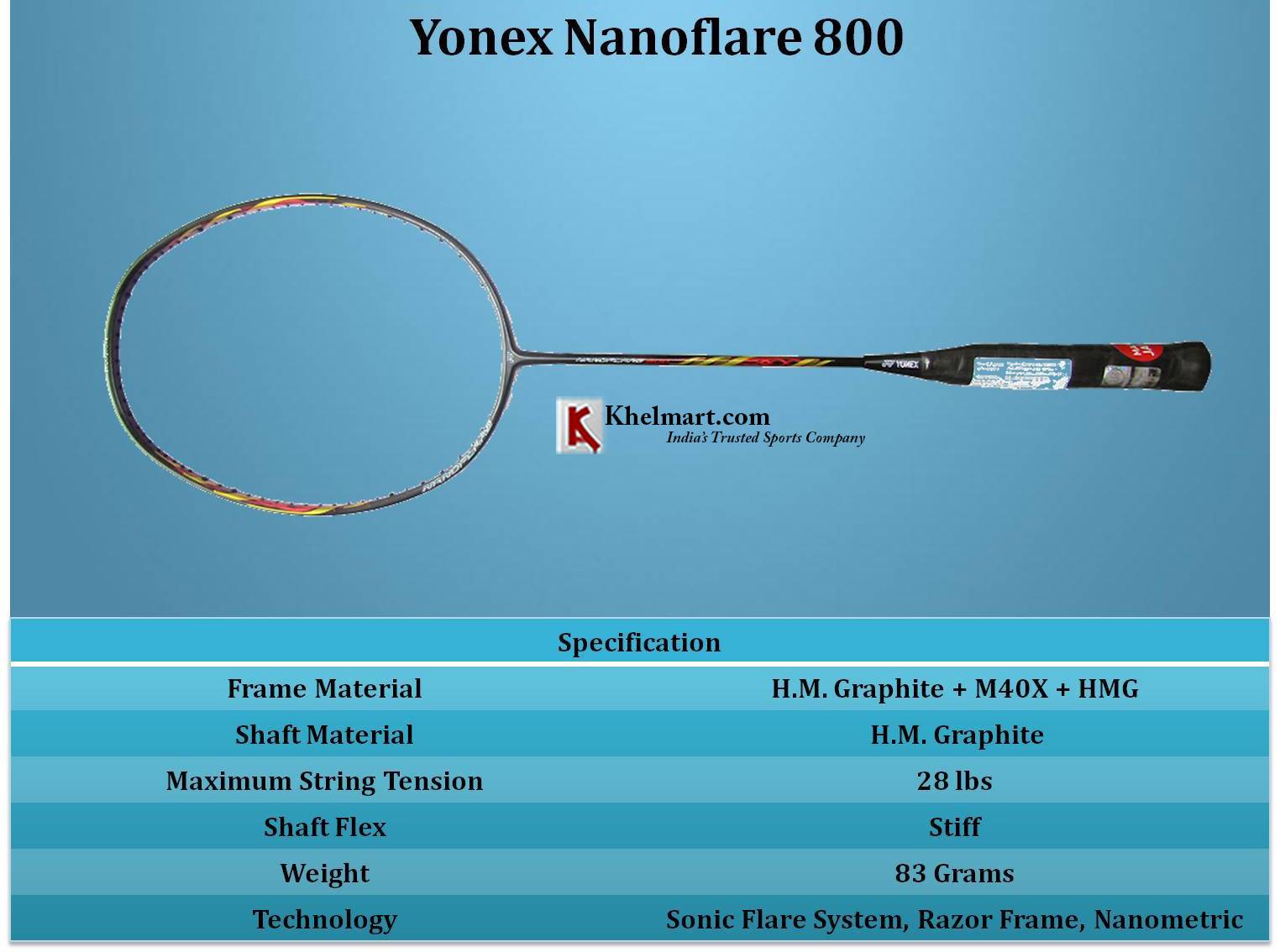 Yonex used its Razor Frame Technology which is reduced the air resistance by 9.3% and the Ultra Slim Shaft adds to the aerodynamic properties of the racket.

Razor frame is a type of this badminton racket frame in which reducing the upper part of the frame by 13% and lower part by 15.1% compare to the other thin-frame rackets air resistance is reduced by 9.3% in the upper part of the frame and 11.5% in the lower part of the racket.

Nanoflare 800 is head light badminton racket with 80-85 grams weight and the recommended string tension for this racket is 20-28 lbs.

The head of the racket is developed with high elasticity graphite material HMG and M40X with a 7.3% improvement in repulsion performance compare to conventional graphite and the shaft of this badminton racket is developed with the H.M Graphite.

2. Yonex Astrox 99 LCW

Yonex Astrox 99 LCW is endorsed by the popular Malaysian badminton player Lee Chong Wei. From color of the racket to material of this racket is choosing by LCW. This racket completely reflects the playing style of the Lee Chong Wei.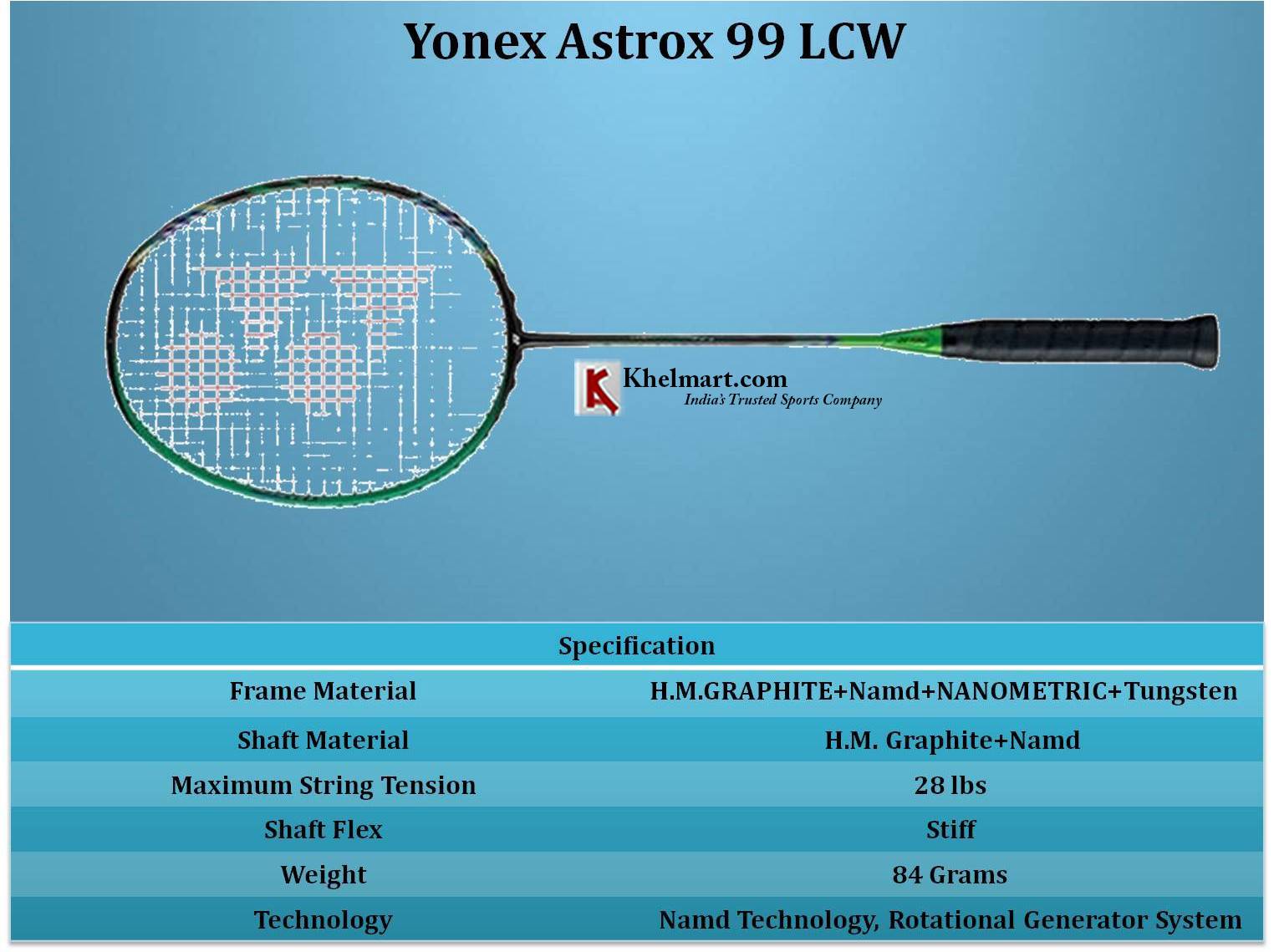 Astrox 99 LCW is developed with revolutionary Namd technology which basically enhance the shuttle contact time with string bed and generate massive power on shuttle with enhance swing speed.

The frame of this Yonex racket is designed with the H.M Graphite and Namd Material while having the weight around 84 grams and the maximum recommend string tension for this racket is around 28 lbs.

Yonex used its trademark technology Rotational Generator System in this Astrox series racket which is work on the counter balance theory. In this system the weight of the racket is equally distributed from frame top to handle for maximum control over the racket for smooth transition of the shot happen and players gets maximum benefit of the entire namd body.

3. Thrax G Force Strike II Gen

This one in our best racket list is from Thrax which a leading Indian sports equipment manufacturing company producing the quality sports equipment for professional to recreational purpose.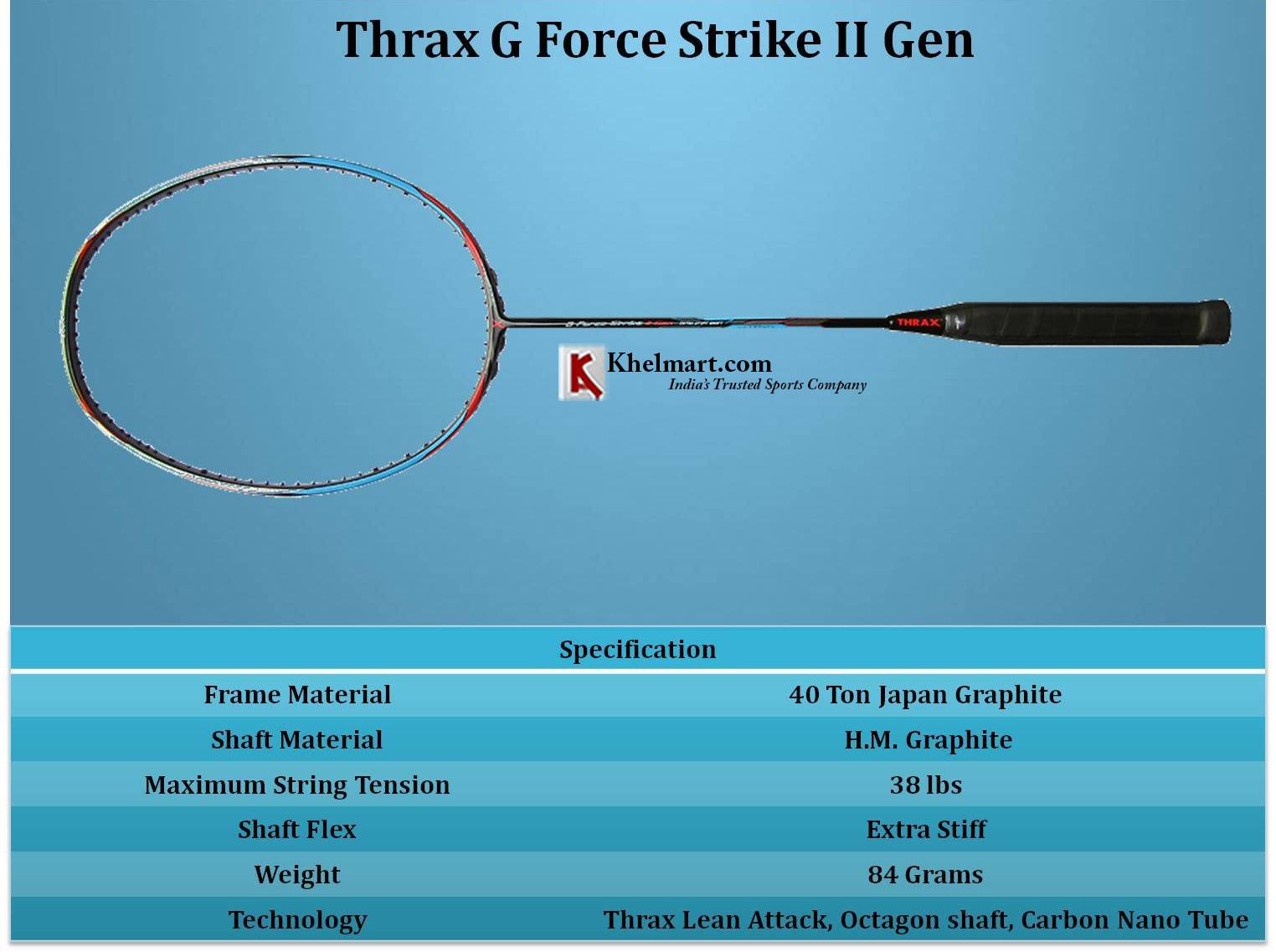 Thrax G Force Strike II Gen is developed with the some innovative concept like Thrax Lean Attack and i-Dampers technology. In Thrax Lean Attack frame cross section is developed with aero type section which results into best aerodynamics helps in fast swing speed. With best aerodynamics player can hit the shots with the accurate steep angles.

Thrax used i-Damper Technology in which specialized material (Tungsten infused grommets with dampers) is used at critical area of racket frame. This technology helps in maximizing the contact time between shuttle and string which results into maximum transfer of the power to shuttle.

G Force Strike II Gen is developed with the 40Ton Japan Graphite which is enough sustainable for bearing the high string tension up to 38lbs while maintaining the weight of the racket at 84 grams.

4. Li Ning 3D Calibar 001

Li Ning 3D Calibar 001 is one of the best badminton racket launched in the year 2019-20. The frame of this badminton racket is high-tech geometrically approved badminton racket frame which is significantly reduce the air resistance and produce fast swing speeds for biggest smashes in the game.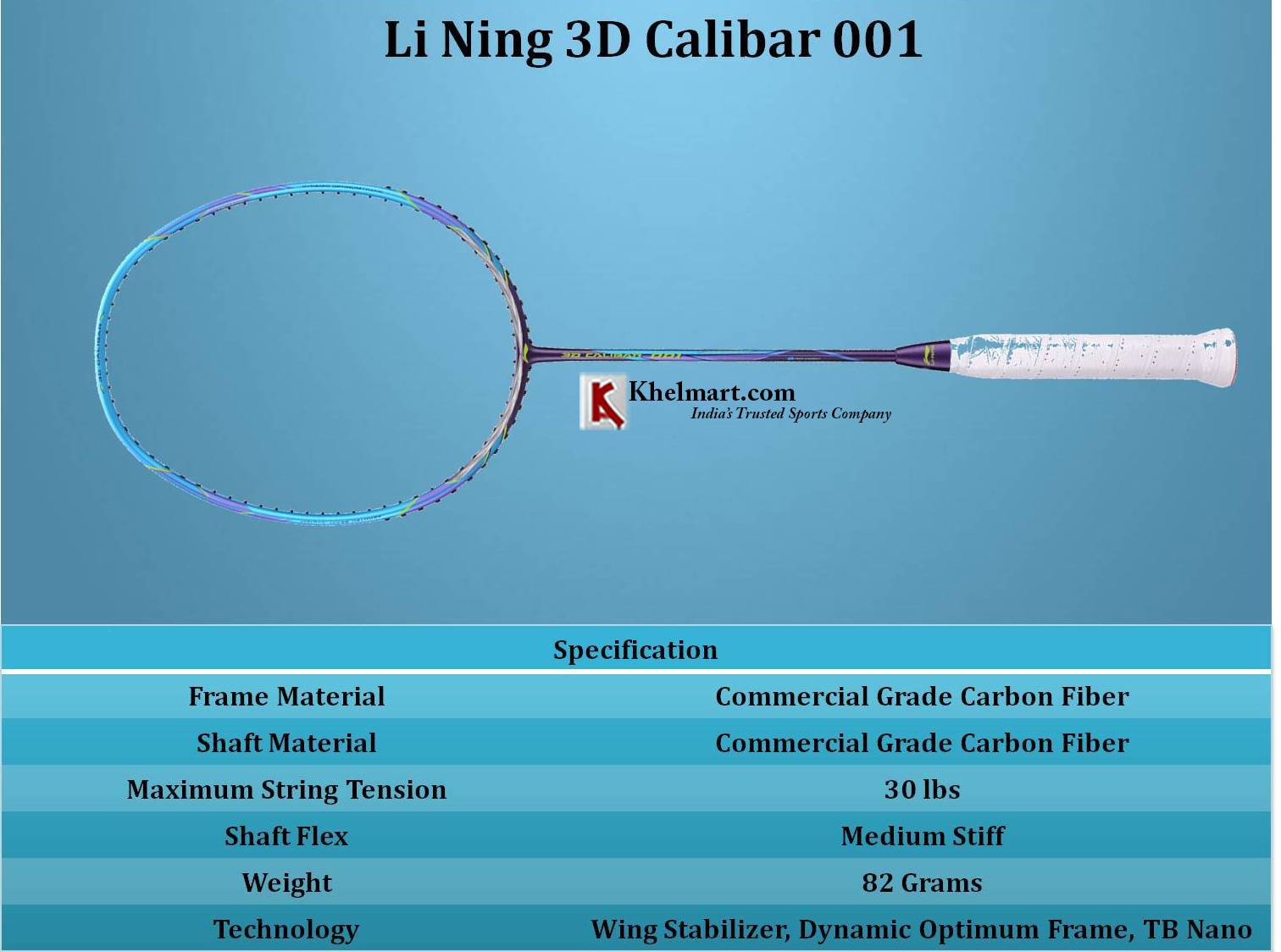 3D Calibar 001 has streamlined designs which increase the power of the badminton racket. With optimized design and optimized aerodynamic frame, player will get fast racket swing speed which helps in deadly counter attack and bring out the most commanding shots hidden in you.

The frame of 3D Calibar 001 is developed with the commercial grade carbon fiber which is integrated with the high–tech geometric racket frame for faster swing speed that helps in bigger smashes.

Li Ning used Wing Stabilizer technology used in the aviation sector for controlling the unnecessary vibration. Li Ning used this technology to control the racket frame. Resulting rackets absorb unnecessary shaking from the vibrations and restore the racket outer "wings" back to a precision performance mode.

5. Yonex Duora 10 LT

Yonex Duora 10 LT is come with the cutting edge technology like Dual Optimum System, Aero-box frame etc so you can command the court with every single.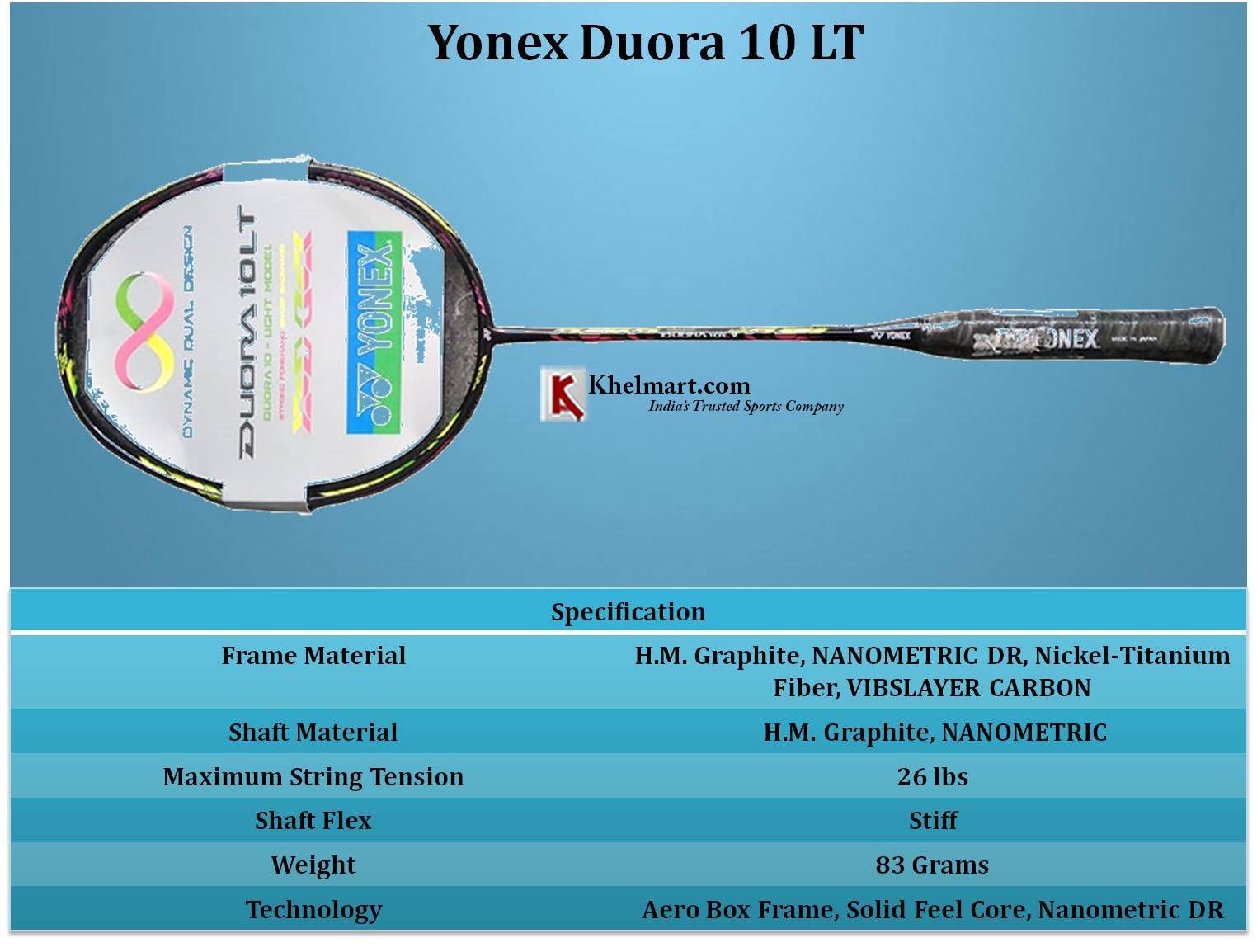 Duora 10 LT is comes with the Dual Optimum System in which two frame first one is box frame developed with the Nanometric DR and second one is Aero frame developed with the Ni-Ti Fiber is merged resulting shuttle holding time and quick repulsion power is increased by 3% and 9% respectively.

In bottom half of this badminton racket frame Yonex used Vibslayer Carbon which is developed with the ultra-thin layers of shock absorbing material so the player experience the same level of repulsion power generated by normal carbon with greatly reduced shock impact, cutting down on fatigue and stress on the body.

Duora 10 LT comes with the stiff shaft and the average weight of the racket is 84 grams.

6. Victor Arrow Speed 660

Victor Arrow Speed 660 is developed with Nano TEC technology which is basically a new material science. In Nano TECH technology, small nano size particle in bounded in the free space of graphite. This new concept provides high grade carbon composite material for better strength and power.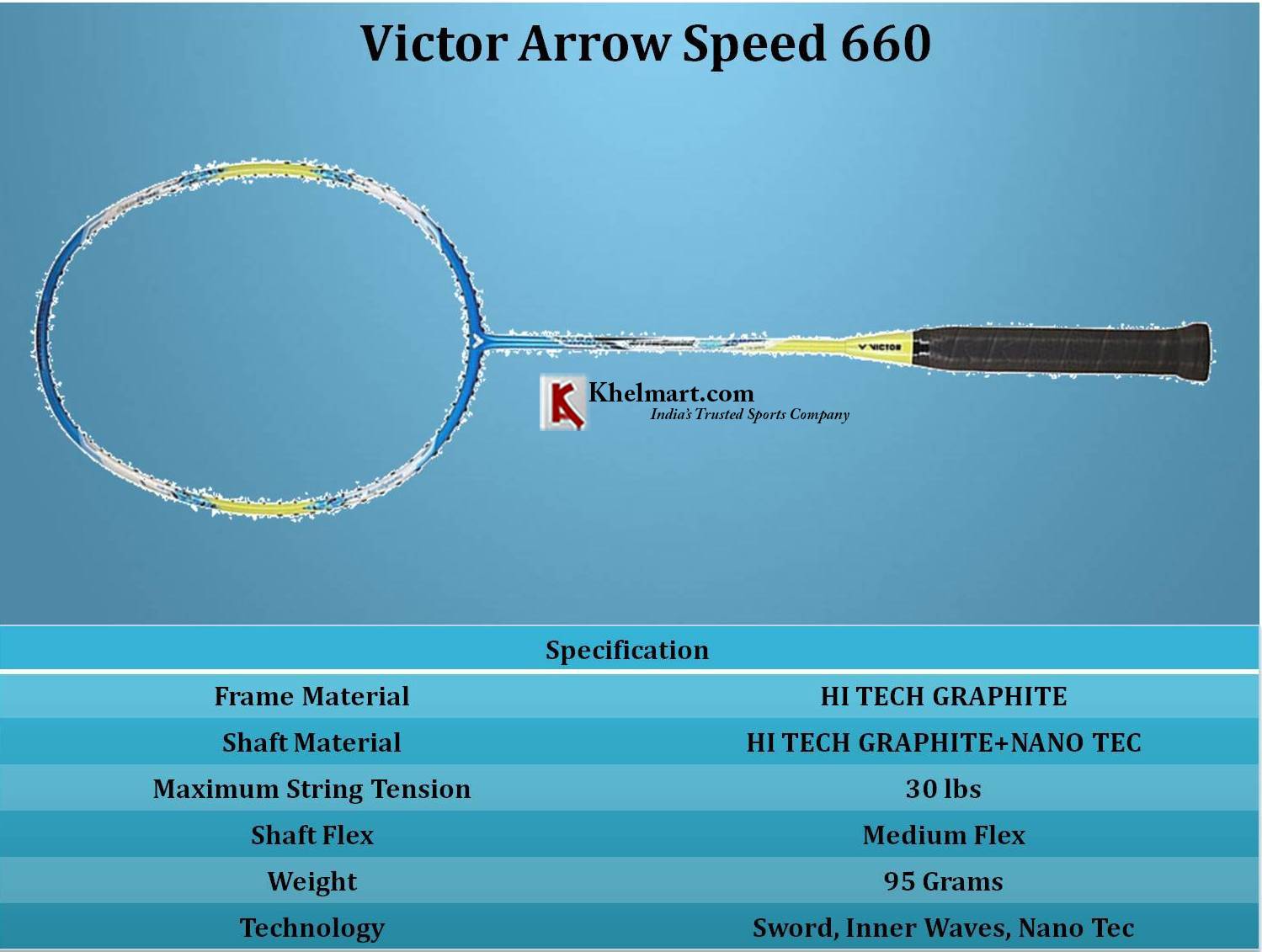 Frame material is high grade graphite material while frame cross section is aero type. Aero type cross section frame offers better swing speed. With the help of aero type cross section, player can easily handle the intense attack and change the attack into counter attack.

Victor used Isometric head shape for Equalizes the length of main and cross strings in the string bed.

It is a medium flex and Head Heavy Balance Badminton Racket. Head heavy balance rackets are known for its explosive power. Flexible shaft further complement the racket and add more power on shots. So, overall this racket is suitable for offensive playing style of game.

7. Li Ning Aeronaut 8000C

Li Ning Aeronaut 8000C is specially designed for those players who are looking for the great control in his/her badminton racket without any compromise in the power of the racket. Aeronaut 8000C has a unique air stream channel integrated into the rackets head so this air stream channel minimizes the air resistance which produces faster shuttlecock speed.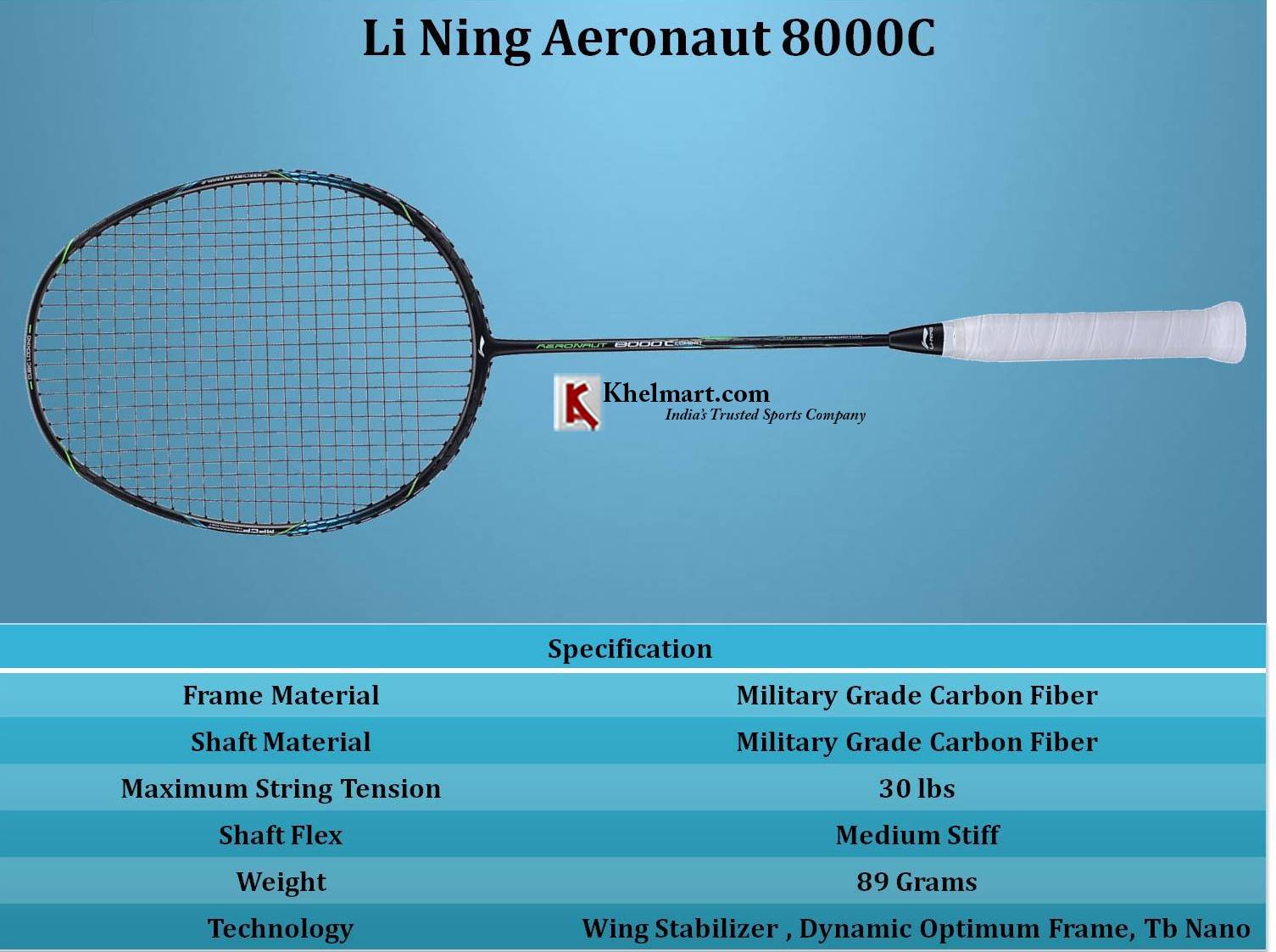 Normally, with head light series players feel some power loss when it come 3rd line shots. However with proper design of frame this problem can be addressed which required lots of research and improvement in frame design.

The frame of the Aeronaut 8000C is made from Military grade carbon fiber which is integrated with unique air stream channel that reduces air resistance which helps in generate faster shuttlecock that helps in bigger smashes and earns strong reviews from the strong players who are looking for the massive power.

Li Ning used Wing Stabilizer technology used in the aviation sector for controlling the unnecessary vibration. Li Ning used this technology to control the racket frame. Resulting rackets absorb unnecessary shaking from the vibrations and restore the racket outer "wings" back to a precision performance mode.

This badminton racket support 26-30 lbs tension vertically and 28-32 lbs horizontally that gives you the maximum sweet spot & power for hit the shorts with speed. This combination of the tension provides the great control on the shuttlecock.

8. Apacs Z Ziggler

Apacs Z Ziggler racket is one of the lightest racket produced by Apacs. The High Speed Frame design and the super light weight of this racket make it Extremely Super Fast and the adoption of CNT (Carbon NanoTube Technology) has significantly improved the performance and feel of the racket.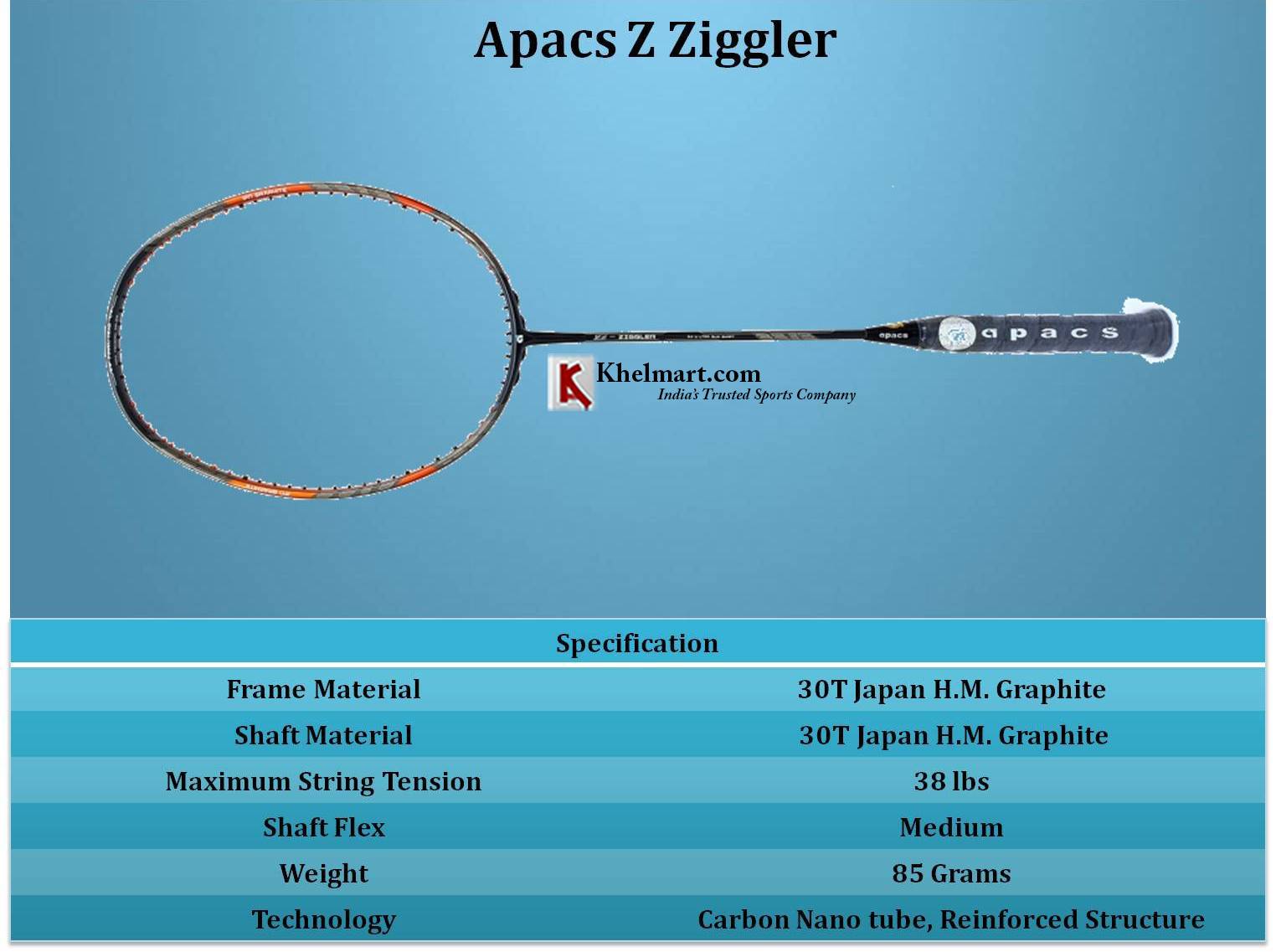 This racket is designed to give you sharper smashes and at the same time let you enjoy the precise drop shot and netting play.

The Racket frame was developed with the new (Reinforced Structure) which enable string tension of 38lbs. A rare feature for light weight (7U) rackets. Also light body of this rackets enables you to move the racket swiftly like a sword and to deliver a very clean and sharp execution.

The racket is a flexible shaft racket that will deliver more power even for beginners as it will have a kind of sling shot effect.

9. Ashaway Palladium XT 900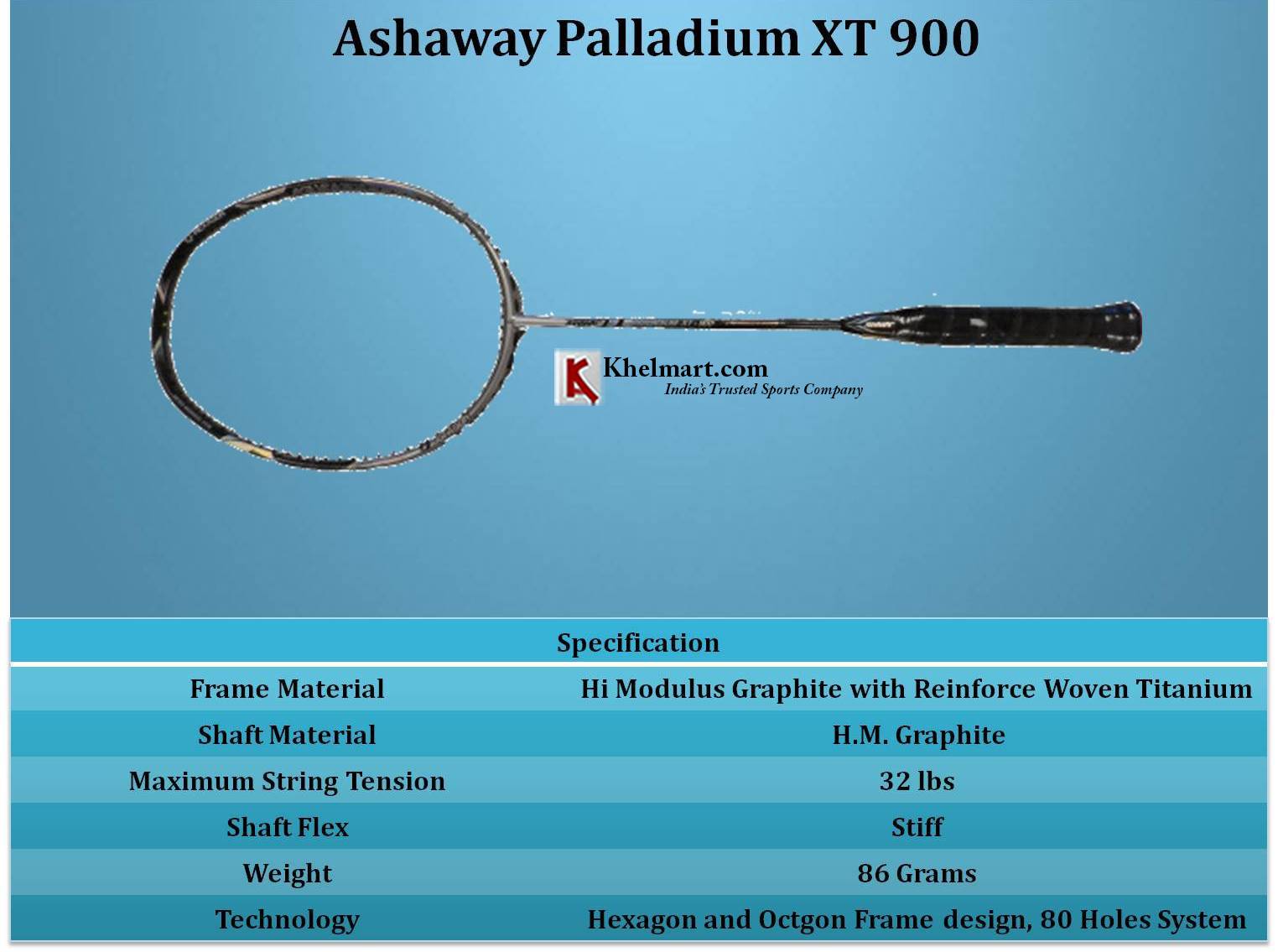 Palladium XT 900 is developed with Hi Modulus graphite material which is reinforced and woven so extra power and shock absorbing ability can be provided to racket shaft and its frame. Ashaway Palladium series is one of the finest series in complete Ashaway for those player who player with HM graphite racket. Its weight is around 86 gms with stiff shaft flexibility. With mid weight and stiff shaft, player will get maximum power transfer to shuttle. With HM graphite, player can put higher string tension (up to 30 to 32 lbs) to racket.

10. Carlton Kinesis Rapid

Carlton Kinesis Rapid is suitable for advance badminton players who love to play with the racket with absolute control on shot. This Carlton racket is developed with Aerofoil grommets technology. With aerofoil grommets technology, drag on racket frame is reduced significantly which ultimately helps in better aerodynamic property of racket.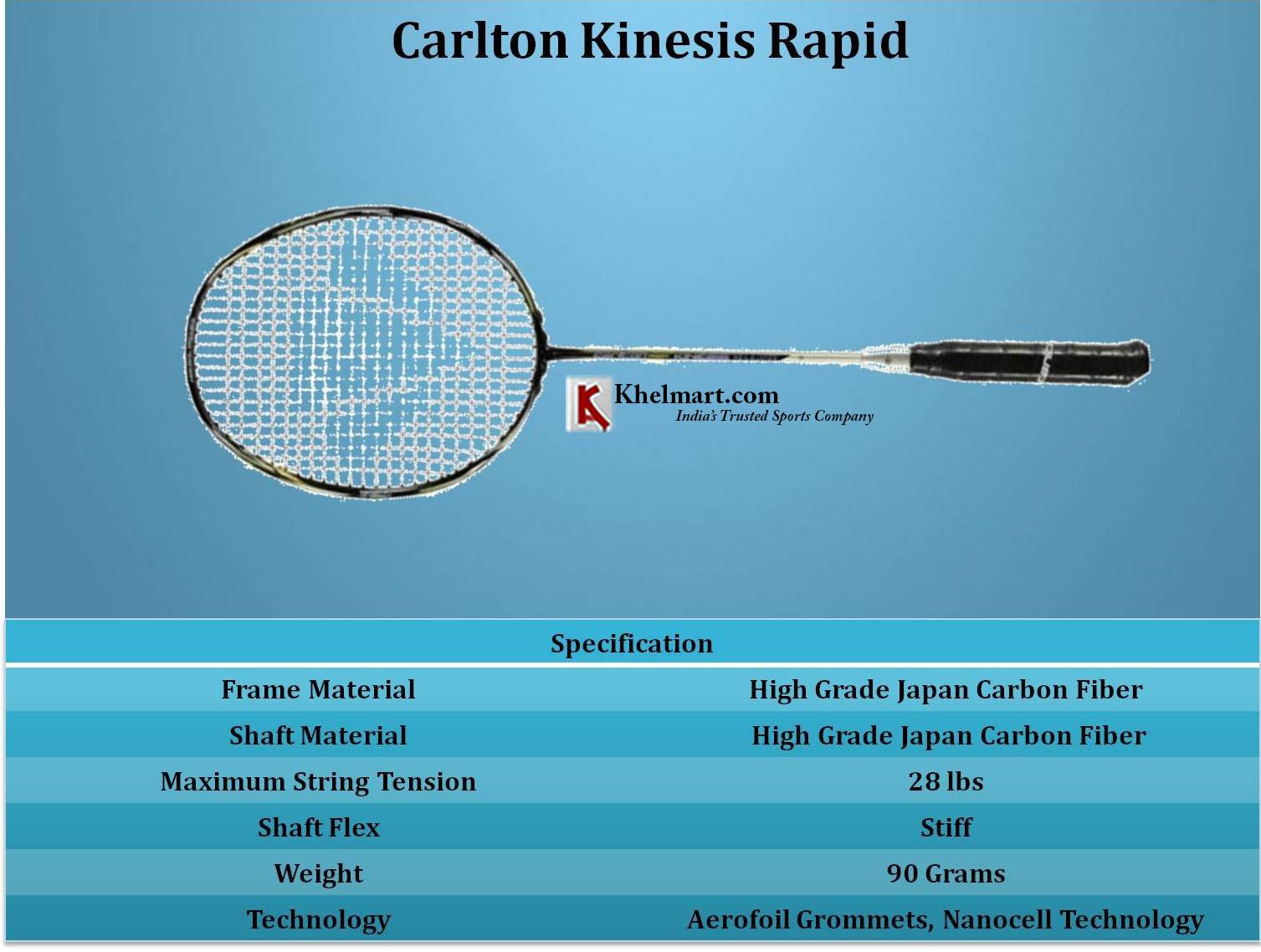 Further to improve the racket swing speed, Vortex geometry concept is used by Carlton. Vortex Geometry concept offers better twisting profile which eventually increases the racket speed by 8%.

Overall Kinesis Rapid is ultimate racket for those who love to player with fast racket swing speed.

So above we explained the list of top 10 badminton rackets for year 2020, now we will compare these rackets on different racket characteristics:

Comparison On The Basis Of Racket Swing Speed:

Racket Swing speed is simply the speed to racket in which it come in contact with shuttle. Fast swing speed depends on racket frame aerodynamic and how fast you can move your hand. Fast swing speed with proper rotation of body will offer better power.





Comparison On The Basis Of Racket Power:

Racket power is amount of power which player transfer from racket to shuttle, the more power transfer to shuttle the more opportunity payer will get win the point.

This chart shows the power of racket from 1s to 10th position.





Comparison On The Basis Of Racket Weight:

Racket weight is important parameters. It is considered as if player use lightweight racket then he or she need to compromise on racket power while for getting the pure power player need to select the racket with 85 to 89 gms with head heavy configuration.





Comparison On The Basis Of counter Attack:

Counter attack is the ability of player to counter the opponent shots. If a racket is head light configuration with better aerodynamic property so it will offer better swing speed which eventfully helps in better counter attack.