To hit powerful badminton smash, lots of things are important which work parallelly to get best results.

• For making good smash, Swing speed and power of racket is very important.

• Quick Badminton smash required fast racket swing speed which player can get with better aerodynamics head.

• For powerful smash, player needs good momentum which can be achieved by head heavy configurations.

• Proper position, eye contact and understanding of energy transfer are very important for good badminton smash.

• Shaft Flexibility plays key role in powerful badminton smash. Medium Flex shaft transfer better power to shuttle.





Some of the Useful resources for Players:
Best Badminton Racket under 3000 for 2018 Rs

How to Choose a Badminton Racket

Best Yonex Badminton Rackets in Year 2018

Best Badminton Racket to buy in Year 2018

All New Li Ning Ultra Strong series in 2018

In this blog we are listing the Best Badminton Rackets for Smash, In order to finalize the list we have carefully tested the all rackets on court to with different playing conditions.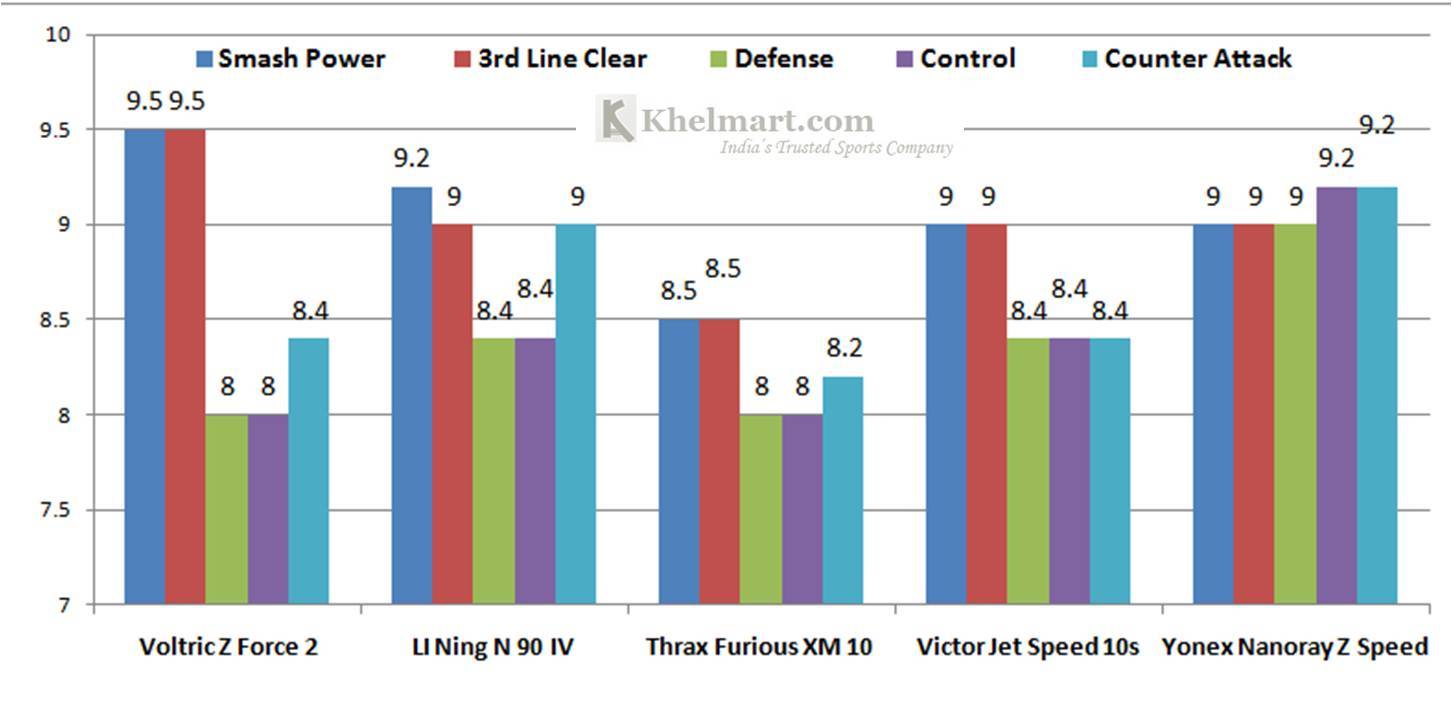 Different rackets are tested for following critical parameters:
• Swing Speed of the rackets

• Power on smash

• Hitting time on shuttle

• Proper Power transfer to Shuttle

• String Tension of string bed

Yonex Voltric Z Force 2: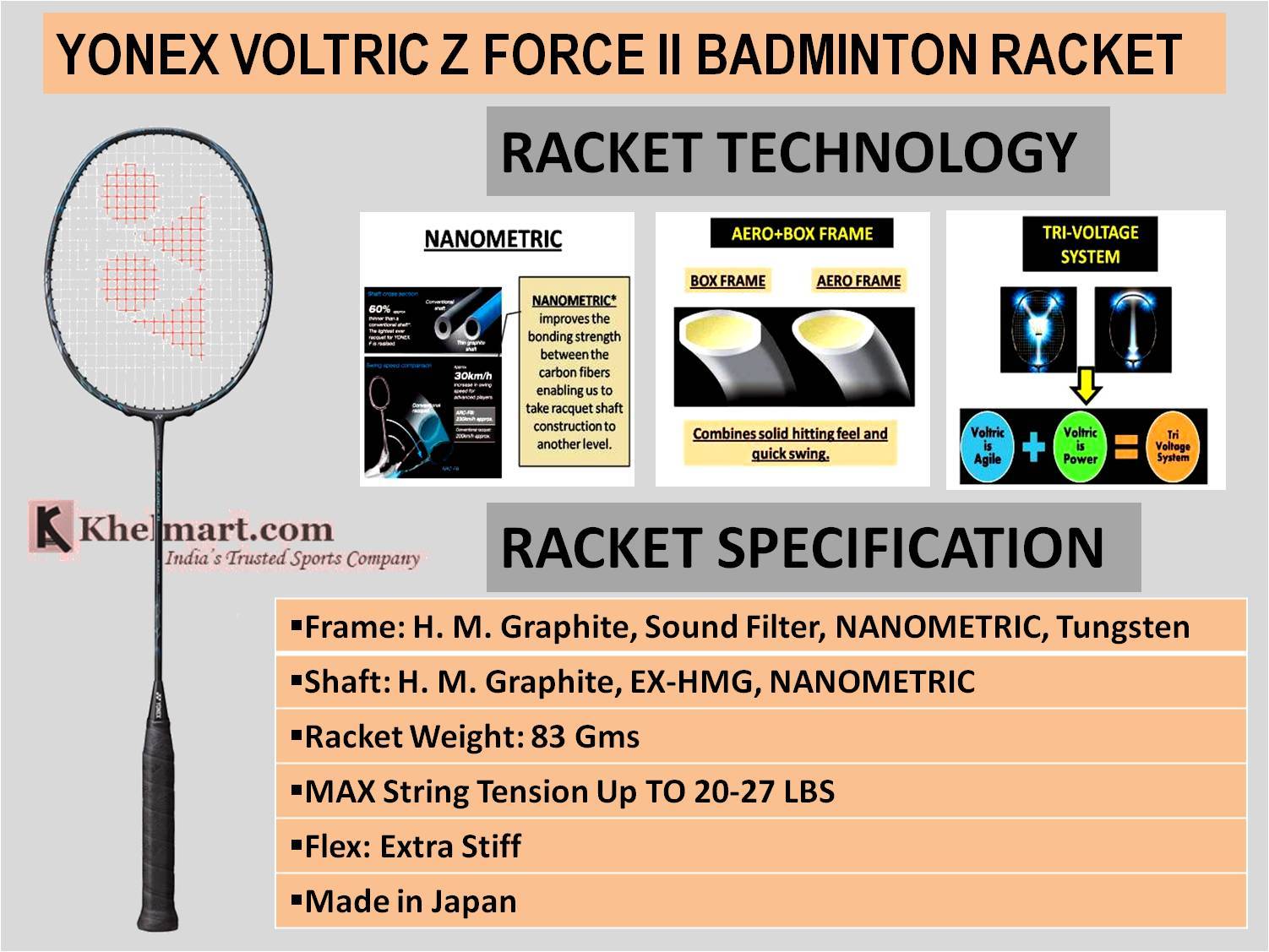 Voltric z force is one of top selling racket in Voltric series. It is head heavy racket which generate enormous power on smash.

If player will use 89 gms with 26 lbs tension than it will offer best possible performance Yonex used the compact frame in Z F 2 so that overall aerodynamics can be improved of the racket.

Yonex used ultra thin shaft in this racket which provide unique characteristics to z force 2. Additional to ultra thin shaft Yonex further improved the aero dynamic of racket by improve the aerodynamics of head. So the combination of ultra thin shaft and better aerodynamics of head provide increase in power and shuttle speed.

In conventional racket, small part of grommets exposed to air due to traditional manufacturing technique. In order to reduce the air resistance, Yonex used infused grommets. Infused grommets are developed in such a way so that no part of grommets are expose to thus results into better aerodynamic of racket.

Li Ning N 90 IV 3D with Break Free Technology: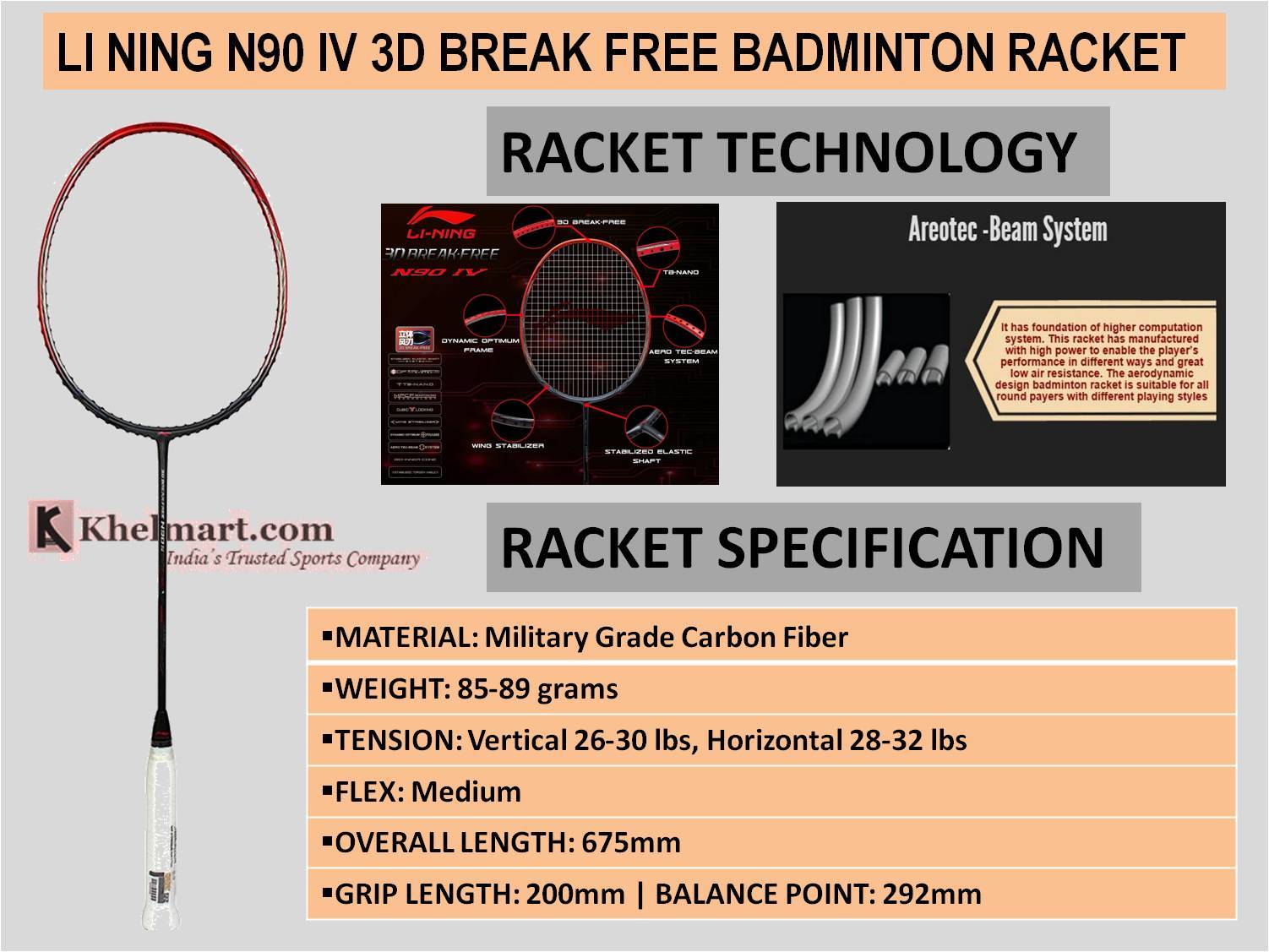 N90 IV is signature model on Chen Long. Chen Long is an Olympic Games gold medalist badminton player from China.

N 90 Iv is latest 3d break free technology based racket with all new features. Its weight is around 89 gms while is shaft is medium flex. With 89 Gms weight and Medium Flex, Player can put extra power on shots with proper wrist work.

It is made of high modular graphite material which provides strength to racket frame and shaft by which player can sustain the string tension up to 30 Lbs.

This Racket is suitable for professional level badminton players with attacking game style.

Racket is equipped with 3D break free technology which is all new technology incorporated in racket frame to get the best results. In 3D break free technology, frame aerodynamics is improved significantly to offer better strength to frame.

Thrax Furious XM 10: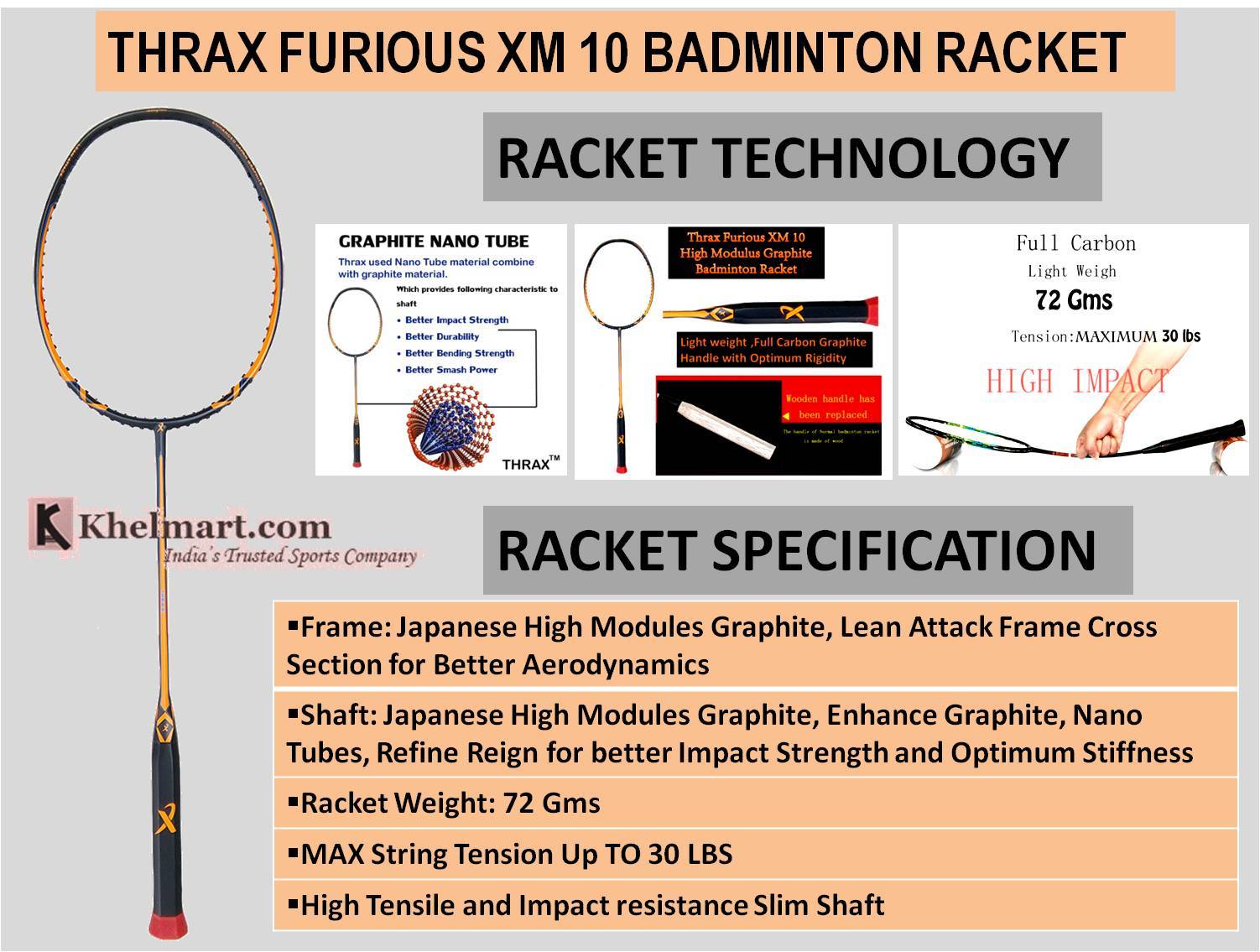 Thrax Badminton is Indian brand for manufacturing the sports equipment, Thrax focus on quality sports equipments those are developed with latest technology, material science and manufacturing processes.

Do you believe that 72 gms with 30 lbs racket under 3000 Rs. Yes, It's Thrax Brand which launched the Furious ultra light series. Furious XM 10 is made of HM Japan 40 T graphite material.

Its handle is made of carbon graphite material which join free configuration. Which means there will no joint in the racket, not even in handle to shaft. It is single piece racket configuration.

Thrax used octane shape shaft in furious racket which in unique in its type.

It is a head heavy racket with stiff shaft. The combination of stiff shaft and head heavy configuration provide better power on shots.

Victor Jet Speed 10s:



Victor Jet Speed s10 is a hit model from victor brand. This racket is equipped with state of the art victor racket technologies like Nano fortify and Pyrofil. This racket is suitable for attacking game style who love to play fast and power shots.

This Badminton racket by victor is developed features like ultra hi modules shaft, Nano fortify and Pyrofil Technology. Its weight is around 87 gms while player can put 30 Lbs string tension on it.

It is an even balanced racket with slim shaft. With even balance and better aerodynamic shaft, this victor racket will provide very fast racket handling to player. Shaft is stiffer which will offer you precise control over shots.

Victor used stiffer frame in this racket which is designed along with PYROFIL and Nano Fortify. These technologies provide maximum power transfer to shuttle which results into powerful smashes, easy 3rd line clear and fast drive shots.

This racket is suitable for attacking game style which required lots of fast racket movement with powerful racket handling.

Yonex Nanoray Z Speed: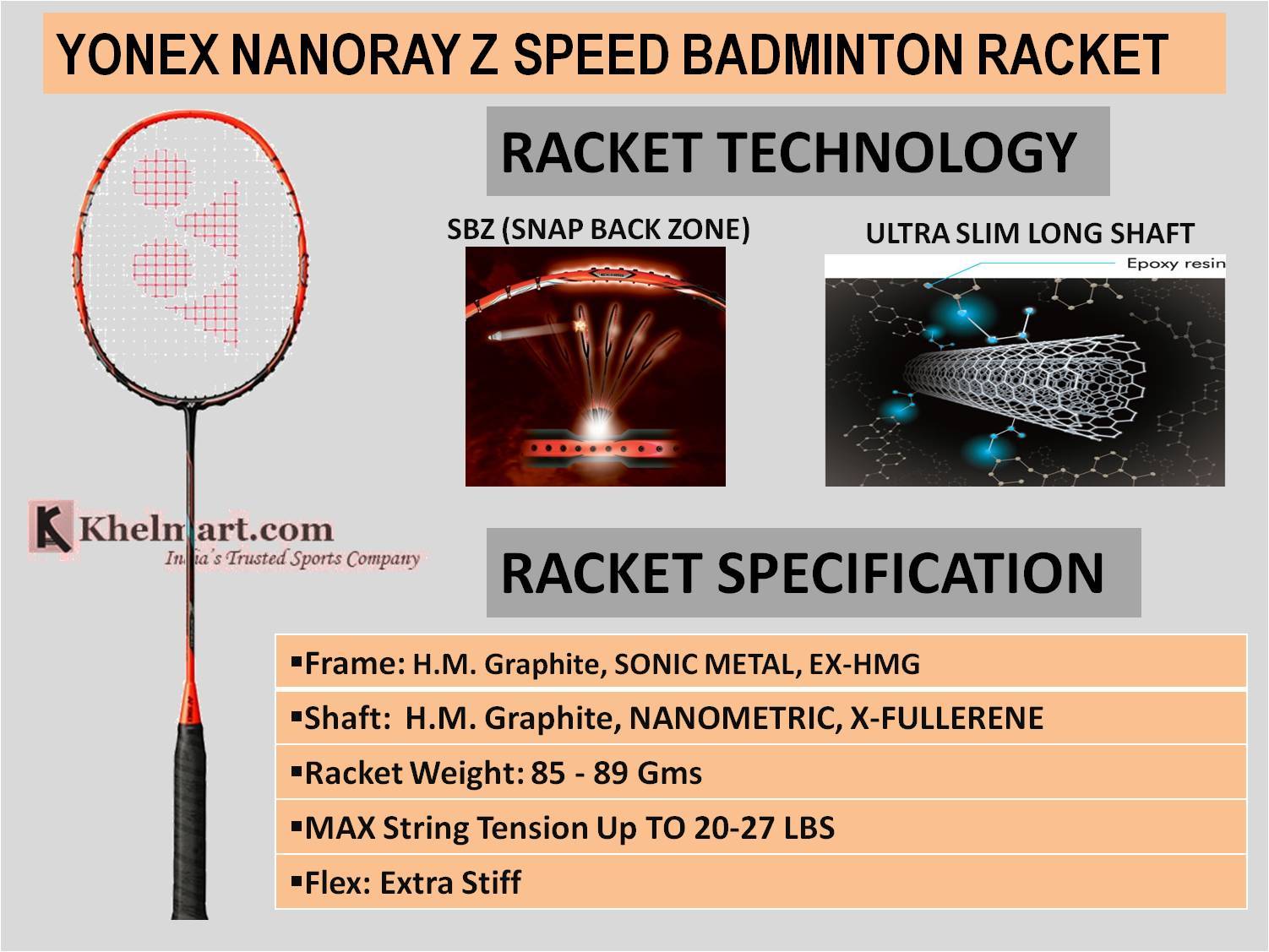 This Yonex racket is fast ever racket in Yonex catalogue. Weight of this racket is around 89 gm while it is developed revolutionary concept like Snap Back Zone.

Snap Back zone is the concept in which thinner frame cross section is used at mid way. Thinner section is developed with EX-HMG material which is most elastic material used by Yonex. Thinner cross section along with elastic material provides explosive power on shots.

Overall, Nanoray Z Speed is a revolutionary racket developed by Yonex for player who loves to play with fast racket handling with explosive power on shots.