Yonex is world leading in manufacturing the sports equipments. Yonex produces the quality badminton equipment for all types of players. Yonex Company is founded by Minoru Yoneyam a in year 1946 by starting of selling wooden products in Japan.

Yonex done lots of research on racket material and as results of the same, High Quality Badminton Racket are produced by company.

Material science is very important for making the lightweight and durable badminton rackets. Yonex used latest nano science technology to develop the best suited rackets for pro players.

With Nano science technology Yonex developed with ultra lightweight, durable, high impact, thinner and stronger rackets.

We all know that selection of a proper badminton rackets is very important

Checkout the Detail Guide on How to Chose the perfect Badminton racket

Checkout the Price and Features comparisons of Yonex Rackets

Checkout the blog on Best Badminton Rackets for Smash

Checkout the Blog on Best Badminton Rackets Under 3000 Rs

Checkout the Blog on Yonex Voltric Series Technology

Yonex classified its rackets into different categories as per the playing style, playing level and rackets performance.

It is very important to understand the each on these Yonex categories to select the Yonex Badminton Rackets.

Checkout the Below Image: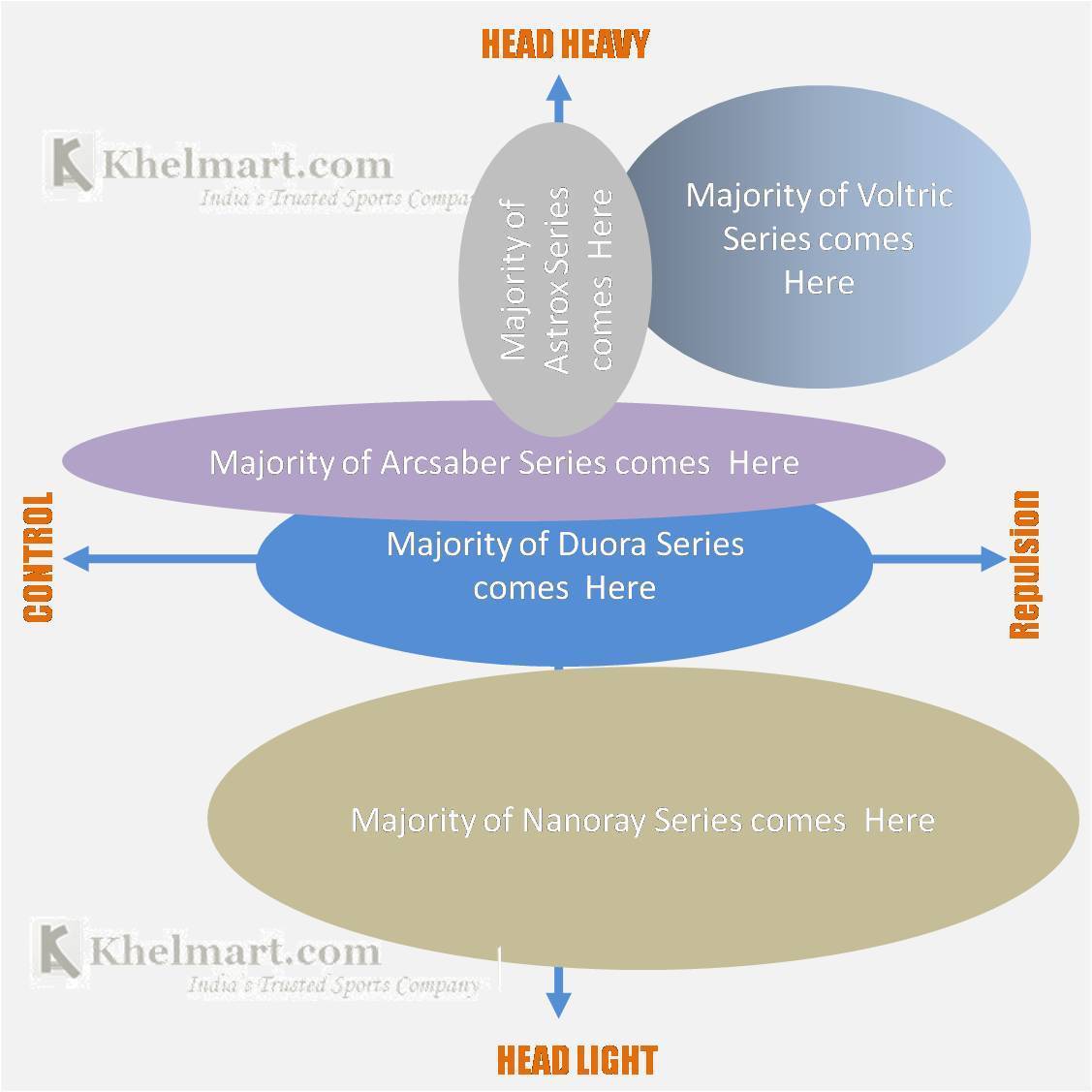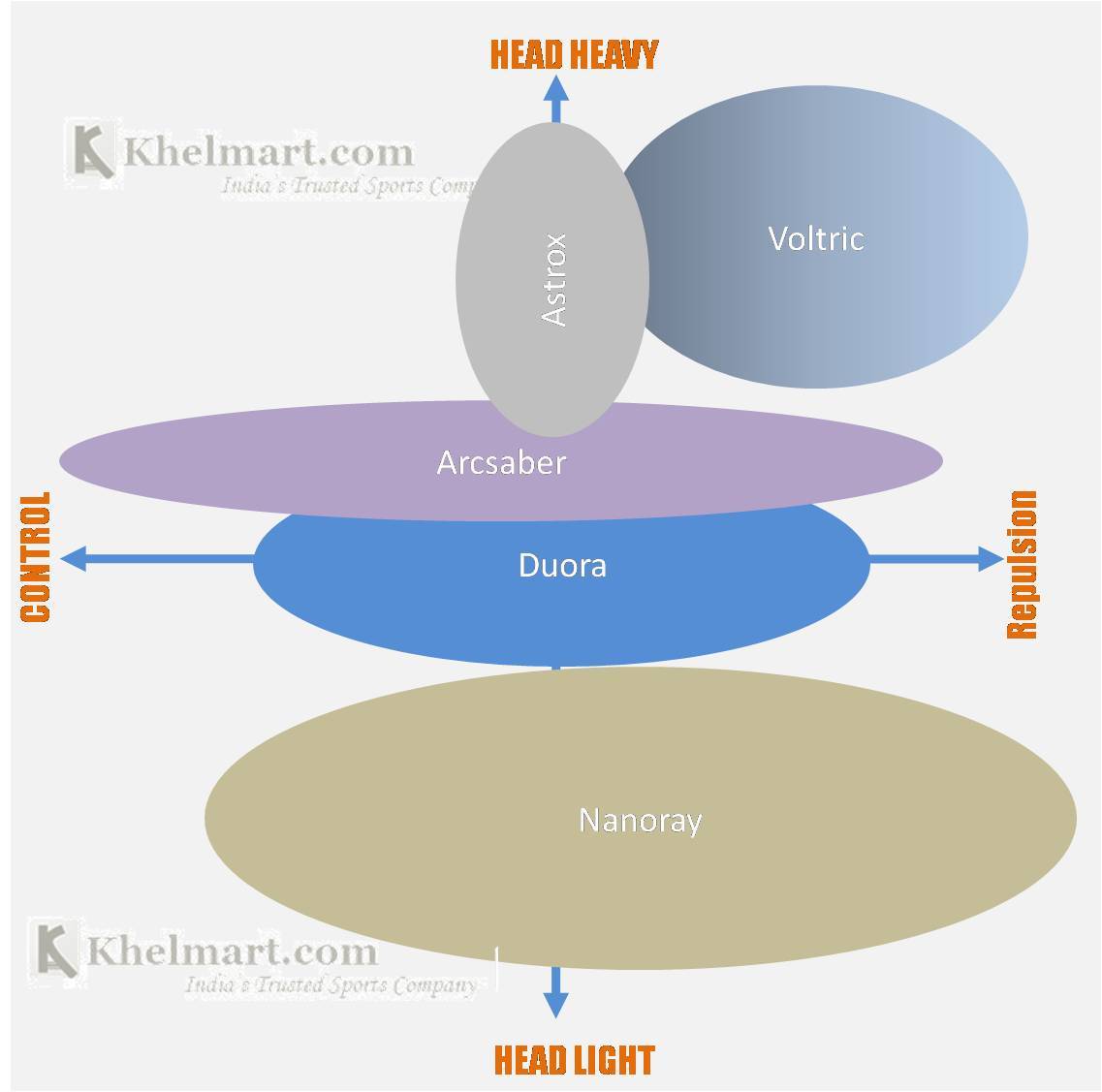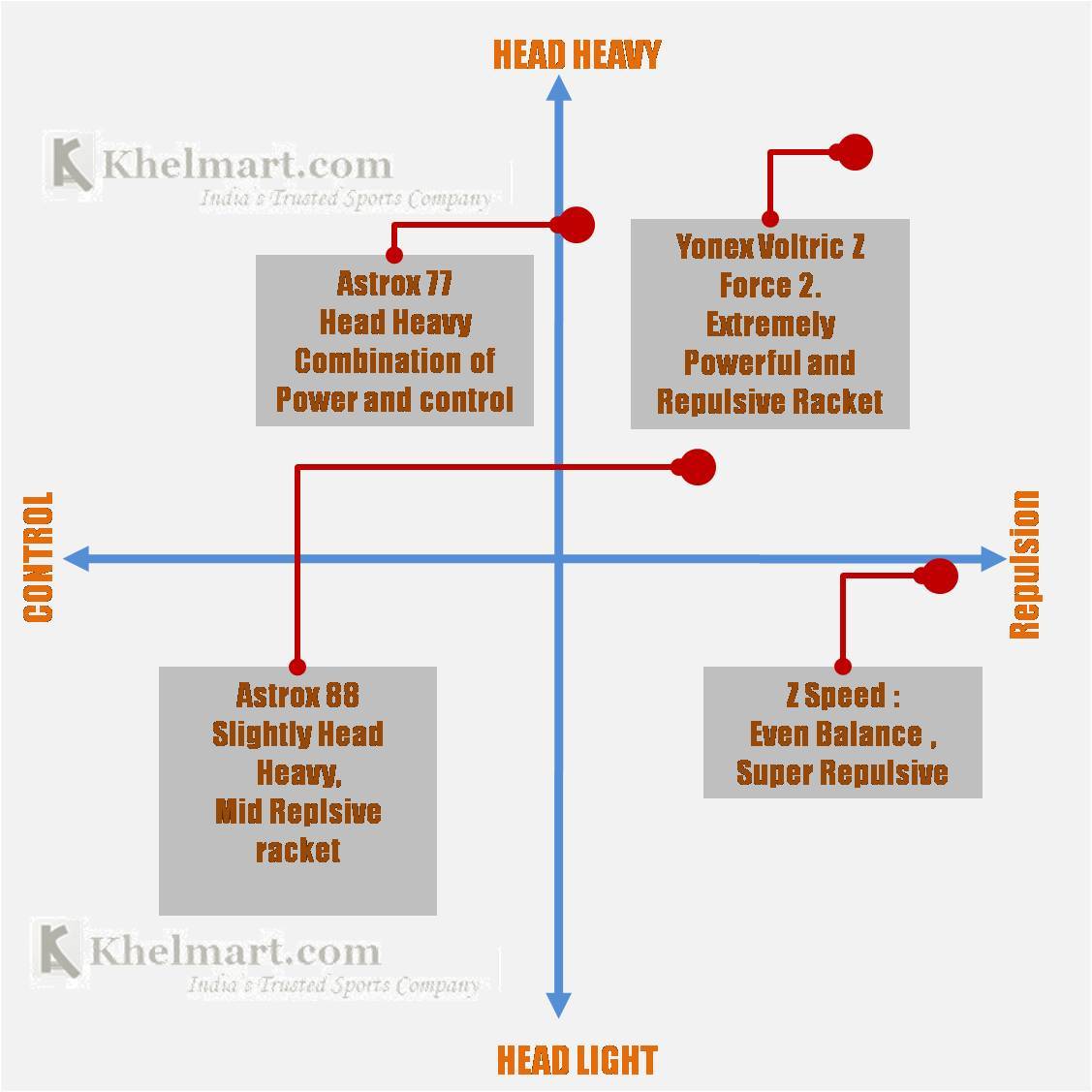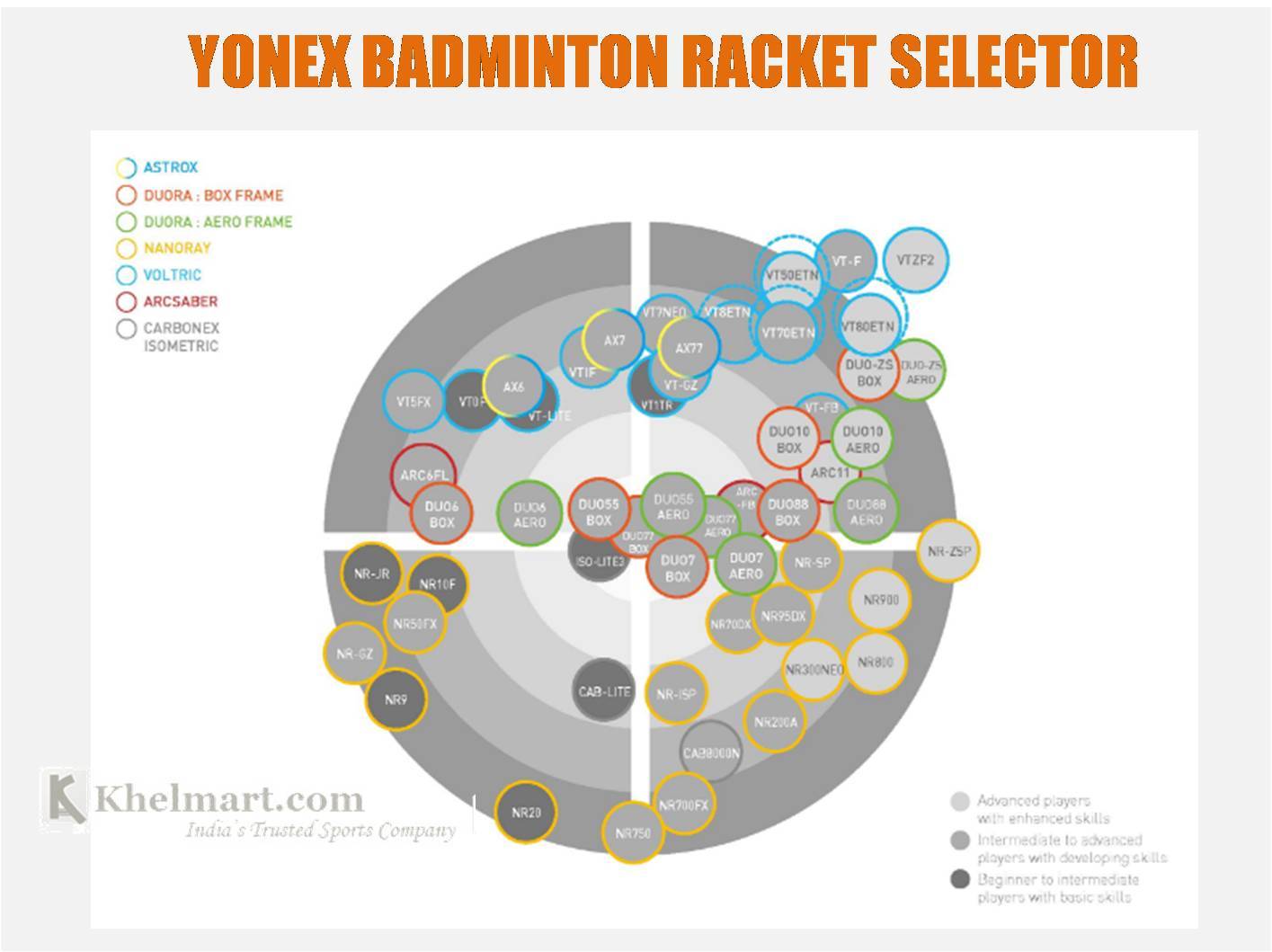 This shows the detail classification on Yonex rackets:

Detail of Yonex Badminton Racket Selector (Racket Balance Vs Shaft Stiffness)
In this image, you can see that, on X axis Shaft stiffness is mentioned while on Y axis, head configuration or balance point is mention.

Following are the finding this graph:
• Most of the Voltric series comes in Positive repulsion and head heavy side. It means, Voltric series is head heavy series with better repulsion power. Voltric Z Force and Voltric Z Force 2 come in Head heavy and extremely repulsive racket.

• In complete Voltric Series, Yonex Voltric 5 FX is better in control.

• Most of the Nanoray Series comes in even to head light balance with positive repulsion .Nanoray Z Speed is the even balance while its better in repulsion. In fact is the best Nanoray rackets in repulsion.

• Nanoray 750 is top head light racket.

• Most of the Arcsaber series comes in even balance while some rackets are better in repulsion others are better in control.

• Arcsaber 11 is even balance (Slightly head heavy), while its repulsion is on positive side.

• Arcsaber 6 FL even balance racket while it is suitable for control play.

• Most of the Duora Series rackets comes in Even Balance (Duora 6, Duora 55 , Duora 88, Duora 77).

• Duora Z Strike Head Heavy racket with extraordinary repulsion power.

• Duora 10 again is slightly head heavy racket with intermediate repulsion.

• Most of the Astrox series rackets are head heavy racket with good power on shots. • Astrox 77 is very good racket for power play.

With above point it is easy for player to understand the complete knowledge of Yonex rackets with technical knowhow like, power, repulsion and control.

Now we will explain the detail of each Yonex Rackets Types:

Yonex Duora Series: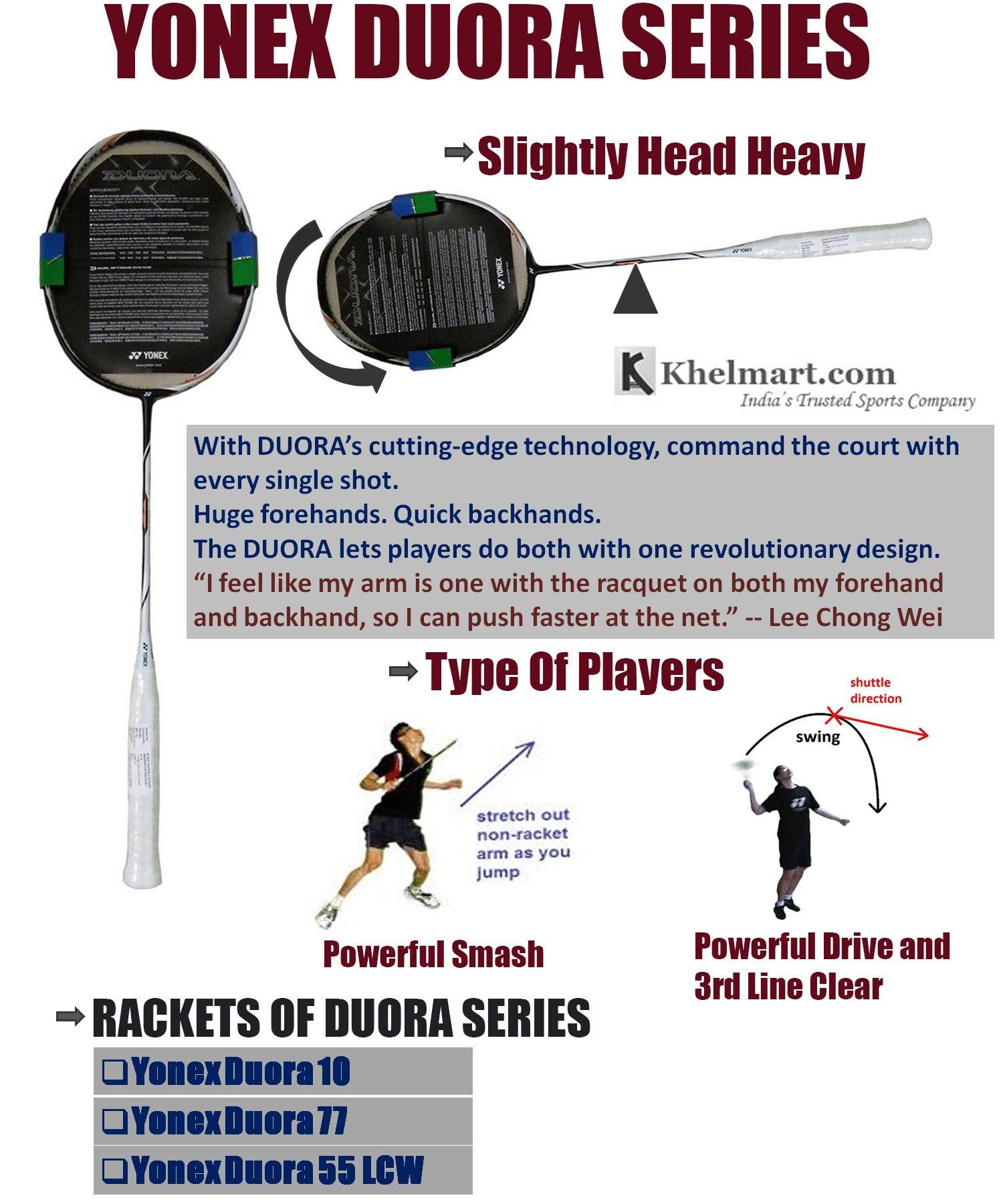 Yonex Duora is revolutionary racket series which provide two fold benefits to player in single racket frame design.

In dual optimum fame concept, YONEX putted 2 types of frame sections design into single frame constriction. Front side of the frame is designed with box section frame while backside of frame is designed with aero frame.

This type of configuration gives two sections into single frame construction. Box section is designed with new material Nanometric Dr while aero section is designed with NI-TI fiber material. Both the Material together gives new and revolution frame designed which gives following benefits to badminton players.

Forehand side of frame is designed with Box type section and equipped with Nanometric DR Material which gives shuttle hold time 3%. Due to this player place the shuttle with more power and superb control.

Backhand side of frame is designed with aero type section and equipped with NI-TI fiber which gives repulsion 9%. Due to this player gets stiffer racket which results into quick racket repulsion.

Yonex Duora 10 is the most popular model in Duora Series. This racket provides better forehand and fastback hand option to players.

Duora 77, 88 and 77 LCW are also good models for mid level players. These rackets are best rackets in mid range for all round type of players.

Yonex Voltric: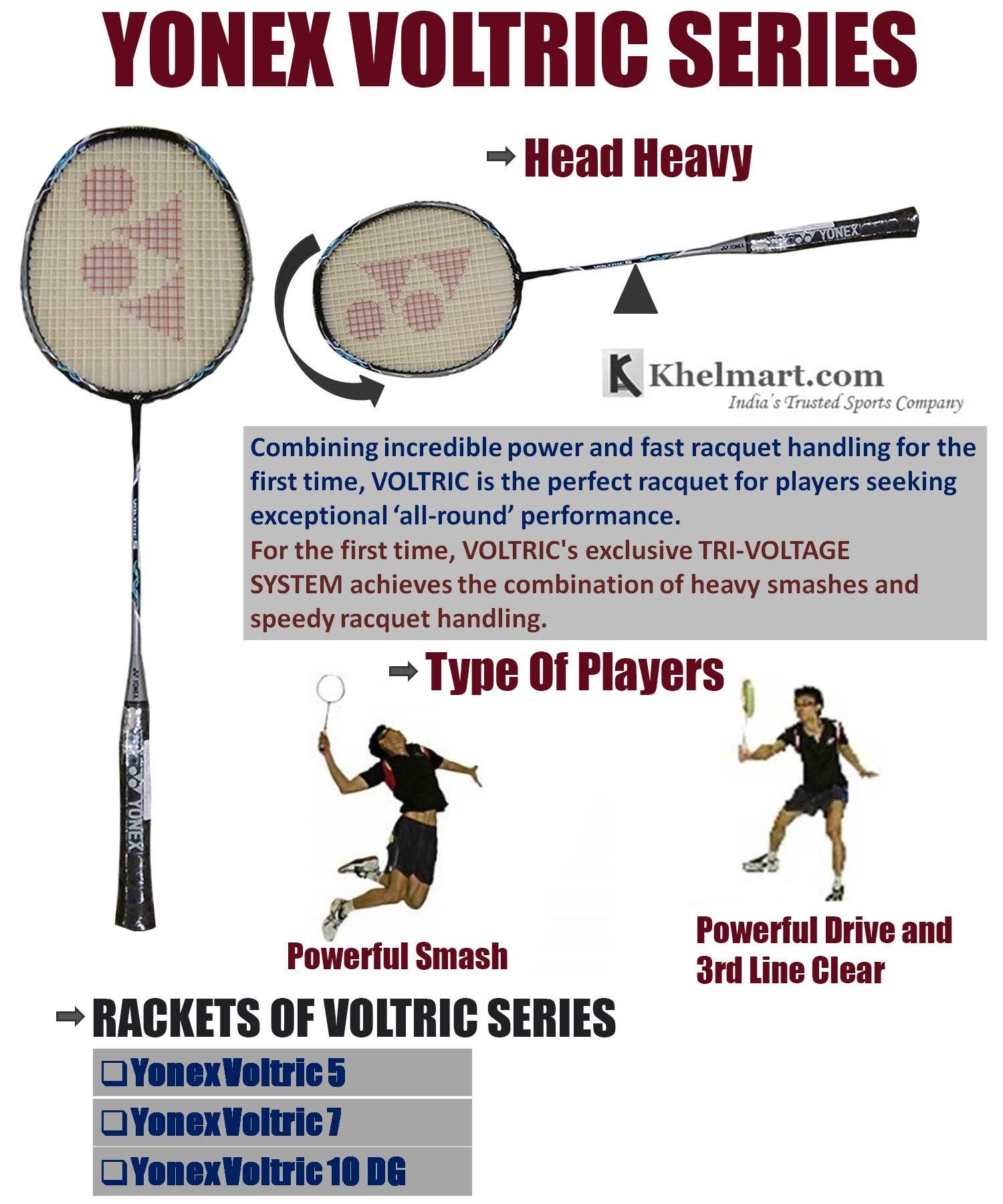 All Voltric series rackets are equipped with Tri voltage system which is unique concept developed by Yonex

YONEX Voltric series of rackets are suitable to those who want, attacking game style on 3rd line while on other hand, fast and speedy racket handling at mid court while exception skill game of Net area.

Yonex used state of the art racket material and cutting edge science to develop the rackets so that players get best in class racket performance. It is a head heavy series which offers better power on shots.

In order to improve the overall aerodynamics of racket frame, Yonex worked on its shape and material to get best aerodynamics properties.

Z Force II is the most popular in complete Voltric Series. It is professional Racket with head heavy configuration.

Yonex Voltric 5 is the most suitable model for mid level player with attacking game style.

Yonex Nanoray: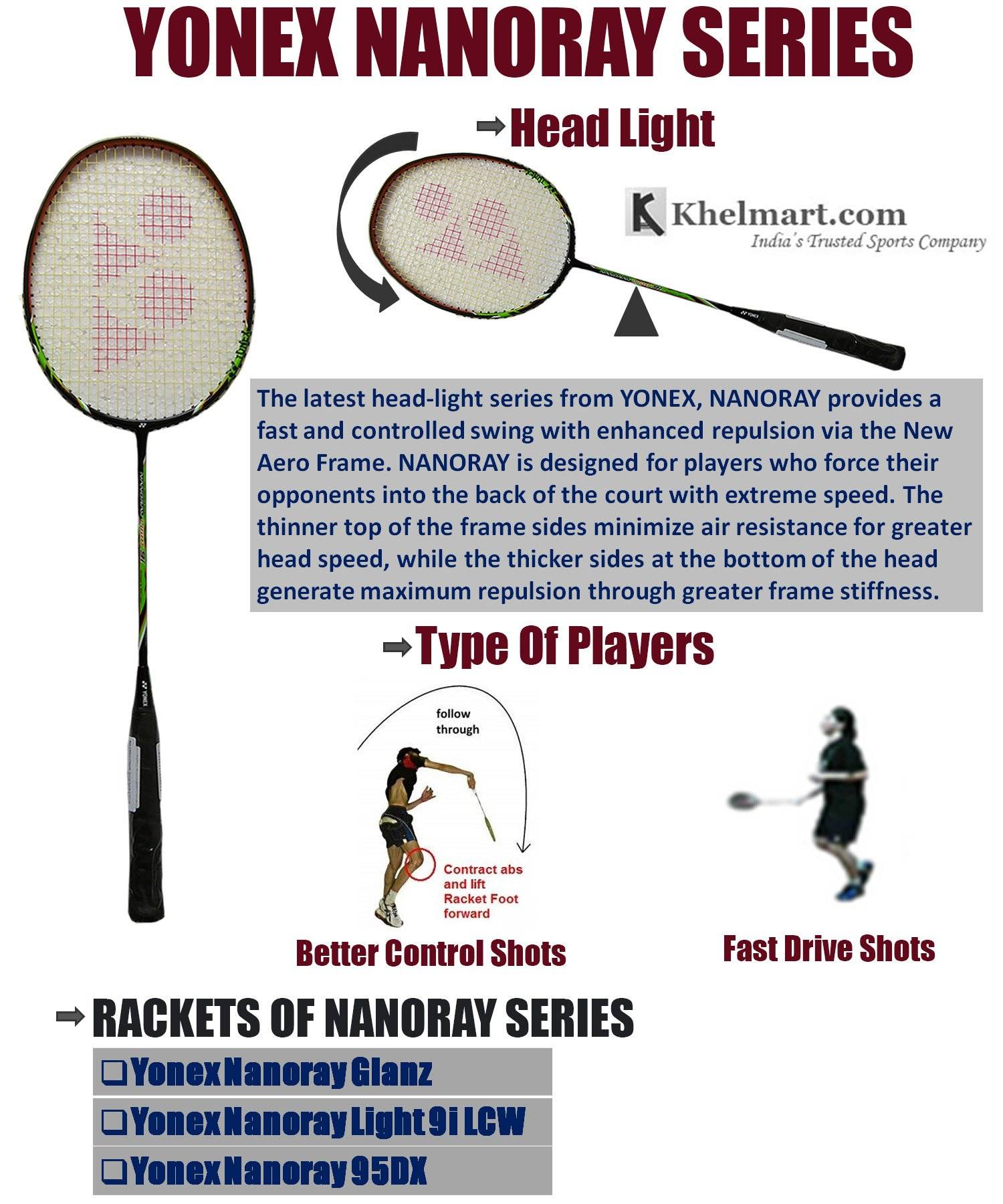 Nanoray is referred to light frame racket which is suitable for those player who always prefer to make quick shoots rather than power. Due to lightening fast frame speed , player will get advantages on drives and push shots.

Yonex Nanoray is head light series developed by Yonex for that badminton player who like to play with racket which is really fast in handling. With fast racket handling, you can dominate to opponents by making quick return and drives.

Yonex used the smaller cross section area at top side of the frame which give less air resistance thus provide fast racket handling. While at bottom side of frame, thicker cross section is used which offers better repulsion.

Overall, Yonex Nanoray series is developed for those players who really wants to enjoy the speed of racket and capitalized it in winning the point in badminton rallies.

Due very fast racket swing speed, Yonex Nanoray z Speed is already marked as fasted racket to make smash speed of 493 Km/Hr.

Yonex Nanoray 95 Dx racket is developed with DX frame with HM Graphite Material. High modules graphite is used to make this racket frame and shaft which provide outstanding strength to hold the higher string tension.

Recently Yonex introduces the light series rackets in Yonex. Yonex Nanoray Light 18i, 9i are some of very popular rackets in Nanoray light series. These rackets are 5u rackets (78 gms) with very light frame concept.

These rackets are head light series racket which provide super fast racket swing speed helps in making fast drive shots , quick cross corner shots , fast net area drop shots and very quick return to opponent.

This series of rackets are suitable for those players who love to play with attacking game and wants to surprise the opponent by very fast racket movement and shots like fast drives.

Exception speed and control help in dominating the opponents.

Yonex Arcsaber :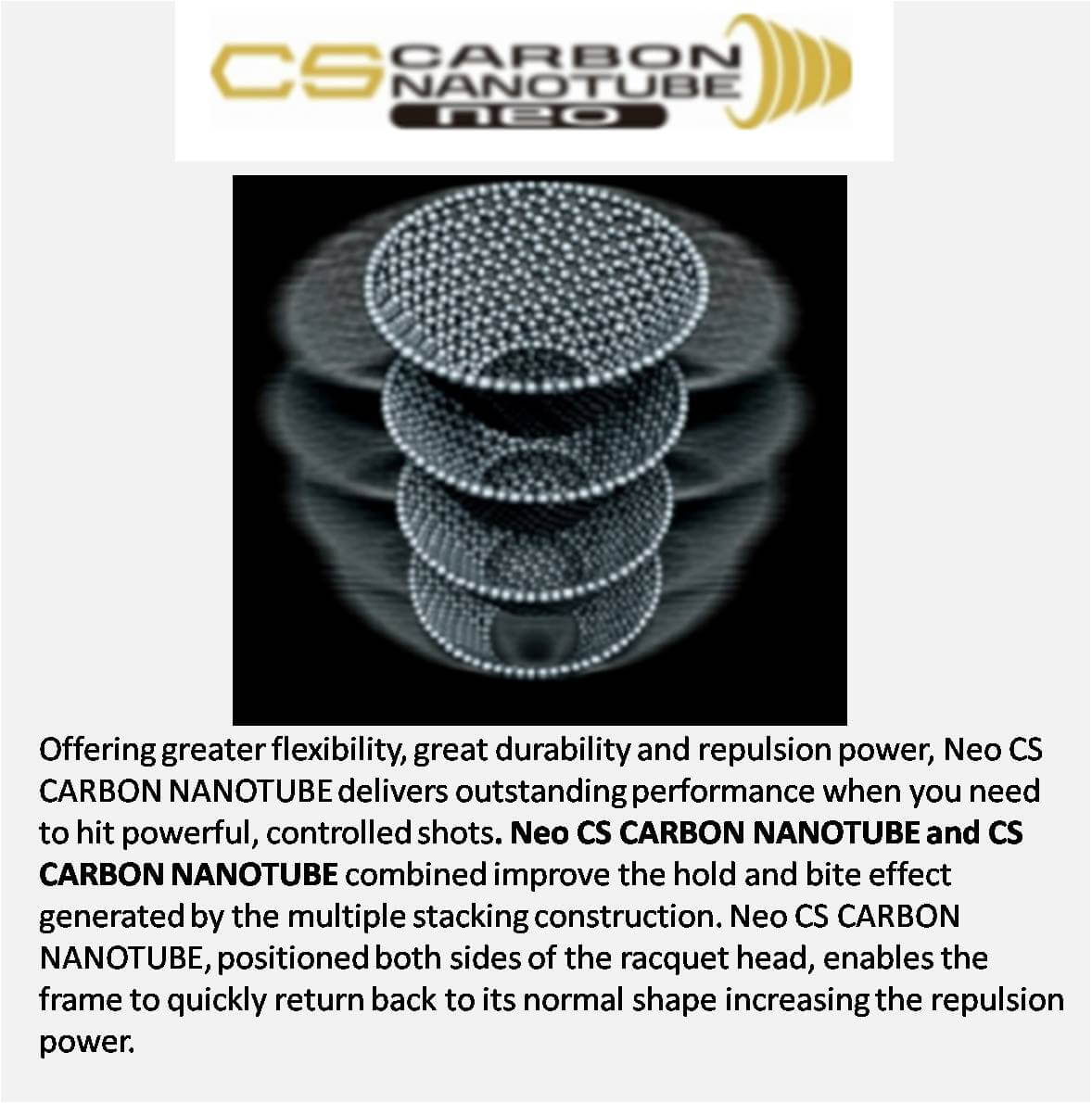 Player who love more control on shots are always preferred on accurate shots delivery. Arcsaber series rackets provide exception control on shots with even balance and innovative material science.

Yonex Arcsaber series is even balance rackets which delivery exception speed and precise control on shots.

Arcsaber rackets provide extra ordinary control on shots which is achieved by adding extra flex frame. Extra Flex frame hold the shuttle for longer time so that player will get exception control on shots.

Arcsaber series frame is designed with specific technique where it will provide the optimum flex for holding the shuttlecock longer at string bed during point of impact.

Yonex Arcsaber gives perfect combination of storing and releasing the energy which provide super racket control. Perfect positioning of carbon Nanotubes at racket improve the racket frame elasticity which eventually improve the racket control. Below mention video will explain the technology behind the Yonex Arcsaber series.

Yonex Astrox Series: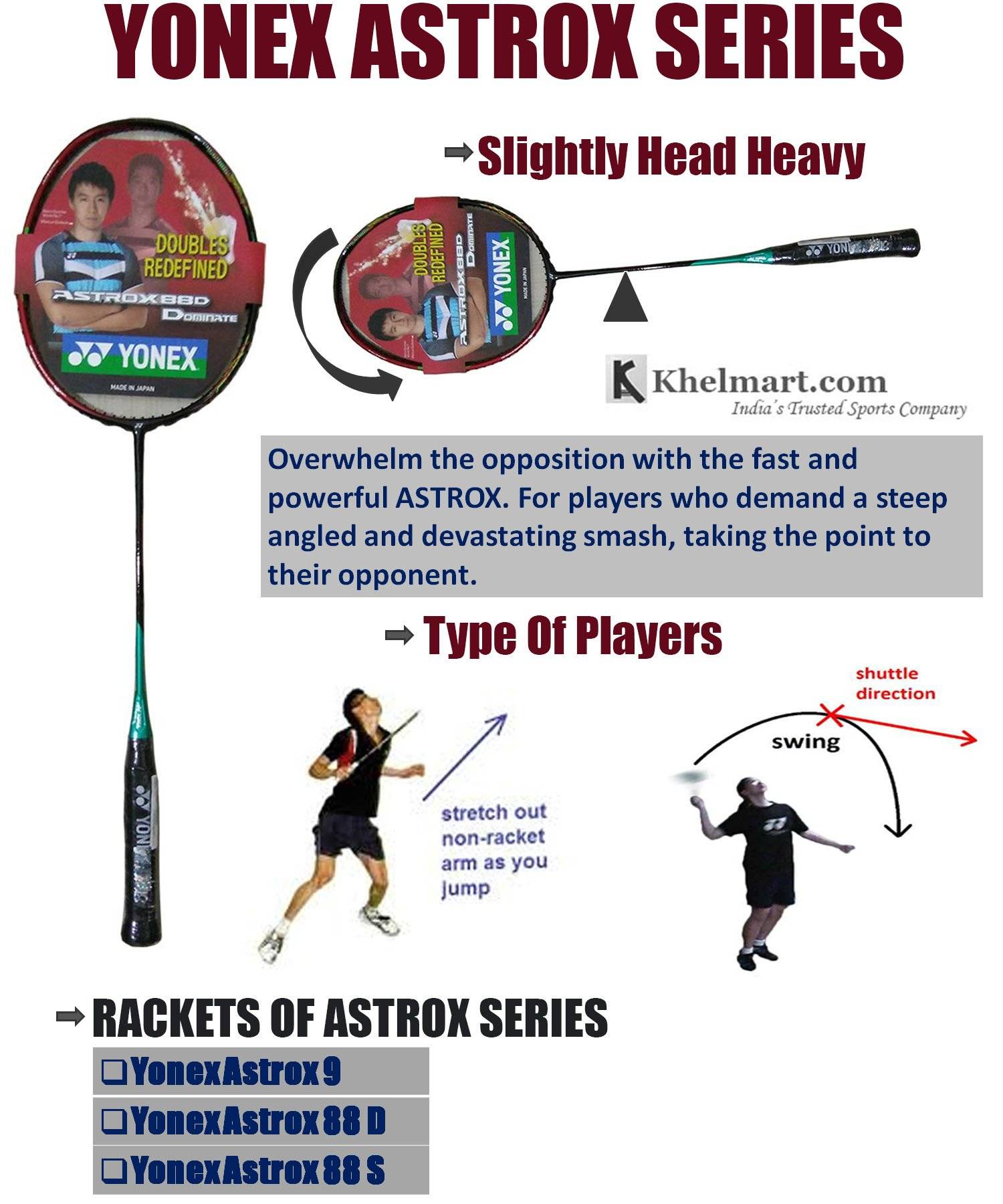 Astrox is latest series from Yonex which focus on counter weight balance theory. In this theory , to get the maximum control on racket , re distribution on weight in done. Now weight of the racket is balanced at racket frame top, Joint and handle end.

This theory provides better racket balance and help player to quickly adjust the racket fro next shots.

Further, Yonex Astrox is all about getting the steep angle of attack. Player who wants better angle of attack will love Astrox series as it offer flexibility to hit steep angle attack.

Astrox series rackets offer powerful smash with steep angle of attack by which you can easily get the point.

Yonex Astrox 77 is most popular model which is developed for pro players by Yonex.

Yonex Astrox 88 S and 88 D are the latest launch in Astrox series. Both the rackets are belongs to innovative Astrox series which provide the combination of attack and control.

Yonex Muscle Power Series: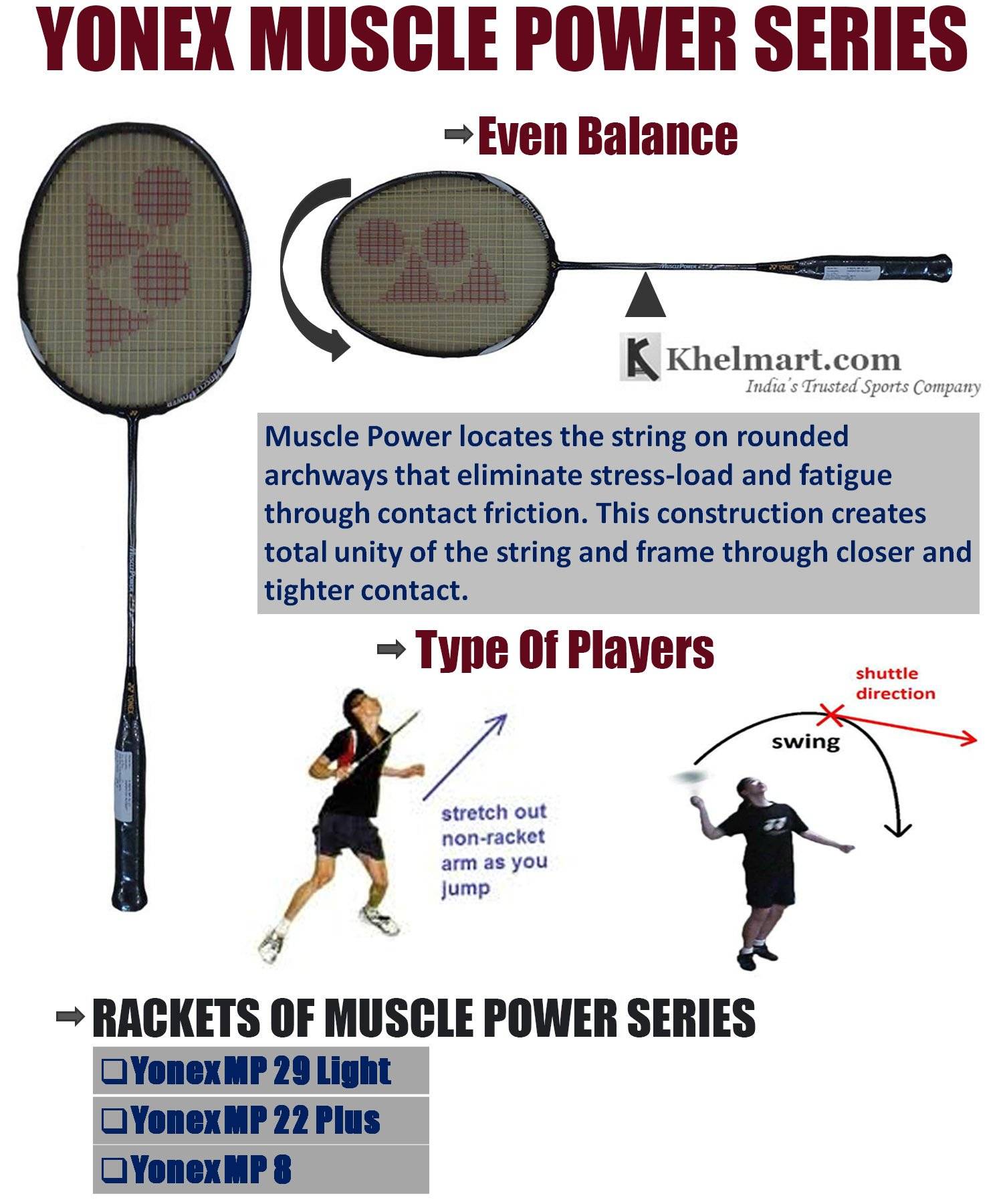 If you are a beginner level badminton player than Yonex Muscle power rackets are best suited for you. Muscle power series is economical price range series with technologies like muscle power frame and iso metric head shape.

The entire Muscle Power series racket is equipped with lightweight but durable frame and graphite shaft. Frame of muscle power series is made of Aluminum which offers better stability, durability and rigidity required for better control and power.

While graphite shaft provide optimum Flex which is very important when you switch form tempered steel shaft to graphite shaft racket. Graphite shaft rackets offers better flexibility which results into better power transfer to shuttle.

Muscle Power rackets is developed with the combination of graphite, aluminum frame which is designed for beginner to amateur players.

Final Words:
Yonex is very popular Badminton racket brand in the world. Yonex Provide quality and consistence in its product range.

With clear cut product range definition, buyer will get clear idea about Yonex rackets.

Intent of this blog is to provide detail information on Yonex racket range.

Players with Basic playing style have to select the Muscle Power series while player who already tired muscle power series and wants to improve the game in attacking game style should check Voltric series.

Yonex astox and Duora series are considered as advance series and suitable for pro players.