So amid this lockdown, are you enjoying spending time with your family and kids? Well, right now, this might be a tricky question for you to answer. Parents can easily deem this that how it feels like when there are only naughty children around you. After all, staying with children at home isnt an easy task.

However, for many of us, indeed for all of us, irrespective of going outside and look after on our and our kids health, learning from home and only watching TV and smartphones has become a harsh reality at present of our life.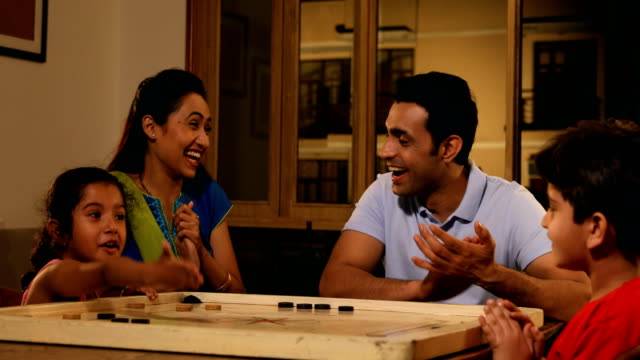 Keeping children happy and busy and ensuring that they arent turning rude – really does seem like a massive challenge. Since the spread of coronavirus throughout the world, almost all nations have decided to shut down schools with the intent of social distancing for slowing down the spread of the Virus.

Simultaneously, now both schools and governments are initiating online classes so that kids studies can never be affected. But living locked inside the boring walls of the house can significantly harm your health and so of your kids as well. Thus, to add a bit of fun and to keep you mentally fit, nothing can be better than Carrom board online-

Carrom board game- an immortal game the joy of which cant fade

Carrom board! Yes, youve heard it right. Carrom board is a charming game. There was a time when it was much-loved indoor sports and one of the most popular games. If you are a parent, then you probably have played it in your time. Its never been dull or out of style as in most of the families, this game is still excitingly played online.

There are a number of factors that render Carrom board an entertaining game. Its an ultimate solution during this lockdown to stay busy while to bring remarkable changes mentally. Since its an indoor activity and anytime you can play it online, youre free from any harm that could be triggered by playing outside and coming in contact with the virus. Playing Carrom online is similar, like playing Carrom on the real board.

Its the perfect way to enjoy with family and friends. In fact, if youre thinking of teaching your kids to play this exciting game, its indeed going to provide an immense benefit. In this way, youll spend time with your kids in a better way.

If you want your children to sit inside and safe from the virus harm during lockdown, no doubt playing Carrom board is the safest idea.

Make your child really a game-changer in lockdown.

Playing Carrom board game online can engage children with vital activities that are essential for improving their specific skills such as teamwork, team spirit, etc. Like other indoor games, Carrom boards are the perfect ones for children as the game provides many advantages for both the personality and the wellbeing of children.

• The most significant benefit of the Carrom board is that, when children practice Carrom, several educational skills start to improve. While playing such a beautiful game, intimacy is also being built up within families. Also, for family members, its a fantastic opportunity to rest and upgrade their minds.

• Children can practice something new and have fun by improving learning abilities such as counting, hearing, visual detection, and eye-hand coordination, etc. Children can develop with the quick-witted mind.

• It motivates children to engage in healthy activities, to interact orally, and to concentrate their attention. Individuals have various talents when playing.

• There are also several major advantages of practicing Carrom, both psychologically and physically. Studies also have shown that stimulating the brain by doing some physical and mental activities minimizes the likelihood of being unhealthy effectively.

Moreover, its the best way if you yearn for an opportunity to spend some quality family time that has lost somewhere. Hence now, during the lockdown, relationships can be reconciled by playing Carrom online. It will also help children to develop problem-solving and creative thinking that is a significant perk.

Play Carrom board game and stay mentally fit

• The game lets you build social skills like interaction, communication, relaxing, decision making, and enjoying the company with groups.

• Carrom tends to improve youngsters abilities, e.g., logical reasoning.

• If you play Carrom, then there are fewer chances to have a mental disorder. The game provides a perfect workout to ones mind, which raises the capability to store more information.

• By playing the Carrom board, children can improve their concentration power as the game enhances the attention span by focusing on a single coin or pocket.

• Especially kids start to learn and understand that constant effort is essential to achieve something. And this theory benefits them in the future.

• The game allows children to consider the parameters that indicate that children make substantial boundaries to feel secure under any situation. The game not only improves the childs mental ability but also has a range of health benefits.

Indulge kids with positive activities

Kids are very sensitive from their heart. And amid this lockdown, if parents havent practiced something essential for them, then it can affect their mental strength as well. All around the world, schools are off, and classes are going online.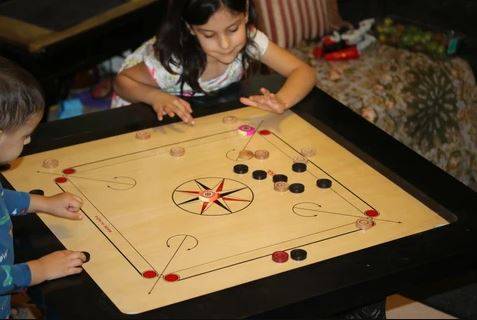 So at this time, kids are stuck inside the boundaries of their home. Most of them want to go out and play as they cant understand the sad reality of coronavirus. Simultaneously, making them stay indoor for too long is gonna be tricky. Therefore, it is the duty of parents to encourage children by involving them in fun giving things during this lockdown time.

However, this becomes easier by playing Carrom board online as it is one of the best indoor activities you can practice. It provides you an opportunity to engage with your children in a better way. Ultimately your children can spend quarantine time by doing some positive activities instead of turning rude.

Help your child to get rid of mobile phones.

In todays modern time, indoor games only involve playing on devices or smartphones. However, you might shift their mindset by introducing them to games you are interested in, such as enjoying Carrom board.

Play the Carrom board with your family and kids by explaining how you have grown up by playing Carrom with your brothers and sisters, family, and friends. During this lockdown time, why dont you tell your children the same thing? After all, its the best time where you can also rewind up your memories.

Carrom board is an exciting game, and its pretty sure that beyond trying useless things on the phone, theyre going to enjoy it. Playing Carrom will remind them of the importance of time and family.

While playing, if you let them think, try strategies and focus, then it not only evolves as an exciting moment in their life, but they have some amazing stories and experiences to share in the future with you.

When your kids play Carrom indoor sport, they will also start to learn how to interact with younger and older siblings. Automatically, this can bring an impressive positivity in their nature. Hence you should also prepare for a family game with a Carrom board, as that would also inspire your kids on how to confront difficult times.

Summary

While playing Carrom board games, closeness and love start to flourish within families. Its a kind of refresher that most of you might have played throughout your childhood or adulthood. And why not? After all, it has been one of the most widely played games more specifically in South Asian households.

While playing, children can learn numerous things such as counting, hearing, visual recognition, eye-hand coordination, etc. Games inspire children to participate in friendly contests, verbal communication & concentrate with utter attention. People strive to use different skills while playing this famous board game.

Carrom board online game too is an excellent source of utter satisfaction. Whether you are a parent, adult boy/girl, or a child, playing Carrom board is going to turn your lockdown time the best ever moments of life.

These days, people are focusing on doing something that could erase boredom from their life. Thus to all of them, playing the Carrom board is definitely proving an evolving option for ultimate gratification! So you should also try out this mind-blowing game and enjoy it with your family.