Are you looking for the best cricketer shoes for a fast bowler in 2020? No worries, as this article has some mind-blowing shoe options to show you.

Finding the best cricket spike shoes can be a quite daunting task as it is one of the hardest things to do for a bowler. And especially for those who desire top-notch quality shoes that complement their high-performance in the cricket field.

Moreover, these situations also become the tricky one as there are a lot of options out there in the market. Sometimes you may dont know which are the things to mark before purchasing the best shoes.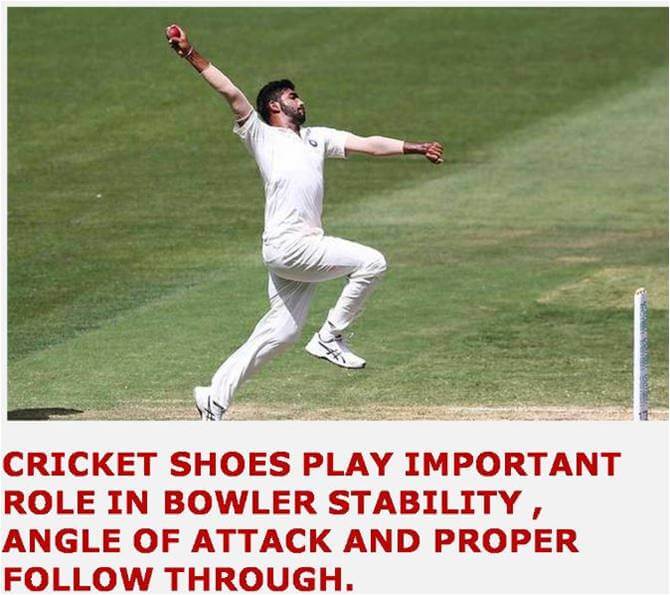 However, an ordinary cricket player never strives to figure out these little things. Still, only a professional or highly skilled or someone whos dedicated to practising cricket focuses on each and everything that enhances his bowling performance.

Buying the correct shoes can significantly impact your performance in the field, whether you play in a sticky, hard, or grassy surface. If you want to give your ultimate performance, then there are some specific aspects of cricket shoes that you must remember. These are- closure, the form of sole grip, the breathability, quality, and loads of little to little things for sure.

Hence, below are the top 10 quaint shoe options for you on the grounds of which you can pick the best pair for you.

1. Asics Gel Gully 5 Full Spike

Do you want to lead in batting, fielding, and bowling? Then Asics Mens GEL-GULLY 5 Spike shoe, an all-around cricket shoe, is here to ramp up your performance. The shoe is lightweight and offers the ultimate cushion and support.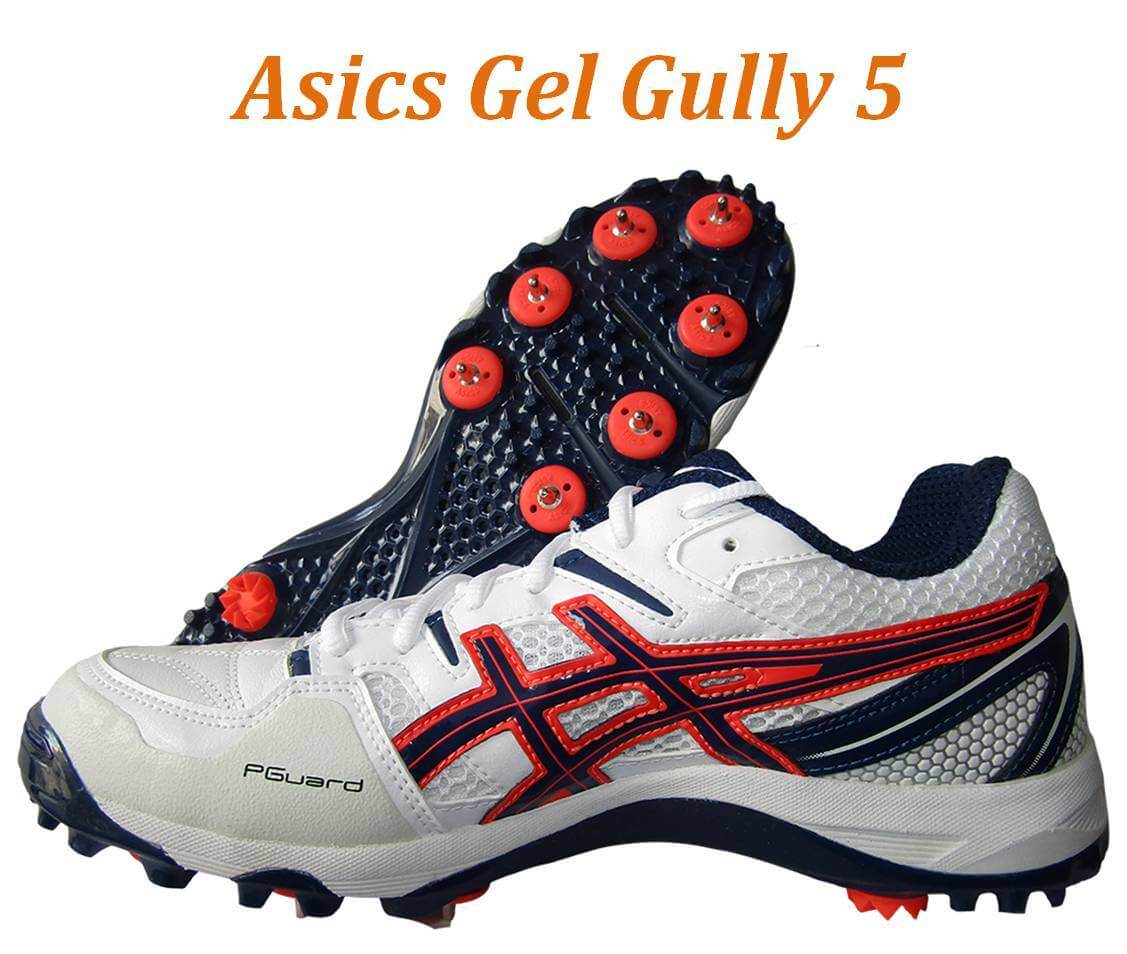 It is built on a SpEVA and features PGuard, which improves durability & protection. The PHF technology addition makes sure a snug & friction-free fit.

Ultimate Attributes of GEL-GULLY 5 Spike Shoes

• Synthetic leather outer material renders it quite flexible and responsive

• Lace-up closure type for ultimate grip

• Round toe and lightweight upper

• Gel provides shock absorption

• Popular cricket shoes that are worn by most cricketers

2. New Balance CK10 BL4

Cover the field with stylish cricket shoes for fast bowlers- New Balance CK10 BL4. It features synthetic/mesh upper with TPU reinforcement and FantomFit for seamless support and ultra-light fit. The 10v3 features sturdy materials to stand last in the field.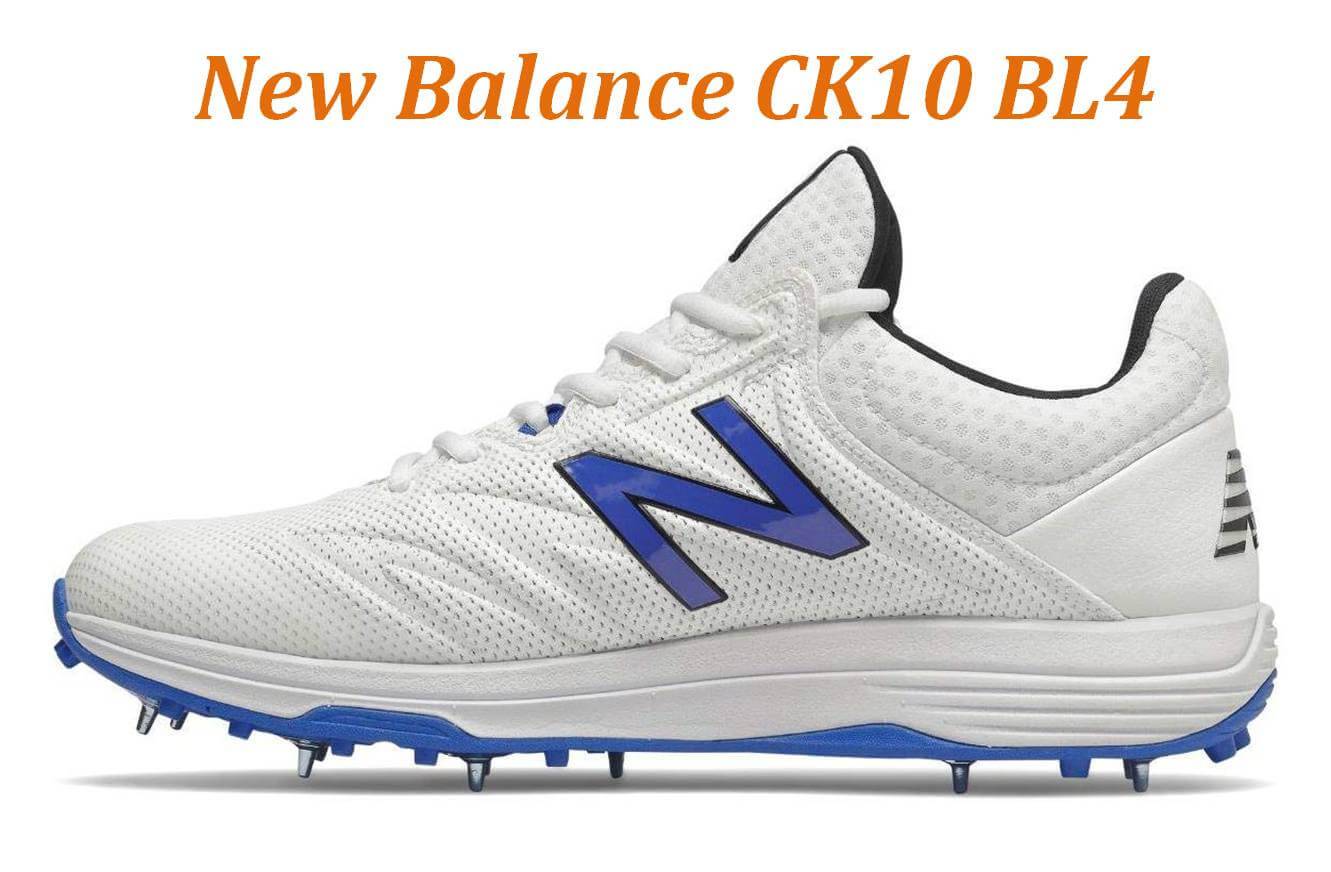 Without sacrificing underfoot cushioning, minimizing construction and stability, REVlite midsole offers a perfect lightweight ride.

Special attributes of New Balance CK10 BL4 shoe-

• ISS® Internal Support System provides additional stability

• The upper is designed in a way that offers great fit and support.

• Durable upper made with leather/mesh.

3. Nike Alpha Accelerate 3

Nike Alpha Accelerate 3, advanced edition of the Accelerate series, features unique and creative functions such as flexible high ankle support, more durable straps for optimal comfort, and improved upper design.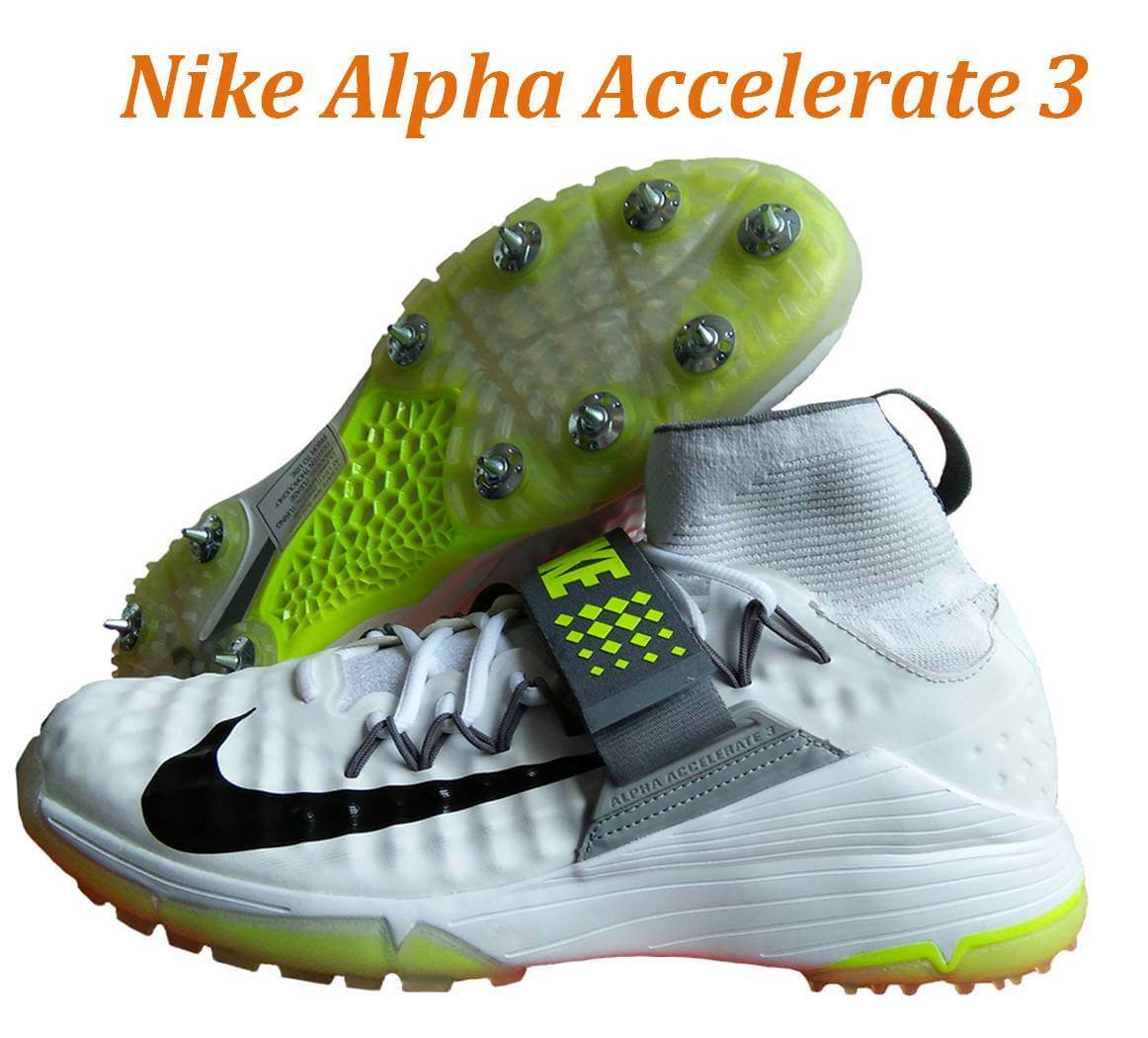 It is an unusual looking shoe absolutely matching the modern game styles. Its the ultimate cricket spike shoe for all those players wishing for lightweight shoes to play with. No doubt it is the best shoe for fast bowlers.

Best grounds of Nike Alpha Accelerate 3 shoe-

• Snug fit to ensure smooth running during the play

• Excellent breathability due to the mesh lining

• Rubber sole and spikes on the bottom for high surface traction

• Lace closure

4. Kookaburra Pro 2000 Spike

Kookaburra provides lightweight and robust footwear designed explicitly for all-level cricket games. Kookaburra Pro 2000 Spike cricket shoes offer a lightweight athletic profile style that drives high-performance.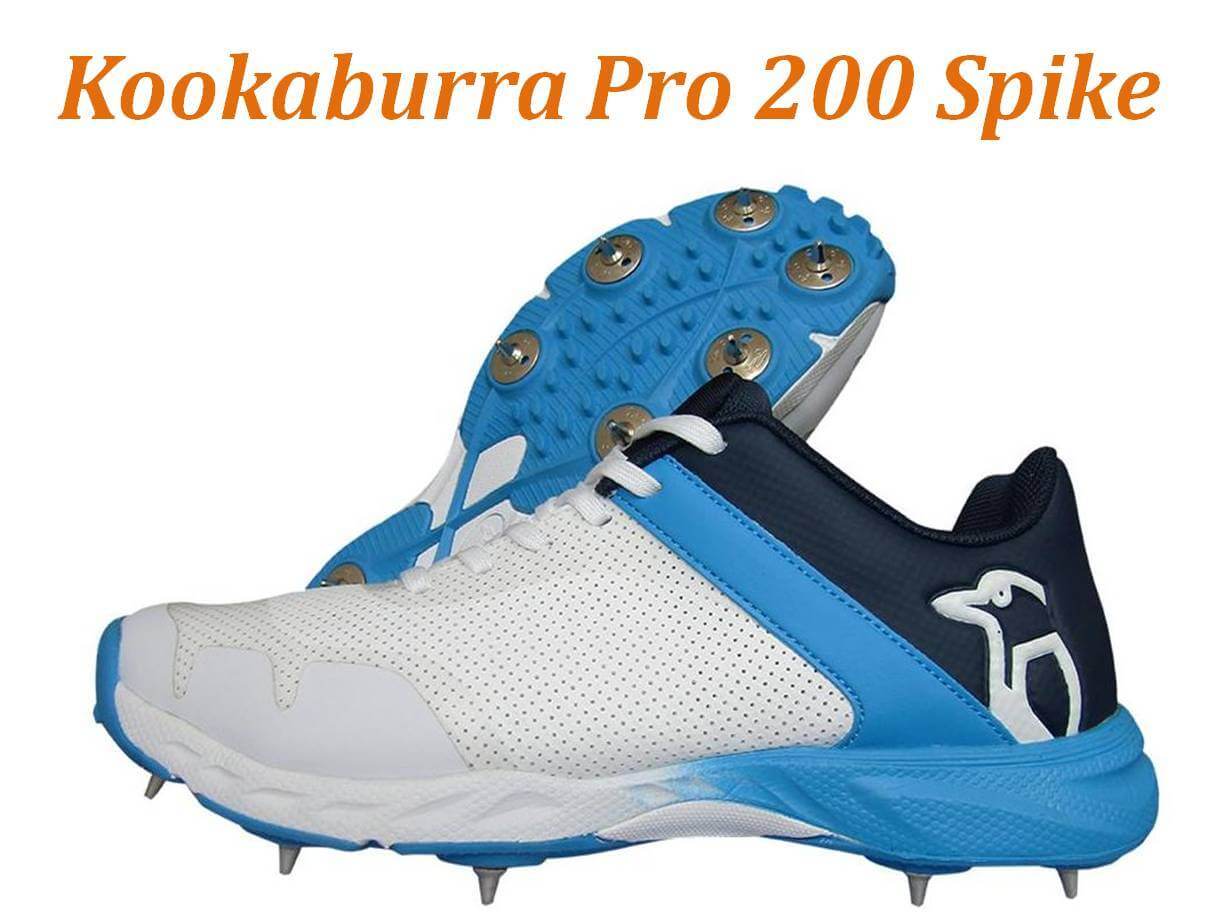 This Spike shoe delivers a high traction outsole that allows you to move smoothly on the cricket pitch beyond any fear of slipping. The Durafoam midsole offers enormous support to your foot when running or walking while the Climafresh Internal Lining augments the lifespan of the shoe.

Unique attributes of Kookaburra Pro 2000 Spike shoe-

• REVlite cushioning with engineered ventilation

• No-Sew tip for streamlined durability

• Recessed 11 Spike configuration

• Moulded heel overlay for reinforced fit

• Leather upper and Revlite midsole

5. New Balance CK4030 B4

The shoes are the best for both experts as well as intermediate players who seek the right traction shoes despite losing comfort and support. CK4030 B4 stems with an ISS internal support network that offers stabilization and its 7/4 Spike design that gives the most exceptional traction while performing on the cricket ground.

CK4030 B4 is the ultimate shoe for fast bowlers; the perfect fit will make you believe like its only made for you.

Special attributes of New Balance CK4030 B4 shoe-

• No-Sew tip for streamlined durability

• REVlite cushioning with engineered ventilation

• Moulded heel overlay for reinforced fit and recessed 11 Spike configuration

• Leather upper and Revlite midsole

6. Puma Team Full Spike II

Team Full Spike II is a winning shoe designed for cricket players and ideal for fast bowlers. The fusion of synthetic leather and extremely light mesh content on forefoot offers support, breathability, as well as a fresh appeal.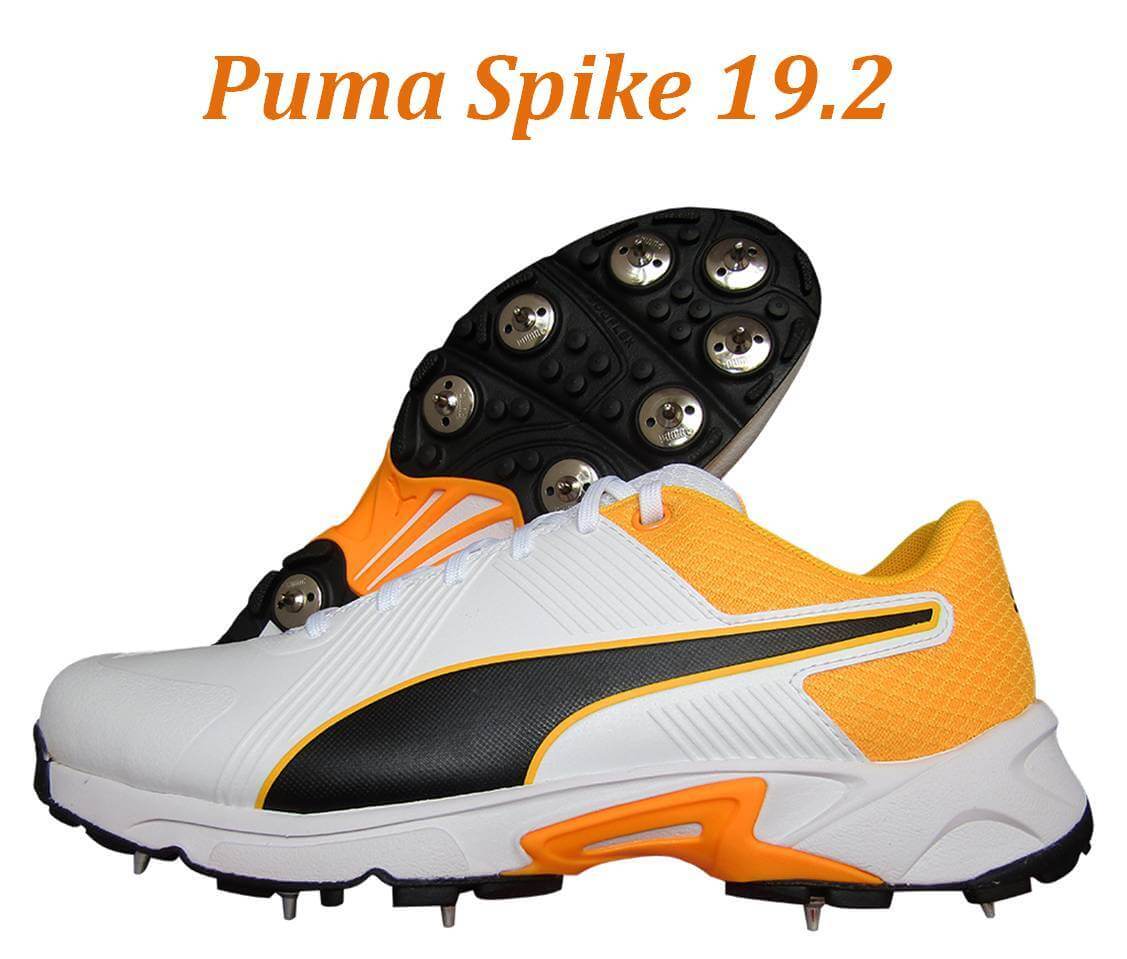 With a lightweight structure and a sturdy toe cap, this shoe offers protection and durability. The anatomically built outsole provides stability and significantly increases flexibility and reactivity.

Lets take a glance at the unique features of Puma Team Full Spike II shoe-

• Rubber sole for an ultra comfort feel

• Closure- Lace-up

• Synthetic outer material ensures the durability of the shoe.

• Round toe enhances appearance and boosts comfort while walking & running.

7. Nike Domain 2 Spike

Nike Domain 2 is among the finest cricket spike shoes for bowlers, fielders, and batsmen because it is built with a top-notch quality lightweight upper leather, a high sole, and fantastic outsole shaped spikes. Shoe lightweight quality and sole durability help the player to get stronger traction strength and make it easy to pick up a ball & release it instantly.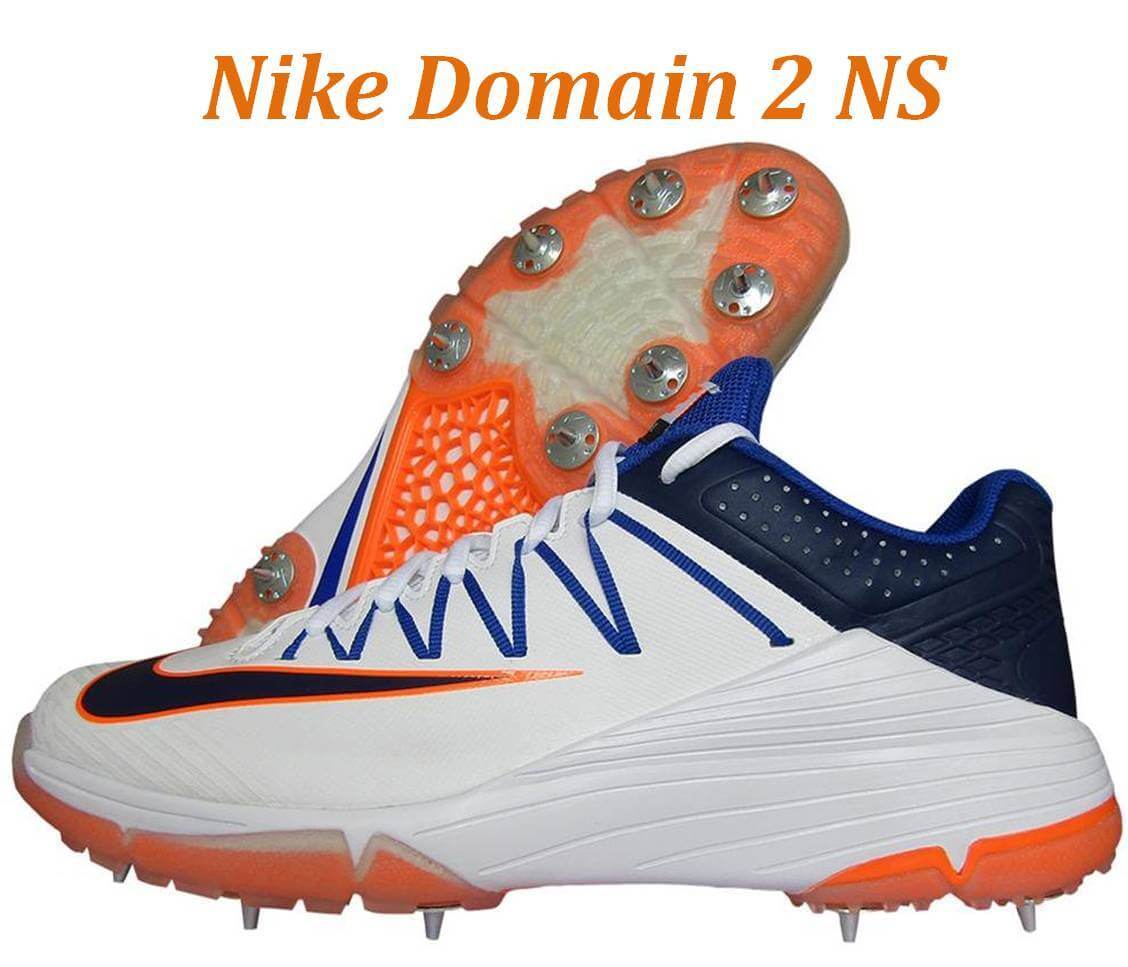 Nike Domain Shoes are made of excellent quality material that ensures long-lasting performance and versatility. These shoes are designed specifically for skilled or advanced level players.

Best features of Nike Domain 2 Spike shoe-

• Nike domain two spikes have a synthetic leather upper for flexible comfort

• Durable full-length plate with 11 metal studs for superb traction

• The shoes have phylon midsole for lightweight cushioning

8. Payntr Spike Cricket Shoes

The next generation of Payntr cricket shoes is the best option for professional cricketers. Payntr Spike shoes feature ultra-lightweight structure that incorporates breathable upper material such that the player can easily play long batting or bowling without sweating.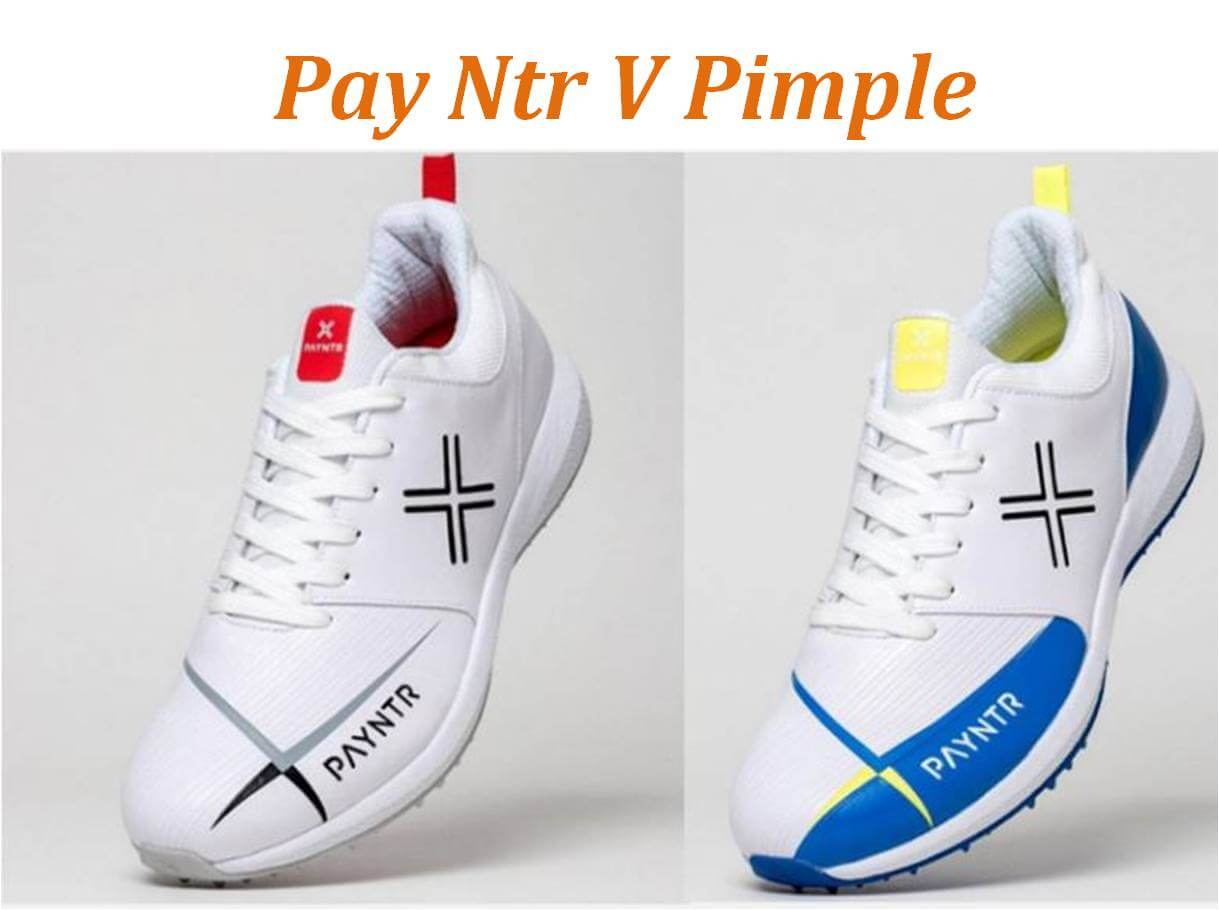 The top is composed of PU content with a D7 grain framework that looks appealing and has long-lasting characteristics. Besides increasing the durability, the anti-roll insole ensures that the player provides ultimate performance. The blend of metal spikes and moulded lugs offers all-around cricket shoes feel to the player.

Special attributes of Payntr Spike Cricket shoe-

• Upper material is made with re-enforced toe protection and anti-roll, nanometer strength tested PU upper, raised arch insoles.

• The midsole is ultra-lightweight that delivers responsive cushioning, ultimate comfort, and high performance.

• Flexible & supportive outsole with TPU studs included back heel.

9. Thrax Opti Pro Spike Shoe

Thrax Opti Pro is an ultimate quality cricket shoe, best for fast bowler players with revolutionary features such as Opti Form Design, Double Cushion, Excellent quality PU leather, EVA sole, and upper fabrics.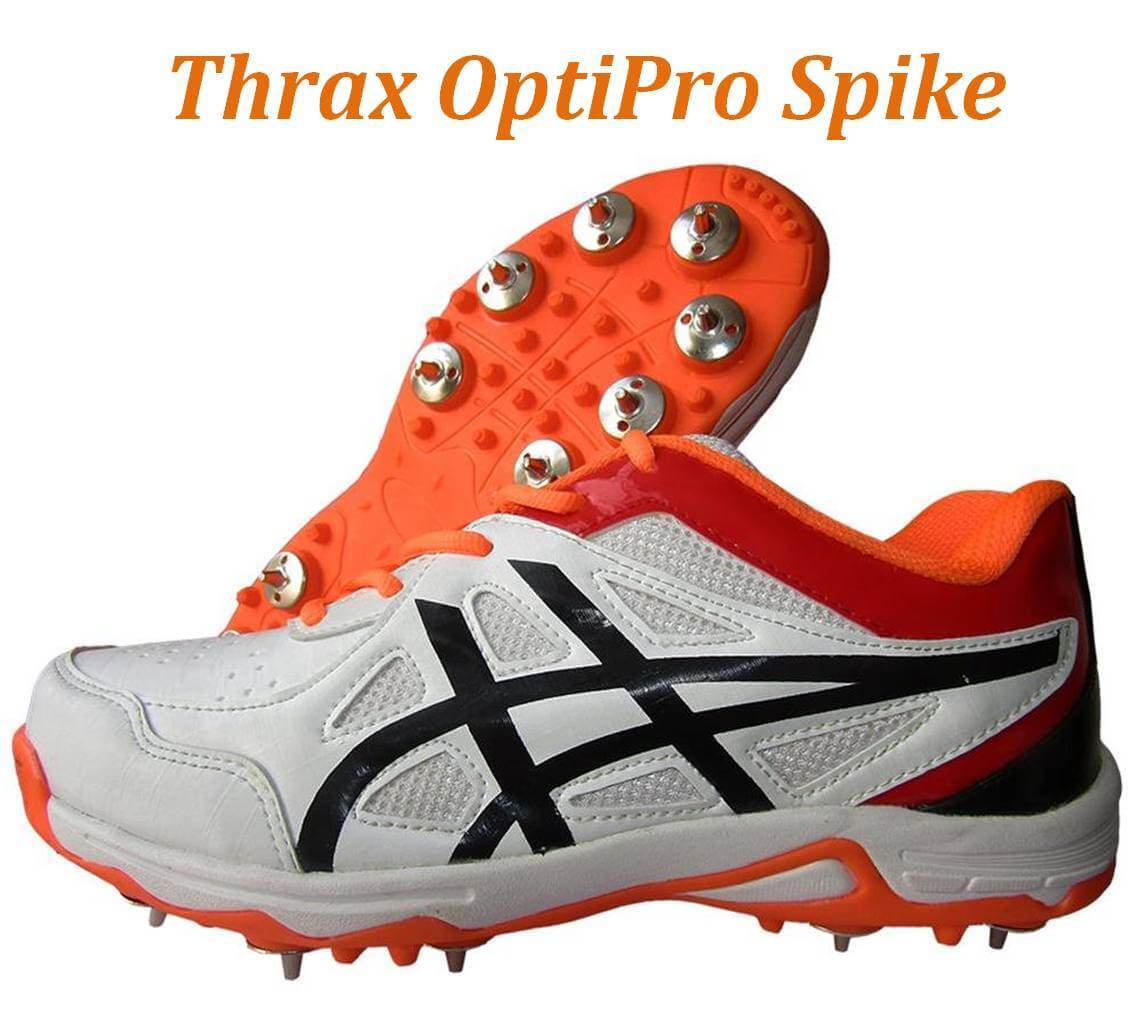 This shoe is made from imported PU material regarded for its versatile design, appealing look and, perfect durability.

However, this cricket shoe upper content is a vital aspect that can easily tolerate a high level of folding, shearing, and impact pressure. The top material renders it to stay long-lasting. Also, the Thrax offers extra cushion design in this shoe that provides players with extra support. Lets take a glance at the-

Special attributes of Thrax Opti pro Spike shoe-

• Upper material is of high quality.

• Patent PU durable skin fit and Nylon mesh.

• Designed with Double Cushion Technology

• Double Cushion, Opti Shape, Wide Last Manufacturing System

• Durable rubber and EVA midsole

• Suitable for intermediate to advance cricket players, all-round type playing style

10. PRO ASE stud Full Spike

PRO ASE Cricket shoes are designed with the best material that gives you a lot of comfort. Also, this shoe is lightweight and delivers maxim comfort and stability because of the high traction rubber sole.

This stylish cricket shoe has complete spikes and maximum padding, which offers you excellent support. It is ideal for competitive and advanced level matches.

Quirky qualities of PRO ASE stud Full Spike shoe-

• Rubber toe reinforcement and breathable mesh

• Full spike

• Delivers durable performance

If you are a fast bowler and you want to upgrade yourself in 2020, then these are some of the best shoe options that you must try.