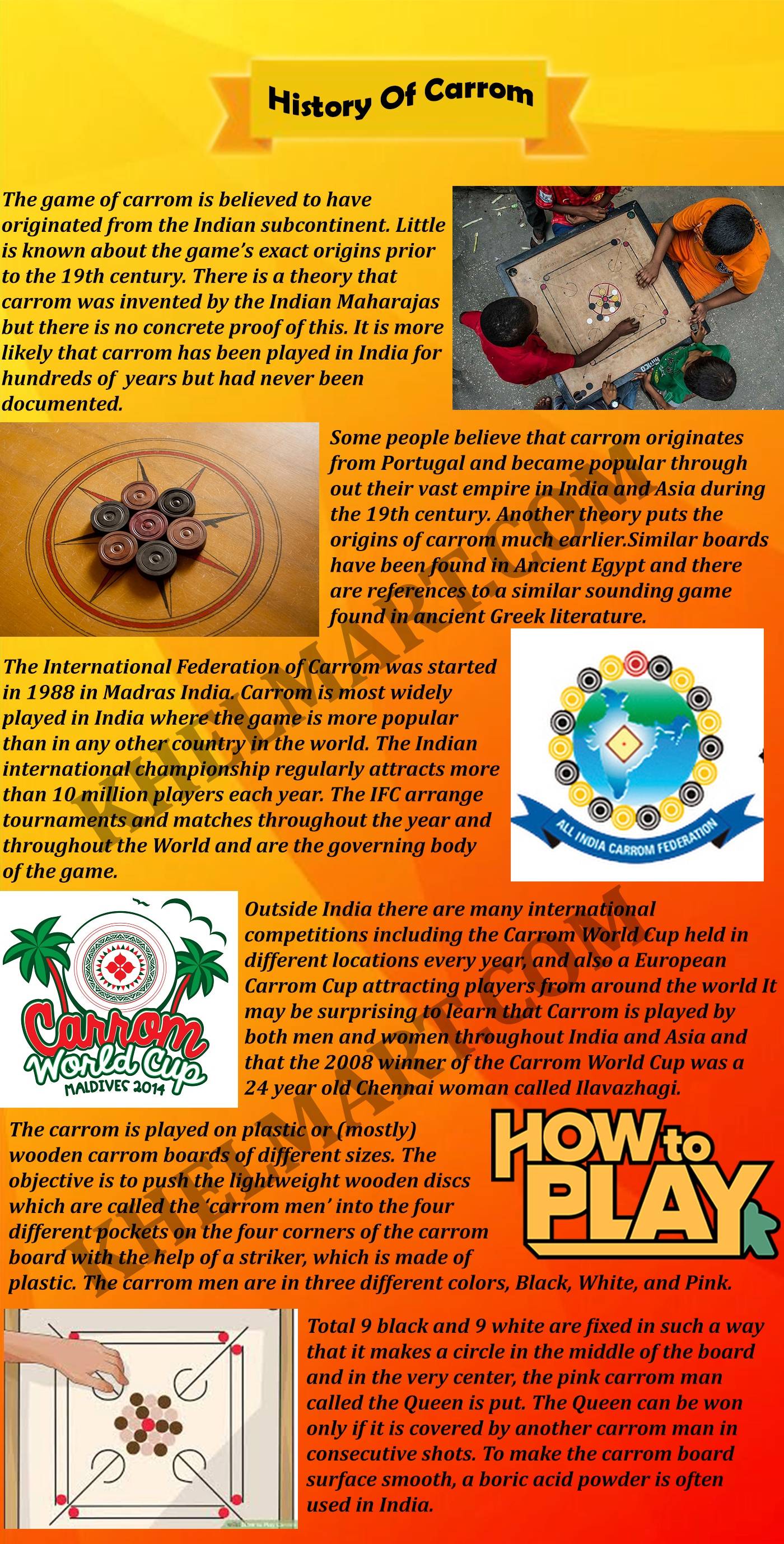 History of Carrom Board Game

Carrom Board is a table-top based game. It was originated from the Indian subcontinent. The game is also very popular in South East Asian countries like India, Afghanistan, Bangladesh, Nepal, Sri Lanka, Arabian countries including Pakistan and the neighbouring areas. It is spelled by different names in various languages like carom, karom, carum, and kairam.

In south Asia, cafes as well as many clubs organize daily based tournaments of carrom board games. Carrom Board is well known and commonly played at social functions, and played by families as well as children. Even in these countries, there are many carrom cafes which organize daily carrom competitions. Moreover, countries like the UK, France, Italy, Germany, Spain, Greece, Switzerland, etc. also make their carrom game federations. Even in United States and Australia, the game carrom gained good popularity. The game is similar to other games like snooker or billiards, but the only difference is that this game is not played by sticks and balls.

A brief into the game

The carrom is played on most wooden boards or plastic boards of various sizes. The main goal is to shove the thin wooden discs (which are known as the carrom men) on the four corners into the four pockets of the carrom board with a plastic made striker. The carrom men have three colors- White, Black, and Pink. There are a total of 9 white and 9 black carom men, which are set in akin away making a circle in the center of the carrom board. In the exact center, the pink carrom man known as Queen is placed.

To make the surface of the carrom board smooth, most of the Indians use talcum powder and spread all over the surface of the board. Several companies copy the design of Haskells carrom game board. One of the companies made a version of carrom board in 1950 and gave the name snooker. The name of the company is the Transogram.

Origin of the game

Carrom is considered as an ancient game that has came into the contemporary world. The carrom was originated in the 18th century, invented by the Indian maharajas. From many generations, the carrom board game has been played. After the First World War, the game of carrom board gained more popularity. It is an ideal game to play at home because it has definite size and a simple design. Furthermore, after the formation of ICF or International Carrom Federation, the game became more popular than ever before. The IFC made some formal rules for it that turned the game from a casual time-pass game into a world-recognized competitive sport.

After that, the game is played at an ambitious level over the globe. It is loved in homes over the world and people enjoy carrom to the core. Its best thing is that people of any age can play this game and the game does not require any big arrangement. In the past, people played this game as just for passing their time, but now after gaining so much popularity, the game is played by 20 million individuals only in India.

It is a very popular and demanding indoor game. The carrom board game is now played in nearly 50 different countries. It is mostly based on physics and geometry. It also needs deep skill and concentration. Games are something that have to be remembered for a long time and are always considered as a part of living culture. The game of carrom board is played in different countries in different styles, even by different names. On many levels, the main objective of the game is to teach. Either you teach others, others teach you, or the game teaches you.

The game of carrom board is considered as one of the best family games. It has achieved a higher position due to its number of tournaments held in different cities and countries. There are several tournaments or championships which are organized under the guidance of AICF. These tournaments are categorized according to the age groups with fee charges; for example- if you want to play in senior national and interstate carrom championships, junior national, and interstate carrom championship, sub-junior national and interstate carrom championship or any other tournament which is approved by this federation then you have to pay Rs.10000 at present. On the other hand, Rs.5000 is to be paid for an international test match, federation cup carrom tournament, all India invitation carrom tournament, or institutional national carrom championship.

Scope of carrom game

The carrom board game has not only the purpose of enjoyment. You can also build your future in the field of carrom game like A. Maria Irudayam won world carrom championship two times and national championship of India nine times. He was also honored with the special Arjuna award which was presented by the government of India in the year 1996. Apart from it, if someone suffers from physical disability and is not able to perform the other physical tasks, he can easily play this game. Moreover, if they have good skills of concentration, they can play it well. They can build their future in carrom as it acts as a door of opportunity for them. There are several championships in which they can take part and gain name and fame.

Last year, the carrom world cup championship was organized in the city of Chuncheon, South Korea. It is a 7-day competition which started on 23 August and ended on 29 August. It is tagged as the first international carrom tournament since 2016 carrom world championship. It is also designated as the first carrom world cup held in South Korea. The format of the tournament was a double round-robinin and knock-out tournament. Total nine people participated in it. The tournament was won by a woman who belonged from India and man who belonged from Sri Lanka.

Manufacturing of carrom and rise in the economy

The first carrom board was made by hand, and due to the gaining popularity among masses, the making demand of the carrom board was phenomenal. The game has become very popular in many countries and the demand of carrom manufacturers has been increased. Many different companies and industries started the business of carrom board manufacturing. The carrom board game gave the opportunity of an ideal business for many other people. Due to the popular demand of carrom boards, people started the business of manufacturing of carrom boards which were sold very quickly one after another. For management and financing, the different local businessmen were involved with other companies. In 1892, by hand, the first game boards were made. At the present time, wholesale shops are established in the market which provide carrom boards at a very low price as compared to market price.

Carrom board availability- from traditional means to online

As it is rightly said that necessary is the mother of all inventions. Technology is also the part of invention which is a boon in our life because it makes everything convenient and easy. Apart from it, according to a survey, around 70% of the masses are online shopaholics and it will keep on increasing day by day.

With time, technology has been recognized in every field right from business to sports. Due to the popularity of the carrom boards among the children as well as their parents, the supply of carrom board is done by online sites nowadays. In some cities, there are no shops which provide the best quality of sports items. So instead of purchasing the sports equipment from the shops, people prefer online sites. There is a huge variety of games equipment including carrom boards which one can buy online. If someone has an interest in carrom, they can purchase carrom board online at a very reasonable price. There are immense benefits if you buy carrom board online like you are offered the facility of COD, and sometimes you are also provided with lucrative offers on special occasions too.

Some final words:

As childhood is a golden period of everyones life, so why waste your time in non-productive things if you have a chance to spend this prestigious time by playing carrom board or making future in it. And it is also one of the best ways to polish the relationships by spending some quality time with kith and kin as it helps to make the bond strong among them.

You must refer this game to others too. By this, the trend of playing carrom is maintained since it is a tradition which comes from our ancestors. So, its our responsibility to assure that this game achieves the cloud nine position like other games such as ludo, chess, and many more.