If you are a passionate sports player, then you can understand the need of sports kit bag more than anyone else can. Same is for badminton as well. To keep your Badminton equipment secure and safe, you need to have a durable and easy to lift badminton kit bag. People usually baffle a badminton racket case with a kit bag. A racket case is just to store a racket and thats it. On the contrary, badminton bag can rest your rackets, shoes, clothes and other accessories.

The most important thing to keep in mind before buying a badminton kit bag is the kind of space you require to keep your stuff. Size is an essential factor while choosing the bag as you should be sure that the bag is big enough to shelter all the accessories and equipment that you would need to carry for your game. Another meaningful thing is the flexibility and comfort of the straps while carrying the kit bag.

Checkout the Blog on Best 10 Badminton Kit bags for 2019

Quality of a perfect Badminton Kit bag:

There is a wide range of kit bags to select from which are available in different brands, colours, designs, size etc. A superior badminton bag bids extensive space and decent storage compartments to fit your rackets. Most of the professional badminton players use 12-piece badminton racket bag and a 16-racket bag. While thinking of buying a kit bag, one should always consider purchasing a bag with backpack straps as well as shoulder straps so that it becomes easy for you to carry.

If you keep your shoes along with the rackets, other gear, and clothes, the muck from your shoes can wreck everything. So, it is best to choose for badminton kit bags with a parted section for your footwear. By this, you can keep badminton equipment clean and find a separate place to hoard your shoes.

Superior badminton bags occur with a temperature control carriage to keep your drinks cool. Many players carry their healthy food with them during the match. And, an independent area for eatables is a win-win thing for them. So, while choosing a bag either online or from the market, do not forget to choose a kit bag with temperature control compartment.

The bag should be good enough that it can bear the rough usage of a player without any wave of wear and tear. The bag that you choose should be durable and comfortable to carry. As this is the most critical thing to look upon. With that, after a tiring day you wont feel like carrying a heavy bag. It should always be light in weight because the accessories and the equipment are very heavy, there should be a balance.

Parameters need to be checked before selecting the Kit bags: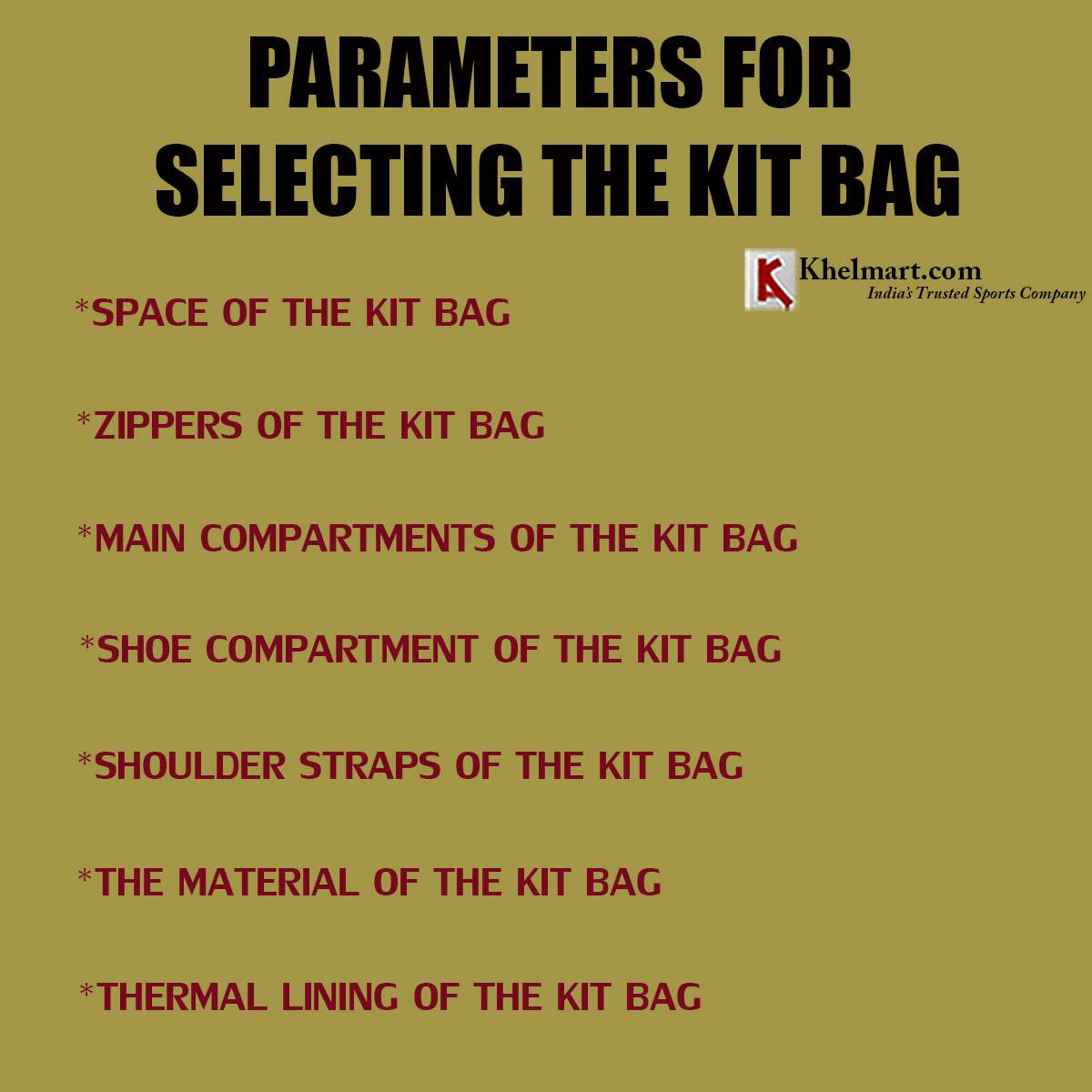 1) Space of the kit bag-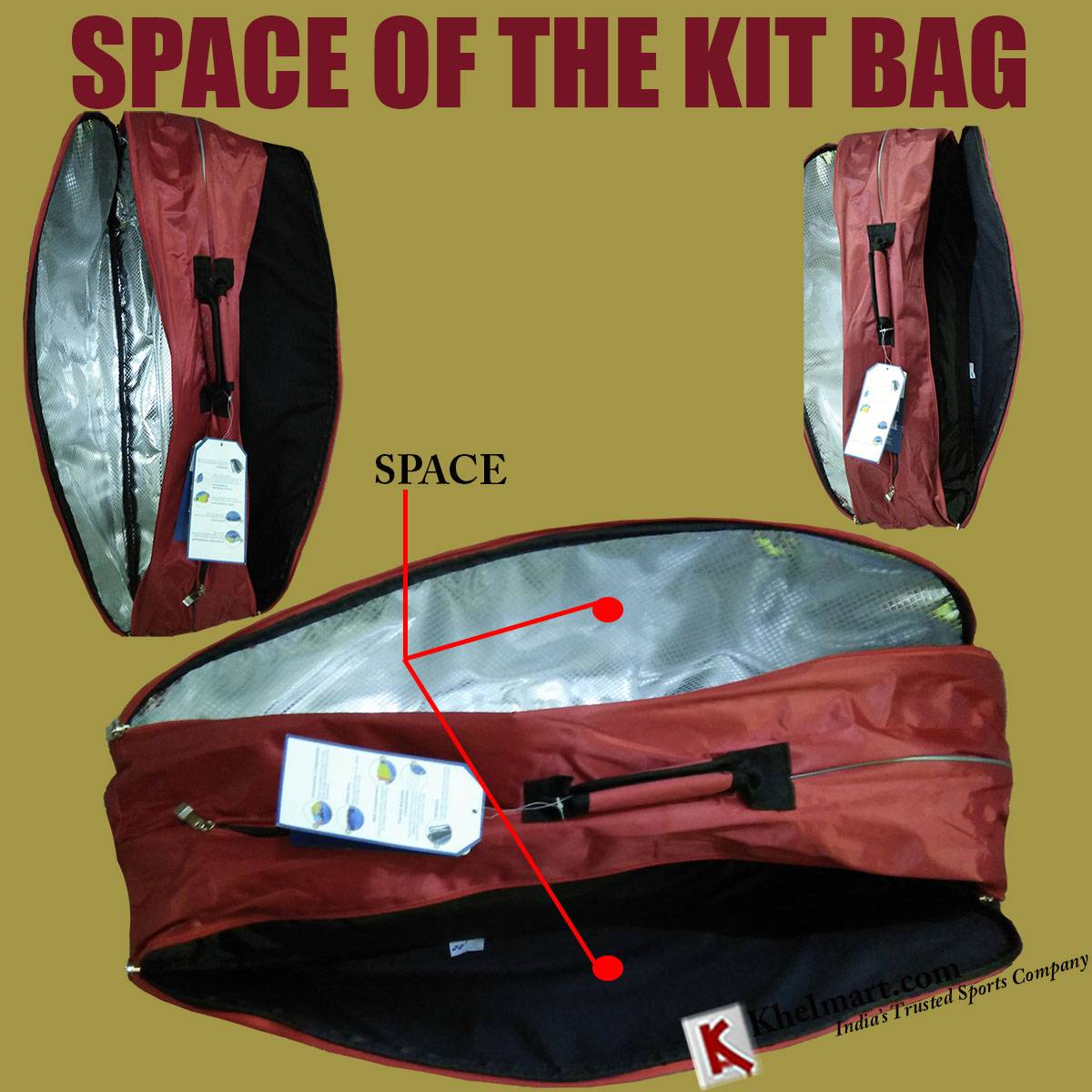 Checking the space of the badminton kit bag is really important as there is no point buying a bag in which your complete stuff cannot be stored. When buying a bag, one should always consider checking proper compartments in the bag. Sections for rackets, shoes, and beverages are of real value. The bag should also have a proper ventilation system which will keep your bag fresh and away from the bad smell. Also if possible you should always see if there are extra pockets to carry your wet clothes so that there would be no hassle for you to carry 2 bags.

Proper space leads to finding stuff in the bag uncomplicated. As if there is enough room and compartments you would be able to keep Badminton equipments in an organized way, which would lead to locating your stuff quickly and easily.

2) Zippers of the Kit bags-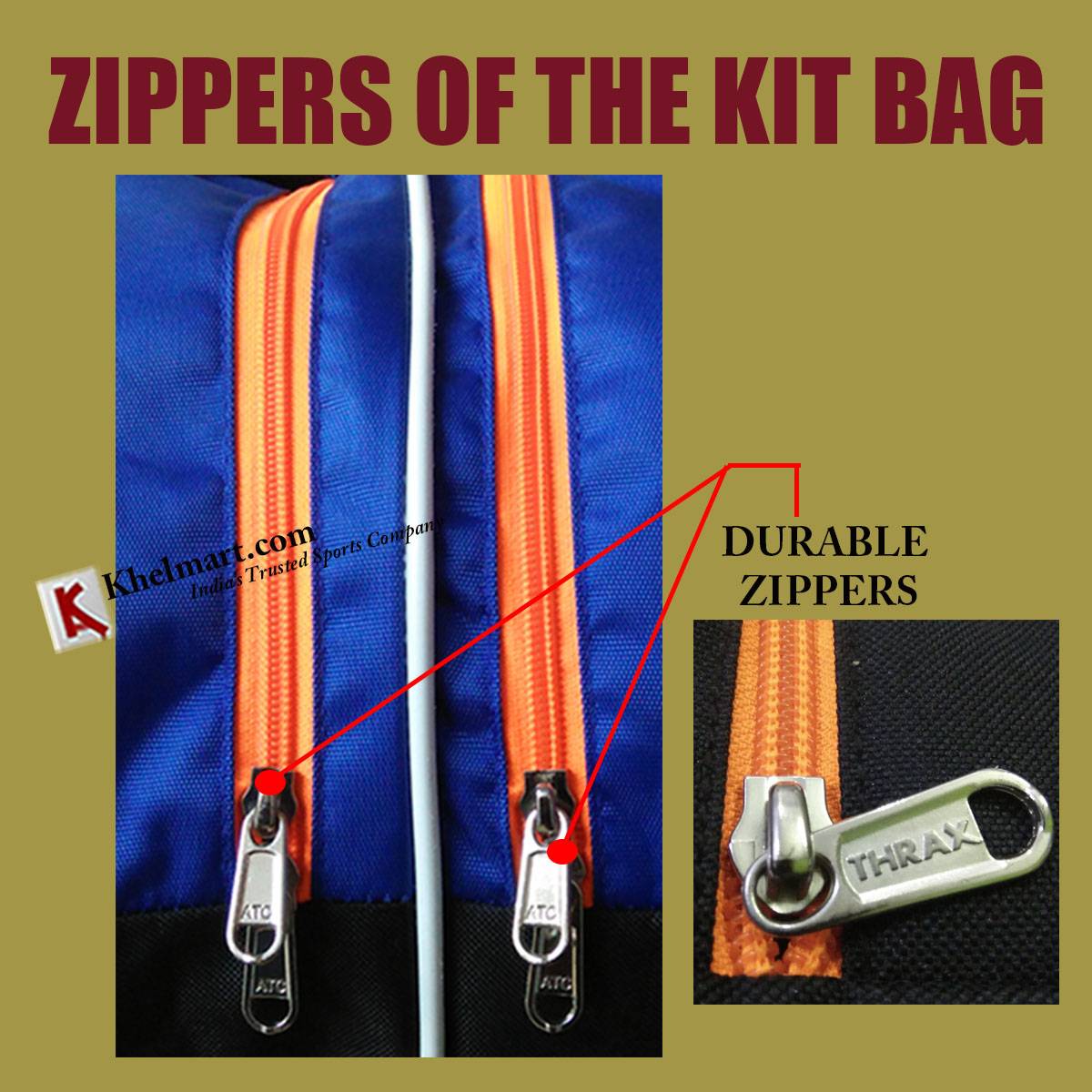 You should always consider buying a badminton kitbag with double zip and a narrow strap for smooth opening and closing with a rip-tab to keep the bag fully closed. Not only the upper zip should be closely checked but the inner zips should also be closely noticed as they are equally important. The compartments should be fitted with smooth and premium zippers along with metal buckles to make the bag truly long-lasting, functional, and stylish.

3) Main compartments of the kit bag- -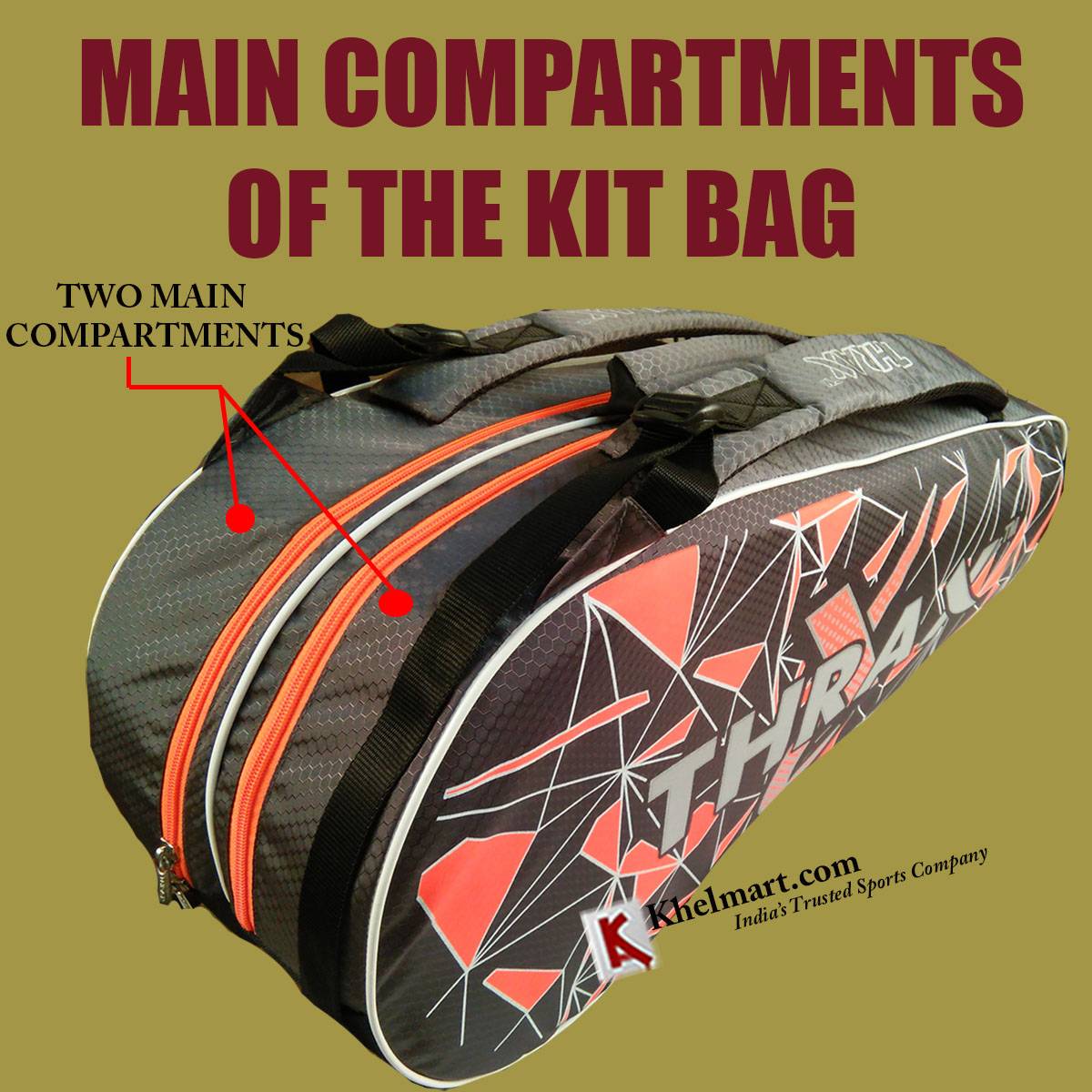 In a bag, the major role is of the compartments. The reason is that the compartments keep the stuff well managed and organized. A person prior to buying a bag should first consider his needs so that he is well aware of the stuff he would need according to that he can select the bag. If there is a lot of travelling, the player should also focus on the compartment for shoes, rackets, dirty clothes or wet clothes and for keeping beverages as well.

There should always be 1 extra accessory compartment as well. If there are front pockets then that is something good for a player as he can keep stuff that he needs the most in that, for eg, maybe keys, hand towels, etc.

4) Shoe compartment of the kit bags- -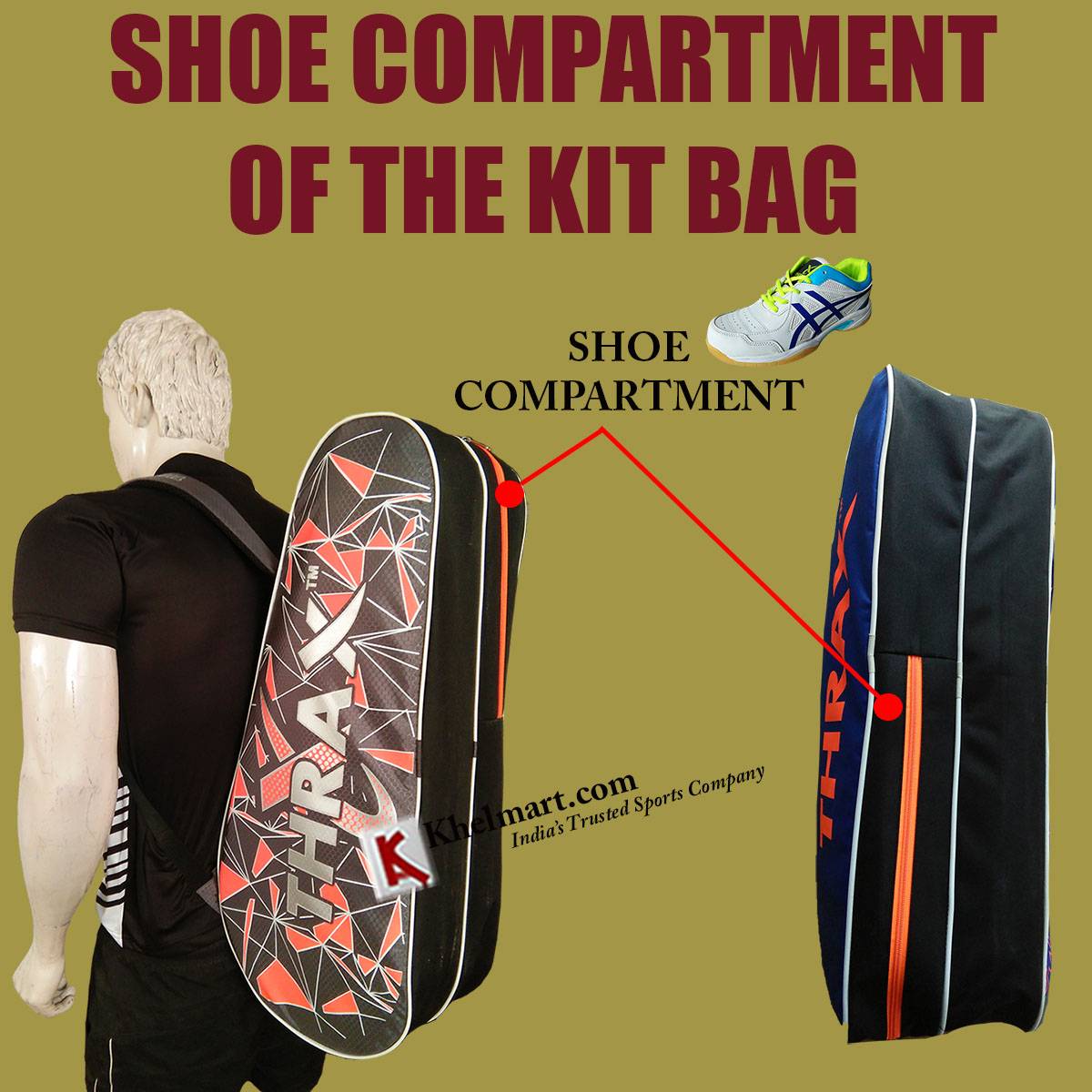 As mentioned above, a shoe compartment is one of the crucial things to check before buying a badminton kit bag. The reason is you cannot keep your shoes with the food or beverages and other important stuff. There should always be a different section for shoes as it will avoid the need for carrying an extra bag, especially for shoes.

It becomes really difficult for a player to carry 2 bags when travelling or even when going for practice. The shoe compartment helps a player in keeping the bag organized and travelling easy- peasy.

5) Shoulder straps of the kit bags- -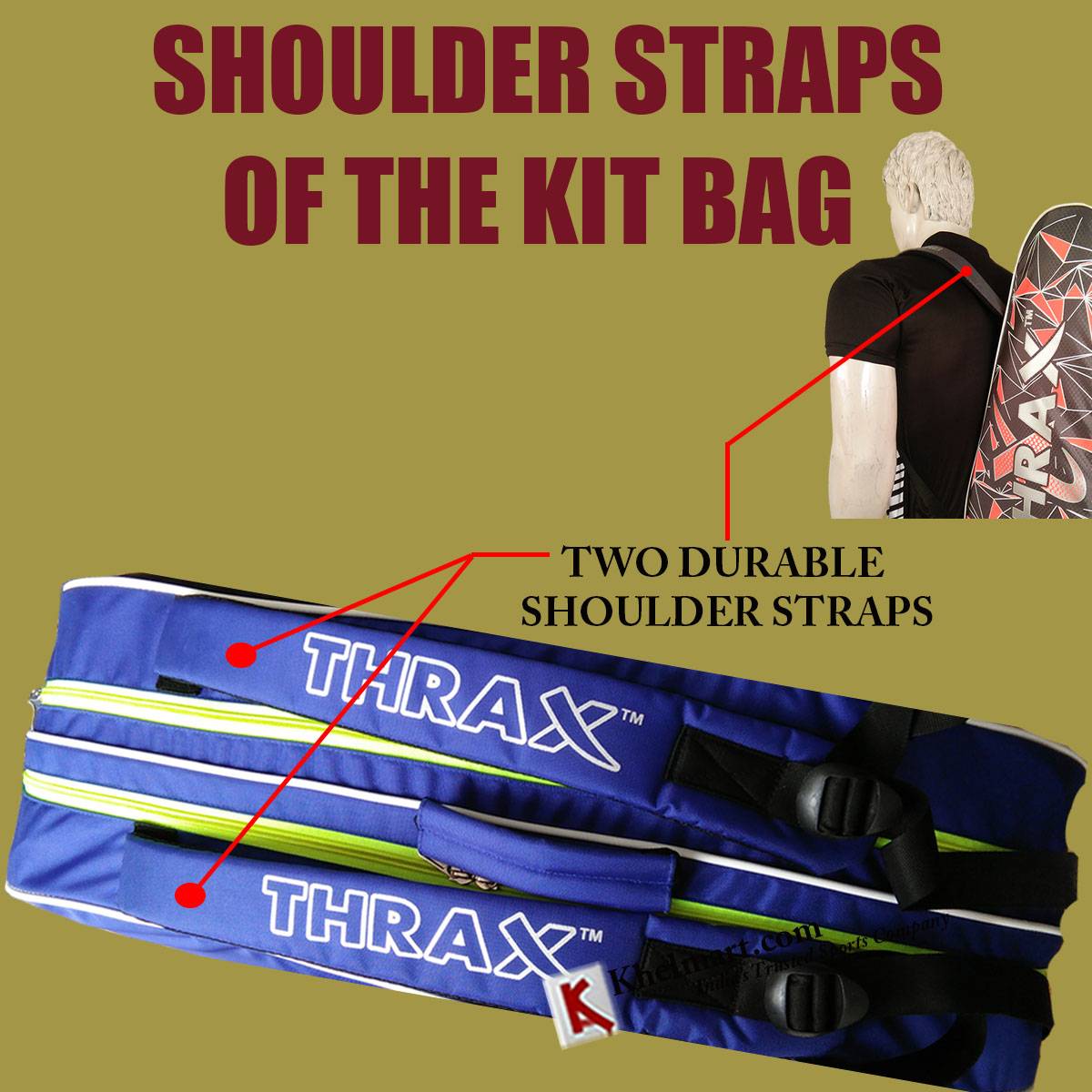 The bag usually has 2 padded shoulder straps, you should try and look for a bag with extra padding as it makes carrying the bag more convenient. The shoulder straps should also be fitted with swivel buckles for an ideal fit. There are few bags in which there is soft filling in the shoulder straps which makes the straps softer and makes carrying the bag very convenient and stress-free. Checking shoulder straps is important as you tend to carry a lot of stuff while travelling so the straps should be padded, soft and durable.

6) The material of kit bag- -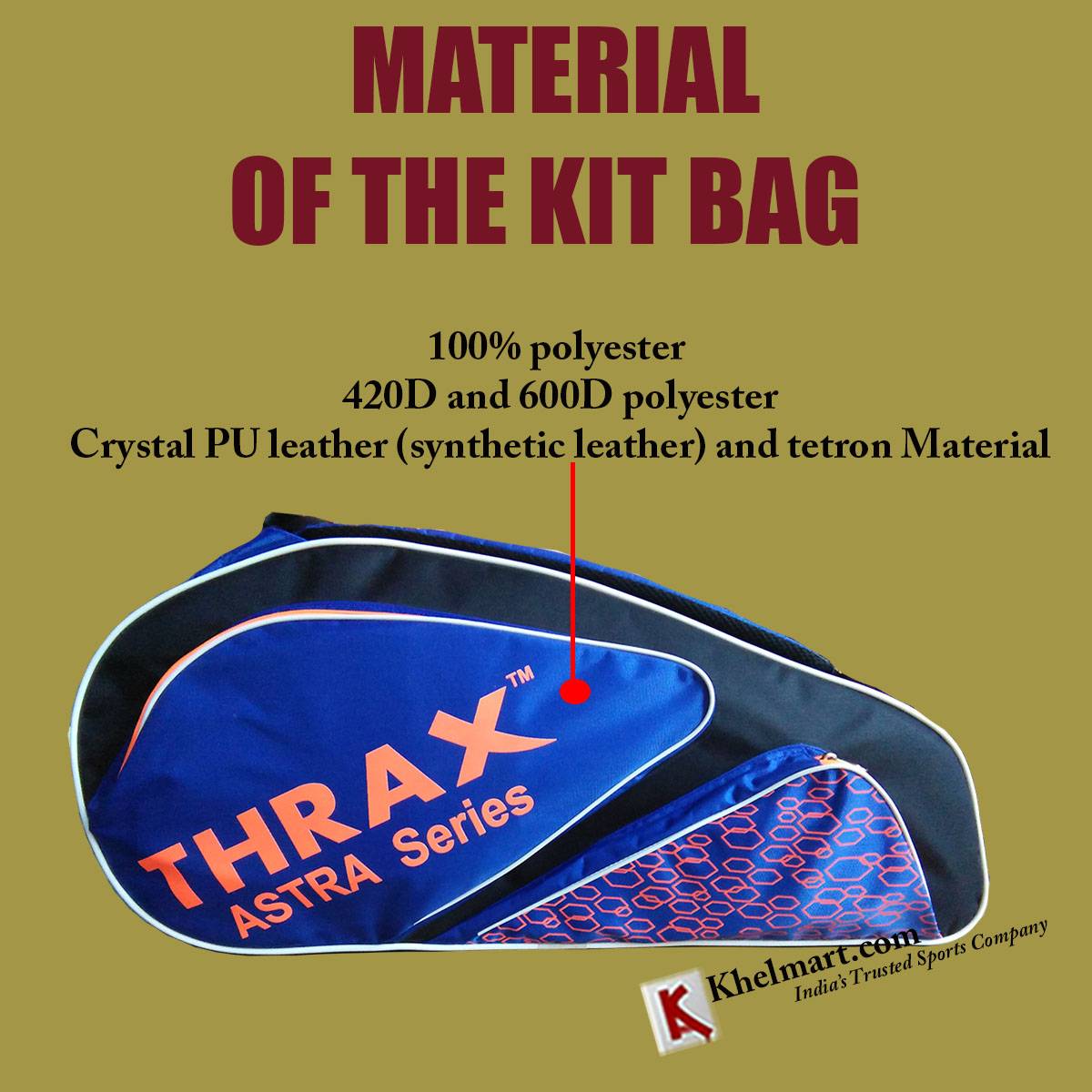 The bags are usually made of 100% polyester, 420D, and 600D polyester, Crystal PU leather (synthetic leather) and tetron. The number represents the density of the polyester. Synthetic leather is tantamount to real leather but needs much less maintenance. Players should make sure that they check the quality of the material carefully as everything depends on it. If the material is not good then the bag would not last for long and would get damaged easily. The material should be such that it could bear even the toughest situations.

7) Thermal Lining of the kitbag- -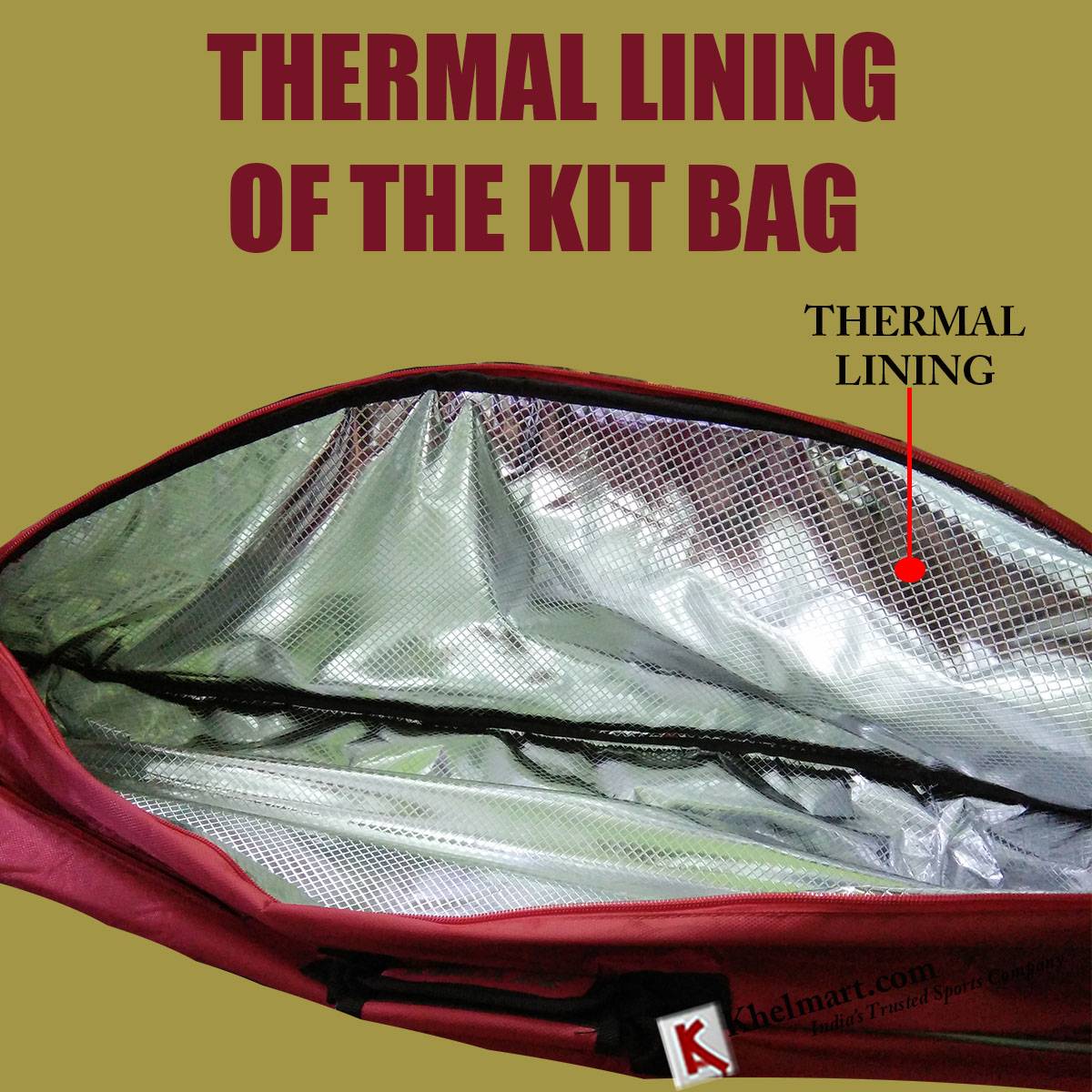 Thermal lining is as extensive as their equipment. It keeps your rackets and other equipment safe and secure. They are usually made up of polyester and heavy-duty nylon. These bags have usually 3 compartments, with each section providing a good amount of space for the racquet, as well as other sports accessories. Checking for thermal lining is essential as it keeps your stuff protected, as not all the nags come with thermal lining. One should make sure that as the equipment and accessories are equally expensive, so he should not compromise in the quality of the bag as well.

Different Brands in Badminton Kitbags--

1) Yonex-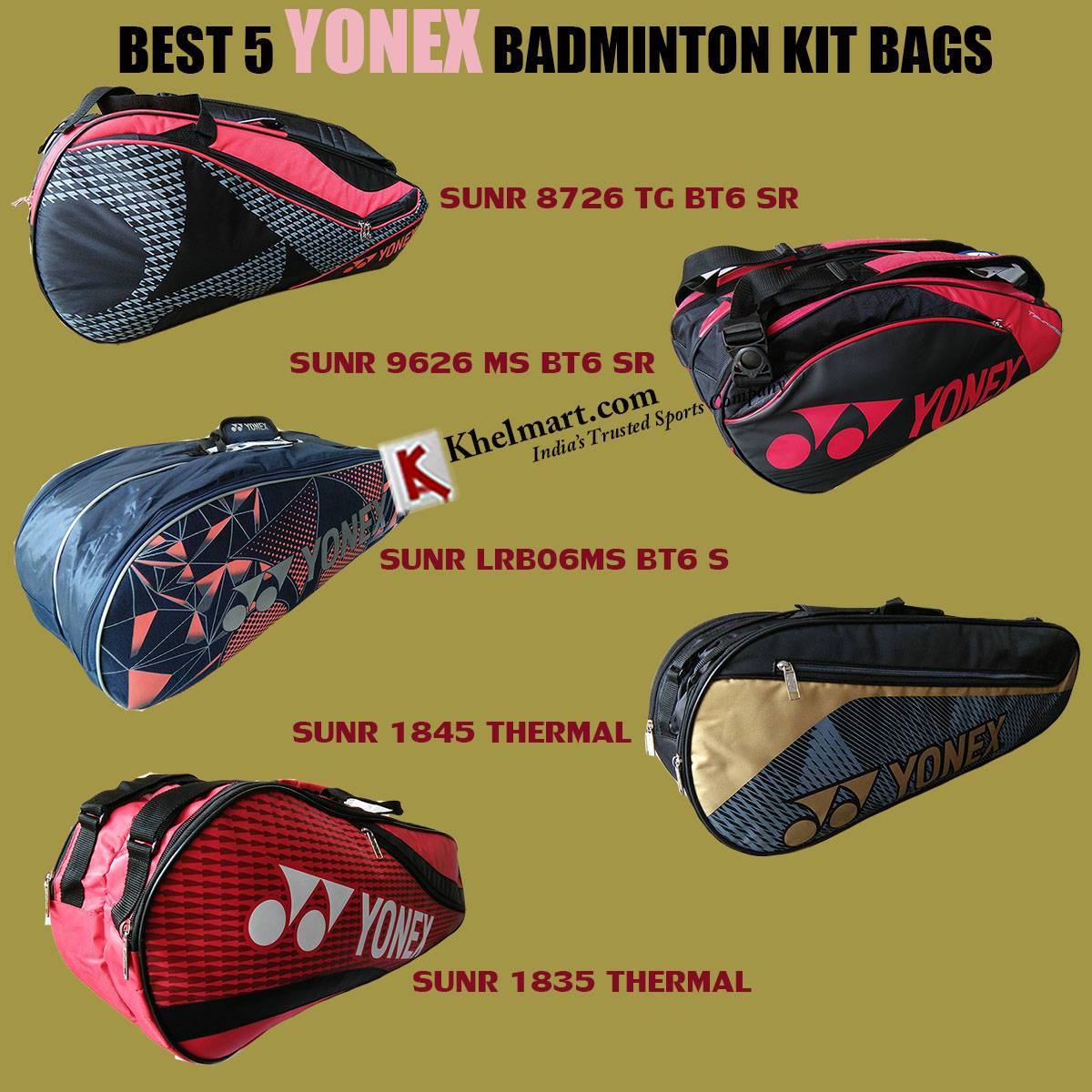 This is a Japanese company. Yonex Bags are known for their comfort, security, and easy storage option. These bags are so convenient to carry that you would never want to be without it. You can carry all your gears and accessories conveniently and securely with these kitbags. They are made with advanced technology to shelter your gear with top shape with a number of storage options. Yonex bags are the superb complement to your badminton equipment. 80% of the competitive players use the rackets designed and manufactured by Yonex. It is one of the most premium brands in terms of making tennis and golf products. It is always an honor to use Yonex brand as it is used by mostly all of your ideal players.

2) Li Ning-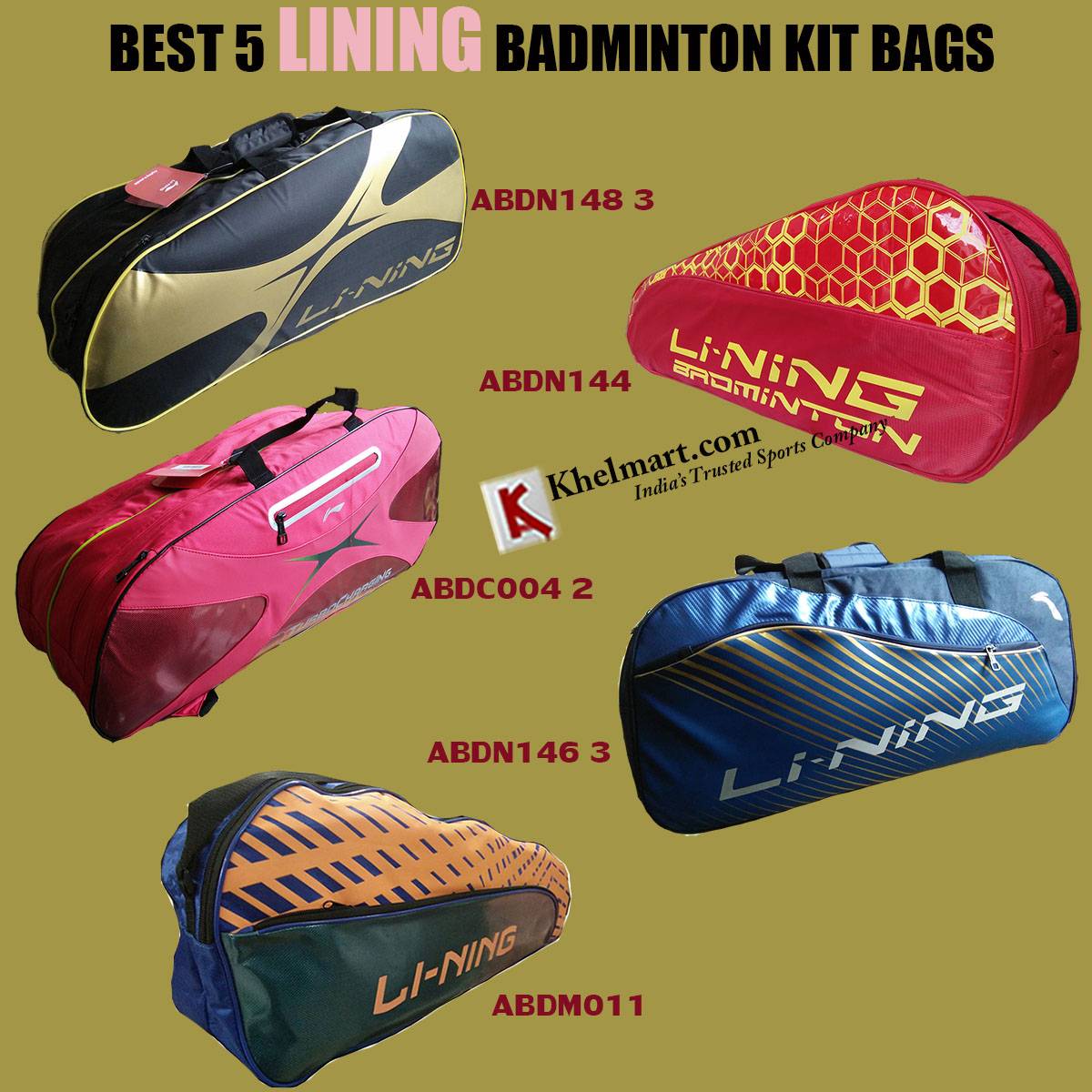 This is one of the best known among players. This is an affordable China-based brand. Li Ning brand is famous for its thermal lining and bags. The best part about these bags is their longevity. These bags are very durable and of really good quality. These bags are usually made of nylon and polyester and do not get damaged easily.

Li-Ning manufactures the highest quality sports goods, apparel and racquet bags for those who play hard and demand more from their equipment. Quality is crafted from superior materials and precision-stitched for great durability on the road, the comprehensive collection of best-selling badminton bags has everything for both amateurs and professional athlete alike.

3) Thrax-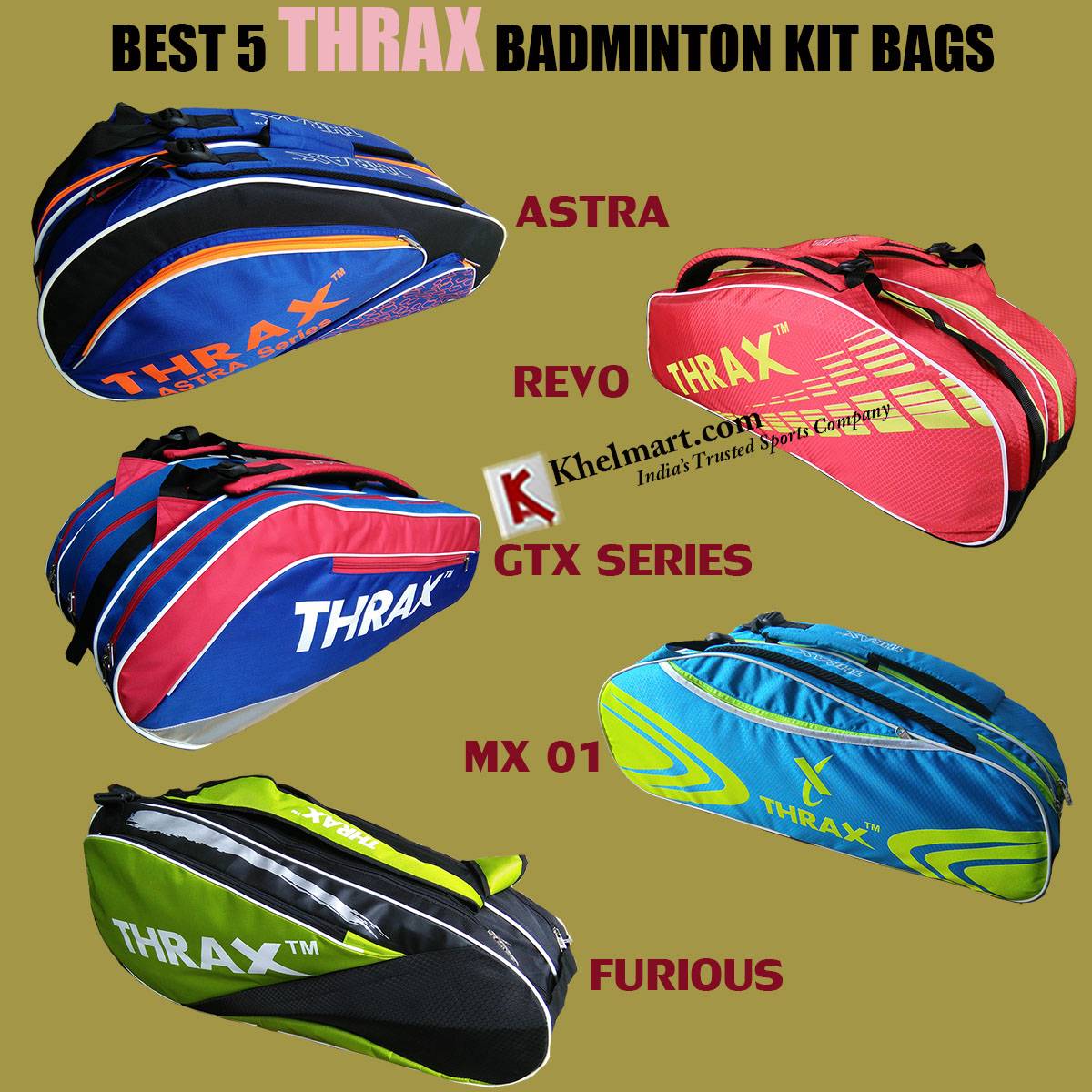 It is an Indian brand, the premium range of badminton bags is made from polyester and vinyl with high-density foam insulation. Among the superior upgrades found throughout their collection of badminton kitbags are the rigid polyurethane surfaces for more security, a separate shoe compartment with drawstring and radiant foil interiors for superior temperature control. They also provide a single-strap carrier dedicated to athletic shoes for convenience and easy maintenance.

The colourful and stylish badminton bags provided by them have plenty of space for shirts, snacks, and extra grips as well as compartments for accessories like competition grade or recreation, badminton shuttlecocks, and personal items like wallets, cell phones, and keys.

4) Victor-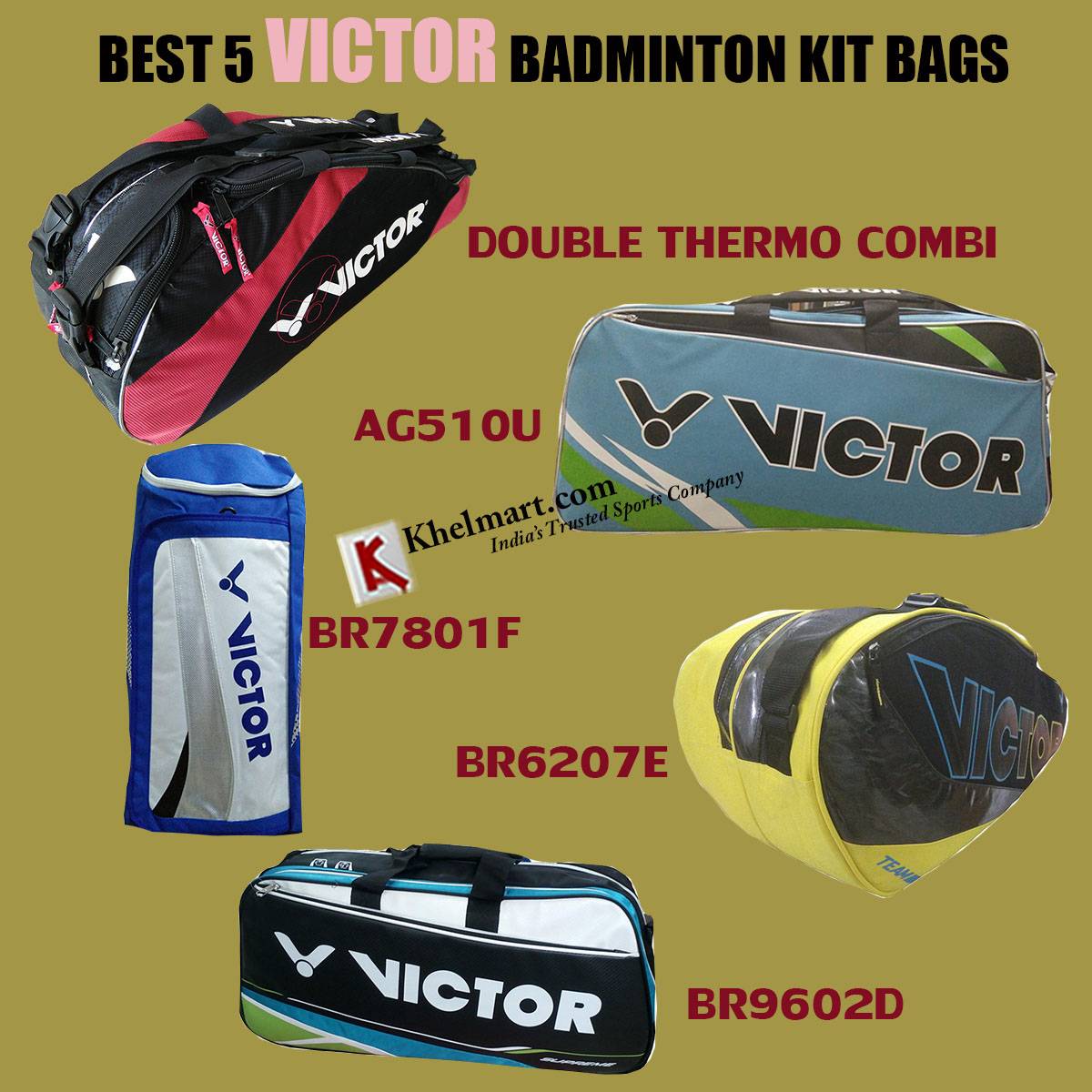 The bags of this brand are designed to outlast the competition, Victor badminton racket bags are quality made to withstand wear and tear from travelling. Just above anything else, you can throw at or in it and inclement weather as well. With an array of vibrant colours and streamlined configurations available, there professional grade badminton bags are designed for your life. They offer one of the largest selections of badminton bags, apparels and equipment s in the USA and Canada.

Well, this was all about the badminton kit bags, the quality you should check before buying and all about the best brands. It depends on your requirement and choice which one you like the most.