New Balance offers a range of cricket shoes designed to cater to the specific needs of cricket players. These shoes are known for their innovative technologies and features that contribute to better performance and comfort on the field. Some key aspects of New Balance cricket shoes include:
Comfort and Fit: The design of NB cricket shoes prioritises comfort and fit. These shoes frequently incorporate cushioned insoles, padded collars, and breathable materials, all aimed at enabling players to maintain their focus on the game without experiencing any discomfort.
Traction and Stability: New Balance cricket shoes frequently integrate specific traction patterns and sole structures that enhance grip and stability across different surfaces. This empowers players to execute rapid movements with assurance and confidence.
Advanced Technology:New Balance integrates cutting-edge technologies into their cricket footwear, including responsive midsole cushioning, robust outsole materials, and innovative traction systems. These advancements aim to amplify a player's grip, stability, and overall on-field performance.
Durability: The materials chosen for NB cricket shoes are carefully selected for their durability, guaranteeing that the footwear can endure the rigours of both the game and frequent use.
Style: New Balance cricket shoes boast contemporary aesthetics, providing players with stylish choices that perfectly complement their cricket attire.
Player Collaboration: Frequently, New Balance engages in collaborations with professional cricketers to develop signature shoe models customised to match their distinct requirements and playing styles..
Explore the Newest 2023 Collection of Cricket Shoes at Khelmart.com
Following are the latest New Balance Spike shoes in 2023:
New Balance CK4030 W5 Spike Cricket Shoes:
The New Balance CK4030 W5 is a high-quality, professional bowling cricket spike shoe featuring an engineered perforated upper and a lightweight leather construction. Constructed from premium PU material, the upper of this shoe offers an excellent combination of durability and skin-fit comfort. It is further enhanced by an ultra-light mesh, which ensures exceptional flexibility, a featherlight sensation, and sustained performance over time.
Midsole: Immerse yourself in a softer and more responsive midsole experience, courtesy of our REVlite technology. Engineered with an innovative cushioning foundation, REVlite provides an exceptionally soft and comfortable sensation, ensuring each step is well-cushioned and supported.
Outsole: Designed with a moulded heel base, this upper configuration amplifies stability, control, and traction force with every stride. The incorporation of 11 precisely positioned metal spikes guarantees impeccable grip, and their precise fit and adjustability further enhance your overall performance.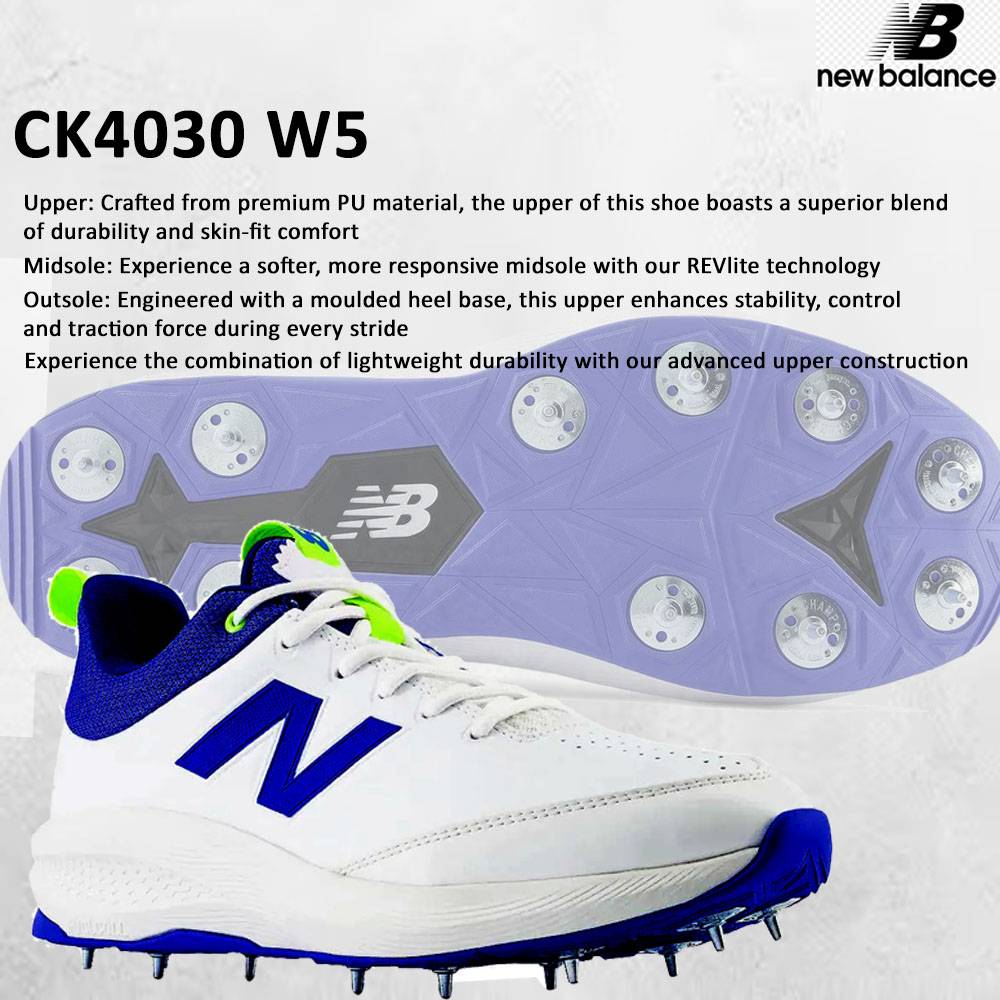 New Balance CK4040 W5 Spike Cricket Shoes:
The upper of the CK4040 W5 is crafted from high-quality PU material, ensuring durability and a snug, secure fit. The integration of ultra-light mesh enhances flexibility, creating a shoe that delivers improved manoeuvrability, a lightweight sensation, and enduring performance.
The midsole of this New Balance spike shoe is designed with FuelCell technology, delivering an exquisitely soft and lavish cushioning experience within the midsole. With each step, you'll relish in opulent comfort that propels you forward.
Featuring a meticulously designed upper with a molded heel base, this shoe is tailored to amplify stability, control, and traction force. The outsole boasts 11 strategically positioned metal spikes, providing not only precise fitting and adjustments but also ensuring you maintain optimal grip to perform at your peak in any conditions.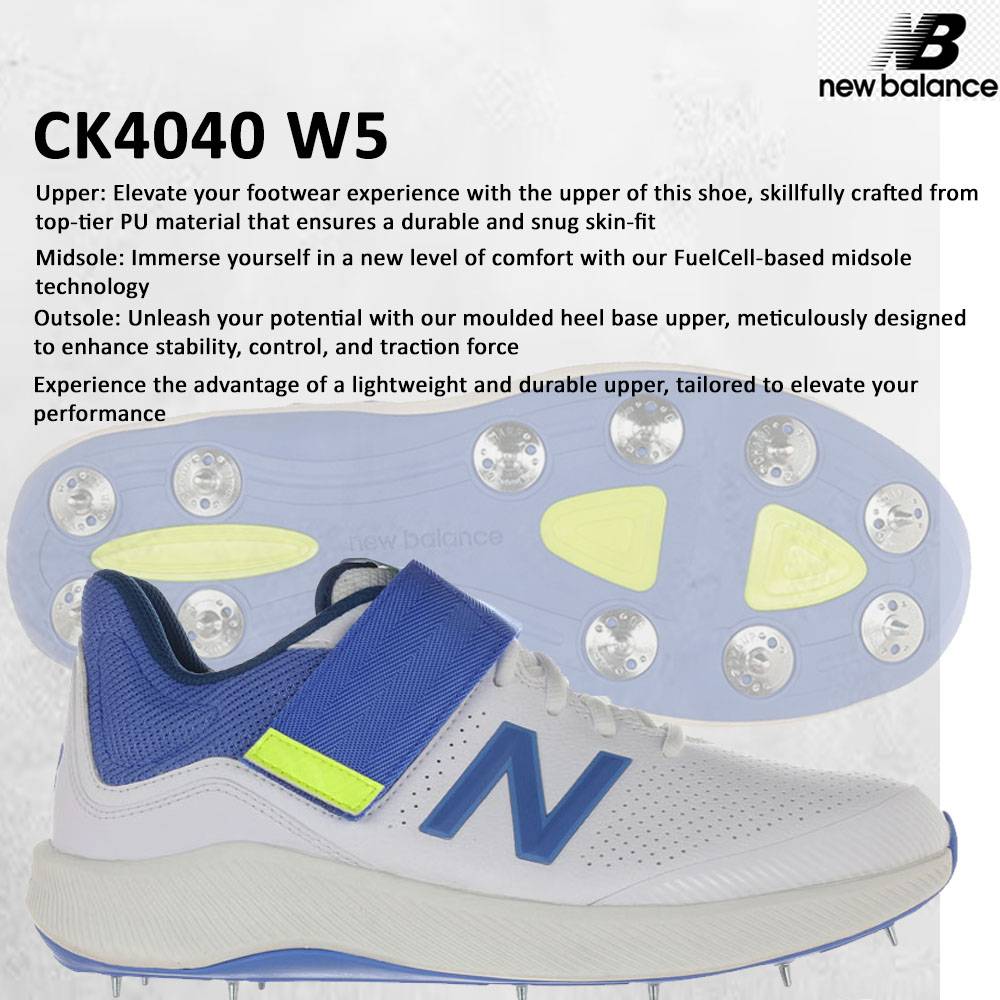 New Balance CK10 R5 Spike Cricket Shoes:
The upper of the CK10 R5 Spike is crafted using the latest state-of-the-art no-stitch technology. This technique involves an infused lamination process that minimises stitching and manual labour, with the majority of the work completed by machines. It features a high-quality synthetic breathable mesh material that is laminated with TPU, providing reinforcement. Additionally, the shoe has a reinforced toe and a padded collar, ensuring better comfort during use.
The outsole of the CK10 R5 Spike is meticulously crafted with a molded heel base, offering enhanced stability, control, and traction force. It features 11 metal spikes arranged in a 7-4 configuration, providing impeccable grip. The spikes are designed with a perfect fit and finish to ensure optimal performance.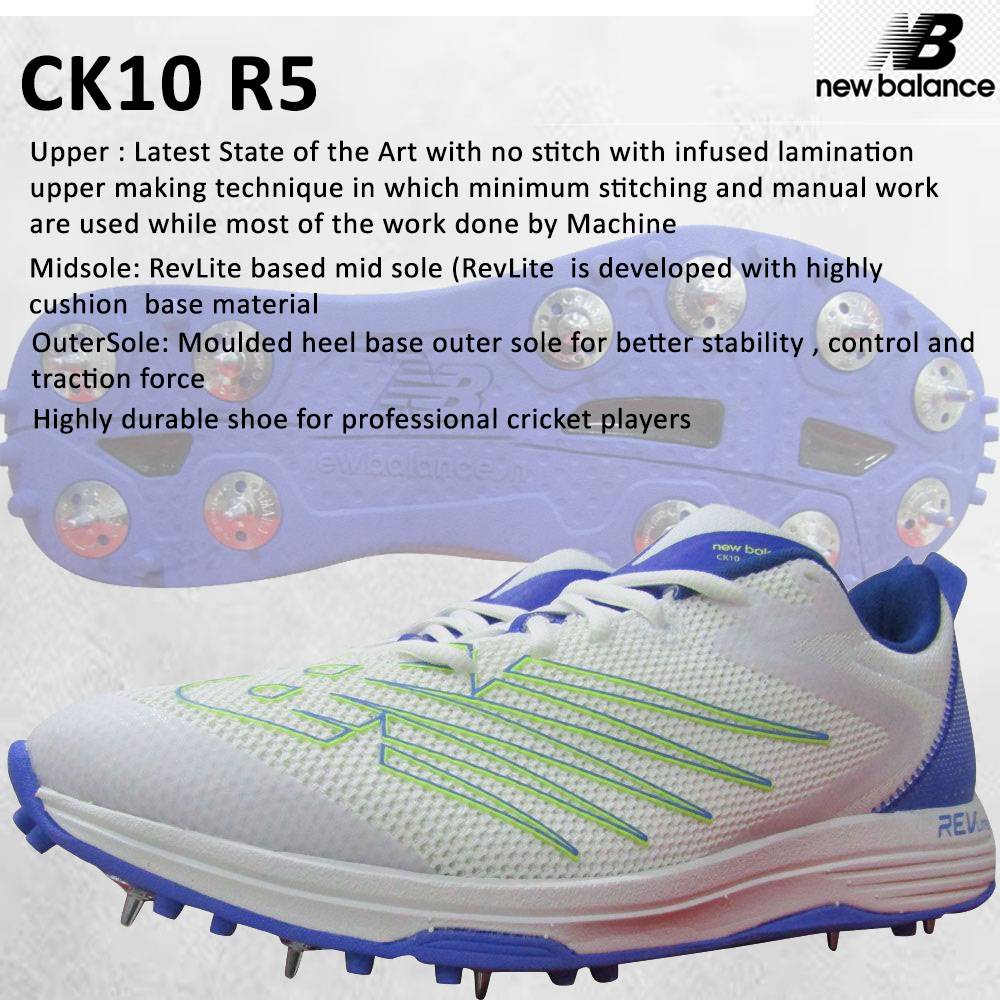 New Balance CK4040 J5 Spike Cricket Shoes:
The upper of the CK4040 J5 is created using cutting-edge technology through our stitch-free production technique. This method reduces manual work and stitching, with the majority of the process handled by state-of-the-art machinery. Constructed from premium synthetic leather, the material ensures superior comfort with its breathability. TPU is incorporated along with a reinforced toe to enhance durability, and the padded collar further enhances overall comfort levels.
For optimal performance, the outsole of this shoe features a robust rubber construction enhanced by stainless steel metal spikes. Each shoe is equipped with 11 meticulously positioned spikes, ensuring impeccable grip and traction to deliver exceptional performance.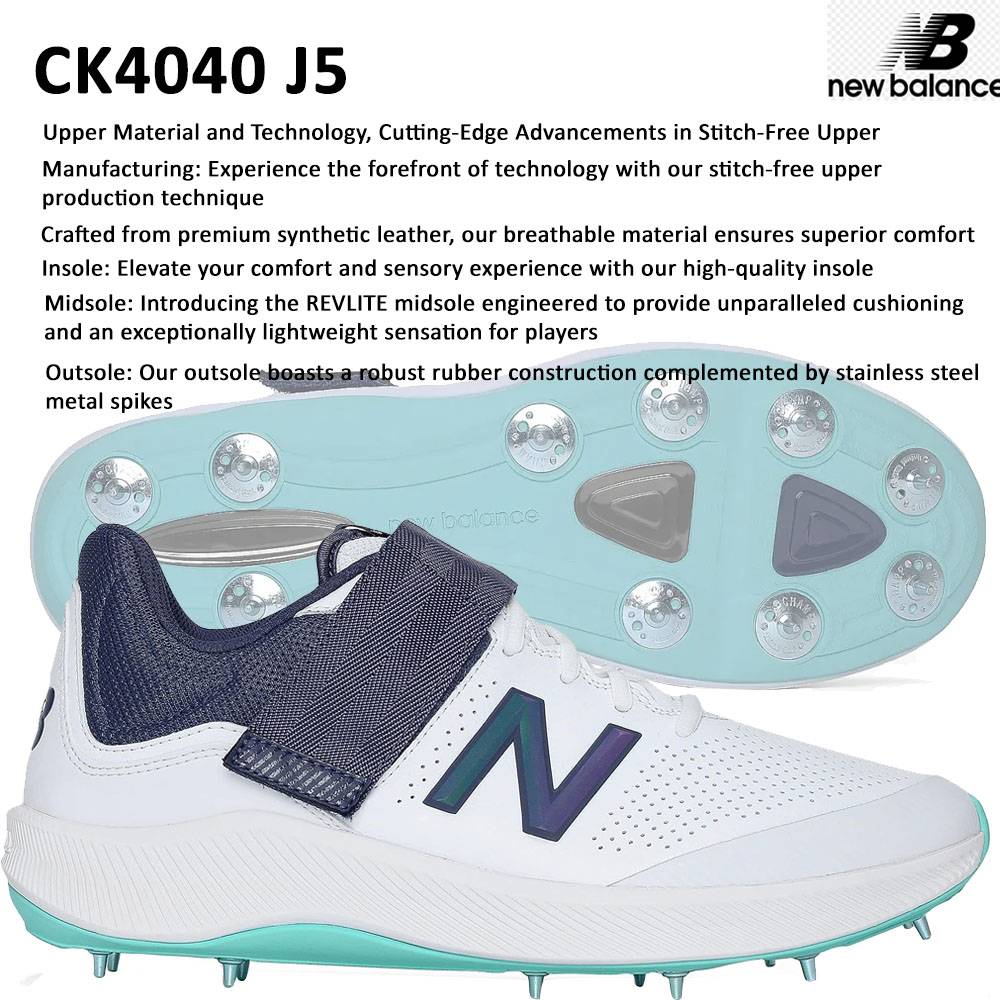 Following are the latest New Balance rubber Studs shoes in 2023:
New Balance CK4020 R5 Stud Cricket Shoes:
The CK4020 R5 Spike shoe's upper is meticulously fashioned from premium PU material, providing a durable, skin-hugging fit that withstands the rigours of time.
Experience unparalleled comfort as you step into the Acteva Lite-based midsole of this shoe. Designed from a cushioned foundation known for its remarkable softness, Acteva Lite technology offers an exceptionally gentle and cushioned sensation throughout the midsole.
The innovative rubber outsole amplifies traction force, aiding in enhanced footwork and delivering optimal advantages through precise landings on the cricket ground.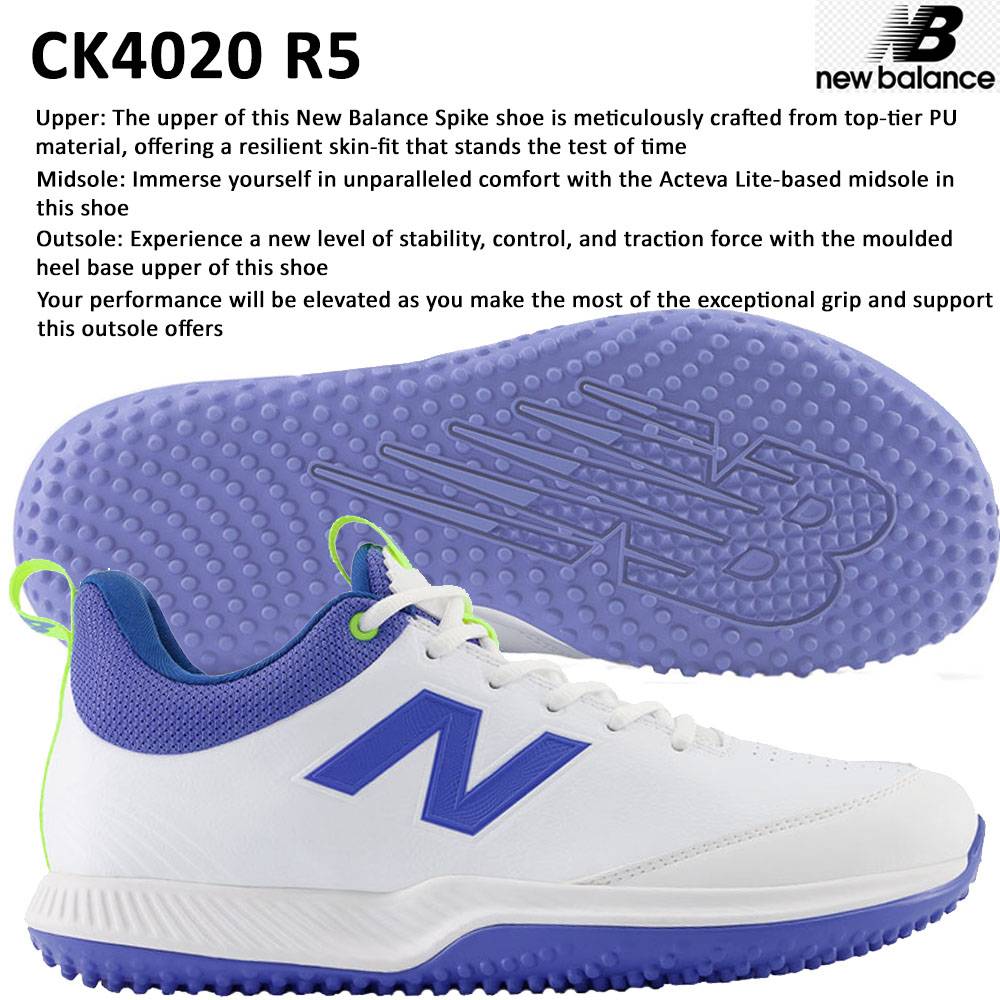 New Balance CK4020 J4 Stud Cricket Shoes:
The upper of the New Balance CK4020 J4 is constructed from synthetic leather and features a PU base. Mesh and HD foam are strategically incorporated on the collar for added comfort and support.
The shoe incorporates Pylon and Acteva Lite technologies, combining to deliver superior cushioning and remarkable shock-absorbing capabilities. The utilisation of soft and responsive Pylon material ensures heightened comfort for an enhanced overall experience.
The outsole is constructed entirely from rubber and incorporates distinct rubber studs, forming an aggressive turf outer sole. This configuration significantly enhances grip and traction, ensuring superior control and stability on various surfaces.