Being a badminton player or a fan of this game, you would have had the experience of being in a state of awe regarding how the players manage to deliver great quality shots with unbelievable speed. Apart from the solid experiences gained over time and daily training, great perfection is also built on exceptional footwork which greatly depends on the kind of shoes a player wears.

In Badminton, footwork is an essential element which drives the contact point, shot stability and timing. If a players shoes are not that great, he might fail to take himself to the contact point easily. Quality and placement of the shot might get jeopardized, which would result in underperforming attack or defence.

Badminton players need to move a lot while playing. When they move around it pressurizes the forefeet that can be painful at times, especially when you are relaxing at night. So it becomes essential that the shoes which hold your body weight should be extremely comfortable and cushioned. Itshould allow your feet to breathe comfortably without tiring them. Not to forgetthat, not only do the players use their hands while playing this game but also the feet. Without your feet supporting you, it might become difficult for you to become a winner as the placement would get difficult and even timing might not match if the shoes are not good.

So while purchasing the shoes, you need to make sure that you buy Yonex Badminton shoes as they are of excellent quality and Yonex excels in all type of products when it comes to Badminton gears. Yonex is a very well-known brand and quite popular among the players and especially youth as its products are very reliable and has an excellent value for money.

Listed below are 7 Yonex Badminton shoes which are quite renowned these days because of the fabulous looks and new technology-

1) Yonex-SHB-100-DR Badminton Shoes(black and blue):-

You can always dominate the court when you are wearing these shoes which would give you immense confidence and explosive power. Yonex badminton shoes100 DR model is very sleek, have a lightweight design packed with the latest technology to make you look great and feel confident on the court.

These shoes are all-round non-marking shoes. They are very gentle on the feet and have joints with excellent grip. Undoubtedly, the key feature of all the YONEX footwear is the power cushion which absorbs shock and then releases the impact energy for smooth transfer to the next movement. Black and blue colour of these shoes are very attractive. Players like them very much and they are popular in the market because of the colour blend of these shoes.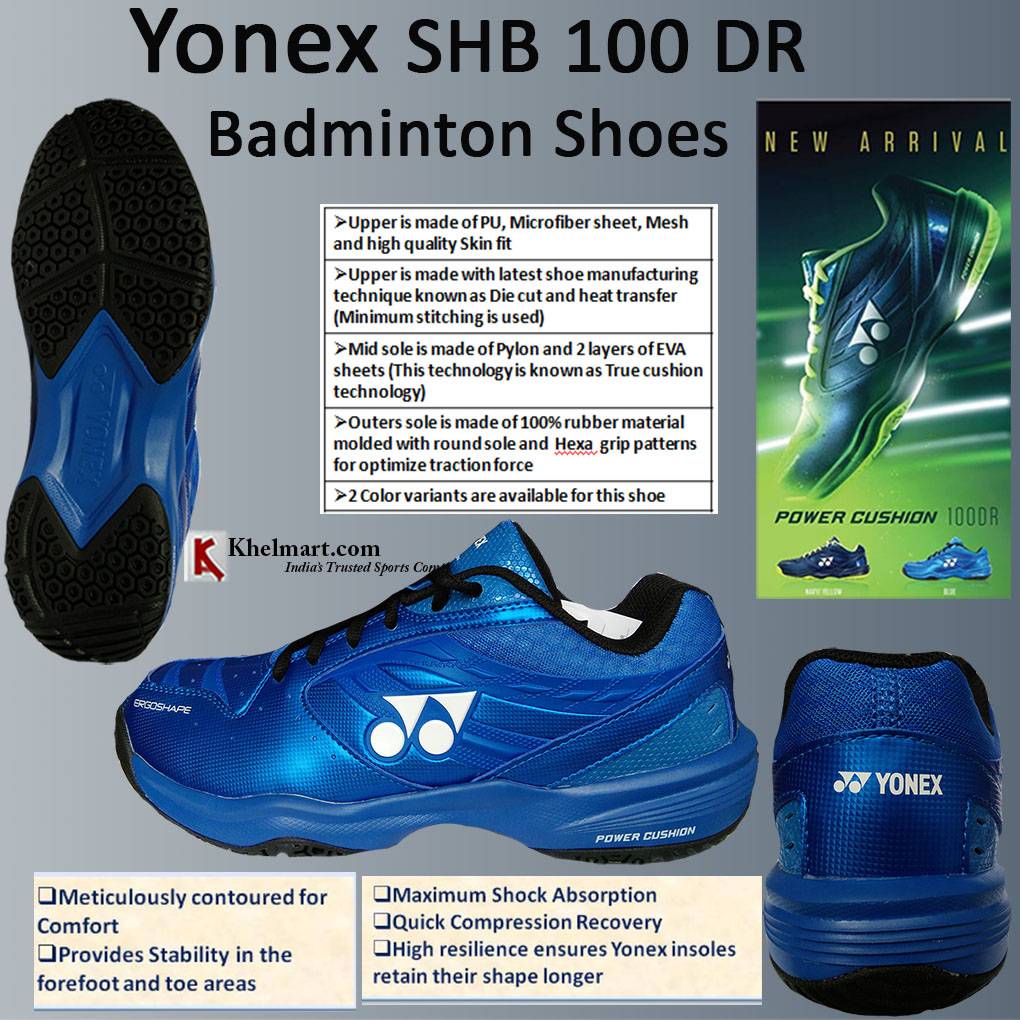 Check out the Details

2) Yonex-SHB-100-DR Badminton shoes (Navy and Yellow):-

These shoes because of the bright yellow and blue colour. Players prefer these shoes because they even shine at night, if you want to practice in the court at night. They give a very bright and vibrant look.

These shoes absorb shock and reverse the impact of energy. They are very light in weight, are very comfortable and provides excellent grip. These shoes are 3-times more absorbent than Urethane. There is a lateral shell which is on the outside of the forefoot which averts sliding of the foot at the edge of your sole. Also, there is one ultralight graphite plate which is placed under the middle portion to increase the stability and lessening the weight within the shoes. These shoes are a must buy as they come in such beautiful colours with so many benefits and are also very durable.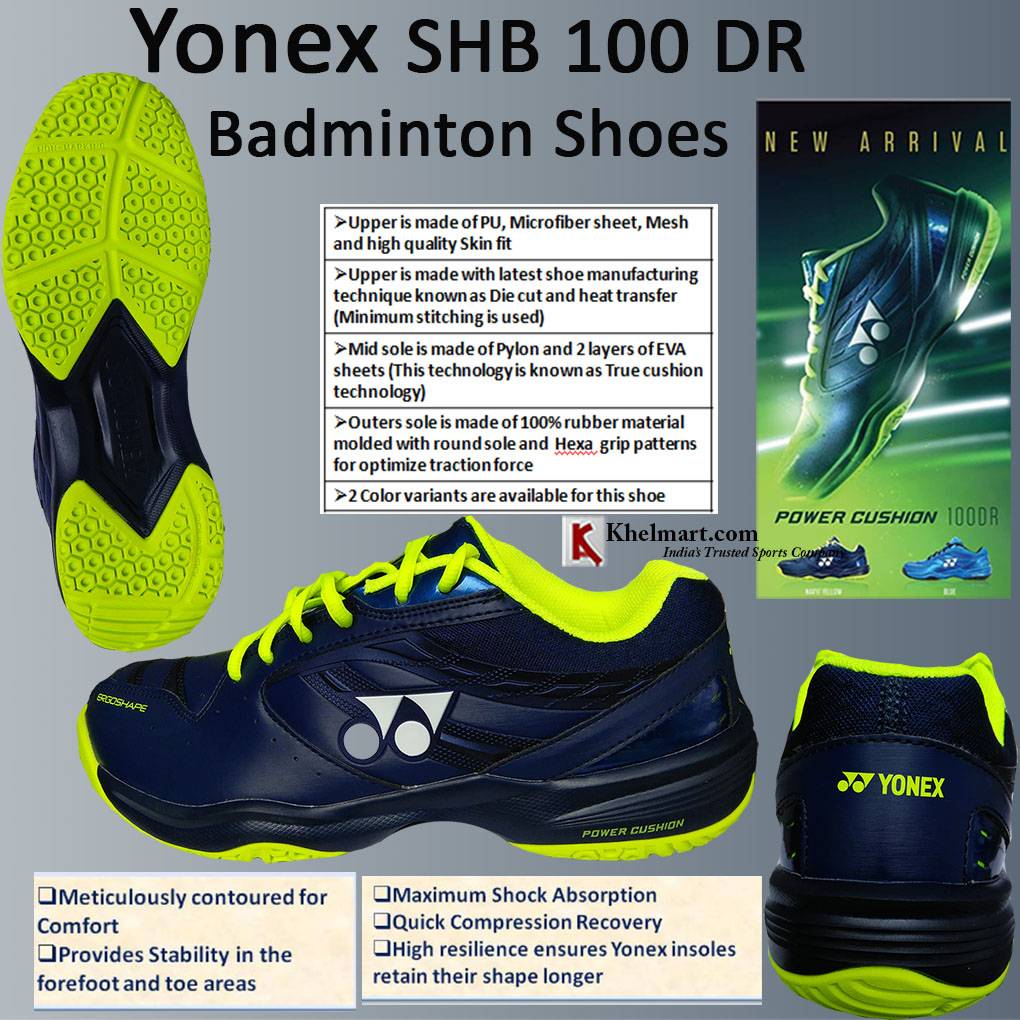 Check out the Details

3)Yonex Super Ace 08 Badminton shoes(Neon Lime and Navy Blue):-

Owning Yonex shoes is a pride for so many players. There are many international players as well, who love Yonex badminton shoes because of the stability, endurance, and cushion they provide. This is also one of the reasons why people want them,since their idol players wear them. The other reason for buying these shoes is the colour - lime and blue, it looks just amazing as the neon light of it gives it a rich look. Most of the young players go for this colour.

The round Sole of these shoes is created to provide players with all-around support for cushy and smooth footwork. The best thing about round sole is that it ensures smooth movements and transfer of maximum energy. The burden on your feet specifically while playing high-intensity games is undoubtedly massive. So, the importance of these Yonex shoes and their sole cant be ignored.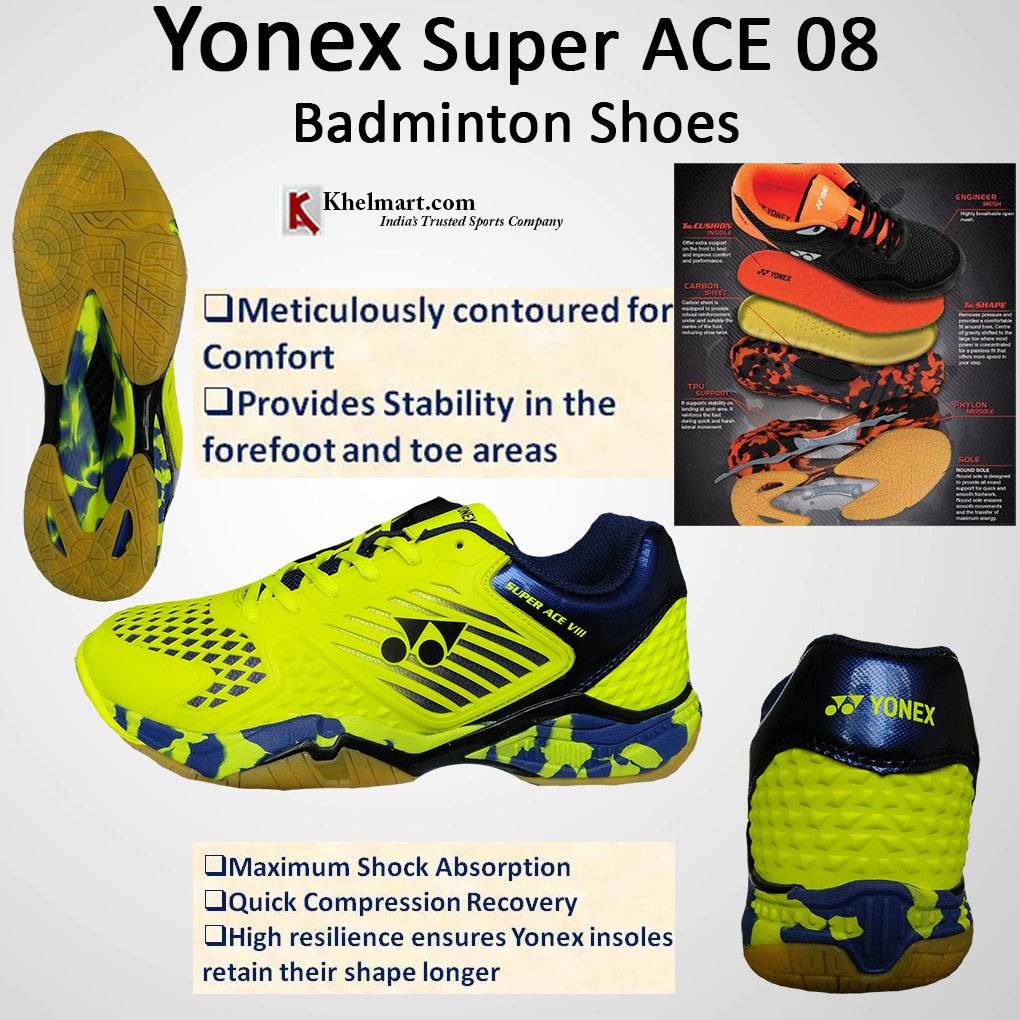 Check out the Details

4) Yonex Super Ace 08 Badminton shoes(Dark grey and black):-

While most of the features are same as other shoes, let us discuss the grey and black colour of it. As most of the players like flashy colours some of them like subtle colours like black and grey. Usually, mid-age players prefer these shoes. The black colour of these shoes looks great, and that is the reason why players like them. Also, the power cushion of these shoes is impressive as they add to the speed, power, and agility that you will observe on the badminton court.

These shoes provide the maximum shock absorption among all the Yonex shoes. These shoes would give you immense comfort because of their power cushion. Not only this, they have a feather-like weight, so after a tiring match when you go to bed your feet would not hurt at all, and this is what every player looks at before buying badminton shoes.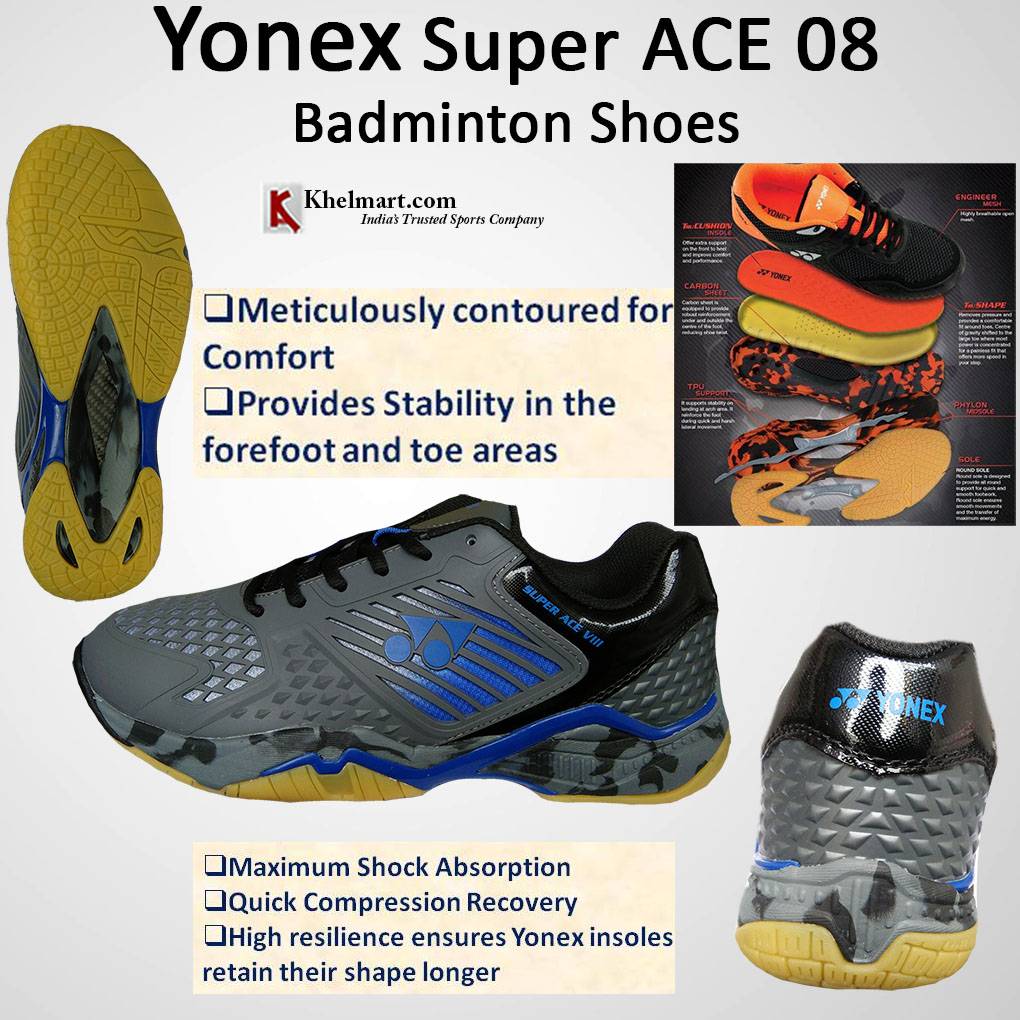 Check out the Details

5)Yonex Super Ace 08 Badminton Shoes (Red and Black):-

The shape of these shoes is unique i.e.ergo shape, this shape is specifically designed for badminton shoes. This shape has a contour which allows these shoes to be extra comfortable and provide more stability to your toes and forefoot . This feature is something very different and enduring making it a must try option. The black and red combination of these shoes is excellent as this is one of the best fusion ever. There are so many players who opt for these shoes because of the colour and shape of it.

These Yonex shoes offer better stability on landing for quick and sharp movements. These are the shoes which have great flexibility and grip. These shoes can bear the wear and tear of weather and are very robust and durable. The best part about them is that they are anti-slippery ,which is an essential factor to consider when buying badminton shoes. Badminton shoes without anti-slip sole might acutely burden the wearers muscle and in worst cases, it can also cause foot injuries.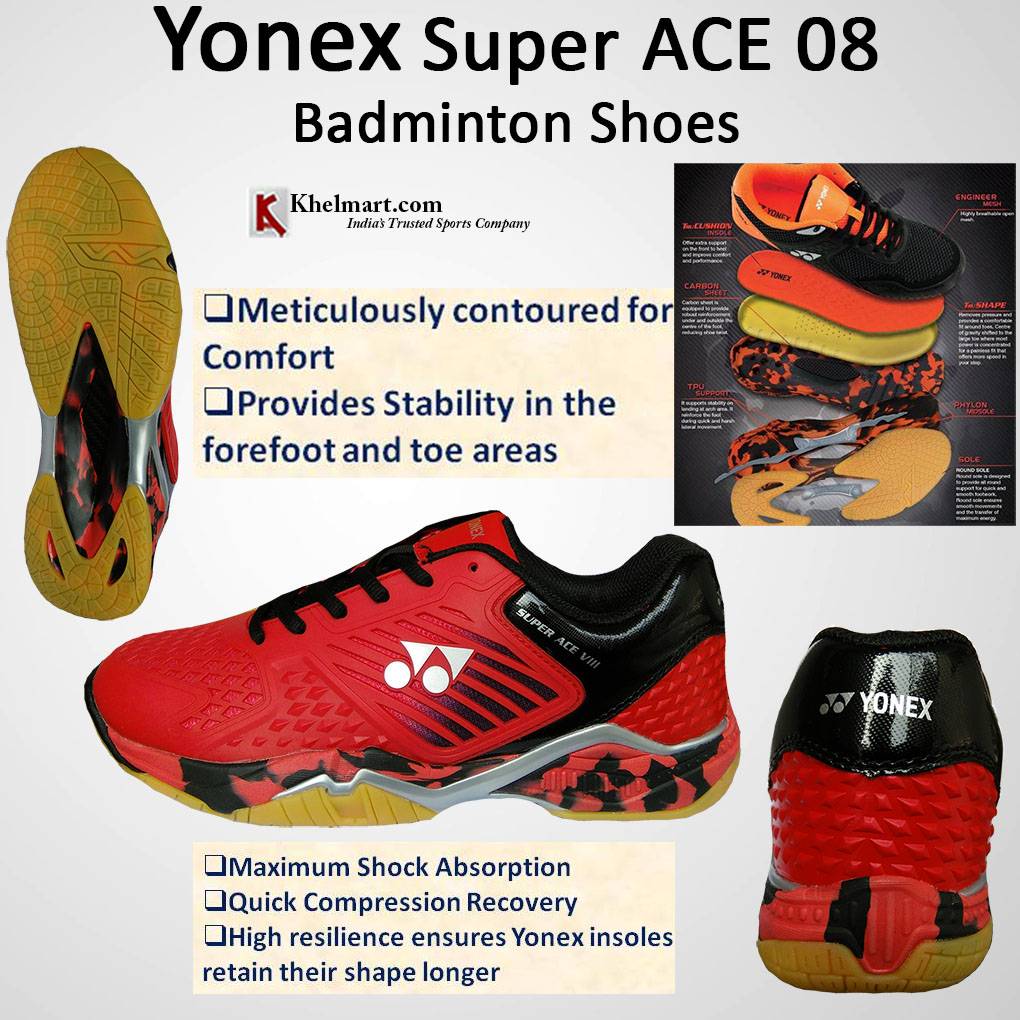 Check out the Details

6)Yonex Super Ace 08 Badminton Shoes(Royal Blue and Red):-

A unique colour amalgam of blue and red which is rarely seen in shoes , provides the shoes with an unique look. Yonex makes its products after reviews of the players who use the product, so this colour combination was made as per the players demand. These shoes are in limited stock because of the colours, so you should grab one pair if you like them before they run out. The weight of these shoes is light because of the technology uses to make them - Hexa grip. This makes the shoes 20% lighter and offers 3% extra grip than the regular shoes. As Hexa grip is used in these shoes, your foot remains stable and makes the movement of them very smooth.

Bendability of the sole of these shoes lets the forefoot to respond timely to the multidirectional steps. The movement of every step gets simple as smoothness and endurance for foot actions are enhanced in both ways. Hence, in these shoes, multidirectional grooves are added on to the sole to increase agility and provide you with smoother footwork.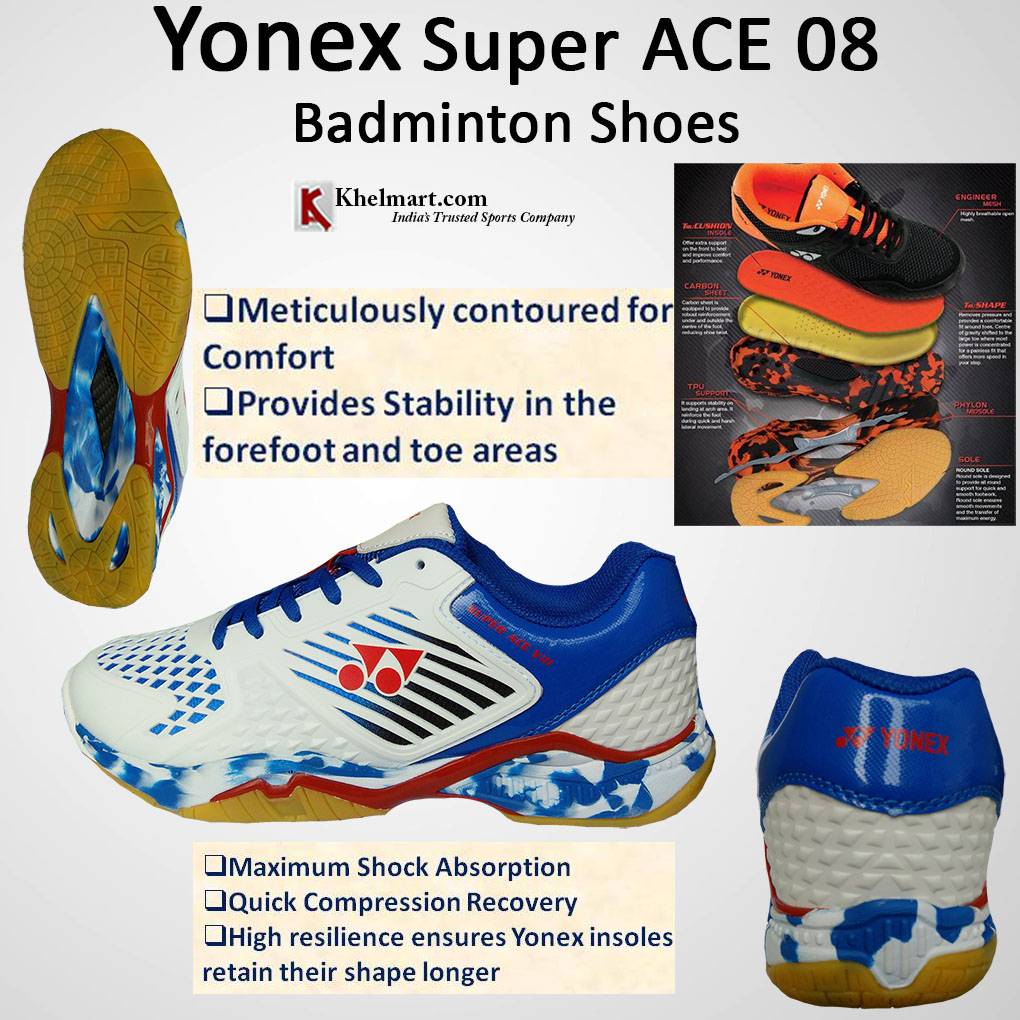 Check out the Details

7) Yonex Super Ace 08 Badminton Shoes(Black and Orange):-

There are many noteworthy features about these shoes. First of all , the beautiful and elegant colour of black and orange, gives it a lively look. These shoes along with the ergo shape, Hexagrip, power cushions and the round sole is a complete package of what a player would look for in any badminton shoes.

There are no second thoughts required about these shoes as they provide complete value for money with such elegant colour options which no other brand can offer. These shoes are very lightweight, durable, have quick compression recovery and also give an excellent grip to your foot. So, do not overthink, just grab a pair of Yonex Super Ace 08 black and orange badminton shoes now.

These are the best of Yonex badminton shoes which were recently launched with the latest technology used in designing them. They are readily available in the market and online at reasonable prices so that every player can buy them without any trouble. But make sure before buying any shoes, you check your requirements and see if they suit you and has all the features what you aspire for. Checking all the parameters before buying shoes is better than regretting after purchasing. Be smart and choose the best.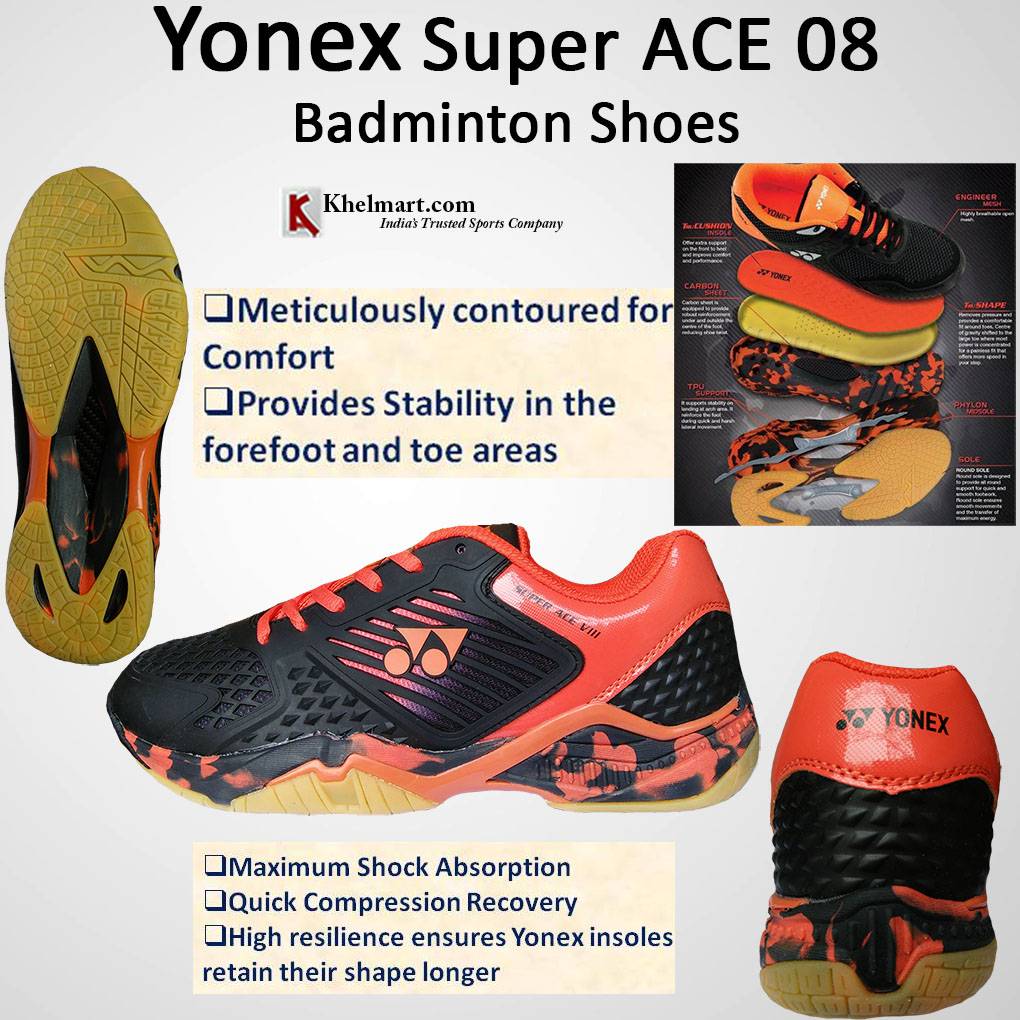 Check out the Details